News Archives

2014

2002




> click logos below
for sponsor's
web sites

---


"Tires Designed for
Champions"
hoosiertire.com

---


RI's most respected name in Collision Repairs
crowncollision.com

---

---


Side Bar Web Ads
and NEMA
Sponsorship
Opportunities
HERE

<![if !supportEmptyParas]> <![endif]>



2015 NEMA NEWS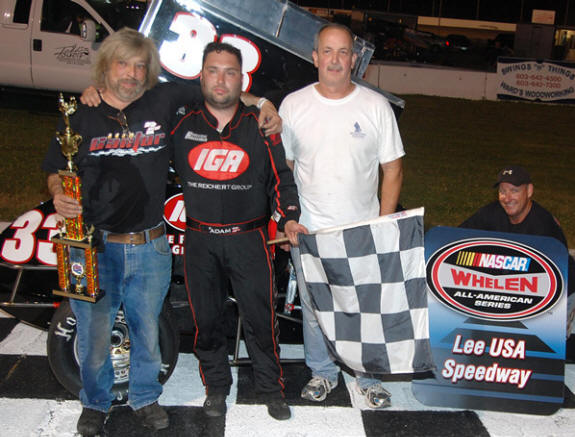 a
Allan Cantor at left with son Adam
ALLAN CANTOR


-
Long time and devoted NEMA car owner Allan Cantor passed away this week.
Allan leaves his son Adam and a passion for both NEMA and midget racing in his legacy. He will be greatly missed by all of his NEMA friends.
He was born on 6/18/50 and died on 9/14/15.
Funeral arrangements: Sunday September 20th - visiting from 12:30 to 2:00 and service from 2:00 to 2:30 at Whittings Funeral Home, Glen Head, NY.

Internment - New Montefiore Cemetary, 1180 Wellwood Ave, West Babylon, NY at 3:15 PM.

Then Adam's mom's house, 1 Windward Court, Dix Hills, NY.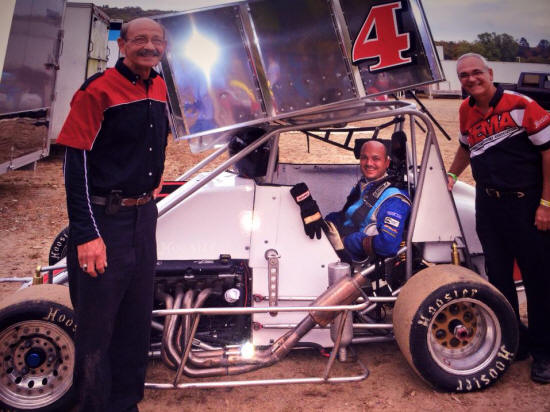 Richard, Jamie, & Peter Falconi
RICHARD E. FALCONI
Richard E. Falconi, 69, a lifelong resident of Southborough, passed away peacefully Wednesday, September 9, 2015 at his home, after a short illness, surrounded by family.

He was a graduate of Algonquin Regional High School and a member of the class of 1969 at Franklin Pierce University in Rindge, NH, serving as Senior Class President. Upon graduation, Rick stayed very active with Franklin Pierce, being one of the founding members of the Alumni Association. While on the board, he served as Membership and By-laws Chairman, Alumni and Reunion Weekend Chair and Chairman of the 50th Anniversary Committee. Rick retired from the family's Falconi Energy in 2011 after working as manger in the heating and cooling division. He was a fixture at the company started by his father and uncles for the better part of 50 years. He loved spending time at his home on Peabody Pond in Sebago, Maine.

Rick was a longtime auto racing enthusiast, having built and maintained cars that won hundreds of races and multiple championships throughout New England and continued to be active in the sport until his passing. He served on the board of the Southborough Historical Society and was active at their museum.

Rick is the son of the late John J. and Ann H. Falconi of Southborough. He is survived by his son Jamie and partner Allison Russell of Southborough; daughter Jesse Veves, her husband Steve and their children Evan and Olivia of Fayston, VT; his brothers Peter, David and Jimmy all of Southborough; as well as several cousins, nieces and nephews.

He was predeceased by his son Justin and his brother John.

Calling hours are Sunday, September 13 from 2pm to 6pm at the Morris Funeral Home, 40 Main Street, Rte 30, Southborough.

Funeral services on Monday will be private. Burial will be in the Southborough Rural Cemetery.

In lieu of flowers, donations can be made to Franklin Pierce University's Annual Fund. www.franklinpierce.edu/giving/ssl/give.htm.

To leave words of condolence to the family, please visit morrisfuneralparlor.com.
Butch Walsh Passes
The first driver to have his named inscribed on a Mike Scrivani midget was Fred "Butch" Walsh.

"That is very significant," says Mike Scrivani Jr. recalling a number of stories about Walsh who passed away Friday evening in Hyannis, MA. "The old man had a lot of great drivers but Butchie was the first one he considered a steady driver."

The Dover, MA product raced modifieds, supermodifieds (the Tim T. 77), sprints and later motorcycles (both on dirt and ice) but it was in the midgets, notably the Northeastern Midget Association, that he excelled. Long-time racing observer Bruce Cohen remembers his first effort at Norwood Arena - "a white car that had 'Mom's Worry' written on it."

A member of NEMA's Hall of Fame, Walsh was a two-term (1981-1984) club president. He helped put together the NEMA-ARDC-USAC tour during that reign. "NEMA owes Butch Walsh at lot," says Scrivani.

The first of 15 NEMA victories came at Maine's Wiscasset Speedway driving for Jerry Connors in 1972. After a lot of badgering, he wound up in the Scrivani car the following season, winning the championship with eight podium finishes including a victory. "My father, of course, had known Butchie for some time and figured he was going pretty good in less then top of the line cars," Scrivani says.

He went on to win in the Bien 35 and Dunn T5 over the next 12 years. Every car he drove, including the Connors and Scrivani machines, he also worked on. Scrivani credits Walsh with "teaching me about being dedicated to having the car ready. "

Among the cars Walsh worked on were the ARDC championship machines of Mike Sheehan. It was during that time that Walsh pulled off one of his most astonishing accomplishments - running one night on the dirt at Grandview, PA and the next night on the pavement at Wiscasset. It involved a trip of several hundred miles.

"Butch just did things like that," said Cohen, a friend since the early 1970s. "There are lots of Butch Walsh stories. But he was smart and creative and effective as well."
Butch Walsh's NEMA Victories
Date - Year - Track - Car
6/24 - 1972 - Wiscasset - Connors 58
9/15 - 1973 - Westboro - Scrivani 22
5/25 - 1975 - Star - Scrivani 22
6/22 - 1975 - Star - Scrivani 22
8/31 - 1975 - Devils Bowl - Scrivani 22
5/3 - 1980 - Waterford - Bien 35
7/13 - 1980 - Westboro - Bien 35
5/23 - 1981 - Westboro - Bien 35
5/30 - 1981 - Waterford - Bien 35
6/13 - 1981 - Westboro - Bien 35
7/17 - 1982 - Westboro - Bien 35
8/1 - 1982 - Hudson - Bien 35
8/7 - 1982 - Westboro - Bien 35
9/1 - 1984 - Star - Dunn T5
9/2 - 1984 - Hudson - Dunn T5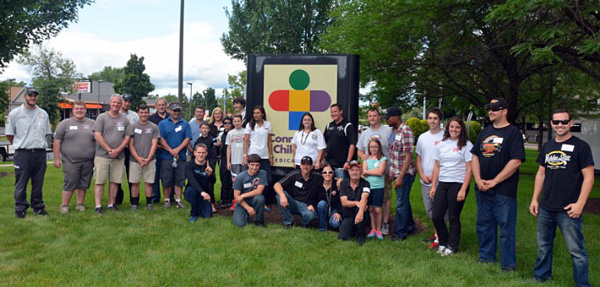 "Bring the Races to the Children"
On June 29th, an amazing group of drivers came to the Connecticut Children's Medical Center to "bring the races to the children."

Mariah Michalski and Jenn Hann from CCMC came together to organize this event for the children and stuff of CCMC. The turnout of drivers and crews who fully supported the event was beyond belief! With Channel 3 News, and the Hartford Courant attending, the event was nothing short of perfect!

Ever driver had the chance to do arts and crafts with the children, as well as go room to room for those who couldn't play the game or join in on the crafts. To see the faces of each child smile was incredible.

One parent said "I haven't heard you talk this much in two years!"- to her son who was loving being able to sit in the race cars outside.

NEMA driver who attended were Avery Stoehr, Todd Bertrand, Jim Santa Maria, Paul Bigelow, and Dennis Obrian. A great group of drivers from other divisions also came out to show their support.

"Giving back to the community is something I love to do, and if I can involve something I love - racing - I am all for it" said Mariah Michalski.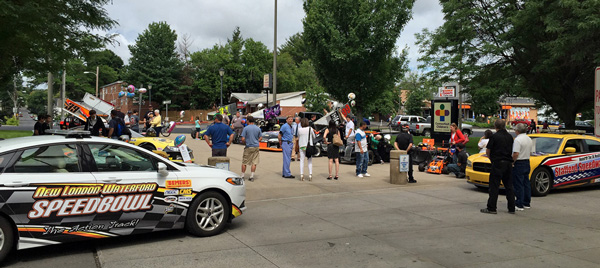 NEMA's First Annual Test & Tune A Success
With the help of the newly owned New London Waterford Speedbowl, NEMA hosted its first annual test & tune last Sunday. Twenty three cars were in attendance, under nearly 80 degree picture perfect skies, as well as three rookie candidates in the Lites class - Ben Mikatarian, Jim Cataldo, and Ryan Locke. The latter, Locke, come from the famed Locke family racing team, a stalwart in the ISMA series - and Mikatarian, out of the Seymour racing family, a NEMA pioneer family.

2014 NEMA champion Randy Cabral was on hand with his familiar Bertrand Motorsports #47 machine. Although Cabral never admits that a Championship ever crosses his mind this early in the year, he will surely be a threat in 2015. Cabral's teammates were on hand as well - Todd Bertrand in the #39 machine, outfitted this year with an Esslinger Engineering power plant, and 2014 Modified Tour champion Doug Coby in the #74 machine, who reportedly turned in the fastest lap of the day on the AMB transponder system. Coby, along with both Bertrand Motorsports teammates will be on hand for opening weekend at Chemung Speedrome and Evans Mills Speedway in 3 weeks.

The Chambers family was on hand with their beautifully prepared machines, the #7 machine sporting a new Mazda power plant this year, with Alan Chambers at the wheel. The Stoehr family had two entries on hand, with 2014 points runner up Avery in the #15B Motor Cars International machine turning in some fast laps, and Bethany Stoehr in the Crown Collision #44 machine. 2013 champion John Zych was on hand breaking in his newly freshened #9 machine and engine, and multi feature winner Seth Carlson in the Gene Feigel/Esslinger entry was on hand as well. The Cugini family was on hand as well - with Meg behind her Ford Focus Lites machine, and brother Danny in his newly freshened NEMA/Spike chassis.

The Bigelow family was on hand with Ryan Bigelow's Honda/NEMA entry, and Paul Bigelow was on hand with his Honda powered Lites entry. The Santa Maria family was also on hand, but a mechanical issue early in the day sidelined their efforts, unfortunately.

Former NEMA Champion Bobby White was on hand for the first time in many years, bringing out his VW powered entry. Deb Marvuglio made her debut in a midget - in preparation to run with the antique series this season. Deb is the mother of the late Shane Hammond, and NEMA winner Anthony Marvuglio.

NEMA also performed technical inspections with the help of Bob Blanchette, and Linda Cleveland & Vice President Mike McCarthy tested out the new AMB transponder system and Race Monitor system, which will allow races to be live casted on the Web this season for NEMA. Long time NEMA member and previous President Mike Scrivani was also on hand, making sure that the day went smoothly, along with the Speedbowl staff - whom the Club would like to thank.

NEMA kicks off its season at Chemung Speedrome and Evans Mills Speedway on Friday May 22nd and Saturday May 23rd.

NEMA Adds Chemung Speedrome to
Exciting 2015 Schedule; Coby to Compete
The Northeastern Midget Association proudly announced on Friday that it has added an inaugural event at the Chemung Speedrome to its schedule for May 22, 2015. Chemung will start an action packed weekend for NEMA, with an event the following day at Evans Mills Speedway. The NEMA Midgets will run extended 30 lap races at both tracks, with the Lites running 25 Laps.

An added bonus for the fans - reigning NASCAR Whelen Modified Tour Champion Doug Coby will be on hand competing in the #74 Bertrand Motorsports midget. In addition, NEMA will be providing a Lites car and is working with the Speedrome promoters to get Chemung regular Jimmy Zacharias into a car for the Lites event.

The Chemung Speedrome was originally built as a 1/4 mile dirt track in 1951 by the Bodine family of Chemung, NY it closed in 1978. As the story goes, in an article written by Bob Johnson, "It was by sheer coincidence that the track came to fruition in the first place. Eli Bodine Sr. was in Ithaca having his car repaired. The mechanic working on the car asked him if he liked stock car racing. Mr. Bodine's reply was that he indeed did. This led to a conversation about racing. The mechanic, Karl Beilou, brought up the fact that the local racers from the Finger Lakes racing club had become disenchanted with the track they were running at. The possibility of building a track on the Bodine farm was discussed. Bodine jokingly agreed to the request not thinking it would ever come to fruition. The next day was Saturday. Much to Bodine's surprise, members of the racing club came calling on the farm - and from there, the track was born."

After buying the track in 1985, the Stapleton family started to rebuild the track in 1997 and in October of 2000 had its inaugural race event. The track is currenly owned by the White family, run by John White. Events at Chemung since its re-opening include The NASCAR Weekly Racing Series NASCAR Whelen Modified Tour, ISMA Super Modifieds, Race Of Champions Modified Tour, USAR Hooters Pro Cup Series, SST Modified Tour, Cup Lite Racing Series and USAC Ford Focus Midget Series. The 3/8 mile Speedrome features all new TV-quality Musco lighting, a 3000 Seat Main Grandstand, a 28 stall paved pit lane and much more. The facility is situated on over 38 acres and is one of New York's finest paved oval tracks.

"I grew up watching guys like Johnny Coy run midgets on Long Island. Chemung should be a perfect track for the midgets, plenty of room, long straightaways - it should be a good night of racing," said John White, owner.

The Northeastern Midget Association is the oldest pavement midget racing club in the Nation. Midgets are typically four cylinder, pure bred open wheel racecars. They do not use starters, flywheels or clutches. If it is bolted into a midget, it serves one of only two purposes: safety or speed. The mighty midgets of NEMA are that and more. With their nearly four hundred horsepower motors, large wings, and wide hoosier tires - the NEMA midgets are the fastest asphalt midgets in the world.
The NEMA leadership would like to encourage our members to attend this event, if possible. We are not going to book a date on this weekend, and hope that this turns out to be an exceptional event.

INAUGURAL TONY STEWART
MIDGET CLASSIC
(INDIANAPOLIS) February, 14, 2015 - The Indianapolis Speedrome is proud to announce that on the night of Saturday, July 25, 2015, the historic fifth mile oval will be hosting the INAUGURAL TONY STEWART MIDGET CLASSIC.

The race will feature a 100 lap main event broken into 2 segments: 75 laps, and a 25 lap dash to the finish, with a 20 minute break in between the two.

Tony Stewart earned his very first USAC midget feature win in 1991 at the Speedrome, and went on to become the Speedrome USAC Midgets Rookie of the Year the very same year. "The Indianapolis Speedrome is a special place for me because it's where I got my first USAC Midget win," Stewart said. "It's a huge honor to have a race named after me. I always enjoyed racing there and I'm sure

Larry Curry will make this race enjoyable for the competitors and fans."
Indianapolis Speedrome Managing Partner, Larry Curry says, "We are all very excited to have the opportunity to have such a great event in honor of Tony Stewart at the Speedrome." Curry went on to say, "I was very lucky to have Tony as my race car driver, as well as work for him. He is a very special person, and one that I feel very lucky to refer to as a friend."

For more event details, contact Larry Curry at 317-437-3600, or email: speedromelrc@gmail.com, or log onto www.speedrome.com.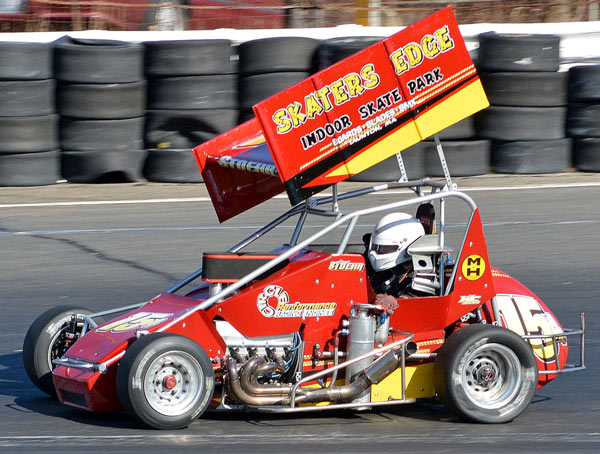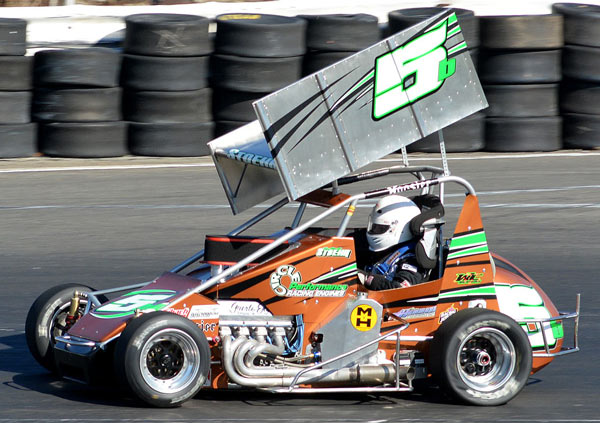 Racing as a Stoehr Family Affair
Continues in 2015
Bridgewater, MA - For many years, a NEMA race has not been run without a Stoehr family name on the starting grid - from grandfather Paul, to brothers Russ
and Greg, to the new generation of Stoehrs - Avery and Bethany. This year will be no different.

The 2015 runner-up in the NEMA Midgets division, Avery Stoehr, will again campaign a full-time ride on the NEMA schedule, and also will sport a new NEMA
LITES ride at the Thompson Speedway Motorsports Park Icebreaker on April 11th and 12th. Avery will be bringing along his familiar sponsors: Motorcars
International, Skaters Edge, Maaco, and Jon Andruk's Circle Performance. In addition, Stoehr will run select TQ races - as evidenced by his appearances in
Trenton NJ and Atlantic City - and is working on other possible rides, including Stafford Speedway on Friday nights.

"2014 was a good year. I think we accomplished everything we set out to and then some. I think we've got a very good season to build off of for 2015," said
Avery.

A welder by trade, the young Stoehr says that Oswego and Thompson, two of NEMA's fastest tracks, are his favorite places, not unlike many of the young
drivers. "NEMA is a place where any given car can win on any given night at any track these days," he says.

Avery's #15A race cars are crewed by the familiar father & son combination of Carl and Curt Kibbe. The Kibbes have been a mainstay in NEMA for the last
four decades with Carl having won multiple championships as a car owner, and Curt having been a key crew member for his father and the late Gene
Angelillo.

And it does not end there. Avery's cousin, Bethany, also a regular front runner in NEMA, is looking forward to the full NEMA schedule as well.

"Our plans for the 2015 season for the #5B team include building a new car over the winter and attending every scheduled event. Our goal is podium finishes
or a top 5 at every race," she says.

When asked about her favorite track, Bethany says "I like Oswego and Twin State the most, but it is awfully hard to narrow down a favorite. I like any track that
involves going fast and turning left!"

A race fan since she can remember, NEMA's top division only current female competitor has had the sport in her blood since a very young age. Bethany also
has a passion for music, singing the National Anthem at a number of NEMA races. She enjoys singing & writing music as a hobby, when she is not busy either
working on the race car, racing, or at her full time job at Motorcars International.

Longtime NEMA board member, tech inspector and chassis expert, Shawn Torrey will join Bethany's father Greg and mother Tara as the crew on her #5B in
2015.

There is one thing for sure, when the green flag drops at NEMA's season opener, the chances of a Stoehr on the podium, or in the winner's circle are very
strong for 2015.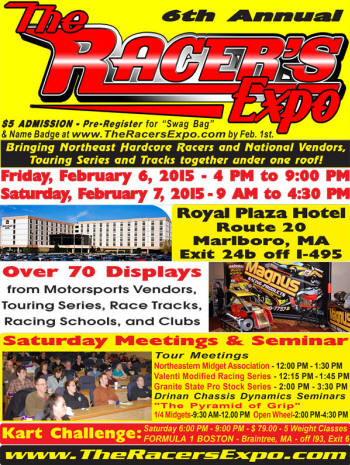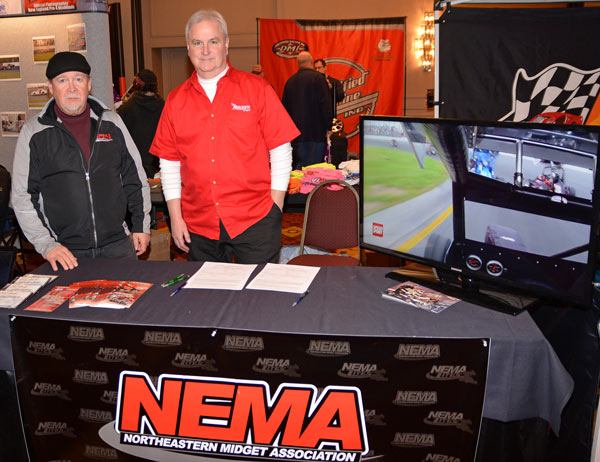 NEMA Celebrates Successful Racer's Expo
NEMA was in strong form this past weekend at The Racer's Expo in Marlborough, MA. A wide variety of racers and vendors were brought together by the legendary Seymour Enterprises and Bobby Seymour, making this year's show the biggest yet.

The NEMA Board met early in the day to discuss the upcoming season. Topics included ensuring that the race format goes off as fast as possible and a number of ideas on that topic, picking the three "open" races for 2015, which will be announced prior to the start of the season, additional possible dates on the 2015 schedule, publicity updates, and continuing to work on the NEMA business plan for the future.

The club then hosted its final pre-season General meeting, where new president Russ Stoehr ran a very informative general meeting, where he mentioned some revisions to the current schedule - such as a possible race at Chemung, NY on Friday May 22nd and possible additional races at Waterford Speedbowl under new owner Bruce Bemer. Tim Bertrand then informed the membership of plans for a combination rookie orientation / safety inspection / test & tune day at a track TBD for some time in April. VIP Fan and Track Publicity co-chairs, Bill Van Slyke and Mariah Michalski ran down a list of PR / VIP plans for 2015. Mariah has taken the VIP program to a new level this year which will include armed forces involvement, involvement with local children's hospitals, and local community involvement.

NEMA also welcomed back Craig Merriman with great fanfare as its starter for 2015, as well as Bob Blanchette, Mike Scrivani as race director, and long time supporter Linda Cleveland on the banquet committee.

Elsewhere, NEMA was also busy on the weekend with Ed Breault's #44 Crown Collision machine on display at the Thompson Speedway Motorsports Park (TSMP) booth in Providence. NEMA will also be supporting TSMP's Open House at the Speedway in the Garage area on March 14th, with Champion Randy Cabral on hand along with a car from Bertrand Motorsports. NEMA will also have a display at Frank Marotta's Race a Rama on the weekend of February 28th.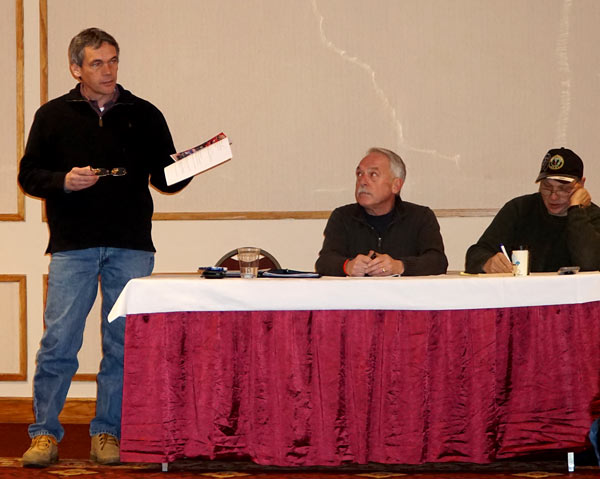 NEMA Releases Preliminary 2015 Schedule
BROCKTON, Mass. — Established haunts make up the 2015 Northeastern Midget Association schedule, including a return to White Mountain Motorsports Park after an absence of many years and the season opener at Evans Mills Motorsports Park on May 23rd.

As NEMA President Russ Stoehr puts the finishing touches on the final schedule, there are 12 races currently on the NEMA agenda while the NEMA Lites will make 12 stops in what will be the club's 63rd consecutive season, making it New England's oldest sanctioning body. There is a possibility additional races will be added to one or both schedules at a later date.

Randy Cabral and owner Tim Bertrand will begin defense of their NEMA championships and the Lites will begin their eighth season at Thompson Speedway Motorsports Park, as they present The ICEBREAKER on April 11th and 12th. Scott Bigelow will begin defense of his Lites owner's crown, and there will be a new Lites driver's champion this year as Ryan Krachun will not be returning to the series in 2015.

Monadnock returns to the schedule hosting both NEMA and the Lites for the Iron Mike Scrivani Race on June 20. The club will honor the 32nd anniversary of the passing of the legendary car owner on the speedy high-banked quarter mile.

The full midgets and the Lites will share the billing at the Thompson Speedway Motorsports Park (TSMP) Sunoco World Series of Racing for the first time ever in October, and NEMA will host the Angelillo Memorial at TSMP on August 12th in conjunction with the Whelen Modified Tour. Both divisions will return to New York State's Oswego Speedway King of Wings program as well on July 11th.

Two other special events — the Marvin Rifchin Trophy Race at LEE USA Speedway on July 17th and the Shane Hammond Memorial at Monadnock on September 5th will also include the Lites.

NEMA will also return with great fanfare in a televised event on MAV TV to Seekonk's Open Wheel Wednesday/Boston Louie Memorial Classic (July 1) and Waterford's Wings & Wheels (pending ownership issues are solved), two traditional stops.

NEMA looks forward to stops at Wiscasset Speedway on June 13th after a very successful event last season and Twin State Speedway in Claremont, NH.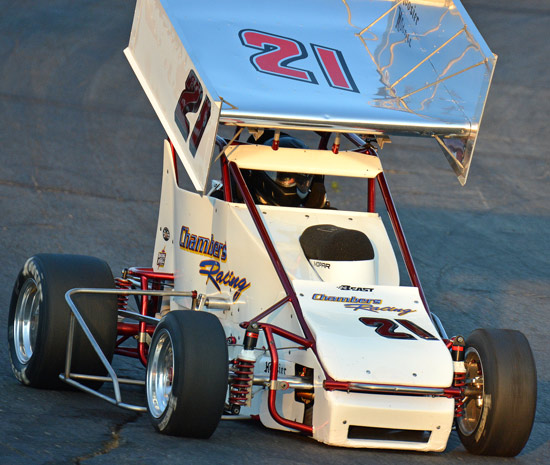 Chambers Brothers Among NEMA Threats
Brockton, MA – The Chambers family - brothers Jim & Alan, will celebrate their 20th year of open wheel racing during the 2015 season.
Although the team is still finalizing plans for next season, one thing is sure - they will be a force to be reckoned with, within both the NEMA and NEMA Lite ranks. The current plans include 2 NEMA cars (Beast Chassis) and a NEMA Lite car that will be shared amongst the two. The team also plans to have a few "guest" driver appearances - a phenomenon that has been popular in NEMA the last few years for a number of teams.

It's a family affair, no doubt for Chambers Racing. The team boasts two family businesses as sponsors in Michael Chambers Auctioneers as well as Alan's business - Mac's Auto world.

"My favorite track is Star speedway in Epping, as this was the track I grew up watching races at and started my adult racing career in the 350 supermodifieds," says Alan. "Jims favorite tracks are Lee Speedway and Monadnock because he always seems to run strong each time NEMA makes an appearance there," said Chambers.

"After racing in a few different series we have found a home with NEMA. We love racing with NEMA because of the high level of competition and the camaraderie between all the drivers and teams, NEMA is like a big family and its nice to travel with a group that will race us hard, but no matter what, the night always ends in handshakes and a good laugh," he says.

Outside of racing Jim is an automobile auctioneer and enjoys playing the drums and snowboarding as well as playing on anything with an engine. Alan owns a used car dealership, and when he is not busy working he enjoys playing the guitar, soccer and videogames.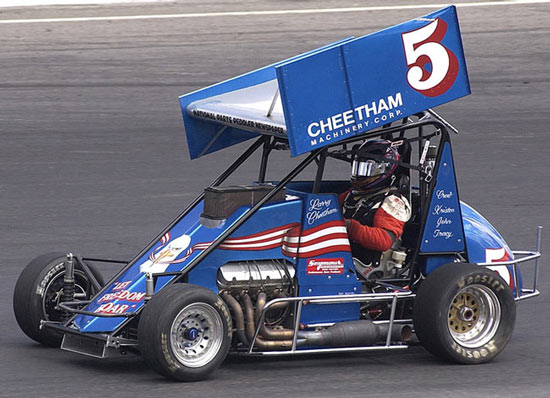 Lawrence Fletcher "Larry" Cheetham Jr.
A long time NEMA member and supporter,
Larry Cheetham passed away on Wednesday, Jan. 7th.
- First Visitation -
Friday, January 9th, 2015, 4:00pm - 7:00pm
Smith Funeral & Memorial Services
8 Schoolhouse Road Warren, RI
Just off Rt. 136 behind Bank Newport
Map & Directions
- Service Information
-
Saturday, January 10th, 2015, 10:00am
Smith Funeral & Memorial Services
-
Interment Information -
North Burial Ground - Hope Street Bristol
NORTHEAST MOTORSPORTS EXPO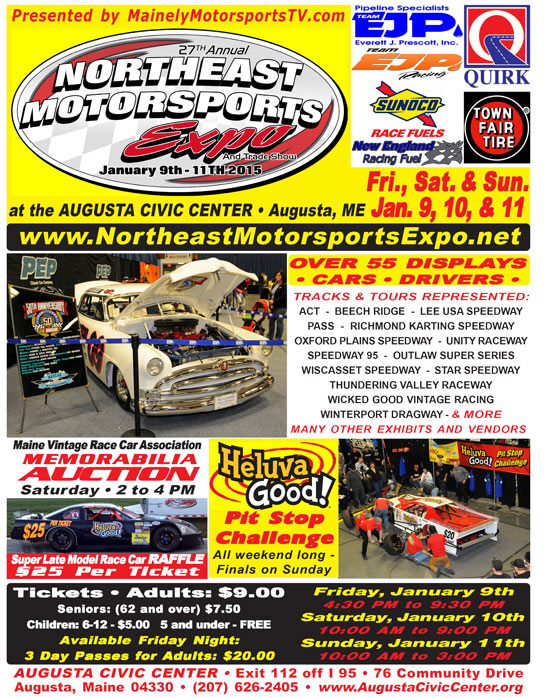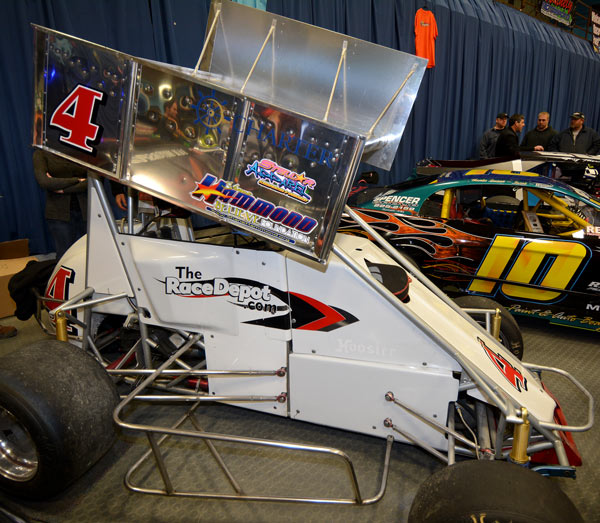 Paul Scally's NEMA Lites #4 in the Wiscasset Speedway booth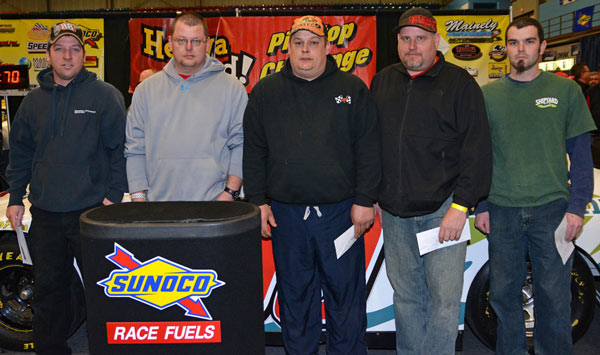 Paul Scally participated in the Helluva Good Pit Stop Challenge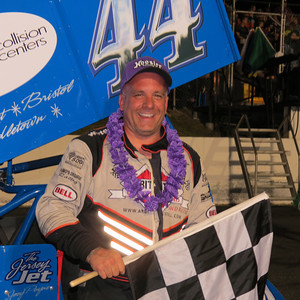 Payne to Pilot Bertrand No. 74
By Nicholas Teto/YankeeRacer.com
Photos by Randy Lindblad and Crystal Snape
Former champion Joey Payne of Fairlawn, NJ will return to NEMA competition at Oswego (NY) Speedway July 11. The NEMA Midgets and Lites will accompany the ISMA Supermodifieds' King of Wings VII card. Payne recorded his most recent victory in the 2013 Iron Mike Scrivani Memorial at Monadnock (NH) Speedway. Previous drivers of the third Bertrand Motorsports entry include Cole Carter, NASCAR Whelen Modified Tour champion Doug Coby, Jeff Horn, and Anthony Marvuglio.

"I'm really excited,"Payne said. "I've known them guys for a long time and I've never driven for the Bertrands. We always talked about it, I always hound them for a ride, and finally last summer we were at Oswego and he (Car Owner Tim Bertrand) said to me, 'We're coming back here next year and you're going to drive the 74 car.' … They have great equipment and all three of their cars are fast on any given day. It's kind of a top quality ride for my home track is going to be a real good thing."

FULL STORY WITH PHOTOS HERE
NEMA congratulates Anthony Nocella
on his awesome effort and win at
the 2014 Rumble!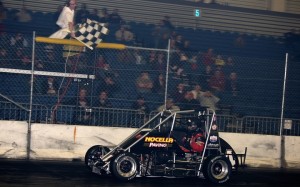 Chris Seelman Photo
Rapid Rookie; Anthony Nocella Stuns Rumble In Fort Wayne, Wins On Opening Night
Audio and recap by Race Chaser Online Managing Editor Jacob Seelman
FULL STORY & AUDIO at RaceChaserOnline.com
For the third consecutive Rumble in Fort Wayne feature event and second straight year, a page of history was written at the Allen County War Memorial Coliseum.
Only this time — it was a true rookie who inked his name in the record books.
Woburn, Massachusetts native and 22-year-old college senior Anthony Nocella made the long haul from New England to make his debut appearance in this year's 17th annual Rumble in Fort Wayne. He then forever left his mark on the concrete oval by passing defending race winner Justin Peck on lap 33 of Friday night's 50-lap National Midget A-main and driving away to a stunning victory.
Nocella becomes the first driver to ever win in his first-career Rumble appearance, driving for noted car owner Bobby Seymour.
FULL STORY HERE
NEMA Board Finalizes Rules Package & Exciting Changes for 2015 Season
Bridgewater, MA - The newly elected NEMA Board wasted no time getting to work, as they met for the first time after being elected last weekend to ratify the 2015 rules proposals this past Sunday, and also agreed on a number of exciting changes for the 2015 season.

The biggest change for the NEMA series will be the addition of staggered heat race points for both divisions, as decided on by the Board. The heat winner will get 20 points, 2nd place 18 points, with 2 points between positions down to 6th place - at which all remaining cars will get 10 points. The Board felt that this change will encourage a better show for the fans during the heat races and reward those who run well in the heat races.

Also exciting for the 2015 season, the Board has adopted the inclusion of a Rookie Development program. Full details will be announced later in the winter, but the intent of the Rookie Development Program will be to provide track time, driver coaching and safety education to new teams and drivers. Drivers falling into the newly adopted age brackets (those who turn 13 during the competition season for the Lites, and 15 years old for NEMA - both with previous experience) must pass the Rookie Development Program and be approved by the NEMA Board prior to competing with NEMA.

NEMA will also be bringing back its NEMA Fan of the Week program in 2015, after a successful program the last couple of seasons. The Fan of the Week gets a free pit pass for themselves and a guest, as well as a tour of the NEMA pit, time with the drivers, and other benefits throughout the evening. In addition, the club will be providing a printed program each week at the race track versus its traditional year book, and will continue its Meet & Greet program under the leadership of Bill Van Slyke.

As previously announced, NEMA will also continue its relationship with Hoosier Tire, as the club signed an exclusive 3 year deal with Hoosier for its current plated NEMA tires. Hoosier East and NEMA have selected Seymour Enterprises as its authorized distributor for the 2015 season.

A number of technical rules were passed as well, and will be posted on this website durng the coming week.
NEMA General Membership Meeting
Cites Strong Progress for 2015
Thompson, CT - NEMA held its annual membership meeting this past Sunday at the Thompson Speedway Motorsports Park clubhouse, with a strong showing of general members present. At the top of the agenda was a preview into the 2015 schedule, which will feature 3 events at Thompson, as well as events at Oswego, Seekonk, Monadnock, Evans Mills, Wiscasset, LEE USA and White Mountain - with tentative dates held for Waterford Speedbowl, Twin State, and Chemung, NY.
The club also elected a new President for the first time in over ten years - with Russ Stoehr running unopposed to take over the top seat in NEMA. Mike McCarthy and Mike Chambers were elected to the Vice President spots, Joe Santa Maria as Secretary and Paul Scally returns as Treasurer. A new Board was also elected with Tim Bertrand, Shawn Torrey, Paul Bigelow, Randy Cabral, Mike Scrivani and Dennis O'Brien taking over those seats.
The club also made additional major strides to help increase its membership base including the development of a Rookie Development program. Under this program, the club will secure track time for new drivers joining the NEMA Lite ranks to practice with the club, particularly noted - 12 and 13 year old drivers will be able to participate in the program. In addition, any driver that turns 13 during the competition season who has prior experience, that has passed the Rookie Development Program and has approval by the Board may compete with the Lite series. The minimum age for NEMA was also lowered to 15 years old with prior experience and Board approval.
Next, the club also voted to have 3 "open" events per year - where the current handicapping system will not be used, and a time trial system will be used similar to previous years at the Boston Louie Memorial, with the hopes of encouraging outside participants from other divisions as well as midget racers from the South and Midwest to participate.
A number of technical rules were proposed as well, and the new Board of Directors will be coming forth over the next week with a vote on those rules to be announced on this website.
NEMA hopes to announce its final schedule by year end, and will also be posted on the website.

NEMA and Hoosier Tire
Ink Exclusive Three Year Deal
Brockton, MA - NEMA President, Mike Scrivani, announced today that the Northeastern Midget Association and Hoosier Tire East have inked an exclusive, three year deal. Under the deal, NEMA will have exclusive rights in the Northeast to the current plated compounds (RR 7, 7.3, RF 5, LR, 5 and LF, 4, 5) and will be the only series in the Northeast running these particular tires.

Hoosier will also continue to be a major contributor to the NEMA point fund, and in addition have offered fixed pricing for the racer over the next three years.
"NEMA has enjoyed a long history with Hoosier. This sport is about supporting those who take care of you, and supporting each other. We feel that we have the best product in Hoosier and look forward to a long relationship with them," said NEMA President, Mike Scrivani. "We have an exciting schedule brewing for 2015 and expect great car counts," said Scrivani.

As part of the arrangement, Hoosier tire has selected long time NEMA supporter Seymour Enterprises to be the exclusive dealer and service provider to the Northeastern Midget Association for the 2015 season.

NEMA's schedule will soon be published on www.nemaracing.com. Stay tuned for all of the latest updates.