2012 NEMA NEWS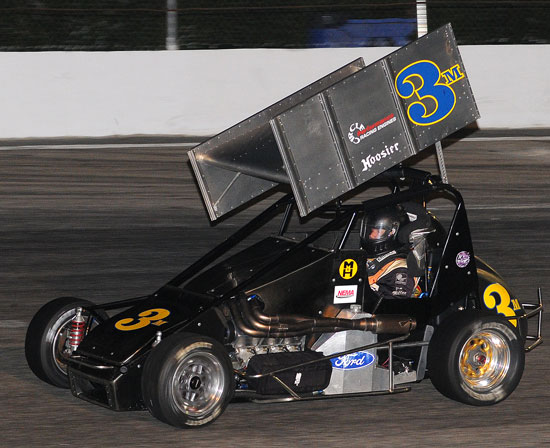 Jim Miller Milestones in 2012
Brockton, MA - When Jim Miller won at Oswego Speedway this summer, he not only joined a list of Northeastern Midget Association competitors to win in three different decades, he ended one of the longest waits between victories in club history.

Prior to Oswego, Miller's previous victory came at Oxford Plains Speedway on Aug. 18, 2001 – six days short of 11 years. The longest time between victories belongs to Greg Stoehr – 13 years (1994-2007) although in all fairness Stoehr spent much of those years voluntarily inactive. Keith Botelho waited a dozen years between a 1998 win at Seekonk and a checkered at Seekonk in 2010. Infrequent NEMA competitor Lou Ciccioni Jr. also waited 11 years between wins at Flemington in 1996 and at Waterford in 2007.

Over sixty years, NEMA has operated in seven decades. Russ Stoehr is by himself in the "four-decade" category.

Despite those long waits, Cicconi and Greg Stoehr join Miller in the "three decade club." Howie Bumpus, Joey and Johnny Coy, Bill Eldridge, Ronnie Evans, Drew and Nokie Fornoro, Jeff Horn, Dave Humphrey, Bobby Seymour, Lee Smith and Len Thrall are other three decade winners.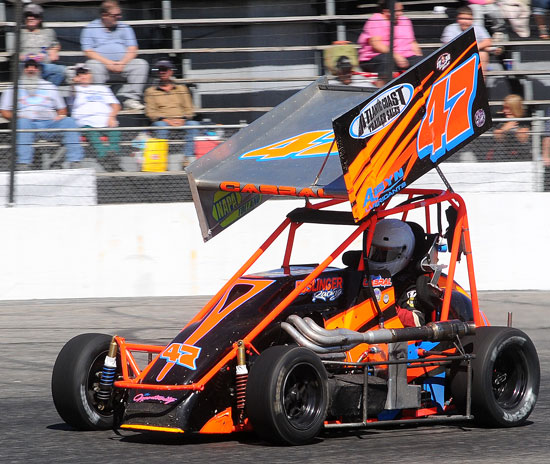 Another Achievement for Cabral
Brockton, MA - When Randy Cabral won at Beech Ridge Motor Speedway this summer, he became the 21st Northeastern Midget Association driver to post victories at at-least eight different speedways.

Considering schedules are much slimmer than they were 25 years ago, it is a laudable achievement for the five-time champion whose 35 career wins have come at Lee, Monadnock, Seekonk, Star, Twin State Thompson and Waterford in addition to "The Ridge."

Russ Stoehr is the leader among active drivers with wins at 14 tracks – Beech Ridge, Flemington, Fonda, Hudson, Lee, Monadnock, Oswego, Oxford, Seekonk, Stafford, Star, Thompson, Thunder Road and Waterford. Stoehr is tied for fourth on the all-time list with Nokie Fornoro.

The top-three in the "tracks won at" category are Dave Humphrey (20), Drew Fornoro (19) and Billy Eldridge (16). After Stoehr and Fornoro, comes Joe Csiki (12). Johnny and Joey Coy join Johnny Mann in the 10 bracket while Bobby and Mike Seymour, Dick Brown and Len Thrall have won at nine tracks.

Joining Cabral with eight are current competitors Jeff Horn, Joey Payne Jr. and Bobby Santos III along with Al Pillion, Lee Smith, Jerry Wall and Bobby White.

NEMA Part of Boch Toys for Tots
Drive on Friday, December 14th
NORWOOD, MA - The Northeastern Midget Association is a proud participant in the Boch Toyota of Norwood, MA 2012 Toys for Tots Drive.

Boch Toyota, located at 277 Boston-Providence Turnpike, will host the event on Friday, Dec. 14 starting at 5 AM and continuing throughout the day.

NEMA cars and drivers will be part of the festivities from 6 AM to 10 AM as will radio station WWAF which will broadcast from the dealership during that time slot.

"We are very excited to be part of the Boch Toyota Toy Drive," said NEMA president Mike Scrivani Jr. "We ask that all NEMA fans come out and donate to this great cause."

Boch Toyota is minutes from where the legendary Norwood Arena stood, a tough quarter mile that hosted a lot of New England racing. Between 1953 and 1969, Norwood Arena presented over 25 NEMA events.

Chuck Arnold, Bert Brooks, Joe Csiki, Al Pillion, Johnny Kay and Bill Randall, all members of the New England Auto Racer's Hall of Fame, were NEMA winners at Norwood Arena.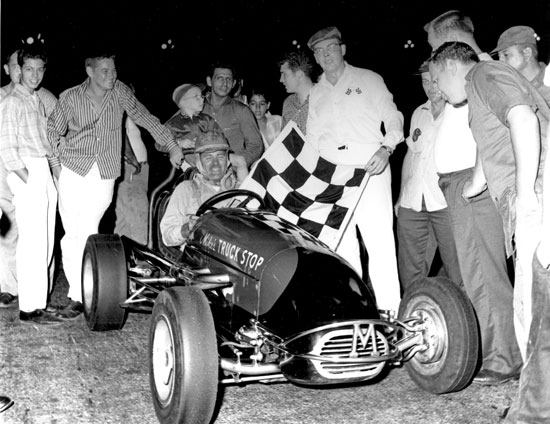 Norwood Memory: Ray Burke won at Norwood Arena back in 1959 in a
Scrivani #21. That's a very young present NEMA president Mike Scrivani Jr.
in the arms of Blackie LaMacchia just over the tail. (Balser Photo)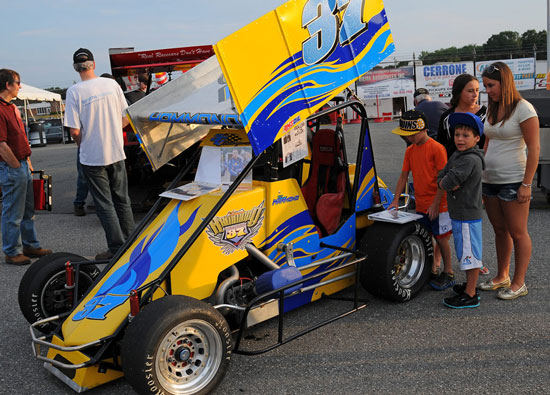 The Shane Hammond #37 will be on display at Boch Toyota on Friday the 14th.
2012 NEMA BANQUET
Saturday, November 17th
White's of Westport
Westport, MA
FULL BANQUET AWARDS PICTURE PAGE HERE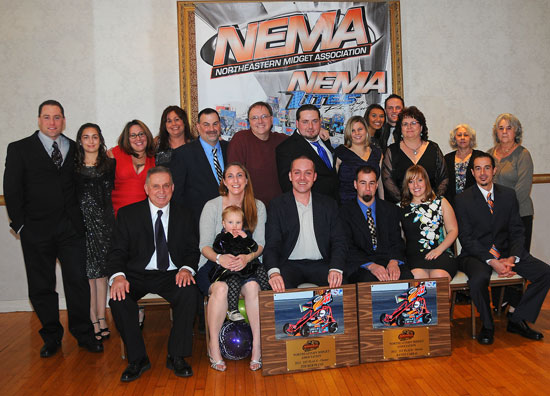 2012 NEMA Midgets Owner and Driver Champions -
Bertrand Motorsports and Randy Cabral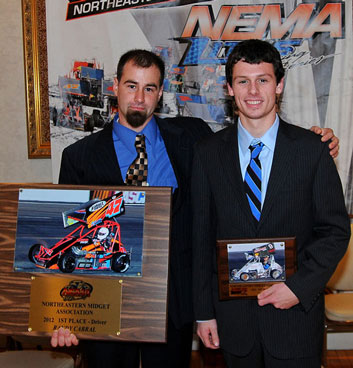 Randy Cabral & Ian Cumens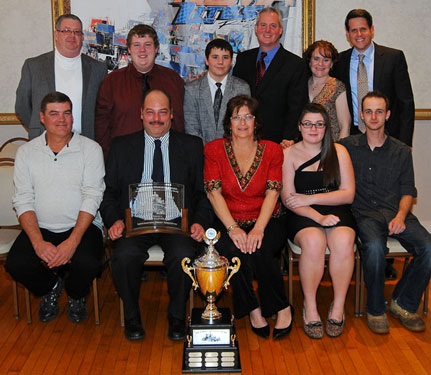 The Jim O'Brien Memorial Award for outstanding contributions to family
and racing was presented by the O'Brien family to Doug Cleveland
Prizes Aplenty at NEMA Banquet
Westport, MA – Drivers Randy Cabral and Ian Cumens and owners Tim Bertrand and Bobby Seymour carried off the biggest trophies Saturday night at the Northeastern Midget Association's Awards Banquet at White's of Westport. It ended NEMA's 60th season.

Cabral and Bertrand celebrated their second straight and fourth championship in five seasons. The Bertrand #47 was the only multiple winner in a campaign that saw 11 drivers capture checkered flags.

Cumens, who often traveled seven hours from his Pennsylvania home, and Seymour captured the NEMA Lites Hoosier Tire Challenge title. It was a six-race series that included the Oswego Speedway race that Cumens won in the Seymour #9

"I'm looking forward to racing with you next year," Bertrand told the gathering, a perfect ending to the awards-filled program. In addition to honoring the top 15 owners and drivers in each division, there were a host of award presentations, many honoring key figures in NEMA's history.

Joe Fiore, a long-time member of the Dumo's Desire crew, won the coveted Johnny Thomson Memorial Award.

Avery Stoehr (Lites) and Seth Carlson (NEMA) were the Ed Clotheir Rookies of the Year; Mike Horn (NEMA) and Jeff Johnson (Lites) the Mechanics of the Year and Jack Smith (Lites), Bethany Stoehr (Lites) and John Zych Jr. the Joe Csiki Most Improved Drivers.

The Pat Thibodeau Youth and Determination winners were James Santa Maria (NEMA) and Dylan Duhaime (Lites). Brandon Martinez and Dylan Duhaime were recognized with Up and Coming Awards. The Hard Luck hardware went to Lites competitor Andy Barrows.

Official Bob Blanchette (Wen Kelley Memorial), ageless Jeff Horn (Ralph Miller Memorial Award for Outstanding and Continuing Perseverance), Christian Briggs (Ray Roberts Memorial) and Jim Miller (Evans/Thrall top Owner/Driver) captured NEMA traditional awards.

The three-car deep Bigelow family took away the Associate Member Never Say Die Award. The Marilyn and Gene Angelillo Memorial Award for Outstanding Performance went to Jennifer Scrivani. Doug Cleveland won the Jim O'Brien Outstanding Contribution to Family and Racing Award and Dan Cugini (Lites) and Anthony Mavuglio (NEMA) were the Shane Hammond Sportsmanship Award recipients.

The Ken Schrader Racing-sponsored Hard Charger prize went to four-time Lites winner Carl Medeiros Jr.

Recognized for perfect attendance were the Bob Seymour # 9, the Stoehr # 26b, the Stoehr #15a, the Cabral #35, the Medeiros #50 and the Cugini #51 Lites cars and the Dumo's Desire #45, Bertrand #47, Miller #3m, Scally #30 and Santa Maria #99 NEMA cars.

Also recognized were push truck operators Pete Pernesiglio, Glen Cabral, Steve Cleveland, Kurt Kiermont, Dave Shore, Chuck Hill and Jackie Giannini.


FULL BANQUET AWARDS PICTURE PAGE HERE


FINAL POINTS

NEMA MIDGETS


Owners

: 1. Tim Bertrand #47, 2. Dumo's Desire #45, 3. Jim Miller #3m,
4. Jeff Horn #93x, 5. Greg Stoehr #26b, 6. Paul Scally #30, 7. John Zych Sr. #9, 8. Tammy Bourbeau #38, 9. Susan Santa Maria #99, 10. Ed Breault #44,
11. Bertrand Motorsports #39, 12. Lee Bundy #2, 13. Gene Feigel #71,
14. Bobby Seymour #4, 15. Jeff Horn #A1.



Drivers:

1. Randy Cabral, 2. Russ Stoehr, 3. Jim Miller, 4. Greg Stoehr,
5. Mike Horn, 6. Todd Bertrand, 7. Paul Scally, 8. John Zych,,
9. Anthony Marvuglio, 10. James Santa Maria, 11. Seth Carlson, 12. Jeff Horn, 13. Lee Bundy, 14. Anthony Nocella, 15. Adam Cantor.

HOOSIER TIRE LITES CHALLENGE


Owners:

1. Bob Seymour #9, 2. MC Racing #15a, 3. Shawn Duhaime #57,
4. MCI Racing #26b, 5. Glen Cabral #35, 6. Donald Cugini #51,
7. Carl Medeiros #50, 8. Christian Briggs #44, 9. Dave Igo #45,
10. Paul Scally #4, 11. Randy Bigelow #33, 12. Jeff Johnson #46;
13. Ted Smith #93, 14. Michael Chambers #11w, 15. Lou Martinez #12.



Drivers:

1. Ian Cumens, 2. Avery Stoehr, 3. Dylan Duhaime, 4. Bethany Stoehr, 5. Randy Cabral, 6. Carl Medeiros Jr., 7. Danny Cugini, 8. Christian Briggs,
9. Logan Rayvals, 10. Ryan Bigelow, 11. Kenney Johnson, 12. Brandon Igo,
13. R.J. Tufano, 14. Jake Smith, 15. Brandon Martinez.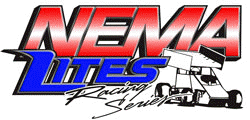 Successful Season For NEMA Lites
Brockton, MA - Ten winners in 14 events made 2012 the most competitive season yet for the five-year-old Northeastern Midget Association's Lites Division.

A pair of 16-year olds, Carl Medeiros Jr. and Avery Stoehr, with four and two respectively, were the only double winners. Medeiros set a new standard with three straight victories including two in one day at Lee USA Speedway on June 13. His fourth win came at Beech Ridge in September.

Third-generation driver Stoehr (following grandfather Paul and father Russ) won at Waterford Speedbowl and at Lee USA's Ocktoberfest.

Other winners were Ryan Bigelow, Brandon Igo, Randy Cabral, Ian Cumens, Modified standout Keith Rocco, Alan Chambers, Dylan Duhaime and Danny Cugini. There were few runaways as NEMA officials continued to keep the division competitive.

"The season was as successful as you're going to get," says Bobby Seymour, the division's top nursemaid. "We had lots of different drivers, lots of different cars and motors. We had young guys and old guys winning."

Cumens, Stoehr and Bigelow are all scheduled to move up to the full midgets in 2013. Cumens, in his second Lites campaign, had a win at Oswego and four seconds among eight top five finishes driving for Seymour. He was third at Lee USA's Speedway's Ocktoberfest in Seymour's full midget. Bigelow's Waterford triumph was his third career Lites win.

While she didn't checker, Bethany Stoehr, Greg's daughter, turned more than a few heads with 10 top-fives, including four seconds in the family No. 26b. Bethany did double duty much of the campaign, making six NEMA starts including a fourth at Waterford in the former Jarret No. 4 once driven by Nokie Fornoro.

Bethany turned a sizzling 12.986 lap capturing a heat in the No. 4 at Waterford. Now in the Stoehr stable, it will be Bethany's regular ride in 2013.

"The goal is to bring talent to NEMA," continues Seymour. "The stronger NEMA is, the stronger the Lites are going to be. People come to the Lites wanting to go further. NEMA is something to look forward to."

The Lites are a little less than a second off the full midgets. At Waterford in August, for instance, Todd Bertrand (13.014) had the fastest feature lap for the full midgets while Cumens' 13.936 was best in the Lites event. Eight tenths separated Greg Stoehr and Cugini at Beech Ridge.

Lites graduates Seth Carlson, Anthony Marvuglio, Todd Bertrand and Anthony Nocella were NEMA winners in 2012. Nocella is the division's all-time winner with 11. There have been 30 winners in the 66 Lites features since 2008.

Why Randy Cabral competes in NEMA's Lites Division:

1. "I enjoy racing with those guys. Hopefully I can show them they will be able to move and race with us [in the full Midgets]. That's what the division should be doing. "

2. "I want to help the younger kids. The Lites cars drive differently than a full midget. Driving in that division helps me talk to the kids, helps me answer questions."

3. "I am not content with running just the NEMA schedule. Running the Lites car is not that expensive for us."

4. "My father (Glen) really wanted somebody to drive for him. Everybody he had driving crashed and he couldn't find people to work on the car. At the end of last season he said he was going to park the car. I stopped driving for Paul Scally and went to my father."

Cabral has three career Lites win including one last summer at Star.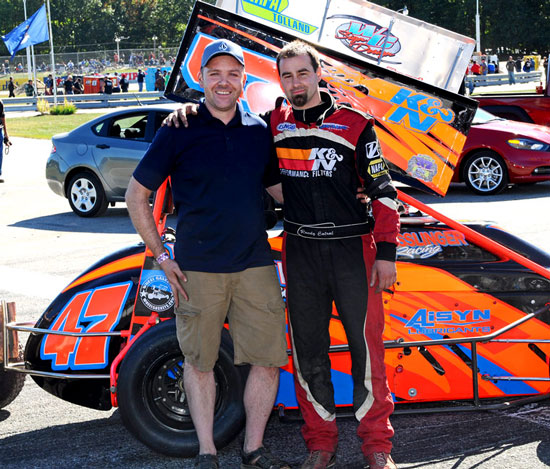 NEMA Championship Duo
Started With A Crash
Brockton, MA - One of the most successful teams in Northeastern Midget Association history started with a crash. Randy Cabral has won four of the last five Northeastern Midget Association driving championships including the last two in a row. All of them have been in Tim Bertrand-owned Midgets.
"Tim was having trouble with guys in his car," begins Cabral. "I said to Tim 'I'd love to drive for you guys' and he kind of laughed at me and walked away. He came back later and asked 'are you serious? I thought you were joking' and I said 'yes and no.'"

Bertrand had good reason to wonder. Cabral had just won in a Seymour car at Waterford. The second generation driver was an established competitor finishing second twice and third in points driving his father Glen's No. 35. Key among the wins was the 2000 Boston Louie.

After testing at Waterford, Cabral "promised Tim "I won't crash the car" which he promptly did at Seekonk. "I about destroyed his race car – flipped it three times," Cabral continues.

With four wins in 2012, Cabral moved into fifth on NEMA's all-time win list, his 35 triumphs (28 with Bertrand) behind Drew Fornoro (85), Dave Humphrey (73), Russ Stoehr (49) and Nokie Fornoro (45). It was the 13th straight season he has won at least one race, a stat surpassed only by Humphrey.

He proudly recognizes the wins because they reflect commitment, "mine and my family's" to the sport. Bertrand, he says, "puts great equipment under me, gives me what I need. He thinks about the car all the time."

And to think, the first time Cabral, then 19, drove a race car, he wanted to quit. "I absolutely did not want to do it anymore," says Cabral who was driving for Chuck Welling. "Chuck made a deal with me," Cabral goes on. "He said, 'look I spent money for you to do this. I owe you three races and you owe me three races and let's get that out of the way first."

Cabral, who remains indebted to Welling, finally reached a goal that started 10 years earlier. "All I ever wanted to do was drive a Midget," he says. "When I first saw one at Star Speedway, I said 'these cars are awesome and I want to drive one. They are small, they are fast and my dad drives one."

Truth is, Cabral has done things backwards. In contrast to most drivers, he "had to go backwards" to drive other types of race cars.

The fourth NEMA championship is part of "the most fun I've had in racing." In addition to Midgets (he made every NEMA Lites show in the family #35), the Plymouth, MA teacher drove Pro Fours and Legends Cars, actually won in a dirt Midget and gave Sprint Cars a shot. He went to USAC's Night Before the 500 Midget show with the Bertrand operation. The Pure Stock his students have been working on over the past two years made its debut at Seekonk.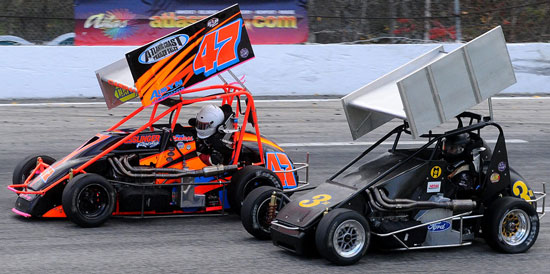 "Back to Basics" Key for NEMA Champions
Brockton, MA – Sometimes a look backwards can result in a move forward. Bertrand Racing and driver Randy Cabral, the 2012 Northeastern Midget Association champions, is a case in point. It was the second straight and fourth championship in five years for the duo.

It was after a fifth at Oswego Speedway in late August – the end of what owner Tim Bertrand calls a string of "mediocre races" – that the team "decided to get back to basics." According to Bertrand "we put four non adjustable, economy shocks on the car and went back to our setups from 2008. We committed to figuring out how to make them work again and stick with our old program."

Finishing with back-to-back wins (Thompson's World Series and Lee USA's Ocktoberfest), Cabral had three wins, two seconds and a third over the final six events. He won the championship going away, capping off a 12-year NEMA stint that has produced 35 victories, 28 of them with Bertrand.

Starting with his own win, Bertrand Racing now has 35 wins (since 2001). Brother Todd contributed two, including one this year. The other four belong to Lou Cicconi, with three and Mark Buonomo with one.

Cabral had four checkereds in 2012, the only multiple winner in a season that saw 11 different drivers visit Victory Lane before Cabral became the first "two timer" at Beech Ridge in September.

The championship, Cabral insists, "is a credit to the crew. They give me the car that I need. The championship is more theirs than mine. I didn't do anything spectacular. I just drove. They made it easy for me." His dad Glen is a major part of that.

The first win came five races into the season at Star, two races after a crash at Stafford. "Glen did a masterful job putting the car back together," claims Bertrand but right after Stafford "we really got off our program."

Cabral insists "having fun" is a factor. "At the end of the day," he says, "we better have a smile on our face. If we don't, we go back the next day and analyze why." Still, commitment, communication and simple hard work are the real ingredients.

"I would not call myself an easy person to drive for," says Bertrand, "and I wouldn't say that Randy is an easy driver to please. That is what makes us so good together. I'm not happy when the car isn't great and neither is he."

"Randy can be the fastest car out there and come and tell me the car is "junk," Bertrand continues. "What he really means is that the car might be fast on the stop watch, but it won't last 25 laps. I think some guys just don't get that."

The World Series is a perfect example. The car was terrible in Saturday's qualifying. "I was so mad that we made some bad decisions that day, I picked up and left the race track immediately after the heat," Bertrand explains. "Later that night, after I calmed down. Randy, Glen and I talked on the phone and we made some really critical decisions."

Coming from 14th, Cabral all but clinched the championship with his 10th career Thompson win, turning in the fastest lap (18.113) as well.

And Lee provided still another example of "the connection" between Cabral, Bertrand and the car. "Before Lee," Bertrand offers, "I told Randy I had a bad feeling about the drive line in the car because we got a bad push start at Thompson. We won the heat race (at Lee), and the drive line failed when we crossed the start finish line."

Working with Todd enhanced Bertrand's enjoyment, as well. "I started going down to the shop in Connecticut with my daughter to work on his car with him and the results were awesome – four top-fives including a victory at Waterford," said Bertrand.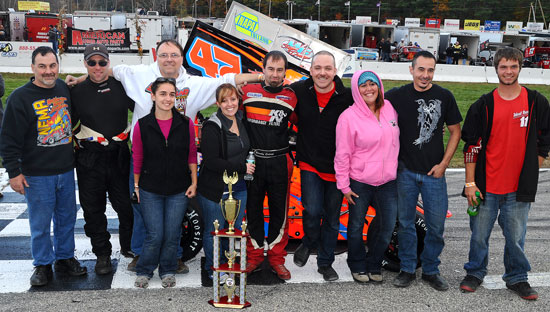 Cabral, Bertrand Rule NEMA - Again
Brockton, MA – Finishing up the season with three wins and a seconf, Randy Cabral and owner Tim Bertrand captured the 2012 Northeastern Midget Association championships going away. Cabral/Bertrand, with four, was the only multiple winner in a campaign, NEMA's 60th, that saw 11 different winners visit victory lane.

There were 10 different winners before Cabral became the first "two-timer" at Maine's Beech Ridge Speedway on Sept. 16. From that point, Cabral drove the Bertrand #47 to a second at Waterford Speedbowl's Finale and then to victories at Thompson Speedway's World Series and Lee USA Speedway's Ocktoberfest.

It was the second straight championships and the fourth in five seasons for Cabral and Bertrand who finished 166 points in front of Russ Stoehr and the Dumo's Desire #45, the latter in the runner-up spot for the second straight season.

Veteran Jim Miller, a winner at Oswego, rode a runner-up finish at Ocktoberfest to finish third, the top owner-driver. It was one of the most popular wins of the season.

John Zych Jr. (Waterford), Greg Stoehr (Waterford), Mike Horn (Stafford) and Adam Cantor (Lee) were winners before Cabral won his first of the season at Star Speedway on July 21. Rookie Seth Carlson (Seekonk), Anthony Marvuglio (Waterford), Jim Miller (Oswego) and Todd Bertrand (Waterford) were winners before Cabral finally ended the streak.

Russ Stoehr was winner number 11 at Waterford before Cabral doubled out. Stoehr finished with 12 top fives including seconds at Oswego and Thompson. Getting caught up in an early crash at Ocktoberfest was a factor in the Cabral/Bertrand final bulge.

"I was absolutely amazed that we were able to win four races," said Bertrand. "There was a point where I would have been satisfied if we won just one. I think the club has really figured out an extremely well balanced rules package. At every race, the top 10 cars are within two-to-three tenths of each other.

"Even at the big tracks," Bertrand continued, "the team who figures out the setup best usually wins." He pointed to Glen Cabral's efforts in rebuilding the car after Stafford but said a decision to go back to 2008 set ups over the final six races was, in the final reckoning, the difference. "We never stop thinking about the car," Bertrand added.

"This championship is a credit to the crew" insists Cabral, who was out of the top 10 only once, that an eleventh after a crash at Stafford. "I didn't do anything spectacular. I just drove the car. The crew made it very easy for me." Since coming together seven years ago, Cabral has won 28 times in Bertrand equipment.

Zych gets special mention from Cabral, pointing out weather and business commitments shortened his season to nine starts. He was in the top five six
times.

Rookies Jim Santa Maria and Seth Carlson were 10th and 11th in the final driver rundown.



2012 NEMA MIDGETS POINTS HERE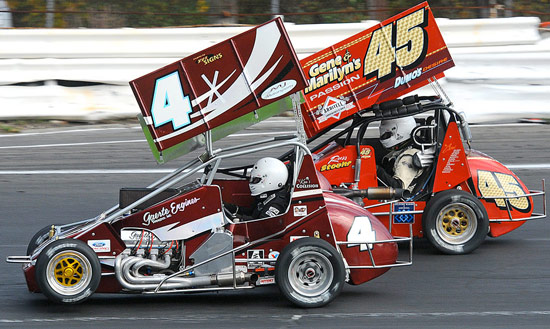 Stoehrs Purchase Jarret #4
Brockton, MA – The Stoehr family has purchased the Gaerte Ford-powered No. 4X Midget from Mike and Lu Jarret.

"Keith Botelho will drive the car at Thompson's World Series this weekend and after it will be Bethany's ride starting with Octoberfest at Lee," said Greg Stoehr. "It is her ride for next year."

Greg's daughter, Bethany was very impressive in the car at Waterford Speedbowl's Finale. Her 12.986 lap en route to a heat victory on Saturday was the fastest of the weekend. She wound up fifth in the feature.

Carl Kibbe, who has maintained Avery Stoehr's NEMA Lites car this season, will be the crew chief. Avery, Russ Stoehr's son, has a win this season.

With Nokie Fornoro driving, the Jarret 4 was one of NEMA's most impressive cars for several seasons.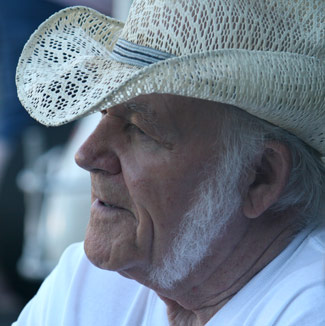 John Zahar
A lifelong car owner (38 and 38b) and ARDC
and NEMA competitor passed away on July 1st.
Thank you one and all in my dad's racing 'family', for your kind thoughts and prayers. He loved NEMA and everyone involved that worked so hard to make it fun. It is with much sadness I must tell you that we lost Big John Zahar Sunday, July 1st, to cancer. I know he will be looking down and smiling with the waving of every green and checkered flag. I hope to make it to a race soon, donning a cowboy hat of course, and cheer ya'll on for John. Drive fast, be safe, have fun!
Ruth Sebas
In lieu of flowers, John actively supported St Jude's Children's Hospital.
.


SUE JARRET
After an 8 year battle with cancer,
Sue Jarret, sister of Mike Jarret and a NEMA fan,
passed away the evening of
June 12th, 2012


.
.


Kathryn R. Breault

Our Condolences to the Breault Family


.
.


Jim Caisse


2/15/12



Our Condolences to the Caisse Family


.
NEMA Well Served in
NEAR "Pioneer Class"
Waterford, CT - The Northeastern Midget Association, currently the region's oldest auto racing sanctioning body, garnered six of the 20 spots on the New England Auto Racers Hall of Fame "Pioneer Class."

The Pioneers, all of which will be inducted at the

Thompson Speedway Clubhouse on Sunday, Nov. 18

, were selected by a committee of auto racing historians, officials and media members.

In addition to drivers Al Pillion (a two-time champion), Hank Stevens and George Monsen, the list includes noted owners Ed Stone and Wen Kelley. Stone a three-time owner champion, was a guiding force in the formation of NEMA. Kelley, also a three-time owner champion, served the club as secretary/treasurer for a quarter century.

They join a group of NEAR Hall of Famers with strong NEMA backgrounds. Among them are Gene Angelillo, Bob Bare, Bert Brooks, Joe Ciski, Hop Harrington, Dave Humphrey, Johnny Kay, John McCarthy, Bill Randall, Mike Scrivani, Sr. and 'Boston Louie' Seymour.

In addition to the inductions, the Thompson affair will include a good-natured "Roast" of the Hall's members delivered by some of the region's top racing media members including Rollie Jacobs, John Spence, Pete Falconi, Ben Dodge, and Matt Buckler.



Doors open at 10:00 am with dinner to be served at 1:00. Tickets are $35.00. Reservations may be made by sending payment to NEAR Pioneer Banquet, Box 172, Milldale, Connecticut, 06467.



Included on the NEAR Hall of Fame Pioneer list are drivers Eddie Casterline, George Rice, Frank Simonetti and Charlie Ethier, all noted open-cockpit competitors.

Also slated for induction are drivers Billy Tibbert, Tony Mordino, Sparky Belmont, Ed Patnode, Johnny Georgiades, Wally Silva, and Ray Brown; owner/builders "Beebe" Zalenski, Bob Oliver and Gordon Ross, and Plainville Stadium owner/promoter Joe Tinty.

Dave Dykes
Cabral Scores on Legion Speedway Dirt
Wentworth, NH – Three time and defending NEMA Midget Champion Randy Cabral abandoned his accustomed asphalt environs to win the 25 lap Outlaw Midget feature on Wingless Weekend at Legion Speedway on Sunday afternoon. Cabral capitalized on a lap 18 restart to pass Adam Whitney for the lead. Dana Shaw came from sixth to finish second and Tim Gallant was third.

Other winners included Dan Douville in the 25 lap Sprint Car feature. Kyle Smith (750/1000 cc), Luke Greenwood (600 cc) and Shania Covey (500cc) were mini stock winners. NEMA regular Jeff Horn was fourth in the 750/1000 feature.

Mark McKeon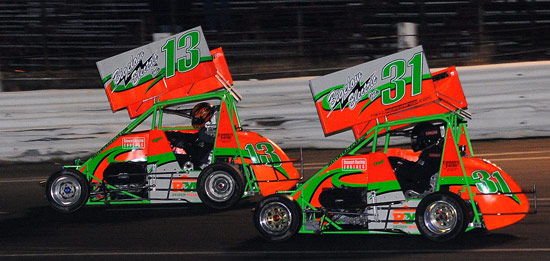 NEMA's Bigelow Boys
Now A Threesome
Brockton, MA – The Northeastern Midget Association's Bigelow Brothers team is now three strong. Scott will join siblings Ryan and Paul Saturday June 2 night when NEMA's Lites division visits Star Speedway.

Ryan, 21, who brings back-to-back top-fives to Star including a victory at Waterford, and Paul, 35, are Lites veterans. Scott, 33, a one-time stock car regular at Riverside Park and Stafford Speedways, returns to the cockpit after a long layoff.

It is the first of two-straight "stand alone" shows for the Lites. Now in their fifth season, the Lites visit Lee USA Speedway on Friday night, June 8. Paul was the winner the last time the Lites visited Lee.

Paul, who actually followed his younger brother into the sport, and Ryan, who began as a Go Karter, came to the Lites five races into the 2010 season after several seasons at Whip City. "Moving from dirt to asphalt was a big learning curve," says Ryan, pointing out "we probably wouldn't have been able to do it without the Lites division."

Ryan's win at Waterford's Blast Off followed 2010 checkereds at the Speedbowl and at Seekonk. The latter two were part of nine top 10s in 2011 including four podiums for the East Hampton, CT resident. Paul's victory at Lee was one of three top five finishes.

The learning process continues. Very few of the Lites drivers have raced at Star. "It will be totally different," says Ryan, "but racing on a track for the first time has not been all that unique for us. Even Scott has never raced at Lee."

Owned by dad Randy, Ryan and Paul are in Honda-powered Hawks, numbered 13 and 31respectively. Scott will drive the 33B Focus-powered Hawk. The green and white paint scheme is easy to identify.

"I've had 13 for a while," said Ryan, an electrician. "Paul just decided to turn the numbers around."

The division, insists Ryan, "is doing what it is suppose to do" – provide an economically reasonable route into Midget racing. The plans are for Ryan and Paul to move up to the full midgets, "hopefully next year," says the optimistic Ryan. "That's why we are running Honda engines. The Honda engine can be upgraded."

Brandon Igo, the Diamond Anniversary winner at Waterford, leads an impressive group to Star including Anthony Nocella and Ian Cumens in the Seymour cars, cousins Avery and Bethany Stoehr, Carl Medeiros Jr., Kenny Johnson, Christian Briggs and James Santa Maria.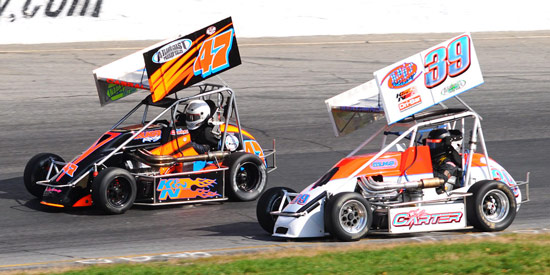 Bertrand Motorsports Headed for Indy
Brockton, MA – Bertrand Motorsports will attempt to put two cars in the field for USAC-sanctioned 50-lap Night Before the 500 Midget race Saturday night, May 26 at the Lucas Oil Raceway. It is one of country's premier Midget events.
Randy Cabral will attempt to put the #47 Circle Performance Esslinger-powered Drinan, his regular Northeastern Midget Association ride, into the show. Cole Carter will be in the Stewart Engines, Honda-powered car (No. 39) driven on the NEMA circuit by Todd Bertrand. It will be the Honda's debut in USAC competition.
Carter, no stranger to Bertrand equipment, is scheduled to make some NEMA starts later in the season.
The Bertrand cars were second and fifth at NEMA's Diamond Anniversary event at Waterford Speedbowl May 12.
NEMA's next show is the Carquest Super Saturday at Stafford Motor Speedway on June 30. The NEMA Lites will be a Star Speedway on Saturday night, June 2.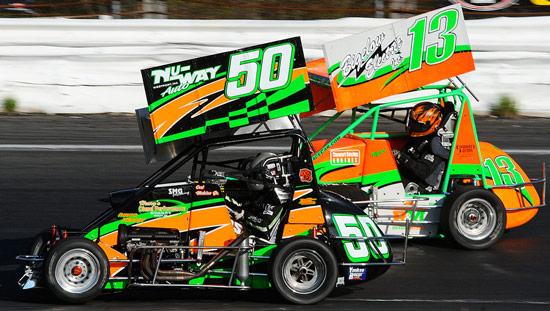 NEMA Lites, Medeiros
A Perfect Combination
Brockton, MA – Northeastern Midget Association Lites Division driver Carl Medeiros Jr. believes that the elusive first win is very close. "It is very important," says Medeiros, "not only for me but for the whole team."

A "stand alone" show at Star Speedway, Saturday night, June 2, is next for the Lites. Medeiros, completing his sophomore year at Diman Regional High in Fall River, MA drives a Focus-powered Stealth owned by his dad.

Medeiros, who turns 16 on July 24, comes to Star off an impressive showing at NEMA's Diamond Anniversary event at Waterford Speedbowl. After overcoming almost a half-lap deficit, he tangled with the leader and spun in the closing laps. Recovering to finish sixth, he was the only Lites car in the 13-second range.

While he is sure he could handle a "full" midget, he understands the financial burden of such an endeavor. The Lites and the Medeiros team are a perfect fit.

"We ran out of motor in the first race of the season and I ran out of patience in the second race," explains Medeiros, in his second full season in a division suddenly catching national attention. "I should have waited a little bit. I was hungry to get that win."

He had over a 100 wins and four championships driving go-karts (starting at age 9), including back-to-back Northeast Pavement Series titles. After attending Bobby Seymour's driving school, he made five starts in 2010. He gained "great potential" status with a second at Waterford's Angelillo race.

Medeiros did nothing to damage that status in 2011. He had 10 top fives including a third and two seconds, the latter at Waterford and Twin State. "We had a good year," he says. "We were very consistent. But maybe we gave a potential win or two away."

The Lites Division, now five years old, has a perfect representative in Medeiros. Earning respect, he believes, is a vital ingredient in becoming a race driver. The fact that veteran drivers he "totally respects" like defending NEMA champ Randy Cabral and Joey Payne occasionally compete in Lites features, actually strengthens the division. "We are totally content right now," Medeiros says. "We are learning something every time out."

The goal of the Lites was to provide a route for youngsters into midgets. Joey Mucciacciaro, third at Waterford, Kenny Johnson, Dylan Duhaine and Avery Stoehr, all in the same age bracket, are testimony to its success.

Star should prove to be a great equalizer. NEMA's last visit to Star was 2007 meaning few of the present Lites competitors have raced there. Still, the New Hampshire oval has hosted well over 100 NEMA events meaning it is not exactly a secret. The Seymour team (Ian Cumens, Anthony Nocella) and the Stoehr team (cousins Avery and Bethany) go to Star with plenty of info.

Other contenders include Scott and Ryan Bigelow, Waterford winner Brandon Igo and James Santa Maria.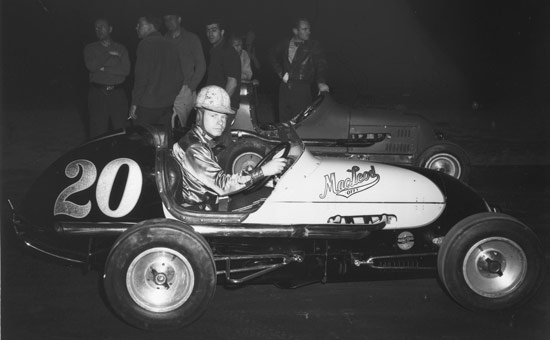 Johnny Thompson
Speedbowl Midget History
Filled With Magic Names
Waterford Speedbowl's Midget history is as old as the track itself. Johnny Thomson, a Lowell, MA product, won the first-ever Midget race at the Speedbowl, a fog-shortened 15-lap ARDC event on June 30, 1951. He was followed by Bert Brooks, Charlie Ethier, Nick Fornoro, Cliff Riggott, Georgie Rice and Johnny Kay, all legendary Midget names.

So, the NEMA winners at the Budweiser Blast Off March 31-April 1 join a win list that begins with the man still regarded by many as New England's premier open-cockpit driver. The NEMA Lites' 25-lap feature is part of Blast Off's Saturday schedule while NEMA is set for Sunday.

The Midgets returned to the Speedbowl on July 14th that first year, Thomson again the winner of a 35-lapper. The new facility, in fact, capped off its first season with a 100-lap Triple A event won by Art Cross, still another legendary character. Midwesterner George Tichenor won the pole with a 17.920 run – almost five seconds off today's top speeds on the third-mile oval. Then, as now, it was regarded as an outstanding Midget facility.

Like Seekonk and Stafford Speedways, The Speedbowl is a "Charter Member" of NEMA, the latter beginning its 60th year at Blast Off. Bill Eldridge, en route to becoming NEMA's inaugural champion, won Waterford's first NEMA feature on May 31, 1953 in the Parmenter #55. Sid Cook and Elmer Gunnerson followed.

The Speedbowl got in on the ground floor with the Lites as well in 2008.

Over a half century old, Speedbowl Midget win list includes magic names like Dutch Schaefer, Johnny Bernardi, Lenny Boyd, Joe Csiki, Chuck Arnold, Russ Klar and Johnny Coy Sr. Of more recent vintage, Randy Cabral, Russ Stoehr, Lou Cicconi, Bobby Santos III, Ben Seitz, Ted Christopher and Bobby Seymour have contributed to the Speedowl's midget history.

Cabral is the Speedbowl's all-time Midget winner with eight, one better that Russ Stoehr. That rivalry will continue at Blast Off. Bobby Seymour, who will field two Lites car at Blast Off, has been very successful at the Speedbowl both as a driver and owner.

Bobby Santos III scored his first-ever Midget win at Waterford in a Seymour car. Teddy Christopher's only Midget win came at Waterford after battling Seymour.

In addition to Cabral and Stoehr, Todd Bertrand, Adam Cantor, Chris deRitis, Barry Kittredge, Chris Leonard, Joey Payne, Jim Miller and Greg Stoehr, all probable Blast Off entries, have won at Waterford.

| | |
| --- | --- |
| Art Cross | Billy Eldridge |
| Bobby Santos | Randy Cabrral & Russ Stoehr |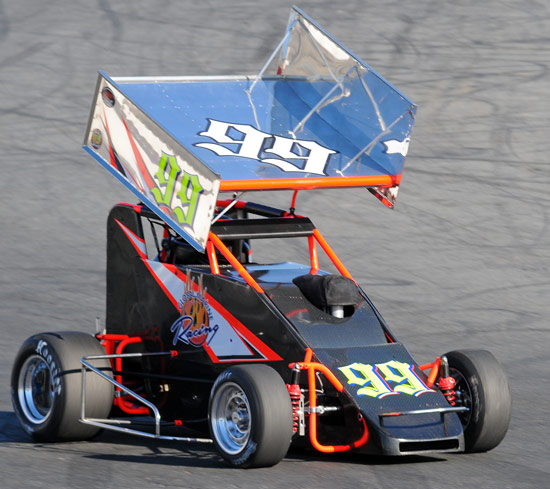 Marvuglio Moves Up
To Full NEMA Ride
ABrockton, MA – Anthony Marvuglio joins a list of Northeastern Midget Association Rookie of the Year candidates. A veteran of NEMA's Lites division, Marvuglio will drive Chris DeRosiers' #38 in NEMA action this year, beginning with Waterford Speedbowl's Budweiser Blast Off March 31-April 1.

The NEMA Lites will also be on the Saturday night card at Blast Off while NEMA is part of the Sunday agenda. Both divisions are scheduled for 25-lap features. Blast Off begins NEMA's 60th season.

Driving DeRosiers' Gaerte-powered Spike chassis is a major step for Marvuglio who also answers to "Bug." He joins Seth Carlson and Jim Santa Maria, also Lites products, on the rookie list.

Last year Todd Bertrand and Anthony Nocella became the first Lites products to capture NEMA features. Bertrand went on to win Rookie of the Year honors.
Marvuglio, 20, believes he is on schedule. A veteran of quarter midgets and go karts, he's been a Lites regular over the past three years. His resume includes an emotional Lites victory driving the Cabral #35 at the 2009 Boston Louie. He was third last year at Waterford Speedbowl (in the Scrivani #21) in his late brother Shane Hammond's Memorial Race, counting that battle among his career highlights.

He recalls talking to DeRosiers a few years back but things didn't work out. They got together at the end of last year, Marvuglio driving the car at the DAV and World Series.

After NEMA lost Hammond in 2008, Marvuglio recalls his mother Deb asking "hey, do you still want to do this?" He answered "absolutely." He has proven himself in a number of Lites cars since.

"I know Shane is always with me and I know that he is happy for me," he says.

Marvuglio says the competition he will face "fires him up." NEMA expects a banner season with defending champion Randy Cabral heading up a group of contenders that includes Russ and Greg Steer, Joey Payne, Jim Miller, Adam Cantor and Barry Kittredge.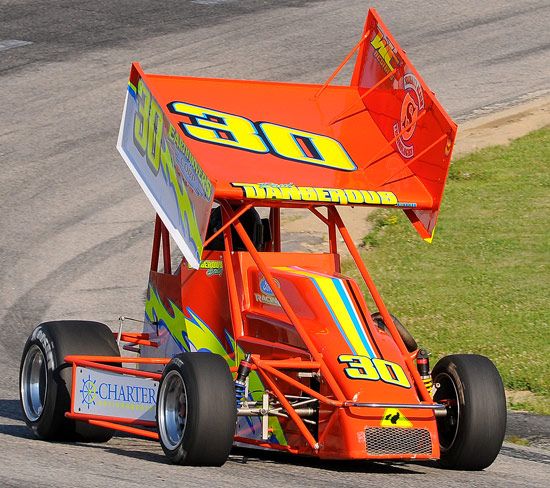 Optimism Continues High
For NEMA's Paul Scally
Northeastern Midget Association mainstay Paul Scally had some near misses in 2011. He was running second at Waterford Speedbowl when a radiator hose let go eight laps from the finish. Again at Waterford, the man called "Dangerous" was leading when, on lap 19, he "got messed up in lapped traffic" and wound up fourth. At Seekonk Speedway's DAV, he was third when the drive shaft quit.
It's more than enough to fire-up Scally's optimism heading into NEMA's 60th season. It all begins at Waterford Speedbowl's Budweiser Blast Off on March 31-April 1. Both NEMA and the NEMA Lites will be on the Blast Off agenda.
It is, of course tough company with the likes of defending champion Randy Cabral, Greg and Russ Stoehr, Joey Payne Jr., Adam Cantor all with something to prove in 2012.
"I've won somewhere between 20 and 25 races on the dirt," says the one-time Mini Sprint competitor. "I've won a championship (1992 at Sugar Hill Speedway) but I haven't won a NEMA race yet. It's not far away."
Paul and his dad, also Paul, combine equal shares of optimism and dedication. "In the winter, we're probably out in the garage four nights a week," says Scally, a construction supervisor. In season, the two Drinan and single Hawk chassis, the latter a Lites division entry, demand attention every night.
A memorable crash last summer at Thunder Road Speedway is testimony to the Scally's dedication. He and his dad had the car back for the next race. They have not missed a race in two years, a major accomplishment for a "low buck' operation. Last year, they actually repaired a broken rocker arm in the pits at Seekonk.
"You've got to make sacrifices," he declares. "You've got to dig deep sometimes to make things happen."
Scally came to NEMA in 1993 ("a dream come true) and won top Rookie honors the next season. One event from '94, a 50 lapper at Seekonk, remains especially vivid. "I think about it all the time," says Scally who led the first 30 laps before "coming up on lapped traffic. The guy in second got into me and spun me out. Something broke and I couldn't get going again." He remembers actually believing "I had it won. That's something you should never do."
Idled for a while by family pressures, the Scallys have been at it since 2005.


Randy Cabral pinned the "Dangerous" tag on Scally. "I broke a rear axle, spun around in front of everybody and Randy hit me," says Scally. "He came over to me and said 'you're dangerous out there' and it stuck."...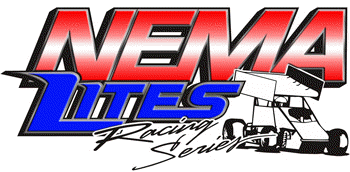 NEMA Lites Begin
Fifth Year at Blastoff
Brockton, MA – Anthony Nocella and Ian Cumens, teammates in Seymour Enterprises cars, top the contenders list for the 25-lap Northeastern Midget Association Lites feature at Waterford Speedbowl's Budweiser Blast Off March 31-April 1.

The Lites feature is part of the Saturday night (March 31) agenda. The 25-lap NEMA feature is on the Sunday (April 1) schedule. Both divisions qualify on Saturday.

A field in the mid twenties is expected as "the Lites" begin their fifth campaign. The Speedbowl was one of the first tracks to host the economically-motivated division back in 2008. The NEMA Lites have become one of the fastest growing developmental divisions in open-cockpit racing.

Nocella, who will be driving the Seymour's NEMA car later in the season, won two Lites events at the Speedbowl last season including the Blast Off. Cumens is actually looking for two in a row having won last year's finale at Seekonk in the Seymour #9.

Andy Barrows, Ryan Bigelow and Paul Luggelle were also Waterford winners a year ago. Paul Bigelow, Christian Briggs, Jake Sturgis, Brandon Igo, Kenny Johnson, Carl Modeiros and Jake Smith are expected as well. Joey Mucciacciaro will be driving Paul Scally's No. 4.

Blast Off will also mark the debut of Avery Stoehr who will join cousin Bethany in Lites competition. Avery is the son of Russ Stoehr while Bethany is the daughter of Greg Stoehr. Other newcomers include youngsters Dan Cugini, who takes over in the car Russ Wood Jr. drove last year, and Tyler Rivard, the latter in Jennifer Scravani's #21.

Bobby Seymour, the "unofficial" Lites leader, points out the plan is to not only get younger drivers into NEMA but to keep them there. It is working. Seth Carlson, Anthony Marvuglio, Todd Bertrand and Jim Santa Maria, all Lites graduates, will be driving "full midgets" in 2012. They'll be part of a field that includes defending champion Randy Cabral, former champions Russ Stoehr and Joey Payne and veteran competitors Adam Cantor, Barry Kittredge and Greg Stoehr.

The division began with Oldsmobile Quad-4 and Ford Focus engines. Both are still being used. Honda came aboard and now EcoTec (Chevy) joins the party,

"We've been adjusting all the time," says Seymour, "trying to level the playing field." He admits to "changing the rules as we go along making sure no car is too quick." Everybody, he adds, "wants to leave home feeling he has a shot at winning. That makes a series attractive."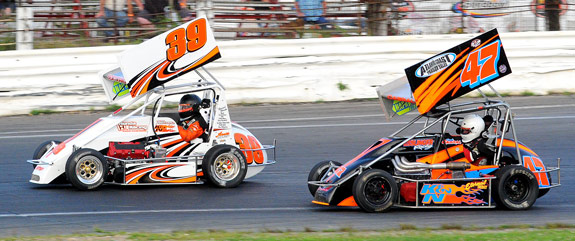 Busy Agenda Looms
for NEMA's Bertrand
Brockton, MA – Bertrand Motorsports had an extraordinary 2011. Randy Cabral and Tim Bertrand captured the Northeastern Midget Association drivers and owners championships respectively. Todd Bertrand added to the luster, scoring his first-ever NEMA feature en route to Rookie of the Year honors.

Bertrand and driver Randy Cabral are set to defend their crowns. The Esslinger-powered #47 Drinan chassis is "completely refurbished and ready to go" Bertrand reports. Brother Todd's car, the Honda-powered #39, "is in good shape."

Expect both cars when NEMA opens its 60th season March 31-April 1 at Waterford Speedbowl's Budweiser Blast Off. The NEMA Lites kick of campaign number five at the 'Bowl as well.

Bertrand is "bullish on the upcoming season." Both Russ and Greg Stoehr, second and third last year in points, will be back in 2012. Joey Payne, the 2003 champion, returns full time in the Breault #44 and Adam Cantor is moving back behind the wheel of 7NY. "There will be no shortage of contenders," adds Bertrand, hardly a stranger to the rigors of winning titles.

So, why add what amounts to the next chapter in the Bertrand Guest Program? "I miss it," answers Bertrand who in the recent past has added to NEMA prestige providing rides for, among others, Sprint Cup ace Ryan Newman, USAC standout Cole Carter, and Modified star Ted Christopher.

Pennsylvania open cockpit standout Ryan Smith is "a definite" for the "Guest Car," an AutoCraft-powered, refurbished Drinan chassis. "I've wanted to put Ryan in one of our cars for a while," says Bertrand. Other possibilities for the car – "definitely a short track machine" – are Modified driver Doug Coby, Mark Buonomo, looking to return to the Midgets after being away for five years, and veteran Lou Cicconi Jr.

Carter, son of the legendary Pancho Carter, will drive the #39 at Thompson and is "a possibility" for Oswego, the latter back on the NEMA schedule for the first time since 2005.

Bertrand calls going to the Night Before The 500 show at IRP with both Cabral in the #47 and Carter in the #39 in May "a good possibility."




Cicconi and Buonomo have won in Bertrand equipment.


Carter has three podium finishes, including one at Thompson, in Bertrand equipment.


Bertrand Motorsports has 30 NEMA wins, all in the last decade.


Russ Stoehr is the only driver with wins at every track NEMA will visit this season. Randy Cabral's resume is missing an Oswego win.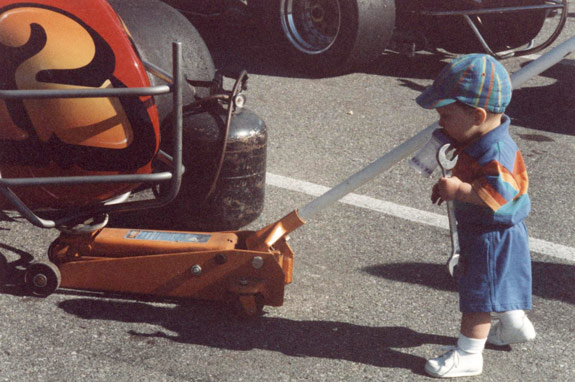 Three-year old Avery Stoehr is lending a hand on "Papa's" Midget at
Seekonk Speedway in 1997. About to turn 16, Russ Stoehr's son will
join cousin Bethany in NEMA's Lites Division in 2012.
Stoehr-NEMA Story
Adds New Dimension
Brockton, MA - For some four decades, the Northeastern Midget Association's Stoehr family has competed on the father-son and brother-verses-brother level. It will expand in 2012 to first-cousin-verses first-cousin.

Expect to see plenty of Stoehr folks when NEMA opens its 60th season March 31-April 1 at Waterford Speedbowl's Budweiser Blast Off. "That's what we do, we drive race cars," understates Russ, who returns in the Dumo's Desire #45. Brother Greg is back as well in the 26b, a new Stealth chassis powered by the familiar Mazda.

On the first cousin level, Russ' son Avery, who turns 16 in June, moves up from an impressive go kart record to join Greg's daughter Bethany in NEMA Lites action. The rapidly growing Lites division begins its fifth season at the Blast Off.

Avery, a WKA champion at Route 106 Racepark in Pembroke, NH, will drive the car Keith Botelho drove (and won with) in NEMA competition the past two seasons. Carl Kibbe remains the crew chief for the now Focus-powered Stealth chassis.

The Stoehr racing genealogy begins with Bill who crewed for, among others, the legendary Bill Schindler. Russ and Greg's dad Paul, a NEMA Hall of Famer, drove for many years. Russ and Greg have 58 victories between them, Russ sitting third on the all-time win list with 48 including four a year ago. Greg also won last year.

The fourth generation has great promise. Bethany, who also has a strong go kart background, ended the 2011 Lites season with five straight top sevens including a second and a third. "Bethany had a tough start but finished up very competitive," says proud Uncle Russ. She figures, in fact, to be a strong factor in a division NEMA expects to average 20-plus cars a meet this summer. Look for Bethany's sister Kathryn to make some races as well.

While "bringing along the next generation" is a top priority this year, the third generation is not finished. Greg, in the championship picture until a devastating crash at Waterford last year, returns "determined" to run well.

Car owner Laura Kibbe's commitment to another season of continuing the tradition set in motion by her dad Gene Angelillo no doubt affects Russ. "Last year we came up a little short but had a great season," says Russ, who wound up second in points to champion Randy Cabral. "It would be nice to win another championship but it is more important that we continue to run competitively."
Oswego, Star Return
On NEMA's '12 Agenda

Brockton, MA – The established mainstays and a return to Star and Oswego Speedways fill the Northeastern Midget Association's 2012 schedule. NEMA, entering its 60th season, and the NEMA Lites, heading into its fifth campaign, will kick things off at Waterford Speedbowl's Budweiser Blastoff on March 31-April 1.





Randy Cabral and Bertrand Motorsports will be defending their respective owner/driver championships over a 14-race agenda that includes five visits to Waterford including the Shane Hammond Memorial (July 28), Wings & Wheels (Aug. 11), Angelillo Memorial (Sept. 1) and the Fall Finale (Oct. 6-7). There are two stops at Thompson (the May 20 Marvin Rifchin Trophy Race and Oct. 13-14 World Series), two at Seekonk including the July 18 Open Wheel Wednesday and two at Lee USA Speedway including the season-ending Ocktoberfest Oct. 20-21.





NEMA continues to be part of Stafford Motor Speedway's Open Wheel offering (Carquest's Super Saturday on June 30).





The Oswego trip (Aug. 28) is the first since 2005. Clearly one of the most demanding ovals in the nation, an Oswego checkered remains one of the most cherished laurels in all of racing. Star, missing since 2007, returns on July 21. The tricky Star has hosted more NEMA events – 137 – than any other facility.





The Lites, arguably the most successful developmental division in open cockpit racing, have 14 events planned. They'll share seven of those with the "full midgets" including Waterford's Hammond Memorial and Finale and Lee's Octoberfest.





"In view of the economic times, it is a challenging and varied schedule for both NEMA and the Lites," says NEMA President Mike Scrivani, Jr. "The traditional events are so important and we, of course, are excited about the return to Star and Oswego."





Cabral and Bertrand will not have an easy task. The Stoehr brothers will be back, Russ in the Dumo's Desire #45 and Greg in the family-owned #26b. Former Champion Joey Payne will be fulltime in the Breault #44 and Adam Cantor returns to the driver's seat in the family's 7ny. The super reliable Paul Scally is bent on a successful campaign as is Mike Horn.





Seth Carlson and Jim Santa Maria move up to the full midgets, joining two other "Lites" graduates that won last year – Todd Bertrand and Anthony Nocella.





The Lites expect continued growth with the fields approaching the mid 20s. Among the Lites newcomers is Avery Stoehr, the young son of Russ. Avery will be joining his cousin Bethany, Greg's daughter, who showed great promise last summer.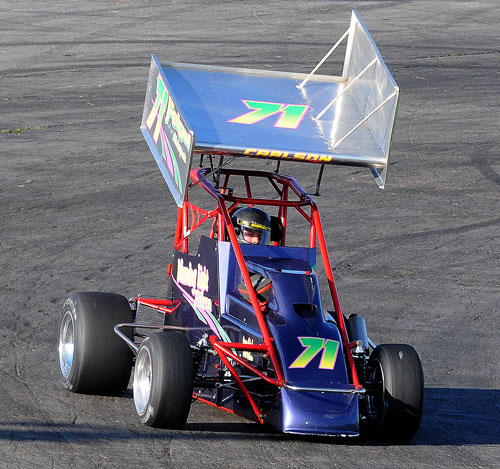 Seth Carlson Graduates
to NEMA Big Leagues
2011 NEMA Lite standout Seth Carlson & Gene Feigel Motorsports have decided to "graduate" Carlson to the big leagues, committing to the full 2012 NEMA schedule.

"I'm looking forward to running with Greg & Russ Stoehr and Randy Cabral in 2012," said Carlson. "I think there will be a lot of good racing in the 2012 season. I am very excited to get the chance to run with these guys."

A multi time winner in 2011, Carlson will be coming to NEMA with his familiar, exceptional handling Drinan Chassis with an Esslinger powered "spec" engine – becoming a popular choice for the economics involved.

Carlson, who counts Twin State Speedway as his favorite track, says "The 2011 season was a great learning experience. It was also great to get back on pavement after a few years running Dirt (at Whip City Speedway)."

On Carlson and his move to the full NEMA series - "We have always intended for the Lite series to be a perfect 'stepping stone' for the full NEMA series," said President Mike Scrivani. "Seth is a perfect example of this – he came in, had a bit of a learning curve, then figured it out, and won a bunch of races. The Lite series was a perfect learning ground for him, and we're confident he'll be one of our rising stars in the NEMA series," continued Scrivani.

Carlson is quick to credit Gene Feigel, his owner & sponsor, for helping his racing career along – and his father, for his countless hours spent working on the car and setting up the car at the racetrack. He also credits mentor Greg Stoehr for teaching him the old adage "patience is a virtue" – after some early season DNF's due to a little "eagerness" to get to the front too quickly.

With Carlson in top notch equipment, as well as the addition of Payne, Cantor, and Cabral coming back in a "freshened" ride for 2012 – the competition should be ripe in the upcoming season.
A Promotion In Store
for NEMA's Tom Fox
NEMA is proud to announce that former championship driver and race director for the 2011 season, Tom Fox, has been promoted to its Director of Race Operations. Fox, and a team he will be assembling, will be responsible for all on track and off track operations each week.

"It's about organization and showmanship. We are going to step up our game," said NEMA President Mike Scrivani. "Putting on the best show we can each week, working with the promoters and their staff while at the race track, and coming prepared with the best possible show every week is our goal in 2012 and beyond. Having Tom on board to run this end of the business for us is both incredibly helpful and welcomed," said Scrivani.

A machinist & fabricator by trade, as well as a storied NASCAR late model, modified and Busch East driver, Fox comes prepared for the task at hand in 2012 with NEMA. "I have been a fan of NEMA since the first time I watched them compete at Waterford back in the mid 70's. I always thought of the drivers as being true "daredevils", and almost 40 years later I see that it's true. NEMA is a true racers club, all of the members are passionate about Midget racing, and most of them have ties that go back a generation (or several)," said Fox.

Fox believes that NEMA has a bright future ahead of itself and that the NEMA Lite series has helped to "future proof" the series. "The creation and adoption of the Lite series a few years ago has created an affordable venue for talented young racers to get Midget experience. It's a true "feeder" division for the Midgets, and kids coming from Quarter Midgets and Karts can pursue their open wheeled dreams in an organized and affordable series," said Fox.

When asked about his thoughts on taking on the role for the 2012 season, Fox says that …"The "Club" is what has kept this division arguably the strongest Midget Group in the Country, but every one of us recognize that we need to change the culture of the group in order to keep our Northeast prominence, and to enhance our fan appeal. I'm going to work hard, along with the rest of the members, to increase our "brand" awareness, and strive to make the NEMA program one of the most professional and efficient Touring programs available to fans and Promoters. We are continually looking at Rules and Procedures to streamline our product regarding on-track efficiency and the true cost of competing."

Fox will lead NEMA into the opener at the Waterford Speedbowl, kicking off on March 31.
Stability, Cost Savings & Growth
In Store for NEMA in 2012
Brockton, MA - With the election of a new board & various executive positions, the underlying themes coming out of NEMA's 2012 rules meeting and elections held in December at Thompson Speedway's clubhouse were about stability, cost savings & growth.

NEMA's executive board will once again be headed up by President, Mike Scrivani. Scrivani will be supported by Tim Bertrand as Vice President, Russ Stoehr as 2nd Vice President – to focus on the NEMA Lite series, newly elected Paul Scally as Treasurer, and Linda Cleveland, who continues as Secretary. Doug Cleveland and Shawn Torrey were re-elected as board members, along with a new contingent including Adam Cantor, Barry Kitteredge, Bob Seymour and Joe Santa Maria.

"Coming off of one of the most competitive seasons ever, we looked – both as a club and as a Board, to achieve stability, cost savings and focus on growth for 2012," stated Vice President, Tim Bertrand. "We chose to freeze some of our current technical rules for a period of at least two years and adopted some new rules, such as a new handicapping system to encourage car count. Our old system discouraged members who were only able to make it once in a while, and the new system encourages anyone with a midget to come run with us. We hope to even attract some talent from the Midwest to our races," said Bertrand.

Growth was also a big topic amongst the members. The club has put together an aggressive program around PR, Marketing and attracting new talent to the club. Big changes will also be announced soon regarding NEMA's race day operations team & procedures.

NEMA is extremely excited about re-kindling relationships with tracks such as Star Speedway and Oswego on the 2012 schedule, and continued support from long time relationships with Waterford, Seekonk, Stafford, Thompson, and Lee USA Speedway. More information on the full schedule will be announced soon.

More information will be forthcoming regarding NEMA's 2012 initiatives, as well as additional driver & personnel announcements over the coming weeks. Keep your eyes peeled on www.nemaracing.com for details.
---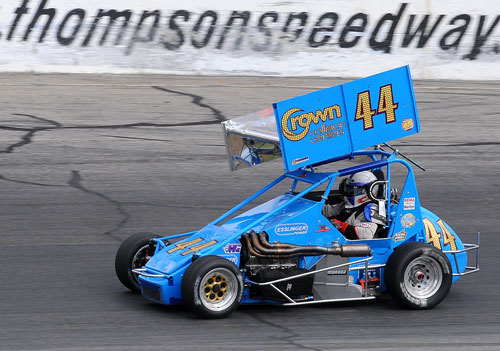 Former NEMA Champion Joey Payne Returns to NEMA Full Time in 2012
Northeast Midget Association action has been as hot in the off season, as it was on the track in 2011. Last week, 2003 NEMA champion and long-time open wheel standout Joey Payne announced that he will be returning full time to the circuit in 2012 aboard the Ed Breault owned #44.

"I had a decent year in 2011," stated Payne. "We raced Oswego full time, finishing 6th in points with one win. We also had some bad luck, after falling out of the $10,000 to win Mr. Supermodified race with a flat while leading with 20 laps to go. The Classic was another let down, running 2nd for 100 laps and losing the rear end. Ed Breault asked me to drive the last three races of the year, and we didn't have good luck either, but we had a blast," said Payne.

With plans to run full time schedules with NEMA, at Oswego (Muldoon Racing) and quarter midgets with his son Anthony at Wall Stadium, Payne will certainly have his hands full this season. His goals are also very clear, "I'd like to win some races at Oswego, and make it back to victory lane with NEMA," said Payne.

Citing his father as his biggest inspiration in racing & his family for their support, Payne also heads up a long list of NEMA competitors that credit their families with their success & passion for the sport.

As for the familiar, blue Breault #44, the car will carry its flagship Crown Collision banner, in addition to Seymour Enterprises, No Regrets Ink and Bell Helmets. Ed & Lou Breault will continue to take care of the car during the week, in addition to assistance from Mike Scrivani, Dave Shore & Jason Parsons.

Payne, with the addition of Adam Cantor, recent champions Randy Cabral & Russ Stoehr, and 2nd year standouts Todd Bertrand & Anthony Nocella will undoubtedly produce excitement for the fans in 2012.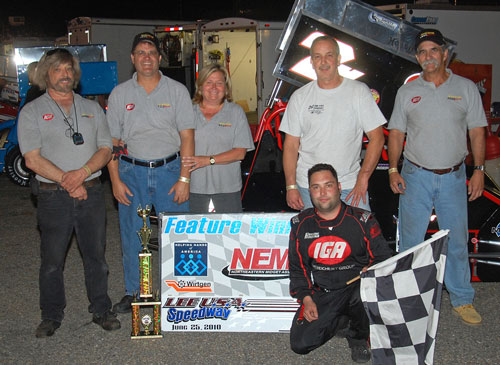 Driver's Seat Marks the Spot
for Cantor in 2012
After taking the 2011 season to "learn & reflect," 2012 will mark Adam Cantor's return to the driver's seat as a championship contender in Northeast Midget Association competition.

"I can't wait for the green flag to drop at Waterford's opener in late March," states Cantor. "I'm really looking forward to running against the likes of Randy Cabral, Russ & Greg Stoehr and Joey Payne all season long."

Cantor calls the 2011 season "the most difficult of his life," having been the first time in 22 years not behind the wheel of a racecar. As much as it was difficult, Cantor also learned a great deal as well as he spent much of his time "watching the races unfold, learning each driver's tendencies, strategy, and taking the time to understand chassis set up at a much deeper level."

Cantor Racing returns with its long time sponsor of ten years, IGA Reichert Group. "It has been a pleasure to have been able to work with Charlie Reichert and his family. I consider us truly blessed to have been able to have their support and friendship," says Cantor.

A family operation at its core, Cantor credits his parents, Allan Cantor (team owner) & Kim (team manager) and Joe Demonte (head mechanic) for much of his career success. "They have never questioned any of the decisions I have made and have supported every single decision I have made whether they liked it or not," states Cantor.

Cantor also credits long time mentors, including karting legend Charlie Cressi, for his success.

Highlighting Monadnock & Twin State as his favorite tracks, he has nothing against any of the tracks on NEMA's schedule in 2012. "Once you dislike a track, you are better off staying home," says Cantor.

Cantor and NEMA kick their season off at Waterford Speedbowl on March 31st.
2012 NEMA VIP Fan Initiative
Facebook VIP Fan of the Race.
Two weeks before an event
, we will pick one fan from our Facebook fan page, or Facebook open group to be our guest at the races. NEMA will supply them with a pit pass, give them a VIP tour of the pits, allow them to work with a few teams during the day as a special crew member, as well as participate in other activities during the race day