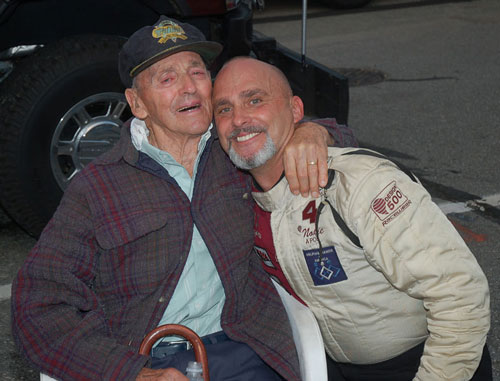 It is with deep sorrow that we report the passing of Nick Fornoro,
a former champion, long time flagman and the father of NEMA champions Nokie and Drew Fornoro.

In recent years, armed with a host of racing stories, Nick was always welcome at NEMA events.

A member of the New England Auto Racers Hall of Fame, the New Jersey native won an ARDC (1950) and a NASCAR (1953) championship over a 10-year career that ended in 1956. He went on to become one of the sport's premier flagman, advancing to Chief Starter for the Championship Auto Racing Teams Indy Car Series from 1979-1992. He was the honorary starter for the 1993 Indianapolis 500.

In addition to Nokie and Drew, he is survived by his wife of 59 years Elizabeth (Bette), daughter Cindee Bertling, sisters Celeste Weisgerber and Constance Abdalla, brother Billy Fornaro and seven grandchildren: Jessica Fornoro, Nofri, Lanson and Jarett Fornoro, Tara and J.J. Bertling and Marie Fornoro, and many nieces and nephews.

In lieu of flowers, the family requests donations be made to the Checkered Flag Fan Club Injured Drivers' Fund; P.O. Box 79; Kutztown, PA 19530 or the Joey Bella Memorial Fund, Inc. (15 Myers Ave., Denville, NJ 07834) that provides direct assistance to families in need during catastrophic illness.
Cards may go to Nokie Fornoro, RR3 - 3578, Stroudsburg, PA 18360

Marilyn Angelillo was, officially, the Northeastern Midget Association's secretary for many years. Unofficially, she was the club's social director, points keeper, publicity agent, organizer, sounding board, problem solver and, most importantly, its conscience

Marilyn passed away Tuesday after a brave bout with cancer.

"Her contributions to our club over the years are many, far too many to count," said NEMA President Mike Scrivani. "Saying she will be missed seems trite at this point, but Marilyn touched so many of us in positive ways. Whatever the problem, she was there for us. It is a sad time."

She came to NEMA with her husband Gene in 1980. It was Marilyn who named the team "Dumo's Desire" in memory of Gene's father.

Working with Gene, she helped engineer a NEMA surge in the 1990s. She fought fiercely for those competitors loyal to the club. Perfect attendance trophies, she believed, were to be valued as much as championships.

She had a number of awards including the coveted Johnny Thomson Memorial.

In addition to her husband, Marilyn is survived by her daughter and son-in-law Laura and Curt Kibbe, granddaughters Tiana and Brooke and brother and sister-in-law James and Catherine Zukauskas. NEMA extends its condolences to all her family and friends.

Calling hours are Thursday from 2 to 4 and 6 to 9 at Chase Parkway Memorial, 430 Chase Parkway in Waterbury. The funeral will be at St. Michaels Roman Catholic Church in Waterbury on Friday at 10 AM.
Rooms are available at the Hampton Inn in Waterbury 203-753-1777.
Mention NEMA membership.

The family requests contributions be made in Marilyn's memory to the Harold Leever Cancer Center, 1075 Chase Parkway, Waterbury, CT (www.leevercancercenter.org) or to NEMA.




John Blewett, III

1973-2007

NEMA sends our thoughts and prayers to the
Blewett family, race team, friends and fans.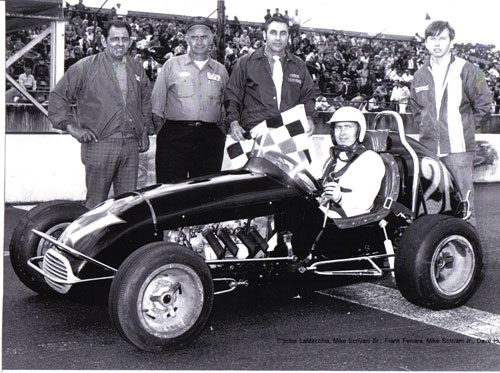 Bill Balser photo - from left: Black LaMacchia, Mike Scrivani, 
starter Frank Ferrara, Dave Humphrey (in car), Mike Scrivani Jr.
NEMA Pres Recalls Hall of Famer Dad
Asking Mike Scrivani Jr. to come up with a No. 1 memory of his dad is both unfair and impossible. The Northeastern Midget Association president has a host of fond memories of the bigger-than-life character remembered as "Iron Mike."

It is fair to say there are hundreds of stories about the late Mike Scrivani who will be inducted into the New England Antique Racers (NEAR) Hall of Fame Sunday, January 27th at the LaRenaissance Banquet Hall in East Windsor, CT.

A charter member of NEMA (Jerry Russo drove his car in the club's first-ever race at Seekonk on May 30, 1953), Scrivani's auto racing connections went back to the Sprint Cars of the late 1930s. Although he was also successful in Modified racing, "his heart was always with the Midgets and Sprints," reports Mike Jr.

Based at the legendary "Mike's Truck Stop" in Wrentham, MA, Scrivani, who passed away on Feb. 28, 1983, wrote a ton of New England racing, adding particularly to NEMA's story. Butch Walsh and Nokie Fornoro won championships in Scrivani cars. The Scrivani-Fornoro combination remains one of the most potent combinations in both NEMA and ARDC history.

NEMA has had co-champions just once – 1970 – and the Scrivani operation played a major role. "The old man didn't have a steady driver," Mike Jr. recalls, and despite sitting in second place in the driver points, Dave Humphrey ("the old man called him 'kid'") didn't have a ride for the final event at Thompson Speedway.

Humphrey, Mike Jr. points out, was actually three-for-three in the car, the former Johnny Thomson-driven MacLeod Curtis Craft/Offy. "They worked it out and Humphrey showed up at Thompson," continues Mike Jr. "Back then," he continues, "you asked Dave 'How is it?' and all he said was 'OK.' He would sit on the race car, smoke a cigar and then go out and race."

He went out and "stuffed" the car into the sandbank that then bordered the turns at Thompson. "They pulled him out, started him last and we win the main," says Mike Jr. He finished in a tie with Lou Fray for the championship.

A year earlier at Thompson Gene Bergin drove the car to a memorable win. "It was co-sanctioned with ARDC," Mike restarts. "Johnny Coy and Ken Brenn and all the big guns were there." Bergin, he says, "haunted my father, 'give me a ride in the midget'" and it actually made a difference. "My father said 'you want a ride in my car, you have to speak up.'"

Just out of the hospital (an auto accident), long-time Scrivani associate, Blackie LaMacchia showed up. "Blackie sees the car," says Mike Jr. "I'm there, Gene's there and he asks 'how's the car?' 'It feels good' Gene said but Blackie says 'do this, do that' and we changed it a little."

Starting behind the ARDC cars, Bergin won the race, passing Johnny Coy Sr. with five left heading into one. "What a race that was," says Mike Jr., still enjoying it.

Al Herman, Burt Brooks, Ray Burke, Al Pillion, Bill Eldridge, Hank Williams and Leigh Earnshaw and Coy Sr. also won in the car. Coy's win is one of the most memorable in both NEMA and Scrivani family history.

There were two family cars, the upright wrenched by Mike Jr. and a Badger under the care of long-time family confidant Hop Harrington. It amounted to a car in each of two warring camps. They came to Stafford, stockcar ace Geoff Bodine in the Badger and Coy in the upright. Coy passed Bodine on the last lap to win.

"Hop came unglued," says Mike Jr. "'You beat the hometown favorite' he said and the place would have gone nuts if Bodine had won." Coy, however, wanted none of it and Mike Jr. was in the owner's championship battle (which he won).

At first, he says, "the old man didn't care. It was a good race." Then, rethinking it, he offers, "he always was an upright guy. He loved the uprights. He used to call the badgers door wedges. He liked what happened."

Drivers Dave Alkas, Dave Darveau, Dick Batchelder and
The late Howie Brown, Fred Luchesi, George Lombardo and Johnny Gammell, car owner Joe Brady, the multi-talented Dr. Dick Berggren and writer Pete Zanardi will also be inducted.

Ticket forms for the 11th annual NEAR Hall of Fame banquet will be available on the New England Antique Racers website www.near1.com in the near future.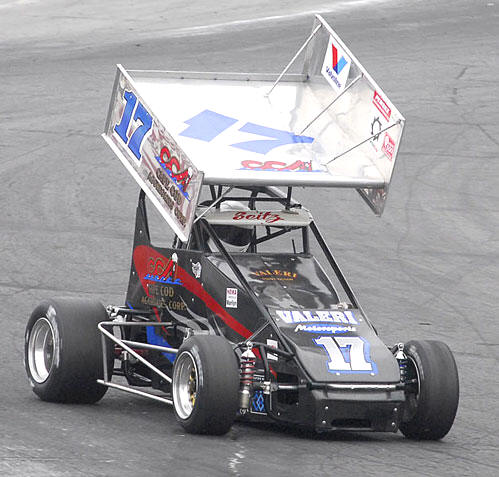 Fourth NEMA Crown
Best Yet For Seitz
A student of history, Ben Seitz rates the 2007 Northeastern Midget Association Drivers Championship, his fourth straight, as the best. "Well," he explains, "nobody has ever done it before."

The 27-year old admits, four straight "was looming around in the back of my mind" most of the season. Seitz and car owner Pete Valeri, powered by an Esslinger/Beast combo, didn't lay claim to the championships until the checkered fell on the final event of the season at Thompson Speedway's World Series.

They nosed out Joey Payne Jr. and Gene Angelillo in a situation almost identical to the 2005 battle that went to final checkered at Waterford Speedbowl. It is the sixth NEMA season for the Seitz-Valeri team that actually started in Legend Cars.

Valeri, a one-time Legend driver as well, was a major force in Seitz, a New Jersey native, winning the 2001 New England championship.

This year's World Series appearance capped off a sensational 15-race NEMA season. There were eight winners – Randy Cabral (3 wins), Lou Cicconi Jr. (3), Payne (2), rookie Jeremy Frankoski, Erica Santos, Nokie Fornoro, and Greg Stoehr in addition to Seitz (3).

High car counts and an extraordinary rookie class were also factors in what many believe was among the best year in the club's 55-year history. "It is one of, if not the toughest open wheel divisions in the country," says Seitz. "Check out the lap times. The last two or three races of the season there were honestly 12 cars that could win."

But, most were watching point leader Payne and Seitz, separated by six points and starting 12th and 11h at Thompson. After two or three laps, Payne began to pull away. "There was no emotion," says Seitz. "I knew right away my car was not right (brake problems). I had to slow down."
And, there was no emotion when he went by the broken Payne ("I saw the water blowing out") in the backstretch on lap 16. Finishing sixth, more than enough to secure the championship, "there was a sigh of relief but not excitement because Joey had had such a bad race. It was only after five or ten minutes that I stated to absorb what happened."

It is not the hardest title he's won – the 2005 trophy earns that honor. He won the final race that year, beating Payne on the track and in the standings. "Joey Payne Jr.," Seitz insists, "is the toughest competitor I've ever raced against anywhere."

This one is "the most difficult" because of all the "off-track stuff. There were a lot more distractions." An on-track incident with Nokie Fornoro at Waterford Speedbowl's Finale followed by some action of which he is not proud was troublesome. The statistics are impressive – 11 top fives including three wins. Over the championships run, he's won 13 features.

Seitz, who holds an Associates Degree from New Jersey's Raritan Community College, says the addition of long-time open cockpit wrench Dickie Bean was a vital ingredient this year, joining Valeri, Bucky Gilbert and Jimmy Miraggio on the crew. Mom and dad ("major influences"), cousin Laurie and girl friend Lauren are also contributors.

"I'm grateful," said Seitz, who says "working well with Valeri" is the cornerstone of the team's success. "The equipment, a good team, a great sponsor (Cape Cod Aggregates ) - I am fortunate to be around that. I know there are a lot of guys that could sit in the seat I do and come away with the same results. I am indeed fortunate."

"In no way" does he put himself in the same group with Dave Humphrey and Russ Stoehr, the other two drivers who have won three straight titles. "Russ was champion my first year in a Midget," he explains. "Looking back, he was just an unbelievable racecar driver, so smart, so smooth."

Valeri and Seitz, the latter moving to Massachusetts' Cape Cod in 2001, joined NEMA in '02, picking Midgets over Modifieds "because the Midgets ran harder but cleaner. You didn't have to rebuilt a car each week." They came with a Volkswagon-powered Hawk chassis purchased from the Seymour family.

"Just being around Bobby and Mike definitely shaped me as a driver," says Seitz. "I just heard so many stories; picked up so many tips."

Switching to a Beast chassis and Gaerte power, Seitz and Valeri tasted victory at the 2004 opener at Waterford. "That gave us all confidence that we belonged in the series; that we could compete every week. We started 12th and came to the front. It was a career changing win."

They have, of course, continued. "Peter gets mad at me but within five minutes of a win I'm looking toward the next race," Seitz says.


NEMA Banquet for 2007 Season 11-10 HERE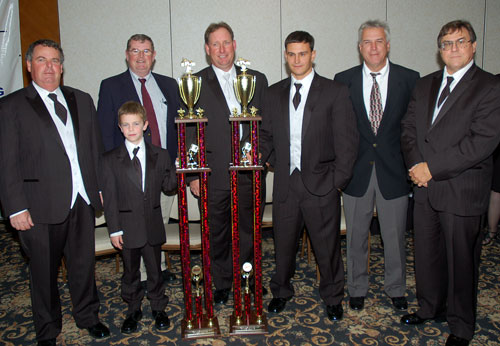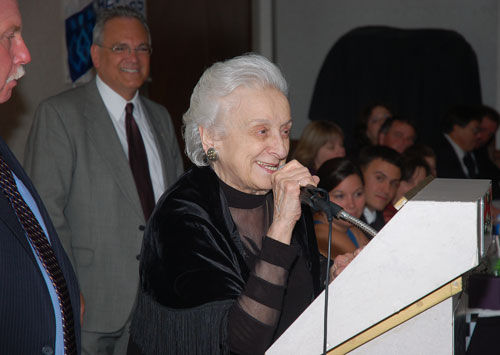 Thursday December 27, 2007
Royal Plaza Hotel - Marlboro, MA

The initial NEMA Lite Division meet and greet took place in Marlboro, MA on Dec. 27th, and all parties involved came away excited about the newest NEMA development. "We had a phenomenal turnout, even on a snowy night!" said NEMA President Mike Scrivani Jr.
"We've had the word on the series out for only three weeks and it looks like we have somewhere in the neighborhood of twenty cars already lined up. The promoters are extremely excited about the prospect of bringing between forty to fifty winged midgets on any given night to their track. It could be one of the best things to happen to New England midget racing in years," said long time NEMA supporter and board member Bobby Seymour. "I get calls daily on the series from folks who were considering other directions until this came about."
A lively series of discussions focused on series goals, infrastructure, basic rules, race dates, and procedures took place. Series partners Helping Hands of America and The Race Depot pledged their support to the car owners who attended this informative first meeting.
"The goal of the NEMA Lite division is to provide a competitive yet affordable midget series that allows racers, both young & old, to compete at the same short tracks that NEMA has competed at for 54 years," said series Vice President Tim Bertrand. "The NEMA Lite division will represent an ideal 'feeder' division for NEMA, utilizing many if not all of the same technical rules, assisting NEMA in retaining its position as the top midget touring series in the Country. Every promoter that we have talked to has been ecstatic about the new addition to the NEMA family," stated Bertrand.
Stay tuned for continuing updates on this exciting new winged Midget division powered by Ford Focus and Oldsmobile Quad 4 engines.
>> See the Classifieds for a Lite for Sale

NEMA Establishes New "Lite" Series

Coming off a sensational 2007 season, the Northeastern Midget Association has decided to "invest in the future" with the "NEMA Lite Series." The series, approved by the NEMA Contest Board, is gaining
momentum.

Called a "feeder class" by NEMA Vice President Tim Bertrand, the series is designed to introduce new competitors to winged midgets "in very low cost, less powerful cars." Competitors can use any chassis that currently meets NEMA specifications but engines will be limited to Ford Focus and Oldsmobile Quad4. All the cars will have starters.

Plans are for the "Lites" to run in conjunction with regular short track NEMA events. Bertrand said, "NEMA is putting in place incentives for tracks to run the Lite Series cars. We are aware of the time factors and
economics involved. We have to make it attractive for them. We believe we have done that."

Bertrand says as many 20 teams have expressed intentions to compete. "Most are Focus and Quad4 owners who can't afford Esslinger and Gaerte motors and are looking for a way to go," he says. "We are talking about $8-to $10,000 cars in this series. The equipment is definitely available out there."

The plan allows for competitors, when they are ready, to "move up" to the fulltime NEMA status with more powerful (and more expensive) motors.

Bertrand admits "a lot of sportsman type divisions are popping up all over the country" claiming potential NEMA competitors. "Other divisions were the only thing they could afford," he says. "This is an effective plan to keep them in winged Midgets."

A number of "established" Midget regulars including Steve Grant and former champions Bobby Seymour and Butch Walsh will be consultants for the new series.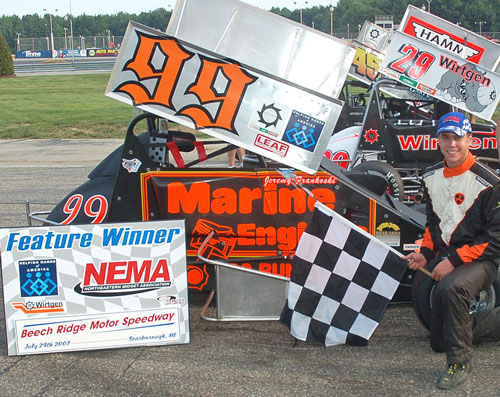 Frankoski Leads Strong NEMA Rookie Group
by Pete Zanardi
Growing up, Jeremy Frankoski's dad insisted he play different sports. He played baseball, some hockey and actually captained his high school hockey team.

"All I wanted to do was race," says Frankoski, the Northeastern Midget Association's leading rookie heading into Seekonk Speedways DAV Memorial. "My father was worried as I grew up my passion would change so I played other sports."

Still, the "worst part of each year was putting up the car. I dreaded it. I hated it. Hockey was a way to pass the winter," says Frankoski, a defenseman who had his share of penalty minutes. There is no longer any doubt about his passion.

Part of an impressive group of Rookies, the 21-year old Frankoski has been racing since age nine, moving through NYSMA Microds, Tobias Slingshots and Mini Sprints. Some years, he says, the season was only 10 or 15 races, making his 40-plus wins and two championships even more impressive.

In addition to Frankoski, who drives the Marine Engine-sponsored Power Point Race Cars #99, the rookie list includes Chris Leonard in the family owned Hawk Autocraft #22, John Zych Jr. in the family owned Hawk #9; Aaron Wall in the Seymour #29 and 17-year old Bobby Kuiken, the latter in the family-owned Stealth-Fontana.

Leonard at 16 is the youngest of the rookes and holds several karting championships. Zych, 24, has won two of his last three heats. He's on asphalt for the first time. Kuiken comes from eight years in go karts. His best was a sixth at Epping, NH. Wall, a Focus product, was fourth at Waterford.

"An outstanding rookie class," understates NEMA President Mike Scrivani.

The Rookie prize would top a Frankoski resume that includes "an awesome" victory at Beech Ridge earlier this year. Starting on the pole, he recalls working hard to "keep calm." Only two other rookies have won a feature in NEMA's long history.

Frankoski finished second in the All-American Driver Challenge in February – a program that whittled down 75 drivers to 10 and then to a single winner. "There was lots of exposure, lots of encouragement and it helped me land the deal with Power Point Racing," he says of racing in front of evaluators like John Andretti, Bob East and Rick Benjamin.

On the asphalt for the first time in a decade, it's been a major transition. "It's been more than I expected," says Frankoski, who holds an associate degree from Brome Tech in New York. "You say, 'yeah, I can run with these guys' then you get into it and you find out what it takes to run out front consistently; what it take to win."

Everybody agrees NEMA is "one of the toughest clubs out there." But, says Frankoski "there is a huge amount of help available. I came here like a huge sponge. I tired to learn as much as I could. I'm out of my league and I'm there to listen."

Everybody, he says, is ready to talk, "especially the veterans-Joey Payne, Nokie Fornoro, the Bertrand drivers, Lou Cicconi Jr. and Randy Cabral. Any problems you have you can go to these guys and that has been a huge part of the success we've had this year."

Frankoski comes to Seekonk off a hard earned 13th. Losing a motor in practice at Waterford's Finale, they packed up and headed for Circle Performance in Massachusetts where John Andruk had just completed the team's second motor. "John gave us the key to the shop and we were there till 9:30 at night," Frankoski says. "It was 11:30 when we got back to the track that we had something to eat."

Without the heat, he started the feature in 29th. "I can't complain a lot about that," Frankoski summed up.


Driver Spotlight Page
by Todd Baptista
now featuring
NEMA ACE RANDY CABRAL
"Hard-charging Plymouth, MA native Randy Cabral is unquestionably one of the most exciting and popular drivers in New England's open wheel ranks today, having emerged as a threat to win each time he takes to the track in the Bertrand Motorsports #47 Northeastern Midget Association ride. At 28, the second-generation star can boast five years of top three finishes in the NEMA championship standings. Those who know and respect Randy, however, know that boasting isn't a part of his makeup. A sense of pride in his accomplishments, a dedication to his craft and team, and a sincere appreciation for his backers, family, crew members, and supporters are key elements to Cabral's composition, and have a lot to do with the degree of success and respect he's earned.

Randy's uncle, Alan Cabral was the first member of the clan to compete, running a VW at Norwood Arena. His dad, Glen, served as a crew member on Bob Cadarette's Mini-Modified Volkswagen in the early 1970s and eventually decided to try his luck in Norwood's Hobby class in 1972. After Norwood closed its doors, Glen built a 1965 Mustang Late Model which he rode to a second place points finish at Lakeville Speedway."
Jon Seaman Moving Ahead to NEMA Midgets

Jon Seaman, after a brief and successful career in the USAC Ford Focus Midget Series, Jon Seaman Jr. has decided to move his career on to the next stage.

"The NEMA car is almost ready, reported Seaman. "It's time to move on to another challenge. We'd like to make the race at Waterford, but we're not going to bring the car out until it's ready so we may wait until the end of the month."

The decision was not easy to make, according to the engineering student. "The Ford Focus series is a great way to start racing open wheelers, we just decided it was time to take on a new challenge.

"I'm excited to run in the NEMA series," he adds. "I'm looking forward to having double the horsepower and learning to run with a wing."

Seaman's most recent race, Saturday at Waterford Speedbowl was a challenge for the driver and his team. "This was the weekend that showed how good our team is," he commented. Following a crash in practice, the team had to replace a broken shock absorber, the front axle and ensure that the car was aligned properly, all in only twenty minutes, so that Seaman could make the heat race to earn a starting berth in the feature. "It was good. Everyone in the team was on it," he added, praising the team.

"By the feature, the car was one of the fastest cars out there. We started seventh in the feature and made it up to fourth," he reported, adding that he just couldn't get a good run on the third-place car, in spite of having a quicker car.

Seaman is being helped in his career by training from Future Stars in Racing Academy. The Academy helps prepare young drivers for success outside the car in public speaking; sponsor presentations; working with the media and behavior on and off the track. Future Stars in Racing is the exclusive driver development partner with the ASA Late Model Series. Marketing partners include Safety-Kleen, Awesome Racewear and Sunbelt Web Solutions.
NEMA To Celebrate Two of Its Finest at Seekonk This Sat. 5/19 on National Midget "Driver of the Year" Night; Abby Martino on the Mend

Manchester, CT (May 14, 2007): The long-awaited second event of the 2007 season for the Northeastern Midget Association has finally arrived. This weekend, the NEMA Midgets head to the Seekonk Speedway in Seekonk, MA, with added zeal. On Saturday, May 19, the 25-lap NEMA feature event will honor two of NEMA's finest, Stu Murray of Wirtgen America and Mike Jarret of Helping Hands of America. The two men spearhead the companies that proudly serve as the Northeastern Midget Association's title sponsors.

"An exciting race at Seekonk Speedway is the best way for us to show how much we appreciate their support and friendship," said NEMA President Mike Scrivani.
With a rich history that includes exciting finishes and fierce competition, the Seekonk Speedway is the ideal venue for such an important race for the NEMA competitors and fans.

Stu Murray and Mike Jarret have been instrumental in the recent and ongoing success of the Northeastern Midget Association. Both have provided financial support of the Club, to individual teams, and to individual races. Purse increases, additional activities and events, enhanced promotional opportunities and added exposure over the last several years can be attributed to their contributions.

With encouragement of these two very active sponsors, NEMA has experienced an influx of talented young drivers, embraced new technology and witnessed increased levels of competition while maintaining the dynamics of a competitor-driven governing body. The result is more marketability and additional exposure.

Their Series sponsorship tells only half the story. Mike Jarret and Stu Murray share a genuine interest in the well being of the Club and its members.

With his hands on approach, Jarret is a fixture at each and every race. As a cheerleader, motivator, administrator or salesman, Jarrett is a driving force with the every day, behind- the-scenes running of the Northeastern Midget Association.

Stu Murray has played integral role in attracting up and coming drivers to midget racing, most notably the NEMA Midgets. The support of Stu Murray and Wirtgen America adds credence to NEMA. As a long-time supporter of "big time" racing he has become known for his uncanny ability to recognize talent. By association with Wirtgen America, the racing community and the media pay attention to the quality of the drivers and the competition at NEMA.

"Without people like Mike (Jarret) and Stu (Murray) -- NEMA would simply not be what it is today," said car owner Tim Bertrand. "Their investment in our series has led to more professional competitors and a more professional series on the whole. The tracks take notice, the fans take notice, and NEMA appreciates their assistance in an extraordinary way."

Wirtgen America, the world leader in asphalt recycling and base stabilization equipment, has served as the Series sponsor since 2003. The company's marketing strategy has utilized motorsports successfully for nearly 20 years traditionally in the open-wheel ranks including associations with Mark Kinser and Danny Lasoski in the World of Outlaws.
Wirtgen America, Inc., headquartered in Nashville, TN, is the world's largest manufacturer of pavement milling machines; offering a full line of asphalt and concrete milling machines/profilers, hot and cold recyclers, and mixers for the pavement recycling and reconstruction industries. Wirtgen America products are available through a network of representatives and dealers throughout North America.

The Helping Hands of America Foundation is a private corporation that solicits tangible goods (autos, trucks, boats, etc.) for donation with portions of all liquidation proceeds directly benefiting the associated charities including the Lupus Foundation of Massachusetts, Sacred Heart Community Missions, the Association of Blind Citizens and the Massachusetts Chapter of the A.L.S. Association.
Helping Hands of America, through a personal investment by founding partner Mike Jarret of Bellingham, MA, began their support during the 2004 season.

As always, Jarret will be on hand for the celebration while Stu and Connie Murray will travel from his home in Tennessee to be part of the festivities.

"NEMA would not be where it is without (Stu) and (Mike) and I am very thankful that they have come and stayed aboard with us throughout the years," said driver Shane Hammond. "What better place than Seekonk to dedicate a race to two great sponsors. It would be a great honor to take down a victory at this race."
All of the drivers share the sentiment of fellow competitor Hammond but none more than Nokie Fornoro and Aaron Wall. Fornoro, the winning-most driver at Seekonk and a two-time winner in 2006, will pilot the beautifully prepared #4 owned by Jarret. Rookie Aaron Wall will be behind the wheel of the Wirtgen-sponsored #29 for Bobby Seymour. After his strong performance in his NEMA debut at Waterford and with many laps under his belt at Seekonk in a Focus Midget, a top finish is not out of the question for the Wirtgen America driver.

Saturday night's race at Seekonk is also one of five National Midget "Driver of the Year" promotional nights to be held at various tracks around the country. The awards group will be adding a minimum of $300 cash along with product certificates to the purse.

NEMA Rookie Abby Martino will be missing from the field as she continues to mend after her devastating wreck in the season opener at Waterford.

"The doctor told me that at this point if everything is still healing well I may go to using only one crutch," said Martino. "So it looks as if I have at least another 5-6 weeks using the crutches and then probably a few weeks walking with the brace after that but we will have to see!"

The racing community eagerly awaits this young ladies return to NEMA competition.
Seekonk Speedway Announces NEMA Open Wheel Action

by Todd Baptista
Seekonk Speedway announced today that the Northeastern Midget Association will return to the 1/3-mile Bay State oval for four points events in 2007. The open wheel aces will make their first appearance of the season on Saturday night, May 19, joining the track's weekly Pro Stock, Late Model, Sport Truck, and Street Stock divisions on the bill. The race will be the second of 15 points events on this season's NEMA calendar.

The midgets will also return on Wednesday, July 18, as part of the third annual Open Wheel Wednesday event, highlighted by a 100-lap $10,000 to win Modified Madness open competition race. The crown jewel in the Northeastern Midget Association schedule, the Boston Louie Seymour Memorial Classic, honoring the memory of Louie Seymour (1927-1996) of Marlboro, MA, will take place at Seekonk Speedway on Saturday, August 25. Seymour, "the man who towed a million miles", spent almost a quarter of a century competing in open-wheel racing, traveling across the country with Midgets, Sprint Cars, and Silver Crown Cars. The fourth and final NEMA visit of the season will coincide with the season-ending D. Anthony Venditti Memorial Festival of Racing on Saturday and Sunday, October 6 and 7.

The Cement Palace and the mighty midgets share a storied history that goes all the way back to the glory days of local short track racing. The then-quarter mile oval hosted nothing but midgets on the weekly racing program from 1946 through 1948. NEMA, the sanctioning body for the touring open wheel stars, held its first ever event at Seekonk on Memorial Day weekend in 1953. Today, the cars sport wings atop the roll cages for added speed and agility, and are safer than ever before.

Plymouth, MA's Randy Cabral and Bobby Santos III of Marlboro, MA captured the May and October NEMA events at Seekonk in 2006, while Stroudsburg, PA veteran Noki Fornoro wheeled Mike Jarret's machine to Victory Lane in July and August, bringing his Seekonk career win total to eight. Defending NEMA champion Ben Seitz of Monument Beach, MA also has two career wins at the Action Track of the East and is expected to be among the front-runners.

For more information, please visit online at www.seekonkspeedway.com.
The NEMA Booth at


Club President Mike Scrivani took a turn in the dunk tank
The Anger Management Charity Event at SpeedwayEXPO.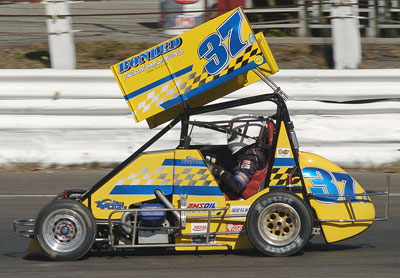 "Midget Racer Having Fun on Track"
Shane Hammond at Boston.com
SAD NEWS...

Fred Meeker, the winner of the very first NEMA race, has passed away at age eighty.
WELCOME TO...
Benjamin Harold O'Brien

Sue O'Brien gave birth to a beautiful and healthy baby boy March 14th, 2007 at 1:02 PM.

He weighs 8lbs. 11oz. and is 19 1/2 inches long.

Congratulations Sue and Matt!