Manchester, CT: On January 29, 2006, Gene Angelillo of Waterbury, CT will be inducted into the New England Antique Racers Hall of Fame. It is an honor that Angelillo has earned as the most prolific car owner in the history of the Northeastern Midget Association. It is an honor that his past performances have earned him and an honor that his current accomplishments nearly demand. In 2005 season, with Joey Payne of Pomona, NJ behind the wheel of his Dumo's Desire, Angelillo scored an unprecedented 14th owners championship with NEMA.

"This means a tremendous amount to me," said Angelillo with pride. "It is really humbling to see how many people are really happy for us."

Domination comes to mind when you equate Gene Angelillo with Midget Racing. The 2005 title is the 14th such distinction in 25 years. Angelillo also has an ARDC championship to his credit.

"I have to attribute the success I have enjoyed to so many people," continued Angelillo. "I have to thank all the great competitors that have driven for me. They are all a big, big part of it."

The first NEMA title came with Drew Fornoro behind the wheel of famed #45 back in 1983. Fornoro went on to win a total of seven championships with Angelillo. Russ Stoehr also dominated in Angelillo machines with four championships. In 2003, Angelillo paired with the multi-talented Joey Payne to win lucky number 13. It was the first NEMA title for Payne.

With triumphs coming with such a diverse group of drivers, Angelillo's ability to access talent may arguably be his greatest asset. His choice in drivers over the years has been impeccable.

"I pride myself on knowing character," said the championship car owner. "Not just the talent but the kind of people they are. I have enjoyed the company of everyone that has driven my cars."

This year the duo of Payne and Angelillo teamed up to earn Angelillo an unprecedented fourteenth owner's championship (in NEMA). During the 2005 season, Payne scored three victories including the prestigious Boston Louie Seymour Memorial Classic along with a sweep of the two Star Speedway events.

"It hurts a little bit that I cannot share this honor with Joey again," continued Angelillo. "He is a great kid with a lot of talent. I watched him as a kid when his Dad raced. Joey stood right along side and learned about racing the right way from his father. That means a lot."

Angelillo and Payne will have the opportunity to earn the title together when they team up once again in 2006.

In total during 2005, the combination of Payne and Angelillo scored 13 top-five finishes in 15 starts; 11 of those finishes found Payne on the podium.

"We had a great season," said Angelillo. "Every race was good as far as I was concerned. We finished all but one race and that is a feat in itself. It really is all about finishing races. That is really rewarding to me and the crew."

This is not the first time that Angelillo has won an owner's championship without his driver winning the title. The 1984 ARDC championship came with Nokie Fornoro, who drove for much of the season with Reider, not Angelillo. In 1990, Angelillo won the owner's title with a list of drivers that reads like a "Who's Who" of stock car racing. That year Ted Christopher, Nokie Fornoro, Drew Fornoro, Payne, and Russ Wood all took a turn behind the wheel of the #45 to earn Angelillo the honor.

One thing as consistent as the championship honors for Angelillo is the loving and constant support of his wife Marilyn.

"Marilyn loves it (racing)," said Angelillo with obvious pride. "I could not have done any of this if she did not love it. Sometimes I think Marilyn loves racing more than I do."

Gene and Marilyn Angelillo will celebrate their 25th wedding anniversary on December 6th.

Manchester, CT: The Northeastern Midget Association enjoyed one of their most competitive years on record. The champion- ship battle went down to the wire between defending champion Ben Seitz of Monument Beach, MA and Joey Payne of Pomona, NJ. At the conclusion of the Waterford Speedbowl Town Fair Tire "Finale" on November 6, 2005, Seitz was in victory lane with the win and his second straight driving title. This year Seitz will share the honor with the championship car owner Gene Angelillo.

Seitz earned the driving title with four wins on the season. Angelillo, who fields cars for Payne, the runner-up in the title chase, scored the honor with three wins during the 2005 season.

"It is a privilege to share this honor with Gene Angelillo," said Seitz. "He is how excellence is defined in NEMA racing. He has done so much for the club and the sport of Midget racing here in New England."

In total, Seitz scored a remarkable 13 top-five finishes in 15 starts. His four wins came at Stafford, Seekonk, Thompson and Waterford. He earned the Cape Cod Aggregates Hard Charger Award twice during the season.

"I have to thank so many people for helping to make this possible," said Seitz full of admiration. "My car owner Peter Valeri gives me everything I need to win, along with a great friendship. I have a dedicated crew that works very hard to make us the best. I have an incredible support network in my family and my girlfriend Lauren. And I have a great sponsor with Cape Cod Aggregates-Sam Lorusso and his family. I also have to thank Mike Scrivani for all his help."

Seitz joins an elite group of Midget racers to have earned two or more NEMA titles including Bill Eldrege, Al Pinion, Dick Brown, Joe Csiki, Dave Humphreys, Johnny Mann, Bobby White, Joey Coy, Drew Fornoro and Russ Stoehr. The later two drivers earned multiple championships for 2005 car owner champion Angelillo.

"It is amazing to win two championships in a row," said Seitz. "I wish this one could have been with (car owner) Peter (Valeri) too; but, this championship means as much to me as the first because it was such an intense battle with Joey all season. The win at Waterford was the best feeling."

Despite the statistics, the 2005 season had its share of ups and downs for the defending champion. The season started with a commanding win in the prestigious Spring Sizzler at Stafford Motor Speedway back in April but turned frustrating after a series of cancellations and rainouts halted the schedule. The June 4th event at Adirondack was admittedly a low point of the season followed by a major disappointment at Oswego.

"The low point of the season had to be the blown engine at Oswego," said Seitz. "We were running strong in second when we lost the engine. I believe we could have won that race."

It was the second time that engine woes hindered Seitz in 2005. An engine failure at Adirondack Speedway in June found Seitz borrowing a car from Glen Cabral. Seitz earned driver points for the event while Cabral was credited with the owner points. Adirondack was the difference for Seitz's car owner Peter Valeri, who finished second to Angelillo in the owner's champions by a mere eight points.

"I really have to thank Glenn Cabral for coming through for me at Adirondack," continued Seitz. "Our teams race wheel-to-wheel every week and the Cabrals were willing to help me. It says a lot about their family and the people that make up our Club."

The goods days far outweighed the bad for Seitz. During the 2005 season, Ben Seitz stood on the podium at the conclusion of eight of the Club's 15 races. The season capped off with the win at the Speedbowl to clinch the title. When the pressure was on this young driver stepped up to the challenge to win the race and his championship.

The Northeastern Midget Association would like to congratulate Ben Seitz, Gene Angelillo and the entire Club on their accomplishments in 2005. Best Wishes to the racing community for a Happy Thanksgiving.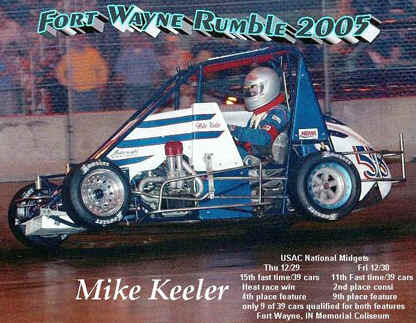 NEMA Competitor Mike Keeler headed out to the
Fort Wayne Rumble 2005 at the end of December.
Click on the Thumbnail below for a full size image
where you can read the results info.


Armond Holley, the 1976 NEMA champ, passed away in his sleep at his Longwood, LA home last Wednesday following a long illness. He was a great guy, and a great representative
of NEMA.

From the 1977 NEMA yearbook:

Armond Holley hadn't sat in a midget for about fifteen years before running a couple of NEMA shows in 1975. Joining forces with Badger designer Rollie Lindblad during the winter, Armond started the 1976 season with a win at Thompson in April, and won five more, including the season finale, also at Thompson.

The only two times in which he finished out of the top ten were due to mechanical problems. During one show, he was leading on the twenty-first lap when the car started throwing water. In another, he broke an axle while running up front.

A resident of Holden, Mass., where he runs his own machine shop, Armond arrived in New England after many years in the Midwest, the Southeast and around his home in Mississippi.

Long one of the top Super Modified drivers in the country, he has been named National Super Modified Chmpion, and dominated the whole country for a couple of seasons while
driving the first successful four wheel drive Super Modified.

Racing is a family affair with the Holleys, as wife Kathy plus all the kids and the dog have made most of the shows, travelling in their camper.

One of the smoothest drivers to ever grace our circuit, blessed with the ability to charge through an entire pack of competitors without so much as brushing a wheel, Armond Holley is a proud addition to the NEMA Roster of Champions.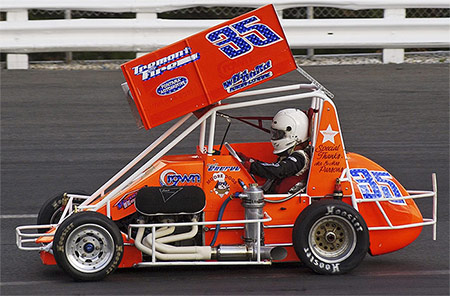 New Combination Should Net Same Results for NEMA's Randy Cabral
Manchester, CT: For the last several seasons Randy Cabral has been a contender in his family-owned Midget in Northeastern Midget Association competition. The Plymouth, MA driver has scored at least one victory per year since the '00 season. His wins have included such big races as the Boston Louie Seymour Memorial, the D. Anthony Venditti Memorial (both at Seekonk) and the World Series at Thompson.

Since the 2000 season, Cabral has finished no lower than third in the final point standings. He has finished second in the championship chase three times, finishing second to Ben Seitz in 2004 and to Gene Angelillo-owned cars in both 2002 and 2000.

In 2005, he just may be an even bigger threat to win as he has joined forces with car owner Bobby Seymour of Marlborough, MA. Cabral will run the full season alternating between his own car and the legendary #29 from the Seymour Racing stables.

"Randy is a very capable driver," said Seymour. "He is easy on the equipment and fun to watch. I have a great deal of confidence in him and his team. I am really looking forward to this season."

At the first race at Stafford Motor Speedway back on April 24th, Cabral turned in a third-place performance in the family's #35. When the Club returns to competition on May 14 at Star Speedway in Epping, NH, Cabral will likely be aboard the Seymour entry.

"It was an easy choice for me to make," said Cabral of his decision to drive the #29 for Seymour. "Bobby asked me if I wanted to drive for him. I talked it over with my father (Glenn) and we both knew it was a great opportunity for me. My family has supported my decision 100%."

The decision on which car comes to the track each week will depend on a number of different factors including Seymour's hectic schedule; the owner of Seymour Racing Enterprises and the Race Depot is also the co-owner of a USAC Silver Crown racer that competes in the asphalt series. The final decision will ultimately lie with the racecar that the team collectively feels is the best for the particular track.

"We will run the best of the two cars on any given week," said Seymour.

The crew that Cabral credits for his success will continue to be a large part of the newly formed team in 2005. The Cabral and Seymour crews will work together throughout the season.

"I was surprised that Bobby offered me the ride," continued Cabral.

Cabral; however, may be the only one surprised by the decision. The very modest Cabral has been among the most competitive drivers in the Club. Running on a more conservative budget then most, he continues to turn in top performance each week.

"My goal is to win some races and to make Bobby look as good as he is," said Cabral.

Seymour is no stranger to winning. He is a championship driver in his own right having won the NEMA title in 1987. He has also found success as a car owner. Over the last several seasons the Seymour-owned entry has seen victory lane with Bobby himself behind the wheel as well as with Bobby Santos III of Franklin, MA and Mark Buonomo of Waltham, MA.

Financial support for Cabral will continue to come from sponsors Tremont Tire, Breault Roofing, Moore Dogs, Chuck Wagon Chassis, Fontana Engines, and Bundy Mechanical. The joint effort will also receive support from Autocraft Engines. Negotiations are currently underway with additional sponsors including long-time Seymour Racing sponsor Wirtgen America.

"I never expected to get a ride like this one," said Cabral. "When I was a kid I always joked about driving one of Boston Louie's cars. Now, some 15 years later, I am getting the opportunity to drive a car with his #29 on it. It is a dream come true."

This dream come true could not have happened to a more deserving driver. Cabral is one of the most likeable people in NEMA. His talent makes him a driver that is exciting to watch and his personality makes him a driver that you like to see win.

The next scheduled appearance for Cabral and the entire NEMA contingent is Saturday, May 14, 2005 at Star Speedway followed by a visit to Twin State Speedway (formerly Claremont Speedway) on May 29, 2005.
NEMA's Shlatz Finds Missing Link
Enfield, CT: Over the last several years, the Northeastern Midget Association has become one of the most competitive touring divisions on the East Coast. During the 2004 season the ultra-competitive club featured seven different winners while the previous seasons had eight or more. The drivers that have provided much of the excitement include the likes of Ben Seitz, Joey Payne, Randy Cabral, Mark Buonomo, Bobby Santos and the Fornoro Brothers.

This season Andy Shlatz of Enfield, CT hopes to add his name to that elite group. Shlatz knows how to win. He is a two-time 500cc Mini Sprint champion at Whip City with dominating performances in 1995 & 1996. In 1995, Shlatz won half of the races that season (10 out of 20) in 1996 he turned in a near flawless season winning 18 of 20 races.

Since joining NEMA he has been one of those drivers who is on the brink but has yet to establish himself as a contender. That may all change in 2005, as Shlatz has added a key ingredient to his racing team.

Last week, Shlatz Racing signed Rafferty Fine Grading, Inc. as a major sponsor for the 2005 season. The Enfield, CT based company specializes in fine grading and asphalt reclamation in Connecticut, New York, Rhode Island, Massachusetts, New Hampshire, and Vermont. In business for over 20 years, Rafferty Fine Grading offers services including full depth reclamation, cold planning, fine grading and vibratory compaction. Fittingly, Rafferty proudly utilizes Wirtgen machinery.

"They saved my season," said Shlatz. "I am totally grateful to Curt and Rhonda (Rafferty) for their support."

Without sponsorship, Shlatz was going to sit out most of the season. The only event on the agenda was the Spring Sizzler at Stafford. Financial concerns were going to force Shlatz to vacate the seat to put another competitor into his family-owned racecar.

"It was going to be very hard for me to step out of the car," continued Shlatz. "Thanks to Rafferty Fine Grading, I will be able to compete as a driver in all of the races on the 2005 schedule."

Rafferty Fine Grading is no stranger to racing. Currently the Rafferty's serve as a sponsor for the SK Modified® team of Chris Osella at Stafford Motor Speedway as well as the Dwarf car operation of Brian Peterson at Whip City Speedway. This week they also signed on the assist the Enduro efforts of Rick Durkee at the Waterford Speedbowl. The association with NEMA allows the company to expand the scope of the motorsports marketing efforts.

"Although Andy has been a friend of the family for quite a while, this was a business decision," said Curt Rafferty, President of Rafferty Fine Grading. "Sponsorship with NEMA gives us wider exposure than just the local tracks. The schedule gives us exposure at tracks throughout the areas were we offer services."

"We think the world of Andy and we are looking for this to be a long-term commitment," concluded Rafferty.

The addition of Rafferty Fine Grading could be the missing link for Andy Shlatz.

In 2004, both Tim Heath and eventual champion Ben Seitz scored their first NEMA wins. This season, Andy Shlatz is determined to do the same.

The 2005 season kicks off for the Northeastern Midget Association at the 34 Annual Tech Net Spring Sizzler at Stafford Motor Speedway on April 23 & 24, 2005. This is the first time that NEMA will be part of the prestigious Sizzler presentation.

For a complete schedule of events for the Sizzler visit www.staffordmotorspeedway.com. To learn more about Rafferty Fine Grading, Inc. visit www.raffertyfinegrading.com
Wirtgen & Helping Hands Continue Alliance with NEMA

Manchester, CT: The Northeastern Midget Association starts it 54th season at the prestigious Spring Sizzler at Stafford Motor Speedway on April 23 & 24, 2005 with the renewed support of joint series sponsors Wirtgen America and Helping Hands of America. The backing of these two highly successful companies has helped NEMA maintain a position
of distinction in the racing community.

With encouragement of these two very active sponsors, NEMA has experienced an influx of talented young drivers, embraced new technology and witnessed increased levels of competition while maintaining the dynamics of a competitor-driven governing body. The result is more marketability and additional exposure.

Wirtgen America, the world leader in asphalt recycling and base stabilization equipment, has served as the Series sponsor since 2003. The company's marketing strategy has utilized motorsports successfully for nearly 20 years traditionally in the open-wheel ranks including associations with Mark Kinser and Danny Lasoski in the World of Outlaws.
The decision to work with NEMA from Wirtgen's desire to further expand its marketing program of paving equipment into the northeast.

Wirtgen America, Inc., headquartered in Nashville, TN, is the world's largest manufacturer of pavement milling machines; offering a full line of asphalt and concrete milling machines/profilers, hot and cold recyclers, and mixers for the pavement recycling and reconstruction industries. Wirtgen America products are available through a network of
representatives and dealers throughout North America.

While Wirtgen is renowned internationally, Helping Hands of America has grown swiftly to prominence regionally. The Helping Hands of America Foundation is a private corporation that solicits tangible goods (autos, trucks, boats, etc.) for donation with portions of all liquidation proceeds directly benefiting the associated charities including the Lupus Foundation of Massachusetts, Sacred Heart Community Missions, the Association of Blind Citizens and the Massachusetts Chapter of the A.L.S. Association.

Helping Hands of America, through a personal investment by founding partner Mike Jarret of Bellingham, MA, began their support during the 2004 season. (Helping Hands of America also serves as the title sponsor of the International Supermodified Association). Jarret has been stepping up his involvement with NEMA substantially ever since. This season, Jarret made an investment in equipment for electronic timing and scoring.

Both companies have invested into marketing and public relations. This exposure goes a long way in propelling the careers of the Club's drivers while making the sanction more appealing to both sponsors and venues.

Equally important as the support at the corporate level is the excitement and enthusiasm that the management teams of these company provide to NEMA and it's members. Wirtgen President Stu Murray and his wife Connie have been long-time fans of the club while Helping Hands of America's Jarret is involved almost daily in the workings of NEMA.

The decision for Wirtgen America and Helping Hands of America to remain as marketing partners is further evidence of the viability of the Northeastern Midget Association.

"Boston Louie" Memorial Classic
Returning To Seekonk in '05
by Todd Baptista

Seekonk Speedway announced this week that the Boston Louie Seymour Memorial Classic will return to the Bay State 1/3-mile oval's facility in 2005. "Without a doubt, this is the premier Midget event in the Northeast," stated Seekonk's assistant manager David Alburn. "We're thrilled to be able to welcome the NEMA Midgets and the Boston Louie Seymour Memorial back to Seekonk for our 60th anniversary season." The Northeastern Midget Association-sanctioned race will take place at Seekonk on Saturday night, August 27, 2005 along with the track's regular NASCAR Dodge Weekly Series program.

The Boston Louie Seymour Memorial Classic honors the memory of Louie Seymour (1927-1996) of Marlboro, MA. Open Wheel magazine referred to Seymour as "the man who towed a million miles." Seymour spent almost a quarter of a century competing in open-wheel racing, traveling across the country with Midgets, Sprint Cars, and Silver Crown Cars. In his travels, Seymour was given the moniker "Boston Louie", which has since become synonymous with New England and open-wheel racing. Seymour was recently elected to the Sprint Car Hall Of Fame in Knoxville, Iowa.

Nextel Cup star Kenny Schrader, Indy 500 veteran Bentley Warren, and former USAC Silver Crown champion Billy Casella have all driven for Seymour. In later years, Seymour's sons, Mike and Bobby continued the family tradition, racing midgets. Bobby Seymour won the Boston Louie Memorial in 1999, with Mike finishing second.

The mighty Midgets of NEMA and Seekonk Speedway share a long and vibrant history. The club's first race was held at Seekonk on May 30, 1953. In total, the Northeastern Midget Association has competed in 57 events at the Cement Palace, the most recent one being the D. Anthony Venditti Memorial Festival of Racing on October 2-3. Mark Buonomo of Waltham, MA won that 25-lapper. Ben Seitz of Monument Beach, MA is the defending champion of the Boston Louie Seymour Memorial Classic.

Seekonk's campground will be made available for overnight campers in conjunction with the highly-anticipated event. For more information, please contact the track office at (508)-336-9959 or visit online at the all-new www.seekonkspeedway.com.

NEMA were well represented at the this weekend's Racearama 2005 at the Big E in West Springfield, MA.

NEMA had a booth with several Midgets adjacent to the Helping Hands of America booth that had a display of Red Sox and Patriots Champions memorabilia.

Other NEMA Midget racecars were showcased in the booths of several of the tracks on the NEMA 2005 schedule.
The Helping Hands booth under the direction of Cindy Delicio received a Best of Show award.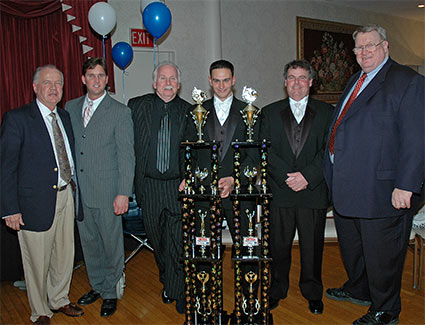 L to R: NEMA Sponsor Mike Jarret of Helping Hands, NEMA VP Barry Kittredge, NEMA President Mike Scrivani, 2004 Champion Driver
Ben Seitz, 2004 Champion Owner Pete Valeri, and NEMA Sponsor
Stu Murray of Wirtgen America.

NEMA Awards Banquet
Celebrating the 2004 Season
Jan 15th at White's of Westport
Westport, MA: On Saturday night, January 15th, Ben Seitz of Monument Beach, MA was honored as the 2004 Northeastern Midget Association Champion. White's of Westport was the site of the festivities that celebrated not only the feats of Seitz and the Valeri Motorsports team but also those of his fellow competitors.
Seitz put together and impressive run this season, posting 11 top-five finishes in 12 starts including four trips to victory lane. The season-long performance allowed the #17 team to best a stellar field of competitors including second-place finisher Randy Cabral of Plymouth, MA and Joey Payne of Fairlawn, NJ. Mark Buonomo of Waltham, MA and Pete Pernesiglio of Ronkonkoma, NY rounded out the top-five finishers in the point standings.

Full Story & Photo Gallery HERE
Old Friends, New Possibilities

Wrentham, MA: Over the last few seasons the Northeastern Midget Association has had an influx of youthful enthusiasm when "young guns" like Ben Seitz, Adam Cantor, Tim Bertrand, and Bobby Santos III joined the ranks. They got another shot in the arm when Michael Jarret stepped up his involvement with the Club.

Full Story HERE