2008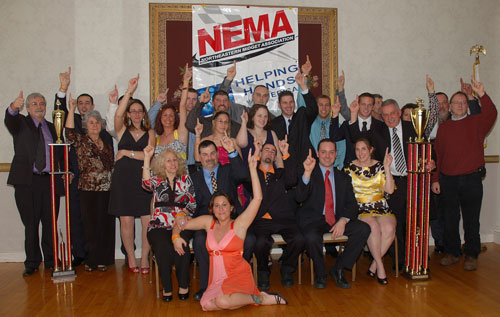 The 2008 NEMA Champions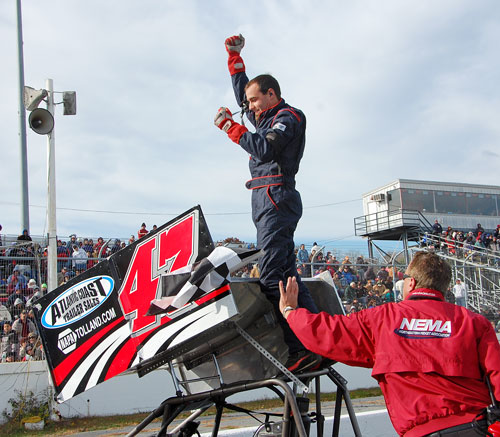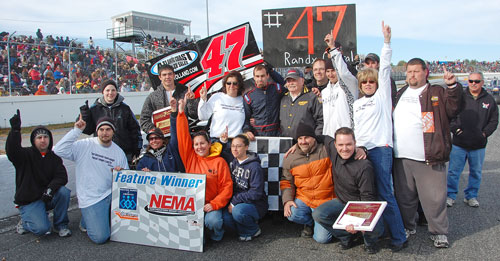 Cabral, Bertrand Celebrate
First NEMA Championships
Randy Cabral and Tim Bertrand, driver and owner champions, will head up the honorees Saturday night Nov. 22 at the Northeastern Midget Association banquet at Whites of Westport in Westport, MA.

The #47 team won eight of NEMA's 17 features including the Boston Louie and the traditional late season triple - Waterford's Finale, Seekonk's DAV and Thompson World Series, the latter three in succession.

"People think it's the stuff," says Bertrand. "Well, it's not just stuff. We have a great package. We have a great driver who is consistent week in and week out. We have a great crew. Yes, we have good stuff but everybody has great stuff. It's the complete package that counts."

With five different winners - Bobby Santos Jr., Greg Stoehr, Joey Payne Jr. and Jeff Abold joining Cabral - NEMA had a competitive season. The titles were clinched at the World Series.

The championships bring to a pinnacle a team that actually started with a crash at Seekonk in 2005. A broken Heim joint sent the car into the wall, destroying it. It was the third time the car had been crashed badly that season.

"When we got back to the trailer my wife Cara and I saw the entire
Cabral family gathered around the car," says Bertrand. "They were
actually crying and we made the decision right there to search for
another car. This is an incredible family."

With help from Danny Drinan they found a car in a barn in Indiana. Over the past three seasons (2006-08) the car, with Bertrand and Randy's dad Glen running the show, has 14 wins. Often, it was the crew that turned defeat into victory.

Early in '05, Bertrand's car was crashed badly at Stafford. In casual
communication with an obviously down Bertrand, Cabral mentioned driving the #47. "Tim laughed at me," remembers Cabral, who was driving for Bobby Seymour at the time. "I didn't take offense. I kind of walked away."

"I laughed because I thought he was kidding," Bertrand says. "I found him 10 minutes later and asked 'are you serious? We can be a powerful team over time.'"

They tested a week later at Waterford. "Back then 13 flat was a super fast time at Waterford," Bertrand continues. "Within five laps he was at 12.9. I remember saying 'we're going to win a lot of races in the future.'"

Cabral and Bertrand spent several seasons as competitors, the latter a NEMA driver from 2000 through 2004. A three-time Whip City Mini Sprint champion, Bertrand, who has a Waterford NEMA win, realized his job made it "difficult to focus my energy into driving a Midget." He and his dad Gil became car owners only.

By 2005, Cabral, the 1999 co-Rookie of the Year, had seven NEMA wins - six in his dad's car (including the 2000 Boston Louie) and one for Seymour. He'd been watching his father race since 1989 but it was Chuck got him in a racecar.

"I was working for Chuck and he kept telling me 'you're doing a good job and maybe I'll put you in one of the cars.' After three years, I showed up at Seekonk for a test one day and Chuck said 'you got your gear with you? Better get it on." Cabral was 19.

"Chuck would sit with me and say 'what did you do wrong?' Cabral
continues. "I'd tell him and he'd say 'Ok, you know what you did.' He
never yelled and that's how I got better."

The next year the Cabrals became a team. "My father said 'well, you
proved you can drive,'" Randy goes on. "At that point I was out of
school and able to put some money in but the first time I drove for my father he said 'drive like it's your last race because we have no money left."

He finished seventh and "from then on we raced off what the car made." The Boston Louie win (besting Nokie Fornoro) was the final hurdle, earning enough money and enough prestige to make the team a contender.

"My father gave me a good race car, the best he could afford," says
Cabral. "Still, it wasn't even half of what the Bertrands have given
me."

With 21, he is among NEMA's all-time winners. He is the leader at
Waterford and Thompson. And, Bertrand insists, he is still improving,
still getting better.
BOBBY SANTOS WINS THE
TURKEY NIGHT GRAND PRIX
Bobby ran 4th for much of the 98 lap event and took the lead on lap 90 to go on and win the 68th "Turkey Night Grand Prix" USAC Mopar National/Western Midget race at Toyota Speedway at Irwindale, CA.

Santos' victory also won the 2008 "Toyota Challenge" championship for his car owner Western Speed Racing of Fresno, CA. USAC Story HERE
Joey Payne, in Gene Angelillo's #45, time-trialed well off the pace in 55th and did not transfer to the main front the last chance race.
Speed51.com Short Track Power Rankings
A 51 Exclusive - and Tradition

Honorable Mention - Randy Cabral (NEMA)


This Maximum talented Midget racer was considering quitting racing after losing his best friend Shane Hammond in a season-opening wreck at Thompson. He finished the year winning eight races including three in a row, one of them being the race to wrap up the Owners and Drivers Titles at Thompson's World Series of Speedway Racing. He is the first driver to win three in a row since Jeff Horn in 1993.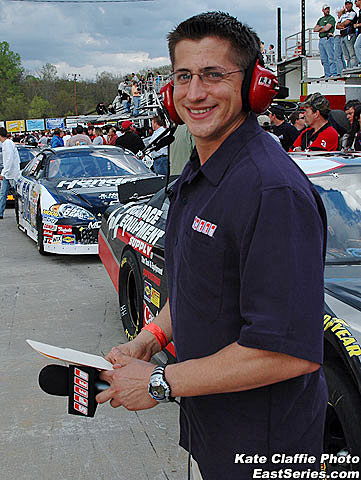 PERNESIGLIO HAS A LOT TO BE THANKFUL FOR IN 2008
CHARLOTTE, N.C. (November 24, 2008) -With the holidays fast approaching and the racing season winding down, it nears time for gathering with friends and family and the traditional gluttonous holiday
feasting. Former NEMA driver Derek Pernesiglio plans to do exactly that, but has to travel over 750 miles from his home in Charlotte, North Carolina to Ronkonkoma Long Island, New York to do it.

"It's a twelve hour ride so there will be a lot of time to reflect back on how special 2008 was for me. I'll remember this year for the rest of my life," Pernesiglio said.

The baby-faced Long Islander had a breakthrough season in 2008. The season began with the opportunity to fill in as pit reporter for the ASA Southeast Asphalt Tour on Fox Sports South, and soon parlayed to a one race audition reporting for the NASCAR Camping World Series on SPEED Channel. "Two weeks later I got a call from SPEEd offering me the rest of the Camping World races that they would produce this year. After that race at Greenville Pickens, things just blew up," Pernesiglio exclaimed!

A few weeks following that call, well known race analyst, Rick Benjamin, came looking for Pernesiglio. Benjamin was venturing into television race production and brought Pernesiglio on board to be the pit reporter for this season's SCCA Playboy MX-5 Cup.

Then soon after, SPEED Channel again came calling, requesting that Pernesiglio be a feature reporter for the 10-week Summer Shootout from the infield quarter mile at Lowe's Motor Speedway.

In addition to these gigs, Pernesiglio reported for an additional ASA race and the NASCAR Whelen Modified Tour at the historic Martinsville Speedway.

"The work just started to roll in; I couldn't believe what was happening. It felt like I was calling my family back on Long Island once a week telling them about a new work opportunity," Pernesiglio said.

Success did not come without a fair share of responsibility juggling by Pernesiglio. He still had to manage time between his day job and his dream job. During the week he works at NASCAR Media Group
(formerly NASCAR Images) as the Associate Producer of Trackside and NASCAR Live shows on SPEED.

" I would work all week, hop on a plane late in the day Friday, work Saturday and Sunday, fly back Sunday night or take a red-eye in Monday morning. There were times when I got off the plane at 7am
Eastern Time and had to go right into the office…those were tough Mondays," Pernesiglio recalls.

With the season ending, Pernesiglio will get a much needed break, and head back to his hometown to celebrate the holidays with his family and friends.

"I work all season long and taking vacation time around the holidays fits just right," he said. "Getting back to my hometown really reminds me of where I came from so it grounds me. It will also help
recharge me for the upcoming season."

So what does Pernesiglio have to be thankful for in 2008? He recited a broad, but very enthusiastic list.

"I'm thankful for all of the marvelous opportunities to live a dream this year. 14 years ago I told my friends and family I was going to be on TV someday and it's happening. I'm thankful for all of the people
that showed me support over the years, reminding me to never give up, especially my mother, Diane. I'm thankful for my toughest TV critic, my brother, Pete. He always tells me what I did wrong even when I tried to hide it! I'm thankful for all of the people that took time out of their busy schedules to sit down and watch some of my broadcasts. That means more than you could ever know. I'm thankful to Rick Benjamin, Joe Ligon, Pete Richards and Chet Burks. You guys gave me a chance when nobody else would."

"I have a great job, a roof over my head, food on my table, an adorable Godson, a nephew on the way and an incredible family, overall, I'm a happy man. If Santa brings me nothing this year that's okay, all of 2008 was a Christmas present!"
Top Speeds Make NEMA
Sought After Commodity
Speed was the centerpiece of the Northeastern Midget Association's 57th season. Champions Randy Cabral (driver) and Tim Bertrand (owner) ruled over a 17-race campaign filled with astonishing lap times.

The Cabral/Bertrand #47 team won eight shows en route to the first championship for both.

"We started off badly (losing Shane Hammond at Thompson) but everybody pulled together," reports NEMA President Mike Scrivani Jr. "We had a lot of good races. We had great support in difficult times."

There were five winners in all, Bobby Santos III (5), Greg Stoehr (2), Joey Payne and young Jeff Abold joining Cabral. Adam Cantor, Erica Santos, Jeremy Frankoski and William Wall had promising seasons.

"No question," continues Scrivani, "the speeds help us. People want to see it. Like Midget racing everywhere, NEMA is on the upswing. The cars are a lot better and the show is a racier than ever."

Bertrand points to speeds at three of NEMA's long-time haunts. "We had a 10.9 at Seekonk for the first time," he says. "Greg Stoehr and Jeff Abold both did it. At the World Series at Thompson, Randy had 15 laps under 18 seconds, an astonishing thing. At Waterford, Randy just kept breaking the record and wound up with a 12.62 lap at the Finale."

NEMA was also quick at Monadnock, Lee, Stafford, Beech Ridge and Twin State.

"Two years ago 11.4 won the feature at Seekonk," adds Scrivani, the president since 2003. A 12.9 was lightning quick at the Speedbowl just a year ago.

The trend is making NEMA a sought after commodity. Scrivani, who remembers "scratching for shows" four years ago, now says the challenge will be putting together a "reasonable schedule" in the face of the economic difficulties that will no doubt continue in '09.

The success of the NEMA Lites has also been positive. A development Series, it brought an additional dozen cars to several dates.

"We are seeing the results of the stuff we've worked on for years," he continues. "Every winter guys did their homework trying to get these cars to go faster. It used to be five or six guys doing that. Now, it's 10 to 15 guys doing it."

Bertrand says it's "a natural progression that we see in every sport. Everything is getting bigger, faster, better." In that picture, NEMA "is now viewed as one of the premier open wheel series in the country, equal to the USAC pavement series." The latter has suffered car count losses because of the economy.

Long on history, NEMA is an "expected commodity" at New England's established events – the Icebreaker and World Series at Thompson; the opener and closer at Waterford, the Boston Louie and DAV at Seekonk, the midweek specials at Seekonk and Stafford. "Fans expect us to be there," Scrivani points out. "NEMA is part of the party."

DRIVERS: 1. Randy Cabral 2230; 2. Joey Payne, 1903; 3. Bobby Santos III, 1841; 4. Adam Cantor, 1839; 5. Greg Stoehr, 1775; 6. Erica Santos, 1675; 7. William Wall, 1577, 8. Nokie Fornoro, 1561; 9. Jeremy Frankoski, 1548; 10. Doug Cleveland, 1344.

OWNERS: 1. #11 Tim Bertrand, 2222; 2. #98 Bob Santos Jr. 2101; 3. #45 Gene Angelillo, 1939; 4. #7ny, Cantor Racing, 1839; 5. #26b, Greg Stoehr, 1775; 6. #44 Ed Breault, 1631; 7. #5 Wall Motorsports, 1577; 8. #4 Mike Jarret, 1561; 9. #63 TSR Motorsports, 1342; 10. #9 John Zych, 1315.

Stanmford, CT www.CellMark.com
.
CellMark Inc. Signs on as
NEMA "Lite" Series Sponsor
The North East Midget Association is proud to announce that CellMark Inc., of Stamford, CT will be sponsoring the new NEMA "Lite" division. The company will be providing a bonus in each NEMA Lite feature for the "Hard Charger", which is defined as the driver who passes the most cars during the feature event.

"CellMark is excited to be associating ourselves with the North East Midget Association, and also with a great group of up and coming drivers," said company spokesperson Rick Paul. "We are looking forward to growing with the series and hope that our investment will help provide exciting racing action as well as to help the competitors with increasing costs."

In its 20 year history, CellMark has become the world's largest specialist in the marketing of woodpulp and paper related products. The company's total annual sales exceeds four and a half million tons, representing an aggregate value of almost USD 2.1 billion.

Called a "feeder class" by NEMA Vice President Tim Bertrand, the NEMA Lite series is designed to introduce new competitors to winged midgets "in very low cost, less powerful cars." Competitors can use any chassis that currently meets NEMA specifications but engines will be limited to Ford Focus and Oldsmobile Quad4.

"NEMA is proud to have CellMark on board as a sponsor and series supporter," said NEMA President Mike Scrivani. "We are excited to be attracting organizations to our series of this caliber, and will do our very best to make their investment worthwhile."


CONTINGENCY PROGRAM
The following Mazda Contingency payout is based on the year-end 2008 NEMA Owners Points Championship:
1st Mazda - $1,500 2nd Mazda - $1,000 3rd Mazda - $500
To be eligible for year-end contingency payout, car must have competed with Mazda power in at least 50% of the 2008 season's race events and must compete with Mazda logo decals at all events. Car Owner must be enrolled as a Mazda Team Support Member to claim contingency awards. Please contact Steve Sanders at MAZDASPEED Motorsports Development (800-435-2508) or (www.MazdaMotorsports.com) for more information, decal requirements and a contingency request form.


"SHANE RACE FOR FUN" - NOV. 29th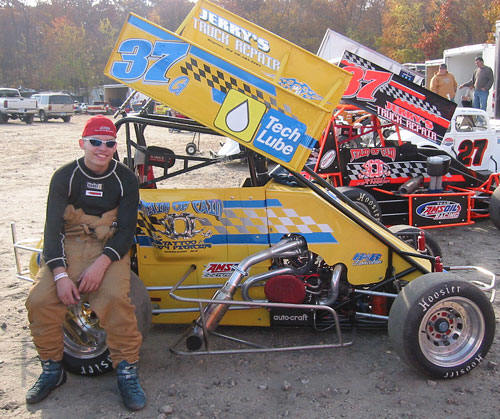 Join in the fun!! This is the FIRST annual "Shane Race for Fun" charity event. It's all in the name of Fun for Safety. The Shane Hammond Believe Foundation has been established to provide safety education to drivers old & new. This is an opportunity to race against the best and the worst whether it's your pit crew, racing buddy, fans, friends or family. Race for FUN!
WHEN: NOVEMBER 29, 2008

WHERE: F1 BOSTON
290 Wood Road,
Braintree, MA 02184

COST: $89.00 per person

INCLUDES:
• 7:00 PM – 8:00 PM - SAFETY BRIEFING
• 7:00 PM & 9:30 PM - APPETIZERS SERVED
• 7:00 PM – 11:00 PM - TRACK 1 LOUNGE
• 8:00 PM – 10:00 PM - EXCLUSIVE USE OF TRACK 1
• 9:00 PM – 11:00 PM - BILLIARDS ROOM

Space is limited. All registrations must be received no later than November 20. Late registrations are subject to increase.
REGISTRATION FORM HERE
Ryan Newman Files Entry for 2008 Copper World Midget Field with Bertrand Motorsports

Former USAC standout and 2008 Daytona 500 winner Ryan Newman has filed an entry for this year's Copper World Classic in Phoenix on Thursday November 6th.

Newman comes to Phoenix along with the 2008 North Eastern Midget Association (NEMA) Championship team Bertrand Motorsports, owned by Tim Bertrand, and their #39 Drinan/Esslinger. The Bertrand team will be hauling out and back from Massachusetts, nearly a 5,000 mile round trip.

Hot Pepper Promotions has signed on as primary sponsor for the race.

FULL STORY HERE
David Suchy
It is with great sadness that I must inform the racing community of the passing of David Suchy.
David was most known as the owner / driver of the ARDC roadster midget "Outhouse Mouse" #27. He was truly one of the nice guys in motorsports. David's racing career began with the modifieds at places like The Reading Fairgrounds, Big Diamond, Anthracite, Fredricksburg and Penn National. His racing career spans almost 40 years and nearly 100 different race tracks. David drove modifieds, late models and hobby cars and his favorite the midgets.

David was a staple on the ARDC midget circuit from 1985-2003. He served on the board of the ARDC numerous times and was always willing to help. He loved the travel and the many friendships he built in and out of the club. Although the Roadster will never again be in active competition, I assure you, It will ride again to keep his memory and legacy alive.

In lieu of flowers, we ask that contributions be made to the Eastern Museum of Motor Racing in his name. Contributions can be mailed to:
Eastern Museum of Motor Racing P.O. Box 688
Mechanicsburg, Pa. 17055

A memorial service was held on Oct. 20th at 11am at Holy Spirit Church
245 W. Pine St. Palmyra, Pa. 17078

A final thought: David was not only my brother, he was my best friend, and most importantly he was my HERO. I will truly miss him.

Brian Suchy

A Wake Up Call from Joey Payne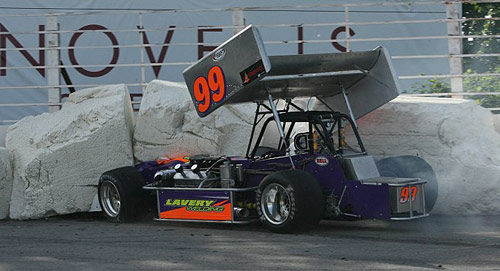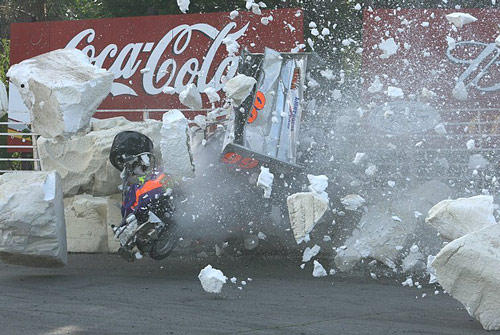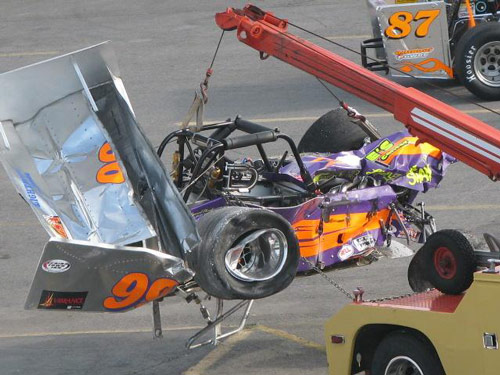 Friends and Fellow racers,

I'd like to thank Oswego Speedway, their Safety crew and the Big O fans for being the best at what they do. Saturday's (June 7th) crash in the Supermodified was one of my worst in 24 years of racing. The impact was horrific, so bad my teeth were hurting. Aside from that my ribs, legs and jaw were badly bruised. I have to thank the Strong gang for putting together such a safe car.

Two years ago I nearly died in my NEMA Midget. If it wasn't for having the Cadillac of seats, The Joie of Seating, I probably would have been dead.

This weekend I wore my Safety Solutions Hybrid Rage head and neck device for the second time, and boy am I glad I did. After the wreck at Stafford I swore I would be safer racing. My brother Johnny sells the devices for Safety Solutions, but being the old school racer I am, I shrugged it off, saying "Ah I'll be OK."

I owe Johnny a lot of Thanks. In Saturday's wreck the throttle stuck, and in the second or two it took to hit the wall I pulled back on the pedal so hard I have the top of my right foot bruised.

It's easy for everyone to say "He should have just hit the kill switch." Well I'll tell you that was the last thing I thought of as the wall approached. I did try to hit the switch off on the steering wheel as I hit the wall but just couldn't. I didn't want to let go of the wheel. The Hybrid Rage did its job, and to be honest, my head and neck are remarkably feeling great.

Lets use this crash as a wake up call to everyone! Drivers use the safety devices!! I feel it really saved my life. On the other side I feel that the track and clubs should make kill switches on the brake pedal or the toe strap mandatory. It's a cheap fix compared to losing a friend. Believe me I have lived through it.

I know all this safety stuff isn't cheap but you can't put a price on life.

Thanks for reading,
The Jet
Joey Payne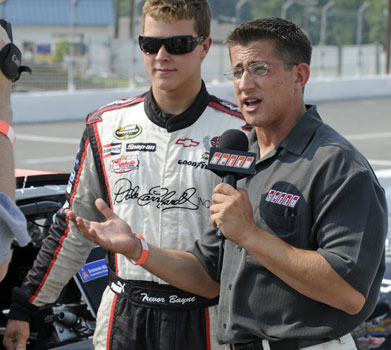 Dream Season Continues for Pernesiglio
CHARLOTTE, N.C., (August 27, 2008) - It's been a whirlwind season for the former NEMA midget driver turned SPEED Channel pit reporter, Derek Pernesiglio. What started out as an opportunity to be a fill-in reporter for one NASCAR Camping World Series race evolved into 33 on-air appearances in what Pernesiglio calls his "big break" of 2008. One of those appearances is scheduled for Friday August, 29th at noon. Pernesiglio will be on pit road at Toyota Speedway in Irwindale, CA reporting for the NASCAR Camping World Series West race on SPEED Channel.
"This is undoubtedly the greatest year so far in my professional career," said an enthusiastic Pernesiglio. "It feels like years of hard work are finally being acknowledged. When the year started, I was thrilled to get a chance to report three ASA Southeast Asphalt Tour races, but that first SPEED race from Greenville Pickens was the turning point that got the other shows in motion."
The turning point came a few days after his pit reporting debut at Greenville Pickens Speedway, where his professionalism and knowledge of the sport turned a few heads at SPEED Channel. After the show aired they called him back in and asked him to remain as the pit reporter for NASCAR on SPEED's Racing Across America television package.
Not long after, SPEED Channel came calling again asking Pernesiglio to be a feature reporter for Lowe's Motor Speedway's tape-delayed Summer Shootout Series races that are expected to air on the network later this fall.
"The Shootout was a perfect fit," Pernesiglio explained. In a sport where veteran drivers and retired crew chiefs are transitioning to the broadcast booth, it didn't leave much room for the baby-faced, Long Island native in motorsports television. "I'm 34 and look like I'm 24. I couldn't get a producer to look at my resume reel because they said I looked too young. I even flew to a bunch of Cup Series races out of my own pocket, only to have them tell me the viewers at home would not listen to what a kid had to report on. The Camping World races and the Shootout races are different because they both have young drivers trying to make their way up the racing ladder so the producers at the network thought the shows would be a nice fit for me."
Pernesiglio took advantage of his microphone time this summer to learn and grow as a pit reporter. With the Summer Shootout races running on Tuesday nights for ten straight weeks Pernesiglio was on camera often. "Camera time is the same as seat time in my opinion, the more you do it the better you get. I would fly home from a race on Sunday, shoot a feature on Monday, report at Lowe's on Tuesday and then hop back on plane for an upcoming race. By the time the next Camping World race came around I was less nervous and it was easier to talk to the camera."
In addition to his appearances on SPEED Channel, Pernesiglio is also pit reporting for the entire season of the SCCA Playboy MX-5 Cup and three ASA Southeast Asphalt Tour races airing on Fox Sports Net. Those races complete 33 race television season.
With the season winding down his last appearance on SPEED will be Pernesiglio's personal favorite of the 2008 season.
"They saved the best for last," he said with a smile! "My last gig for SPEED this year will be on pit road for the NASCAR Whelen Modified Tour race at Martinsville Speedway. I grew up around modifieds and midgets, I've been the announcer for every North South Shootout, My first ever foray into pit reporting was for the Tour at Thompson Speedway years ago. For a kid from Long Island, getting to report on TV for a series I grew up watching is a huge thrill."
Pernesiglio is the son of long-time car owner, "Mazda" Pete Pernesiglio, and is the younger brother of NEMA veteran Pete Pernesiglio. As a longtime mainstay in NEMA, Pernesiglio has driven and won the Pat Thibodeau Youth Determination and Talent award in 1997. He has worked on the family cars since childhood and announced for NEMA, the Pro-4 Modifieds, Seekonk Speedway and Thompson Speedway since 1995.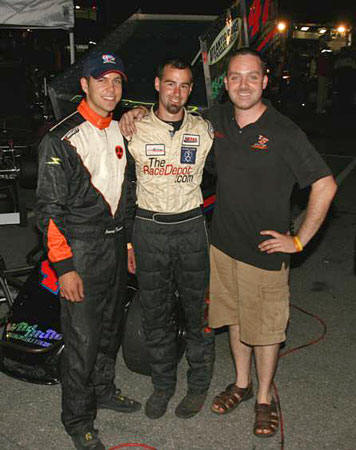 NEMA Second Half Looking Brighter
for Jeremy Frankoski
Huntington, NY (08/20/08) – After maintaining a "top ten" standing while racing week to week for four different car owners this season, Jeremy Frankoski can finally "get back in the groove" knowing he has a solid opportunity in NEMA midgets. The 22 year old young gun will be competing as the newest member of the top ranked Bertrand Motorsports team and will pilot Tim Bertrand's 47B midget at all seven remaining NEMA races in 2008.

"Everything has come together for us during the past two weeks," stated Tim Bertrand. "With the help of some exceptional people in and around NEMA, we have been able to put together enough support to run the remainder of the 2008 season and hopefully give Jeremy a shot at some top finishes."

Coming off a solid 9th place finish last Saturday driving the 77M Beast chassis for Luggelle Racing at Waterford Speedbowl's highly successful "Wings & Wheels" event, Jeremy Frankoski holds onto 7th in the NEMA driver standings.

"Although the 47B will continue to be Randy (Cabral)'s back up car for the remainder of the season, and with a spare engine in the trailer, we hope we won't have to play that plan out," Bertrand strategized. Randy Cabral remains on top of the NEMA driver standings ahead of Joey Payne in 2nd and Bobby Santos III in 3rd. Tim Bertrand leads the owner standings ahead of Bob Santos in 2nd and Gene Angelillo in 3rd.

The opportunity comes on the heals of a successful Bertrand/Frankoski venture in the Boston Louie Memorial Race held August 9 at Seekonk Speedway in which Frankoski posted a strong 2nd in time trials among more than 30 cars. Frankoski went on to finish fourth after an inverted start from 13th in his first race in the Bertrand machine.

"After driving (the 47B) in the Boston Louie and getting a feel for this race car, I'm more than excited about our prospects for the rest of the year," said Frankoski. "The chemistry with Tim and Randy is really good too, and that's a big factor."

"I'm also thankful for all the great support I have received from so many people over the past month," Frankoski continued. Mike Jarret at MJ Motorsports, the Bertrands and Cabrals along with Mike Luggelle, Bob Santos, Bobby Seymour, Mike Horn and John Greenhalgh all pledged their support and continue to be extremely helpful."

The newly expanded Bertand team has plenty of hard work ahead of them in the next two weeks as they prepare for Monadnock Speedway on August 30th. The extensive work includes a rebuild of the engine that failed for Cabral in the 47 midget during practice at the Boston Louie two weeks ago and installation of a recently acquired engine from Esslinger Racing in the 47B.

The next stop on the NEMA tour, Monadnock Speedway, is a tricky ¼ mile track in Winchester, New Hampshire. Frankoski had a good run there earlier this year and was solidly in 3rd before fuel issues in the final laps dropped him back to a 7th place finish. Cabral claimed runner-up honors to Joey Payne the same night.

Jeremy Frankoski won his first NEMA race last year as a rookie at Beech Ridge. He also finished 3rd at Stafford, 2nd at Seekonk and went on to be honored by NEMA as the 2007 Rookie of the Year. So far this year in NEMA, Jeremy has 7 top ten finishes, 3 top five finishes and 2 heat wins.

The "Boston" Louie Seymour Memorial Race is one of NEMA's most prestigious races of the season. The race, in its 12th year, honors legendary car owner Louie Seymour who raced midgets across the US and brought notoriety, not only to his team for their accomplishments, but to open wheel racing in the Northeast.

For More Information Please Visit: www.jeremyfrankoski.com
Northeastern Midget Association regulars Bobby Santos III (7th) and Randy Cabral (34th) hold down top-50 spots in Speed51.com's Fifth Annual
"Short Track Draft".
Santos is the top New England pick in the draft. Get the entire rundown HERE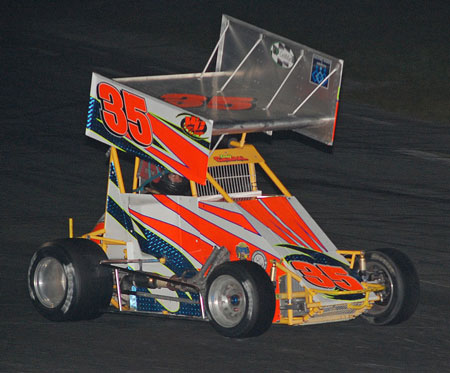 He's Driven To Honor His Late Brother
By Mike Loftus - GateHouse News Service
SEEKONK — Whether in the pits or in the stands, one doesn't have to search long at a Northeastern Midget Association race before seeing people wearing shirts dedicated to Shane Hammond, who died in a NEMA race in April.

At some NEMA shows, there's a more personal reminder. Hammond's younger brother, 16-year-old Anthony Marvuglio, is racing in the new NEMA Lite series – a lower-cost, lower-horsepower alternative which gives drivers experience in the winged, open-wheel Midgets.

"I went from maybe 12½ horsepower in a go-kart, with body panels, to a little over 200 horsepower," said Marvuglio, an East Bridgewater resident whose brother had moved to Halifax. "Having big tires, having motor (power) right there, is a big difference. I love it."

Marvuglio, who began racing quarter-midgets at age 7 and karts at 8, is being groomed by the Cabral family of Plymouth. Randy Cabral, NEMA's points leader, was one of Hammond's closest friends. Cabral's father, Glen, owns the NEMA Lite Marvuglio is driving this season.

"They've been a huge help to me, putting me in this car," Marvuglio said.

Randy Cabral sees it as fulfilling a friend's wish. "Shane was around long enough to figure out what to do," Cabral said. "Anthony doesn't have that kind of experience yet, so he's going to learn from us. It's what (Hammond) would have wanted. He wouldn't want it any other way."

Marvuglio is grateful for the guidance.

"Shane and Randy were best friends," he said. "My brother got started through (the Cabrals), and now I'm getting started through them. It's an awesome feeling."

Marvuglio says he gets help from outside the Cabral stable, too.

"I'll talk to (Hammond) before a race, and once I get going, everything will sort out," he said. "I know there's definitely been times that he's helped me out on the track, when I was too sideways, or I was pushing straight at the wall.

"There have been times when it's been tough ... but I know Shane's been there, helping me out along the way."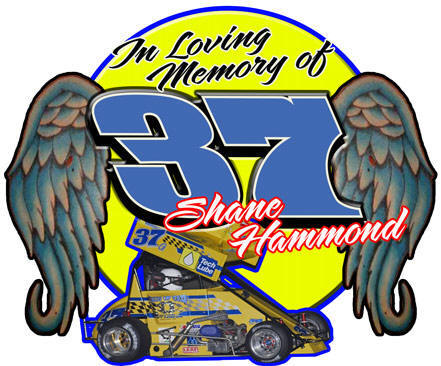 NEMA MOURNS
written by Pete Falconi, NEMA Announcer
This sport that we love so much, this thing that is so entrenched in our hearts and souls, has now hurt our hearts and taken a piece of our souls. Some of the attraction of this sport that occupies many of our days and nights are the personalities of the people involved, the interests that we share, the camaraderie of the competitors, the spirited competition and the overall thrill that is auto racing. A good part of that thrill is the danger associated with the event itself. There isn't a driver whose adrenaline isn't fueled by the risk they take every time they strap themselves into the car. That risk and the element of danger is part of what brings us back week in and week out, puts spectators in the stands and provides the excitement that consumes so much of our lives. Love it as much as we do, we hate it when it takes one of our own.

Shane Hammond was a colorful kid, warm and friendly with a great smile and pleasant attitude. He was a racer's racer. He never complained, he listened a lot, a true professional, a gentleman and a friend to everyone he raced with. He could turn the wrenches and was admired for his mechanical abilities. He was good on the track, too. One of those drivers that week in and week out was in contention, and more often than not we said "he's due for a trip to victory lane." Often times we were surprised that he didn't post a podium finish and be back at the start/finish line after the race to celebrate with some of the more experienced drivers like Joey, Nokie, Randy, Greg and Ben. He certainly was on par with those guys. Many of the times he didn't post a top three finish it was no fault of his. It was mechanical problems or he just didn't get the break he needed to get to the front. Even though he wasn't there in front of the crowd getting his picture taken at the end of the race, he never showed an ounce of discouragement. Right back at it next week, listening, asking questions, trying harder. Shane was a racer's racer, a role model to the incoming rookies and sophomores of NEMA. He was part of that new breed of midget drivers that have been putting NEMA on the map lately; destined for greatness in open wheel racing.

Now we try to make sense of a devastating tragedy like this. Why? Why Shane? Why NEMA? Why now? If there is even the slightest consolation, we have to remember that death is at the doorstep for all of us. We can't predict when we will be called, only the Good Lord can make that decision. We can only hope and pray that we will be one of the fortunate ones that are called to Eternal Life while doing something that we truly enjoy, something that is our love and passion. If there is a final gift on this earth, it is that.

The Northeastern Midget Association will go on in our 56th season. We'll gather at the track and continue the spirited competitiveness, maintain that special camaraderie and live the thrill of the sport that is so close to our hearts. But our hearts will be heavy and it won't be the same for awhile. There'll be a hole in the line-up, an absent smile, a great competitor, a friend, a racer's racer will be missing. Have the faith that he will be with us in spirit at the track every week. He'll be in the pits and at the drivers' meetings. In spirit he will ride with you, the drivers, for each and every lap and he will be in victory lane to celebrate right alongside you.

God rest Shane's soul and God ease the pain of Shane's family and friends and of the wonderful people that are The Northeastern Midget Association.
In lieu of flowers, Shane's family has asked that contributions be
made in Shane's name c/o NEMA. All contributions can be sent to
NEMA at 266 Kelly Rd, Middlebury CT 06762.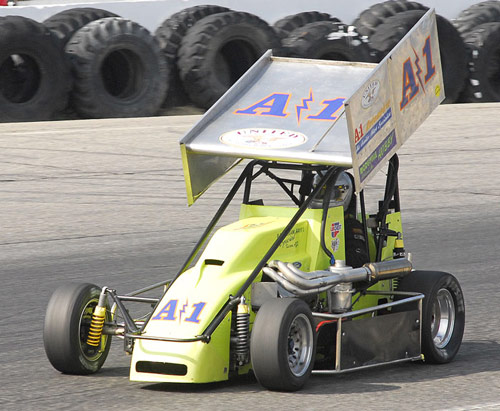 Jeff Horn Credits Technology
For Increased NEMA Speeds
Jeff Horn is probably the Northeastern Midget Association elder statesman. "I drove in the final years before the cages, 1969 and 70," says the soon-to-be 63 Horn. "I'm not sure anybody else can say that. I was in Ray Kelly's car back then."

He's figuring on making his 2008 debut when NEMA visits Thompson Speedway Thursday night July 3. A Vermont native (he actually started racing at Thunder Road), Horn will campaign his own A1 Esslinger-powered Drinan chassis.

Now calling Ashland, MA home, Horn has raced against the fathers of current competitors Randy Cabral and Greg Stoehr. Son Mike is also a NEMA driver.

Horn, who has 19 career wins, is not surprised by the speeds shown so far. "Technology and tires is the reason," he says. The bar has been raised. Everybody has first-class equipment – good motors and good handling technology."

Cabral, in Tim Bertrand's #47, leads NEMA into a Friday night June 27 date at Lee USA Speedway. A two-time winner this year, Cabral and Bertrand take slim point leads over Joey Payne Jr. and Gene Angelillo into the next battle.

"You've got to hand it to Randy and Tim," offers Horn. "They've earned everything they've accomplished. They work at it. They don't stop working at it."

Horn, equally apt in a Supermodified, won his first NEMA race at All Star Speedway in 1987. His last came at Stafford in 2005. In 1993, driving for Bay Hayes, he won three in a row (Star, Seekonk, Waterford). It has not been done since. Cabral went to Monadnock looking for three straight.

A second at Monadnock was Horn's best finish in 10 starts last season.

NEMA's top-10 in points includes veterans like Greg Stoehr and youngsters like William Wall, Jeremy Frankoski and Chris Leonard. "I remember when the Super guys at Star, and I was one of them, used to joke about how old the NEMA guys were," says Horn. "Boy, that's over."

The field includes Erica and Bobby Santos III and Adam Cantor, all contenders. "It used to be there were four or five cars that can win," says Horn. "Now we have at least 10. Now, a top-10 is an accomplishment in NEMA."

Horn, a Bay Stater since getting out of the Army, has been in a variety of race cars (including Modifieds and Late Models) but clearly puts the supers and midgets on top of the priority list.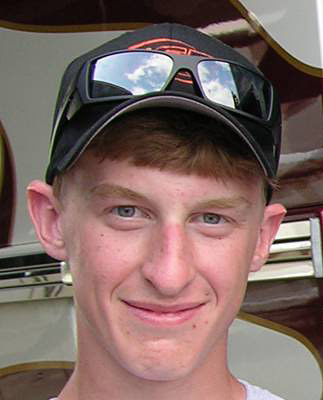 Jon Seaman Jr. Tapped as
Bill Davis Racing Summer Intern
Southbury, Conn. – Jon Seaman Jr., 2007 Pomperaug High graduate ,NEMA race driver and rising sophomore in Mechanical Engineering at Rochester Institute of Technology, was selected as an intern by Bill Davis Racing's No. 22 Caterpillar Toyota Sprint Cup race team located in High Point North Carolina.
The young race driver and engineering student says that he "hopes to get experience in data acquisition and chassis research and development" on the team. "I'm looking forward to learning as much as I can and get good experience in race car engineering" this summer he continued. "Having the opportunity to work with Bill Davis Racing and get hands-on experience will bring me a solid foundation for my future, whether as a driver, crew chief or team engineer," he added.
While carrying a full course load and helping his family race team field a car for Jeremy Frankoski, Seaman has earned a 3.25 GPA in one of the nation's best engineering schools. While his ambition includes driving as a career, he admits that he would be happy as an engineer on a major team.
There is no doubt that he still wants to be a successful driver, but if his career path takes a turn into the engineering office instead of the driver's seat, this summer will be a good training ground for him.
Seaman is being helped in his career by training from Future Stars in Racing Academy. The Academy helps prepare young drivers for success outside the car in public speaking; sponsor presentations; working with the media and behavior on and off the track. Future Stars in Racing is the exclusive driver development partner with the ASA Late Model Series. Marketing partners include Safety-Kleen and Sunbelt Web Solutions. The Academy features a staff with decades of experience in all aspects of motorsports. To learn more about Jon Seaman and the Academy, go to www.futurestarsinracing.com.
<![if !vml]>

<![endif]>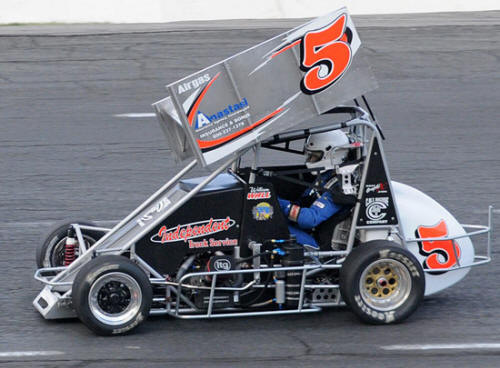 NEMA Rookie Wall Off to Quick Start
William Wall's first look at Lee USA Speedway will come on Friday, July 27. Wall, currently running fifth in points, will be part of the Northeastern Midget Association field.

Wall, 16, had never seen Monadnock Speedway before NEMA's appearance there on May 24. He finished sixth, his third straight top-10 effort in the #5 VW-powered Hawk chassis. Driving for his dad Steve, Wall had a sixth and seventh at Waterford Speedbowl.

About to complete his sophomore year at Assabet Technical High School in Marlboro, MA, Wall joins older brother Aaron on the NEMA driving roster. The family's participation goes back more than a dozen years starting in Quarter Midgets.

"I'm still trying to get hold of the car," reports Wall, the 2007 Whip City 270-Micro Sprint champ. He was Rookie of the Year in '06. "We are going from dirt to asphalt. When I first got in the car I didn't expect the speed. When I hit the pedal I said 'wow, this is different.' The closing time was really surprising."

His first time out at the Speedbowl's Modified Nationals he was determined "to learn as much as I could." Now he is hoping to keep the top-10 streak alive. Points are not a big concern ("we don't have the equipment to be competitive on the bigger tracks") but the Rookie of the Year prize is. "We definitely would like to go after that." he says.

Wall's debut coincides with a year of incredible speeds. Current point leader Randy Cabral, Monadnock winner Joey Payne Jr., Greg Stoehr, Erica and Bobby Santos III, Adam Cantor and the ageless Nokie Fornoro have been very quick. Wall is very aware of the company he's in.

Cabral, who has won twice at the Speedowl, leads Payne by 22 atop the standings. Only six points separate third through fifth – Stoehr, Erica Santos and Wall. Cantor is sixth.

"Adjusting to the different driving styles is as much a part of it as adjusting to new tracks," he says. Bobby Seymour (a long-time mentor for NEMA's young drivers) and Cantor, who like Wall came to NEMA at age 16, have been especially helpful. His father and brother, however, are the first people he goes to especially when learning new layouts.

Brother Aaron ran selected NEMA events in '07 after a season and a half in Ford Focus action. "So I guess you can say I'm following in his footsteps," said Wall.

The two brothers try to get into different practice sessions. When in the same session, they run a half-lap apart. "First of all, we don't want to lose two cars," Wall says. "Second, it allows my father to get a good look at both of us."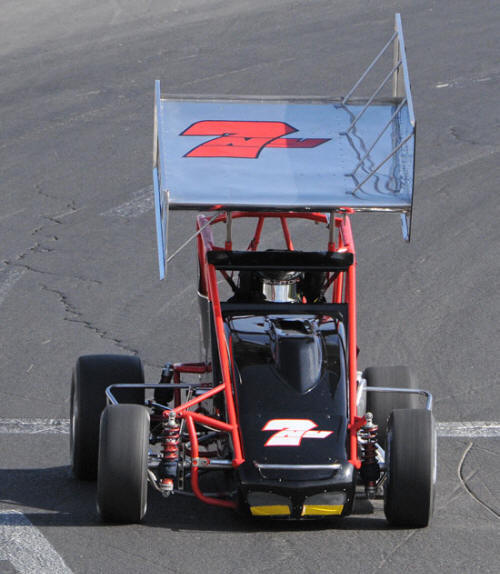 Adam Cantor Heads to Monadnock
in the #7ny
Sometimes Adam Cantor, 23, just can't figure where he belongs in the Northeastern Midget Association hierarchy. Still young, he is currently in his eighth NEMA campaign.

"I consider myself a veteran," he says, quickly admitting he "doesn't have the race wins to be in the Randy Cabral, Joey Payne Jr. or Nokie Fornoro category." He has two victories and, he declares, the "main goal is to get more."

NEMA heads to Monadnock Saturday (May 24) and Cantor is optimistic. "Monadnock is definitely a driver's track and I feel like I do well on driver's tracks," he says.

"Turns one and two are unique because you can go wide open all the way through," he continues. "You've got a couple of race grooves and then the backstretch gets real bumpy. You're kind of all over the place. Then three and four is like a hairpin almost. Everybody kind of stacks up and you've got to position yourself very carefully." It demands, he says, "a lot of finesse with the throttle."

Fourth and sixth so far this season, Cantor is almost starting anew in '08 after a devastating, season ending crash at Seekonk last year. It was, he says, "a wake up call" and the team returned committed to "keep digging it out." He feels having noted Midget mechanic Jim Reider involved along with a strong IGA sponsorship makes the family team a contender – one of several cars capable of winning.

"Reider was with us when we crashed at Seekonk," Cantor says. "He took it back to Indiana and put together the car we have now. He's taken us under his wing." The car is MOPAR powered.

Cantor is the last member of the heralded "young guns" class of '01 still with NEMA. The group also included Kyle Carpenter and Ryan Dolan. It was hardly easy going racing against veterans like Bobby Seymour, Drew Fornoro, Russ Stoehr, Jeff Horn and a young hotshot named Randy Cabral.

"I'm still young but I feel I can still help people out," says Cantor, who last won at Adirondack in 2005. We've been through a lot, especially those first few years when he struggled. The rookies come in, I see their heads down, I go over and say 'hey, I've been there.'"

NEMA, he says, "is, on average, 10 to 15 miles an hour faster everywhere we go over the last eight years," Cantor points to the last run at Waterford Speedbowl where the top six all turned high 12 to low 13 seconds laps. He attributes that to chassis and motor technology. "Right now," he says, "it's all about carrying the speed through the corners. If you can do that, you are going to do OK."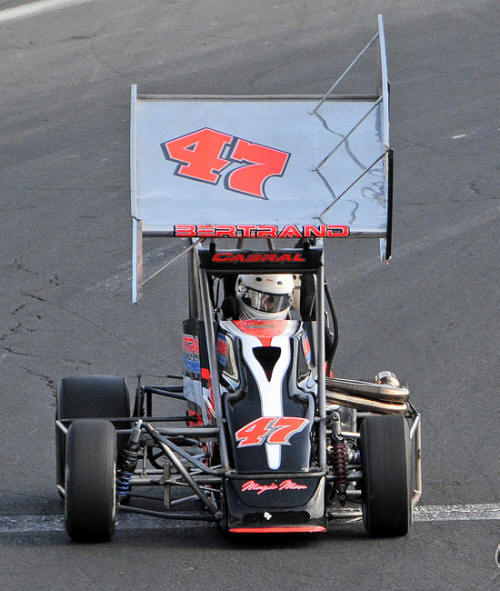 More History Awaits Cabral
at Monadnock

Two-for-two so far with a couple of victories at Waterford Speedbowl, Randy Cabral is still not ready to declare himself a contender for the Northeastern Midget Association championship. He is, however, the driver to watch when NEMA pulls into Monadnock Speedway on Saturday, May 24.

Monadnock is one of the "trickiest" venues on the NEMA schedule. The club returned there last year after a 10-year hiatus and it was a trio of veterans – Greg Stoehr, Jeff Horn and Nokie Fornoro – that filled the podium. Nokie, a winner back in 1981, is the only other current NEMA driver with a Monadnock win.

While he still believes his new job – a custodian for the Plymouth, MA school system – may cause some conflicts with race dates, he is not unmoved by making history. Three straight wins have not happened a lot in NEMA's long history. The last to do it was Horn back in 1993.

Since then six drivers, including Cabral, have won two straight. Russ Stoehr did it five times.

Gene Angelillo's "Marilyn's Passion" team has had incredible success at Monadnock. Prior to '05, the track hosted NEMA 22 times and Drew Fornoro won 12 of them. Pointing out "it is without doubt a driver's track," Angelillo is quick to credit Fornoro.

Joey Payne Jr., second and third so far this season, hopes to add to Angelillo's Monadnock success.

Payne, Stoehr and Fornoro take what they hope will be championship campaigns to Monadnock. Unlike most of the stops, a large share of the NEMA competitors do not have extensive experience at Monadnock.

Bobby Santos III, no stranger to answering new challenges, will be a competitor to watch, as will sister Erica and Adam Cantor.

NEMA has raced only at Waterford to this point but it is apparent many teams are at the top of their game. Cabral's 12.742 seconds lap captured the spotlight. He had seven sub-13 seconds laps in the feature. Three others – Bobby Santos III, Erica Santos and Greg Stoehr – had at least one.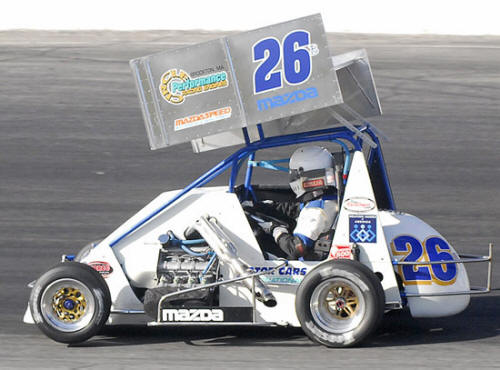 NEMA's Stoehr Takes Title Bid To Seekonk
Greg Stoehr has been driving race cars for over 30 years. He's been a Northeastern Midget Association competitor since the mid 1980s. After all that time he's going after a championship.

The quest continues May 3-4 when NEMA takes on Seekonk Speedway, helping the "Cement Palace" open its season.

"It's the first time I've ever really wanted a championship," says Stoehr. He feels he owes the effort to the people who have helped him, notably Bruce Beane and John Andruk of Circle Performance Motors. They are the masterminds behind the unique Mazda engine that powers the Stoehr 26b.

He is not exactly a stranger to championships. Older brother (by 11 months) Russ has five NEMA crowns. "Russ knows how to win championships," understates Stoehr. "He knows how to get it done." The run, he adds, "is the culmination of a lot of trial and error."

Stoehr joins two other veterans who have lofty intentions – Joe Payne Jr. and Nokie Fornoro also know how to win championships. "You need a lot of reliable equipment, you need good people and you have to be smart on the track," says Stoehr.

The Stoehrs have a combined eight NEMA wins at Seekonk, five for Russ. Only Nokie (8) and Drew (2) Fornoro have more. Stoehr comes to Seekonk off a strong third place at Waterford Speedbowl's Modified Nationals. Greg has a first and a second in heat action.

"[Seekonk] has to smile at you," says Stoehr who sees the historic quarter-mile in contradictory terms. "It is," he continues, "a rhythm track as opposed to a gas and brake track. You smoother you are the more Seekonk rewards you because if you slow down, a lot of cars are going to pass you. And you have to be good in traffic because you are in it almost immediately."

Stoehr, who spent 10 years driving fendered cars at the 'Konk, believes it's a place where experience counts. There are exceptions (Randy Cabral and Bobby Santos III) but "some guys never get it," says Stoehr.

The Stoehrs and Fornoros are both sons of drivers – Paul Stoehr and Nicky Fornoro respectively. Nicky Fornoro actually won a AAA race at Seekonk in 1952.

"You've got to let the car run free at Seekonk," says Nokie Fornoro. "You can't hold it down. You've got to let it go." He claims he often "gets into such a rhythm there that the right rear actually ticks the wall in the front stretch." Nokie, who uses no brake, says he learned a lot about driving Seekonk from Mike Scrivani Jr. and Modified Hall of Famer Leo Cleary.

SEEKONK/NEMA NOTES:

Among active drivers, Randy Cabral (3), Jeff Horn (3), Joey Payne Jr. (2) and Bobby Santos III (1) join Fornoro and Stoehr on the Seekonk/NEMA win list… Stoehr and Fornoro agree it will take laps in the low 11 seconds to win a Midget race at Seekonk. That compares with laps in the mid 15 seconds back in the early 1950s … NEMA's first race was at Seekonk on May 30, 1953, the late Fred Meeker beating Al Pillion and Cliff Riggott. The next NEMA feature will be the 71st at Seekonk … The legendary Oscar Ridlon won the first-ever event at Seekonk, a Midget race, on Memorial Day in 1946. Through the years Seekonk has run events sanctioned by many sanctioning bodies including Bay State, Triple A, ARDC and USAC. The win list is extraordinary and includes the likes of Bill Schindler, Joe Sostillio, Johnny Thomson, Len Duncan, Billy Randall, Joe Csiki, Mel Kenyon, Johnny Mann and Dutch Schaefer.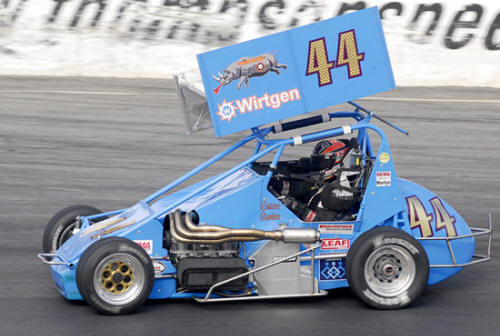 Erica Santos Seeking Second NEMA Win
Erica Santos wants, make that needs, another victory. The sooner it comes the better it will be for Santos who made Northeastern Midget Association history last year when she won at Stafford Motor Speedway, the first female in the club's history to do so.

NEMA's busy '08 campaign continues May 3-4, helping Seekonk Speedway open its season. You can bet on folks talking about Erica at Stafford.

"They can stop with Stafford," says Santos. "They don't need to keep talking about it. It's time [for me] to back it up. I want to win other races."

In her second season in the Ed Breault-owned #44, she is cautiously optimistic heading into Seekonk. Admitting she "hasn't run great there in the past," Santos returns believing "we might have found something the last time we were there. I think we should be pretty good."

"If they know nothing else, people go home knowing how Erica did," explains NEMA president Mike Scrivani Jr. Within the club, she is treated as any other potential winner.

"When I do pretty good or OK people make such a big deal about it," she continues. She understands "there are not too many girls racing midgets" but sees herself "as another race driver. I've been driving longer than a lot of the people out there so I should be doing what I'm doing."

The #44 team will come to Seekonk with a fast car. "We've had good cars on both weekends," said Santos who captured heats at both Waterford and Thompson. "We are ahead of last year and last year was good. We have to keep doing what we're doing." Santos and Breault wound up fifth in their respective standings in '07.

At Waterford's Modified Nationals she was ahead when the rain came. "Had the rain not come, had it stayed green, I probably would have been OK," she says. "After the long delay [winner] Randy Cabral's car was better; mine was a little worse." Admitting to a mistake, she wound up fifth.

"I need to be fast, consistent," she says. "I need to be in a position where we can win."

She shares the spotlight with heralded brother Bobby III who often pilots the family-owned #98. Although the #44 is maintained by Lou Breault, Erica's father and brother "put the set up in it."

As much as possible, Erica tries to follow her brother in practice. "First," she explains, "I know that's he is usually one of the fastest cars. If I can keep up with him I know I'm in pretty good shape. And, it's easier for my dad. He doesn't have to watch two cars on opposite sides of the track."

Seekonk, she says, is "definitely a handling race track" and having a car that's "comfortable" is key "because you are always turning there. If I'm not in a good handling car I'm going to get tired quickly."

Strength is one of the things that, Santos believes, puts girls at a disadvantage in auto racing. "We are not as strong and we not as aggressive, things you need to be a good race driver. Guys are just so naturally competitive and really aggressive," she offers.

She sees herself as "really competitive" and "pretty aggressive for a girl."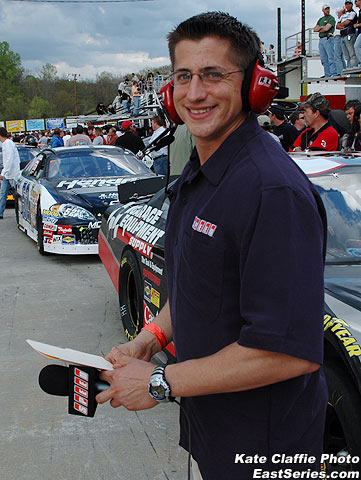 Pernesiglio to Make Speed Channel Debut
Former NEMA Driver, Turned Broadcaster, Get's Big Break
Former Northeastern Midget Association driver, Derek Pernesiglio, will make his pit reporting debut on SPEED Channel's broadcast of the NASCAR Camping World Series East race from the historic Greenville Pickens Speedway as part of their Racing Across America television package.

Eight years ago Pernesiglio made the tough decision to step out of the driver's seat in NEMA midget competition and step behind the microphone in an effort to start his career broadcasting races on television.

"This is unbelievable!" said Pernesiglio. "It's been a long time coming that's for sure. I have to thank SPEED Channel and the fine folks at Chet Burks Productions for this marvelous opportunity… I just hope it turns into more work."

The 'long time coming' is Pernesiglio referring to watching all of the broadcasts come into his current place of work at NASCAR Media Group. It was there he started helping the producers with statistical information and identifying drivers of other series.

"It's funny how it all happened." said Pernesiglio. Four years ago I walked past the control room at work and saw the East and West series races being edited down and started talking with the producers about how I could help with the races because I was familiar with the drivers and tracks they run on."

Pernesiglio is currently employed by NASCAR Media Group (Formerly known as NASCAR Images) and is the Associate Producer for the Trackside and NASCAR Live shows that air on SPEED from NASCAR Sprint Cup Series venue each weekend.

Pernesiglio is the son of legendary open wheel car owner "Mazda" Pete Pernesiglio and younger brother of NEMA veteran Pete Pernesiglio. In his driving career Pernesiglio has driven NEMA Midgets, go-karts, Pro-4 Modifieds, TQ Midgets and stock cars.

Pernesiglio will be pit reporting more for the ASA Southeast Asphalt tour on Fox Sports Net South and the entire season of the SCCA Pro, Playboy Cup Mazda MX-5 Series. In addition, he will report for the 2008 Summer Shootout at Lowe's Motor Speedway in Concord, N.C.

Located in Charlotte, N.C., NASCAR Media Group is an entertainment production and marketing company that holds exclusive rights to use and license footage from NASCAR racing events in movies and TV shows.

The NASCAR Camping World Series East race will air May 7th at 1 pm as part of their Racing Across America television package.
NEMA's '08 Slate Biggest in 20 Years
With the recent additions of two New Hampshire ovals – All-Star (Epping) and Twin-State (Claremont) –Northeastern Midget Association competitors will face a 19-race agenda in 2008. Eight tracks are involved in NEMA's largest schedule in 20 years.
The 56th NEMA campaign gets underway at Thompson Speedway's traditional season-opening Icebreaker on April 5-6. The winged wonders are part of Waterford Speedbowl's Modified Nationals on April 12-13.

"Over the winter tracks were coming to us," says president Mike Scrivani Jr. "Good fields of talented drivers and excellent equipment makes NEMA one of the best tours in the northeast. We are excited at the prospect of showing it off."

All-Star (the former Star Speedway) has had more NEMA races than any other track. Ben Seitz won the 138th NEMA race at All Star last September. Kyle Carpenter won the last visit to Twin State back in 2005, besting Joey Payne Jr. and Adam Cantor.

Charter members Waterford Speedbowl (four dates), Seekonk Speedway (4) and Stafford Motor Speedway join Thompson (3), Monadnock (3) and Lee USA (2) Speedways are on the busy agenda.

The schedule includes traditional headliners Xtreme Tuesday July 8 at Stafford, Open Wheel Wednesday at Seekonk on July 16 and the Boston Louie also at Seekonk on Aug. 9.

The traditional triple header finale – Waterford's Finale Oct. 4-5, Seekonk's DAV Memorial Oct. 11-12 and Thompson's World Series Oct. 17-19, is also intact.
"Lites" Division Big Part
Of NEMA's '08 Success
Springfield, MA - Throughout the summer, interest in the Northeastern Midget Association's "Lite" division picked up. It was the first season for the developmental division but definitely not the last according to club President Mike Scrivani Jr.

Featuring much less expensive machinery, the Lites (powered by Focus or Quad 4 engines) ran in conjunction with the "full" midgets on eight occasions. They definitely contributed to NEMA's strong year.

The Lites season will be celebrated along with the '08 NEMA campaign t the club's annual banquet Saturday night, Nov. 22 at
White of Westport in Westport, MA.

"We gained a little each time they ran," said Scrivani. "We ended the season at Twin State and there were a lot of people from other divisions talking to me about the cars. I think it was a real good start. There were a lot of promising things."

The Lites ran at Waterford, Seekonk, Lee and Beech Ridge in addition to Twin State. They are all "traditionally sized" Midget tracks.

The division was designed to capture young racers before they "go romping off" in some fendered division. Jesse State, Shaun Torrey, Shaun Gosselin, Matt Bettencourt, Jake Stergios and Todd Bertrand were winners. Anthony Marvuglio, Russ Wood Jr., Stephanie Doty and J.C. Stergios were also impressive.

"I think we have also saw the development of some outstanding mechanics," said Scrivani, NEMA president since 2003.

One or two of them could move up to the full midgets next year. Equally important, Scrivani believes the division will grow by six-to-eight cars next year. "Promoters just love that," he says. "There's the prospect of 35-to-40 Midgets coming to a track."

While 2008 was "just about seat time," Scrivani plans on providing "some more incentives" for next year starting with a sponsor-driven point fund. He also said the club will do a lot more in "teaching the kids the right way to do things" next season.
NEMA Establishes New "Lite" Series
Coming off a sensational 2007 season, the Northeastern Midget Association has decided to "invest in the future" with the "NEMA Lite Series." The series, approved by the NEMA Contest Board, is gaining
momentum.

Called a "feeder class" by NEMA Vice President Tim Bertrand, the series is designed to introduce new competitors to winged midgets "in very low cost, less powerful cars." Competitors can use any chassis that currently meets NEMA specifications but engines will be limited to Ford Focus and Oldsmobile Quad4. All the cars will have starters.

Plans are for the "Lites" to run in conjunction with regular short track NEMA events. Bertrand said, "NEMA is putting in place incentives for tracks to run the Lite Series cars. We are aware of the time factors and
economics involved. We have to make it attractive for them. We believe we have done that."

Bertrand says as many 20 teams have expressed intentions to compete. "Most are Focus and Quad4 owners who can't afford Esslinger and Gaerte motors and are looking for a way to go," he says. "We are talking about $8-to $10,000 cars in this series. The equipment is definitely available out there."

The plan allows for competitors, when they are ready, to "move up" to the fulltime NEMA status with more powerful (and more expensive) motors.

Bertrand admits "a lot of sportsman type divisions are popping up all over the country" claiming potential NEMA competitors. "Other divisions were the only thing they could afford," he says. "This is an effective plan to keep them in winged Midgets."

A number of "established" Midget regulars including Steve Grant and former champions Bobby Seymour and Butch Walsh will be consultants for the new series.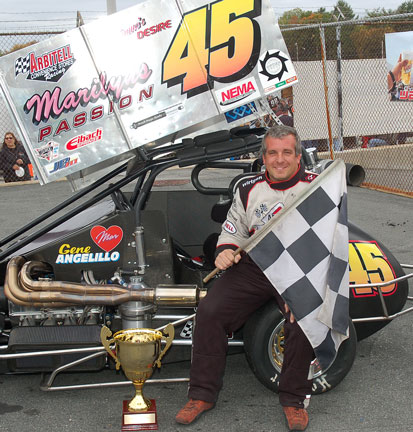 Optimistic Payne Set For NEMA's Opener

Joey Payne Jr. returns to the Northeastern Midget Association and Thompson Speedway's season Icebreaker on April 4-5-6. He admits to "looking forward" to the new season, his 24th.

"I've been down the road a lot of times," says Payne who'll steer Gene Angelillo's #45 for the fifth straight season. "I know that better times are coming. Last year really sucked so, yes, I'm looking forward to it."

The Icebreaker kicks off a 19-race agenda for NEMA, the most in 20 years. The "Jersey Jet" comes off a strong indoor TQ season.

Payne's objective is the 2008 championship. He did that back in 2003, his first season with Angelillo. Doing it again will not be easy.

"I'll tell you what," he insists, "on any given night 15 cars can win the feature." He admits "the advancing technology has pushed the speeds up a little," but it is the increase in competition that makes NEMA "the
premier touring division in the northeast right now whether people want to admit it or not."

Among the drivers poised to end the championship run of Ben Seitz is Nokie Fornoro, back in the Jarret #4. Erica and Bobby Santos III
are back, Erica in Esslinger-powered #44 and Bobby in the family #98. Jeremy Frankoski, the '07 Rookie of the Year, moves into the Seamon #63. Veterans Adam Cantor and Greg Stoehr and youngster Chris Leonard are other threats. Randy Cabral will be a factor in the Bertrand #47, although not a contender since a new job will force him to miss several events.

Payne is ready. "Considering the way last year ended," he says, "a win at Thompson would be very nice. Winning the first race can bring a lot of momentum to a team."

And, it would soften a difficult memory. Payne and the Angelillo team had the championship in view at Thompson in last year's season-ending World Series when an overheated engine forced them to retire and accept second place in the final standings. It was the third time in the last four seasons Payne has been second in driver points.

Payne actually made his midget debut as an 18-year old in the 1984 Thompson World Series. Since then he has had a "love/hate" relationship with NEMA's "separates the men from the boys" track. "There is a point where the right foot has to connect with the brain and
knowing that can make a big difference there too," he adds.

Back in 1998 an early crash in the World Series cost Payne the ISMA championship. And two years later, in a back-up car, he gave Angelillo his 100th career victory. Since taking the ride in 2003, he has given
Angelillo 14 more checkereds.

"When I finish at Thompson I usually finish up front," says Payne. He's been second at Thompson four times and third twice. He also had a second at Thompson before joining Angelillo.

Thompson, says Payne, is loaded with quirks. "The stands separate on the front stretch," he says. "There's a walkway there and on breezy days the wind comes right through. It hits the wing, loads the left
rear and the right front comes right up off the ground. It can really get your attention."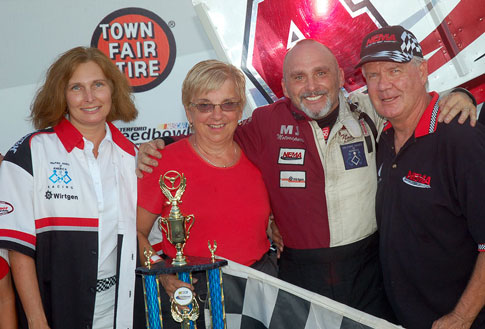 Nokie Fornoro Takes Aim At Another NEMA Crown

Things seem to be in order for Nokie Fornoro – all the things necessary to capture the Northeastern Midget Association championship for himself and owner Mike Jarret.

"I'm going after it," declares Fornoro, about to start his 34th season. "I have no other commitment. I don't have to worry about missing races. It's about time. I haven't had a championships in over 10 years and that sort of bothers me."

NEMA opens its 19-race schedule April 4-5-6 at Thompson International Speedway. A spot on Waterford Speedbowl's Budweiser Modified Nationals follows a week later (April 12-13). A large and impressive entry list compliments the agenda.

He expects a "quick" start to his quest. The cooler temperatures mean faster speeds at Thompson he says. Motors will run better and the banking will have more affect. "Thompson is always faster when you can use the banking. I love the speed you get there."

He and Bobby Santos III were "down in the seventeen seconds" at last year's. World Series. "The Midgets," he declares, "are "scary fast" at Thompson.

Fornoro's last championship was the 1995 ARDC title, one of several he owns including the 1981 NEMA crown. His last Midget victory, the 105th of his career, came last August at the Waterford Speedbowl. With his father Nick and his brother Drew, Nokie is part of one of Midget racing's most successful families.

"Considering the caliber of cars we have now – 12-to-15 cars can win any given night – you have to have one heck of a maintenance program to win a championship," says Fornoro. "I believe money can't
buy you wins. Yea, it can help you get the best stuff but if you don't have a maintenance program, you're in trouble."

He gives owner Peter Valeri, the champ three of the past four years (driver Ben Seitz won four in a row) "all the credit in the world. Every race, no matter what happened, they went through the car and that's
what you have to do."

Fornoro has always "been blessed with good owners" and Jarret is one of them. "Whenever Mike gets involved he does it wholeheartedly," says Fornoro. "There is nothing this team should lack; there is no reason why we shouldn't do well. I feel we've got the best stuff."

The present operation, including Mike Scrivani Jr., is a carry over from the glory days of early 1980s when Fornoro dominated in cars owned by Hall of Famer Mike Scrivani Sr., the larger than life character known as 'Iron Mike.' Both Jarret and Mike Jr. were key parts of an operation that produced the NEMA title and a couple of his five ARDC crowns.

Fornoro vividly recalls his first Thompson run way back in 1976, a sixth place finish after a confrontation with Joey Coy. Since then he has
"hundreds and hundreds of laps" around the historic oval in both Midgets and SuperModifieds. He was an ISMA winner there is 2006.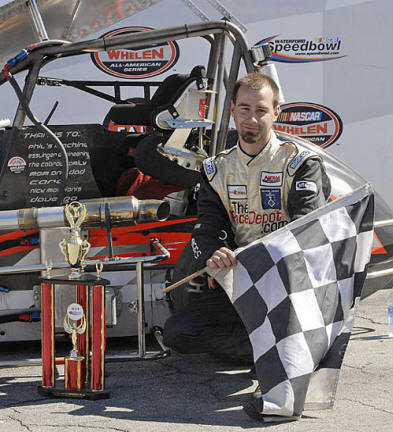 Early NEMA Win Key In Cabral's Objective
Randy Cabral is not given to exaggeration. The Northeastern Midget Association hot shoe keeps a tight reign on his expectations.

"I want to win at least one race," says Cabral who will be in the Bertrand #47 for the third straight year. "Ever since my second year in NEMA (2000) I've won at least once. I'd like to keep that streak going."

NEMA starts its very ambitious 19-race agenda at Thompson Speedway's Icebreaker on April 5-6 and heads to Waterford Speedbowl for the Budweiser Modified Nationals April 12-13. NEMA will help Seekonk Speedway open its season on May 4. "They are the best Midget tracks in the East," Cabral insists. "I've had side-by-side battles at all three."

Eleven of Cabral's 12 wins have come at those three tracks, four each at Thompson and Waterford. He won the closers at the latter two last year, his effort in the Speedbowl's "Finale" near flawless. The team has made few changes. "The car was so good we didn't want
to touch it," Cabral says.

"Hopefully we can get the win in the first three races and then go back to having fun like we did last year," continues Cabral who followed his father Glen into the sport. He has, in fact, done that the past two years.

Cabral is part of a NEMA cast that includes Erica and Bobby Santos III, veterans Joey Payne Jr. and Nokie Fornoro, Adam Cantor and youngsters Jeremy Frankoski and Chris Leonard.

His first win came in the 2000 Boston Louie at Seekonk in family-owned equipment but it was the Thompson Icebreaker victory in 2001 that ignites him still. "I've been watching races there since 1988, watching my dad," he explains. "It's a special place and I've always wanted to race there so to actually win there was unbelievable."

When it comes to his best race, however, only the Boston Louie win compares with last year's "Finale" at Waterford. "I couldn't do anything wrong at Seekonk," he says. "The car was nothing fancy. We bought it that year, pulled it out from under a tarp, put a motor in
it and went racing. Seven races in we won."

He says people tell him he drives Waterford all wrong. "'You can't go into one that way,' they say," he explains. "You're wrong and you need to do it this way.' I tell them I can't get my way out of my system
and I've been pretty successful with the way I do it."

Thompson, he insists, is "very intimidating" and "demands respect." He's sure "people don't realize the speeds we go there. When things happen they happen really big."

He's made four-wide passes on both the bottom and the top at the Speedbowl "and there's no other track where you can do that," he adds.

While speeds have definitely increased, it's the improved competition that makes NEMA "the premier touring division in New England," he says. "When I got my first win people said there were maybe 10 cars that could win a NEMA feature. Now there are 20-25 and everybody is so hungry."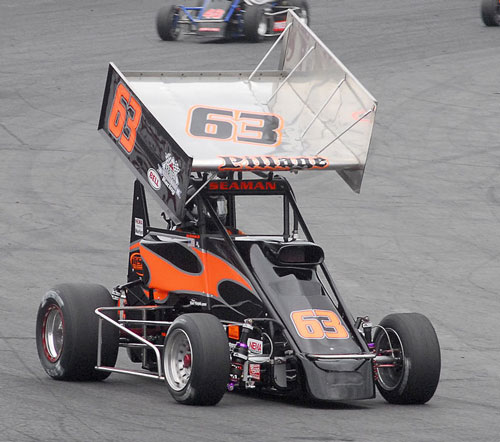 Drew Fornoro ran the #63 in the Oct. 7, 2007 Seekonk DAV (Norm Marx Photo)
TSR Motorsports Taps NEMA Rookie of the Year Jeremy Frankoski For Driving Duties While Jon Seaman Jr. Concentrates on Engineering Studies
(Future Stars In Racing PR) Southbury, Ct. – While Jon Seaman Jr. devotes time to his Mechanical Engineering studies at Rochester Institute of Technology, TSR Motorsports has named 2007 NEMA Rookie of the Year Jeremy Frankoski to fill the driver's seat of the No. 63 Midget for the 2008 season.

"TSR Motorsports feels very fortunate to have Jeremy on their team for the upcoming 2008 season," commented team principal Jon Seaman Sr. "His focus and determination will blend well with the young but experienced crew Jon Jr and TSR Motorsports have built."

Frankoski started racing at age nine in five-hp 'microd' karts, and
has since methodically worked his way up to the top ranks of open
wheel racing. He has many wins and podium finishes already and TSR
Motorsports would like to give him a few more while Jeremy climbs his way to the top tier of professional auto racing.

The first race on Jeremy's schedule is the 'Ice Breaker' at Thompson,
Conn., the initial race on the NEMA midget calendar for 2008.

The eventual teaming of Seaman Jr and Frankoski promises to become one of the outstanding young teams in NEMA competition for the 2008 season and beyond with both young racers building off the other's strengths.

Seaman is being helped in his career by training from Future Stars in
Racing Academy. The Academy helps prepare young drivers for success outside the car in public speaking; sponsor presentations; working with the media and behavior on and off the track. Future Stars in Racing is the exclusive driver development partner with the ASA Late Model Series. The Academy features a staff with decades of experience in all aspects of motorsports. To learn more about John Seaman and the Academy, go to www.futurestarsinracing.com.

Mike Scrivani & Randy Cabral
in the Dunk Tank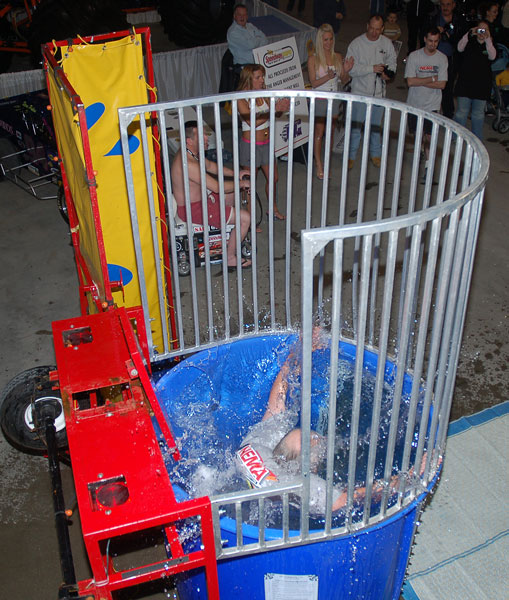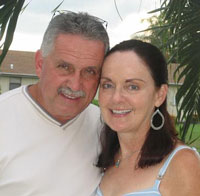 Marilyn A. Bertrand
December 30, 1949 - January 23, 2008

Marilyn A. (Luko) Bertrand, 58, of Suffield, the beloved wife of 36 years to Gilles Bertrand, entered peacefully into eternal life surrounded by her loving family on Wednesday, January 23, 2008 at her home. She was born on December 30, 1949 in Hartford, CT, a daughter of Jeanette and the late Anton Luko. She resided in Suffield, CT for the past 20 years and prior to that in Stafford and Enfield, CT. Marilyn was a graduate of Hartford High School Class of 1967 and received her degree in Education from Central Connecticut State University in 1971, during which time she was president of her sorority, Lambda Kappa Nu. She continued on to receive her Masters Degree from Central Connecticut as well. Marilyn was employed by the Enfield Board of Education and spent her entire 37 year career as a teacher at Fermi High School, where she was the head of the Business Department and was also an advisor for FBLA (Future Business Leaders of America).
Marilyn is survived by her devoted husband, Gilles, her loving children, Tim Bertrand and his wife, Cara of Sturbridge, MA, Patrick Bertrand, Lindsay Bertrand and Todd Bertrand all of Suffield, her mother, Jeannette (Luko) Mulready of West Hartford, CT a sister, Gilberta Calegari and her husband, James of E. Hartford, CT, a brother, Stephen Luko and his wife, Annette of Terryville, CT along with many nieces, nephews, and dear friends, as well as her grand-dogs, Tessa & Toby.
Marilyn dedicated her life to her family and friends, always putting others needs before her own. She loved her yard, her pool, her flower gardens and her home. She loved being the oldest of a group of much younger Soccer parents, cheering on her son Todd and his teammates, and her presence at all of the games will be missed. She spent many years enjoying all of her children's pursuits and talents, as well as supporting Gil in his love of auto racing. Marilyn enjoyed the good things in life – dancing, singing, boating, laughing, cheering and crying. A White Russian will never be drunk without thoughts of Marilyn in the future.
Memorial donations in her memory may be made to the Eye Melanoma Research Fund at the Kimmel Cancer Center at Jefferson University.
Kimmel Cancer Center
C/O Ms. Helen Lane
1050B BLSB
233 S. 10th St.
Phiadelphia, PA 19107