2014 NEMA NEWS
JOHN "JK" KEANE
"A long time NEMA member and supporter,
"JK" Keane passed away on Wednesday, Oct. 22nd.
"JK" was an avid race fan and was a race car driver, sponsor and owner of race cars. He was a member of SCCA and NEMA and enjoyed various motor sports including circle track, midget,
and drag racing.
Obituary HERE
V
Services: Tuesday, October 28th 11:00 AM
St. Mary's Church of Holliston.
In lieu of flowers, donations may be made to
Wounded Warrior Project, www.woundedwarriorproject.org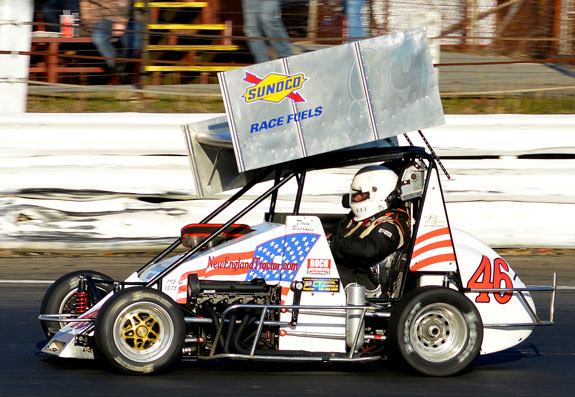 Andy Barrows pilots the Kenney Johnson Motorsports #46x NEMA Lite
to a 4th place finish at the Speedbowl opener on 4/12/14.
Team Johnson: Full Assault
on NEMA Midget Division
The Bethany, CT father and son team of Jeff and Kenney Johnson has made the move to join the NEMA Midget Division for 2014. Racing in the NEMA Lites since 2011, the Johnsons claimed 12 top 10's last year boasting one late season win at the Waterford Speedbowl.

Kenney, a 15 year old sophomore at Amity High School and a standout Lacrosse goalie, is a veteran when it comes to racing with a steering wheel having first competed in the "Kid Karts" at the Nutmeg Kart club in Shelton, CT in 2003. But the racing bug bit the Johnsons long before.

Jeff, owner / operator of NewEnglandTractor.com recalls, "I've been around racing my whole life. When Kenney was born I was running a tractor pull organization. and his first few years life were spent at pulling events all over southern New England. Off weekends we would attend oval races, and when Kenny was old enough we got him driving."

The Johnsons first Midget racing encounter came at the Lee USA Speedway in NH. Jeff continues, "After finishing up racing Tobias Speedster midgets in NY and PA, the Allison Legacy series was our next move until that one night at Lee. We witnessed the best race on the card with the NEMA Lites and we were hooked." From there it was a conversation with Bobby Seymour on what was needed and they were on their way to their first season in the Lites in 2011.

After three years with the Lites, the move to the full NEMA cars was decided to "further Kenney's pursuit of a career in racing," Jeff said. The Johnsons both agree that the Lites division provides a great learning experience for anyone wanting to move up.

Plans for the 2014 season did not start out as hoped in the NEMA car. The newly acquired motor did not perform as expected and expired early in the Blastoff Weekend at the Waterford Speedbowl on 4/12/14. Jeff laments, "It was a disappointment, but we couldn't let it get to us. We need to rebuild and move forward with a positive attitude."

Plans are now to rebuild the engine in time for the next race on May 24th in Evans Mills NY if all necessary pieces become available. That, coupled with keeping their Lites car on track with fellow driver Andy Borrows, is a tall challenge.

The Lite #46x driving duties for 2014 will be split between Andy and Kenney with Andy in the seat the majority of the time and Kenney filling in later in the season.

In 2014, "Team Johnson" will be met with many challenges but Jeff has ensured the resources are in place with backing from NewEnglandTractor.com, Tower and Antenna Service and TC Facility Services as well as Chris Hugerford helping in the pits.

Always the visionaries, Jeff and Kenney hope to gather sponsorship one day to run the K&N Pro Series East. But Jeff reiterates, "If that deal doesn't work out, we'd love to run the NEMA midgets indefinitely."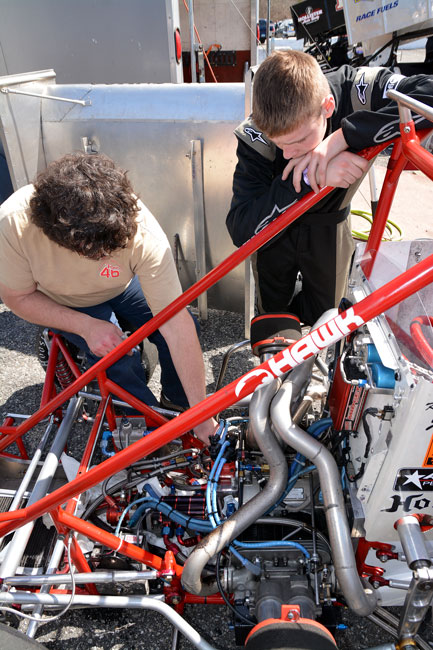 At the Speedbowl opener Jeff and Kenney begin the teardown
of the damaged VW motor in the #46 NEMA Midget.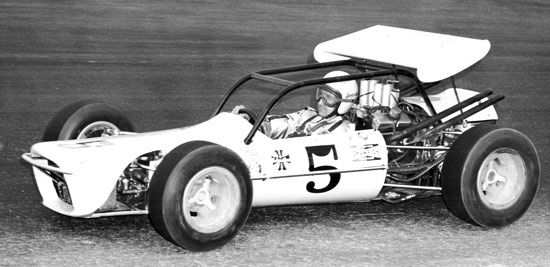 Jerry Wall - Yellow Jacket
NEMA Releases Vintage
Slide Show on DVD
The Northeastern Midget Association announces the release of NEMA Vintage photo's on DVD just in time for Christmas. The presentation is from the collection of one of the most respected journalist, historians and statisticians in New England, Pete Zanardi.

The range of drivers, owners, tracks and race cars depicted in the collection are the who's who in Northeastern midget racing. The forefathers that laid the foundation for present day racing are illustrated in color and black and white photo's complete with captions. Bill Randall, Ray Roberts, Ronnie Evans and Jerry Russo just to name a few drivers from NEMA's infancy.

The early cage days drivers are represented by Bill Roth, Lee Smith, Hank Stevens and Len Thrall for example. And to finish out the last couple of decades are the Fornoros, Stoehrs, Scrivanis, Seymours and many many more.

The cars are as big as the drivers on this DVD that range from the Badgers to the uprights, cage and cageless, even some Offy's.

The DVD is 332 pictures strong and is a must for any early day racing enthusiast.

The cost is $20 each with all proceeds going directly to NEMA to help carry on the rich traditions these early pioneers built.

Payment can be made through PayPal

HERE
to rewindles@sbcglobal.net or by sending a check or money order
(payable to NEMA) as well as your name and address to Bill Van Slyke,
23 Horsestable Cir., Shelton, Ct. 06484.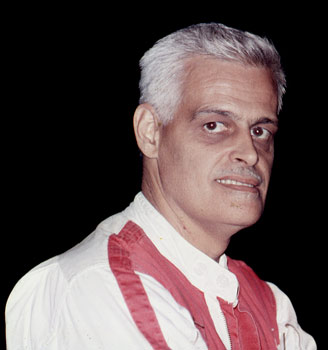 Ronnie Evans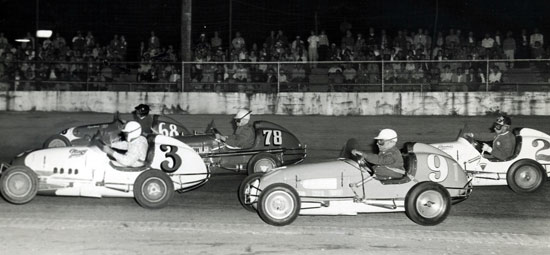 Seekonk Action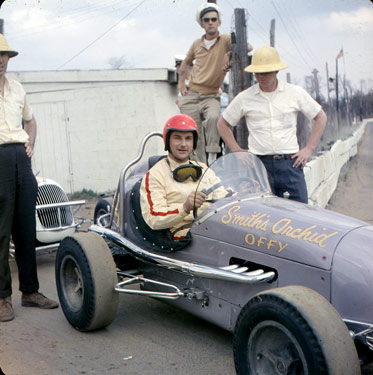 Len Thrall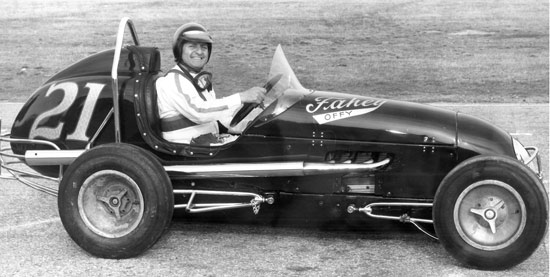 Tony Romit - Fahey Offy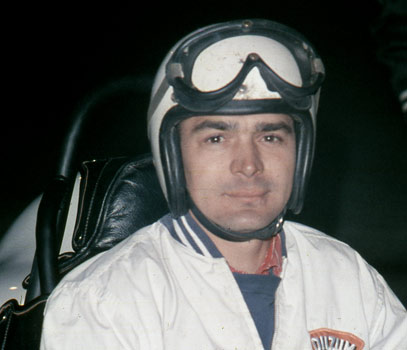 Joe Csiki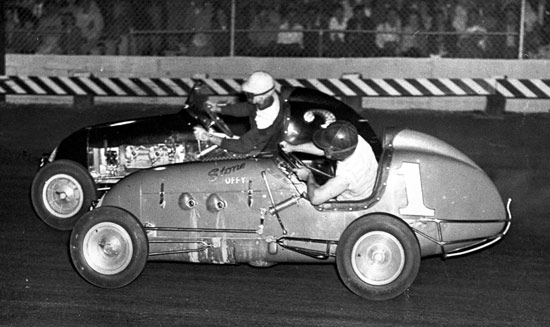 Bill Randall (3) & Bud Tatro (1) - Seekonk
NEMA Drivers "Other" Jobs
Talents outside the cockpit….Part 3
STORY BY WILLIAM VANSLYKE
For this third and final installment of Drivers "Other" Jobs, we're going to hear from the owner of Motor Cars International located in Bridgewater, MA.

Greg

Stoehr

, 49, the establishments Service Manager as well as owner, has been selling and servicing cars there for 30 years, a career he enjoys except for the long hours away from home. Every technician has been trained by Greg, which he says is the most likable part of the job, as he ensures the work gets done properly and efficiently. Away from the dealerships duties, he enjoys skiing and working on a fleet of midget race cars and go karts that are driven by himself, daughter Bethany and nephew Avery.



Bethany Stoehr

, also an employee of the above mentioned dealership for the past 3 years, boasts as only the 2nd female to win a NEMA feature event. That accomplishment occurred at Waterford Speedbowl in 2013 in front of a roaring crowd. The next event, held in New Hampshire, had this 18 year old leading the fans in singing the national anthem, which was no small feat given it was her very first performance in front of a live audience. When putting in her hours at the family dealership, she can be found performing clerical work as well as some light auto repair. The most unique part of the job has her transporting high end vehicles around the northeast, all of which she says is enjoyable and never boring.



Avery Stoehr

, 17, son of past NEMA champion, Russ Stoehr, and forth generation driver, works at Todrin Industries, Lakeville, MA. Duties has this youngster working with sheet metal performing welding and machine work, which he has done for the past year. He enjoys the opportunity to operate a number of different work centers and different variations of equipment. On occasion he has to fight through some boring jobs but looks forward to getting away to go snowboarding and racing.

Bigelow Electric, East Hampton, Ct., employs

Ryan Bigelow

, 23, as a foreman. Ryan says he's a "lifer" as he's worked at the family business all his life in one capacity or another. An electrician by trade, duties include electrical work as well as running and supervising jobs, tasks Ryan explains can be very challenging on occasion. Always the outdoorsman, he enjoys the winter as snowmobiling is his family's outdoor hobby.

Finally, we close out our list of drivers with a young man who's profession is unique and challenging as he's always "cooking up" something.

Christian

Briggs

, 30, from Mattapoisett, MA, holds the title of Executive Chief at the Gateway Tavern. The popular restaurant located in Wareham, MA., has been Christian's employment home for the past 10 years. Duties and responsibilities under his title include "ensuring everyday operations are achieved properly" as this restaurant has a large following and at peek hours patrons deserve perfection. Christian brings a great work ethic to the table as he must juggle the racing weekend schedules with the tavern's work schedule, a task that at times can be a challenge. But as he has proven many times in the past, he can excel in both environments.

Multi-talented and multi-tasking, NEMA drivers can do it all. Their passion for their careers is equaled only by their love for a sport that uses up a large amount of spare time and money. They wouldn't want it any other way.
NEMA Drivers "Other" Jobs
Talents outside the cockpit….Part 2
STORY BY WILLIAM VANSLYKE
You would think with all the racing knowledge and ability our NEMA and NEMA Lite drivers have, that their everyday nine to fives would follow that same line. Well, nothing could be farther from the truth. This time around we'll visit a driver that will pour you a tasty drink, a young lady that will teach you how to somersault, and a guy that'll build you a house; just to mention a few.



Scott Bigelow

, 35, from East Hampton, Ct., (along with his racing family made up of Ryan, Paul and Randy); own and operate Bigelow Electric Inc., out of Kensington, Ct. They have been running the company for the past 20 years billing themselves out as "Electrical Contractors". Scott, the vice president, enjoys the work but always saves time on the side for hunting, snowmobiling and spending time with his three kids. Come this March, he'll once again be adding racing to his busy schedule.

Next up are

the Cugini siblings, Megan and Danny

, 18 and 21. Both reside from Marshfield, Ma. and both compete in the NEMA Lite series. Danny has been employed as a Mechanical Contractor for the last 4 years and "Meg" is a Nursing student at Laboure College in Milton, Ma. In their spare time away from the daily grind, Danny enjoys riding his ATV's and working around the race shop. Sister Meg fills her spare time as a gymnastic coach.

Speaking of racing families, the

O'Brien

name will always be associated with New England auto racing. Father and car owner, Jim O'Brien, fielded many a fast midget over the years in the NEMA series and the same can be said of son

Matt

. Along with elder brother Dennis, Matt, 41 from Wilmington, Ma., continues to ensure the familiar family name is always on the entry lists. Away from the track, Matt holds the title of Senior Project Architect at R.E. Dinneen Architects, located in Boston, a position he's had for 5 years. The busy work schedule at the firm has Matt performing design work, production and management duties. His off time is spent with the kids, the race cars while tinkering with carpentry. Is a wooden race car design in his future?

"The Beach, love the beach", is what

Andy Barrows

says is his favorite past time when not racing or running Prostock Kitchens out of Peterborough, N.H. This New Ipswich, N.H. resident campaigns a NEMA lite racer during the racing season while juggling the Kitchen business that he's owned for 15 years. Andy will point out that the title of President of a company comes with the duties of doing "everything". When asked of the pro's and con's of the business, Andy points out the best thing is dealing with the customers, and the worse thing is dealing with the customers, but for 15 years he's done a good job with both.

When the topic of being active and going fast comes up, NEMA driver of the Bertrand family midgets,

Todd Bertrand

, 22, throws his hat in. This Suffield, Ct. native loves to drive go karts and go snowboarding when he's away from the track. For two years, Todd has worked as a bartender at the Plan B Burger Bar in West Hartford, Ct. and loves to socialize while serving the customers, but is not fond of the long, late night hours. Always one to experience new things, Todd enjoys tasting the latest craft beers on the market and makes recommendations to his customers.

So, while this group will be happy to build you kitchen or design you a house, next time we'll visit a place to buy a great car and a place to buy a great meal……bring money.
NEMA Drivers "Other" Jobs
Talents outside the cockpit….Part 1


"plays in dirt", "30 years", "AARP", "Sold"
STORY BY WILLIAM VANSLYKE
We fans of the Northeastern Midget Association are well aware of what our drivers do 17 weekends of the year. The question is, what's their life like away from the track, away from the bright lights, the screaming engines, the competition? What exactly are these drivers other talents and interests when not strapped in their rocket ships. Well, some of NEMA's best were gracious enough to reveal some interesting aspects of their lives pertaining to their hobbies, occupations, likes and dislikes.

Multi feature winner and NEMA's 2013 Champ,

Johnny Zych

, 30, from Mendon MA, has what you could call a serious sweet tooth. John is a district sales manager for the Hershey Company for southern New England. John has been with Hershey 8 years and currently manages a sales team, a group of people he enjoys working with. When away from the track and his job, he enjoys time with the family and playing basketball. John was everyone's friend at the club's recent banquet as he showed up with the "largest Hershey bar anyone has ever seen" as it was measured in pounds!

Driver of the bright orange and white number 30 midget, (and NEMA's club treasurer),

Paul Scally

, from Raynham, MA, currently supervises all construction activities at the R. Zoppo Construction Co. in Stoughton, MA. A 10 year veteran at the company, his title of Superintendent keeps him busy and allows him to earn the needed capital to go racing. Not one to relax after work, Paul spends this off time building racecars and spending time with his dad.

They call this next driver, "The Jet",

Joey Payne

, 47, from Fair Lawn, NJ.
"The Jet" is a handle he does not treat lightly, as this Service Manager for "Vacuum Truck Rentals" makes sure he's always on the move. Joey has been at the Oakland, NJ rental facility for 4 ½ years and is currently in charge of 50 plus truck rentals spread up and down the east coast. He loves the job because he never knows where he'll be on any given day, but on occasion, he'll get caught up on delivering a truck on a Friday when he needs to leave for a race. Yes, "Jet", is a very appropriate handle.

The Pernesiglio name as been synonymous with NEMA for more than 30 years, and "young"

Pete Pernesiglio

races the family car to keep that tradition alive. Son of "Mazda" Pete, this 43 year old father of one from Lake Grove, NY, a Long Island community, works in auto parts sales at Advantage Hyundai. With 10 years service at the Hicksville, NY dealership, Pete enjoys getting home every night, but has his hands full at times dealing with the commute, a part of the job not to his liking. So as a outlet, Pete heavily involves himself with slot car racing, and even takes his unique hobby out of state to test his skills against some of New England's best.

To watch

Kevin Park

at any race track, you'll witness a 59 year old bounce around with the youthfulness of a racer 30 years his junior. This tireless NEMA Lites driver, from Foxboro, MA. enjoys making his livelihood operating heavy equipment for the Derenzo Co., but is quick to say he'd rather not be out in the Northeast winter climate. Kevin does point out that the most enjoyable aspect about his 7 years at the company is defiantly pay day which allows him to fund his midget racing as well as his grandson's go karts.

Perhaps the most interesting occupation we came across was that of

Jim Chambers,

driver of the family number 21 NEMA racer. This 26 year old from Atkinson, NH holds the title of Auctioneer for (appropriately named) "Jim Chambers Auctioneer" The most enjoyable part of this job, Jim points out, is "working for myself", and has been at it for 8 years. Unfortunately, Jim must travel to where the work takes him and even though that is the downside to all this, he makes sure he gets away to enjoy his snowboarding and music. Got a bunch of stuff to sell, Jim's your man.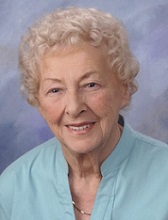 Marlene D. Buckley
Buckley, Marlene, D., "Mardy," 83, of Magnolia Street, Rumford, died peacefully on April 18, 2014. She was the wife of the late Richard W. Buckley.

A lifelong resident of Rumford, she was the daughter of the late Edward Fitzhugh and Dorothy (Nichols) Halbert.

Mrs. Buckley was a writer for the Speedway Scene and the Seekonk Speedway Program from 1990-2002. She previously was a receptionist for the Phyllis Dance Studio. Marlene enjoyed auto racing.

She is survived by a son, Michael F. Buckley of Rumford; a daughter, Cynthia G. Blanchette and her husband Robert Blanchette of Rumford and a step-brother, Joel Halbert of Texas.

Her funeral service will be held on Wednesday April 23, 2014 in the W. RAYMOND WATSON FUNERAL HOME, 350 Willett Avenue, Riverside at 11 am. Burial will follow in Gate of Heaven Cemetery.

Calling hours are Tuesday 4-8 pm. Flowers are respectfully omitted. Contributions in Marlene's memory to Home & Hospice Care of RI, 1085 North Main Street, Providence, RI, 02904 would be deeply appreciated.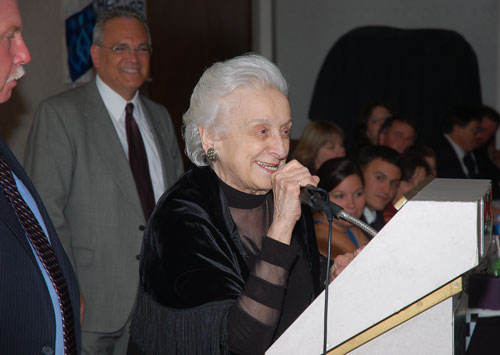 Mrs. Irene Venditti passed away on March 28th.
Find a Victory Lane photograph that includes Irene Venditti. Reach out, grab and hold on to that smile. That smile is what Irene, the matriarch of one of New England's premier racing families, was all about.

A New England Auto Racers Hall of Famer, Irene Venditti,. 94, passed away Friday.

Part of Seekonk Speedway from its inception in 1946, the smile reflects the love and joy Irene found in both the game and in the competitors. Victory was not the result so much as it was the culmination of the battle.

She was by husband D.Anthony's side when Seekonk became a reality in 1946. She was a major part of the battle that resulted in the "Cement Palace" being one of the longest-running tracks in the country. Her dedication to the sport and her husband actually preceded that, going back to Anthony's involvement with the "Big Cars" before the war.

And, one suspects, nothing surpassed the Midgets in Irene's heart. "Almost to the end Mrs. V was there for every Midget show," points out Seekonk historian R.A. Silvia, a life-time friend of Irene. "Seekonk was built for the Midgets and she never forgot that."
Seekonk hosted the first-ever Northeastern Midget Association event on May 30, 1953 and the "Cement Palace" remains a showplace for the Midgets.

Back a few years ago Irene rode around the track in a special two-seater driven by New England open-cockpit legend Joe Sostillio. She so loved it as she did whenever other legendary drivers and cars came to the place.

A woman of immense faith, Silvia points out "she always went far beyond the usual limits of friendship. Her kindness was gigantic. She was truly universally loved."

She could, however, be stern and was indeed so when, following D. Anthony's passing in 1991, the situation demanded it.

NEMA extends its sympathy to Irene's family – daughters Ann and Adrianne and son Francis.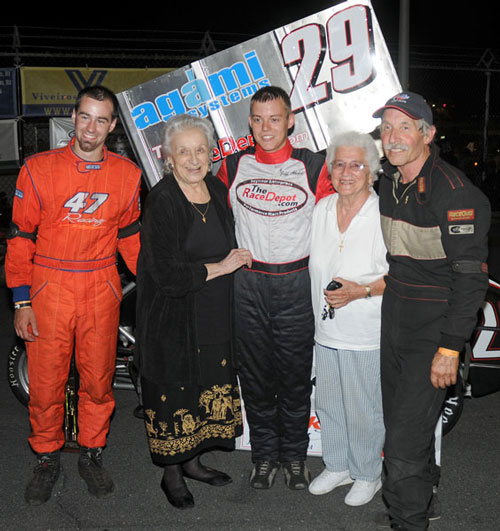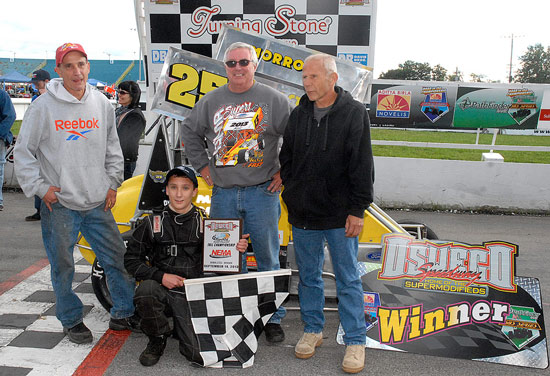 Morrocco Looking for
Sophomore Success
Brockton, MA - Fifteen-year-old Richie Morrocco will be back with the NEMA Lite series in 2014, and there are no doubts in his mind, or in others' that he will be a championship threat. A winner in 2013 at the ultra-fast Oswego Speedway, Morrocco was undoubtedly impressive in his freshman voyage.
Like many famous names around the Northeast, Morrocco got his start at the "Little T" Speedway in Thomspon, CT racing quarter midgets. Long time NEMA member Jackie Parker guided Morocco there, with the hope that he would some day move into the full midget ranks with NEMA. "Jackie has been influential to our team and our involvement with NEMA, and is a sponsor of ours today," said Morrocco.

Morrocco counts Bobby Santos III and Randy Cabral as two of the biggest influences in his racing career. "Bobby is a big influence for a young driver – he's a local guy, great driver, he's fast in every car he drives and he can show up after warm ups and still win – which says something," said Morrocco. "Randy (Cabral) helps out a lot of the kids, including me. He shares some of his knowledge and helped me improve a lot as a driver this year. And I enjoyed running with him in the lites this past year," he said.

Morrocco's Hawk Chassis, #25 will carry a familiar set of sponsors again in 2014 - West St. Auto Body, Parker Sanitation, American Beauty Signworks and the Shane Hammond foundation.

When asked about his Championship hopes for 2014 – Morrocco says "it took me a while to get used to the car, and for us to get the car sorted out, but that's mainly behind us now. We have a good program for 2014 and look forward to running for a Championship if things go well," said Morrocco.

Morrocco and the NEMA Lite series get their start at the Budweiser Blastoff the weekend of March 29th at the Waterford Speedbowl.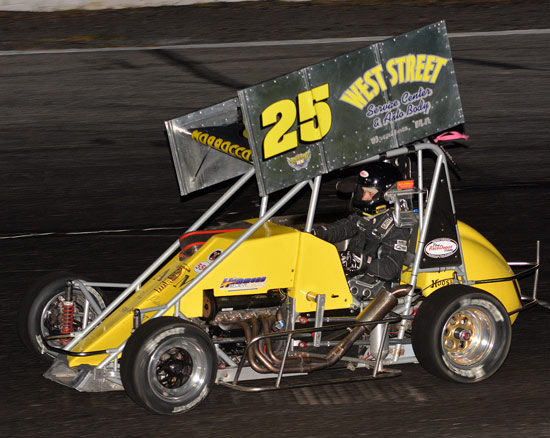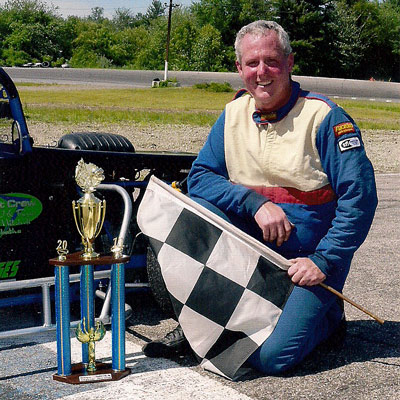 In The O'Brien Book, "Final Chapter
Not Written… Just Yet"
STORY BY WILLIAM VANSLYKE
Dennis O'Brien, son of popular NEMA car owner, the late Jim O'Brien, will campaign a NEMA Lite entry for the full 2014 racing season. Elder brother of current NEMA driver, Matt O'Brien, Dennis will bring his life long racing experiences to the New England racing club with enthusiasm and a ton of resources.

This Deerfield, NH resident, and UPS driver, has sold his entire Dwarf racing team and has purchased a Stealth chassis and is currently installing a Ford Focus engine. He will be putting forth a top notch effort in the very competitive Lite division. Dennis is quick to point out that the O'Brien's are a "racing family" and that will continue with sons DJ 19, and Mitchell 14, working the pits and brother Chris acting as car owner who will also overlook the finances. "Chris will handle his duties far away from the track as he doesn't get his hands dirty", Dennis points out with a laugh.

"Our father gave us the opportunity to get involved in racing at early ages and we just couldn't get enough." Dennis explains. "We were always at the track and at the shop with him and he taught us well through the years." Starting his driving career in 1994 in stock cars, Dennis moved to mini-stocks and super streets then eventually to Dwarf cars. He explains, "I will heavily lean on brother Matt's vast midget experience and he is fully behind this effort."

Even though the color of the car has not been finalized, "The number will be 16 and the words, "Jim O'Brien & Sons Engineering" will be on the side as is the case with all the O'Brien racing machines."

When pressed to reveal his 2014 goals, Dennis says with confidence, "Immediately, we want top 10's, by mid season some top 5's and ultimately a podium finish and a trophy by years end." He has been a track champion at Lee Speedway in the 4 cylinder division, he considers the up coming season a challenge. We are "determined to succeed," even at tracks like Star and Monadnock, where he has also turned many laps.

Dennis pointed out in closing that "Dad loved racing and loved to share it with his boys, and….. The Final Chapter Not Written… Just Yet".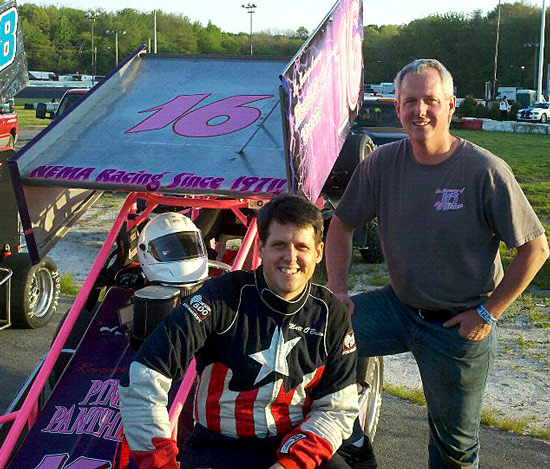 Generation Next: Avery Stoehr
Bound for NEMA Midgets Full-Time
Third Generation Driver Prepares for Rookie Season in #15a
by Nick Teto / YankeeRacer.com


Headshot: Crystal Snape

Avery Stoehr of Lakeville, MA will be competing in the Northeastern Midget Association (NEMA) Midgets full-time for MCI Racing. Stoehr wants to "be competitive all year and learn as much as I can. … I think I learned a lot from driving the #3t, #26, and #44 this year and hopefully can build off that for next season."

Both Avery and Bethany Stoehr's cars are former Mike Jarret Beast-Gaerte Fords. Avery Stoehr will drive a new spare chassis, while John Andruk is finishing engine work this week. Sponsors Motor Cars International of Bridgewater, MA, Skaters Edge Indoor Skatepark of Taunton, MA and Circle Performance Racing Engines of Berkley, MA will join Stoehr for his NEMA run.

Stoehr has four career NEMA Lite wins. He finished third in NEMA Lite points last year with wins at Stafford and Waterford. Stoehr also had two top 10 finishes in five NEMA Midget starts this past season. "I as well as Carl Kibbe are really looking forward to him moving up," Russ Stoehr said. "His limited performances in the #44 showed a lot of promise and his Thompson debut showed me he is ready." FULL STORY HERE
Jason Hentrich Joining NEMA




Midget Field in 2014

by Nick Teto / YankeeRacer.com
Reigning Borgers Speedway 600 Dirt Micro Sprint champion Jason Hentrich of Willow Grove, PA will be moving up to the Northeastern Midget Association (NEMA) Midgets in 2014. "We are really looking forward to it, Hentrich said. "This has been something we had always wanted to do. We just came off a successful season in asphalt Micros so we decided that it was time to try it."
FULL STORY HERE
Christian Briggs & CTM Plan Two Car LITES Effort in 2014 with Juris Kupris
Charles Thomas Motorsports Expansion Underway
by Nick Teto / YankeeRacer.com
Christian Briggs of Mattapoisett, MA confirmed last Thursday that he will be competing full-time in the Northeastern Midget Association (NEMA) Lites in 2014. 2014 will be Briggs' first full season. Briggs' new #44 car is a former USAC Ignite Focus Midget with a Spike chassis and Focus engine.

Charles Thomas Motorsports will be expanding to two cars. Briggs' former Hawk will sport the #42 for rookie driver Juris Kupris of Williamsburg, NY. A native of Storrs, CT, Kupris is an extreme surfer and personal trainer. Briggs described Kupris as "a lifetime friend and mentor of mine. We go back to Sugar Hill Speedway racing Karts when we were kids. … Juris will be sure to turn some heads out there, he is bad fast." According to Briggs, Kupris will be competing "full-time, if not very close. He is getting a great ride; I don't think he will want to miss any." FULL STORY HERE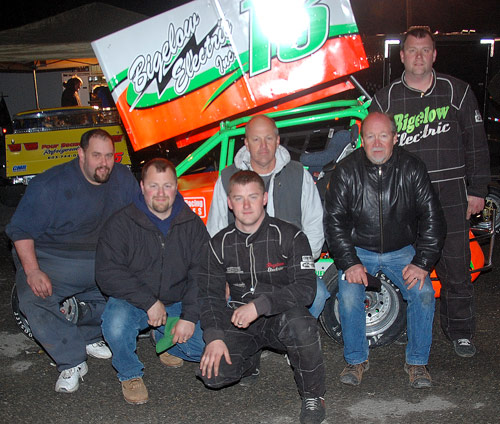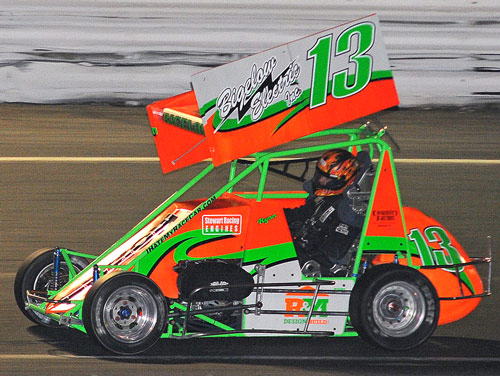 NEMA LITES Ryan Bigelow
"Moving Up For 2014"
Northeastern Midget Association LITES standout Ryan Bigelow has announced his intention to move into the full NEMA division for the 2014 racing season. The East Hampton, Ct. native will be wheeling a newly acquired Beast chassis with Honda horsepower for the full NEMA schedule.

"I feel pure excitement about this move and can't wait to start working with the new chassis." Ryan goes on to say, "This plan has been three years in the making, and now everything is aligned to make the move."

With the proven reliability of the Honda power plant Ryan is confident that he should be able to reach his 2014 goals of at least 1 win and possibly the NEMA rookie of the year honors.

This young 23 year old electrician is certainly no rookie when it comes to driving anything with four wheels. Starting out in 2000 with Go Karts at Whip City Speedway, he advanced to the Mini-Sprints division where he piled up seven years of experience perfecting his trade on that quarter mile oval.

His next move was to the NEMA LITES in 2010. Ryan claimed his first win at his favorite track (and home track) the Waterford Speedbowl on May 7, 2011 and another win at Seekonk Speedway later that year. Waterford was again good to Ryan in the 2012 season opener, where he grabbed his third career win.

With the help and support from sponsors Bigelow Electric and Trade Services as well as from his racing brothers Paul and Scott, we'll expect big things from Ryan Bigelow as he's "Moving up for 2014."
NEMA General Meeting
& Hoosier Tire Info Session:
Friday, March 14, 2014
-
On Friday, March 14, 2014 at 7:30pm, NEMA will host a general meeting at the Crowne Royal Plaza in Marlborough, MA.

Exit 24b off I-495.





Representatives from Hoosier Tire

will attend the meeting to discuss tires for the 2014 race season. NEMA invites you to attend the meeting . This is your time to ask the questions you need answered about your racing tires. The objective of the meeting is to give everyone a full understanding of the makeup and functionality of the Hoosier Tire so you can make more knowledgeable decisions with your tires at the race track. We are encouraging all drivers, car owners, and crew members to attend this exclusive informational session.

The NEMA board will also review the

2014 race schedule

and any outstanding issues that need to be discussed prior to the season opener.

At this meeting, NEMA will also be accepting new

memberships

for those of you who have not yet signed up for the 2014 race season.

March 14th will be the last day that you can purchase your membership at a reduced price.

Please remember we would like all paperwork completed before the Budweiser Blastoff on March 29th at Waterford Speedbowl.

NEMA will be serving

snacks

at the meeting for the hard working folks on a workday.
Earl Grant
by Chris Romano
"Hey, Poison Pen, get over here."

Thus began my long friendship with one of the best flagmen ever to grace a starter's stand. I forget exactly what I wrote to prompt Earl to give me the best nickname I've ever had, but I have no doubt that in the subsequent conversation he set me straight.

When Dick Berggren, Lew Boyd and Bruce Cohen put together the first Spring Sizzler at Stafford Motor Speedway they called Earl Grant, who put his distinctive style on what would become one of the greatest annual events in New England Modified racing. It was a good choice. Earl came with a wealth of experience at Thompson, Stafford, Seekonk, and throughout New England. If guys like Bugsy, Richie, Eddie and Freddie respected you, that was as good an endorsement as any that you knew what you were doing.

And he did. Back before race directors, tour directors, yellow lights every thirty feet, the flagman ran the show. Earl laid out what he expected at the driver's meeting and followed through on the flagstand. His signature move was turning his back on the field if he didn't like the way they came down to take the green. The front row only got away with it once; you didn't want Earl to turn his back on you a second time.

Not every call was perfect. How could it be? But any decision is better than no decision, and once made, Earl stuck with his call. It's easy to second guess a flagman from the comfort of the cockpit, the grandstands, or the press box, but try walking one night in their shoes.

Earl cared very deeply about his drivers. Not many picked up on it but prior to going up on the stand Earl would be noticeably nervous. He didn't doubt himself, but wanted to do a good job for the drivers and fans, and his number one priority was to keep drivers safe.

There's no question he loved the Modifieds, but I personally think his heart was with the midgets. For years he'd barnstorm around New England with his partner in crime, Dave Humphrey, following "the little cars." Just a few weeks ago I talked with Earl, listening to his ideas about how to boost car counts for the midgets. It was fitting that he ended his career with the Northeast Midget Association. He loved them, and they loved him. He wasn't a flamboyant flagman, but he was consistent, disciplined, and commanded respect. In the years I covered NEMA most nights I got to watch him ply his trade from the announcer's booth. Let me tell you, it was the best seat in the house.

Earl's legacy lives on with his son Stephen, every bit as accomplished a flagman as his dad. To Stephen, Earl's family, and the many friends he made in a lifetime in the sport NEMA extends its deepest sympathies.

And from Poison Pen, Godspeed my friend.


Funeral Information:

The FUNERAL SERVICE will be held on TUESDAY 2/18 at 10 AM from the HATHAWAY HOME for FUNERALS, 1813 Robeson St., Fall River, MA
followed by a Funeral Mass at 11am in the Church of the Holy Spirit, 160 Rock Street, Fall River, MA. Relatives and friends are invited to attend.
Burial will be private at the request of the family.

CALLING HOURS for Earl will be held on MONDAY 2/17 from 4-8 PM.

Memorial donations in his memory can be made to either
the Church of the Holy Spirit, 160 Rock Street, Fall River, MA 02720 or to
The Spalding Foundation for Injured Race Drivers, Inc.,
1074 Sulpher Springs Road, Owego, NY 13827-2110.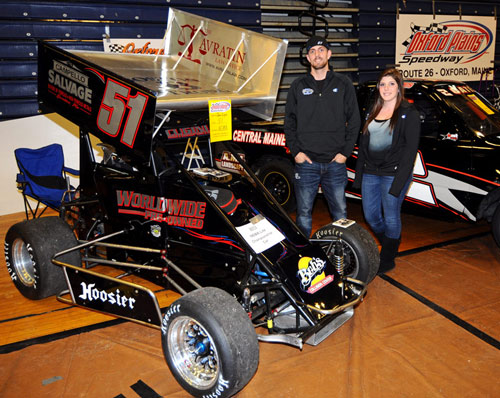 Danny & Megan Cugini representing NEMA in the
Oxford Plains Speedway booth at Racin' Preview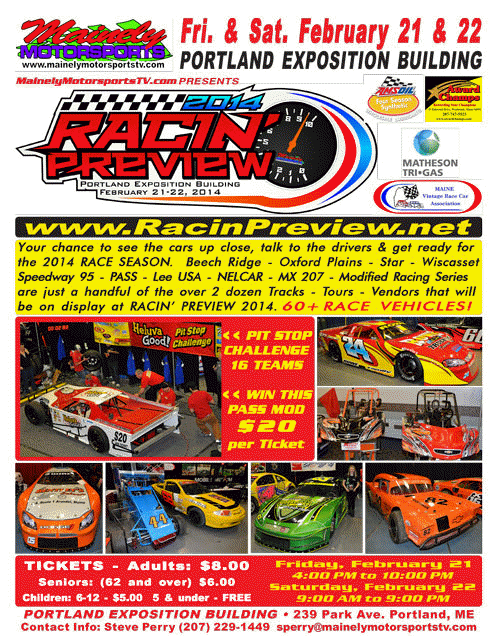 www.theracersexpo.com
THE NEMA DISPLAY BOOTH & MEETING

F1 Boston - Saturday Night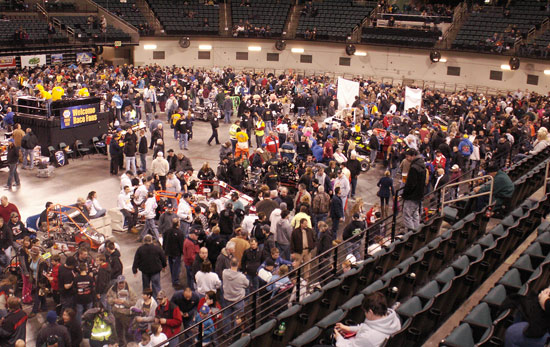 NEMA Well Represented at
Atlantic City TQ Indoor Event
STORY BY WILLIAM VANSLYKE
Atlantic City, N.J. -Several Drivers and crew from The Northeastern Midget Association headed south for a weekend of close, fast, wheel banging indoor racing action at the beach city's Boardwalk Hall. Even though the weather on the boardwalk resembled a freezer, the weather inside was like a pressure cooker. An astounding 99 TQ racers were on hand to fill 26 slots for the A-main feature Saturday night.

Five of NEMA's best, both past and present, took part in the action with three racing in the TQ division; Carl Medeiros Jr, Joey Payne and Randy Cabral. In the Champ Kart's: cousins Bethany and Avery Stoehr dusted off their machines and took to the track.

An intense qualifying procedure dictated the racers go through a series of time trails, heats, and B-mains to advance to the A-mains.

Former NEMA Lites competitor and reigning champ, Carl Medeiros Jr., had a rough time of it from the beginning as he drew a early qualifying spot and turned in a time not of his liking. Plagued by handling problems in the consi, Carl's machine spun a numbers of times in the ultra tight race and did not qualify. "I feel the weekend could have been a lot worse as this was the first time indoors with this car", Carl explained. "Outside, the car is a rocket".
"Thanks to my family and friends for a great effort, and we're working on getting the car better for next time", Carl said with confidence.

Racing in his home "Garden" state, "The Jersey Jet" Joey Payne had a weekend he would like to forget. His TQ ride, the Mike Pjatikin owned Laffler chassis was a new piece for the weekend. For the Friday race, Payne had a good second lap time trial going but spun coming down to the checkers. Riding in a qualified spot in his heat race, "I got run over and knocked the injectors off the motor", he said. Joey was running 4th in the B-main and had the right front torn off by a spinning car and didn't make the Friday A-main. Saturday, Joey was able to make the feature by "driving the hell out of the car". He started 14th and advanced right away but got pushed into a wreck ending his night and weekend. Joey gives thanks to his crew for thrashed on the car and actually had it fixed, but was not allowed to re-enter the race due to being down too many laps.

Of all the NEMA drivers, multi feature winner Randy Cabral, turned in the
best performance of the weekend. Wheeling the Dave Clarke owned TQ,
Randy qualified for the Friday night A-main by finishing 6th in his heat race,
and then won the B-main from his 5th place starting spot. Starting in the 21st
spot in the A-main he advanced to a respectable 12th place finish.
Saturday, the former NEMA champ started on the front row in his heat race,
finishing 2nd which placed him in the 16th slot to start the A-main. Randy
survived a number of cautions in the main and got up to 10th by a lap 5. After
a quick caution, he was forced to the outside and dropped back to 17th but
raced hard to keep moving up. Unfortunately, he hit an inside tire barrier,
spun and finished 14th.

On Champ Kart's side of the program, the cousins Stoehr had a weekend
with mixed results. Bethany, one time NEMA feature winner, was running
well in her heat race but got caught up in a mishap damaging the front end
and losing her brakes, failing to qualify.

Avery, a NEMA Lites stand out, drove a good B-main race, winning it going
away. The young Stoehr would start his A-main in 22nd and moved up to 18th
on lap 5. After a lap 7 caution Avery got up to 13th, but dropped to 15th on
lap 10. After dropping off to the 17th spot, he survived a few more cautions
and was able to bring the kart home 15th.

A number of other NEMA drivers, crew members, officials and family
members also made the trek to Atlantic City to enjoy not only the racing but
also the gaming tables and atmosphere that only the New Jersey beach city
can provide.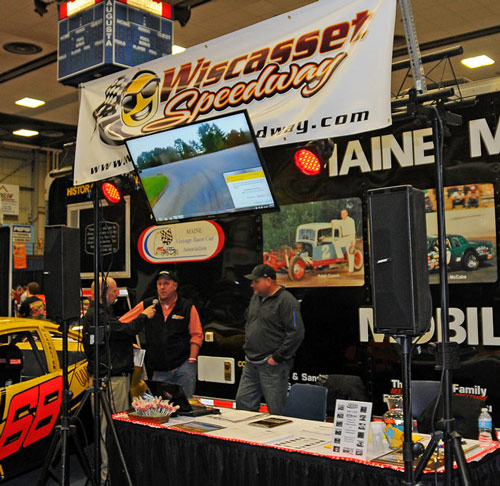 www.NorthEastMotorsportsExpo.net