2013 NEMA NEWS
Ellie Seymour
Elena A. (Birri) Seymour, 84, of Marlborough,
died Saturday, March 23, 2013 at Brigham
and Women's Hospital in Boston after an illness.
Ellie Seymour, matriarch of one of the country's premier racing families, passed away Saturday at age 84. The widow of the legendary "Boston Louie" Seymour, "Miss Ellie" had an immeasurable influence on three generations of the Marlboro, MA based family.
Married to Louie for 44 years, she leaves behind five children – sons Michael and Bobby and daughters, Marylou Todd, Lois Seymour and Celeste Mikitarian – and eight grandchildren.

"She was always giving," said Bobby. "It was always about us."

Northeastern Midget Association President Mike Scrivani Jr. argues it went much further. "She had such an infectious smile," says Scrivani, a long-time Seymour associate. "You could not help returning that smile. Miss Ellie made you feel good.

"She added a dignity to where ever she was," Scrivani continues. "She just brought so much with her."

Whether it was "driving the rig" or staying home and "taking care of business," Ellie Seymour played a vital role in the accomplishments that put her husband in both the National Sprint Car and New England Antique Racers Halls of Fame. The Seymours were successful in USAC Sprint and Silver Crown cars thought out the country. Mike and Bobby were midget standouts in family equipment, notably with the Northeastern Midget Association.

She was, Bobby recalls "a true quarter midget mom" when her family raced at the Marlboro Airport. "She did pretty much everything," says Bobby, "whatever was needed from flag person to announcer." And when travel became part of the operation, she was there as well back in the days when "travelling through the night was standard procedure."

Sometimes "Miss Ellie" was there when the Seymour cars were racing throughout the Midwest, sometimes as far away as California. "Other times she was home taking care of business," Bobby continues. "We were in the fuel oil business and that's where we made our living."

The Seymour family now operates Seymour Enterprises Performance Products. It was not unusual to see "Miss Ellie" showing up to "do what had to be done."

"She will be missed," understates Bobby. That's true both in Marlboro, MA and in many places where folks will now treasure her memory.

Calling hours will be from 2-to-8 PM on Tuesday at the John Rowe Funeral Home, 57 Main Street in Marlboro. The funeral will be 10 AM on Wednesday at St. Bernadette's Church 266 Main St., Northborough, MA.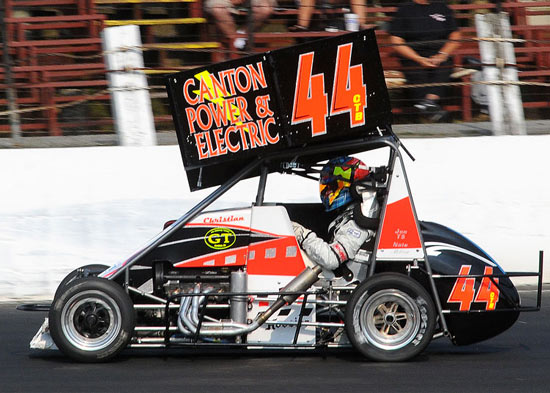 Briggs Speeds to Recovery
in Time for Waterford's Blastoff
Brockton, MA - When Christian Briggs was 9 years old, he and his (late) father, Charlie, drove down to the Coca Cola 600 together. It was one of "the best memories" with his father. Upon returning to the car, to start the fourteen hour ride home, however, Briggs did not feel well. Something was not right. He was "ill" for the entire ride home.

Soon after, Briggs went back to school. His grades fell off. He couldn't hit a baseball anymore. Something was wrong, and both he & his family knew it… That summer he admitted to Childrens Hospital and was diagnosed with two aracnoid cysts on his brain and spinal chord. While waiting for surgery he had a stroke and seizure and was rushed into the operating room. The surgery was successful and the cysts were removed. He could not drive anything for a year and made a full recovery. His only limitation was no football... ever. So he chose racing, and that's where it began.

Fast-forward 20 years to the NEMA banquet. While celebrating a great season, Briggs was once again not feeling like "himself", he blacked out and hit his head. This along with a crash at Beech Ridge, Briggs swears "may have saved his life". The crash at Beech Ridge triggered what was about to happen. His helmet had bent the seat 2 inches. He was "out of it" on the way home but thought he was concussed and would be fine. The night of the banquet, upon being rushed to the Hospital, he had a catscan and the ER doctors found a massive cyst where the old ones were. His worst fear had come true.

After some difficult weeks, Briggs went back to work and planned to "get through this" and get back to normal. After going to Brigham and Womens he found out I needed surgery again. "Everyone around me was so scared so I faked it and focused on the race team," said Briggs. "All negative energy I had went to the car. My crew and family was worried about me, I told them worry about being at Waterford for the Blastoff. After a long talk with my Nuero Surgeon he said if we operated I would be ready to race in five weeks," said Briggs. Waterford was five weeks away.

The surgery was a great success. "The difference now is the support I received not only from my family and crew, but my newly acquired fans from the NEMA tour. I am good to go. No worries," he says.

Without racing, Briggs speaks of a life that would be "incomplete." He started racing at Sugar Hill Speedway with his Dad at 12 years old. He moved on to kart nationals and at 17 he was in a 350 super modified at Star speedway. After a year in the Super, he and his family decided that Late Models were the way to go and they sold the car and got a famous frame from Wayne Helliwell. "I was not able to run the car very much because my Dad got sick. He had Cancer and fought for a few years. During those years he got George Rego to drive the car while I set it up and learned all I could from George. I did not know it at the time but my Dad was training me to be a Team Owner," says Briggs.

After his Dad passed away he moved and stopped racing all together. At the time, he had a newly clipped Late Model and new crate engine sitting in the garage. It just sat there. He never went in the garage or to a race track. Racing was something he shared with his Dad.

One day, however, good friends of the Family Ricky and Robbie Gifford approached Briggs, and said that Ricky's son Chris was ready to move up to late models. "We made a tire deal and the ride was his. They only got this ride because my Dad was their hockey coach and they were determined to get me to the track. I always ran the #18. After six years - and as just a team owner I decided to race again. It was time," Briggs says.

Soon after, Briggs started to build a Limited Sportsman for Thompson. "I went to the racers expo to buy a suit, that is where I met Bobby Seymour. He asked me what I was racing, and why I wanted such a fancy suit. I told him and he said come see me at my shop. When I got there to get my suit we got to talking and I told him my story, he then showed me the NEMA Lite cars," said Briggs. Enter the next Chapter of Briggs' racing career.

"I sold my Late model team and the Limited and bought a Lite Car out of Long Island. The number would be 44, the year my Dad was born. The rest is history."

Since returning to the wheel, Briggs' Mother has stepped into the place of his Dad and has been a major support system for the team. "She makes sure I have the best safety equipment possible…Also tires and fuel when I can't make it happen. She has been great and I love her very much," he says. Briggs also credits his girlfriend, Melissa, with his valiant return to the race track in 2013, and for the support she has showed him.

Briggs says 2013 will be a big year for his team, now called Charles Thomas Motorsports – after his Dad. Briggs plans a full NEMA schedule with the exception of Friday nights, when he works at his major sponsor – the Gateway Tavern. "They have made countless sacrifices and donations that allow me to race. I could not do this without them," he says. Briggs also counts Canton Power & Electric, Facchetti & Facchetti, TMF Logistics, Labonte Insurance, Northgate Advisors and Duck Inn Pub as banner sponsors of his.

One thing there is no doubt about. Christian Briggs is ready for 2013, and when the pit gates open at Waterford Speedbowl this year, my bet is that he'll be one of the first in line.
10 Winners Back in NEMA Fold;
Cabral, Russ Stoehr Head List
Brockton, MA – The Northeastern Midget Association had 11 different winners in 2012, making it one of the most competitive campaigns in club history. Expect to see 10 of them back as NEMA begins its 61st season April 6-7 at Waterford Speedbowl's Budweiser Blast Off.

Defending champion Randy Cabral moved into the top-five on NEMA's all-time win list a year ago. Cabral, the only multiple winner last year, returns with car owner Tim Bertrand. He and Russ Stoehr, a six-time champion who sits third on the all-time list, head up the list of returnees. Stoehr is back in the Dumo's Desire car.

The returning winners include Greg Stoehr, Jim Miller, Todd Bertrand, Anthony Marvuglio, Seth Carlson, Anthony Nocella and John Zych Jr. Adam Cantor will not drive but will return as part of the Cantor No. 33 crew.

Although he insists "I don't see myself in that category," Cabral, who has won four of the last five driving titles, loves being in the company of Drew and Fornoro and Dave Humphrey, "guys who did a lot of winning without power steering and with a lot more cars on the track."

Cabral crashed at the USAC show at Florida's New Smyrna Speedway. While the Bertrand team did "amaze" the USAC folks by repairing the car, the damage was bad enough to demand "bringing it back down to the frame," according to Tim Bertrand.

Title defenses are not to be discussed. "We never go into the year thinking about points," Bertrand insists. We only focus on the points if and when we are "in it" and typically that comes with about 3 races to go. Otherwise, we're going to try and have some fun."

"It is business as usual," says Dumo's Desire team crew chief Joe Fiori, about to start his 18th season with what is the continuation of late Gene Angelillo operation. Part of a crash in last year's final event, the Beast Chassis is "ready to go," says Fiori who actually joined the Angelillo team in 1991 after ending a long stint with the URC Sprint Cars. It will be the fourth season owner Laura Kibbe will continue her father's passion. Stoehr has won at least once in each of the three previous seasons.

Only Drew Fornoro and Dave Humphrey have more NEMA wins than Stoehr. The Angelillo/Dumo's Desire team is NEMA's all-time most successful team.
Miller, Greg Stoehr, Zych
Set For NEMA Opener
Brockton, MA – A midget win at Oswego Speedway can inspire a competitor. It is among the division's ultimate tests.

"No doubt about it, but I can't complain about the entire season, says 57-year old Jim Miller, one of 10 2012 winners returning to Northeastern Midget Association action in 2013. NEMA begins its 61st season April 6-7 at Waterford Speedowl's Blastoff Weekend.

Defending champion Randy Cabral (Bertrand) and Russ Stoehr (Dumo's Desire), who sit third and fifth on NEMA all-time win list, lead the list of returnees. In addition to Miller, the list also includes Greg Stoehr,
Todd Bertrand, Anthony Marvuglio, Seth Carlson, Anthony Nocella and John Zych Jr. Adam Cantor will not drive but will return as part of the Cantor No. 33 crew.

Miller, part of NEMA since the 1989s, dominated at Oswego and finished second in the finale at Lee. With Shawn Torrey turning the wrenches, Miller and Lee Bundy will be teammates in 2013 with Shawn Torrey the crew chief. Pointing out he "doesn't feel like 57," Miller, who "wants to have some fun," has no plans for retirement.

Greg Stoehr isn't talking retirement either. He plans on a full season in the #26b but can't guarantee it because "the emphasis," will be on daughter Bethany. "Maintaining two cars can be expensive so it he comes down to me or her needing something, Bethany will get it," he says.

NEMA's win list includes brothers, a brother and sister and some father-and-sons. The addition of a father-daughter combo could be another milestone in the Stoehr family's storied career.

Zych, last year's Blastoff winner, was actually the point leader in early going last year. Then weather and rescheduling problems caught up with the then Louisville, KY-based Hershey Company executive. Still, six top fours in nine starts in the Esslinger/Drinan #9 is amble evidence they're solidly in the contender category. A move back to the northeast means that John will be
entered in all the NEMA races of 2013.

Ryan Preece, Bobby Santos III and Lou Cicconi Jr. will all be in the Cantor #33 Reider this year. "All have given me dates that can run the car," says Cantor. "It's likely others will drive it as well." Adam's dad Allen will be the "running the show."

Cantor 2012 win at Lee came a couple days before the passing of his stepfather Joe DeMonte. It was a key factor in Cantor, part of NEMA since 2001, getting out of the cockpit. "There is no other race I could win that would mean as much as that one did," he says.

As promised, the Betrand team expects to have a third car ready for NASCAR national Modified champion Doug Coby to drive at Blast Off. Coby was a crash victim in last year's fnale at Lee.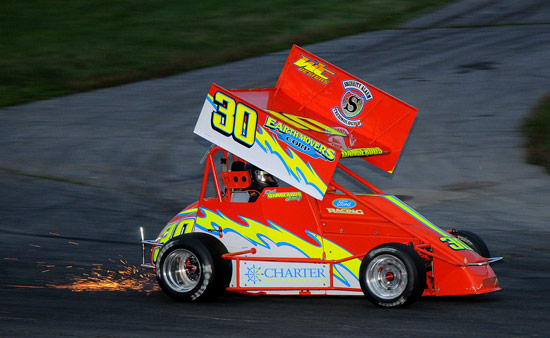 NEMA Veteran Scally Readies
for 2013 Waterford Blastoff
Brockton, MA - One of NEMA's long time mainstays, Paul Scally, has spent the winter preparing for the 2013 season. A mix of mechanical improvements and concentrated efforts around the "finer details" made up Scally's busy off- season.

An open wheel competitor since the early 1990's, Scally made his mark running early on with the Granite State Mini Sprint club, and later came to NEMA. Like many NEMA teams, Scally's is no different in that most of his racing career has been spent with family, mainly his father. "Me and my dad have been racing together since 1990. We have had some success, and a lot of fun. My Dad and I have different skill sets mechanically," states Scally. "What I lack he excels at and vice versa. So it makes working on the car very practical. I could not even maintain a car with out him."

Scally has also had new additions to the crew over the past few years, one of the most important being his girlfriend, Rachel LeClerc. "Rachel is like a breath of fresh air for us. She is from a racing family and doesn't mind getting her hands dirty," said Scally. "For example, she doesn't let the car go on the race track without checking the wheels to ensure they are tight." A mistake far too many NEMA teams know, from experience, can be very costly and dangerous.

Scally also counts two key sponsors as part of his success and effort to attend every NEMA show. "Charter Environmental has been a 4 year sponsor, the owner Bob Delhome is a huge NEMA fan. He went through the driving school 2 years ago and has been hooked ever since," said Scally. "Security and Alarm technologies has been on for 3 years, Brian and his son Riley love going to the shows. I couldn't do it without these guys."

When asked about 2013 – Scally focused on one word "reliability." "We consistently start every race, but mechanical failures don't allows us to have a consistent finish. We feel if we finished consistently we could improve our overall series performance. To go out and win some races would be the ultimate goal," said Scally. An improved braking system is one thing the team invested in, during the winter months.

Citing Seekonk, Waterford and Star as his favorite tracks, "Usually the smaller, tighter tracks is where the 30 car is most competitive," said Scally. "We've got some new tracks on the schedule as well - Mike has worked really hard and has got NEMA into new places and that's exciting."

When asked when he misses most during the off-season, he misses "the people." "I really miss the people. In the off-season racing takes a different tone, and after a while you just start to miss your friends. Some times we take the off-season too serious, and its just time to have fun with good people," he said. I'm sure most would agree…

NEMA kicks off its busy season in just four weeks at Waterford Speedbowl's 2013 Blast Off.



SAT., MARCH 9TH


F1 Boston

in Braintree, MA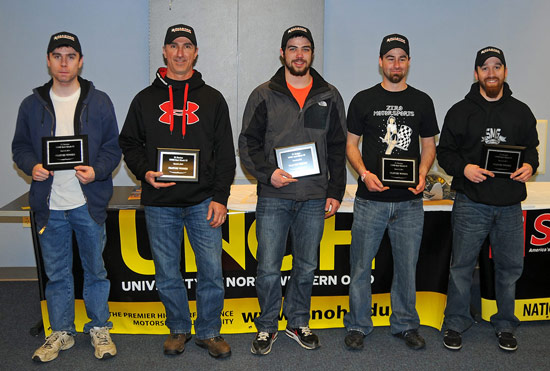 FULL PHOTO SET at The Racer's Expo site HERE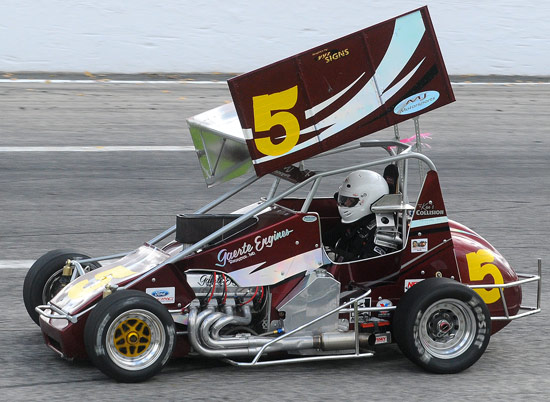 Bethany Stoehr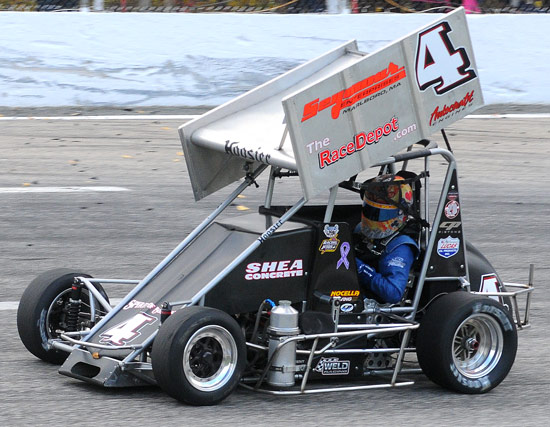 Ian Cumens
Bethany Stoehr, Ian Cumens
Definite NEMA 2013 Threats
Brockton, MA – Over the past 10 seasons the Northeastern Midget Association has had at least one first-time winner.

Youngsters Bethany Stoehr, who won't be 19 until Nov. 2, and Ian Cumens, who'll turn 21 on July 20, are prime candidates to keep that streak alive. Both are part of established NEMA teams, Cumens with the Seymour folks while Bethany is the daughter of veteran campaigner Greg Stoehr.

NEMA opens its 61st season April 6-7 at Waterford Speedbowl's Blastoff Weekend.

According to her dad, Bethany "proved she's a racer," at Waterford Speedbowl last summer, winning her heat (beat Uncle Russ) and turning a sizzling 12.986 lap in a Beast chassis that was purchased from Mike Jarret. She'll be in the same car this summer, now painted blue and carrying the number 5b.

Bethany has made 26 Lites starts over the past two seasons, posting four seconds in 2012. A fifth at Waterford was the best of seven full-midget results. Cousin Avery, a two-time winner a year ago, will spend another season with the Lites where, Uncle Greg insists, "he will be a force to be reckoned with."

"She goes as fast as the car will let her," Greg continues, making it clear Bethany is top priority this year." He plans to make as many shows as possible but points out "maintaining two cars can be expensive. If it comes down to a part, she'll get it."

The Hoosier Tire Lites Challenge Champion, Cumens will be a steady competitor in one of two Seymour maintained cars – a VW/Hawk and a Beast/Mopar. "He has paid his dues; he has been to just about every track we run at," said owner Bobby Seymour. "He is a definite threat to win in 2013."

Cumens finished third in his full-Midget debut last year at Lee. A Lites winner at Seekonk in 2012, Cumens had a win, three seconds and four thirds in the Lites a year ago.

Four of NEMA's 11 winners in 2012 – Anthony Marvuglio, Todd Bertrand, Anthony Nocella and Seth Carlson – are "graduates" of the Lites program.

Anthony Nocella, a Seymour mainstay for the past three years, will make four or five starts for Seymour around a modified commitment.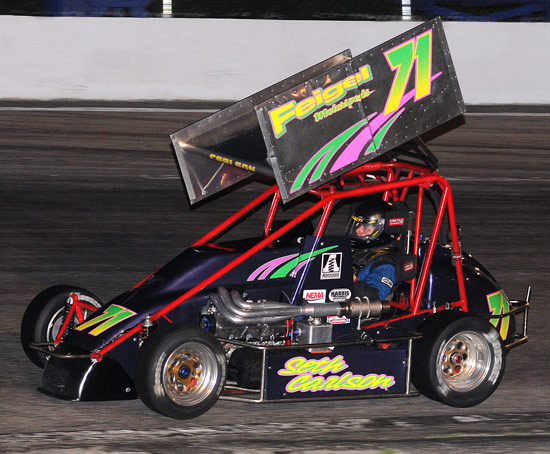 Carlson/Feigel Eying
2013 NEMA Crowns
Brockton, MA – Car owner Gene Feigel is not shy. He and his driver Seth Carlson see themselves as contenders for the 2013 Northeastern Midget Association championships.

The team found another Drinan chassis to replace the one that was destroyed at Beech Ridge. It was also the one he drove to victory at Seekonk Speedway's Open Wheel Wednesday. Carlson, who will not be 21until October, was one of 11 NEMA winners last year.

While veterans like Randy Cabral, Russ and Greg Stoehr, Adam Cantor and Jim Miller did checker, youth was served as well. Ten of last year's 11 winners will be back including youngsters Anthony Marvuglio, Todd Bertrand and Anthony Nocella.

NEMA begins its 61st season April 6-7 at Waterford Speedbowl's Blast Off.

It will be the fourth season for Feigel and Carlson- two at Whip City and one with the NEMA Lites. "No question the kid is very good," says Feigel. "It is a matter of putting him in a car that's good enough."

"I think we proved we can run with the leaders," offers Carlson who was leading the race when an axel broke at "The Ridge." At that point, he adds, "we had made major gains in overcoming early season motor problems."

Anthony Marvuglio was the other first-time winner in 2012. "Winning makes you see why we do it," says Marvuglio back in the Chris Derosier/Tammy Barbeau car on a "race-to-race deal." Victory, he adds, "gets the monkey off your back. You go out knowing we are competitive, knowing you are fast enough to win. That means less stress on the driver and the team. It becomes more fun and that's what we want."

Todd Bertrand and Anthony Nocella will be looking to extend yearly win streaks to three. Nocella's effort will be restricted by a full-time Modified commitment. Bertrand, however, comes back full-time in a new race car.

"Todd is switching to a new lighter chassis this year, a mid rail design," reports brother and car owner Tim Bertrand. "His car was historically 125-150lbs over the minimum weight. We are looking forward to seeing what he can do in the new car."

Can Todd expect help from teammate Cabral? "Todd has a Drinan but it is different and our driving styles are very different," says Cabral. "I'm hesitant to give a lot of advice for fear of sending him down the river."

Zych, last year's Blast Off winner, was actually the point leader in early going last year. Then weather and rescheduling problems caught up with the Louisville, KY-based Hershey Company executive. Still, six top fours in nine starts in the Esslinger/Drinan #9 is ample evidence they're solidly in the contender category.
SPEEDWEEKS at NEW SYMRNA
USAC MIDGETS on Feb. 17th & 18th
Sunday - Feb. 17
Bobby Santos III - #17 - wins 1st heat - 10th in feature
Cole Carter - #5 - 9th in the feature
Randy Cabral - #47 - crash in practice - 13th in the feature
(See Photo of the Day #736 at Coastal181.com)

Monday - Feb 18
Bobby Santos III - wins 2nd heat - wins the feature
Cole Carter - 10th in the feature
Randy Cabral - 13th in the feature
John Dadalt Photos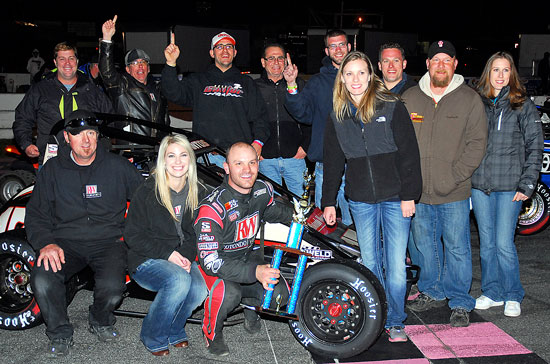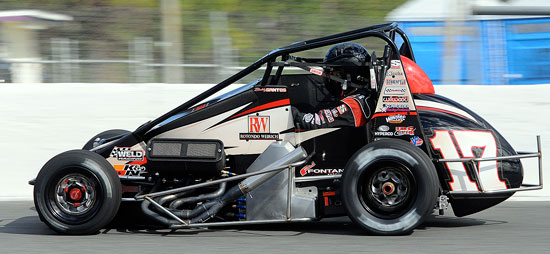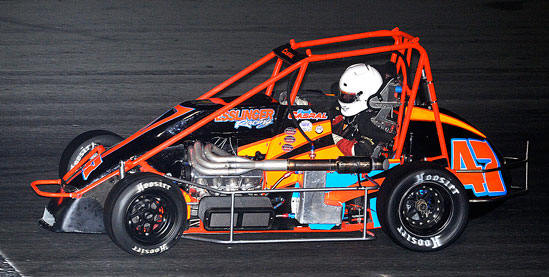 Where the Race is Really Won!
By Bill Van Slyke
When the checkered flag falls on a Northeastern Midget Association race, the average race fan packs up and heads home to reflect on the night's action. The NEMA race team packs up, heads to their "home-away-from-home and gets to work. The preparation for the next race starts immediately, It starts in the "race shop."

Recently, I grabbed the opportunity to visit the race shops of four very successful NEMA teams. The four teams have a combined total of over three dozen NEMA championships.

The Dumo's Desire #45 operation is located in Oxford, CT. The late Gene Angelillo, a 14-time owner champion, built the facility in 1988 and made sure he had plenty of room. The shop is not only big enough (2,700 square foot) to house two race cars but also the 30-foot camper/hauler. It also boasts a full machine shop in the back and upstairs storage which held a classic Badger midget racer for years. In the main shop area you'll find the usual tools and equipment: an engine hoist, work benches, tool boxes and assorted parts hanging on the walls. Three decades of awards, trophies, plaques and pictures hang on all walls. My tour guide, long time Angelillo family friend Joe Fiore, can recall every detail of all memorabilia. Joe points out no less than twelve race cars have passed through the shop over the years, even dirt sprinters. It is truly impressive.

My next Connecticut stop was at the modest shop of Bertrand Motorsports in Suffield, CT. It is literally a 26-year old, two-bay garage attached to the family house. Tim Bertrand has been the owner champion four of the past five seasons. This shop is small at 900 sq. ft. but every inch is used wisely. Three midget chassis sit in different stages of completion. On this day, space heaters kept the place warm while Tim's brother Todd, a driver, worked on sheet metal templates. Along one wall is a work bench with a lathe and a tire rack hangs in the back with an engine hoist in the corner. Father Gil has a story for each of the body panels that hang from the wall. Along with the panels are awards from past racing successes. Amazingly, this small shop has housed 10 quarter midgets and micro sprints as well as 8 full-size midgets.

It's off to the Bay State and the shops of Bobby Seymour Enterprises in Marlboro. The busiest shop on the tour, this facility not only houses four full-midgets (plus one bare frame that was once driven by Jeff Gordon), but also a machine shop, welding shop, engine shop and enough parts inventory to supply the entire club. According to veteran Bobby Seymour, the place's history goes back some 60 years starting with his legendary father Boston Louie Seymour. The Seymour family, including Bobby and Mike, has written a ton of NEMA history. On this particular day, Mike is working on a customer's engine while Bobby's son Matt was installing gauges in a racer. Cleanliness and organization is everywhere as two large roller tool boxes sit in the back, bins of nuts and bolts sit to one side with a milling machine and engine hoist on the other. Bobby estimates around 60 racecars have called his place home.

If Seymour's shop is the busiest, the most unique shop is the Stoehr family facility at the Motor Car International facility in Bridgewater MA. The Stoehr family has been racing for four generations, the latter two still active – brothers Russ, a six-time champion, and Greg and their children, Avery and Bethany respectively. Russ met me at the door, took me in the back where I saw no racecars. "Where are the cars?" I asked. He pointed straight up, literally to the rafters. Seeking no elevator or ram, I ask "How do the cars get up there?" He taps the back of a vintage fork lift as we walk by. After "taking the stairs" we enter the elevated race shop. Space (approximately 2,000 square feet) is tight. A frame sits on a jig, part of a collection that includes a vintage chassis, Avery Stoehr's Lite car, Greg's #26 and the newest addition to the fleet, Bethany's Beast chassis that sits front and center after receiving some graphics to accent new paint. Standing upright, leaning against the wall is Avery's top secret future ride. The family uses the "high rise"space during the off season. During racing season, the cars stay in the trailer and are brought into the dealership bays only when repair is needed. The shop is loaded with trophies.

So, when you see a NEMA race team pull out of the pits after a race you know their night has just begun as the preparation for the next week's race will start soon at the race shop, where the race is really won.
NEMA Sets 2013 Schedule
Brockton, MA – Established haunts make up the 2013 Northeastern Midget Association schedule including a return to Monandock Speedway after a two-year absence. As NEMA President Mike Scrivani puts the finishing touches on the final schedule, there are 15 races currently on the NEMA agenda while the NEMA Lites will make 17 stops in what will be the club's 61st consecutive season, making it New England's oldest sanctioning body.

Randy Cabral and owner Tim Bertrand will begin defense of their NEMA championships and the Lites will begin their sixth season at Waterford Speedbowl's Budweiser Blast Off on April 6-7.

Monadnock returns to the schedule hosting both NEMA and the Lites for the Iron Mike Scrivani Race on June 22. The club will honor the 30th anniversary of the passing of the legendary car owner on the speedy high banked quarter mile.

The full midgets and the Lites will share the billing eight times including Stafford Motor Speedway Carquest Super Saturday on June 29. It will be the Lites first time on the historic half mile. Both divisions will return to New York State's Oswego Speedway as well on Sept.14

Two special events – the Marvin Rifchin Trophy Race at Star Speedway on June 8 and the Shane Hammond Memorial at Waterford on July 27 will also include the Lites. Lee USA Speedway hosts both on July 12.

NEMA will also return to Seekonk's Open Wheel Wednesday (July 17) and Waterford's Wings & Wheels (August 10), two traditional stops.

The season ends in traditional style – Waterford's Finale, Lee's Oktoberfest and Thompson's World Series, the Lites part of the first two.

"We've run hundreds of races on these tracks," said NEMA Scrivani. "That coupled with a field of good drivers and great equipment is a recipe for a great season. Last year saw some terrific speeds. We'll be quicker this year."
PRINTABLE PDF OF SCHEDULES HERE

2013 NEMA Midgets Schedule
April 6-7 - Waterford Speedbowl - CT (Budweiser Blastoff Weekend)
June 2 - Seekonk Speedway - MA (Boston Louie Memorial Classic)
June 8 - Star Speedway - NH (Marvin Rifchin Trophy Race)
June 22 - Monadnock Speedway - NH (Iron Mike Scrivani Memorial)
June 29 - Stafford Motor Speedway - CT (10th Annual Carquest Super Saturday)
July 12 - Lee USA Speedway - NH
July 17 - Seekonk Speedway - MA (Open Wheel Wednesday)
July 27 - Waterford Speedbowl - CT (Shane Hammond Memorial)
August 3 - Airborne Speedway - NY
August 10 - Waterford Speedbowl - CT (Wings and Wheels/Angelillo Memorial)
August 17 - Riverside Speedway - NH
Sept. 14 - Oswego Speedway - NY (Fall Championship Weekend)
Oct. 5-6 - Waterford Speedbowl - CT (The Finale)
Oct. 12-13 - Lee USA Speedway - NH (Oktoberfest)
Oct. 19-20 - Thompson Speedway - CT (The World Series of Speedway Racing)
Schedules Are Subject to Change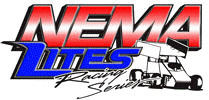 2013 NEMA LITES Schedule
April 6 - Waterford Speedbowl - CT (Budweiser Blastoff Weekend)
May 11 - Star Speedway - NH
May 31 - Lee USA Speedway - NH
June 2 - Seekonk Speedway - MA (Boston Louie Memorial Classic)
June 8 - Star Speedway - NH (Marvin Rifchin Trophy Race)
June 22 - Monadnock Speedway - NH (Iron Mike Scrivani Memorial)
June 29 - Stafford Motor Speedway - CT (10th Annual Carquest Super Saturday)
July 12 - Lee USA Speedway - NH
July 27 - Waterford Speedbowl - CT (Shane Hammond Memorial)
August 3 - Airborne Speedway - NY
Aug. 9 - Lee USA Speedway - NH (Ollie Silva Memorial ISMA Summer Classic)
August 17 - Riverside Speedway - NH
Aug. 24 - Star Speedway - NH
Sept. 7 - Star Speedway - NH (ISMA Star Classic)
Sept. 14 - Oswego Speedbowl - NY (Fall Championship Weekend)
Oct. 5 - Waterford Speedbowl - CT (The Finale)
Oct. 12-13 - Lee USA Speedway - NH (Oktoberfest)
Schedules Are Subject to Change
NEMA STATS -
with 2012 updates
by Pete Zanardi -
PDF HERE
.
NEMA TRACK HISTORIES
with 2012 updates


by Pete Zanardi

-
PDF HERE

'Open-Wheel FALL FINALS' Bolsters Oswego's Fall Championship
OSWEGO, NY (January 23, 2013) – Oswego Speedway announced Wednesday the addition of the 'Open-Wheel FALL FINALS' to the already highly anticipated Fall Championship Weekend set for Saturday, September 14.

The FINALS will bring the NEMA Midgets, NEMA Lites, and ATQMRA TQ Midgets together with Oswego's Novelis Supermodifieds and Pathfinder Bank SBS Series, as they will be competing in extra distance events during the final round of their 'Road to the Championship.'

All five divisions will compete during one night of open-wheel festivities for the same great price announced with the initial Speedway schedule, just $20 with kids 16 & under FREE.

"After last season's Fall Championship, it was clear that Oswego's fan base is hungry for more racing after Classic Weekend," said Oswego Speedway co-owner, John Torrese. "In taking notice of this we felt the time was right to turn the weekend into a celebration of our fans, racers, and open-wheel racing as a whole. We know times are tight, so we appreciate and thank everyone who makes it out to the Speedway every single weekend, or only once a year. We invite all of you out for the 'Open-Wheel FALL FINALS' to watch five incredible open-wheel divisions in one night, for only $20! Let's show everyone that paved, short-track, open-wheel racing is alive and well and right in our backyard."

NEMA made their long awaited return to Oswego Speedway in August of 2012 with Jim Miller taking the win in a green to checkered finish over a quality field of winged-Midget racers. Miller held off multi-time NEMA Midget champion Russ Stoehr and Oswego Supermodified pilot Jeff Abold for his first win since 2001.

The NEMA speedsters are certainly a sight to be seen on the fast 5/8 mile Oswego pavement, with several racers running in the low 17-second range and a few even breaking the 16-second barrier at over 130mph.

Joining the NEMA Midgets for the FINALS will be the NEMA Lites division, which made their first trip to Oswego last August with Ian Cummens making his way to victory lane. Cummens out-muscled Paul Bigelow and Avery Stoehr in a hotly contested battle, as he drove the Seymour Enterprises machine to the win.

Coming in along with NEMA's premier divisions to make up the full FINALS agenda will be the ATQMRA TQ Midgets. The three-quarter size racecars pack a full-size punch; featuring wheel to wheel action on Oswego's smaller inside oval.

New Jersey Supermodified ace Joey Payne, who ran to third in the final Novelis Supermodified standings at Oswego in 2012, swept the TQ Midget events at Oswego last season including a triumphant win in the Bud Light TQ Midget Classic during Budweiser International Classic Weekend.

All three of these open-wheel divisions will join Oswego's regular cast of gladiators as a part of the 'Open-Wheel FALL FINALS,' that at night's end will declare track champions in both the Novelis Supermodified and Pathfinder Bank SBS divisions.

Oswego Speedway has not declared a track champion after Budweiser International Classic Weekend since 2005. However, after bringing back Fall Championship Weekend as a non-point event in 2012, track officials deemed the time to be right to add another 'Road to the Championship' event after Classic due to the events subsequent success one year ago.

The time table for Fall Championship Weekend featuring the 'Open-Wheel FALL FINALS' is tentatively set-up as follows. Pit parking will begin at 10am on Saturday, September 14 with hot laps beginning at noon. The day's first green flag will fly at 3pm. A rain date of Sunday, September 15 is also set.

Oswego Speedway racing takes place most Saturday nights throughout the summer from May through September. To purchase season tickets for the 2013 racing season call the Speedway box office.

For more information visit online at www.oswegospeedway.com, LIKE on Facebook at www.facebook.com/OswegoSpeedway, or FOLLOW on Twitter @OswegoSpeedway.
Coby, Rocco Probable
2013 NEMA Competitors
Doug Coby, the National NASCAR Whelen Modified champion, and Tim Bertrand are talking about doing a handful of Northeastern Midget Association races for next year, including the opener. Coby spelled Todd Bertrand in the #39 at Lee's Ocktoberfest, finishing second in a heat before being involved in a first-lap feature crash. "I am looking forward to it," said Bertrand. "Doug was incredibly impressive in the car for his first ever run, and just an absolute pleasure to work with as a driver."

There are some other possible topics for conversation at the NEMA Banquet Saturday night (Nov. 17) at White's of Westport in Westport, MA.

Long-time Midget competitor Bobby Seymour delights in the probability of Keith Rocco and Coby running with NEMA next season. Rocco made four Lites starts, winning one at Waterford in a Manafort car. Returning to Waterford, he had a win taken from him but returned to run at Lee. "I want NEMA to be good and having these guys run with us is good for the club, for the fans, for the promoter," says Seymour who insists a number of drivers in other divisions continue to seek NEMA rides.

More testimony to the equity in NEMA: There were three first time winners for the past two years, Seth Carlson, Anthony Marvuglio and John Zych Jr. doing it this season. Mike Horn, Todd Bertrand and Anthony Nocella, first timers in 2011, scored their second career wins in 2012.

Russ Stoehr on passing Nokie Fornoro on NEMA's all-time win list: "It's unfair to list Nokie's accomplishments only by what he's done in this club. It's only a small part of what he's done in Midget racing around the country. Look at the numbers he's put up (100-plus wins). It's just amazing." The car Nokie drove to his last win will be the regular ride in 2013 for Russ' niece and Greg's daughter Bethany Stoehr. Stoehr's win at Waterford made it 19 straight seasons the Dumo's Desire #45 has visited victory lane.

The 2012 championships were the fourth in five years for Bertrand and Randy Cabral. "The first championship is always the best because you've never sure you're ever going to get one," says Cabral, who also puts special value on the 2011 crown "because it went right down to the wire." Winning in NEMA's 60th season does, however, reduce some of the sting he remembers finishing second, driving for his dad, in NEMA's 50th campaign. "I would have loved to win that one," he says.

Cabral admits he is motivated by goals. He can set his sights on Dave Humphrey's 36 NEMA wins with a car numbered 47. Cabral currently has 28. Actually seven different drivers have won in a #47 – Jeff Horn (16), Lou Fray (7), Al Pillion (2), Tim Bertrand (1) and George Tilton (1) joining Humphrey and Cabral. There are just four car owners: John McCarthy (47), Bertrand (29), Bay Hayes (14) and Tilton (1). Lou Cicconi won three times in a Bertrand 47b.

Zych, Cabral insists, deserves special mention. After four straight top fives including a win in the opener at Waterford, the Louisville, KY-based Customer Sales Executive (for the Hershey Corporation) ran into a series of postponement/business commitment problems. "Without them, he could have well been the champion," says Cabral. Zych wound up with six top fives in nine starts. He is also the first driver with a name starting with "Z" to win a NEMA list. The only letters not represented: I, Q, U, X.