Report of General Meeting and Elections held on Dec 21, 2003 at the Thompson Int'l Speedway Clubhouse HERE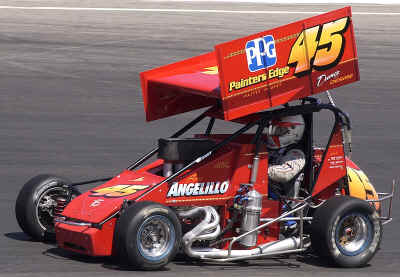 Payne & Angelillo
Grab NEMA Titles
Joey Payne Jr. did feel some pressure jumping into Gene Angelillo's Midget this spring. "He had won five straight with two different drivers," said Payne. "I didn't want it to end with me in the seat."

En route to winning the driving championship, Payne gave Angelillo his sixth straight and 13th overall Wirtgen America/
Northeastern Midget Association Owners championship. The team won four times and finished no worse than sixth (twice).

Plagued by rain, NEMA's 51st consecutive season included 14 races.

The Angelillo/Payne team posted a 1765-1480 edge on the second place combo of driver Drew Fornoro and the Campanale Brothers. The Cabrals, driver Randy and owner Glen were third with 1455 points.
Payne jumped at the opportunity to replace Russ Stoehr in the Angelillo #45. Stoehr won three straight (2000-02) after replacing Fornoro. Payne and Angelillo assumed the point leads five races in and never looked back. It was the first championship since grabbing a TQ prize a decade ago for the veteran open-cockpit ace.

There were eight winners. Bobby Santos, who finished fourth in points, had three wins including dominating performances at Waterford and Thompson. Fornoro won twice bringing his career total to 84. Winning one were Howie Bumpus, Randy Cabral, Adam Cantor, Pete Pernesiglio and Kyle Carpenter.

Twice Payne grabbed first money when the apparent winner was DQed (both times for being too wide) and he scored at Oswego when the leaders crashed on the final lap. "I don't necessarily see them as total gifts," he says, pointing out "I had to be there and most of the time we were coming from way back." He started 26th at Oswego.

Payne's win at Lee, however, was a masterpiece. Coming in front of Winston Cup stars Tony Stewart and Schrader, Payne saw it as the highlight of the season.

It marked the 21st year that Fornoro, who captured nine championships driving for Angelillo, won at least one feature. It was the fourth straight season Randy Cabral has won. It is the longest running streak but far from the record 16 Dave Humphrey ran off 20-plus years ago.

The versatile Santos continued to impress. DQed after dominating the opener in the Seymour #29 at Thompson's Icebreaker, he returned there to win on July 3. He also had two strong runs at the Speedbowl.

Erica Santos, who finished 14th in points, set some records as well. She became the highest finishing female in NEMA history with a third at Oxford.
7th Annual Racing Against Cancer ™
Banquet - Friday, December 12, 2003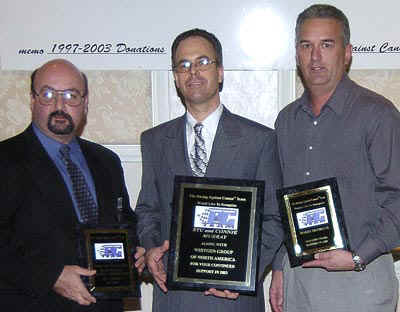 The Northeastern Midget Association, in an effort to support a cause dear to their 2003 series sponsor Wirtgen America, conducted a season-long fundraising effort that helped to raise over $5,000 for the Racing Against Cancer™ Program. Steve Grant represented NEMA at the 2003 R.A.C. Banquet where NEMA's contribution helped to make the 2003 season yet another record setting fundraising year for the Racing Against Cancer™ Program. The donation presented to R.A.C. by NEMA was a culmination of a number of fundraisers held during the season that received tremendous supported from the great teams of NEMA and the loyal fans of the club. The funds collected by the Racing Against Cancer ™ Program in 2003 went to the American Cancer Society, David's House, the Exeter (NH) Hospital Cancer Wing, the R.A.C. Youth Tobacco Awareness Program, and other cancer related programs.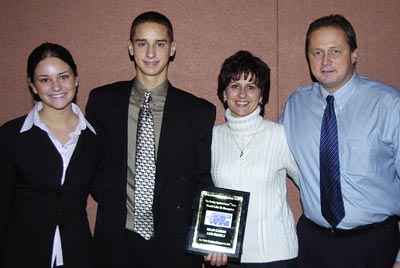 The Caisse Family, (l to r) Danielle, Sean, Gisele and Jim, were honored for another year of service and support to the Racing Against Cancer ™ Program. The Caisses began their support of the program back in 1996 when Sean raced go-karts at Sugar Hill Speedway and continued it as the talented young driver propelled his way up the ranks at Lee USA Speedway. This year Sean and the family continued their dedication to R.A.C. as one of the top teams in NEMA.

The Racing Against Cancer™ Program is a registered 501(c )(3) non-profit organization dedicated to raising funds for the fight against cancer. For more information on the Racing Against Cancer ™ Program please visit www.racingagainstcancer.com.
NEMA SET FOR TRADITIONAL
SEASON-ENDING 'TRIPLE'
The Northeastern Midget Association heads to Waterford Speedbowl's "Finale" Saturday and Sunday to begin what has become a traditional season-ending "triple" for the 52-year old sanctioning body. In the coming weeks, NEMA will also be part of Seekonk Speedway's D.Anthony Venditti Memorial and Thompson International Speedway's World Series.

The event scheduled at Adirondack Speedway last weekend was cancelled.

Waterford, Seekonk and Thompson have played major roles in NEMA history. The club's first-ever race was held at Seekonk on May 30, 1953, a day before the first visit to Waterford. Although NEMA didn't get to Thompson until 1960, it was actually formed there in the spring of '53.

"In a real sense, these tracks represent what the club is all about," says president Steve Grant. "It goes from the tight quarter mile at Seekonk to the long straightaways at Thompson. And, you've got history dripping out of all three of them."

It will be NEMA's third visit this year to Waterford and Thompson and the first since 2001 to Seekonk. Combined, the three tracks have hosted NEMA 176 times – 61 by Waterford, 58 by Thompson and 57 by Seekonk. There are not a lot secrets left at any of the three.

Despite those numbers, only seven drivers can claim NEMA-sanctioned wins at all three tracks. Randy Cabral, the defending Waterford "Finale" champion is the youngest of the group that includes the still active Drew and Nokie Fornoro and Mark Buonomo along with Russ Stoehr and Midget legends Dutch Schaefer and Johnny Mann. Car owners Gene Angelillo, and the Seymour and Scrivani family are on the list as well.

Current point leader Joey Payne Jr. and teenage sensation Bobby Santos III both hope to join the group with a DAV victory..

Sitting between Seekonk and Thompson, the three-eights mile Speedbowl gets many votes as the best Midget facility in the East. Drew Fornoro, who leads everybody with six Speedbowl wins, points out "everybody runs the best they run anywhere at Waterford."

Cabral, who was DQed (too wide) after finishing first in this year's Boston Louie, will be joined by a number of drivers who have won at Waterford including Rudy Boetticher and Pete Pernesiglio. Ben Seitz, who has two runner-up finishes this year, could well be the next Waterford winner. Drew Fornoro is the all-time winner there with six while Buonomo has four.

Cabral won the 2001 DAV but among active drivers, Nokie Fornoro is the master at Seekonk with five wins.

Earlier this year, Drew Fornoro scored his fifth Thompson win (after Santos was dqed), climbing to within one of the track's all-time NEMA winner Johnny Mann. Santos, who appears to be especially strong at Thompson, came back to win in July.

Although it is one of the most demanding tracks on the NEMA schedule, Thompson has been full of surprises including Kyle Carpenter's '02 World Series win and Ryan Dolan's triumph in the '02 Icebreaker. Payne gave Angelillo his 100th Midget win in the 2000 World Series.
NEMA WINNERS AT WATERFORD

6 - Drew Fornoro (1982-99)

5 - Bobby Seymour (1968-00)

4 - Dick Brown (1958-62), Mark Buonomo (1999-01)

3 - Joe Csiki (1962-63), Nokie Fornoro (1981-85)

2 - Bill Randall (1959-62), Butch Walsh (1980-81),
Mike Favulli (1991-92), Russ Stoehr (1999-000,
Bobby Santos (02-30)

1 - Bill Eldridge ('53), Al Pillion ('59), King Carpenter ('60),
John Dudevoir ('62), Dutch Schaefer ('66), Len Thrall ('70), George Monson ('73), Johnny Evans ('75), Armond Holley ('76), Johnny Coy ('77), Len Boyd ('78), Bobby White ('79),
Howard Bumpus ('88), Jeff Horn ('93), Mike Seymour ('97),
Ted Christopher ('98), Jim Miller ('99), Rudy Boetticher ('00),
Paul Lawless ('01), Barry Kittredge ('01), Pete Pernesiglio ('02), Tim Bertrand ('02), Randy Cabral ('02).
NEMA WINNERS AT SEEKONK

6 - Nokie Fornoro (1991-00)

5 - Russ Stoehr (1996-00)

3 - Dick Brown (1959-60), Jeff Horn (1992-01),
Greg Stoehr (1993-95)

2 - Bill Eldridge (1953-64), Al Pillion (1956-57),
Dave Humphrey (1965-86), Joe Csiki (1963-65),
Jerry Wall (1971-72), Johnny Mann (1974-76),
Drew Fornoro (1986-93), Mike Seymour (94-95),
Bobby Seymour (1999), Randy Cabral (2000-01).

1 - Fred Meeker ('53), Burke ('56), Barney Davis ('57),
Red Marlowe ('59), Tony Romit ('60), Hank Williams ('60),
King Carpenter ('62), Dutch Schaefer ('65), Russ Klar ('67),
Mel Kenyon ('85), Bob Hart ('71), Len Boyd ('79),
Lee Smith ('83), Lou Cicconi Jr.('96), Mark Buonomo ('97),
Keith Botelho ('98).
NEMA WINNERS AT THOMPSON

6 - Johnny Mann (1972-78)

5 - Drew Fornoro (1985-96)

4 - Johnny Coy Sr. (1969-81), Armond Holley (1976-77)

3 - Bob Cicconi (1978-87) Nokie Fornoro (1982-91),
Russ Stoehr (1994-02)

2 - Bobby White (1979-79), Russ Klar (1969-72), Dave Humphrey 1970-71), Hank Rogers Jr. (1980-80)

1 - Dutch Schaefer ('60), Hank Williams ('60),
George Monson ('68), Gene Bergin ('69), Ronnie Evans ('70), Jerry Wall ('71), Johnny Coy Jr. ('78), George Ferguson Jr. ('78), Lenny Boyd ('79), Leigh Earnshaw ('79), Billy Mann ('84),
Butch Walsh ('86), Mike Favulli ('89), Joey Coy ('92),
Greg Stoehr '93), Joey Payne Jr. ('00), Mark Buonomo ('01), Randy Cabral ('01), Kyle Carpenter ('02), Ryan Dolan ('02),
Bobby Santos ('03).

Midgets Get Top Spot
On 'Bowl Speed List
Speed comparisons at Waterford Speedbowl start with the Northeastern Midget Association. The ultra-quick winged racers return Saturday June 14th as the Speedbowl, idled by rain the past three weeks, gets back into action with the five-division Waste Management Night.

Knocking Johnny Brouwer Jr. off the top perch of the point standings is the objective in the 35-lap SK-Modified feature. In addition to the NEMA 25-lap feature, there will be a 30 lapper for the Late Models and 20 lappers for the Sportsman and the Mini Stocks. Qualifying begins at 5 PM.

"I guess it's fair to say we're all frustrated and ready to go," reports Brouwer. The Midgets come in off two washouts.

Midgets get around the Speedbowl in the low 13 seconds (averaging better than 100 mph) and hit straightaway speeds in excess of 107. The SK-Modifieds are about a second slower. Chris Pasteryak qualified for the Modified Nationals with a 14.360 seconds (94 mph-plus) run. The Midgets' corner speed is the big difference.

Teenage sensation Bobby Santos III will be looking for a second straight Speedbowl midget win having won at the Budweiser Modified Nationals earlier this year. The 17-year old will attempt to qualify for the SK feature as well. Santos' sister Erica will also be among the Midget contenders, both driving cars owned by Bobby and Mike Seymour.

"Everybody runs their best at the Speedbowl," explains nine-time champ Drew Fornoro, NEMA's all-time Waterford winner. "There are three or four lanes and the surface is excellent. It is a momentum track. You seem to get faster as the race goes on. Not for a second can you let up at the Speedbowl."

"Getting to the front" quickly is a basic strategy for all divisions at the Speedbowl. With the rain robbing contenders of "opportunities," contenders are especially fired up and that includes Jeff Pearl, Ron Yuhas Jr, Ed Reed Jr., Rob Janovic Jr. and Tom Fox, all intent at ending Dennis Gada's championship streak at four. "Sometimes it can be a matter of who gets there first," offers Janovic.

On the Speedbowl's speed hierarchy, the best Late Models are in the "high 15s, low 16s," averaging about 84 mph. Allan Coates, after a third straight championship, is the point leader but Corey Hutchings, Diego Monahan, Russ Lajoie, Wayne Coury Jr. and Mark St. Hiliare are in the hunt.

Point battles rage in the Sportsman and Mini Stock ranks as swell. In the Sportsman division J.R. Mancini leads his Guilford neighbor by a scant two points with veteran Ed Gertch and youngster Keith Rocco tied for third, 20 off the pace. In the Minis, Phil Evans has a six point edge on Danny Field with Jeff Miller 14 back in third.

According to Gertsch, the mid 17 seconds (in the 77-78 mph range) is competitive time for the Sportsman while the Minis are "in the high 17s" according to Dan Darnstaedt. Gertsch and Darnstaedt are the top winners among active drivers in their respective divisions. The lighter Minis are faster through the turns.

Cantor-Fornoro Example Of
New Mix In NEMA
Adam Cantor, part of the Northeastern Midget Association's heralded Rookie Class of 2001, admits he was beginning to wonder. The Long Island teenager came to NEMA with an impressive Go Kart resume

We were successful and we started taking wins for granted," he explains. "We never thought it would end. Last year, we got to a point where we wondered if we were ever going to win again. This is very tough company." His worries are over.

Not only did Cantor come out of a very busy weekend with a victory (at Star Speedway), he also has the point
lead. Cantor, who completed the weekend with a seventh at Waterford, takes a slim 458-452 edge over Drew Fornoro into NEMA's Saturday night, May 1 appearance at Adirondack Speedway.

Fornoro was second at Star. In the season opener at Thompson, Cantor finished second to Fornoro.

Following the win at Star, the Cantors and the Campanale crew, including, driver Fornoro, wound up in the same restaurant. The Cantors sent over a round of drinks. "It was the student honoring the teacher," explains Cantor who was ecstatic about Fornoro being second in his first win. "I think I have learned the most from Drew," he explains. "You learn so much by just watching him."

While Cantor is not the first member of the class of '01 to win (Ryan Dolan, Tim Bertrand and Kyle Carpenter did it before him), he is the first to be a point leader this deep into the season. There is an almost 50/50 mix between veterans and youngsters atop the point standings. "I think we have proven NEMA made the eight decision [allowing 16 year olds to drive] in 2001," says Cantor.

Despite a DQ at Thompson, a fourth and a win has 17-year old Bobby Santos III riding fifth in points behind Randy Cabral (who insists he not a championship contender) and veteran Joey Payne Jr. (who insists that he is). The busy Santos doesn't " talk championship" but does declare the Seymour-owned Midget is "the first priority." It appears to be the car to beat.

Fornoro, NEMA's all-time winner, also wants it. The Campanale's are carrying "91" this year, honoring their father Marco who had the number back in the 1960s. "My rational is nine championships and one more," says Fornoro. "Do I dwell on it? No, I want to win races. But if it comes, we'll take it."

Fornoro, who won the first of 83 NEMA features in 1982 and first of nine championships in '83, agrees youth has changed the face of NEMA. "The reason is equipment," he insists. "They've all come with great equipment and that's good. We're not lapping guys every four laps."

A driver had to be 21 when Fornoro began racing in 1972 (in a stock car at Grandview). "Back then, a rookie ran what he could get. A.J. Foyt couldn't have won in some of the first cars I drove."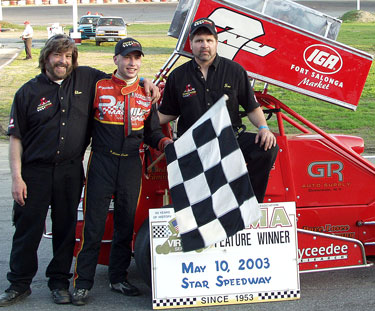 Star Winner Adam Cantor and Crew
Photo by Kim DeMonte

Speedbowl Most Competitive Track
on NEMA Schedule
There have been 20 Northeastern Midget Association races at Waterford Speedbowl over the last five years. Over that same span, there have been 13 winners making the Speedbowl one of the most competitive spots on the NEMA schedule.

NEMA returns to the Speedbowl for this weekend's Budweiser Modified Nationals, a 25-lap feature on the Sunday schedule. There have been 10 winners in the last 13 events.

Mark Buonomo has had the hottest hand of late, winning three of the last 12 races. "We just go well there," he offers. "There is plenty of room. It makes it a fun place to race."

"It is the equalizer," says five-time champion Russ Stoehr, "so you have to drive hard every single second. Whether you are a really fast guy or an average fast guy, it seems you are fastest at Waterford. So, if a guy gets away from you, he's gone. You can't give an inch at Waterford."

"We've been racing there a long time," says NEMA's all-time winner (6) and nine-time champion Drew Fornoro, "so there are not a lot of secrets left. It is a momentum track. It is a fast place so you need a fast race car." Fornoro tops the NEMA Waterford win list with six.

Speeds in the very low 13s and straightaway speeds in the 105 range are what it takes to win at Waterford. According to five-time Speedbowl winner Bobby Seymour, the track's "geometry and surface" leads to two and sometime three racing lines.

"There are definitely two ways around," adds Seymour, a five-time Speedbowl winner. "A lot of guys use the middle groove. That gets you in a little harder. You let the car wash up the track and then turn it. I like to use the high groove getting in. You may have to roll out a little earlier but it seems you can pick it back up a little quicker."

Seymour was part of three outstanding Speedbowl Midget battles: he chased Ted Christopher home at the 1998 Mod Nats and in 2000 had legendary duels with Russ Stoehr and Joey Payne Jr., losing the first and winning the second.

Payne set fast time for last year's Boston Louie Memorial with a 13.380 seconds run. Now in the Angelillo #45, he'll be seeking his first Speedbowl win. According to Payne "the wide turns allow you to keep the momentum up. You're on the throttle a lot. You may lift for a split second in the turns. You have to be careful coming off four because the wall does jump out at you. It almost got me last year in time trials."

There have been three first-time winners in NEMA's five Mod Nats appearances- Christopher, Paul Lawless (2001) and Rudy Boetticher Jr. (2000). The exceptions are Stoehr (1999) and Pete Pernesiglio (2002). They were, however, the first Waterford wins for Stoehr and Pernesiglio.

Erica Santos's NEMA Debut
Set For 'Bowl's Bud Nats
Practice times in the low 13s has Erica Santos excited about her Northeastern Midget Association debut May 10-11 at Waterford Speedbowl's Budweiser Modified Nationals. The 20-year old sister of teenage sensation Bobby Santos III will be in the Mike Seymour owned No. 8 Autocraft-powered Hawk.

NEMA Track History - Speedbowl

A 25-lap NEMA feature on Sunday is part of a very busy Modified Nationals agenda. Erica, a Franklin, MA resident, will be part of an expected large number of NEMA entries.

"This is it, it starts right here," said Seymour about Erica's awaited debut. The car carries Wirtgen and Autocraft sponsorship.

"It's a matter of getting comfortable," said Santos, currently finishing up her sophomore year at the University of Massachusetts. The nursing major called the Speedbowl a "fun track" and is "definitely looking forward to being in the same race with my brother again."

Bobby, the winner of last summer's Boston Louie Memorial, is among the favorites. He also drives a Wirtgen sponsored, Seymour-owned car.

Erica comes to NEMA with Supermodified experience. "The cars are a little different but it is the same feeling." She has run some laps in Bobby's SK and "likes the open-cockpit cars a lot better."

The Speedbowl is one of the most competitive stops on the NEMA schedule. As many as 18 current NEMA competitors have tasted victory at the third-mile.

Fornoro's Star Strategy:
'Leave The Car Alone'
Drew Fornoro's 23rd Northeastern Midget Association victory at Star Speedway came last summer. All admit he took rookie Ben Seitz to school which is fair because, despite running there more than any other place, the quarter mile remains a challenge.

"I've been lucky at Star," says the nine-time champion. "I always look forward to going there. It's my kind of place." He has been winning there since 1982.

NEMA Track History - Star

NEMA returns to Star on Saturday night, May 10 kicking off a hectic weekend that also includes a Sunday (May 11) appearance at Waterford Speedbowl's rescheduled Budweiser Modified Nationals. There have been 130 NEMA features at Star going back to 1968.

"We've been there so much you'd think we all have it figured out," said Russ Stoehr, who won his 10th Star feature last summer. "Not so. The place is different every time we go there."
"Probably the toughest track we run," agrees Bobby Seymour, a six-time winner at Epping. There are two "factors" at Star – one and two is different from three and four and the surface is never the same.

"I'd say the biggest thing at Star is knowing that you have to leave the car alone," offers Fornoro. "You can't get both ends right, so that's a big compromise. You go out for warm-ups during the day and the track is one way. You got out in the heats and it's something else and by feature time it's different again. You are running on three different tracks."

The answer, Fornoro believes, is "you go there with what you know is going to work and leave it alone. You don't chase it."

Still, he adds, "you need a good race car. You can't go there with a half-broken car and expect to out drive everybody. There are just too many good cars and good drivers in the club now."

Joey Payne Jr., has won in both Supers and Midgets at Star. "You have to be real smooth and the car wants to be right on the money," says Payne who "likes to sweep the corners. I go in really high and sort of use that as momentum to make passes coming out." Payne had won four NEMA features at Star.

While all agree adaptability is a key, it's difficult to find total agreement on how to get around the place. "I haven't found any particular groove that works all the time," says Stoehr. "You just have to be able to adjust to the situation."

Seymour "likes to turn the car in the middle of the turn and come off on the bottom. I want to make the straightaways as long as possible instead of driving it like the traditional short oval."

In addition to Stoehr and Fornoro, Howard Bumpus won last summer at Star, his third. Other active drivers with Star wins include Nokie Fornoro (9), Keith Botelho, Pete Pernesiglio and Randy Cabral. Seitz' second was the best of a host of great efforts by the club's heralded young drivers.

NEMA Had Young Guns Years Before NASCAR
By Derek Pernesiglio
The loudest buzz around the NASCAR hive has been coming from the "young guns" of the sport. Since 1999 the biggest movement seen in NASCAR is young rookies running exceptionally well with the best in the Winston Cup business. Since the success of Tony Stewart and Ryan Newman the trend has now shifted to looking to sprint and midget drivers taking their talent to the upper echelons of major league auto racing and winning early on in their careers. The same goes for the best kept secret in racing… The Wirtgen America NEMA Midget series. For years young guns of the most competitive midget club in the country have been showing the prowess of veterans with their flat-out, no fear driving style that has come to be known as the "NEMA youth movement"…but it didn't begin there. FULL STORY

Young NEMA Drivers Prove Apt At Speedy Thompson
The Northeastern Midget Association's heralded youth movement shows up especially well at Thompson International Speedway. Four of the last five NEMA winners at the historic five-eights-mile went to NEMA's new brigade.

NEMA opens its 51st year this weekend at the rescheduled Thompson Speedway Icebreaker. It will be NEMA's 57th Thompson feature going back to 1960.

Only Russ Stoehr's win in last summer's Mini Indy interrupts a run set in motion with Randy Cabral's victory at the 2001 Icebreaker. NEMA's image began to change with the emergence of Cabral and Mark Buonomo, the latter winning the '01 World Series. Two members of the turnaround Rookie Class of '01, Ryan Dolan and Kyle Carpenter, won on either side of Stoehr last year.

"The place scared me the first couple of times and I still have a tremendous amount of respect for it," says Cabral. "You'd have to be crazy not to."

Surprisingly, Thompson was for many years considered the ultimate "separate the men from the boys" place. Being competitive at Thompson means laps in the low to mid 18 seconds with straightaway speeds in excess of 125 mph.

"One thing hasn't changed," says nine-time NEMA champ Drew Fornoro, "you've got to have good equipment and you have to use it all at Thompson. There's no secret about that. The kids don't have a lot of fear and they have great cars."

Fornoro's four Thompson wins is the most among active drivers. It is one better than brother Nokie and Stoehr. "You've got to be very smooth at Thompson. It will bite you," understates Joey Payne Jr., the 2000 World Series winner.

According to veteran Bobby Seymour, Thompson may be the only NEMA stop where "shutdown points" are necessary. A driver picks objects (gates, lights, etc) where he "shuts down and then picks it up again as quickly as possible." A driver, continues Seymour, "often doesn't know how fast he's going at Thompson."

While the long straightaways dominate, it is the turns that make the difference. "You really have to pay attention how you come off four because you are really close to the front stretch wall," offers Stoehr. "If you are running around somebody through there you've got to make sure you can really pull it down. If you don't exit four right, you'll get the frontstretch wall."

"You have to watch that you don't run out of track," clarifies Seymour. "If you follow the track in the high groove you wind up in the wall so you want to turn the car in the middle [of the turn] and drive off as straight as possible."

Although Stoehr believes "since repaving, things are a lot nicer in two," there is still a bump there. "If you are not 100 percent on the money through there, you hold on for dear life," says Payne.

Again Seymour agrees: "You want to be as straight as possible out of two. If you hit it on an angle, it upsets the car."

Thompson's Midget history is unparalleled in the northeast, going back to 1940.

NEMA Young Drivers Good
'For Everybody' Says Payne
There have been lots of changes in the Northeastern Midget Association since Joey Payne Jr. gave car owner Gene Angelillo his 100th in the 2000 World Series at Thompson. Payne, in the Angelillo seat fulltime in 2003, finds himself, at 37, an elder statesman. Full Story

NEMA Youngster Sean Cassie
The Pelham, NH-based Cassie family, continues a trend in NEMA – talented youth in outstanding equipment – set in motion three seasons ago when the club lowered the minimum driving age to 16. NEMA had three teenage winners – Ryan Dolan, Bobby Santos III and Kyle Carpenter – last season. Full Story

Dolan has Shot at Impressive Club
Teenager Ryan Dolan heads into Thompson Speedway's Icebreaker April 5-6 with a chance to join some very impressive company. Dolan aims to become the sixth driver to capture back-to-back Northeastern Association season-openers. The company includes five champions and two of Midget racing's all-time greats. Full Story

Dominant NEMA Victory
Key in Carpenter's Plans
Kyle Carpenter will be the first Northeastern Midget Association driver afforded the opportunity to take the "Synergyn Challenge." NEMA will begin its 19-race 2003 season April 5-6 at Thompson Speedway's Icebreaker. Full Story

Angelillo Picks Joe Payne
To Continue NEMA Streak
Car owner Gene Angelillo has surrounded himself with "newness." He has a new driver (Joey Payne Jr.), a new sponsor (Painters Edge of Waterbury, CT) and a new chassis (Beast). He seeks, however, to extend an "established" result. Full Story

New Car, New Challenge
For NEMA's Cabrals
The Cabrals have been runners-up in the Northeastern Midget Associations point standings twice in the past three years. Owner Glen and driver Randy, one of NEMA's many father-son operations, have done it in a 25-year old chassis. Full Story

Tim Bertrand Builds for a
Promising Future with NEMA
Suffield, CT: Over the last few years a trend has emerged in motorsports. Many call it the changing of the guard. Young drivers have burst onto the scene to give the wily veterans a run for their money. Nowhere has this phenomenon been more evident than in the Northeastern Midget Association, where a fiery young contingent of drivers, who are a force to be reckoned with every week, have helped bring resurgence to the popularity of Midget racing. Full Story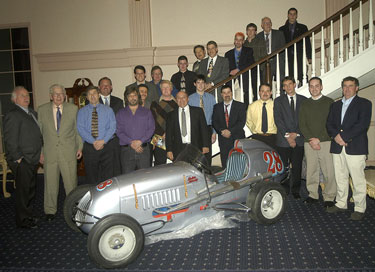 Stoehr Celebrates Fifth NEMA Crown

Photo Page HERE
Pointing out "this is undoubtedly the last time I'll stand before you like this," 2002 champion Russ Stoehr told the 2002 Northeastern Midget Association Award Banquet gathering he would not be a contender in 2003.

The Stoehr-Gene Angelillo team, which produced three championships for both in as may years of operation, is now history. It was the fifth overall driving crown for Stoehr and the 12th owner championship for Angelillo including the last five.

Citing family and business, Stoehr said, "I think it's time for me to stay a little closer to home." He added "that stands in contrast with a team that has won perfect attendance awards the past dozen years.

While Angelillo will definitely be a contender in 2003 (a driver has yet to be announced) Stoehr, who sits third on the all-time win list, will "pick and choose" his races.

It was part of a busy night as NEMA celebrated its 50th year by honoring the top 15 owners and drivers and handed out the usual plethora of awards. New president Steve Grant promised some new things for the club including a major sponsorship from Wirtgen America. NEMA opens an 18-race schedule at Thompson Speedway's Icebreaker.

Car owner "Mazda" Pete Pernesiglio received the prestigious Johnny Thomson Memorial Award, presented by Bill Estabrook. Pernesiglio has been a NEMA supporter for over 20 years.

It was a night filled with emotion that was topped off by Stoehr presenting the championship trophy to his father, long-time NEMA member Paul Stoehr.

Jerry Wall, owner-driver of the revolutionary "Yellowjacket" back in the early 1970s, and Rollie Lindblad, the original designer of the "Badger," joined the Dick Gallagher Memorial Hall of Fame.

Tim Heath is the 2002 Ed Clotheir Rookie of the Year while Ben Seitz and Bobby Santos, both rookies as well, shared the Pat Thibodeau Youth and Determination Award. The total rookie class, which included Bob Bradbury and Tommy Spada, was recognized by Wirtgen, Hampton Inn, Marvin Rifchin and Bobby Seymour.

Star Speedway owner/promoter Bob Webber Sr. is the 2002 Wen Kelley Memorial Award winner. Star will host NEMA five times in 2003.

Kyle Carpenter, part of the 2002 Rookie class, was named the Joe Csiki Most Improved driver. Carpenter and his father/owner Brad wound up fifth in the respective points standings.

The Ralph Miller Memorial for Outstanding and Continuing Perseverance went to Adam Cantor Racing.

Gino Spada, who came to NEMA with son Tommy, the driver, and daughter Cassandra, the crew chief, was the Associate Member Never Say Die Award winner.

The Ray Roberts Memorial Award went to The Campanale brothers, owners of the No. 54; Glen and Randy Cabral took the Paul Keller Memorial Award; Ed Breault recaptured the Ron Evans/Len Thrall top owner/driver prize, and Bruce Beane was tapped the Mechanic of the Year. Beane, an officer and inspector, was recognized for his willingness to share information.

Dave Morton and Chris Alexander were popular choices for Lifetime Membership.

In addition to Angelillo owners Don Berrio, Gill Bertrand, Breault, Cabral, the Campanale Brothers, Carpenter, Jay Dolan, George Heath, Mike Luggelle, Jim O'Brien, Spada and Peter Valeri were recognized for "perfect attendance."

Appreciation Awards went to Katie Campanale, Nayda Orsini and Kim Paltrineri

Back to Main News Page