Join NEMA Text Alerts on RainedOut
Rainout notices sent to your
email or cell phone.

---




















www.NemaHistory.com
Carl Kibbe Hall of Fame Page
Wen Kelley Hall of Fame Page
Butch Walsh Hall of Fame Page
John McCarthy Hall of Fame Page


.

NEMA 2016 Membership Form HERE

LITES 2016 Membership Form HERE

Driver/Team Info Form HERE

---

---

Nick, crew of #47 - $165.00

---

2016 Race Results & Photos

Results for 2002 to 2015 HERE

---



TUNE IN ALERT, 2015 Boston Louie Seymour Memorial:


Take a ride with Northeastern Midget Association NEMA Lite driver Dan Cugini during the the A-Main. Remember to tune in tomorrow night as

Suzuki

presents SPEED SPORT showcases the 19th annual Boston Louie Seymour Memorial from the "Cement Palace" the historical Seekonk Speedway in Seekonk Massachusetts.


FACEBOOK CLIP HERE

---

From NASCAR to Formula 1, World of Outlaws to

Midgets

, MotoGP to Supercross, SPEED SPORT is the only publication that covers it ALL! With one of the best editorial teams in the business, and carrying on a legacy over 75 years in the making, SPEED SPORT is the ONE magazine any serious race fan needs to have.


SUBSCRIBE HERE

---

NEMA Merchandise:
Cyndy Scrivani
508-584-7748
cyndyann10361@yahoo.com

---

NEMA TRACK
HISTORIES


with 2013 updates


PDF HERE
NEMA
STATS


with 2013 updates


PDF HERE
NEMA CHAMPIONS
PDF HERE
LITES
STATS


with 2013 updates


PDF HERE
NEMA DRIVER WINS AT TRACKS
PDF HERE
Members of the NEMA
Dick Gallagher Memorial
Hall of Fame
PDF HERE

---

Custom Apparel, Screen Printing, Embroidery, & Promotional Items




-




Custom, Racing Crew Pit Shirts, Jackets and Caps




-


Custom Racing T Shirts
Low Minimums


-


(24/7 Live Answered)
508-485-5511
888-485-5510
www.stellarapparel.com

---

VINTAGE MIDGET RACING
www.vintagemidgetracing.com
In 2006, Dave Shore from Southbury, CT. started VMR to help keep vintage midget racing alive. Anyone who has a caged vintage car, and would like to run with us, please contact:
Dave Shore at 203-509-2835.


2016 VMR Dates at the VMR website.

---



FULL IMPORT & DOMESTIC
REPAIRS AND SERVICE
Jeff Horn


182 Pond St.


Ashland, MA 01721
508-881-4540


Hitch & Trailer Specialists


www.a-1automotiveservice.com


---




SALES • SERVICE




PERFORMANCE and SUSPENSION UPGRADES





Specializing in Finer Imports


AUDI • BMW • JAGUAR • MERCEDES
LANDROVERS • PORSCHE • SAAB
VOLVO • VW



(508) 697-5921


1460 Pleasant St. (Route 104)
Bridgewater, MA 02234
www.motorcarsint.com

---

NEMA Releases Vintage
Slide Show on DVD
The Northeastern Midget Association announces the release of NEMA Vintage photo's on DVD. The presentation is from the collection of one of the most respected journalist, historians and statisticians in New England, Pete Zanardi.

The range of drivers, owners, tracks and race cars depicted in the collection are the who's who in Northeastern midget racing. The forefathers that laid the foundation for present day racing are illustrated in color and black and white photo's complete with captions. Bill Randall, Ray Roberts, Ronnie Evans and Jerry Russo just to name a few drivers from NEMA's infancy.

The early cage days drivers are represented by Bill Roth, Lee Smith, Hank Stevens and Len Thrall for example. And to finish out the last couple of decades are the Fornoros, Stoehrs, Scrivanis, Seymours and many many more. The cars are as big as the drivers on this DVD that range from the Badgers to the uprights, cage and cageless, even some Offy's.

The DVD is 332 pictures strong and is a must for any early day racing enthusiast.

The cost is $20 each with all proceeds going directly to NEMA to help carry on the rich traditions these early pioneers built.

Payment can be made through PayPal HERE
to rewindles@sbcglobal.net or by sending a check or money order (payable to NEMA) as well as your name and address to Bill Van Slyke,
23 Horsestable Cir., Shelton, Ct. 06484.

---

---

---




NEMA LITES T-Shirts are available for purchase. The LITES shirts are available in 3 colors - white, gray and royal blue. They come with either the NEMA LITES logo only on the front or with 2 logos - NEMA LITES on the front and regular NEMA logo on the back. The white shirts are $10. The gray or blue are $12. The new LITES t-shirts can be at The Race Depot/ Seymour Enterprises in Marlboro Mass or are available from Cyndy Scrivani.

---

2014
2013
2012
2011
2010
2009
2008

2007
2006
2005
2004
2003
2002


2011
2010
2009

---

---

---


safetysolutions.com

NEMA Discount Available HERE


"Tires Designed for Champions"
hoosiertire.com


Brockton, MA - 508-580-5844
Supplier of Mazda Midget engines &
Independently Making Brand X Better

RI's most respected name in Collision Repairs
crowncollision.com

RacingAgainstCancer.com

www.rwjm.com

---

---


Gene Angelillo Memorial Page




NEMA and Hoosier Tire




Ink Exclusive 3 Year Deal

Brockton, MA - NEMA President, Mike Scrivani, announced today that the Northeastern Midget Association and Hoosier Tire East have inked an exclusive, three year deal. Under the deal, NEMA will have exclusive rights in the Northeast to the current plated compounds (RR 7, 7.3, RF 5, LR, 5 and LF, 4, 5) and will be the only series in the Northeast running these particular tires.





Hoosier will also continue to be a major contributor to the NEMA point fund, and in addition have offered fixed pricing for the racer over the next three years.




"NEMA has enjoyed a long history with Hoosier. This sport is about supporting those who take care of you, and supporting each other. We feel that we have the best product in Hoosier and look forward to a long relationship with them," said NEMA President, Mike Scrivani. "We have an exciting schedule brewing for 2015 and expect great car counts," said Scrivani.





As part of the arrangement, Hoosier tire has selected long time NEMA supporter Seymour Enterprises to be the exclusive dealer and service provider to the Northeastern Midget Association.

| | |
| --- | --- |
| | |
| | |
| | |











-





























































































































































































































































































































































































































































































































































































































































































































































































































































































































































































































































































































































































































































































































































































































































































































































































































CHECK THE
MEMBERS ALERTS PAGE
FOR THE LATEST HANDICAPS, COMPETITION ADDENDA, RACE PROCEDURES, & NEMA FORMS

Rulebook Revision 7-15-16 -
PDF HERE

www.speedway51int.com
SATURDAY, JULY 30th


presented by DK & Sons
NEMA MIDGETS & NEMA LITES


ON TRACK "MEET & GREET"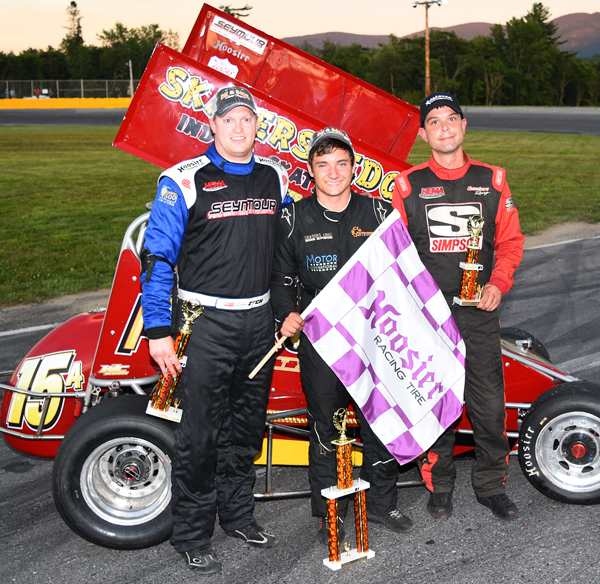 ZYCH - STOEHR - CHAMBERS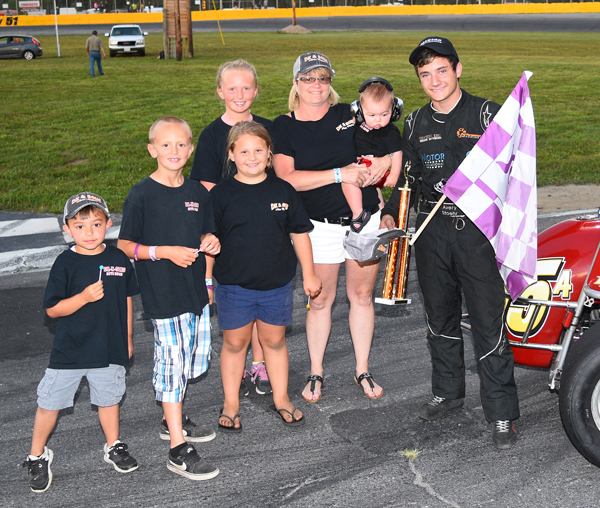 NEMA MIDGETS -

SPEEDWAY 51 - 7/30/16
Pos.
#
Driver
Hometown
Owner
1
15a
Avery Stoehr
Lakeville, MA
Russ Stoehr
2
9
John Zych Jr.
Mendon, MA
John Zych Sr.
3
21
Jim Chambers
Atkinson, NH
Mike Chambers
4
47
Randy Cabral
Plymouth, MA
Tim Bertrand
5
71
Seth Carlson
Brimfield, CT
Gene Feigel
6
5b
Bethany
Stoehr
Bridgewater, MA
Greg
Stoehr
7
30
Paul Scally
Raynham, MA
Paul Scally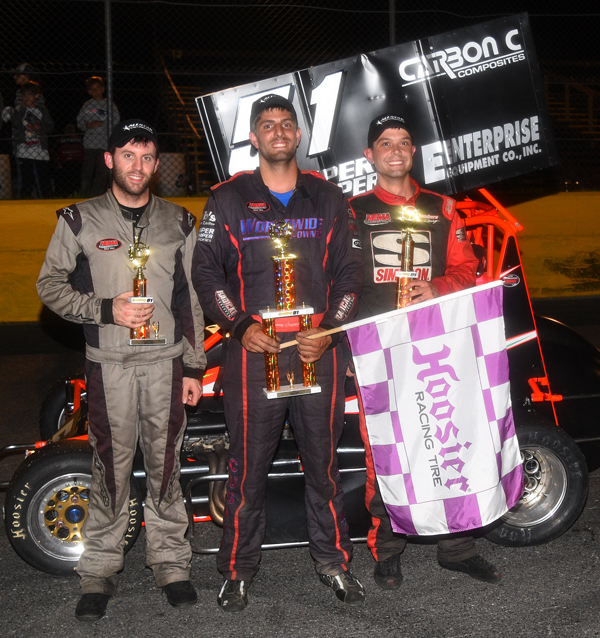 STERGIOS - CUGINI - CHAMBERS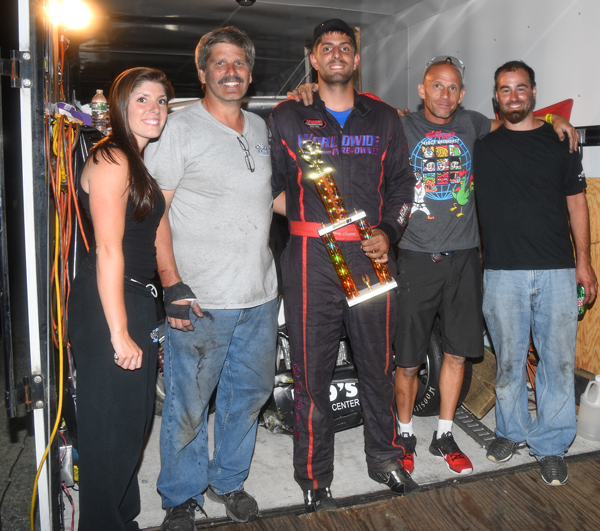 NEMA LITES - SPEEDWAY 51 - 7/30/16
Pos.
#
Driver
Hometown
Owner
1
51
Danny Cugini
Marshfield, MA
D. Cugini
2
12
Jim Chambers
Atkinson, NH
Jim Chambers
3
57
PJ Stergios
Candia, NH
Bill Stergios
4
9
Ben Mikitarian
Northborough, MA
John Mikitarian
5
11
Jake Stergios
Candia, NH
Bill Stergios
6
30
Paul Scally
Raynham, MA
Paul Scally
7
17
Alan Chambers
Atkinson, NH
Mike Chambers
8
2
Jim Cataldo
Sterling, MA
Jim Cataldo
9
38
Ryan Locke
Raymond, NH
Ken Locke
10
21
Anthony Payne
Fairlawn, NJ
Mike Scrivani
11
16
Dennis O'Brien
Deerfield, NH
Chris O'Brien
12
DNF
35
Randy Cabral
Plymouth, MA
Glen Cabral
13
DNF
41
Megan
CuginI
Marshfield, MA
Glenn Cugini




NEMA RETURNS TO GROVETON, NH
ON SATURDAY, JULY 30th
Groveton, NH - This Saturday, July 30, the mighty midgets of the Northeastern Midget Association will make their most northern trek of the season to "Speedway 51" located in the upstate NH community of Groveton.

The seventh race of the NEMA season with feature the light weight, heavy horsepower "full midgets" as well as their sister machines, the NEMA Lites. Each division will boast qualifying heats and 25 lap features on the lighting fast oval.

It was three years ago when NEMA last visited the facility with 2015 NEMA champion, John Zych, Jr., taking the win and P.J. Stergios claiming the Lites feature.

The story of the day back in 2013 was the speed. "Scary Fast" were the words from Zych after his win and there is no indication that the speeds will be anything but fast again this time around. With the teams now having a base line set-up to work from, chassis tuning will be more precise and speed records are sure to fall.

Along with the fast action on the track, there will also be some slower entertainment as well. NEMA has teamed up with track management and the other great divisions on the racing card to conduct an on-track Meet & Greet. Drivers and cars will be available for pictures, autographs and handshakes. The younger fan are more than welcome to climb aboard the Midget race cars and sit exactly where the driver sits when they compete.

Grandstand gates open at 4:00 PM, and the racing action starts at 5:30. Track address: 78 Craggy Rd., Groveton, NH.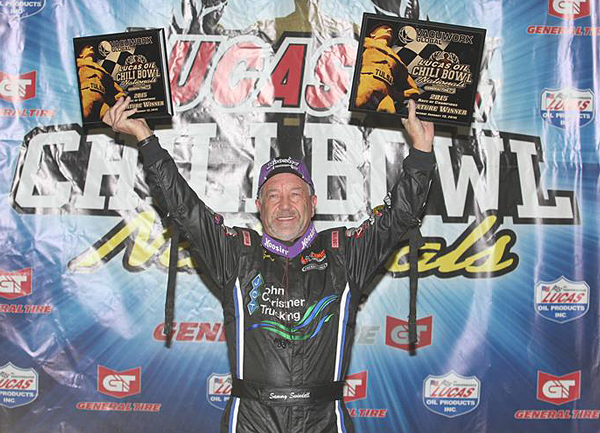 Sammy Swindell To Make First NEMA Start
At Star Speedway On August 20th
One of the most recognized names in American motorsports, Sammy Swindell will make his first ever Northeastern Midget Association start for Tim Bertrand/Bertrand Motorsports on August 20th at Bob Webber's Star Speedway. Swindell is a three-time World of Outlaws Champion & Five time Chili Bowl champion.

"I'm incredibly excited to be able to put together a deal like this with Sammy," said team owner, Tim Bertrand. "We hooked up to help his family out with an engine for last year's Chili Bowl, and have gotten to know each other through that process. I'm confident if we can get him comfortable in the car prior to the event, that he'll be a contender," said Bertrand.

Swindell will drive the #74 car that was driven to victory on Speed Sport TV at this year's Boston Louie Memorial by 3 time NASCAR Whelen Modified Tour Champion, Doug Coby.
Hot off of two National Sprint League wins at the famed Knoxville Speedway in July, and traveling to the local area for the All Star Sprint Series race at Lebanon Valley on August 21st, the Germantown, Tennesee based driver is ready for NEMA action when he comes to town.

"I'm excited to come out and try a pavement winged midget with NEMA. Once I get acclimated with the car, I'm sure we will be good," said Swindell. "It should be a great evening for the fans and the Club. I'm looking forward to it," he said.

Swindell grew up watching his father behind the wheel at many of their local Memphis, Tennessee dirt tracks. In 1971, at the age of fifteen, Sammy took to the dirt at Riverside Speedway in West Memphis, Arkansas. In his rookie season, the oldest of two racing Swindell brothers won eleven feature events. Since then, Swindell has taken down 294 World of Outlaws A main victories, second on the all time win list.
His background is engineering and is mostly self-taught.

Although he spent two years in college studying physics and engineering, his race winnings were what paid the bills, but to be successful in racing took a lot of preparation time. "I found myself in a "catch 22″ situation. I didn't have the money to go to college without racing and racing took up too much time to go to college. I had some successes in racing, so I decided to stay focused in racing and learn along the way. I don't ever regret making that choice though," he said.

NEMA will also be putting on a special match race, in which Swindell will participate that evening, with some famed open wheel Northeast names to be named shortly.

NEMA MIDGETS & NEMA LITES
SATURDAY, JULY 9th


RAINED OUT

Marvin




Rifchin




Trophy




Race

Saturday, July 2nd, 2016


NEMA LITES ONLY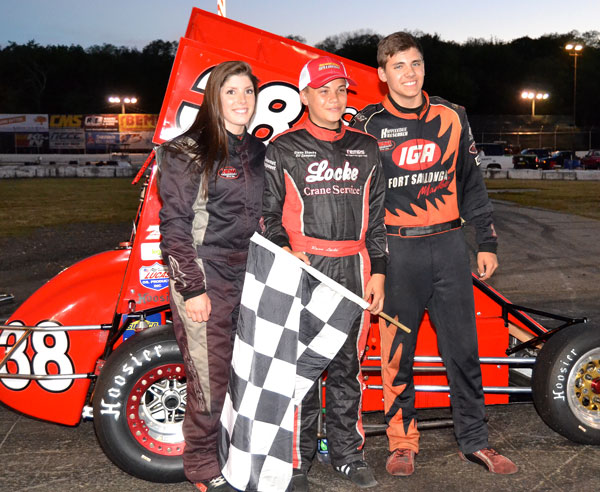 CUGINI - LOCKE - PAYNE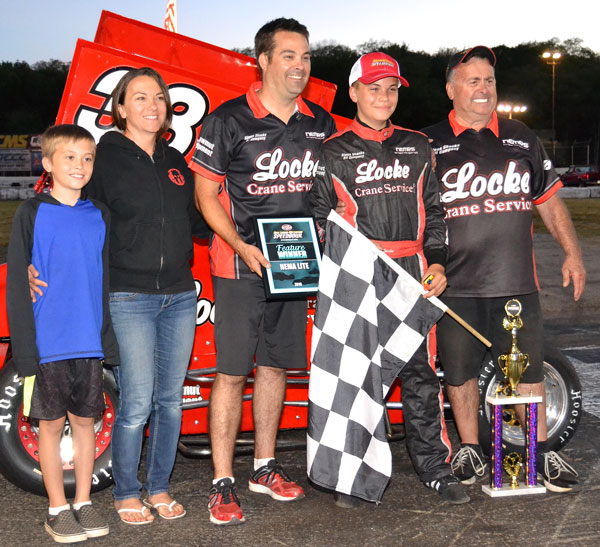 NEMA LITES - NL-W SPEEDBOWL - 7/2/16
Pos.
#
Driver
Hometown
Owner
1
38
Ryan Locke
Raymond, NH
Ken Locke
2
21
Anthony Payne
Fairlawn, NJ
Mike Scrivani
3
41
Megan
CuginI
Marshfield, MA
Glenn Cugini
4
51
Danny Cugini
Marshfield, MA
D. Cugini
5
84
Joe Ciprianno III
-
Joe Ciprianno III
6
9
Ben Mikitarian
Northborough, MA
John Mikitarian
7
11
PJ Stergios
Candia, NH
Bill Stergios
8
30
Paul Scally
Raynham, MA
Paul Scally
9
35
Randy Cabral
Plymouth, MA
Glen Cabral
10
24
Nikki Carroll
Andover, NJ
Nikki Carroll
11
2
Jim Cataldo
Sterling, MA
Jim Cataldo
12
5
Jessica Bean
Farmland, IN
Jessica Bean
13
14
Chad Labastie
Uxbridge, MA
Chad Labastie
14
35L
Andrew Layser
Collegeville, PA
Andrew Layser
15
00
Jake Nelke
-
Jake Nelke
16
16
Dennis O'Brien
Deerfield, NH
Chris O'Brien
17
39d
Nic Davidson
-
Nic Davidson
18
17
Jim Chambers
Atkinson, NH
Mike Chambers
19
39
RJ Trufano
West Haven, CT
RJ Trufano
20
DNS
98
Jeff Schechter
Mohegan Lake, NY
Jeff Schechter
21
DNS
6
Eric Ploskonka
-
Chris Lamb
22
DNS
12
Alan Chambers
Atkinson, NH
Jim Chambers
Ryan Locke Captures Historic
First NEMA Win at NL-W Speedbowl
A storybook ending was the scene for thirteen year old Ryan Locke, as he captured his first ever NEMA Lite win, becoming the youngest driver to ever win in NEMA's sixty three year history. Locke bested a strong field of twenty two competitors, ranging from Indiana to North Carolina, to Pennsylvania at New England's premier 3/8 mile oval, the New London Waterford Speedbowl.

Although Locke may be unfamiliar with victory lane as a driver, the thirteen year old's family is not. His father, Jeff, operator at Locke Crane Services, a fierce ISMA Super Modified competitor, and grandfather, Ken, a long time, winning Oswego Super Modified car owner, are no strangers to the podium.

The evening started strong for the young Locke as he jumped out into the lead from the front of the pack. The win would not come easy, however, as the likes of 2015 Lites Champion, Anthony Payne, and up & comer Meg Cugini were running some lightening fast times as they worked their way through the pack. Further behind them, multi feature winner, Danny Cugini was also working his way to the front as was Modified standout, Joey Cipriano, who started in eighteenth position.

As the laps wound down, the Locke, Payne, and Meg Cugini trio staged an epic battle, with the three exchanging the lead four times in the last three laps of the event. Locke would cement his spot in victory lane with a pass for the lead, and he went on to take down and exciting victory by a narrow margin. Payne and Cugini would follow him, followed by Danny Cugini, Joey Cipriano, Ben Mikitarian, PJ Stergios, Paul Scally, Randy Cabral and Nikki Carroll.

"I started racing in the tiger sprint go carts 3 just years ago. I raced tiger sprints for 2 years before getting the NEMA lite last year. I practiced at Star last year because I was too young to race, but all the practice paid off," said the young Locke. I think the key to winning the race was having a good race car and starting with good track position.

I never could have imagined winning this early. I still can't believe it. The first thing I said when I saw my dad in victory lane was, "did that just happen?",said an elated Locke.

NEMA and the NEMA Lites pick back up their schedule at Star Speedway this coming weekend.




+

20th Annual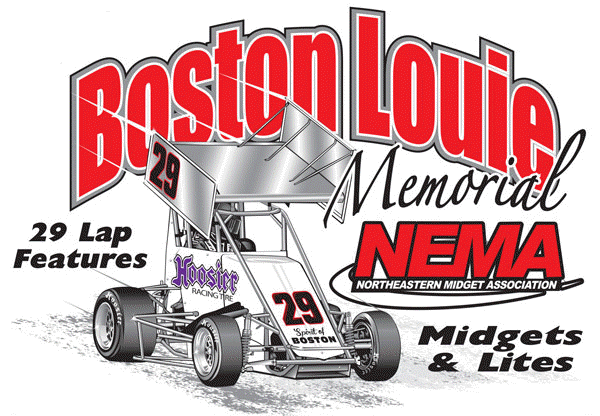 Wednesday, June 29, 2016
Seekonk Speedway
Boston Louie Purse and Heat Sponsors
SHEA CONCRETE - WILMINGTON, MA
SOUTH METRO SPORTS COMPLEX - DAYTON, OH
FMR RACING
STU MURRAY
KTRON INC. - MARLBOROUGH, MA
STERGIOS RACING
DAISY'S ANIMAL RESCUE
NEMA MIDGETS AWARDS


-
Fast Time

- South Metro Sports
Randy Cabral (11.14 sec.) - $100



Heat Race Winners

- Mike Scrivani
Todd Bertrand - $100 & Doug Coby - $100



Perseverance Award

- Design 500 Race Wear
John Zych Jr. - $300 Product Gift Certificate



5th Place Award

- Design 500 Race Wear
Seth Carlson - $200 Product Gift Certificate



Hard Luck Award

- Design 500 Race Wear
Anthony Nocella - $200 Product Gift Certificate

NEMA LITES AWARDS


-




Hard Charger Award

- Mike Jarret
Matt Swanson



Fast Time Award

- Landlord Connection, inc.
Matt Swanson (11.68 sec.) - $150



Heat Race #1

- Stergios Racing
Matt Swanson - $100



Heat Race #2

- Seachange Therapeutics
Jimmy Cataldo- $100



Heat Race #3

- Landlord Connection, inc.
PJ Stergios - $100



Long Distance Award

- Mike Trainor Racing
Jessica Bean- Farmland, IN - $100



Perseverance Award

- Design 500 Race Wear
Juris Kupris - $300 Product Gift Cerificate



5th Place Award

- Design 500 Race Wear
PJ Stergios - $200 Product Gift Certificate



Hard Luck Award

- Design 500 Racewear
Andrew Layser - Product $200 Gift Certificate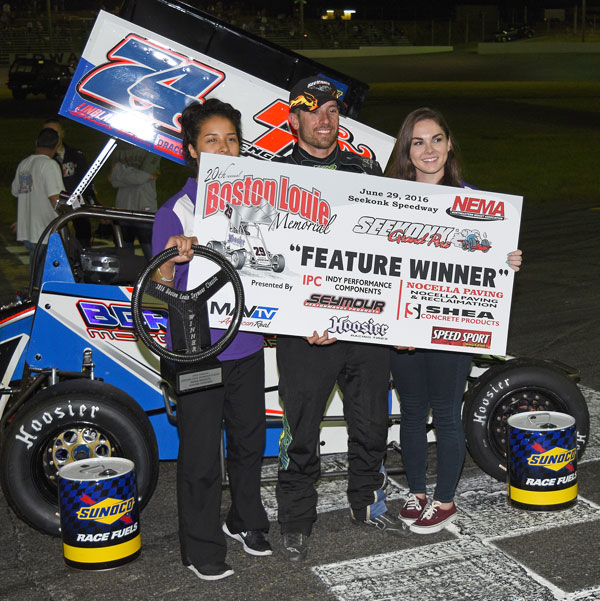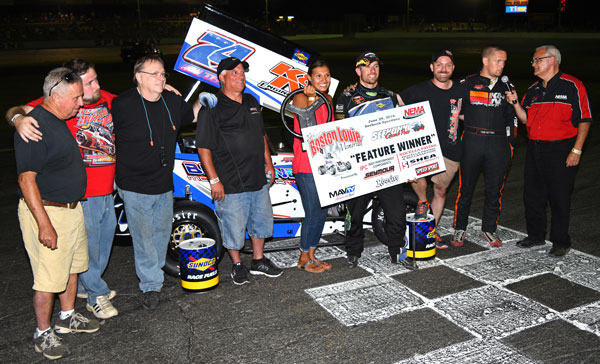 Photos by Norm Marx
Photos by Tiffany Payne
Photos by John DaDalt
NEMA MIDGETS -

SEEKONK - 6/29/16

Pos.
#
Driver
Hometown
Owner
1
74
Doug Coby
Wethersfield, CT
Tim Bertrand
2
47
Randy Cabral
Plymouth, MA
Tim Bertrand
3
29
Jeff Abold
Baldwinsville, NY
Jeff Abold
4
21
Jim Chambers
Atkinson, NH
Mike Chambers
5
71
Seth Carlson
Brimfield, CT
Gene Feigel
6
44
Doug Cleveland
Sudbury, MA
Ed Breault
7
5b
Bethany Stoehr
Bridgewater, MA
Greg Stoehr
8
9
John Zych Jr.
Mendon, MA
John Zych Sr.
9
15a
Avery Stoehr
Lakeville, MA
Russ Stoehr
10
DNF
39
Todd Bertrand
Danielson, CT
Todd Bertrand
11
DNF
30
Paul Scally
Raynham, MA
Paul Scally
12
DNF
28
Kevin Park
Foxboro, MA
Pete Pernisiglio Sr.
13
DNF
51
Danny Cugini
Marshfield, MA
D. Cugini
14
DNF
93
Jake Smith
Stroudsburg, PA
Ted Smith
15
DNF
4
Anthony Nocella
Woburn, MA
Bobby Seymour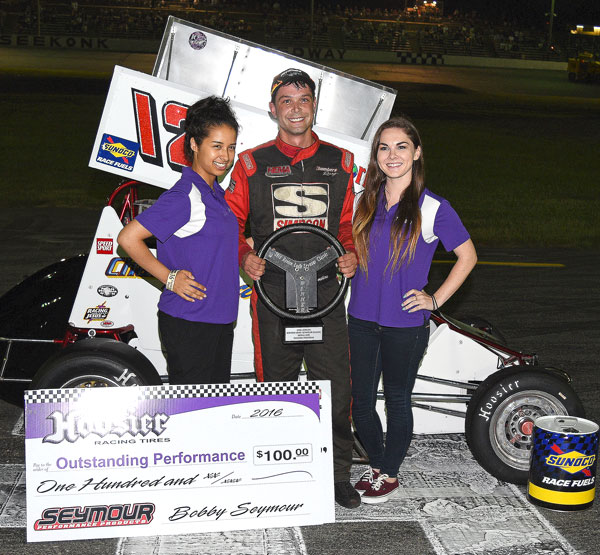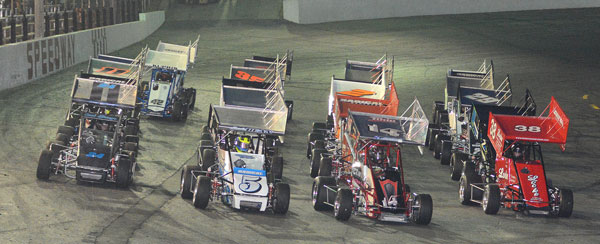 NEMA LITES - SEEKONK - 6/29/16
Pos.
#
Driver
Hometown
Owner
1
12
Jim Chambers
Atkinson, NH
Jim Chambers
2
76
Kyle Hamilton
Speedway, IN
Frank Manafort
3
29
Matt Swanson
-
Matt Seymour
4
35
Randy Cabral
Plymouth, MA
Glen Cabral
5
11
PJ Stergios
Candia, NH
Bill Stergios
6
14
Chad Labastie
Uxbridge, MA
Chad Labastie
7
9r
Christopher Lamb
Greensboro, NC
Christopher Lamb
8
03
Dennis Potter
New Boston, NH
Dennis Potter
9
21
Anthony Payne

Fairlawn, NJ

Mike Scrivani
10
5
Jessica Bean
Farmland, IN
Jessica Bean
11
17
Alan Chambers
Atkinson, NH
Mike Chambers
12
00
Jake Nelke
-
Jake Nelke
13
44
Christian Briggs
Mattapoisett, MA
Christian Briggs
14
51
Danny Cugini
Marshfield, MA
D. Cugini
15
24
Nikki Carroll
Andover, NJ
Nikki Carroll
16
2
Jim Cataldo
Sterling, MA
Jim Cataldo
17
46
Andy Barrows
New Ipswich, NH
Andy Barrows
18
6
Eric Ploskonka
-
Chris Lamb
19
9m
Ben Mikitarian
Northborough, MA
John Mikitarian
20
38
Ryan Locke
Raymond, NH
Ken Locke
21
39d
Nic Davidson
-
Nic Davidson
22
DNF
35L
Andrew Layser
Collegeville, PA
Andrew Layser
23
DNF
41
Megan CuginI
Marshfield, MA
Glenn Cugini
24
DNF
39
RJ Trufano
West Haven, CT
RJ Trufano
25
DNF
42
Juris Kupris
Brooklyn, NY
Christian Briggs
Coby Invades & Captures
NEMA's Boston Louie Memorial;
Chambers Conquers Lites
Reigning NASCAR Whelen Modified Tour Champion and current points leader, Doug Coby, beat back Jeff Abold on two late race restarts to take NEMA's prestigious 19th annual Boston Louie Seymour Memorial last Wednesday at the Seekonk Speedway. In the Lites, Jim Chambers came from the sixth position to take down a dominant win over Indiana's USAC standout, Kyle Hamilton.

In NEMA action, the night started with rally style group time trials, with Randy Cabral taking down fast time honors in his Bertrand Motorsports #47 machine, at 11.13 seconds. In heat race action, Todd Bertrand and Doug Coby took down heat race wins in their Bertrand Motorsports team cars.

In the feature, Bertrand jumped out into the lead early from his pole starting position, as he and Anthony Nocella in the Seymour Enterprises #4 brought the field to the green. After a quick restart on lap four, Bertrand appeared to have a comfortable lead, holding Nocella and Coby at bay for the first ten laps. As the leaders approached lapped traffic, Bertrand's #39 started to get loose, and Nocella was able to close the gap. On lap fourteen, Nocella drove under Bertrand, who began to fade, and brought Coby along with him. Nocella would continue to lead, but Coby would close the distance to his back bumper by lap 21, when the caution flew for Bertrand.

Nocella got the jump on a lap 21 restart, but the field was quickly brought back to yellow. On the next restart, Nocella's car appeared not to fire, and the field bunched up, with Cabral and John Zych Jr. being the victims. Zych Jr. went off on the hook, and Cabral was able to keep moving with a bent front bumper. Nocella's car was pushed to the pits, running low on fuel. After a quick pit stop, Nocella was back on the track and Coby at the point.

Coby would line up against Jeff Abold in the Abold/Seymour #29. Coby, controlling the pace, brought the field to a slow restart, and Abold would go early, causing starter Craig Merriman to call back the start. On the next restart, Coby would get the jump, and go on to take down his second Boston Louie win, the fourth in a row for Bertrand Motorsports. Randy Cabral would charge to second spot getting by Abold in the late stages, making it a one two finish for the Bertrand's. Abold would end up third, followed by Jim Chambers, Seth Carlson, Doug Cleveland, Bethany Stoehr, John Zych, Avery Stoehr and Todd Bertrand.

"I'm so happy to take down the win for this team. They worked on this car until 4AM last night after it got destroyed at Riverhead a few weeks ago. The car was awesome, and to take down the win in the biggest race of the year for this club is a great honor," said Coby.

In Lites action, Jim Chambers started in the sixth spot. Quickly, Chambers rolled around the outside line at the 1/3 mile track, and found himself quickly in the second spot. A multi feature winner this year, Chambers quickly took command in the feature event.

Further back in the field, Indiana's Kyle Hamilton, a USAC standout, was working his way through the field. The first restart duel between Chambers and Hamilton would come on lap fifteen. Chambers brought down the field to the green and got a great jump off of turn four. The field would quickly be brought back to caution two laps later, and Chambers would once again get the jump on Hamilton.

Two more restarts would bunch up the field, with Chambers getting the jump each time. The restarts proved advantageous for Matt Swanson in the Seymour 29, and Randy Cabral in the Cabral #35. In the final laps, Swanson would climb into a podium seat, with Cabral coming home fourth. Behind them it was PJ Stergios, Chad Labastie, Christopher Lamb, Dennis Potter, Anthony Payne and Jessica Bean.

"On Wednesday I didn't think we even had a shot to win, it's definitely not one of our best tracks, and didn't have great speed all day long. I started in 6th place and new my best shot was to try to get out front and try to stay there. The outside line went and I quickly got to second, as I was catching the leader I realized that the car was actually really good and balanced. Once we had the lead and the cautions kept coming it was going to come down to my restarts and hitting my marks. Inside 5 to go we started catching lap traffic, I never saw but heard someone to my outside so It was time to stand on it and get by lap traffic and quick as I could. It is such an honor to get my first Boston Louie win and to win on a national televised event - I can't even describe it because it is still so unreal to me," said an excited Chambers.

NEMA's 1000th Race - Star Speedway - 8/23/14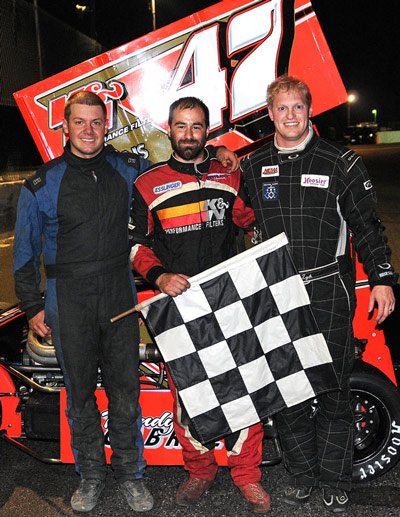 CARLSON - CABRAL - ZYCH
Recognizing Some
NEMA Milestones
The Northeastern Midget Association will open the season at Star Speedway on May 21. It will be the 1018th point-paying race in the club's 63-year history.

Passing unheralded was the club's 1,000th race at Star Speedway on August 23, 2014. Randy Cabral was the winner, besting John Zych Jr. and Seth Carlson.

New England's oldest and most enduring touring division, NEMA was formed in the late spring of 1953 at the Thompson clubhouse. Fred Meeker was the first NEMA winner at Seekonk Speedway on May 30, 1953. New England Auto Racing Hall of Famer Bill Eldridge won the next afternoon at Waterford.

The NEMA Lites open at Thompson Speedway's Icebreaker on April 9. There have been 106 races for a division that started with an exhibition run at New London-Waterford in 2008. The 100th Lites race was won by Danny Cugini at Lee on July 17 of last year.

With two victories last year, Randy Cabral is now tied with Nokie Fornoro in fourth place on NEMA's all-time win list with 47. He has 16 seasons with a least one victory tying him with Bobby Seymour on that list. They have come consecutively, equaling a NEMA standard set by National Midget Hall of Famer Dave Humphrey. Most of Cabral's wins have come in Tim Bertrand's No. 47 but it all started when an upstart Cabral captured the 2000 Boston Louie in a family car.

Star Speedway, with 103 races going back to 1968, is the leader among tracks hosting NEMA events. Randy Cabral tops active NEMA competitors with four Star wins including three of the last four. John Zych Jr. has also won at Star.

NEMA is clearly one of the most competitive open cockpit divisions in the country. Over the past six years, there have been 23 different NEMA winners and in all but one of those seasons, at least one "first-timer" appeared. Over that span John Zych Jr., Todd Bertrand, Avery Stoehr and Seth Carlson have become top contenders. Danny Cugini and Jim Chambers were first time winners in 2015. Bertrand, Stoehr and Cugini are all products of the NEMA Lites. The Lites have had 20-different winners in the past three seasons, champion Anthony Payne and Megan Cugini among the 2015 first timers. Designed with competiveness in the forefront nine years ago, the Lites are a true success story.

Nominations are now being accepted for the New England Auto Racers Hall of Fame. The nomination form and procedure are available on the New England Antique Racers' website - www.near1.org. Please disregard the posted deadlines.

Those with NEMA connections already enshrined are Gene Angelillo, Chuck Arnold, Burt Brooks, Ray Brown,Joe Csiki, Bill Eldridge, Frank Ferrara, Drew Fornoro, Dave Humphrey, Johnny Kay, Wen Kelly, Rollie Lindblad, John McCarthy, George Monsen, Al Pillion, Billy Randall, Marvin Rifchin, Mike Scrivani Sr., Louie Seymour, Hank Stevens, Ed Stone and Bentley Warren.
Previous Events - Photos & Results - HERE
Previous NEMA NEWS HERE
NEMA AWARDS HISTORY