Join NEMA Text Alerts on RainedOut
Rainout notices sent to your
email or cell phone.

---





















.

NEMA 2016 Membership Form HERE

LITES 2016 Membership Form HERE

Driver/Team Info Form HERE

---

---

- - -

---

2015 Race Results & Photos

2014 Race Results & Photos

---



TUNE IN ALERT, 2015 Boston Louie Seymour Memorial:


Take a ride with Northeastern Midget Association NEMA Lite driver Dan Cugini during the the A-Main. Remember to tune in tomorrow night as

Suzuki

presents SPEED SPORT showcases the 19th annual Boston Louie Seymour Memorial from the "Cement Palace" the historical Seekonk Speedway in Seekonk Massachusetts.


FACEBOOK CLIP HERE

Tune in Thursday, August 20th at 7pm Eastern & Pacific on MAVTV.

On August 14th, 2014
Speed Sport Magazine on MAVTV
broadcast the 1 hour show
of the 2014 NEMA Boston Louie
Memorial Classic at Seekonk
Watch the 9
"Boston Louie"
clips on
YouTube
HERE

presented by


MAVTV Channel Finder HERE

---

From NASCAR to Formula 1, World of Outlaws to

Midgets

, MotoGP to Supercross, SPEED SPORT is the only publication that covers it ALL! With one of the best editorial teams in the business, and carrying on a legacy over 75 years in the making, SPEED SPORT is the ONE magazine any serious race fan needs to have.


SUBSCRIBE HERE

---

NEMA Merchandise:
Cyndy Scrivani
508-584-7748
cyndyann10361@yahoo.com

---

NEMA TRACK
HISTORIES


with 2013 updates


PDF HERE
NEMA
STATS


with 2013 updates


PDF HERE
NEMA CHAMPIONS
PDF HERE
LITES
STATS


with 2013 updates


PDF HERE
NEMA DRIVER WINS AT TRACKS
PDF HERE
Members of the NEMA
Dick Gallagher Memorial
Hall of Fame
PDF HERE

---

Custom Apparel, Screen Printing, Embroidery, & Promotional Items




-




Custom, Racing Crew Pit Shirts, Jackets and Caps




-


Custom Racing T Shirts
Low Minimums


-


(24/7 Live Answered)
508-485-5511
888-485-5510
www.stellarapparel.com

---

VINTAGE MIDGET RACING
www.vintagemidgetracing.com
In 2006, Dave Shore from Southbury, CT. started VMR to help keep vintage midget racing alive. Anyone who has a caged vintage car, and
would like to run with us, please contact:
Dave Shore at 203-509-2835.
2015 VMR Dates
June 13 - July 25 - Sept. 5
> at Bethel Motor Speedway
June 18 - July 2 - July 30 -

September 27


> at New London-Waterford Speedbowl
July 17 -

October 10


> at Lee USA Speedway

---



FULL IMPORT & DOMESTIC
REPAIRS AND SERVICE
Jeff Horn


182 Pond St.


Ashland, MA 01721
508-881-4540


Hitch & Trailer Specialists


www.a-1automotiveservice.com


---




SALES • SERVICE




PERFORMANCE and SUSPENSION UPGRADES





Specializing in Finer Imports


AUDI • BMW • JAGUAR • MERCEDES
LANDROVERS • PORSCHE • SAAB
VOLVO • VW



(508) 697-5921


1460 Pleasant St. (Route 104)
Bridgewater, MA 02234
www.motorcarsint.com

---

NEMA Releases Vintage
Slide Show on DVD
The Northeastern Midget Association announces the release of NEMA Vintage photo's on DVD. The presentation is from the collection of one of the most respected journalist, historians and statisticians in New England, Pete Zanardi.

The range of drivers, owners, tracks and race cars depicted in the collection are the who's who in Northeastern midget racing. The forefathers that laid the foundation for present day racing are illustrated in color and black and white photo's complete with captions. Bill Randall, Ray Roberts, Ronnie Evans and Jerry Russo just to name a few drivers from NEMA's infancy.

The early cage days drivers are represented by Bill Roth, Lee Smith, Hank Stevens and Len Thrall for example. And to finish out the last couple of decades are the Fornoros, Stoehrs, Scrivanis, Seymours and many many more. The cars are as big as the drivers on this DVD that range from the Badgers to the uprights, cage and cageless, even some Offy's.

The DVD is 332 pictures strong and is a must for any early day racing enthusiast.

The cost is $20 each with all proceeds going directly to NEMA to help carry on the rich traditions these early pioneers built.

Payment can be made through PayPal HERE
to rewindles@sbcglobal.net or by sending a check or money order (payable to NEMA) as well as your name and address to Bill Van Slyke,
23 Horsestable Cir., Shelton, Ct. 06484.

---

---

2013 Race Results & Photos
Results for 2002 to 2012 HERE

---

---




NEMA LITES T-Shirts are available for purchase. The LITES shirts are available in 3 colors - white, gray and royal blue. They come with either the NEMA LITES logo only on the front or with 2 logos - NEMA LITES on the front and regular NEMA logo on the back. The white shirts are $10. The gray or blue are $12. The new LITES t-shirts can be at The Race Depot/ Seymour Enterprises in Marlboro Mass or are available from Cyndy Scrivani.

---

2014
2013
2012
2011
2010
2009
2008

2007
2006
2005
2004
2003
2002


2011
2010
2009

---

---

---


safetysolutions.com

NEMA Discount Available HERE


"Tires Designed for Champions"
hoosiertire.com


Brockton, MA - 508-580-5844
Supplier of Mazda Midget engines &
Independently Making Brand X Better

Racers' Online Store
theracedepot.com

Charlton, MA
actrailers.com

East Enterprises
Brownsburg, IN
beastcars.com

S. El Monte, CA
esslingeracing.com

Rochester, IN
gaerteengines.com

1800runsnew.com

Visit the
Coastal 181.com
Bookstore HERE

RI's most respected name in Collision Repairs
crowncollision.com

RacingAgainstCancer.com

www.rwjm.com

---

---


Gene Angelillo Memorial Page




NEMA and Hoosier Tire




Ink Exclusive 3 Year Deal

Brockton, MA - NEMA President, Mike Scrivani, announced today that the Northeastern Midget Association and Hoosier Tire East have inked an exclusive, three year deal. Under the deal, NEMA will have exclusive rights in the Northeast to the current plated compounds (RR 7, 7.3, RF 5, LR, 5 and LF, 4, 5) and will be the only series in the Northeast running these particular tires.





Hoosier will also continue to be a major contributor to the NEMA point fund, and in addition have offered fixed pricing for the racer over the next three years.




"NEMA has enjoyed a long history with Hoosier. This sport is about supporting those who take care of you, and supporting each other. We feel that we have the best product in Hoosier and look forward to a long relationship with them," said NEMA President, Mike Scrivani. "We have an exciting schedule brewing for 2015 and expect great car counts," said Scrivani.





As part of the arrangement, Hoosier tire has selected long time NEMA supporter Seymour Enterprises to be the exclusive dealer and service provider to the Northeastern Midget Association.

| | |
| --- | --- |
| | |
| | |
| | |











-



























































































































































































































































































































































































































































































































































































































































































































































































































































































































































































































































































































































































































































































































































































































































































































































































































CHECK THE
MEMBERS ALERTS PAGE
FOR THE LATEST
COMPETITION ADDENDA,
NEMA FORMS, HANDICAPS, RULE ADDITONS (MINIMUM WEIGHT MARKING), RACE PROCEDURES, RULE BOOK REVISION (5-13-15) AND DRIVER INFO PDF & PARENTAL RELEASE FORMS
2016 SCHEDULE
PRINTABLE PDF HERE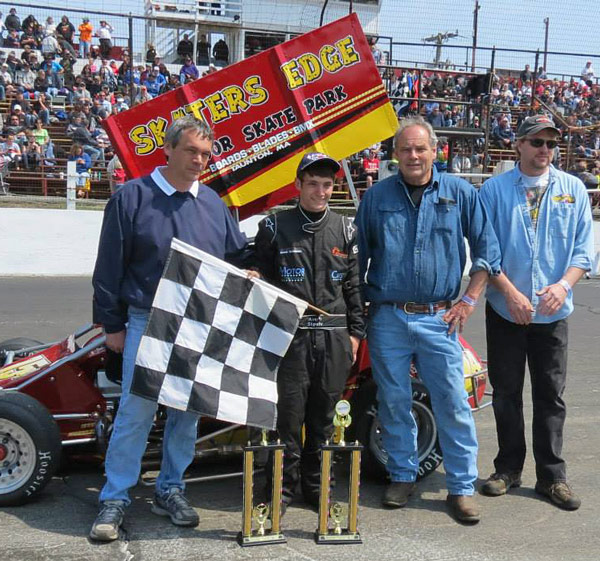 CARL KIBBE
Carl Kibbe was a fixture in the NEMA pits for over two decades, taking his first owner's championship in 1980. His partnership with the legendary Dave Humphrey at the wheel of the iconic Lindblad Badger produced many wins, and the Kibbe cockpit was occupied by some other great NEMA wheelmen, including Doug Cleveland, Paul Stoehr, and Jim Lowery, Jr. But it was Joey Coy who brought Carl three championships and further cemented the Kibbe team's reputation as the one to beat in the late 80's and early 90's.

When NEMA banned the Badger at the end of 1989 it wasn't easy for the family team. But Carl didn't let the banning of his championship car stop him. He and the family reinvested and won two more titles with Coy.

Carl always wore his heart on his sleeve; you knew exactly where you stood with him. He'd show emotion at winning a NEMA award just as easily as arguing for a rule change during a NEMA meeting. But in the end, he was always Carl, a stand up guy who'd help anyone.

It wasn't easy for Carl to give up owning a race car, but reinvesting in new equipment at the end of the championship runs of the 90's was getting harder to justify. Thankfully, that didn't stop him from showing up at NEMA races and working on race cars. He was a happy guy with a wrench in his hand.

As NEMA gears up for next season there won't be a soul in the pits who won't miss Carl's good humor, talent, and unabashed support for NEMA midget racing. Make no mistake, we lost one of the nice guys today. Our community is a little poorer without Carl, but no doubt he's bench racing with Gene Angelillo, Boston Louie Seymour, and Iron Mike Scrivani. He's taken his place among the NEMA legends.
=
-

Calling hours are Monday. 4:00 PM to 7:00 PM.

Carpenter Jenks Funeral Home. 659 East Greenwich Ave., West Warwick, RI

=

Service on Tuesday Morning - 10:00 AM.
Greenwood Presbyterian Church. 805 Main Ave., Warwick, RI Burial to follow.


Condolences to: Carl Kibbe, 68 Ben Brown Rd., Hope, RI 02831
2015 NEMA BANQUET
Saturday, December 5th
Royal Plaza Hotel
Marlboro, MA

Full Awards & Photo Page HERE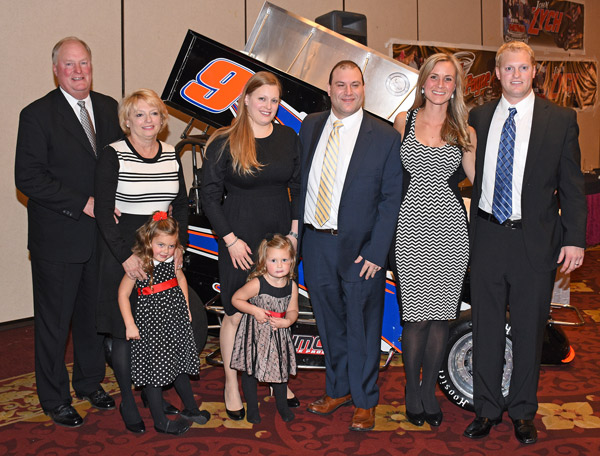 2015 NEMA Midgets Owner & Driver Champions -
John Zych Jr., John Zych Sr., and family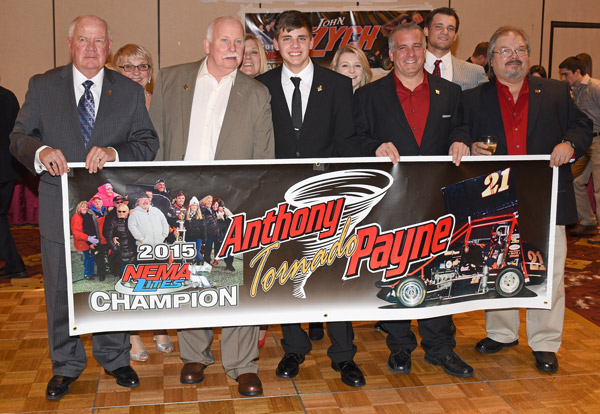 2015 NEMA Lites Driver Champion -
Anthony Payne and the #21 Team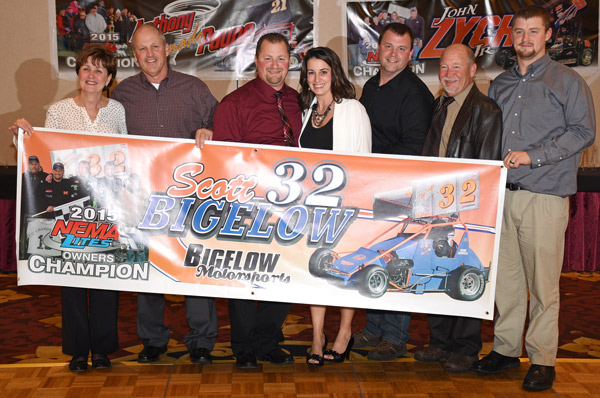 2015 NEMA Lites Owner Champion -
Scott Bigelow & Family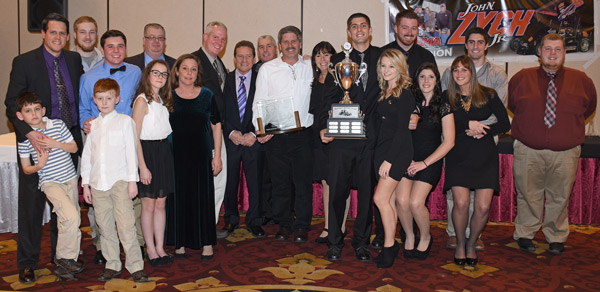 The Jim O'Brien Memorial Award for outstanding contributions
to family and racing was presented by the O'Brien family
to Glenn Cugini.
Full Awards & Photo Page HERE
NEMA Champions Celebrated
at Annual Awards Gala
Marlborough, MA - NEMA gathered Saturday Dec. 5th to honor its champions at the annual awards gala, hosted at the Best Western Crown Plaza in Marlborough, MA. Hundreds of competitors, crew, fans and their families gathered for the event. NEMA's announcer, Pete Falconi, was the host for the evening, assisted by NEMA President, Russ Stoehr.

The crowd gave a rousing ovation to the night's special guests - Dave Humphrey, a six time NEMA champion, and Star Speedway General Manager & Promoter, Bobby Webber Jr. NEMA will return to Star Speedway on three occasions in 2016.

The team of John Zych Jr. and Sr. picked up their second championship in the last three years in the NEMA division, while Anthony Payne took down the Lites championship in the Scrivani #21 and Scott Bigelow took down the owner's crown in the Lites.

Trophies and checks were awarded to the top ten competitors in each division.

There were also many special awards given out, a hallmark of NEMA's annual celebration.

Long time club member and car owner, Mike Scrivani, took down the Dick Gallagher Memorial Hall of Fame honors, while Glenn Cugini was presented the prestigious Jim O'Brien Memorial award by the O'Brien family.

The Wen Kelley Memorial award, presented for outstanding dedication and service to the club was given to NEMA announcer and long time supporter, Pete Falconi. The Ralph Miller award for outstanding perseverance was given to Doug Cleveland, after a season of many mechanical issues on his family owned #87 machine.

The Joe Csiki most improved driver awards went to Anthony Payne in the Lites and to Alan Chambers in NEMA. Mechanic of the Year honors went to Scott Bigelow in the Lites and to John Zych Sr. in NEMA.

The Ray Roberts Memorial award went to veteran Paul Scally. Scally also took down the top owner/driver award, while Scott Bigelow took down that award for the Lites.

Rookie of the Year honors went to Jim Cataldo in the Lites and Alan Chambers in NEMA.

The "Never Say Die" award, went to Jeremy Decourcey in the Lites and Doug Cleveland in NEMA. Decourcey also took down the Up & Coming driver award, while Avery Stoehr took down that award in NEMA. Meg Cugini took down the Pat Thibodeau Youth & Determination award, while Avery Stoehr took down the honors in NEMA.

Tara Stoehr, mother of driver Bethany and husband of long time competitor, Greg Stoehr, took down the Angelillo Memorial Award. Danny Cugini took down the club's "Hard Luck" award after losing an engine on his NEMA car and destroying his Lites car.

Glen Cabral took down the Lifetime Member award.

Tim Bertrand took the Shane Hammond Sportsmanship award honors for NEMA and Paul Bigelow took down that award for the Lites.

A host of appreciation award were given out - to the following members: Bill van Slyke, Mariah Michalski, Norm Marx, Pete Falconi, Bob Blanchette, Linda Cleveland, Mike McCarthy, Craig Merriman, Steve Cleveland, Cynthia Tibbetts, Mike and Lu Jarret, Tara Stoehr, Robyn Buskey, Patrick Bertrand, Denise Chambers, and Bob Seymour.

NEMA's 2016 season kicks off at Thompson Speedway Motorsports Park on April 9th followed by Star Speedway on May 21st and Riverhead Speedway on May 28th.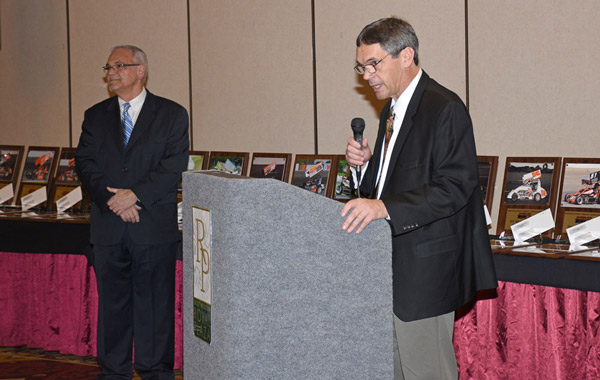 NEMA President Stoehr Reflects on 2015
As John Zych Jr. and Anthony Payne are celebrating their 2015 NEMA driver's championships, NEMA President Russ Stoehr is reflecting on a very successful Northeastern Midget Association season. It was a year that highlighted a diverse group of winners across both venues, and 13 events.

Highlights on the season included 2 wins by back to back NASCAR Whelen Modified Tour champion Doug Coby, one on opening day at Chemung and one at Waterford, respectively. Jim Chambers took down his first ever NEMA victory at the Twin State Speedway, and Joey Payne returned to NEMA victory lane after a two year hiatus at Monadnock Speedway after a hard fought victory over John Zych. Champion, Zych captured three wins, coming at Thompson Speedway, Oswego and Evans Mills, and Randy Cabral captured wins at Star Speedway and Thompson Speedway Motorsports Park. Todd Bertrand performed a "wing dance" after winning the Speed Sport TV, Boston Louis Memorial at Seekonk Speedway, and Seth Carlson took down an impressive Wings & Wheels win at the New-London Waterford Speedbowl. Alan Chambers took down Rookie honors.

In the Lites division, young star Anthony Payne bested the wiley veteran, Randy Cabral for the season championship. Scott Bigelow captured his second consecutive owner's championship. On the racing front, many highlights included Meg Cugini's first ever career win, and PJ Stergios' repeat win at the Boston Louis Memorial. Jim Cataldo took down Rookie honors.

President, Stoehr, has already been very busy working on the 2016 schedule for the group as a whole. "Building on the momentum that was created over the last few years - in 2016, we are forging some important strategic partnerships with several facilities that are committed to both the NEMA brand and short track racing in general and are working on multiple dates at Waterford, Thompson, Star Speedway," he said.

And those facilities felt the same about NEMA.

"Thompson Speedway Motorsports Park enjoyed our expanded relationship with NEMA and the NEMA Lites in 2015. Both divisions were professionally organized and provided some ultra competitive racing on our 5/8 mile oval. Congratulations to John Zych and Anthony Payne as well as all other teams on their achievements this season. We look forward to seeing NEMA again in 2016," said TSMP General Manager, Josh Vanada.

"We can see that NEMA is on the up swing, and we want to partner with divisions that can both bring us consistent car count, and put on a great show," said Star Speedway Promoter, Bobby Webber Jr. "We are excited to have NEMA return, and are looking forward to some great races over the year to come."

"NEMA is very excited to have secured multiple dates at all of these facilities for 2016," Said NEMA President, Stoehr. "Between both divisions, we will have over 12 races at these facilities, - Waterford, Thompson and Star, in 2016."

Stoehr recognizes the stereotype that had been cast over midget racing in the Northeast over the last fifteen years, and is working hard to educate racers who are interested in midget racing on both affordability and reliability. "We had many races go green to checkered this year, and ninety percent of our cars finish the race in both classes," he said. "That's a lot different than midget racing fifteen years ago." "We have a tire rule that we actively police to keep costs down, and most teams are running engines between fifteen and twenty races before rebuilds in NEMA and multiple seasons in the Lites. There are teams who have run the same engine eight seasons in the LItes with no rebuilds!," he went on to say.

"If you look at the race cars that are winning - most are older cars that teams have refurbished over the years. John Zych Jr.'s Drinan car was built in 1999, and its the same car he has been running for the last six seasons. These cars exist in garages - with engines, and often times can be purchased for under $15,000. Many of the Lites cars are fifteen year old cars that have been passed down through the years, and there are teams running in front who have less than a $10,000 total investment in their program. I'm not sure of a place where you can go this fast, put on a great race, and run for that price," he said. "The other nice thing is that midget racing is one of the only places where a father & son/daughter team can compete without having an army of a crew to work on the car. The Club is great about helping people out and providing assistance at the track. The Zych family is a great example - most races its just the two of them at the race track," Stoehr went on to say.

There are also changes being implemented in the Lites division to bring parody to the engine rules. "We decided as a Board that the Honda engine package was not the right decision for the Club, so we have decided to put a moratorium on those going forward. We have a solid set of rules for the Focus engines, and are looking forward to having the premier division on the East Coast for that engine package going forward," he said.

Stoehr is also excited about adding new venues to the docket for 2016. "We have added a big Memorial Day weekend event to the schedule at Riverhead, and will be hosting a memorial race for Allan Cantor. That's a place we have wanted to go back to for a long time, and really appreciate the Partridge family giving us a shot to put on a show there," he said. Stoehr is also negotiating the schedule, which will be published in mid December, with a number of other venues.

With a very interesting schedule taking shape, a growing list of car owners, and costs & reliability well under control there is no doubt that the Northeastern Midget Association is on the upswing headed into 2016.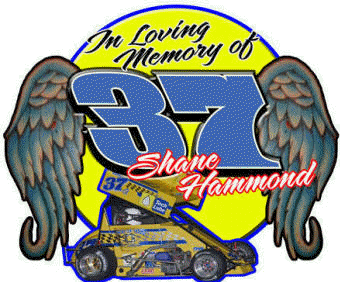 7th Annual
Shane Hammond Memorials
for Midgets and Lites

Cabral, Bigelow Best in NEMA's
Shane Hammond Memorial at
Thompson's Sunoco World Series
of Speedway Racing
Randy Cabral pulled off "one for the ages" coming from last place in the NEMA feature to pass teammate Todd Bertrand on the last lap at Thompson Speedway Motorsports Park's Sunoco World Series of Racing this past Saturday evening. In Lites action, Scott Bigelow dominated the feature event, despite a late race charge from John Zych Jr. Zych, the night before, was crowned the NEMA champion for 2015, and his father, John Zych Sr. the owner's champion. In the Lites division, Anthony Payne won his first series championship and Bigelow won the car owners title.

In the NEMA feature, Todd Bertrand jumped out into the lead in the Tim Bertrand owned #74 machine. He quickly paced the field, pulling out to nearly a half straightaway lead at one point. Further back, John Zych Jr. had charged from his ninth starting spot to take over the second spot by lap eight. Randy Cabral, who started scratch on the field, was also making his way through the field and would reach the third spot by lap thirteen.

Bertrand's advantage would start to fade with ten laps remaining, as he suffered a broken brake caliper bracket, sending the caliper rocketing across the track and into the first turn wall. Zych got to within three carlengths of Bertrand with five laps remaining, and at that point, Cabral was right in the mix as well. With three laps to go, Cabral drove into turn one hot, on the bottom to take second away from Zych and he then set his sights on Bertrand. Coming down the back stretch with two laps to go, Cabral made up big ground on Bertrand and then dove in between the lapped car of Alan Chambers and Bertrand, drawing even coming off of turn four to take the white flag. The duo raced side by side into turn one, with Cabral coming out with the advantage. He went on to take down the victory over Bertrand, putting both Tim Bertrand cars on the podium. Zych would finish third and would lock up the series championship, and was followed by a hard charging run by Seth Carlson, Avery Stoehr, Cole Carter, Jim Chambers, Paul Scally, Alan Chambers and Jake Smith.

"I could see that Todd was getting loose and John was getting tight," said Cabral. "My car was literally the same from the drop of the green until the last lap. We struggled all day, with one issue after another. A bad battery in the practice, a broken u-joint prior to the heat race. With only three laps on the track all day, I'm amazed the car was as good as it was. It was a great way to cap off the season," he said.

A dejected Bertrand said "I totally lost the brakes when the caliper issued occurred, and just couldn't hold the car on the bottom anymore. It was a good run, but I really wanted to win," he said.

Cabral's fastest lap of the feature came on the last circuit, a blistering 17.68 lap.

In the Lites feature, Scott Bigelow blasted out into the lead from his outside pole starting spot. He wasted no time stretching out his lead, but further back Randy Cabral was maneuvering his way through the pack in his family owned #35 from the tenth starting spot. John Zych Jr. driving the Frank Manafort owned #76 was also working his way to the front.

Cabral would reach second by the halfway point, and was hotly pursued by Zych, as Bigelow continued to lead. Zych would make a run by Cabral with nine laps to go, and set his sights on Bigelow. A feature best lap of 19.70 for Zych would come shortly after, but it would not be enough to catch Bigelow, as he would go on to take down both the feature win, and clinch the owner's title for the season.

Anthony Payne would have a strong fourth place run, locking up his first ever driver's championship driving the Scrivani owned #21. Cabral finished second in the driver's standings in both divisions.

NEMA's season has concluded, and the club celebrates the season at its annual awards banquet in early December.

SCOTT BIGELOW #32 - JOHN ZYCH JR. #76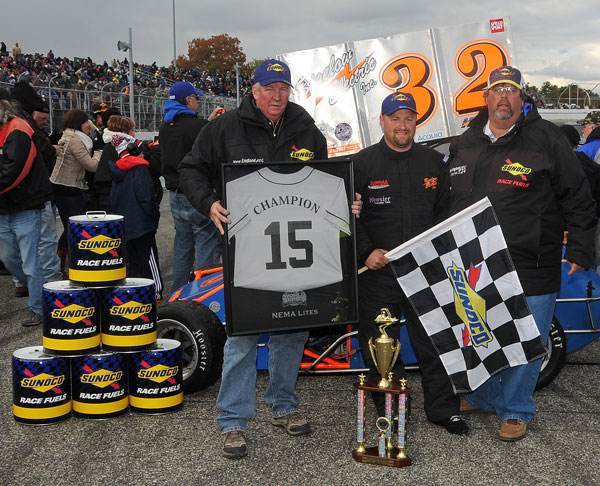 NEMA LITES RACE WINNER SCOTT BIGELOW #32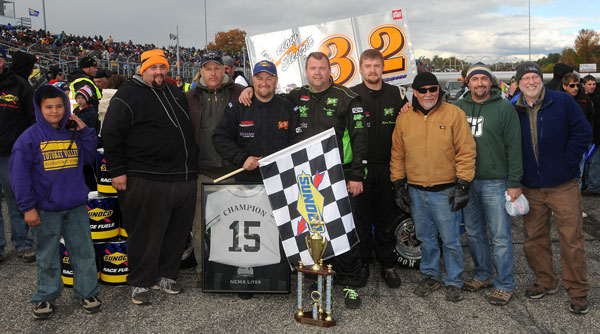 SCOTT BIGELOW - 2015 NEMA LITES OWNER CHAMPION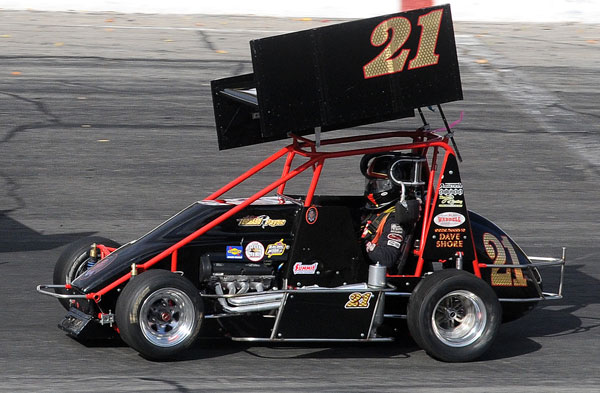 ANTHONY PAYNE - 2015 NEMA LITES DRIVER CHAMPION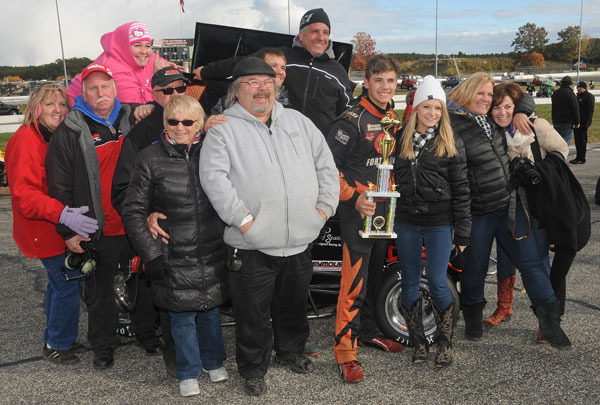 ANTHONY PAYNE - 2015 NEMA LITES DRIVER CHAMPION
NEMA LITES - WORLD SERIES - 10/18/15
Pos.
#
Driver
Hometown
Owner
1
32
Scott

Bigelow

E. Hampton, CT

Scott

Bigelow

2
76
John Zych Jr.
Mendon, MA
Fank Manafort
3
35
Randy Cabral
Plymouth, MA
Glen Cabral
4
21
Anthony Payne

Fairlawn, NJ

Jennifer Scrivani
5
15a
Avery Stoehr
Lakeville, MA
Russ Stoehr
6
30b
Paul Scally
Raynham, MA
Paul Scally
7
51
Danny Cugini
Marshfield, MA
D. Cugini
8
31

Paul

Bigelow

Kensington, CT
Paul

Bigelow

9
41
Megan CuginI
Marshfield, MA
D. Cugini
10
16
Dennis O'Brien
Deerfield, NH
Chris O'Brien
11
99
Jim Santa Maria
Burlington, CT
Jim Santa Maria
12
2
Jim Cataldo
Sterling, MA
Jim Cataldo
13
36
Myles Devits
-
Myles Devits
14
DNF
13
Ryan Bigelow

E. Hampton, CT

Ryan

Bigelow

15
DNS
11
PJ Stergios
Candia, NH
Bill Stergios
-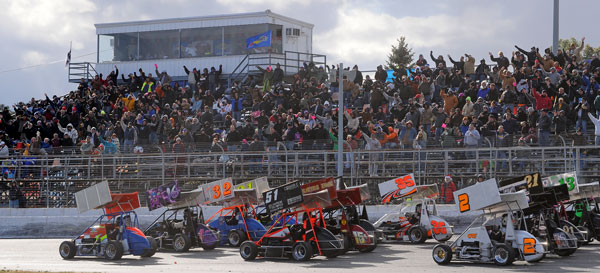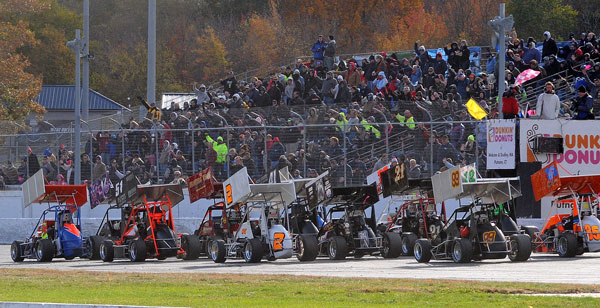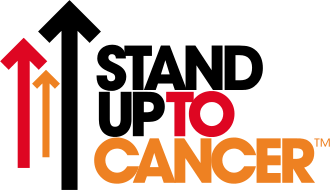 NEMA/THOMPSON SPEEDWAY PARTNER
FOR BREAST CANCER AWARENESS
EVENT on 10/18
The Northeastern Midget Association will team with the Thompson Speedway Motorsports Park to sponsor a "Stand Up To Cancer" event on Sunday 10/18/15 at the Sunoco World Series of Racing. The event will occur during the NEMA Lites 4 - wide fan appreciation parade lap just prior to their feature race.

All race fans will be given a card at the ticket booth upon entering the speedway and asked to write the name of a loved one or friend affected by cancer on the card. Then at the time of the 4 - wide NEMA Lite parade lap, all fans will be asked to stand and hold up the card in support of that person.

This event is a joint effort to not only bring awareness to early detection and a drive to a cure, but to also establish a record for the largest number of race fans to join a "Stand Up To Cancer" event in the state of Connecticut.

In addition, the organizer's are asking for a one dollar donation to benefit the Connecticut American Cancer Society.

NEMA and the Thompson Speedway would like to thank all race fans in advance for your participation.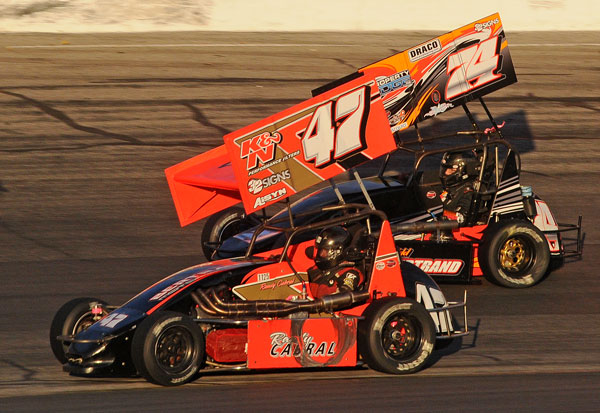 RANDY CABRAL #47 - TODD BERTRAND #74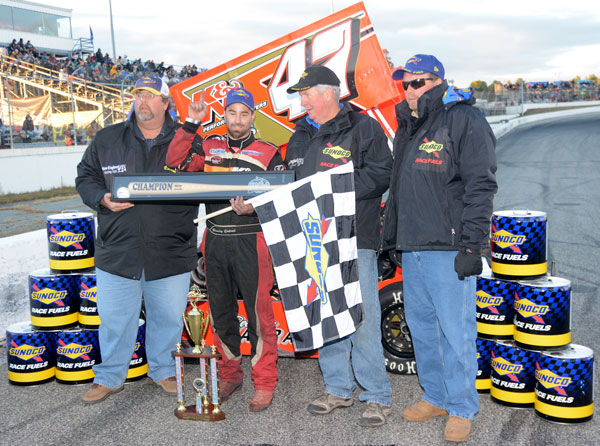 NEMA MIDGETS RACE WINNER RANDY CABRAL #47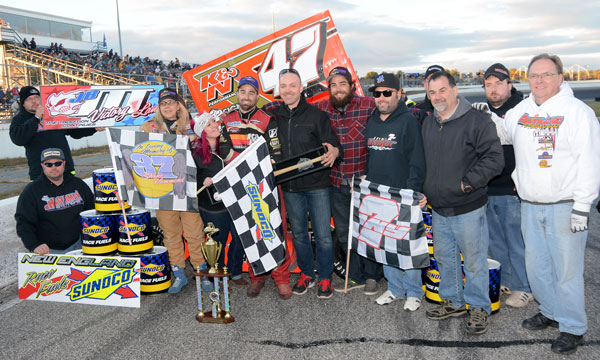 RANDY CABRAL WITH THE BERTRAND TEAM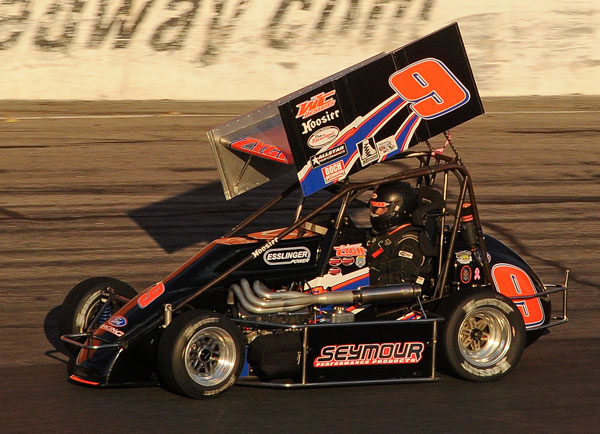 JOHN ZYCH JR. - 2015 NEMA MIDGETS CHAMPION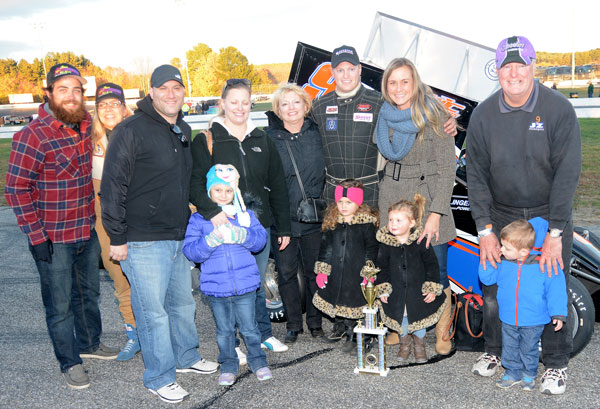 JOHN ZYCH JR. - 2015 NEMA MIDGETS CHAMPION
NEMA MIDGETS - WORLD SERIES - 10/17/15

Pos.
#
Driver
Hometown
Owner
1
47
Randy Cabral
Plymouth, MA
Tim Bertrand
2
74
Todd Bertrand
Danielson, CT
Tim Bertrand
3
9
John Zych Jr.
Mendon, MA
John Zych Sr.
4
71
Seth Carlson
Brimfield, CT
Gene Feigel
5
15a
Avery Stoehr
Lakeville, MA
Russ Stoehr
6
39
Cole Carter
Indianapolis, IN
Todd Bertrand
7
21
Jim Chambers
Atkinson, NH
Mike Chambers
8
30
Paul Scally
Raynham, MA
Paul Scally
9
7
Alan Chambers
Atkinson, NH
Mike Chambers
10
93
Jake Smith
Stroubsburg, PA
Jake Smith
11
44
Danny Cugini
Marshffield, MA
Ed Breault
12
87
Doug Cleveland
Sudbury, MA
Doug Cleveland
13
DNF
28
Russ Stoehr
Lakeville, MA
Peter Pernisiglio Sr.
14
DNF
99
Jim Santa Maria
Burlington, CT
Jim Santa Maria
15
DNS
5b
Bethany Stoehr
Bridgewater, MA
Greg Stoehr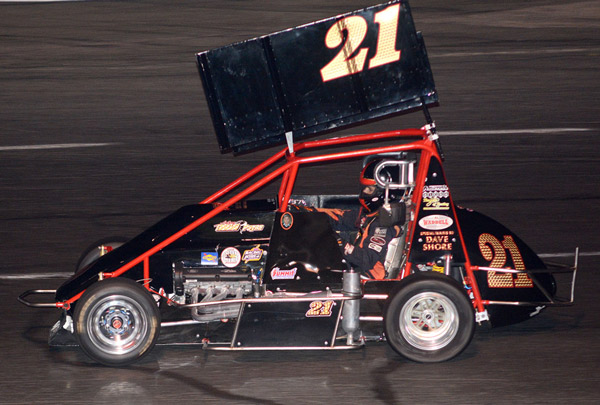 ANTHONY PAYNE - #21 NEMA LITES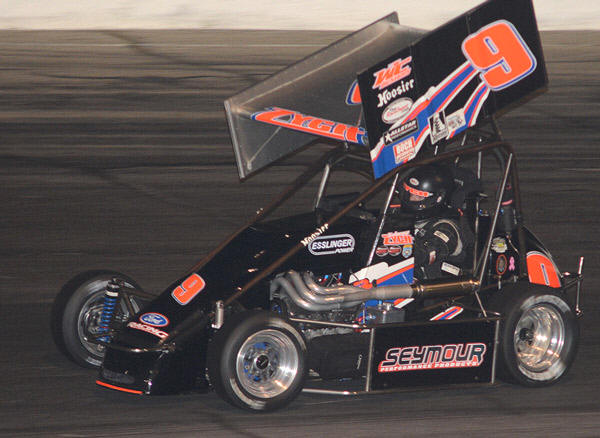 JOHN ZYCH JR. - #9 NEMA MIDGET
A. Payne, Zych Lead NEMA to the
Shane Hammond Memorial at
Thompson Speedway Motorsports Park
Sunoco World Series presented by Xtramart
Both Anthony Payne and John Zych Jr. lead NEMA to this coming weekend's World Series of Racing at Thompson Speedway Motorsports Park, with commanding points leads. Payne leads reining NEMA champion Randy Cabral by 49 points in the Lites division, and Zych leads Cabral by 65 points in the NEMA division. Zych merely needs to finish his heat race and start the feature event to clinch the NEMA championship. For the previous winner, Zych, it seems like a very accomplishable feat this Saturday, barring any mechanical issues. In the Lites division, Scott Bigelow leads Mike Scrivani in the owners points and John Zych Sr. leads Tim Bertrand in the NEMA owner points.

This year's Thompson finale is a special one, in that it will be the first time that the Shane Hammond Memorial will be held at TSMP. The young Hammond lost his life in a NEMA midget at Thompson in 2008. Since that point, his mother, Deb Marvuglio, has been a devout supporter of the club through the Shane Hammond Memorial Foundation, and her support of the annual event, memorializing Hammond.

For Payne, son of Joey Payne, and a multi generational racing family, a Championship is the ultimate prize.

"Coming into this season I wanted to improve my finishes from last year and concentrate on getting some wins. We got some wins and consistent top 5s. The season started at Thompson, which was a big accomplishment getting a top 5 on my first ever 5/8th St mile race. We got wins at Evans Mills and New London Waterford Wpeedbowl and had a lot of strong finishes," said the young Payne.

"Thompson is a very unique track with lots of speed and room to use the high banks to help pass cars. They have made it into such a great place to race, one of the most professional looking tracks to race at. Going into the last race of the year as points leader comes with a lot of pressure and a lot on the line. I want to be successful with another good run there and come away as the 2015 NEMA Lite Champion. Battling Randy Cabral for the championship is really special, he is such a talented driver and a multi-time NEMA Midget champion. Its great racing against him in the series as it helps me watching where he is on the track learning his lines," Payne went on to say.

"I'd like to thanks the Scrivani's, Jarret's and Jim Susi for all they do for me. My family for their support and my sponsors Dave Shore, Waddell Communications for making my racing successful. I've had a successful season and looking forward to many more to come," he concluded.

As always, a Thompson victory prize is the ultimate for any NEMA or NEMA Lite driver. A "separate the men from the boys" track, the 5/8 mile will see speeds in excess of 140 miles per hour when the NEMA cars hit the track next Saturday.

"We're very excited to conclude a very competitive season at the Thompson Speedway Motorspors Park," said NEMA President Russ Stoehr. "Josh (Vanada), Don Hoenig and their team have put together a first class facility, staff and program. We have been very proud to be a part of their program for three events this year, and the World Series is one of everyone's favorites in the club" Stoehr said.

The NEMA midgets will run the Saturday evening portion of the Sunoco World Series program and the Lites will be a part of Sunday's program this coming weekend.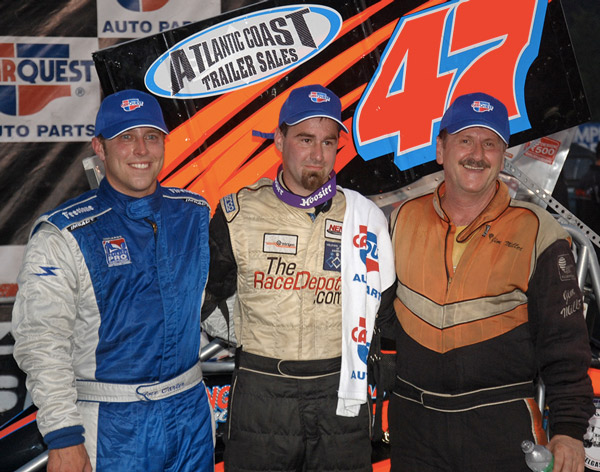 L to R:
Carter with teammate Cabral and Jim Miller
at Stafford Motor Speedway in 2010
Cole Carter Enters NEMA Finale at
Thompson Speedway Motorsports Park
Sunoco World Series
Bridgewater, MA - - Cole Carter, a USAC open-cockpit mainstay and a member of one of America's premier racing families, will be in the Northeastern Midget Association field at Thompson Speedway Motorsports Park for the Sunoco World Series presented by Xtramart on Saturday, October 17th.

The son of the legendary "Pancho" Carter, Cole will be a teammate of former series champion Randy Cabral of Plymouth, MA and Todd Bertrand of Danielson, CT in Bertrand Motorsports entries. He'll steer the Boston Louie Memorial winning #39 typically driven by Bertrand and Bertrand will run the #74 driven this season by reining NASCAR Whelen Modified Tour champion, Doug Coby and Joey Payne. Coby and Payne both captured 2015 wins in the #74.

Carter will join a strong field led by Cabral, the all-time NEMA winner at Thompson, 2013 Champion and points leader John Zych, Avery Stoehr of Lakeville, Seth Carlson, Jim & Alan Chambers, Bethany Stoehr and Paul Scally of Raynham.

Among current competitors, Russ Stoehr of Bridgewater and Zych are the other previous Thompson winners scheduled to be on hand in the field.

Cole Carter's racing genes include both grandfathers - Duane Carter and Carl Forberg - and an uncle - the late Dana Carter - as well as his dad Poncho who, in addition to many Midget and Sprint successes, had 17 Indianapolis 500 starts, including a pole run in 1985. Pancho was also the USAC National Sprint Car champion in 1974 and 1976.

Cole has been running USAC periodically over the last fifteen years, climbing to as high as fourth in the 2005 USAC standings. He has also driven Sprints, Silver Crown and Infiniti Pro Series cars. His last starts for Bertrand Motorsports resulted in a runner up effort to Cabral in 2010 at the World Series and a duplicate of that run, finishing second to Cabral in the 2014 World Series at TSMP.
Previous Events - Photos & Results - HERE
Previous NEMA NEWS HERE
NEMA AWARDS HISTORY