Join NEMA Text Alerts on RainedOut
Rainout notices sent to your
email or cell phone.

---




















www.NemaHistory.com
Carl Kibbe Hall of Fame Page


Wen Kelley Hall of Fame Page




.

NEMA 2016 Membership Form HERE

LITES 2016 Membership Form HERE

Driver/Team Info Form HERE

---

---

- - -

---

2015 Race Results & Photos

Results for 2002 to 2014 HERE

---



TUNE IN ALERT, 2015 Boston Louie Seymour Memorial:


Take a ride with Northeastern Midget Association NEMA Lite driver Dan Cugini during the the A-Main. Remember to tune in tomorrow night as

Suzuki

presents SPEED SPORT showcases the 19th annual Boston Louie Seymour Memorial from the "Cement Palace" the historical Seekonk Speedway in Seekonk Massachusetts.


FACEBOOK CLIP HERE

---

From NASCAR to Formula 1, World of Outlaws to

Midgets

, MotoGP to Supercross, SPEED SPORT is the only publication that covers it ALL! With one of the best editorial teams in the business, and carrying on a legacy over 75 years in the making, SPEED SPORT is the ONE magazine any serious race fan needs to have.


SUBSCRIBE HERE

---

NEMA Merchandise:
Cyndy Scrivani
508-584-7748
cyndyann10361@yahoo.com

---

NEMA TRACK
HISTORIES


with 2013 updates


PDF HERE
NEMA
STATS


with 2013 updates


PDF HERE
NEMA CHAMPIONS
PDF HERE
LITES
STATS


with 2013 updates


PDF HERE
NEMA DRIVER WINS AT TRACKS
PDF HERE
Members of the NEMA
Dick Gallagher Memorial
Hall of Fame
PDF HERE

---

Custom Apparel, Screen Printing, Embroidery, & Promotional Items




-




Custom, Racing Crew Pit Shirts, Jackets and Caps




-


Custom Racing T Shirts
Low Minimums


-


(24/7 Live Answered)
508-485-5511
888-485-5510
www.stellarapparel.com

---

VINTAGE MIDGET RACING
www.vintagemidgetracing.com
In 2006, Dave Shore from Southbury, CT. started VMR to help keep vintage midget racing alive. Anyone who has a caged vintage car, and would like to run with us, please contact:
Dave Shore at 203-509-2835.


2016 VMR Dates at the VMR website.

---



FULL IMPORT & DOMESTIC
REPAIRS AND SERVICE
Jeff Horn


182 Pond St.


Ashland, MA 01721
508-881-4540


Hitch & Trailer Specialists


www.a-1automotiveservice.com


---




SALES • SERVICE




PERFORMANCE and SUSPENSION UPGRADES





Specializing in Finer Imports


AUDI • BMW • JAGUAR • MERCEDES
LANDROVERS • PORSCHE • SAAB
VOLVO • VW



(508) 697-5921


1460 Pleasant St. (Route 104)
Bridgewater, MA 02234
www.motorcarsint.com

---

NEMA Releases Vintage
Slide Show on DVD
The Northeastern Midget Association announces the release of NEMA Vintage photo's on DVD. The presentation is from the collection of one of the most respected journalist, historians and statisticians in New England, Pete Zanardi.

The range of drivers, owners, tracks and race cars depicted in the collection are the who's who in Northeastern midget racing. The forefathers that laid the foundation for present day racing are illustrated in color and black and white photo's complete with captions. Bill Randall, Ray Roberts, Ronnie Evans and Jerry Russo just to name a few drivers from NEMA's infancy.

The early cage days drivers are represented by Bill Roth, Lee Smith, Hank Stevens and Len Thrall for example. And to finish out the last couple of decades are the Fornoros, Stoehrs, Scrivanis, Seymours and many many more. The cars are as big as the drivers on this DVD that range from the Badgers to the uprights, cage and cageless, even some Offy's.

The DVD is 332 pictures strong and is a must for any early day racing enthusiast.

The cost is $20 each with all proceeds going directly to NEMA to help carry on the rich traditions these early pioneers built.

Payment can be made through PayPal HERE
to rewindles@sbcglobal.net or by sending a check or money order (payable to NEMA) as well as your name and address to Bill Van Slyke,
23 Horsestable Cir., Shelton, Ct. 06484.

---

---

---




NEMA LITES T-Shirts are available for purchase. The LITES shirts are available in 3 colors - white, gray and royal blue. They come with either the NEMA LITES logo only on the front or with 2 logos - NEMA LITES on the front and regular NEMA logo on the back. The white shirts are $10. The gray or blue are $12. The new LITES t-shirts can be at The Race Depot/ Seymour Enterprises in Marlboro Mass or are available from Cyndy Scrivani.

---

2014
2013
2012
2011
2010
2009
2008

2007
2006
2005
2004
2003
2002


2011
2010
2009

---

---

---


safetysolutions.com

NEMA Discount Available HERE


"Tires Designed for Champions"
hoosiertire.com


Brockton, MA - 508-580-5844
Supplier of Mazda Midget engines &
Independently Making Brand X Better

RI's most respected name in Collision Repairs
crowncollision.com

RacingAgainstCancer.com

www.rwjm.com

---

---


Gene Angelillo Memorial Page




NEMA and Hoosier Tire




Ink Exclusive 3 Year Deal

Brockton, MA - NEMA President, Mike Scrivani, announced today that the Northeastern Midget Association and Hoosier Tire East have inked an exclusive, three year deal. Under the deal, NEMA will have exclusive rights in the Northeast to the current plated compounds (RR 7, 7.3, RF 5, LR, 5 and LF, 4, 5) and will be the only series in the Northeast running these particular tires.





Hoosier will also continue to be a major contributor to the NEMA point fund, and in addition have offered fixed pricing for the racer over the next three years.




"NEMA has enjoyed a long history with Hoosier. This sport is about supporting those who take care of you, and supporting each other. We feel that we have the best product in Hoosier and look forward to a long relationship with them," said NEMA President, Mike Scrivani. "We have an exciting schedule brewing for 2015 and expect great car counts," said Scrivani.





As part of the arrangement, Hoosier tire has selected long time NEMA supporter Seymour Enterprises to be the exclusive dealer and service provider to the Northeastern Midget Association.

| | |
| --- | --- |
| | |
| | |
| | |











-



























































































































































































































































































































































































































































































































































































































































































































































































































































































































































































































































































































































































































































































































































































































































































































































































































CHECK THE
MEMBERS ALERTS PAGE
FOR THE LATEST HANDICAPS, COMPETITION ADDENDA, RACE PROCEDURES, & NEMA FORMS

SATURDAY, MAY 28th - 6:30 PM

-
5/28 RIVERHEAD SCHEDULE PDF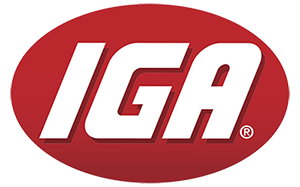 THE ALLAN CANTOR MEMORIAL
NEMA MIDGETS & NEMA LITES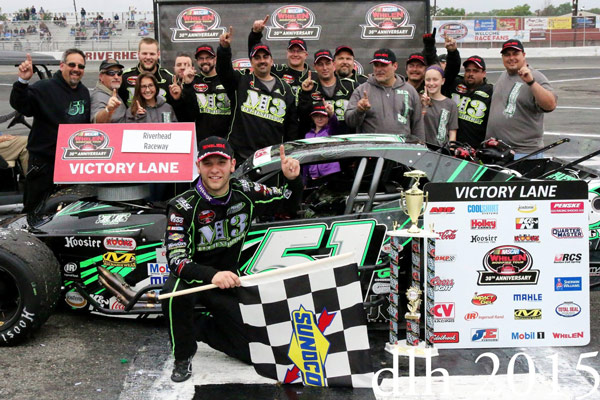 Bonsignore Set to Make NEMA Debut
in Cantor Memorial at Riverhead
NASCAR Whelen Modified tour driver, Justin Bonsignore, is set to make his Northeastern Midget Association debut on Saturday May 28th at Riverhead Raceway in the inaugural Allan Cantor Memorial. Bonsignore will be teaming up with Tim Bertrand/Bertrand Motorsports, playing part to a three car card that evening with the team's full time drivers, Todd Bertrand and five time NEMA champion, Randy Cabral.

A winner of six World Karting Association titles and eight NASCAR Whelen Modified Tour (NWMT) events, Bonsignore is no stranger to victory lane. He was also the 2010 NWMT rookie of the year, and named the tour's most popular driver in 2011.

"I am really excited and honored to get the chance to drive for the Bertrand family, they build and prepare some amazing looking cars, and they are extremely fast as well. I have always kept up with watching the NEMA races when we are there with the modifieds and more often than not the Bertrand cars are in victory lane, it was pretty awesome to have Tim reach out and ask me to drive the car," said Bonsignore.

"I really hope I can get up to speed quickly and feel comfortable, the only thing I have driven in comparison is a TQ midget over the winter, but I have a feeling this is going to be a totally different animal, we are hoping to get a test in next week at the Speedbowl to learn the in/out of the cars and get a feel for what I will need to be comfortable. One good thing on my side will be that Tim prepares a great car and I know once the driver is up to speed that the car will already be there. I also know I can reach out to Todd and even Doug Coby for what to look for in the car and what to expect," he went on to say.

Bonsignore will be piloting the #74 Esslinger powered machine, which was driven to two victories last year at Chemung and Waterford by Coby, and at Monadnock by Joey Payne.

Bonsignore is also no stranger to Riverhead, a place that NEMA has not visited in many years. The 2011 Riverhead Raceway modified champion said, on the topic of the midgets coming back - "I think it should produce a great race, I personally have only seen the NEMA cars on a bigger, wider tracks where they seem to get strung out, I think you will see a really close group of cars on a tight little bullring, where there might be a bunch of lead changes, good hard nose racing. Hopefully we are right in the mix of it."

NEMA will play part of a busy evening on the 28th at Riverhead, as it's the track's "Wall of Fame" night, Vintage midget series, and the regular card of racing. It will also be the first NEMA Allan Cantor Memorial race, commemorating the long time club member who passed away last year. Allan's son, Adam, and family will be on hand, as the Master of Ceremonies as the club remember's the devoted Cantor.

The relationship between Cantor and Bonsignore also runs deep.

"I think the coolest part of getting the opportunity to drive for the Bertrand family is that it's going to be in the Inaugural Allan Cantor Memorial. I have known Adam and Allan Cantor since Adam and I were about 8 years old racing go karts out at Westhampton Speedway, Alan was always such a great person and always was nice to me growing up. I know it may be a tall task to win in my first start, but I really want to win this race for that reason more then any other," he said.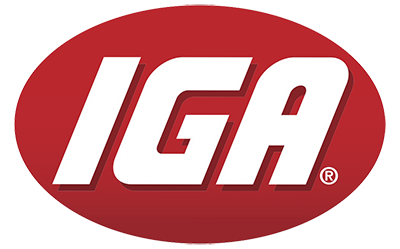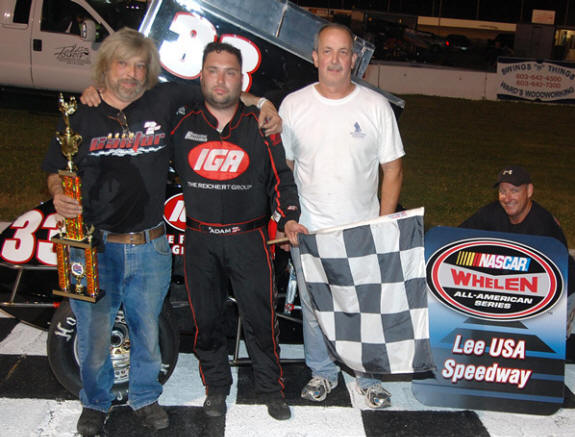 IGA FOOD MARKETS TITLE SPONSOR
FOR ALLAN CANTOR MEMORIAL
For Riverside Raceway by Bob Finan - The Northeastern Midget Association is headed back to Long Island after a long absence Saturday May 28th when they compete in the Allan Cantor Memorial 50 at Riverhead Raceway. Riverhead GM John Ellwood announced today that the Reichert Group IGA Food Markets has signed on as the title sponsor of the race. IGA Food Markets were also a loyal sponsor on the Allan Cantor owned #7NY NEMA Midgets.

"We're very excited to have the NEMA Midgets and NEMA Lites back racing on Long Island" John Ellwood noted while making the IGA Food Markets sponsorship announcement. "To have Charlie Reichert and his Reichert Group IGA Food Markets come on board for the race that we honor Allan Cantor makes the event that much sweeter". The Reichert Group IGA Food Markets on Long Island are located in Greenport, Southold, East Northport, Fort Salonga and Bayville.

From 2001 until 2013 Allan Cantor fielded a NEMA Midget based out of his lifelong hometown of Glen Cove with his son Adam wheeling the potent racer for many of those season. Allan was well known in the Long Island racing circle well before he went midget racing in the late 1970's and early 1980's. He along with Tony Contarino designed and built the ultra successful Alto Chassis for the Mini Modified race cars. Allan along with his brother Barry also worked with the late "Tiger" Tom Baldwin on his NASCAR Modifieds and together operated Cantor's Garage in Glen Cove.

When Eddie & Connie Partridge and Tom Gatz took ownership of Riverhead Raceway late in 2015 they had John Ellwood look into some new and exciting forms of racing to bring to Riverhead Raceway and one of the first John called was NEMA President Russ Stoehr. They together put together the May 28th date for the Allan Cantor Memorial. Later in the summer the New England Truck Series will also visit Riverhead on July 9th, with the Granite State Pro Stocks set to visit on July 30th.

2015 NEMA Midget champion John Zych Jr. of Mendon, MA will lead the charge to Riverhead Raceway on the 28th along with 2015 NEMA Lites kingpin Anthony Payne of Fair Lawn, N.J.

Joining NEMA on what will be a very nostalgic night are the Vintage Midget Racing Club and Vintage Race Cars as well the annual Cromarty Wall of Fame inductions. Long time car owner the late John Ambrose Sr., NASCAR Modified standout the late Chris Young and multi time Late Model champion Steve Tooker will be enshrined that evening.

The NASCAR Modifieds will run a 40-lap main event on May 28th and be joined by the Riverhead Modified Crates and Legend Race Cars, who will both run 20-lap features. Feature event racing will start at 6:30 pm.

For additional information visit www.riverheadraceway.com
or call 631-842-RACE.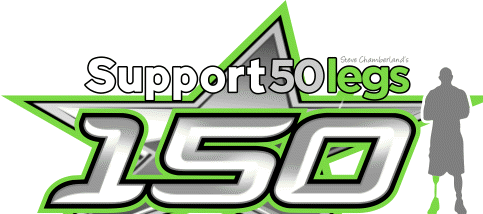 PASS SUPER LATE MODELS

SATURDAY, MAY 21st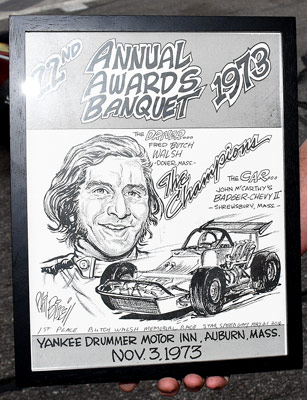 THE NEMA BUTCH WALSH MEMORIAL
On May 21st 2016, 50 years to the day since his first midget race, Star Speedway hosted the Inaugural Butch Walsh Memorial Race. We thought it was only fitting to pay tribute to one of this club's truest racers and most influential leaders. Butch was not only a champion driver, he was a fantastic mechanic, and a courageous President who's leadership changed NEMA forever. In memory of Butch, $555.55 was added to the NEMA Midget winner's purse.
See Butch's page at the NEMA History site:
www.nemahistory.com/butch-walsh.html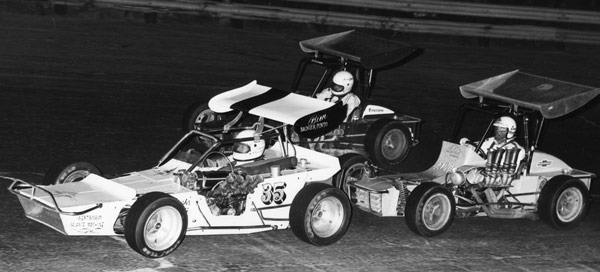 Butch in the Bien Badger leading the Badgers
of Dave Humphrey and Johnny Evans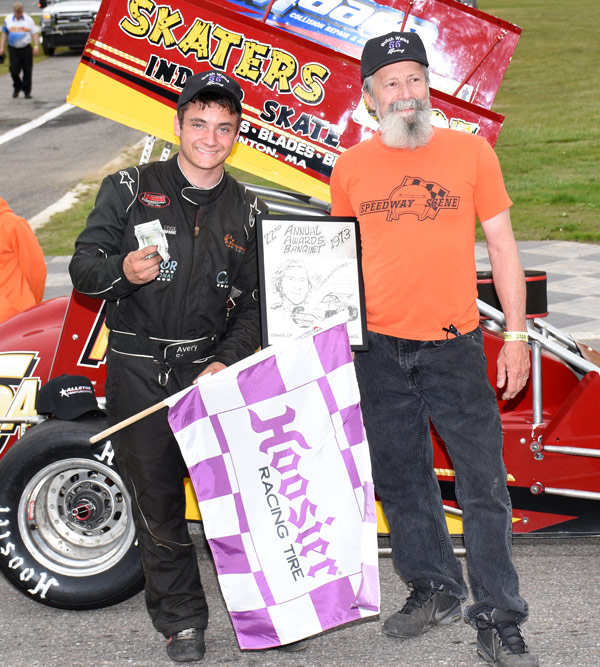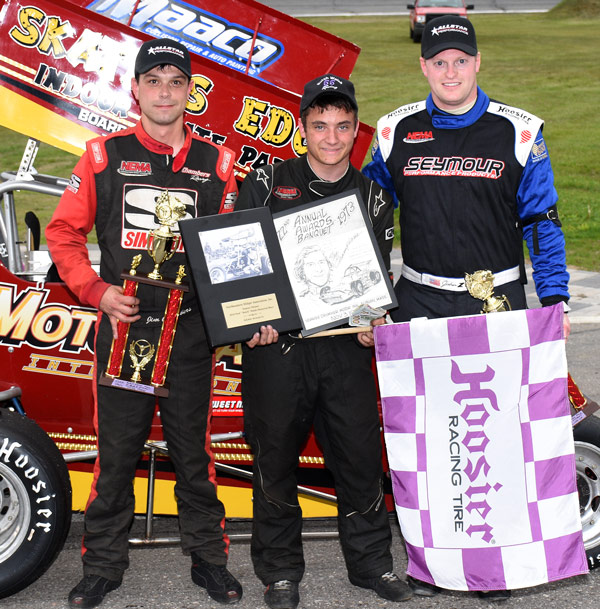 JIM CHAMBERS - AVERY STOEHR - JOHN ZYCH
NEMA MIDGETS - STAR - 5/21/16

Pos.
#
Driver
Hometown
Owner
1
15a
Avery Stoehr
Lakeville, MA
Russ Stoehr
2
9
John Zych Jr.
Mendon, MA
John Zych Sr.
3
21
Jim Chambers
Atkinson, NH
Mike Chambers
4
47
Randy Cabral
Plymouth, MA
Tim Bertrand
5
74
Joey Payne
Fairlawn NJ
Tim Bertrand
6
71
Seth Carlson
Brimfield, CT
Gene Feigel
7
39
Todd Bertrand
Danielson, CT
Todd Bertrand
8
30
Paul Scally
Raynham, MA
Paul Scally
9
5b
Bethany Stoehr
Bridgewater, MA
Greg Stoehr
10
7
Alan Chambers
Atkinson, NH
Mike Chambers
11
51
Danny Cugini
Marshfield, MA
D. Cugini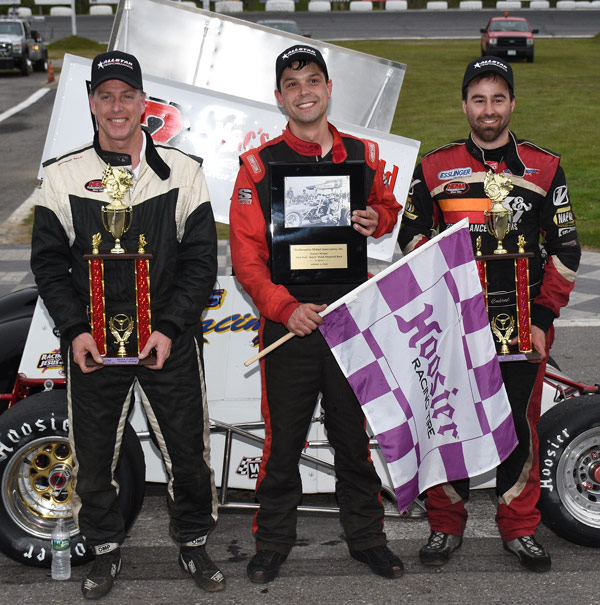 JIM CATALDO - JIM CHAMBERS - RANDY CABRAL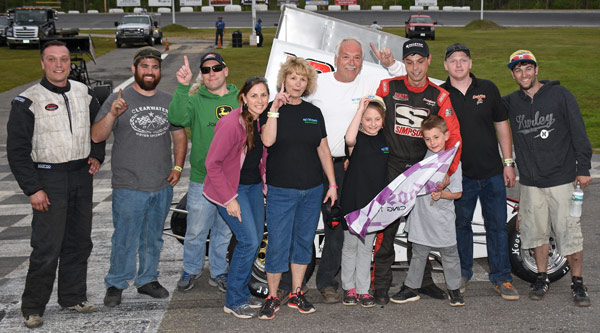 NEMA LITES - STAR - 5/21/16
Pos.
#
Driver
Hometown
Owner
1
12
Jim Chambers
Atkinson, NH
Jim Chambers
2
35
Randy Cabral
Plymouth, MA
Glen Cabral
3
2
Jim Cataldo
Sterling, MA
Jim Cataldo
4
41
Megan CuginI
Marshfield, MA
D. Cugini
5
9
Ben Mikitarian
Marblorough, MA
John Mikitarian
6
14
Chad Labastie
Uxbridge, MA
Chad Labastie
7
30
Paul Scally
Raynham, MA
Paul Scally
8
17
Alan Chambers
Atkinson, NH
Mike Chambers
9
46
Andy Barrows
New IPswich, NH
Andy Barrows
10
29
Jeremy Decourcy
Rochester, NY
Jeremy Decourcy
11
29
Anthony Nocella
Woburn, MA
Matt Seymour
12
51
Danny Cugini
Marshfield, MA
D. Cugini
13
11
PJ Stergios
Candia, NH
Bill Stergios
14
38
Jeff Locke
Raymond, NH
Ken Locke
15
21
Anthony Payne

Fairlawn, NJ

Mike Scrivani
16
28
Jeff Scheter
Mohegan Lake, NY
Jeff Scheter
17
3
Christopher Vose
Groversville, NY
Christopher Vose
A. Stoehr, J. Chambers Conquer
in NEMA's Butch Walsh Memorial
at Star Speedway
Avery Stoehr beat back three restart challenges from John Zych Jr. to take down an emotional win this past Saturday at Star Speedway in the Butch Walsh Memorial event. It was Stoehr's first NEMA start since losing close friend, long time NEMA member/championship car owner, Carl Kibbe.

When the green flag flew in the NEMA feature, Alan Chambers wasted no time in jumping out into the lead. It looked as if Chambers may have been on his way to his first ever feature event win, when misfortune struck his #7 machine on lap fourteen. A broken drive belt the culprit, sidelined Chambers from the remainder of the event.

On the restart, Stoehr wasted no time taking the lead in the NEMA feature. He quickly gained command of the race until a caution for a Bethany Stoehr spin on lap nineteen. When the green flag flew, the young Stoehr was once again in command over John Zych Jr. and Jim Chambers, who had methodically worked his way through the pack.

One more caution flag for a Bethany Stoehr spin did not interrupt Stoehr's rhythm, as he again beat back Zych to the line. Over the final circuits Stoehr stretched out his lead, and took down a commanding win over Zych, Chambers, Randy Cabral, Joey Payne, Seth Carlson, Todd Bertrand, Paul Scally, Bethany Stoehr and Alan Chambers.

"The car was awesome. The restarts are always going to try your nerves a little bit but the car was right on. I definitely went into this race wanting to win it for my friend (Carl Kibbe) and more than anything it meant the world to me. He would of been proud of the way the car went tonight. I can't thank my dad enough for all the extra effort he put in to make sure we went good tonight," said the young Stoehr.

In the NEMA Lite feature, a story of attrition played out, with a number of cars ending on the sideline in the event.

That didn't stop Jim Chambers though, from taking down his first ever NEMA Lite win. Chambers started I the second spot, and battled with up and comer Jim Cataldo for a number of laps before assuming the top spot.

He went on to take down a commanding win over five time NEMA champion, Randy Cabral, Jim Cataldo, Meg Cugini, Ben Mikitarian, Chad Labastie, Paul Scally, Alan Chambers, Andy Barrows and Jeremy Decourcey.

"It was a lot of work after a hard wreck at Thompson, but luckily it was mostly bolt on parts. The frame, motor, driveline and rear end were all ok so once all the parts came in it wasn't that bad for us to put it back together. As for Saturday night's race, it was just one of those nights were it just all worked out. Once I got out front of Jim, we had a hand full of restarts I just tried to stay smooth hit my marks and not over drive the car. I've been watching races here for years, and it has certainly helped when we come here," said Chambers.

NEMA resumes its schedule this coming Saturday at Riverhead Raceway.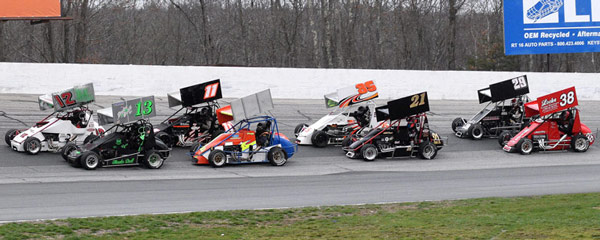 NEMA President Stoehr
Looking Forward to 2016
Second term NEMA President Russ Stoehr is looking forward to 2016, and for good reason. NEMA came off a very strong finish to the season, with exceptional car counts at the New-London Waterford Speedbowl and Thompson Speedway Motorsports Park. One of New England's mainstay touring series, the Northeastern Midget Association boasts of a fifteen race docket for 2016.

"We've got 52 cars registered between the Lites and NEMA, more than we have had in many years," said President, Stoehr. "I am super excited to have been able to forge 4 strong relationships with tracks that clearly are on the upswing - Thompson will host the midgets at all 4 tour events this year, Waterford will have midget races on 5 dates and we will be back at Star 3 times. Wiscassett also will host the midgets twice the fans there are among the most receptive we have had the pleasure of racing before all season. All the facilities have different challenges for drivers and crews," he went on to say.

NEMA started the year with its Lites competitors showcasing their hard work over the winter at Thompson Speedway Motorsports Park's ICEBREAKER. Danny Cugini took down an impressive victory over PJ Stergios and last year's champion Anthony Payne.

The club will host its annual Test & Tune and Rookie Orientation at the New-London Waterford Speedbowl on Sunday, May 1, and then open its NEMA competition schedule at Bob & Bobby Webber's Star Speedway on May 21st followed by the inaugural Allan Cantor Memorial the following weekend at Riverhead Raceway. It will be NEMA's first race at Riverhead in many years.

The schedule then moves on to the New-London Waterford Speedbowl, followed by Wiscasset Speedway and Monadnock Speedway on June 4, June 11, and June 18 - for the Iron Mike Scrivani Memorial. The club then returns to action June 24th at Claremont Speedway, followed by the prestigious Boston Louie Memorial presented by MAV TV on June 29th.

July 9th, Star Speedway will play host to the annual Marvin Rifchin Memorial trophy race, and July concludes with NEMA's return to the revised Speedway 51 in Groveton, NH on July 30. August is packed with action, with a return to the New-London Waterford Speedbowl for Wings & Wheels on August 6th, followed by Thompson Speedway Motorsports Park on August 10th.

NEMA will remember charter family Gene & Marilyn Angelillo on August 20th at Star Speedway for the Angelillo Memorial, and concludes with races at Wiscasset, The Thompson Speedway Motorsports Park World Series of Racing and the New-London Waterford Speedbowl's Shane Hammond Memorial.

NEMA has also been busy in the off season with planning, ensuring they will put on the best possible show for promoters. "We are once again putting strong emphasis on speeding up the show. The push offs for NEMA have been greatly improved as well as the 4 abreast to '2 and go' is a big hit with fans and promoters. Also, the prerace meet and greets as well as fan of the week will be back. I feel fortunate to have a great race day staff great people with a strong love for midget racing," he said.

As far as his own racing goes, it is unlikely to see the elder Stoehr on the track this season. "As far as my own driving goes with the passing of Carl Kibbe, my intentions are to work with Avery. I've been on the fence for a bit and now the time is right to step away from driving. I've been fortunate to have a bunch of wins, championships and most importantly memories," he concluded.

There is no doubt that NEMA is on the upswing, and President Stoehr has a lot to look forward to.



NEMA LITES 20 LAP FEATURE - SAT. NIGHT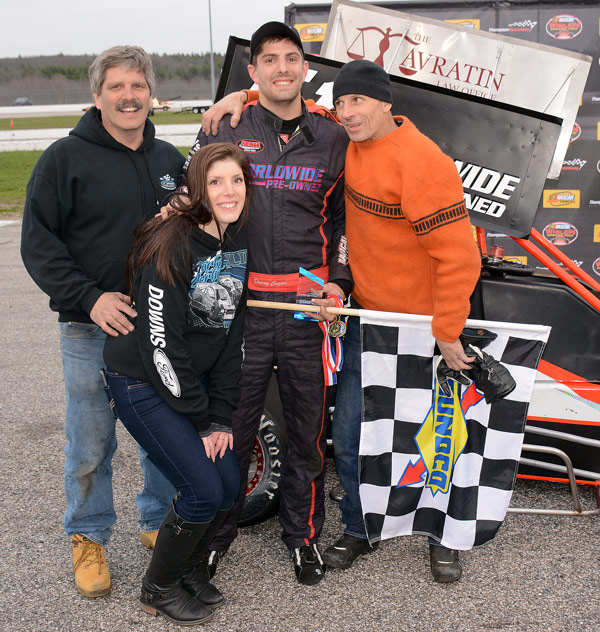 LITES WINNER - DANNY CUGINI #51
Last to First: Cugini Takes
Thompson ICEBREAKER Win
The Northeastern Midget Association has long considered Thompson Speedway Motorsports Park (TSMP) the ultimate "separate the men from the boys" facility. With times in the mid 19 second range, Saturday's NEMA Lites appearance at the facility, taking place on a beautiful Spring day - left no doubts on the table. Dan Cugini in his #51 family owned Ford Focus powered entry, was victorious when it was all said and done, besting the fifteen NEMA Lites competitors in the pits.

The action started fast & furious right out of the gate. In the first heat, Ryan Bigelow in his SMG Motoring Chevy Ecotec powered entry jumped out into the lead from the pole, and dominated the event over brother Scott Bigelow. In heat 2, 2015 Champion Anthony "The Tornado" Payne scored an impressive victory running the fastest times of the qualifying events in the 19.60 range.

Ryan Bigelow led the field to green for the 20 lap feature. He quickly jumped out into the lead and stretched his lead to five carlengths. Behind him, Jim Chambers in his #21 family owned entry was closing the gap fast & furious, and within four laps he was on Bigelow's tail. Chambers took the lead going down the back stretch on lap five, and Bigelow made a bid in turns three and four to take it back, but unfortunately the two made contact sending both hard into the turn four fence, collecting Anthony Nocella in the Seymour #29 along with them. All three drivers were OK, although Nocella was a bit bruised and shaken after a hard impact. All three cars retired to the pits.

On the restart, PJ Stergios quickly jumped out into the lead, and further back Danny Cugini had come from last starting spot, and overtook second ahead of Paul Scally, Anthony Payne and Randy Cabral. After a close call between Cugini and Scally, Scally lost momentum and a number of spots.

Once in the open, Cugini quickly ran down Stergios and after a brief battle, took over the lead and set sail, never seriously challenged from that point on for the victory.

"We had struggled all morning with getting the motor running right, but just before the heat race Danny Cugini helped us get it running. I didn't get any practice in before the heat and was just hoping to finish the race. I got lucky missing the crash in turn 3, and was kind of surprised to find myself leading. Cugini definitely had the better handling car, and I tried to put up a fight, which resulted in me getting into him off turn 2 which was totally my fault. I'm glad he held onto it there, and picked up the win after helping us get the car running so congrats to him," said Stergios, satisfied with a second place run.

"I knew that I needed a caution, and after that, I needed to get to the front quickly," said Cugini. "Once I took the lead, I knew we had the car to beat. Chris (Desrosiers) knows how to set the car up for the way I like to run at Thompson. You need to be able to drive the car in really deep here, and that's what I was able to do," he said. "I'm just really excited to be able to take down the first victory of the year here at Thompson Speedway Motorsports Park," he concluded.

Cugini and Stergios were chased across the line by 2015 champion Anthony Payne, Randy Cabral, Avery Stoehr, Paul Scally, Jim Cataldo, Alan Chambers, Jeff Locke, and Scott Bigelow.

NEMA makes its next stop at the New London Waterford Speedbowl for its first inaugural test & tune session on May 1.
NEMA LITES - ICEBREAKER - 4/9/16
Pos.
#
Driver
Hometown
Owner
1
51
Danny Cugini
Marshfield, MA
D. Cugini
2
11
PJ Stergios
Candia, NH
Bill Stergios
3
21
Anthony Payne

Fairlawn, NJ

Mike Scrivani
4
35
Randy Cabral
Plymouth, MA
Glen Cabral
5
15a
Avery Stoehr
Lakeville, MA
Russ Stoehr
6
30
Paul Scally
Raynham, MA
Paul Scally
7
2
Jim Cataldo
Sterling, MA
Jim Cataldo
8
DNF
17
Alan Chambers
Atkinson, NH
Mike Chambers
9
DNF
38
Jeff Locke
Raymond, NH
Ken Locke
10
DNF
32
Scott

Bigelow

E. Hampton, CT

Scott

Bigelow

11
DNF
13
Ryan Bigelow

E. Hampton, CT

Ryan

Bigelow

12
DNF
12
Jim Chambers
Atkinson, NH
Jim Chambers
13
DNF
29
Anthony Nocella
Woburn, MA
Matt Seymour
14
DNS
14
Chad Labastie
Uxbridge, MA
Chad Labastie
15
DNS
41
Megan CuginI
Marshfield, MA
D. Cugini



NEMA Lites Set for Thompson Speedway
Motorsports Park's 2016 ICEBREAKER
The Northeastern Midget Association has long considered Thompson Speedway Motorsports Park (TSMP) the ultimate "separate the men from the boys" facility. While any Thompson checkered is a treasure, winning on opening day in the NEMA Lites feature at this year's ICEBREAKER event will be a goal high on the list of many attendees.

Sitting at the top of that list is the all time Thompson winner - with twelve victories, Randy Cabral, who will return at the ICEBREAKER in his family owned #35 Lites car. There are certainly no lack of favorites to win the event, outside of Cabral. Scott Bigelow, last year's winner, is a tentative "yes" for this weekend's festivities, dependent on his personal schedule. Bigelow scored an impressive victory in the first ever NEMA Lites feature at the Speedway.

In addition to Bigelow and Cabral, one cannot count out last year's NEMA Lites Champion, Anthony "The Tornado" Payne. Son of legendary open cockpit mainstay, Joey Payne, the young Payne had impressive outings at TSMP last season. NEMA competitor Paul Scally will be debuting his new Drinan Lites car, and 2014 NEMA runner up Avery Stoehr, will return in his family owned ride as well.

With a nearly twenty plus car field rumored, that's just the beginning of the list. Brothers Alan and Jim Chambers come to the ICEBREAKER with two focus powered cars, and will highlight Alan's return to the division in addition to a full time NEMA schedule for both. Teammates Christian Briggs and Juris Kupris will bring their RAM Bull racing entries to TSMP with high hopes of a feature victory. The Cugini family brings their two strong family owned entries to the Speedway. Ryan Bigelow is set to return to Thompson in his focus powered BEAST chassis as well. Other entrants include PJ Stergios, a multi time NEMA Lite winner, set to run a full season in pursuit of a Championship in 2016, and possibly long time Northeastern racer, Chad Labastie.

Thompson, known for its long straightaways and high banked corners presents a "mental wrestling match from mid straightaway into the turns," pointing out to be successful "you have to pretty much keep your foot in it deep into the corner" says long time NEMA member and multi time winner Greg Stoehr.

NEMA and Thompson have a relationship that goes back to 1960, the legendary Dutch Schaefer the winner. Since then, Thompson has helped write a ton of NEMA history. Greg Stoehr, driving for John Zahar, passed brother Russ in the closing laps to win in 1994. In 2001, Joey Payne, who like Greg Stoehr started last, passed the same Russ Stoehr on the final lap en route to the checkered. The latter was the famed car owner Gene Angelillo's 100th NEMA win. Last fall, Randy Cabral claimed the victory over his teammate Todd Bertrand with a last lap pass in turns three and four that will go down as "one for the ages."

The Lites kick off ICEBREAKER weekend with all events, including practice, taking place on Saturday only. One thing is for sure, with as close as some of the big track races were last season - reminiscent of Oswego, Thompson's ICEBREAKER should be a "barn burner."

NEMA's 1000th Race - Star Speedway - 8/23/14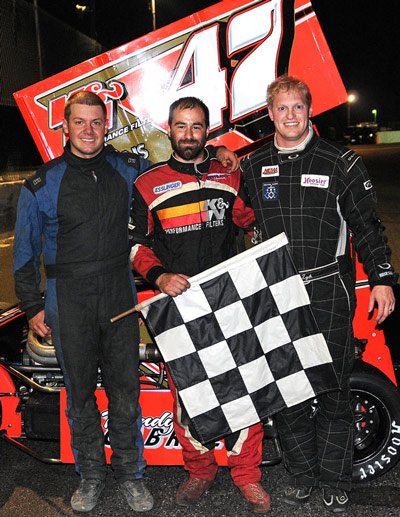 CARLSON - CABRAL - ZYCH
Recognizing Some
NEMA Milestones
The Northeastern Midget Association will open the season at Star Speedway on May 21. It will be the 1018th point-paying race in the club's 63-year history.

Passing unheralded was the club's 1,000th race at Star Speedway on August 23, 2014. Randy Cabral was the winner, besting John Zych Jr. and Seth Carlson.

New England's oldest and most enduring touring division, NEMA was formed in the late spring of 1953 at the Thompson clubhouse. Fred Meeker was the first NEMA winner at Seekonk Speedway on May 30, 1953. New England Auto Racing Hall of Famer Bill Eldridge won the next afternoon at Waterford.

The NEMA Lites open at Thompson Speedway's Icebreaker on April 9. There have been 106 races for a division that started with an exhibition run at New London-Waterford in 2008. The 100th Lites race was won by Danny Cugini at Lee on July 17 of last year.

With two victories last year, Randy Cabral is now tied with Nokie Fornoro in fourth place on NEMA's all-time win list with 47. He has 16 seasons with a least one victory tying him with Bobby Seymour on that list. They have come consecutively, equaling a NEMA standard set by National Midget Hall of Famer Dave Humphrey. Most of Cabral's wins have come in Tim Bertrand's No. 47 but it all started when an upstart Cabral captured the 2000 Boston Louie in a family car.

Star Speedway, with 103 races going back to 1968, is the leader among tracks hosting NEMA events. Randy Cabral tops active NEMA competitors with four Star wins including three of the last four. John Zych Jr. has also won at Star.

NEMA is clearly one of the most competitive open cockpit divisions in the country. Over the past six years, there have been 23 different NEMA winners and in all but one of those seasons, at least one "first-timer" appeared. Over that span John Zych Jr., Todd Bertrand, Avery Stoehr and Seth Carlson have become top contenders. Danny Cugini and Jim Chambers were first time winners in 2015. Bertrand, Stoehr and Cugini are all products of the NEMA Lites. The Lites have had 20-different winners in the past three seasons, champion Anthony Payne and Megan Cugini among the 2015 first timers. Designed with competiveness in the forefront nine years ago, the Lites are a true success story.

Nominations are now being accepted for the New England Auto Racers Hall of Fame. The nomination form and procedure are available on the New England Antique Racers' website - www.near1.org. Please disregard the posted deadlines.

Those with NEMA connections already enshrined are Gene Angelillo, Chuck Arnold, Burt Brooks, Ray Brown,Joe Csiki, Bill Eldridge, Frank Ferrara, Drew Fornoro, Dave Humphrey, Johnny Kay, Wen Kelly, Rollie Lindblad, John McCarthy, George Monsen, Al Pillion, Billy Randall, Marvin Rifchin, Mike Scrivani Sr., Louie Seymour, Hank Stevens, Ed Stone and Bentley Warren.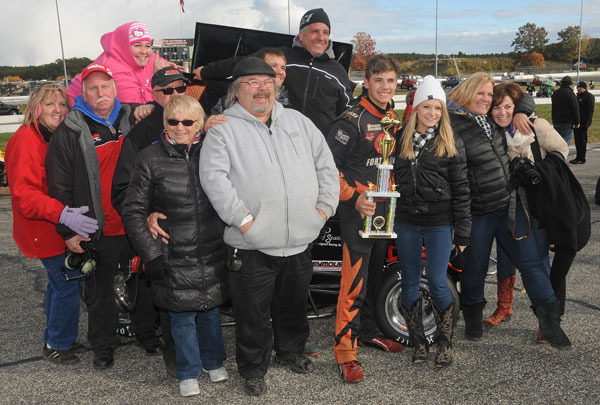 ANTHONY PAYNE - 2015 NEMA LITES DRIVER CHAMPION
Anthony Payne Set For Next Step
There was the first victory, then the first championship and now the first defense of that championship. It's impressive stuff for a race driver who will turn 17 in April.

Anthony Payne begins the defense of his Northeastern Midget Association Lites title at Thompson Speedway's Icebreaker April 9. Back in the Scrivani No. 21 for the third season, the Fairlawn, NJ High student is ready for the 18-race schedule that will run into October.

Another title, especially in a Scrivani car, will fit nicely into Payne's plans. It's about "living up to family names" says the son of 2003 NEMA champion Joey Payne. He is "very proud" of being part of the heralded Scrivani Midget story. Many legendary drivers - Nokie Fornoro, Dave Humphrey, Jeff Gordon - have sat in Scrivani cars.

While being a second generation athlete is a challenge - "everybody knows who you are and ask a lot of questions"- Payne has handled it well. He expects a full midget ride will come soon.

The first win at Evans Mills, NY was key. "I felt more confident after that win," he says, "confident that I could win a championship. I won against adults in real race cars. And to win in a Scrivani car was really special. The No. 21 had not been in victory lane for a while."

A veteran of eight years in Quarter Midgets, Payne had nine top-fives in 15 starts a year ago including a second win at Waterford. He finished 41 points in front of Randy Cabral.

Winning a NEMA title means mastering a wide variety of tracks - from the 5/8ths Thompson to the quarter miles. Payne loves that challenge but admits he had a head start in achieving it.
"My dad was with me a lot last season," he explains. "He has pretty much raced on every track in the northeast. He had a lot of pointers, especially showing me the line at each track." Joey Payne has 21 NEMA victories, the last coming a year ago at Monadnock in Tim Bertrand's No. 74.

Still, if it hadn't been his father, it would have been someone else. "You have a problem, you have people willing to help," Payne continues. "You are running a little high or a little low or you're not getting off quick enough, somebody is willing to talk to you. NEMA has a real family atmosphere."

Being noticed is how he got the ride. Coming around with his dad a few years back, he was helping out in pits, working with several operations including the Ed Breault team. Long-time NEMA supporter and Scrivani confidant Mike Jarret noticed and brokered the ride in the No. 21.

Payne gave notice with things to come with a second at Waterford in 2014.

The NEMA Lites, usually a second to a second-and-a- half off the full midgets, are about to start their ninth season. It all started with an exhibition run at Waterford on April 12, 2008.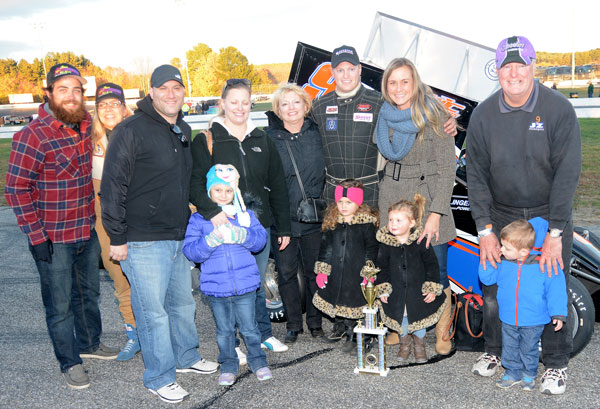 JOHN ZYCH JR. - 2015 NEMA MIDGETS CHAMPION
Zych Set to Defend NEMA Championship
John Zych Jr. has been a Northeastern Midget Association champion twice but he will be a defending champion for the first time in 2016.

"We didn't run a full season after the 2013 championship and we knew that going in," explains Zych, part of one of NEMA's many father-son operations. "We missed a race early in the year and that did it so we were not disappointed in not defending."

They head into this 16-race season, which begins May 21 at Star Speedway, with another mindset. "This is different," Zych says. "The first championship was kind of a surprise, kind of surreal. The second sort of solidifies we are not flashes in the pan."

Father and son have been at it since 2007 but it was the purchase of a '99 Drinan chassis that turned fortunes around; that has produced two championships and nine features including two last year. The first win was at Waterford in 2012. Five came in 2013.

Defending a title is another step. "You are on top and you don't want anybody to take it away," continues Zych, a former high and college basketball player. "You want to prove something by maintaining the spot." He is quick to point out, however, it is not an easy goal in a club that had nine winners in 2015.

There is one major change for 2016. An executive with the Hershey Company, Zych is now "office based" meaning more time first for the family (wife Elizabeth and daughters Brooklyn and Anna) and for the car.

Some things will not change. "Preparation will continue to be our strong point," Zych says, pointing out the No. 9 had no DNFs in 2015. "That is a rarity, especially in Midget racing and it is a credit to my father. He spends a lot of time on the car."

The main opposition will be the five-time champion Randy Cabral-Tim Bertrand team Zych has dethroned twice. "I really appreciate what they've done," Zych says. "Maybe because we run so close and frequently finish near each other people see a great rivalry. I don't feel that way. I enjoy racing against them."

Bertrand has been a major help in Zych's gaining the status they now have in NEMA. He and Cabral are among NEMA's all-time great owner/driver combos.

There's more than Cabral/Bertrand. Zych points to Cabral's teammate Todd Bertrand, Seth Carlson and youngster Avery Stoehr, all winners in 2016, as definite championship contenders.

They'll battle into October, the season ending at Waterford. Sixteen races is "about the right number" says Zych.

The variety of tracks NEMA visits, from the lightning-quick Thompson to the traditional bullrings including 2016 addition Riverhead, LI, remains a challenge for the "always learning" Zych. He believes being able to master them all is the mark of an accomplished driver. He, of course, has done that including winning on tracks on his first visit.

Now, it's about defending a championship.
Previous Events - Photos & Results - HERE
Previous NEMA NEWS HERE
NEMA AWARDS HISTORY