Join NEMA Text Alerts on RainedOut
Rainout notices sent to your
email or cell phone.

---





















.

NEMA 2015 Membership Form HERE

LITES 2015 Membership Form HERE

Driver/Team Info Form HERE

---

---

- - -

---

2015 Race Results & Photos

2014 Race Results & Photos

---



TUNE IN ALERT, 2015 Boston Louie Seymour Memorial:


Take a ride with Northeastern Midget Association NEMA Lite driver Dan Cugini during the the A-Main. Remember to tune in tomorrow night as

Suzuki

presents SPEED SPORT showcases the 19th annual Boston Louie Seymour Memorial from the "Cement Palace" the historical Seekonk Speedway in Seekonk Massachusetts.


FACEBOOK CLIP HERE

Tune in Thursday, August 20th at 7pm Eastern & Pacific on MAVTV.

On August 14th, 2014
Speed Sport Magazine on MAVTV
broadcast the 1 hour show
of the 2014 NEMA Boston Louie
Memorial Classic at Seekonk
Watch the 9
"Boston Louie"
clips on
YouTube
HERE

presented by


MAVTV Channel Finder HERE

---

From NASCAR to Formula 1, World of Outlaws to

Midgets

, MotoGP to Supercross, SPEED SPORT is the only publication that covers it ALL! With one of the best editorial teams in the business, and carrying on a legacy over 75 years in the making, SPEED SPORT is the ONE magazine any serious race fan needs to have.


SUBSCRIBE HERE

---

2015 NEMA PROGRAM

NEMA Merchandise:
Cyndy Scrivani
508-584-7748
cyndyann10361@yahoo.com

---

NEMA TRACK
HISTORIES


with 2013 updates


PDF HERE
NEMA
STATS


with 2013 updates


PDF HERE
NEMA CHAMPIONS
PDF HERE
LITES
STATS


with 2013 updates


PDF HERE
NEMA DRIVER WINS AT TRACKS
PDF HERE
Members of the NEMA
Dick Gallagher Memorial
Hall of Fame
PDF HERE

---

Custom Apparel, Screen Printing, Embroidery, & Promotional Items




-




Custom, Racing Crew Pit Shirts, Jackets and Caps




-


Custom Racing T Shirts
Low Minimums


-


(24/7 Live Answered)
508-485-5511
888-485-5510
www.stellarapparel.com

---

VINTAGE MIDGET RACING
www.vintagemidgetracing.com
In 2006, Dave Shore from Southbury, CT. started VMR to help keep vintage midget racing alive. Anyone who has a caged vintage car, and
would like to run with us, please contact:
Dave Shore at 203-509-2835.
2015 VMR Dates
June 13 - July 25 - Sept. 5
> at Bethel Motor Speedway
June 18 - July 2 - July 30 -

September 27


> at New London-Waterford Speedbowl
July 17 -

October 10


> at Lee USA Speedway

---



FULL IMPORT & DOMESTIC
REPAIRS AND SERVICE
Jeff Horn


182 Pond St.


Ashland, MA 01721
508-881-4540


Hitch & Trailer Specialists


www.a-1automotiveservice.com


---




SALES • SERVICE




PERFORMANCE and SUSPENSION UPGRADES





Specializing in Finer Imports


AUDI • BMW • JAGUAR • MERCEDES
LANDROVERS • PORSCHE • SAAB
VOLVO • VW



(508) 697-5921


1460 Pleasant St. (Route 104)
Bridgewater, MA 02234
www.motorcarsint.com

---

NEMA Releases Vintage
Slide Show on DVD
The Northeastern Midget Association announces the release of NEMA Vintage photo's on DVD. The presentation is from the collection of one of the most respected journalist, historians and statisticians in New England, Pete Zanardi.

The range of drivers, owners, tracks and race cars depicted in the collection are the who's who in Northeastern midget racing. The forefathers that laid the foundation for present day racing are illustrated in color and black and white photo's complete with captions. Bill Randall, Ray Roberts, Ronnie Evans and Jerry Russo just to name a few drivers from NEMA's infancy.

The early cage days drivers are represented by Bill Roth, Lee Smith, Hank Stevens and Len Thrall for example. And to finish out the last couple of decades are the Fornoros, Stoehrs, Scrivanis, Seymours and many many more. The cars are as big as the drivers on this DVD that range from the Badgers to the uprights, cage and cageless, even some Offy's.

The DVD is 332 pictures strong and is a must for any early day racing enthusiast.

The cost is $20 each with all proceeds going directly to NEMA to help carry on the rich traditions these early pioneers built.

Payment can be made through PayPal HERE
to rewindles@sbcglobal.net or by sending a check or money order (payable to NEMA) as well as your name and address to Bill Van Slyke,
23 Horsestable Cir., Shelton, Ct. 06484.

---

---

2013 Race Results & Photos
Results for 2002 to 2012 HERE

---

---




NEMA LITES T-Shirts are available for purchase. The LITES shirts are available in 3 colors - white, gray and royal blue. They come with either the NEMA LITES logo only on the front or with 2 logos - NEMA LITES on the front and regular NEMA logo on the back. The white shirts are $10. The gray or blue are $12. The new LITES t-shirts can be at The Race Depot/ Seymour Enterprises in Marlboro Mass or are available from Cyndy Scrivani.

---

2014
2013
2012
2011
2010
2009
2008

2007
2006
2005
2004
2003
2002


2011
2010
2009

---

---

---


safetysolutions.com

NEMA Discount Available HERE


"Tires Designed for Champions"
hoosiertire.com


Brockton, MA - 508-580-5844
Supplier of Mazda Midget engines &
Independently Making Brand X Better

Racers' Online Store
theracedepot.com

Charlton, MA
actrailers.com

East Enterprises
Brownsburg, IN
beastcars.com

S. El Monte, CA
esslingeracing.com

Rochester, IN
gaerteengines.com

1800runsnew.com

Visit the
Coastal 181.com
Bookstore HERE

RI's most respected name in Collision Repairs
crowncollision.com

RacingAgainstCancer.com

www.rwjm.com

---

---


Gene Angelillo Memorial Page














-



























































































































































































































































































































































































































































































































































































































































































































































































































































































































































































































































































































































































































































































































































































































































































































































































































CHECK THE
MEMBERS ALERTS PAGE
FOR THE LATEST
COMPETITION ADDENDA,
NEMA FORMS, HANDICAPS, RULE ADDITONS (MINIMUM WEIGHT MARKING), RACE PROCEDURES, RULE BOOK REVISION (5-13-15) AND DRIVER INFO PDF & PARENTAL RELEASE FORMS
7th Annual
Shane Hammond Memorials
for Midgets and Lites

2015 Schedule for Sunoco World Series

NEMA Midgets Feature: Sat. 17th approx. 5:00 PM
NEMA Lites Feature: Sun. 18th approx. 3:00 PM

-
LITES NOTICE

The NEMA Lites will get 2 practices as part of the
"Final Rotating Practice" on Saturday AM.
- BUT, Lites MUST be in line, engines warmed up, etc - and ready to go by 8:30 AM. so as to be on the track promptly at 8:45 or maybe slightly before.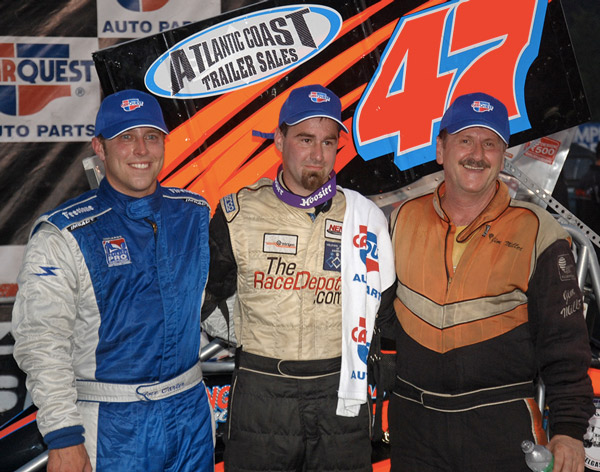 L to R:
Carter with teammate Cabral and Jim Miller
at Stafford Motor Speedway in 2010
Cole Carter Enters NEMA Finale at
Thompson Speedway Motorsports
Park World Series of Racing
Bridgewater, MA - - Cole Carter, a USAC open-cockpit mainstay and a member of one of America's premier racing families, will be in the Northeastern Midget Association field at Thompson Speedway Motorsports Park for the World Series of Racing on Saturday, October 17th.

The son of the legendary "Pancho" Carter, Cole will be a teammate of former series champion Randy Cabral of PPlymouth, MA and Todd Bertrand of Danielson, CT in Bertrand Motorsports entries. He'll steer the Boston Louie Memorial winning #39 typically driven by Bertrand and Bertrand will run the #74 driven this season by reining NASCAR Whelen Modified Tour champion, Doug Coby and Joey Payne. Coby and Payne both captured 2015 wins in the #74.

Carter will join a strong field led by Cabral, the all-time NEMA winner at Thompson, 2013 Champion and points leader John Zych, Avery Stoehr of Lakeville, Seth Carlson, Jim & Alan Chambers, Bethany Stoehr and Paul Scally of Raynham.

Among current competitors, Russ Stoehr of Bridgewater and Zych are the other previous Thompson winners scheduled to be on hand in the field.

Cole Carter's racing genes include both grandfathers - Duane Carter and Carl Forberg - and an uncle - the late Dana Carter - as well as his dad Poncho who, in addition to many Midget and Sprint successes, had 17 Indianapolis 500 starts, including a pole run in 1985. Pancho was also the USAC National Sprint Car champion in 1974 and 1976.

Cole has been running USAC periodically over the last fifteen years, climbing to as high as fourth in the 2005 USAC standings. He has also driven Sprints, Silver Crown and Infiniti Pro Series cars. His last starts for Bertrand Motorsports resulted in a runner up effort to Cabral in 2010 at the World Series and a duplicate of that run, finishing second to Cabral in the 2014 World Series at TSMP.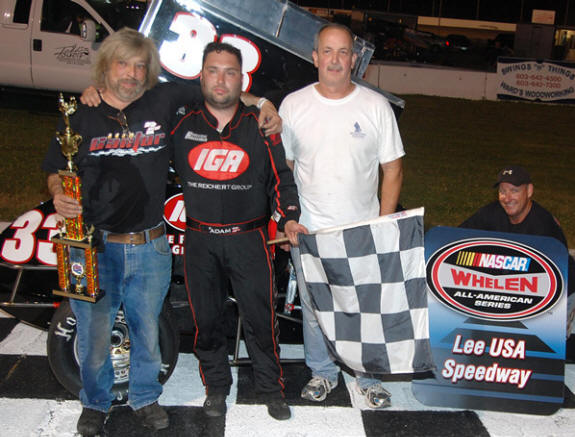 a
Allan Cantor at left with son Adam
ALLAN CANTOR
Long time and devoted NEMA car owner Allan Cantor passed away this week.
Allan leaves his son Adam and a passion for both NEMA and midget racing in his legacy. He will be greatly missed by all of his NEMA friends.
He was born on 6/18/50 and died on 9/14/15.
Funeral arrangements: Sunday September 20th - visiting from 12:30 to 2:00 and service from 2:00 to 2:30 at Whittings Funeral Home, Glen Head, NY.

Internment - New Montefiore Cemetary, 1180 Wellwood Ave, West Babylon, NY at 3:15 PM.

Then Adam's mom's house, 1 Windward Court, Dix Hills, NY.

SAT. SEPT. 12th, 2015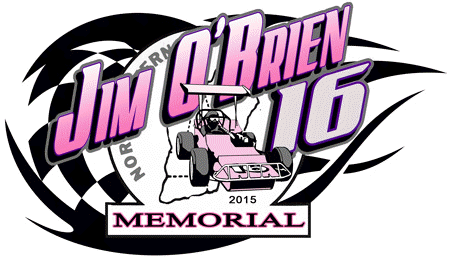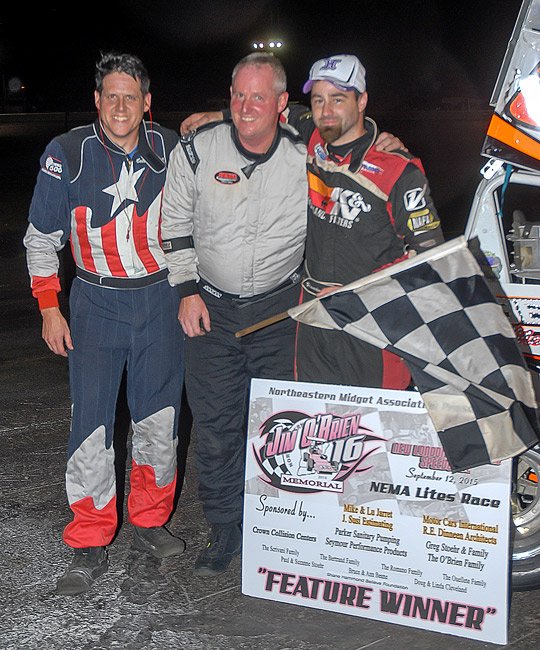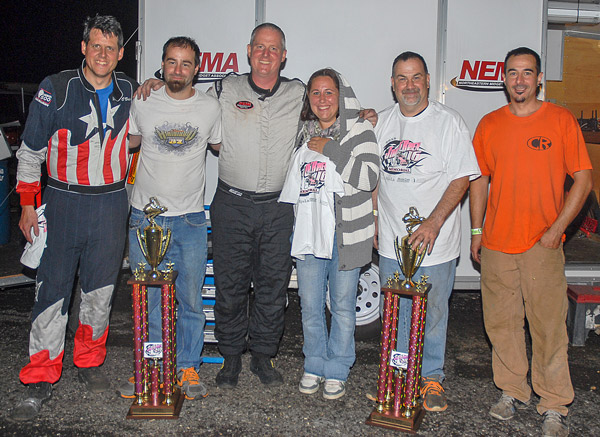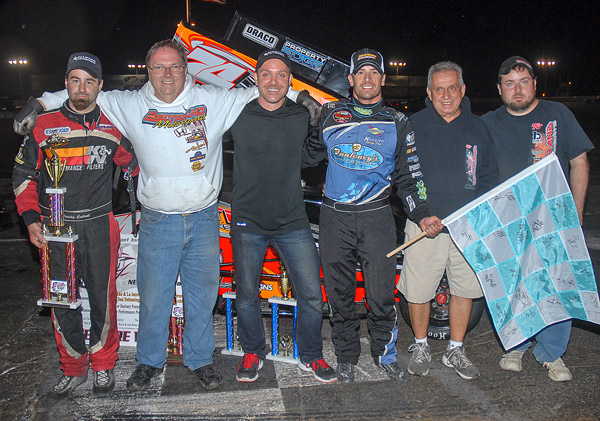 Coby, Cabral Capture O'Brien Memorial
NEMA Speedbowl Victories
Waterford, CT - Doug Coby beat back a mid race restart challenge from reigning champion, Randy Cabral, to capture the 25 lap NEMA feature at the New London Waterford Speedbowl this past Saturday night. In the Lites division, Randy Cabral took down a thrilling victory, even as the rain started to fall throughout the final laps in the race billed as the Jim O'Brien 16 NEMA Lites Memorial event, memorializing an "anchor" club member. O'Brien's family were on hand to celebrate the victories with both drivers in front of a packed house.

Jim Santa Maria and Paul Scally brought the field down for the green flag after a quick hot lap session to ensure the damp track surface was ready for action. Reigning NASCAR Whelen Modified Tour Champion, Doug Coby, was sixth on the grid, but quickly blasted his way through the field. At the end of lap two, Coby had command and quickly set a torrid pace. Coby's fastest laps a 12.93 and 91 respectively, came right before and right after the caution flew on lap twelve. When the caution flew, Coby had stretched his lead out to over a straightaway.

On the restart, Coby lined up next to teammate Cabral, and got the jump coming off of turn four. Cabral used the momentum of the high line to draw even with Coby coming off of turn two, and the duo would run side by side for the next three laps.

"I knew Randy was up there, but we were really good on the bottom and had more if we needed it. I was hoping he'd continue to run it in harder and harder, as I knew if I could keep him up there he would eventually over heat the right rear and get loose," said Coby.

Coby then set sail and never looked back, taking down the victory over Cabral by ten car lengths, and a hard charging John Zych Jr.

"Tim (Bertrand) knows what he's doing with these cars. I told him what I wanted tonight, and he gave me exactly that. The only thing I touched on the car during the feature was the steering wheel," joked Coby. "I never knew much about NEMA as a club until I started running these cars a few years back. It's a great group of people, and the series is super competitive. I also didn't know Jim O'Brien, but from what I understand he did a ton for NEMA and it's an honor to win this race in his memory," he said.

It was Coby's second NEMA win of the season in the #74 K&N Engineering machine for Bertrand Motorsports, the first coming at Chemung.

In the Lites feature, RJ Tufano got the lead early, after a multi car crash taking out Scott Bigelow and Andy Barrows, halted the racing action on the first lap. On the restart, Tufano jumped out into the lead, and looked to be the car to beat.

Further back, Randy Cabral was working his way to the front in his family owned #35 car, and behind him, Anthony Nocella in the Frank Manafort #76.

As the leaders approached lapped traffic, Cabral made a bid for the lead, and Nocella then made it three wide, briefly drawing even with Tufano, before disaster struck and the engine expired in his car.

On the restart, Cabral blasted to the outside, taking the lead from Tufano, and at this point, young gun Anthony Payne entered the mix as well. Shortly after that, a light rain started to fall, and the cars started to loosen up in the final laps. Cabral hung on to take down the victory over Tufano and Payne.

"It's an honor to win this race. Jim O'Brien was out to see the little guy succeed, and my dad & I have always been the little guys," said Cabral. "We literally have less than four thousand dollars invested in this car, and we run used tires on it in 90% of the races. I think we would have made Jim proud tonight," he said.

NEMA's final event occurs at the Thompson Speedway Motorsports Park in October, with NEMA running on Saturday night, and the Lites running on Sunday afternoon.
NEMA LITES - SPEEDBOWL - 9/12/15
Pos.
#
Driver
Hometown
Owner
1
35
Randy Cabral
Plymouth, MA
Glen Cabral
2
39
RJ Tufano
West Haven, CT
RJ Tufano
3
21
Anthony Payne

Fairlawn, NJ

Jennifer Scrivani
4
30b
Paul Scally
Raynham, MA
Paul Scally
5
25
Richie Morrocco
Plainville, MA
Rich Morrocco
6
31

Paul

Bigelow

Kensington, CT
Paul

Bigelow

7
-
Calvin Carroll
-
-
8
9
Ben Mikitarian
Northborough, MA
John Mikitarian
9
2
Jim Cataldo
Sterling, MA
Jim Cataldo
10
16
Dennis O'Brien
Deerfield, NH
Chris O'Brien
11
21w
Matt O'Brien
Wilmington, MA
Jim Chambers
12
76
Anthony Nocella
Woburn, MA
Fank Manafort
13
15a
Jim Miller
Weymouth, MA
Russ Stoehr
14
32
Scott

Bigelow

E. Hampton, CT

Scott

Bigelow

15
13
Ryan Bigelow

E. Hampton, CT

Ryan

Bigelow

16
24
Nikki Carroll
-
-
17
29d
Jeremy Decourcey
Rochester, NH
Jeremy Decourcey
18
46
Andy Barrows
New Ipswich, NH
Andy Barrows
19
36
Myles Devits
-
Myles Devits
NEMA MIDGETS - SPEEDBOWL - 9/12/15

Pos.
#
Driver
Hometown
Owner
1
74
Doug Coby
Wetherfiled, CT
Tim Bertrand
2
47
Randy Cabral
Plymouth, MA
Tim Bertrand
3
9
John Zych Jr.
Mendon, MA
John Zych Sr.
4
15a
Avery Stoehr
Lakeville, MA
Russ Stoehr
5
30
Paul Scally
Raynham, MA
Paul Scally
6
99
Jim Santa Maria
Burlington, CT
Jim Santa Maria
7
21
Jim Chambers
Atkinson, NH
Mike Chambers
8
7
Alan Chambers
Atkinson, NH
Mike Chambers
9
5b
Bethany Stoehr
Bridgewater, MA
Greg Stoehr
10
16
Matt O'Brien
Wilmington, MA
Matt O'Brien
11
87
Doug Cleveland
Sudbury, MA
Doug Cleveland
12
39
Todd Bertrand
Danielson, CT
Todd Bertrand
13
71
Seth Carlson
Brimfield, CT
Gene Feigel
O'BRIEN AWARDS

RJ Tufano & Crew:
2nd place and
Outstanding
Innovator

Anthony Payne:
3rd place and
Outstanding
Competitor

Jeremy
Decourcy:
Outstanding
Racer



9/12 NL-W Speedbowl Race
Honors the Late Jim O'Brien
On Saturday September 12th, the Northeastern Midget Association will invade New London-Waterford Speedbowl as the NEMA Lites will take center stage for the first Jim O'Brien Memorial Race.

Brothers Matt and Dennis O'Brien will both be competing in the NEMA and Lites race cards, respectively, with Matt competing in both events. Brother, Chris O'Brien, will be on hand as well - as he owns the Dennis O'Brien machine. A first O'Brien Memorial win will be a coveted one, on the minds of many Lites racers. One of those is NEMA Champion and Lites competitor, Randy Cabral.

"Jim was such a good guy, and always thought about the little guy. Maybe we aren't considered the little guys anymore, but for many years when we were showing up with a 1979 Edmunds on a snow mobile trailer, Jim was always there to greet us with a smile. It would be such an honor to win this race," said five time champion, Randy Cabral. "He did so much for the club, I'd like all of the younger generation to understand who he was, and the impact he had on what we have today," Cabral went on to say.

"Jim O'Brien was a staple in the foundation of NEMA," said NEMA President Russ Stoehr. "He was one of the pioneers who helped pave the way for pavement midget racing in the Northeast, as we see it today," he said.

Jim O'Brien was a legendary car owner and club officer, who for a span of four decades personified the best of NEMA. At a very young age, he was introduced to the Midgets by his father and in 1970, joined the NEMA family as a car owner. He earned feature wins with Johnny Evans, driving his Falcon powered Kurtis, and Doug Cleveland who powered to victory in his home built "Pink Panther" laydown chassis.

In 1975 he won the Coca-Cola dirt track championship with Hank Stevens at the wheel. Jim was an innovative fabricator and engine builder and with his sons by his side, he always built his own cars and motors. For years he served as a NEMA contest board member, once a vice-president, and for 13 consecutive years as the treasurer. His life-long dedication to the club was truly outstanding and in 2003, he was inducted into the NEMA Hall of Fame. However, most notably Jim was always one that stood-up and fought for fair competition and defended the "little guy" - racers who ran with small budgets.

In the same spirit of Jim O'Brien, the NEMA Lites were created with two principals - cost effectiveness and fair competition. While the NEMA midgets are considered the fastest midgets in the world, the NEMA Lites boast to be "lite" on the wallet, making them the perfect fit to highlight the Jim O'Brien memorial race.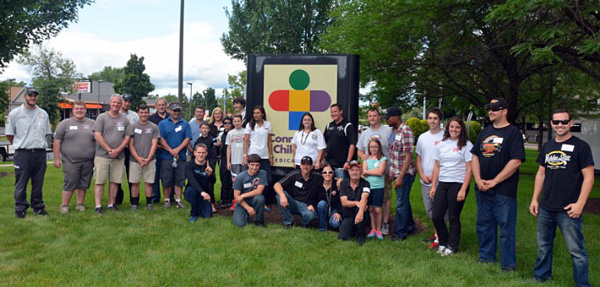 "Bring the Races to the Children"
On June 29th, an amazing group of drivers came to the Connecticut Children's Medical Center to "bring the races to the children."

Mariah Michalski and Jenn Hann from CCMC came together to organize this event for the children and stuff of CCMC. The turnout of drivers and crews who fully supported the event was beyond belief! With Channel 3 News, and the Hartford Courant attending, the event was nothing short of perfect!

Ever driver had the chance to do arts and crafts with the children, as well as go room to room for those who couldn't play the game or join in on the crafts. To see the faces of each child smile was incredible.

One parent said "I haven't heard you talk this much in two years!"- to her son who was loving being able to sit in the race cars outside.

NEMA driver who attended were Avery Stoehr, Todd Bertrand, Jim Santa Maria, Paul Bigelow, and Dennis Obrian. A great group of drivers from other divisions also came out to show their support.

"Giving back to the community is something I love to do, and if I can involve something I love - racing - I am all for it" said Mariah Michalski.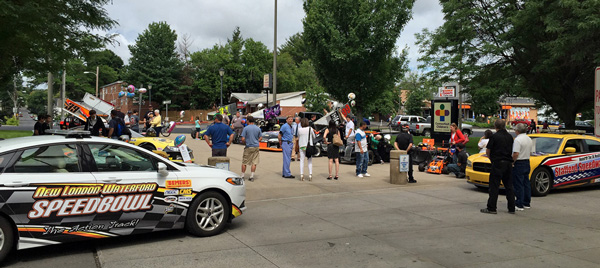 NEMA and Hoosier Tire
Ink Exclusive Three Year Deal
Brockton, MA - NEMA President, Mike Scrivani, announced today that the Northeastern Midget Association and Hoosier Tire East have inked an exclusive, three year deal. Under the deal, NEMA will have exclusive rights in the Northeast to the current plated compounds (RR 7, 7.3, RF 5, LR, 5 and LF, 4, 5) and will be the only series in the Northeast running these particular tires.

Hoosier will also continue to be a major contributor to the NEMA point fund, and in addition have offered fixed pricing for the racer over the next three years.
"NEMA has enjoyed a long history with Hoosier. This sport is about supporting those who take care of you, and supporting each other. We feel that we have the best product in Hoosier and look forward to a long relationship with them," said NEMA President, Mike Scrivani. "We have an exciting schedule brewing for 2015 and expect great car counts," said Scrivani.

As part of the arrangement, Hoosier tire has selected long time NEMA supporter Seymour Enterprises to be the exclusive dealer and service provider to the Northeastern Midget Association for the 2015 season.

NEMA's schedule will soon be published on www.nemaracing.com. Stay tuned for all of the latest updates.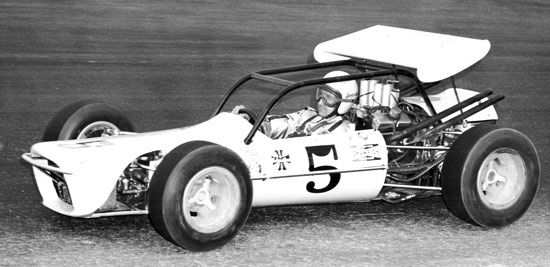 Jerry Wall - Yellow Jacket
NEMA Vintage Slide Show on DVD
Once again, the Northeastern Midget Association is making available the NEMA Vintage Slideshow DVD just in time for Christmas. The presentation is from the collection of one of the most respected journalist, historians and statisticians in New England, Pete Zanardi.

The range of drivers, owners, tracks and race cars depicted in the collection are the who's who in Northeastern midget racing. The forefathers that laid the foundation for present day racing are illustrated in color and black and white photo's complete with captions. On the DVD: Bill Randall, Ray Roberts, Ronnie Evans and Jerry Russo just to name a few drivers from NEMA's infancy.

The early cage days drivers are represented by Bill Roth, Lee Smith, Hank Stevens and Len Thrall for example. And to finish out the last couple of decades are the Fornoros, Stoehrs, Scrivanis, Seymours and many, many more.

The cars are as big as the drivers on this DVD that range from the Badgers to the uprights, cage and cageless, even some Offy's.

The DVD is 332 pictures strong and is a must for any early day racing enthusiast.

The cost is $20 each with all proceeds going directly to NEMA to help carry on the rich traditions these early pioneers built.

Payment can be made through PayPal

HERE
to rewindles@sbcglobal.net or by sending a check or money order
(payable to NEMA) as well as your name and address to Bill Van Slyke,
23 Horsestable Cir., Shelton, Ct. 06484.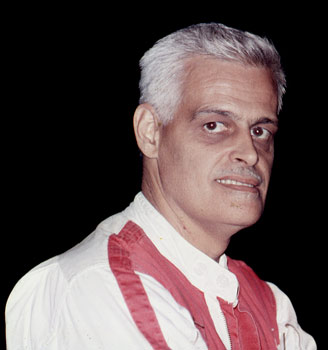 Ronnie Evans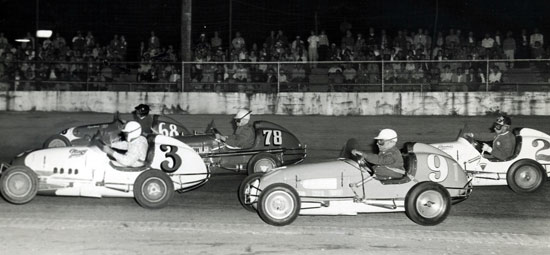 Seekonk Action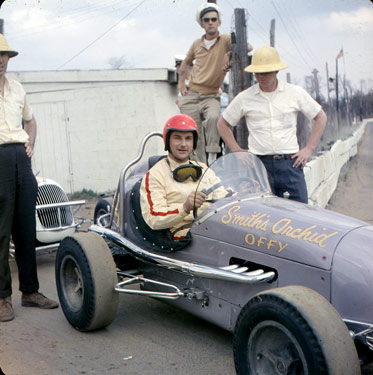 Len Thrall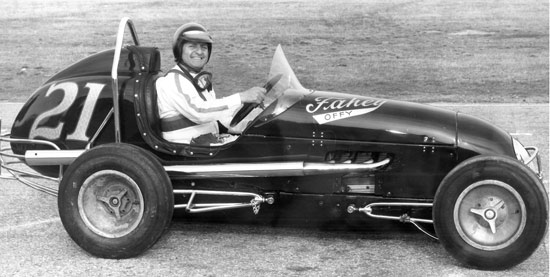 Tony Romit - Fahey Offy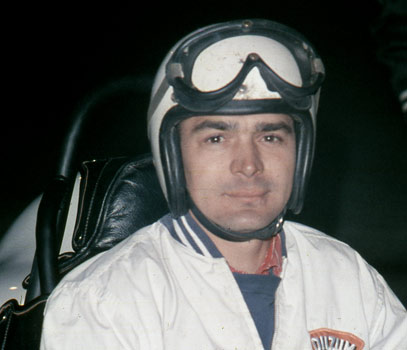 Joe Csiki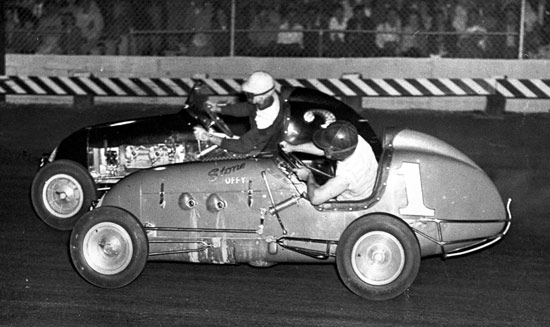 Bill Randall (3) & Bud Tatro (1) - Seekonk
Previous Events - Photos & Results - HERE
Previous NEMA NEWS HERE
NEMA AWARDS HISTORY