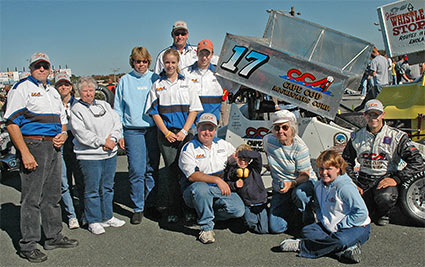 Congratulations to 2004 NEMA Owner & Driver

Champions Pete Valeri and Ben Seitz
Ben Seitz New Guard in NEMA
Norfolk, MA: For several seasons, the Northeastern Midget Association has enjoyed an influx of strong young talent. This year may have officially signaled the changing of the guard as 24-year old Ben Seitz of Monument Beach, MA claimed his first Northeastern Midget Association championship. Full Story HERE

Nov 28. NEMA Meeting Report HERE
Bertrand/Buonomo Team
Set for NEMA Challenge
Add Bertrand Motorsports to the list of 2004 Northeastern Midget Association championship contenders. Father and son Gill and Tim Bertrand are coming with a pair of Esslinger-powered Drinan cars – one for Tim and one for Mark Buonomo.

Top priority will be on a championship for Buonomo, "a very under-rated driver" according to Tim Bertrand. Buonomo, a force since 1997, calls it "the best opportunity I've had in racing."

The team will on hand for the season opener Saturday night, May 1 at Waterford Speedbowl. "We're excited about that," says Bertrand. "I have a win and a second at Waterford while four of Mark's six wins have come there."

A number of teams are coming with new equipment including Pete Valeri (with Ben Seitz). Defending champs Joe Payne Jr. and Gene Angelillo believe there's more in their one-year old Beast as well.

Bertrand, a racer for all but five of his 26 years, reports he and his father have been planning such an effort for "two or three years." When Buonomo crashed the Bertrand #47 at Thompson five laps from victory last July, they began planning for '04.

Actually, Bertrand returned to Whip City Speedway where he won his third championship. The coming season, however, will be dedicated to NEMA.

The cars have been coming together in Gill Bertrand's Suffield, CT shop. One car is the same frame from last year's #47 with all new components. "The cars have absolutely the best of everything," Bertrand continues, "carbon fiber and magnesium bodies, as much titanium as we could find and absolutely the best safety equipment out there." They rival the USAC Midgets of Dino Tomassi and Steve Lewis.

There are three Esslinger engines – two 161s and the 155 from last year. Esslinger was the choice, Bertrand says, "because they are easier to work, reliable and fast."

Buonomo, who actually started NEMA's youth movement, has played a leading role in assembling the cars. He is, says Bertrand "a team player and a fantastic mechanic."

Teamed with his father Al, Buonomo has had some sparkling runs including a Thompson World Series win in 2001 when he wound up second in the points battle.

"Somebody should have given Mark an opportunity like this years ago," Bertrand says.

Bertrand, who "picked and chose" races as a NEMA rookie in 2001, was 12th in the 2002 championship race with some impressive efforts including the win at the Speedbowl.

The cars will carry unique paint scenes by noted New Jersey painter Rich Agin.
Cabral Among Favorites
As NEMA Opens at 'Bowl'
Randy Cabral wants to start the 2004 Northeastern Midget Association season right where he left off the 2003 campaign – in Victory Lane. NEMA begins it 52nd campaign Sat. May 1st at Waterford Speedbowl.

Although he admits to "struggling a little bit at Waterford," he begins his sixth NEMA campaign on a high note thanks to a season-ending win at last year's Thompson World Series. After dropping out the three previous years, winning last year's World Series meant a lot," he explains. "You spend the winter on the upside. You look forward to working on the car; you're actually happy to do it. And, you don't have to wonder what might have been."

Cabral will be back in the #36 Fontana-powered Chuckwagon Chassis, one of two cars owned by his dad Glen, a long-time NEMA competitor. The team also includes the "ancient" (1979) #35 Autocraft/Edmonds along with the Jack Glockner-owned #37 Challenger/Autocraft that will be driven by rookie of the year candidate Shane Hammond.

The 1999 co-Rookie of the year, Cabral has finished no worse than third in driver points the last four years. He refuses to talk about championship – "when we thought about it it blew up in our face." He is simply "looking forward to top three finishes."

A six-time winner, he expects a very competitive season. Defending champion Joey Payne Jr. (back in the Angelillo #45) heads the list that also includes Adam Cantor, Howie Bumpus (Berrio 2), Pete Pernesiglio and Tim Bertrand and Mark Buonomo, the latter in new Gill Bertrand-owned Esslinger/Drinan cars. Ben Seitz returns in Pete Valeri's Gaerte/Beast.

"We came out last year with a new car," Cabral continues. "We had no clue on what it was going to do." He wound up with eight top-fives and a third place finish in points, not displeasing considering that he and the car were "working well" at the end. The whole operation, in fact, "got better and better."

The team had to snap back from a huge disappointment at the Boston Louie. After finishing first, Cabral, who won the 2000 Louie, was found to be an inch too wide. "It was my fault entirely," he says. "I really wanted to be the first two-time Louie winner."

He "wants to improve," not on last year but on his 2002 statistics – nine top five including three seconds and a win at Waterford's Finale. Driving the Edmonds, he finished second in points. "I'm thinking about a near-perfect season," he says.

Chuck Welling provided Cabral with his first ride and he was impressive immediately. He and Buonomo struck the first blows in NEMA's "youth movement."

Hammond, who drove the #35 at Star and Oswego, comes to NEMA after 13 seasons in Karts.
Eastern States Exposition Center - W. Springfield, MA
Payne & Angelillo Ready To
Defend NEMA Titles
Defending the Northeastern Midget Association championship is "priority one" for driver Joey Payne Jr. New Jersey's Payne, one of the leading open-cockpit chauffeurs in the East, is back with 13-time champion, including the last six, Gene Angelillo.

NEMA, again backed by Wirtgen America, also heads into its 53rd season with strong support from Helping Hands, a Wrentham, MA based charitable foundation. The 13-race schedule begins Saturday night, May 1 at Waterford Speedbowl.

"I'm going to be a busy racer this summer but NEMA is the first concern," says Payne who admits to doing "a lot of points racing last year. There were times when I probably could have gone for a win but took a second or a third because I didn't want to take any chances of wrecking the car."

Payne, who signed on with Angelillo in the early winter, "realized I had a shot at a championship. I didn't want Gene's streak to end with me."

Although he won three times, it was consistency – a pair of sixths were the worst finishes – that made the difference. "Winning championships means you've got to be there at the finish," says Angelillo who captured his first title in 1983. "Joey has a knack for that."

"Going for more wins," however, is part of Payne's 2004 plan. Angelillo's 3rd driver in 23 years, he expects "the car (a Gaerte-powered Beast) will be a lot better this season. We're going to get to test this year. The car has more and we're going to find it."

Both Payne and Angelillo, who also won championships with Drew Fornoro and Russ Stoehr, are convinced they're going to need it. Payne points to youngsters Randy Cabral, Adam Cantor and Ben Seitz as definite threats along with veterans Howard Bumpus and Pete Pernesiglio. Seitz and owner Pete Valeri have moved up to a Gaerte/Beast and Payne "fully expects they'll get a few this year."

Fornoro and Bobby Santos III will be frequent competitors. "A lot of teams have improved," Angelillo says. "If we want to win again, we've got to be better."

The Speedbowl is an ideal place to open a campaign that includes Stafford Motor Speedway (July 14) for the first time since 1981. The Speedbowl, which welcomes NEMA four times including the Boston Louie on Aug. 14, and Seekonk, which plays host on Aug. 21, are charter members of NEMA.

NEMA returns to Adirondack Speedway (May 29), Thompson Speedway (July 1), Lee USA Speedway (July 23), Beech Ridge Motor Speedway (Aug. 7) and Oswego Speedway's Classic (Sept. 3). The traditional season ending trio returns with Seekonk's DAV (Oct. 2-3), the Speedbowl's "Finale" (Oct. 9-10) and Thompson's World Series (Oct. 16-17).


Saturday, January 24th - Ramada Inn, Seekonk, MA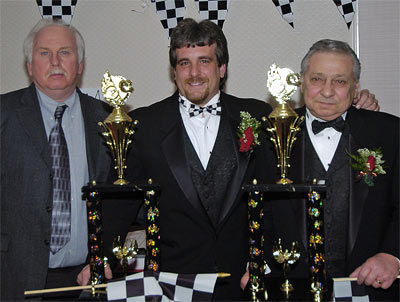 L to R: NEMA President Mike Scrivani,
2003 Champion Driver - Joey Payne,
2003 Champion Owner - Gene Angelillo