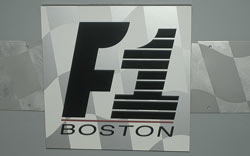 Kart Klash II
presented by Wirtgen
Dec. 14th indoor kart competition at F1 Boston
with NEMA and ISMA members and friends.
Full Photo Page, Results & Story HERE
More Action Pix Posted on Tues, 12/17
With winter weather coming unseasonably early, the Kart Klash II presented by Wirtgen was just what the doctor ordered. NEMA Midget competitor Bobby Seymour teamed with ISMA Supermodified Owner/Driver J. Scott Martel to host a day of indoor go-kart racing at F1 Boston in Braintree, MA. After an action-packed afternoon on the road course of Track #1 a star-studded team of young lions found themselves with winner's trophies.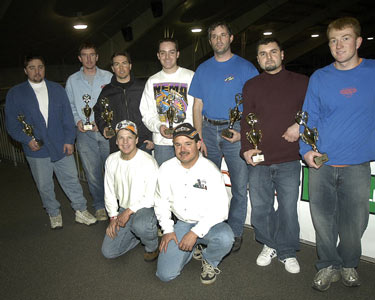 Rookie Ben Seitz Learning As NEMA Rookie
The "learning process" continues for rookie Ben Seitz Saturday night, May 18, when the Northeastern Midget Association returns to Star Speedway. The Wen Kelley Memorial will be the first of four 2002 NEMA dates at Star.

"We know we have a big learning curve," says Seitz, 13th in the driver's standings after two races. "We're learning a lot about a lot of things - a totally new car, new tracks, new people, tires."

Seitz, who came to NEMA after the 2001 New England Legends Car championship, and Tim Heath appear to be at the top of the 2002 NEMA rookie class. With two top 10s, Heath is in ninth position.

"We're going to try to win it," Seitz says of the Rookie of the Year prize. He is, however, more concerned with continuing his education.

"Every time we go out we want to be a little better," he says. "Hopefully, by the end of the season, we'll have a better handle on things." Ninth at Thompson, Seitz crashed while running eighth "with a good shot at gaining more spots" at Waterford.

"Right now," admits Seitz, "the car is faster than I am. I'm not driving it anywhere near to its potential."
A veteran of a half-dozen seasons with the Legends, New Jersey native Seitz hooked up with accomplished Legends campaigner Pete Valeri of Monument Beach, MA to win nine tour races last summer, pushing a career total to over 20.

He continues to drive Legends when the schedule permits but the Midget is top priority. Following the 2001 championship, he was ready to move on. "We got a call about Paul Lawless' car," he says. "We knew it was a good one and decided to go for it."

It was a brand new experience. "The first time we looked at a Midget up close was the first time we brought it into the shop," Seitz says.

While "they do move in similar ways," the difference between Legends and Midgets in wide. "The Legends have no grip and no power compared to the Midget," Seitz says. "That was a big adjustment. The Legends car you drive in and sort of wait. The Midget you go into the corner, turn and go."

The adjustment, he says, was more difficult at Waterford, where he had raced often, than at Thompson, where he never raced before this year's opener. "At Waterford the straightaways are a lot shorter," he explains. "You come out of a corner and you hit the next one real quick. There's not a lot of time to compensate or to get ready."

Star, Hudson, Canaan USA will present similar demands for Seitz who "loved" the Legends Tour because of its constant challenges.

He "felt comfortable after a few practices" at Thompson where "there's a lot more room to make a mistake."

Tire management is one of the learning demands. From the very hard, "good for three shows" radials, Seitz' crew is now in a game where "stagger is everything and we're changing tires from practice to heats to the feature."

After just two races, Seitz knows, however, the Midget was "definitely a better decision," than a SK-Modified. The Midget "seemed like a better fit for us. There are only a couple of us that work on it constantly."

Everything about a Modified is, he claims "bigger. You need more people, more time and probably more money. It seems like the Midget guys are not wrecking as much. They have more respect for each other's equipment. You know you're going to ball up a Modified now and again and we didn't want to be putting a race car together every week."

To Historic Star Speedway
The Northeastern Midget Association will take its 50th anniversary celebration to Star Speedway Saturday, June 8th for the Wen Kelley Memorial. The event honors one of the club's founders who served it as a car owner and official until his death.

Star has hosted more NEMA events (125) than any other track going back to 1968 when Dave Humphrey won the first Midget event on the Epping, NH oval. NEMA history continues to swirl around the quarter-mile and more can be made on this visit.

Third-place Nokie Fornoro and fourth-place Russ Stoehr are separated by one (38-37) on NEMA's all-time win list. A win for Stoehr will also make the four-time NEMA driving champion the third double figure Star Midget winner. Stoehr, who drives Gene Angelillo's 45, has nine career Star wins, putting him third behind Drew Fornoro (22) and Humphrey (16).

"Nobody is quite sure what's going to happen at Star," said Stoehr. "Obviously, everybody knows the place well, knows how to get around there. That's why you get some surprises."

"There are a million Star Speedway stories," says long-time car owner and official Jim O'Brien. "Everybody had a favorite memory." Johnny Evans drove an O'Brien owned car to a victory at Star in 1974. O'Brien also remembers a young Jeff Gordon driving a Scrivani car to seventh in a NEMA feature at Star in 1989.

"We've won championships, lost championships there," said NEMA president and 11-time owner champion Gene Angelillo. "Star Speedway has been a constant for NEMA for over 30 years."

There have been 30 different NEMA winners at Star. Stoehr is one of a number who actually got his first checkered at Star, that coming in 1987. He was one of four 2001 winners, the others being Seymour, Fornoro and Randy Cabral.

Other drivers on the active list who first hit paydirt at Star include Seymour (1984), Jeff Horn (1987) and Pete Pernesiglio (1999).

The brothers Fornoro (Nokie and Drew) and Seymour (Bobby and Mike) have been successful at Star. The win list also includes a couple of father-son combinations - Ronnie Evans was a winner before Johnny Evans and Joey Coy, a multiple Star winner, joins father Johnny on the list. Joey Coy's first win came at Star.

NEMA Still Making
Speedbowl History
The Northeastern Midget Association returns to Waterford Speedbowl Saturday night, June 15,continuing the facility's long relationship with the Midgets. It will be the second 2002 NEMA visit, Pete Pernesiglio winning at the Budweiser Nationals in April.

The Speedbowl is, in fact, the only "charter member" still on the NEMA schedule. Then in its third year of operation, the Speedbowl hosted the "second-ever" NEMA event, Bill Eldridge winning on May 31, 1953.

It is the second of four 2001 NEMA dates at Waterford. The Midgets return for the "Boston Louie" Memorial on Aug. 24.

The Midgets have been part of Waterford history since the track's inception. Johnny Thomson, still regarded as New England's premier open-cockpit driver, won two ARDC-sanctioned events in 1951. Thomson went on to become one of American's great Sprint and Indianapolis Car drivers.

In the fall of 1951, New Jersey driver Len Cross (who like Thomson was headed for Indy), won an AAA-sanctioned 100 lapper. George Tichenor set fast time in the latter with a 17-seconds plus lap. In April, Pernesiglio of Ronkonkoma, NY, stopped watches at 13.2 seconds.

"Size, geometry, surface…the Speedbowl has it all," reports Bobby Seymour of Marlboro, MA . High on NEMA's all-time win list, Seymour calls the Speedbowl "one of the best Midget tracks in the east." He has been very successful there.

There are eight active NEMA drivers who have won at Waterford. Joining Seymour and Pernesiglio are Mark Buonomo of Waltham, MA, Barry Kittredge of Marlboro, MA, defending champion Russ Stoehr of N.Carver, MA, Rudy Boetticher Jr. of Totowa, NY, all-time NEMA winner Drew Fornoro of Newton, NJ, Nokie Fornoro of Stroudsburg, PA and Howard Bumpus of Lakeville, MA.

Drew Fornoro calls it a "racy place," pointing out "there are few secrets left at Waterford." The result is all-out racing. NEMA has, on occasion, run 25 lap features in less than seven minutes.

Thomson and Cross set in motion an impressive Speedbowl Midget win list that also includes legends like Joe Csiki, Dutch Schaefer, Billy Randall, Johnny Mann, King Carpenter and present short track modified superstar Ted Christopher.


Back to Main News Page