2011 NEMA NEWS
.

Saturday, November 19
White's of Westport

Westport, MA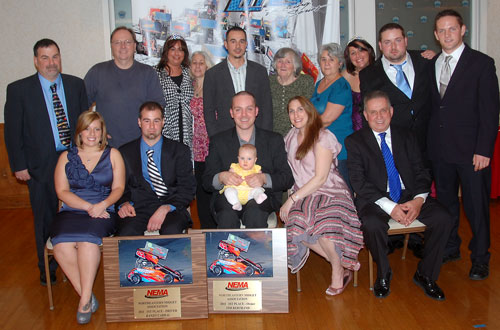 2011 NEMA Midgets Owner and Driver Champions
Bertrand Motorsports and Randy Cabral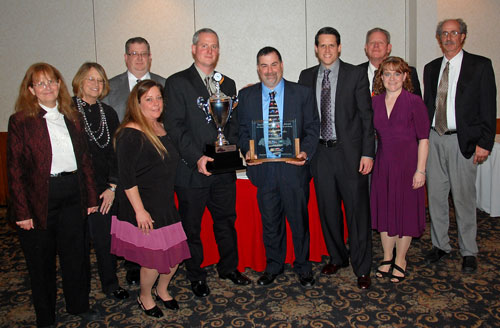 The Jim O'Brien Memorial Award for outstanding contributions to
family and racing was presented by the O'Brien family to Glen Cabral
Hardware Harvest at NEMA Banquet
Full 2011 NEMA Banquet Photo Page HERE
Westport, MA – "I can't wait to come back next year," champion Randy Cabral told the 200-plus at the Northeastern Midget Association Awards banquet Saturday night at White of Westport. It was the third championship in four years for Cabral and owner Tim Bertrand.

The NEMA Lites, led by "champions" Gene Feigel and Seth Carlson, shared in the traditional harvest of hardware

Cabral, who dedicated the season to the late car owner Jim O'Brien and super fan Jim Parsons, carried off the biggest trophy as the top 15 owners and drivers in each division were recognized.

Traditional trophies went to Greg Stoehr (the coveted Johnny Thomson Memorial), Greg and Kathryn Stoehr (Mechanic of the Year), Glen Cabral (Wen Kelley Memorial), Lee Bundy (Ray Roberts Memorial) Todd Bertrand and Seth Carlson (NEMA and Lites Ed Clotheir Rookies of the Year), Mike Horn and James Santa Maria (NEMA and Lites Joe Csiki Memorial Most Improved Drivers), Russ Stoehr (Evans/Thrall Top Owner/Driver) and Anthony Nocella and Bethany Stoehr (the NEMA and Lites Pat Thibodeau Youth, Determination and Talent Award winners).

Sons Matt, Dennis and Chris introduced the Jim O'Brien Memorial Award for outstanding contributions to family and racing and presented it to Glen Cabral. On the tenth anniversary of his passing, Brian Caruso was memorialized with a hard charger award that went to Bethany Stoehr. Tara Stoehr accepted the Angelillo Memorial, honoring the "woman behind the man."

Keith Botelho (NEMA) and Christian Briggs (Lites) won the Shane Hammond Sportsmanship Awards.

Dave Leonard (Ralph Miller Memorial Award for Outstanding and Continuing Perseverance), John Zych Jr. (Associate Member Never Say Die Award) and Randy Bigelow (Hard Luck Award) were recognized.

Lifetime Memberships went to Doug Cleveland and Pete Zanardi.

Driver Ben Seitz and owner Peter Valeri, the dominant team between 2004 and 2007, were inducted into the Dick Gallagher Hall of Fame.

First time NEMA feature winners Mike Horn, Todd Bertrand, Anthony Nocela were recognized as were first-time Lites winners Seth Carlson, Randy Bigelow, Andy Barrows, Ian Cumens, D.J. Moniz. The Scally #30 (NEMA) and the Mederios #50 were the Wild Child Designs best appearing cars. Ted Smith, Cantor Racing of Long Island and Pennsylvania's BJ MacDonald shared the Long Haul award.

Collecting perfect attendance Awards trophies were the Dumo's Desire #45, the Bertrand Motorsports #47, the Russ Stoehr #25, The Cantor Racing #7ny, the Scally Racing #30, Lee Bundy's #2 along with Gene Feigel #71, Paul Luggelle's #28 and the Bobby Seymour/Andy Barrows #81, the latter three Lites entries.

The Mazda Motorsports Top Gun Pit Crew Awards went to #45 Dumo's Desire (April), #13 Randy Bigelow (May), #28 Paul Luggelle (June), #93X Mike Horn (July), #39 Bertrand Motorsports (August),
#9 Seymour Racing (September) and #71 Gene Feigel (October)

NEMA – Top 15


Owners:

1. #47 Tim Bertrand, 2. #45 Dumo' Desire,




3. #7ny Allan Cantor, 4. #25 Russ Stoehr, 5. #26b Greg Stoehr,




6. #30 Paul Scally, 7. #93X Mike Horn, 8. #2 Lee Bundy,




9. #29 Jeff Abold, 10. #9 John Zyck, 11. #22 Dave Leonard,




12. #39 Tim Bertrand, #13. #49 BJ MacDonald, 14. #44 Ed Breault,




15. #3m Jim Miller.




Drivers:

1. Randy Cabral, 2. Russ Stoehr, 3. Greg Stoehr,




4. Keith Botelho, 5. Jeff Abold, 6. Paul Scally, 7. Mike Horn,




8. Jeremy Frankoski, 9. Lee Bundy, 10. Todd Bertrand,




11. Chris Leonard, 12. John Zych, 13. BJ MacDonald,




14. Anthony Nocella, 15. Doug Cleveland.



NEMA LITES – Top 15


Owners:

1. #71 Gene Feigel, 2. #81 Bob Seymour,




3. #29 Matt Seymour, 4. #50 Carl Mederios, 5. #28 Paul Luggelle,




6. #26b Greg Stoehr, 7. #13 Randy Bigelow, 8. #99 Susan Santa Maria, 9. #48 David Igo, 10. #9 Bob Seymour, 11. #18. DJ Moniz,




12. #4 Paul Scally, 13. #21 Jennifer Scrivani,




14. #44 Christian Briggs, 15. #3 Randy Bigelow.




Drivers:

1. Seth Carlson, 2. Andy Barrows, 3. Anthony Nocella,




4. Carl Mederios Jr., 5. Paul Luggelle, 6. Ryan Bigelow,




7. Bethany Stoehr, 8. Brandon Igo, 9. Anthony Marvuglio,




10. James Santa Maria, 11. DJ Moniz, 12. Randy Cabral,




13. Christian Briggs, 14. Paul Bigelow, 15. Lanson Fornoro.



Full 2011 NEMA Banquet Photo Page HERE


The Northeastern Midget Association's 59th season is complete. It was a very competitive campaign – eight winners including three first-timers and championship battles that went right to the final checkered. In the final reckoning, Randy Cabral and owner Tim Bertrand won the championships despite a five-win season by Russ Stoehr and the Dumo's Desire team. Only 25 points separated them.

The traditional plethora of hardware will be distributed at the Awards Banquet Saturday, Nov. 19 at White's of Westport in Westport, MA.

Cabral, who was on the podium in nine of 13 races this summer, claims a crash in the 2010 Boston Louie had a lot to do with the 2011 crown. "I crashed out of that 2010 championship," says Cabral, calling "impatience" the culprit in a last place finish. "It definitely had an impact on my driving this year."

The Bertrand team won at the World Series but Stoehr's third was more than enough to claim the 2010 title. This summer, Stoehr won at the season-ending World Series with Cabral clinching with a second in a classic duel.

If impatience was the culprit last year, a broken panhard bar is the nominee this year. That's what led to Stoehr's 17th at the Boston Louie. The race before, it was a broken throttle spring. The leader going into the Louie, Stoehr actually left in third place behind Cabral, who finished second and brother Greg.

Through the "Louie" Greg Stoehr had seven top threes in 10 races including a win at Lee in the 26b. He crashed the car at Waterford on Sept. 24. He did get a ride in Jim Miller's 3m in the final two races and wound up third in driver standings, 93 points behind the leader. Miller's helping others is legendary.




In addition to the Cabral and the Stoehr brothers, Jeff Abold, Keith Botelho, Mike Horn, Todd Bertrand and Anthony Nocella were winners, the latter three first timers. All of the first-timers had Cabral, who had six seconds overall, on their bumper.

"I've never been up on the wheel for so many laps for so long. There was not a second to relax," Cabral says of the battle with teammate Bertrand, younger brother to car owner Tim, at Waterford.

Cabral also reports that his dad Glen scolded him for not helping Todd enough. "We were too concerned about ourselves," he explains, pledging to correct the situation in 2012.



All three first timers had historical tinges. Horn (Thompson) put himself and dad Jeff on the father/son win list, joining the Coys (Johnny Sr. along with Johnny Jr. and Joey), the Evans' (John and Ronnie), the Harts (Bob and Rick) and the Manns (Johnny and Billy).

Bertrand (Waterford) along with Tim join Bob and Lou Cicconi, Joey and Johnny Jr. Coy, Drew and Nokie Fornoro and Bobby and Mike Seymour on the brothers win list.

Bertrand and Nocella (Seekonk) become the first NEMA Lites products to win in the full Midgets.



Russ Stoehr moved past Nokie Fornoro into third place on the all-time win list. He now has 48. Champion Randy Cabral's two wins brings him to 31, two behind fifth place Billy Eldridge.

It was the 12th straight year Cabral has won, a statistic second only to Dave Humphrey's 16.

Greg Stoehr's win at Lee gives him 10 on the all-time list, putting him in a tie for 27th.

Thunder Road marked only the third time Russ and Greg Stoehr have finished one-two. They did it at Thompson back in 1993 and at Waterford in 2010.



Paul Scally's dedication to NEMA is astonishing. Despite some mechanical woes and that horrific crash at Thunder Road, Scally made every race. The three title contenders also started every feature.



Historian Nick Teto discovered 2011 was the ninth time a driver won both the opener and the closer. Bill Eldridge did it in 1954, Dick Brown in 1961, Johnny Mann in 1972, Armond Holley in 1976 and again in 1977, Dave Humphrey in 1985, Ben Seitz in 2005, Joey Payne Jr. in 2006 and Russ Stoehr in 2011.

Teto also discovered the podium (Randy Cabral, Greg Stoehr, Todd Bertrand) was the same for the Twin State and Waterford results. That hadn't happened in back-to-back events since 2003 when Drew Fornoro, Adam Cantor and Randy Cabral did it at Thompson and Star.



Jeff Abold became the first to win three straight Boston Louie races, riding a Seymour Enterprises wave that reached nine wins at Seekonk since 2008 when Nocella won the DAV.



Russ Stoehr's two wins at Waterford brings his total there to seven, five of them coming since he returned to action with the Dumo's Desire team three years ago. Before that, he had won only twice at the 'Bowl.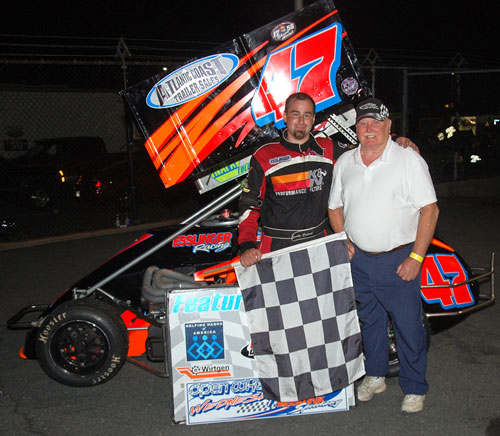 Consistency Keys Cabral's NEMA Crown
Randy Cabral, the Northeastern Midget Association driving champion for the third time in four years, vividly recalls a dinner conversation with his dad Glen. Like his dad, he wanted to drive Midgets and hoped to become "somebody's that's noticed."

The weekend after clinching the title with a second at Thompson's World Series, Cabral at Lee Speedway's Octoberfest. "Everybody was talking about the NEMA champ being there," Cabral says. "It was kind of nice."

Cabral and car owner Tim Bertrand, together since 2006, will be the guests of honor at NEMA's annual Awards Banquet Saturday, Nov. 19 at Whites of Westport in Westport, MA.

It is, Cabral continues, "a privilege to be the champion because so many drivers have fought so many times and missed out by just a little. To have one championship is amazing. Never did I consider three."

Point chasing and defending championships are, however, not something Cabral or Bertrand enjoy. "Tim says 'looking at points can lead to bad things,'" Cabral declares. "This season we didn't pay attention to points, not even after we took the lead. This year was more about having fun."

Nothing was more fun than the last race – he was second to Russ Stoehr in a classic performance for both. It pleased Cabral to no end. "I went to Thompson extremely excited," he explains. "I wanted no one to fall out of the race. I wanted this to come down to a great race for the fans."

He takes pride in how close he and Stoehr ran, both aware of what the slightest bump could do. "I did have the most to lose," adds. Cabral and Bertrand wound up with a 25-point edge on Stoehr and Dumo's Desire racing, the latter five time winners.

The sixth second of the campaign (he won twice), the World Series capped an amazing season that didn't start that well. "We had small issues because of a new motor. We had some handling problems. As usual, Tim figured it out and we got going pretty good."

Stoehr won the first three races – Waterford, Thunder Road and Stafford. Cabral, 11th at the latter when a sparkplug wire fell off, recalls thinking "Ok, we know who's going to win the championship." He and Bertrand agreed to "let's just go racing."

They were second to Jeff Abold at the Boston Louie, the turning point of the season. While Cabral had a "perfect car," Stoehr had a horrible finish. Cabral and Bertrand took over the point leads.

Victory wise, it was the worst season since 2006 for Cabral/Bertrand. It terms of consistency, nine podiums in 13 starts, 2011 was astonishing. More often than not, his seconds were sensational, chasing Mike Horn home at Thompson and teammate Todd Bertrand at Waterford examples. More often than not, his seconds were sensational, chasing Mike Horn home at Thompson and teammate Todd Bertrand at Waterford examples.

Over the last eight races, he was on the podium seven times.

"We really had good set ups wherever we go and we made adjustments once we got there," explains Cabral. He also believes "I drove better this year once the car got to handling. I was communicating better."

He is noticed.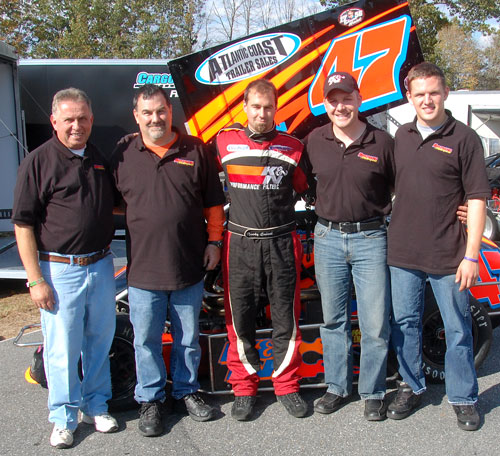 Bertrand's NEMA Success
Based on Communication
Brockton, MA - Communication and history, claims car owner Tim Bertrand, makes championships. Bertrand and driver Randy Cabral are the Northeastern Midget Association champions for the third time in the past four years.

With two this season, the combination has won 24 features since coming together in 2006. The Dumo's Desire team, with drivers Joey Payne and Russ Stoehr, is next with 14.

"People think it is equipment," says Bertrand, a former driver. "It isn't." It is, he insists "welding" the knowledge of setting up the car with Cabral's wants as a driver. "We are always trying to make the car go faster," says Bertrand. "We think about set up all the time. Not a week goes by that we don't talk five times about the car."

Pointing out the #47 is already apart, Bertrand adds it goes on in winter as well as summer. Boldly, Bertrand suggests the communication ranks with the best in NEMA's long history.

"You know when I know I have a good idea?" he asks rhetorically. "I will go to Randy or to (Randy's dad) Glen with an idea and they will say 'you know, I was thinking the same thing.'" That, he says, goes on a lot at the track.

"We go into every race without expectations and with a sense of nervousness," Bertrand continues. "I believe it's true for all competitors regardless of the sport. Without that sense of nervousness, you don't have your edge."

The team's at-track history of heroics is becoming legendary.

Bertrand swears he predicted it all the first time Cabral drove his car in a Thursday practice session at Waterford Speedbowl in 2005. Bertrand, who had stopped driving the year before, was having a tough season. Mark Buonomo and Ted Christopher had both crashed the car. It was after the Christopher crash that Cabral, who was driving for his father, approached Bertrand.

"I didn't think he was serious at first," Bertrand remembers. "Still, it kind of stuck in my mind and finally I called him." They met and after laps in the 12.9 seconds range, Bertrand told Randy and his mother Marie "if we make this deal, we're going to win a lot of races."

Cabral actually crashed (after breaking a Heim joint) in his first ride for Cabral – the 2005 DAV. What impressed Bertrand, however, was seeing the whole Cabral family in tears. After consultation with his family, Bertrand decided to move forward.

"We found a 1999 Drinan chassis in a barn out in the Midwest and made a commitment," Bertrand says. He recalls Glen Cabral actually being a little apprehensive about the Drinan. Arguably the first successive winged Drinan, it remains the top car in the Bertrand stable.

"The shocks came with the car in 2005," Bertrand points out. "We just replaced the rear this year. And we haven't crashed the car a lot." Glen Cabral, one of NEMA's dedicated low buckers for years, is a factor as well. "Glen," Bertrand claims, "doesn't like to spend a dime on anything."

In terms of winning, 2011 was equal to 2006. Consistency wise – nine podiums, including six seconds, in 13 starts – it was sensational. Bertrand points to, in fact takes pride in, NEMA's drive for equity. There were eight different winners – three first timers.

The decision to run the Esslinger "spec engine" was a factor as well. There's less power, but you get 30 to 40 races out of engine and then it's 30% less to refresh. "Considering those stats, I'll take nine podiums happily," says Bertrand.

Brother Todd was one of the first-timers, winning at Waterford in the family car with Cabral second. Bertrand's only win came at the 'Bowl as well.
Walt Renner
passed away
November 16, 2011
Journalist - NEMA Supporter
Obituary Here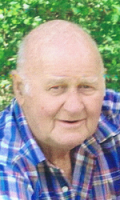 James B. Parsons
passed away
Monday, October 31, 2011
Longtime NEMA Fan

Obituary and Services Here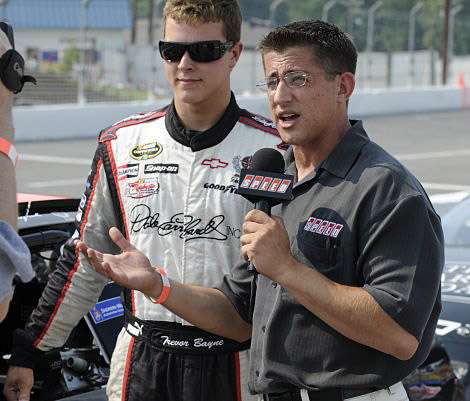 Derek Pernisiglio interviewing Daytona 500 Winner Trevor Bayne
A message to the NEMA's new blood:
Know Your Roots!
By Derek Pernesiglio
NEMA sure has changed a lot over the years. What some of you kids out there may not know is that NEMA was originally started for the "little guy." The guy's that couldn't afford the big Offy engines or Kurtis-Kraft chassis of the day, but it was more for guys that worked forty hours a week.

Their "shop" was (and in some cases still is) the garage at home. Now I wasn't around in those days but I do remember NEMA in the 70's, 80's, 90's and 2000's. If there was anything I can tell the new faces of NEMA is learn who these people and events are that made the organization what it is today.

The older gentlemen that just walked past you in the pits could have been Carl Kibbe, who won four NEMA titles as an owner, or maybe Joe Fiore who's been such in intergral part of the success of NEMA's greatest team, Gene and Marilyns #45. Sorry boys, but if you had to compete aginst guys like Billy Mann, Joey Coy, Lee Smith, Mike Favuli, Paul Stoehr, Russ Klar, Drew Fornoro, Butch Walsh, Bobby White or Dave Humphrey....you had a long night ahead of you. Not to mention your win percentage wouldn't be as high.

Ask some of the veteran members of the club about the Stoehr brothers battling for the win in the 93' World Series where Greg Stoehr in John Zahar's little VW, pulled (in my opinion) one of the ballsiest moves I've ever seen around Russ on the outside to win the race on the final lap. To this day NEMA historians call that one of the greatest NEMA races of all time.

Ask about Drew Fornoro who lapped the field in Gene's Rotary powered roadster in a USAC/NEMA co-sanctioned event at Seekonk in 1987. Find out why the badgers were outlawed, or why the MAZDA Rotary was grandfathered into the rule book in the late 80's.

It wasn't just the drivers, it was the owners too. However back in the day they were an owner/mechanic/crew chief/money spender all in one. Jim O' Brien recently left us and few people know the power and performance he got out of the Falcon engine. A power-plant he built in his own garage. I can remember many night's watching Steve Eldridge leading the field in Jimmy's badger back in the 80's.

Johnny Evans won for Jim and NEMA's "Iron Man", Doug Cleveland who has more main event starts than anyone brought the #16 to victory lane just North of the border in St. Pie Canada in 1978. Is there anyone out there that remembers Dan Blair and his home built V-4? A stock block Chevy 350 he cut in half to fit in a midget. I can remember vividly at Beech Ridge one weekend where that car sounded like a World Of Outlwas sprint car as it came down front stretch with Rick Hart behind the wheel.

What about 1976 Championship car owner, Rollie Lindblad and his beautiful works of art? A man that trail-blazed the badger chassis design into midget racing. After the Badgers were outlawed, he didn't miss a beat building upright chassis that carried Mike Favuli to many NEMA wins, Drew Fornoro to five titles and Joey Coy to three.

Of course I have to mention my old man, "Mazda" Pete Pernesiglio who's homemade peripheral-porting for the Rotary inspired Mazda Engineering to revamp their injection system. A design that is still seen today in three and four rotor Mazda engines in SCCA. The idea was simple: Epoxy off the stock injection and bore giant holes in the rotor housings to direct-feed the rotors with methanol. I remember Dad using the same engine for ten years and rebuilding it for $700 bucks every other season in the garage at home. As Dad would say, "it's a pure case of economic's" and in my personal opinon an economical option for a NEMA Lite car today.....Just sayin'

The Marvin Rifchin Memorial is coming up. If you ever wanted to learn about the man talk to Russ Stoehr. Russ won many races and titles on Marvin's M&H Tires. He made tires for everyone in racing from "Big Daddy" Don Garlits to the boys on the NASCAR Whelen Modified Tour and it's NEMA that honors him with his own race.

"Boston" Louie Seymour won the 1976 USAC Silver Crown Championship with Billy Casella at the wheel but you wont find USAC running a "Boston" Louie Seymour Memorial race. How about Johnny Thompson, he cut his teeth in NEMA and went on to sit on the pole for the Indianapolis 500. Now I know Johnny Thompson was way before my time, but I took the time and asked about NEMA's roots.

Did you know there were many occasions in the 80's where NEMA, USAC and ARDC all ran co-sanctioned shows together and the NEMA boys spanked them. We're talking guys like Rich Vogler, Mel Kenyon, Bob Cicconi and Terry Wente to name a few....and we did it topless, no wings, their rules and the NEMA drivers still prevailed.

Understand that this series is ONLY five years younger than NASCAR itself! When a driver wins a NEMA Midget race. It carries as much prestige as winning a NASCAR Whelen Modified Tour or K&N Pro Series race. So the next time one of you 25 and under crowd wins a main event, enjoy the moment, they don't happen often and I think a lot of time's we take that for granted.

In closing I'd like to thank Chris Romano for help and inspiration for writing this story. Chris was the "voice" of NEMA for many years and before him it was Dick Monahan. He's a NMPA award wining writer and still to this day a great mentor to me. In the last ten years we've lost such people in NEMA like Shane Hammond, Jim Cleveland, Gene and Marilyn, Marvin Rifchin and most recently Jim O'Brien to name a few. I really feel the new guys should ask about the clubs roots and realize you race in an organization that has stood the test of time.

Remember, you guys all stand on the shoulders of the drivers, crewmen and owners that came before you. Show some respect because when you do prevail there's a greater sense of pride. Please guys, take some time and learn about the club. The old guard of NEMA still attend races to this very day because they love the organization and they love helping out. Don't be afraid to ask another set of eyes to look at your car if you have an issue, they'd be glad to talk to you. You might be surprised what you learn too.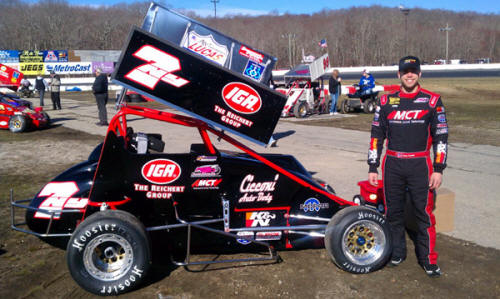 Jeremy Frankoski Readies
Night Before The 500
HUNTERSVILLE, North Carolina (May 25, 2011) - - Jeremy Frankoski may not be participating in this year's Indianapolis 500, but the avid IZOD IndyCar Series fan will partake in the historic Night Before the 500, a USAC Mopar Midget race at Lucas Oil Raceway at Indianapolis this Saturday night.

Recently, the NorthEastern Midget Association (NEMA) competitor tested at the legendary short track with Santos Motorsports to prepare him for what is considered one of American's most traditional Motorsports events. Teaming up with Adam Cantor Racing (ACR) in his No. 7NY IGA / Lucas Oil Mopar, the duo is hopeful for a big payout not to mention a huge night of celebration in what would be the team's biggest career win.

"I'm definitely looking forward to Saturday night," said Frankoski, a former USAC Ford Focus Carolina champion. "I cannot thank Santos Motorsports and Bobby Santos III enough for allowing me to come up with them to Lucas Oil Raceway a couple weeks ago and test with them. Hopefully, the extra seat time will give us the preparation needed going into the weekend."

Having the opportunity to compete in such a prestigious race means a lot to Frankoski, a resident of Huntersville, North Carolina but the stock-car bound driver made it abundantly clear that he would not be where he is today without the help and support of many.

"I'm fortunate," Frankoski mentioned. "Adam Cantor Racing, IGA, Lucas Oil, K&N Filters and all of our other marketing partners continue to have faith in my driving ability and they're giving me an opportunity that I need to try and make the best of. I can't predict what's going to happen on Saturday night, but all I need to do is go out there and give it my all and hope we'll be the ones celebrating in victory lane."

To get to victory lane though, Frankoski will have to race his way into the feature which is expected to be tough but he says he will be mentally and physically prepared for one of his biggest challenges of the 2011 racing season.

"It's a big race, so there's going to be a ton of cars there," he added. "I have a good team with great equipment. We just have to get our car handling right and then have it go our way in the heat."

As far Sunday's 100th anniversary of the Indianapolis 500, Frankoski plans to be glued to "The Greatest Spectacle in Racing" and cheer on his two favorite IICS drivers John Andretti and Dario Franchitti.

"John (Andretti) has helped guide me with some areas of my career, so I'm pulling for him. He is a great guy and I continue to be thankful and appreciative for the impact he has in my racing career. Dario's just a driver that you cannot help but like. He always has a great attitude and is a great role model for all drivers."

In addition to IGA, Lucas Oil and K&N Filters, Frankoski will receive additional support this weekend from MCT, Brown and Miller Racing Solutions, Calico Coatings, Drive-In Web Design, Simpson Racing and Racing 2 Cure.

USAC Racing will stream the Night Before the 500 which includes practice, qualifying, heat races and the main event. To view the contest, please click to usacracing.com/usac_live

In two consecutive years with NEMA, Frankoski has tallied 27 starts, one win, nine top-fives and 18 top-10 finishes.

For more information on Jeremy please visit JeremyFrankoski.com
RACE RESULTS FROM USACRACING.COM:


Qualified: 21st Heat 1 Finish: 6th Semi Finish: 8th
Feature Finish: 21st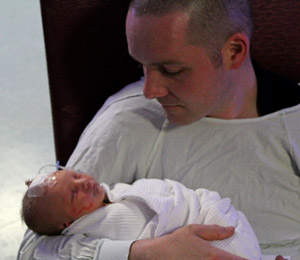 Baby Norah Marilyn Bertrand
was delivered on Sunday evening (Mother's Day) at 10:52 PM
- weighing in at 6 lbs 9 oz and 20.5" long.
Mom and Baby are doing well - Baby will need to spend a few days in the NICU due to an infection that she contracted during delivery, but they anticipate that all should be home by this weekend.
We look forward to seeing you all soon!
Best regards, Tim & Cara Bertrand


More Exciting News!


Cara Bertrand, Tim's wife, has just found out that her first novel,
Lost in Thought, has made it from 5,000 entries to the final 3 in the Amazon Breakthrough Novel Competition!

Cara and Tim will be unable to make it to the next race at Twin State, as Amazon.com is flying their family to Seattle for the Awards ceremony. The winner gets a publishing contract with Penguin Books!

You can help by voting for her book at: www.amazon.com/abna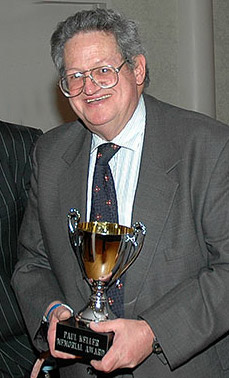 Jim O'Brien
passed away on April 4th
from complications of an aortic aneurysm repair
at New York Presbyterian Medical Center.
He was 69 years old. He was a dedicated NEMA
car owner for over 40 consecutive years.

Funeral services will be on Saturday (April 9, 2011) at
9 AM from Funk Funeral Home, 35 Bellevue Ave., Bristol, to St. Gregory Church, 235 Maltby St., Bristol,
for a Mass of Christian Burial at 10 AM.
Burial will follow in St. Joseph Cemetery, Bristol, CT.

The wake for relatives and friends will be at the
funeral home on Friday between 5 and 8 PM.
------
NEMA Stalwart Jimmy O'Brien Passes
The Northeastern Midget Association lost one of its most dedicated competitors and contributors Monday with the passing of Jimmy O'Brien. As a car owner and officer, O'Brien helped to write over four decades of NEMA history.

O'Brien, a NEMA member since 1970, said his greatest moment came in 1990 when son Matt jumped into his #16. That relationship carried into this season.

Introduced to the Midgets by his father, O'Brien got involved back in the early 1950s. After two years working with others in NEMA, he joined the owner ranks with the Ray Kelly #33. He always referred to Kelly, a NEMA legend, "as my mentor." Chuck Daniel and Len Thrall also played key roles in O'Brien's early career.

A member of the NEMA Hall of Fame, he built his own cars and motors for almost his entire involvement with the club.

His drivers included Johnny Evans, Hank Stevens, Doug Cleveland, Steve Eldridge, Paul Stoehr and Roy Daniel. Cleveland and Evans won in O'Brien equipment; Stevens won the 1975 dirt track title.

He was a walking NEMA encyclopedia, always willing to share a wealth of club history. He was part of several "eras." Always a defender of the low-buck competitor, O'Brien, elected to the Contest Board in 1973, was a guiding force for many years. A one-time vice president, he stepped down in 2003 after 13 years as the club treasurer.

"Jimmy's dedication to NEMA was incredible, an inspiration really," says club president Mike Scrivani Jr. "He loved the Midgets and NEMA in particular. He was an officer under several presidents.
In all the years I knew Jim, seldom did he raise his voice. And
over the past 10 years watching Jimmy and Matt was just a
great thing."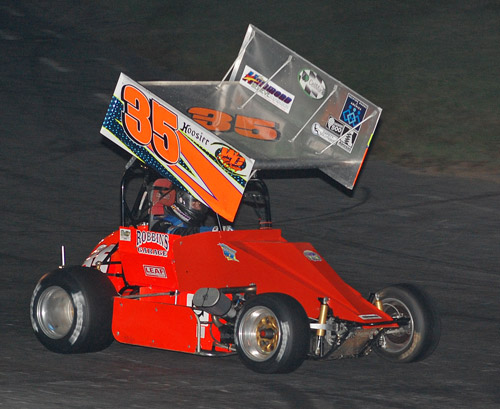 Anthony Marvuglio aboard the #35 in the 2010 Boston Louie Memorial
Two-Car NEMA Effort
For Bertrand in 2011
Brockton, MA – Two-time Northeastern Midget Association car owner champion Tim Bertrand has "taken himself out" of the race for 2011 honors. He has, however, made a deeper investment in the "let's have some fun" fraternity.

Bertrand's driver Randy Cabral will, however, be in the championship picture. The 2008-09 king will be making the bid in two different but familiar race cars. Cabral will drive the #47 Drinan/Esslinger 75 percent of the time including the club's season opener, Waterford Speedowl's Budweiser Blast off April 2-3.

The remainder of the races, notably the smaller tracks, Cabral will be in the completely refurbished, 32-year old #35 Edmonds chassis which will be Autocraft powered. Cabral's first ever NEMA win, the 2000 Boston Louie, came in the car as did his first Speedbowl checkered. "It's like going home for Randy," said Bertrand.

Defending champions Russ Stoehr and the #45 Dumo's Desire Beast/Esslinger, lead the return to the Speedbowl for the club's 59th season opener. The team won twice at Waterford last season. The NEMA Lites will also be part of Blast Off.

Bertrand says the #35's performance with Anthony Marvuglio aboard in last year's Louie – leading the first 13 laps – was the impetus. "Obviously, Randy's dad Glenn has a great love for the car but they have never had the opportunity to run it at its full potential. We decided to help toward that end and we'd also like to prove we can win with a 30-year old racer."

"Already feeling different," Bertrand, about to become a father (wife Cara is due in May) and with increased business responsibilities, welcomes the "lack of pressure" his decision involving the championship brings. Bertrand Motorsports, however, appears no less busy.

Younger brother Todd, a winner in the NEMA Lites, starts his tenure in the family #39, powered by Honda, at the opener. The team has also had a hand in the Drinan/Esslinger ("a replica of the #47) that Bertrand believes makes John Zych Jr. "a definite contender."

Blast Off will also mark the debut of Jeremy Frankowski in the Cantor #7ny. He replaces Adam Cantor, now the crew chief. Others expected at Waterford are Chris Leonard and Chris deRitis, both winners there last season. deRitis will be in the Cicconi #75. Among the other contenders are veterans Greg Stoehr, Keith Botelho, Jim Miller, Lee Bundy, Paul Scally and Mike Horn.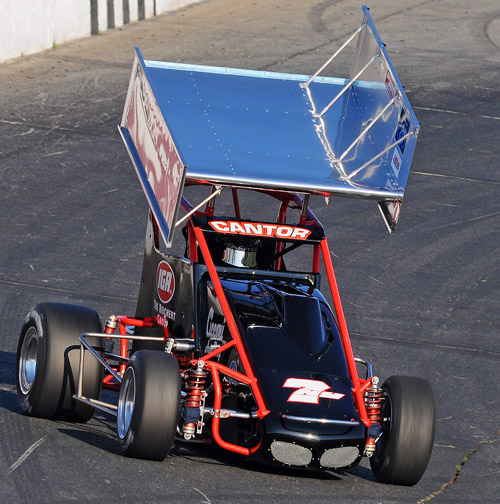 Frankoski Tapped for
2011 NEMA Midget Series
Huntersville, NC (March 1, 2011) – Jeremy Frankoski and Adam Cantor Racing announce they will join forces to compete in the 2011 NEMA midget series. Frankoski will take the wheel of the IGA Reichert Group midget while Adam Cantor, former driver and long time NEMA stand out, will step into his new role as crew chief.

"We are very excited to have a driver of Jeremy's caliber behind the wheel for us," said team owner Allan Cantor. "He has shown that he is more than capable of getting the job done, and that is what we are looking forward to in 2011; getting the job done!"

Frankoski has plenty of experience in open wheel venues with both NEMA and USAC. In 2009, he won the USAC Ford Focus Carolina Championship with 5 wins, 10 top five finishes and 6 pole qualifications. He was subsequently honored by USAC with a Rookie of the Year title.

In NEMA, where Frankoski began racing midgets in 2007, he was also honored as the Rookie of the Year when he placed 6th in points and scored his first win at Beech Ridge. In two consecutive years with NEMA, Frankoski totaled 1 win, 8 top five and 17 top ten finishes. He also captured 5 heat wins.

During those two years in NEMA, Jeremy Frankoski and Adam Cantor raced against each other; now they will work together. "I am very happy with the opportunity to pursue a new role with the team as crew chief," explained Adam Cantor. "I believe that with my experience as a driver and Jeremy's ability to wheel a race car, we will be a formidable combination."

Frankoski responded, "It's an honor to be asked to drive for such a high quality team with a solid, long time sponsor like IGA Reichert Group." IGA (Independent Grocers Alliance) and The Reichert Group have been on board with Adam Cantor Racing since 2002. "It's great to be associated with a sponsor who is such an incredible supporter and fan of racing. Based on my past relationship with the Cantors, I feel we will mesh quickly and be very competitive all season!"

The trio will head to NEMA's season opening race weekend at the Speedbowl in Waterford, CT on April 2nd & 3rd.

For more information, please visit www.JeremyFrankoski.com
---
Jeremy Frankoski Named as
a Racing 2 Cure Ambassador
NASCAR and Midget Driver Excited about Purpose Driven Season
Mooresville, NC -- Monday, March 21, 2011
Racing 2 Cure (R2C) a 501c3 non-profit announced today that it has named NASCAR and Midget up-and-coming race car driver, Jeremy Frankoski to its elite Ambassador program. Racing 2 Cure's founders reached out to Frankoski after meeting him at a recent event and being impressed with his determination and overall good character. As an Ambassador, Frankoski will help promote and carry the mission of R2C throughout his racing season in the north east. In addition, he'll provide feedback and support to R2C's unique new social network style fund-raising website, which is being launched later this year. Frankoski was recently called on by Adam Cantor Racing in the NEMA Midget Series to pilot the IGA Reichert Group midget car that will also carry the Racing 2 Cure logo.

"We are very pleased to have Jeremy [Frankoski] come aboard Racing 2 Cure as an Ambassador," said Todd Stewart, Co-Founder and President of the non-profit organization, which supports families in need while undergoing the hardships of Cancer treatments. "When we developed this program we set a criteria that Ambassadors would need to have traits of determination, positive attitudes, professionalism and passion. As we started talking to Jeremy he had all those characteristics and more. He really is an outstanding young man, determined and talented. We couldn't be more pleased to have him supporting Racing 2 Cure."

In addition to a winning attitude, Frankoski has also shown he can win on the race track. In 2009, he won the USAC Ford Focus Carolina Championship with 5 wins, 10 top five finishes and 6 pole qualifications. He was subsequently honored by USAC with a Rookie of the Year title. In NEMA, where Frankoski began racing midgets in 2007, he was also honored as the Rookie of the Year when he placed 6th in points and scored his first win at Beech Ridge. In two consecutive years with NEMA, Frankoski totaled 1 win, 8 top five and 17 top ten finishes.

"I know how hard it can be to have a parent going through cancer as I've been there with my own family," said Frankoski. "I was 11-years old (1998) when my mom was diagnosed with breast cancer. She battled it for two years. Despite all the sickness and hardship she was always at my sporting events, racing, hockey, baseball and also at her three other kids events. She would still take us to school and pick us up everyday even though she wasn't feeling well. She almost always packed a cooler of food and drinks to the races and prepared meals for the family. She kept things as normal as possible even though she was literally battling for her life."

"Racing 2 Cure is really doing some great things for people going through Cancer to ease some of the everyday life stresses," said Frankoski. "When I heard their story and how Hunter started this whole thing at just 7-years-old, I could relate to his situation and I wanted to help. I was surprised and honored when I was asked to be part of their Ambassador program. It's going to give me a little extra motivation to get into the winners circle this year."

Racing 2 Cure is currently in the final stages of launching their new website www.Racing2Cure.org which will be the home of "Race-A- Thon". This online fund raising program will provide racers from all forms of motorsports at any age with a fully automated, turn-key, cause-marketing campaign. The funds raised will help parents undergoing treatment with everyday life needs and provide children undergoing treatment special activities. In the social network style website racers will have the opportunity to promote themselves and their sponsors while conducting their fund raising program.

February 25th & 26th, 2011
Royal Plaza Hotel - Route 20 - Marlboro, MA
www.TheRacersExpo.com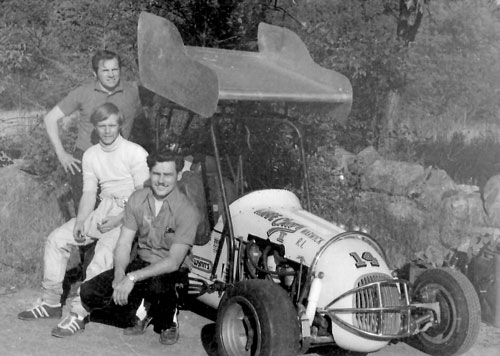 Young Joey Coy flanked by Don (top) and Carl Kibbe in 1976.
Kibbe Back in Swing
With #25 NEMA Car
Brockton, MA – Opening days are special for Carl Kibbe. The greatest day in his racing career, in fact, remains the 1985 Northeastern Midget Association opener at Star Speedway. It was the first win for the four-time NEMA owner champion. "I'll never, never forget it," says Kibbe who returned to NEMA last season as the trackside crew chief of the Keith Botelho-driven No. 25.

Waterford Speedbowl's April 1-2 will mark the beginning of NEMA's 59th season. Kibbe, part of the NEMA scene since the mid 1970s, would like to get another lasting memory. The Russ Stoehr-owned, Gaerte-powered No. 25, a winner last fall at Seekonk, will be ready to go reports Kibbe. It is the first of 14 scheduled NEMA races with more expected.

"It took nine years before that first win," recalls Kibbe who, along with brother Don, decided "to go Midget racing" right in the middle of building a Modified in 1976. "We had actually won a championship (1980) before we got that first win." It almost didn't happen.

Dave Humphrey was the driver. "On the green he went right to the back," Kibbe begins. "After three laps there's a yellow and it just saved us from going a lap down. I'm yelling for Dave to come in but he didn't. They started again and again he goes right to the back before a spin out and this time he comes in. I had forgot to take the covers off the injectors. He gets back out and, boom, boom, boom, he starts picking them off. He got outside Drew Fornoro who was leading in Angelillo's car and they banged wheels. Humphrey went to the outside of the track in all the dirt but got back in shape, caught Drew again and passed him. I'll never forget it."

It was the first of 18 wins – seven with Humphrey in 1985 and '86 and 11 between 1989 and 1996 with Joey Coy.

Last year's DAV with Botelho provided happy vibes as well. Stoehr, chasing down the title in the Dumo's Desire car, had asked Kibbe and son Curt about taking the job a few weeks before. It was the third race.

Carl and Don actually followed their dad into the sport and raced stocks for several seasons before they decided to take a different route. "I always liked Sprints and Midgets," he explains. "It was too far to go to race Sprints, so it was Midgets." They purchased the old Leader Card Kurtis from the Campanale family, installed a Chevy II and went racing with a young Joey Coy.

He recalls "a ton of second and thirds" with Johnny Evans driving earning the first championship. The rest came in 1989, '91 and '93 with Coy. Before the DAV, his last visit to Victory Lane as an owner and or crew chief was Aug. 10, 1996 at Riverside Park Speedway. He won the previous race at Riverside Groveton as well. Still, he was tired and faced new job demands. He decided to quit. The last couple seasons he has worked with the Angelillo crew.

He jumped at Stoehr's invitation. Much of the preparation is done in the Stoehr garage, Botelho lending a hand as well. "Of course you want to be as close as possible with things out of the garage," Kibbe says. "Usually having to do a lot of adjustments at the track is not good because getting too far behind can be an insurmountable thing." Experience is a major advantage and Kibbe brings that.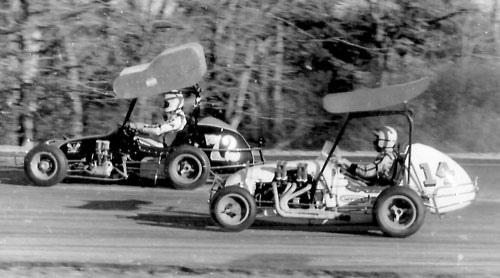 Ricky Hart in the Kibbe #13 battling Lee Smith in the early 1980's.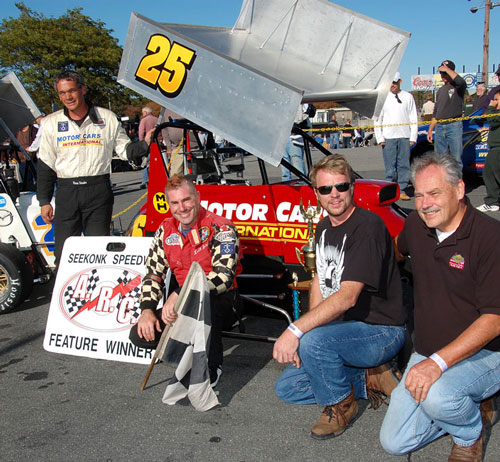 L to R: Russ Steohr, Keith Bothelho, Curt Kibbe, and Carl Kibbe
at their 2010 Seekonk DAV Memorial win with the #25.
.
KerriAnne Luggelle

passed away
Saturday evening, February 26th


Visiting hours Thursday and Friday from 4 - 8 PM at the
Hurley Funeral Home, 127 So. Franklin St. (Rte. 37), Holbrook, MA.

Funeral from the Hurley Funeral Home on Saturday at 9:15 AM followed by a funeral Mass in St. Josephs Church at 10 AM.
Relatives and friends are respectfully invited to attend.
Interment Hull Cemetery.

In lieu of flowers, donations in KerriAnne's memory may be made the KerriAnne Luggelle Fund c/o Randolph Savings Bank
50 So. Franklin St., Holbrook, MA 02343.

Obituary in the Patriot Ledger Here
.
Bobby Santos Finishes 17th for
Jimmy Means Racing at Daytona
"JR Motorsports Helps 2010 Whelen Modified Tour Champ Earn Best

Nationwide

Finish"
-
Tommy Baldwin Racing / Heinke-Baldwin Racing Press Release on Catchfence
DAYTONA BEACH, FLA. (February 20, 2011) –
A scary incident at the start of the weekend at Daytona International Speedway led to a dream weekend for Heinke-Baldwin Racing (HBR) development driver Bobby Santos. The 2010 NASCAR Whelen Modified Tour (NWMT) Champion raced a JR Motorsports back-up car in the DRIVE4COPD 300 for Jimmy Means Racing (JMR).

Santos qualified the No. 52
TaxSlayer.com
/ My Three Sons Vending Chevrolet in the 23rd-spot and finished the 300-mile event 17th, his career-best NASCAR Nationwide Series (NNS) finish in five starts.
FULL STORY HERE

and MOTORSPORTS EXPO

January 28-30 - at the
Connecticut Expo Center
, Hartford, CT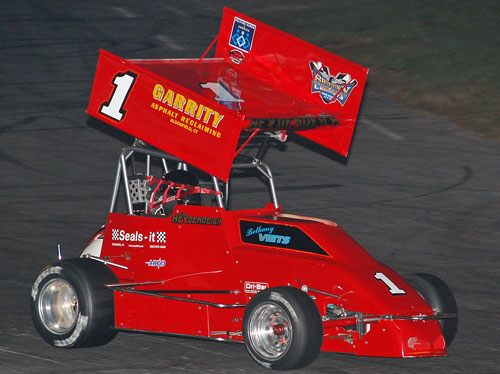 The #1 NEMA LITE with driver Bethany Viets will be on display in the SPEEDWAY ILLUSTRATED magazine booth in the Motorsports Expo portion of the Frank Maratta Show of Dreams.

Bethany will be participating in the Autograph Session on Saturday at from 6 to 7 PM and in an all female pit crew in the
Town Fair Tire Pit Stop Challenge with starts at 7 PM.

Also look for the Ray Miller owned Quad 4 Dirt Midget driven by Bethany's dad, Scott Viets, which will be in the NUTMEG KARTING booth.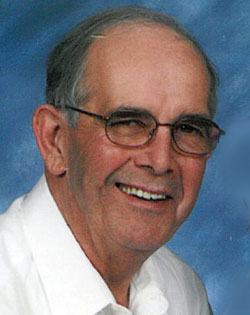 GUY JARRET
Crewman on the #4

Passed Away on January 9th
.
Cost Concerns Key in NEMA's Future
By Pete Zanardi - 1/1/11 - Brockton, MA – The Northeastern Midget Association, making ready for its 59th season, is looking ahead. "The concern among Midget groups is global," says 2008 and 2009 championship car owner Tim Bertrand. "Everybody is worried about costs."

Other than safety (NEMA has updated rules mandating a detailed safety inspection), economics was of major concern at NEMA's annual meeting in early December. Maintaining car counts and moving teams up from the very successful NEMA Lites program, about to start its fourth campaign, are key priorities.

President Mike Scrivani Jr. reports the 2011 NEMA schedule is taking shape and will be announced soon.

NEMA, Bertrand continues "is headed in the right direction" with a rule that reduces RPM limits for all engines by three percent under manufacture recommendations. Proposed by Bertrand and Mike Scrivani, the ruling met approval by both the NEMA contest board and at the general meeting. USAC and the Badger Racing Series have similar rules for 2011.

"The less parts go up and down the longer they're going to last," says Bertrand in classic understated testimony to the economics involved. The benefits in terms of equity are equally obvious, Bertrand pointing out at least "a couple" teams have expressed interest in returning with older and less expensive engines that figure to be more competitive now.

"Last season was the best in a while in terms of engine parity," Bertrand says, pointing out in addition to Esslinger, Honda, M0PAR and Autocraft, a 20-year old Guerte visited victory lane. After a plan at the end of the season that recorded "where teams were turning their engines," a three percent reduction "across the board" was agreed on. "We had to make sure we put in place a rule that will not hurt or favor one engine," Bertrand added.

The general membership also approved the sealed Esslinger "spec motor." Bertrand's second car with Cole Carter aboard finished second at the season-ending World Series using an Esslinger spec motor that is now in Kevin Swindell's car at the Chili Bowl. "We wanted to show what it was capable of ," Bertrand says of the motor that produces about 30 horse power less but costs half as much as the standard power plants and, reportedly, last three times as long. There have been several inquiries from NEMA involving the spec motor and at least two acquisitions so far.

Looking down the road, NEMA decided to rid itself of titanium connecting rods by 2013. "In two years they'll need to be replaced anyway," explains Bertrand who points out the difference in titanium and steel is "staggering." The price of one titanium connecting rod is $1,000. A set of steel rods is $1,000.