2009
The NEMA 2008-09 Yearbook is
now available for $ 3.00.
Mike & Lu Jarret - 508-883-4899


SATURDAY, NOVEMBER 21st
WHITE'S OF WESTPORT
Westport, MA
The 2009 NEMA Champions
Randy Cabral and Bertrand Motorsports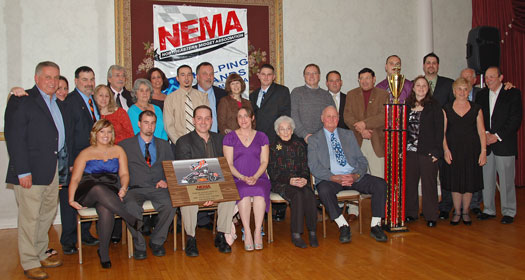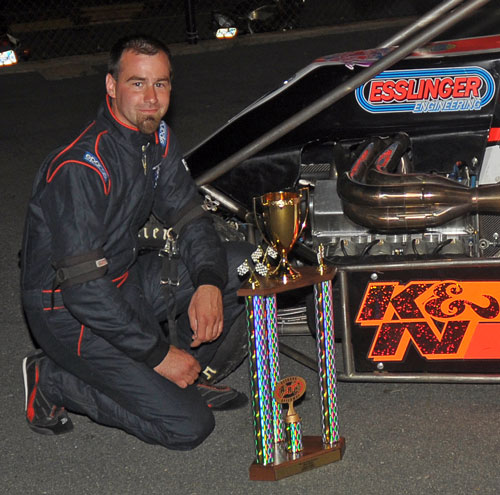 Cabral Celebrates NEMA Driving Title
Brockton, MA - Randy Cabral isn't about to give the 2009 Northeastern Midget Association driving championship, the second in a row for him and car owner Tim Bertrand, back. "I'll take them anyway I can get them," he admits.

Bertrand, a one-time driver, and Cabral, who followed his dad Glen into NEMA, "took" their respective championships with consistency. They won five times but it was the 11 top-five (in 14 races) that made the difference. They'll top the honorees at the NEMA Awards Banquet Saturday night Nov. 21 at White's of Westport in Westport, MA.

Cabral, a school teacher, won with an 84-point bulge on runner-up three-time winner Nokie Fornoro, who missed a race, and a 211 edge on third-place Adam Cantor, a two-time winner and "twice a victim of circumstances." NEMA had seven winners in all – Jeff Horn, Jeff Abold, Russ Stoehr and Greg Stoehr each getting one.

"Nokie and Adam are the two guys I'm most comfortable with," said Cabral. "We take nothing away from each other. It doesn't matter where we are."

Winning the first three of the first four races (he was second in the other), Cabral, never trailed in the drivers points race. With 13 wins over the last two years, he has moved to seventh place on NEMA's all-time win list. Eighteen have come in the four years with Bertrand.

Acknowledging Bertrand "gives me the best equipment possible," Cabral says the objective is to "do the best we can" and that is especially so when "we don't have a car that is capable of winning." The season-ending World Series at Thompson is a case in point, Cabral's third place "just enough" to get the championship for Bertrand by four points over Mike Jarret.

The relationship between the families, tempered by both joy and sorrow, is, Cabral insists "not about championships but about friendship. We were friends before we were owner/driver. If Tim called up tomorrow and said he is putting somebody else in the car we'd still be friends."

The biggest 2009 win came at Twin State in September. "My grandfather Henry died that week," Cabral explains. "We had the funeral on Friday and Friday night we were getting ready to go racing. This is what we do, go racing. If I missed a race because of his funeral, my grandfather would have climbed out of the grave and kicked my butt.

"Ryan Newman was one of his favorites," continues Cabral. "When I beat him up at Lee (Newman was also in a Bertrand car) I called by grandfather and said 'Hey, I beat your boy.' He laughed and he was proud. He would call every Sunday morning and ask how I did whether we raced or not. It was tough when I didn't get that call."

Hitting the wall at Waterford was the low point "There was nothing wrong with the car," he says. "I made a mistake. It was strange, the only DNF we had all year was at a track I really love to race on."

Cabral says "growing up all I thought about was driving Midgets." He would be "more than happy" to try a Supermodified or a Modified but presently is more than content. "Right now, I see myself driving for Tim Bertrand until he fires me," he says.

Final 2009 NEMA Points: Full Points Page Here

Drivers: 1. Randy Cabral 1683; 2. Nokie Fornoro 1599;
3. Adam Cantor 1472; 4. Russ Stoehr 1304; 5. Chris DeRitis 1119;
6. Greg Stoehr 1075; 7. Erica Santos 1017; 8. Jim Miller 964;
9. Abby Martino 954; 10. John Zych Jr. 945; 11. Jeff Horn 915;
12. Lee Bundy 909; 13. Paul Scally 740; 14. William Wall 560;
15. Doug Cleveland 524.

Owners: 1. Tim Bertrand (47) 1683; 2. Mike Jarret (4) 1679;
3. Cantor Racing (7ny) 1472; 4. Gene Angelillo (45) 1334;
5. Jim Miller (3m) 1072; 6. Ed Breault (44) 982),
7. John Martino (21a) 954; 8. John Zych Sr. (9) 945;
9. Lee Bundy (2) 909; 10. Greg Stoehr (26b) 839;
11. Power Point Racing (99) 831; 12. Paul Scally (30) 740;
13. Bobby Seymour (29) 649; 14. Wall Motorsports (5) 648;
15. Jeff Horn (A1) 639.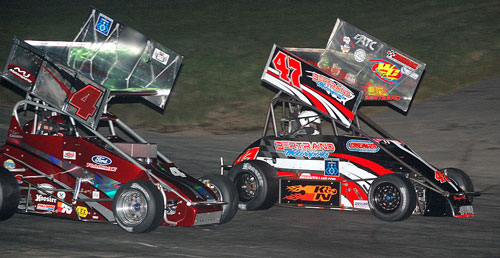 Bertrand Prevails In Unique
NEMA Owners Race
Brockton, MA – Tim Bertrand is doubly proud of his second straight Northeastern Midget Association owners championship. In a battle that came down to the final laps of the final feature (at Thompson Speedway's World Series), Bertrand nipped Mike Jarret by a scant four points.

Randy Cabral's third (in the Bertrand 47) behind winner Nokie Fornoro (in the Jarret 4) left little room to spare for Bertrand. While he doesn't deny the joy in winning, he takes special delight in the battle.

"We had no mechanical dnfs all year," Bertrand says. "That is almost unheard of in Midgets. The fact that the Jarret car had no dnfs at all is incredible. We should have won the owners title by 200 points, instead the #4 gave us as good a run for the championship as perhaps NEMA has ever seen. The top two cars had one dnf between them (Cabral crashed at Waterford) and no mechanical dnfs."

Bertrand, who also maintained a NEMA Lites car, has high praise for Jarret and his wife Lu, both as competitors and friends, who retired as owners following the last race.

The second championship comes in the fourth year of the partnership between Bertrand, a former driver, and Cabral. The team has 18 wins, five coming in 2009.

"Part of [our success] is the work Randy and his dad Glen do during the week. Part of it is also a midseason switch to Jon Andruk (Circle Performance) regarding the motor," Bertrand continues. Andruk, he adds, made the Esslinger motor "more reliable, insuring a lack of problems."

Bertrand Motorsports pretty much dominated in 2008 with eight wins in 17 races. "What we had was a great driver and we had the set up perfect a number of times," Bertrand says. "We proved it's not about the motor, not about the ignition box, not about the number of rpms; - it's about the set up."

Others proved that as well this year – Adam Cantor, Jeff Abold, Jeff Horn, in addition to Fornoro, had excellent runs.

The two Bertrand championship seasons are similar. In '08 the team did it with wins (8); this year with top-five finishes. The car was out of the top five only once over the last eight races including five podium spots. "We proved when we were right on we could win and we proved when we were not right on we were still competitive," Bertrand boasts.

The championship was in doubt until, on lap 16, Cabral passed Cole Carter, who was also driving a Bertrand entry, for third. "I was nervous, sick to my stomach," says Bertrand, freely admitting he was thinking points at that point.

Bertrand could be even busier in 2010, heading up a team that could also include one or two other cars. The "guest program" which this year included, in addition to Carter, Sprint Cup star Ryan Newman and Modified ace Ted Christopher, will most likely continue as well.
Fred Darling
Longtime Seekonk Speedway racer, Fred Darling passed away Tuesday night, December 15th.

Our condolences go out to his family.
Adele Zahar
Adele Zahar, who owned the NEMA midgets #38 & 38B with her husband, John Zahar, passed away Nov 22, at age 81. Their last driver was Greg Stoehr, but many others, from Lou Fray to Noki Fororo, also drove for them.

The Zahars were honored with the NEMA Chuck Daniel Memorial Award in 1999, and were made Life Members in 2000.

Messages of sympathy can be sent to John Zahar, c/o Ruth Zahar Sebas, at 83 Boulder Drive, Milford, NH 03055.

Donations in Adele's memory are requested to St. Jude's Children's Hospital, to which the Zahars have donated for many years.
Gino Spada,
longtime NEMA member, passed away
on Saturday, September 19th.

Our condolences go out to his family..
Marvin Rifchin
Marvin Rifchin, Founder of the M&H Tire Company, passed away
June 3 at the Maristhill Nursing Home in Watertown Mass.

There will be a Graveside Service at the Sharon Memorial Park Cemetery on Friday June 5th, at 12:45 PM.

In lieu of flowers, contributions to the charity of your choice may be made in Marvin's memory.

(NEAR Hall of Fame Page HERE)
Indoor Racing at the Dunkin' Donuts Center
Providence, RI - Dec. 4th and 5th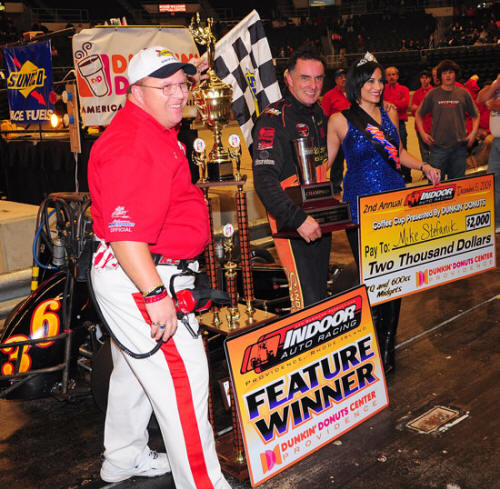 Saturday TQ Winner Mike Stefanik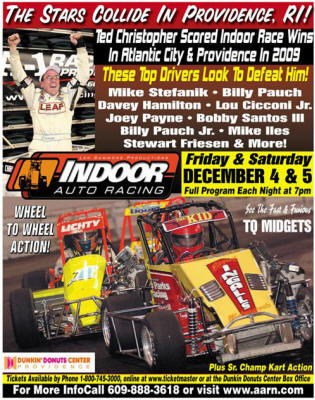 Escapes - The New York Times
July 24, 2009 - By Dana Jennings
Celebrating Machines That
Drink Methanol
"STAFFORD SPRINGS, Conn.— Despite a morning of hard rain, by 3 o'clock on a recent Tuesday afternoon the back 40 at Stafford Motor Speedway had been transformed into a sunny village of R.V.'s, campers and four-wheel-drive vehicles, complemented by tents, wobbly lawn chairs and even-wobblier awnings. It was a kind of Hooverville devoted to the pleasures of high velocity."
"This is grass-roots racing at its essence. There are no ISMA dads, no ISMA Nation, no television contracts, just fans addicted to speed, unpredictable racing action and, just maybe, the smell of methanol. Their hard-driving heroes, most of whom hold down day jobs, are men like Chris Perley, the Rowley Rocket, from Massachusetts.; Bentley Warren from Kennebunkport, Me., who turns 69 this year; and Liquid Lou Cicconi from Aston, Pa."
FULL STORY from the TRAVEL Section on
ISMA & NEMA at 2009 Stafford Extreme Tuesday
and SLIDE SHOW HERE with the NEMA #4 and #44.
SANTOS LEADS FINAL LAP TO WIN "COPPER WORLD" MIDGET FEATURE
Phoenix, Ariz……..Bobby Santos III of Franklin, Mass. emerged the winner of Thursday night's 25-mile USAC National/Western Midget race at the 34th "Copper World Classic" at Phoenix International Raceway. Santos wrested the lead from Bryan Clauson on lap 23, then slipped behind Clauson at the white flag. On the final lap Clauson slid high in turn three and Santos went on to the win in his Santos Motorsports Beast/Esslinger Ford.

Pole starter Bobby East finished second ahead of Alex Bowman, Brad Kuhn and Cole Whitt. Kuhn extended his National point lead to 40 points over Brad Sweet, who finished 14th, while Western Midget point leader Garrett Hansen finished 24th in Thursday's race. East led the first seven laps and Clauson led the next 15 before the final three lap dramatics.
FULL USAC COPPER WORLD STORY HERE
Bertrand, Carter Team At Phoenix for Copper World Classic Nov. 12th
Bertrand Motorsports, the 2009 Northeastern Midget Association owner champion, and driver Cole Carter will team up for next Thursday's 25-lap USAC Midget race at Phoenix International Speedway's Copper World Classic. Carter's Beast will be powered by Bertrand's Circle Performance built Esslinger motor. Bertrand and his wife Cara will be providing some sponsorship as well.

The Carters took the motor out of Bertrand's #47 after the NEMA final race at Thompson Speedway. The motor, which carried both driver Randy Cabral and Bertrand to their second straight respective championships, did not suffer a single breakdown throughout the season.

"Cole qualified sixth and finished third in last year's race and he did that with average equipment from an engine perspective," said Bertrand. "We are excited about being with the Carter family again especially on this level."

Carter was part of the Bertrand's "guest driver" program in 2009 earning two top fives, including a second, in three starts. Sprint Cup star Ryan Newman and NASCAR Modified standout Ted Christopher also drove for Bertrand over the season.
Follow the USAC action and Cole Carter's progress at: www.twitter.com/bertrandracing

RACE UPDATE: Cole in his #7 qualified 19th & finished 27th
SANTOS TAKES "J.D. BYRIDER 100," 1ST TO WIN IN ALL 3 USAC SERIES
USAC PRESS RELEASE - Indianapolis, IN…….Bobby Santos III of Franklin, Mass. became the first driver to win in all three 2009 USAC National racing series with his victory in Thursday night's 100-lap "J.D. Byrider 100" at O'Reilly Raceway Park.

Santos grabbed the lead from pole starter Chet Fillip on lap 28 and led the rest of the way, averaging 109.224 mph in his Santos Motor Sports Beast/Performance Technology K & N Silver Crown car.

Santos started on the front row and trailed Fillip for the first 27 laps but held off Bobby East for the win, while series point leader Bud Kaeding took third ahead of Fillip and Tyler Walker.

NASCAR veteran Ryan Newman finished eighth after starting ninth in the 30-car field. FULL STORY


NEMA LITES at the 2009 SpeedwayEXPO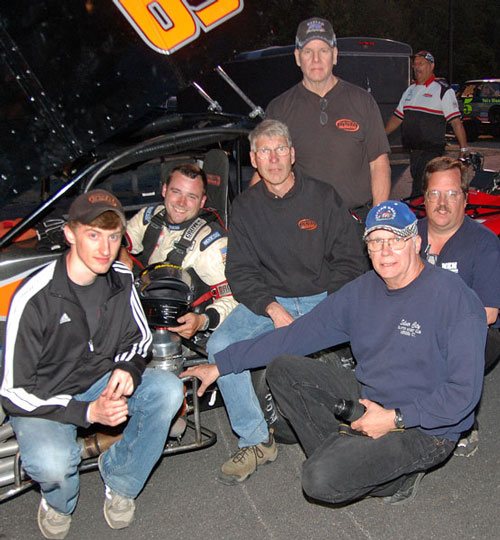 Keeler, TSR #63 Combo
Eyeing NEMA Success
Brockton, MA - Mike Keeler refuses to pick a favorite. The Danbury, CT racer has driven everything from Quarter Midgets to Dirt Modifieds. He cannot deny, however, statistically he fits best in a Midget.

Since joining John Seaman's TSR #63 team in July of 2008, Keeler has
posted seven top-10 finishes in eight Northeastern Midget Association starts. He'll take a second place in NEMA's '09 opener at Monadnock into the Friday night, June 26 event at Lee USA Speedway.

"I'm definitely fond of Lee," says Keeler who has driven a True Value
Modified and Supermodified as well as a Midget there. Being one of the fastest cars at Monadnock - "I finally felt comfortable there"- was a major boost.

Keeler needed some late heroics to beat Aaron and William Wall at
Monadnock. Adam Cantor and John Zych Jr. also got off to impressive
starts as they join veterans Nokie Fornoro and Russ and Greg Stoehr as contenders to dethrone champion Randy Cabral and Tim Bertrand. NASCAR Sprint Cup star Ryan Newman, in a second Bertrand car, will be the Lee headliner.

"A victory is definitely in our future," predicts Keeler. Although he
"expects to make all the NEMA events" he says the team "does not talk about points. Jon wants us to have a good time but that starts with good finishes. Getting a lot of points in not a bad thing."

Keeler will also campaign a pair of ISMA Supermodifieds in '09. He's
looking forward to dates at Stafford Speedway (July 7), Waterford
Speedbowl (Aug. 15) and Thompson Speedway (Oct. 18) when NEMA and ISMA are both on the agenda.

"I love twitchy race cars and the Midgets are twitchy," Keeler offers.
"I love the movement. You can kind of throw a Midget around. I
absolutely love going through traffic in a Midget."

Driving his own car, he won at Waterford in 2006. In his third race
with TSR he was second there last August. Keeler's first NEMA podium
finish was a second at Star Speedway in 2005.

Although the Southbury-based TSR operation is only minutes away, Keeler leaves maintaining the #63 to Seaman. "He enjoys tinkering," says Keeler, pointing out "the car is always ready off the trailer. Jon runs a good team."

The #63 wound up ninth in owner points last year, Jeremy Frankoski
collecting five top-eights before leaving.

The only finish outside of the top-10 for TSR came at Beech Ridge in
Maine. Keeler was leading the feature when the fuel pump drive system failed.

Keeler operates MKM Property Management LLC in Danbury. It stands for Mike Keeler Motorsports.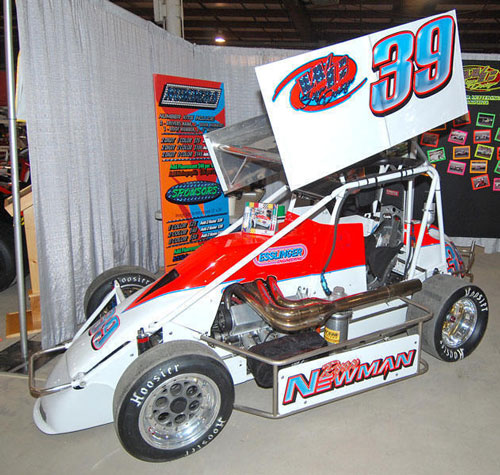 | | | |
| --- | --- | --- |
| Jeff Horn | Ryan Newman | Cole Carter |
Impressive "Guest List"
For Bertrand Team
Brockton, MA - Jeff Horn, a New England open-cockpit mainstay, will be the first of several high profile names to drive a Bertrand midget in 2009 Northeastern Midget Association competition. Horn, who has 19 career NEMA wins, will drive the Esslinger-powered #39 Drinan car at the club's season opener Saturday night May 23 at Monadnock Speedway.

Tim Bertrand and Randy Cabral, in the #47, will begin defense of the owner and driver championships at Monandock. It is the first of 17 races on the '09 schedule.

According to Bertrand, current Sprint Cup competitor and one-time USAC open-cockpit star Ryan Newman will drive the #39 at Lee USA Speedway on Friday night, June 26. Current USAC driver Cole Carter, son of the legendary open wheel chauffeur Pancho Carter, will drive at Waterford Speedbowl on July 25 and at Seekonk's "Boston Louie" on Aug. 8 in a new car that is currently being constructed.

Bertrand also said Newman is "tentatively scheduled" to drive the car at Lee and Canaan Speedways in September. There is also the possibility of other drivers to appear within the Bertrand stable in 2009 dependent upon sponsorship opportunities that the team is working on.

"Jeff Horn is the perfect choice to start this program off," said Bertrand. "We are there to race but he'll also be feeling the car out a little bit for us to ensure Ryan has a solid ride for Lee. Monadnock is a place where experienced guys seem to do well and few guys know the place better than Jeff. I also like Jeff because he respects the equipment having owned his own cars for years."

Plans for Newman to drive for Bertrand at Lee last year were rained out. Currently driving the US Army car for the Stewart-Hass team, Newman was one of the top open cockpit drivers in the nation before moving to NASCAR. He has a Midget and Silver Crown championship on his resume.

Carter, who will drive midgets, sprints and silver crown cars this year, is the third generation of Carter racers beginning with grandfather Duane and his late uncle Dana. Father Pancho, a sprint and champ car stalwart for many years, made 17 Indianapolis 500 starts.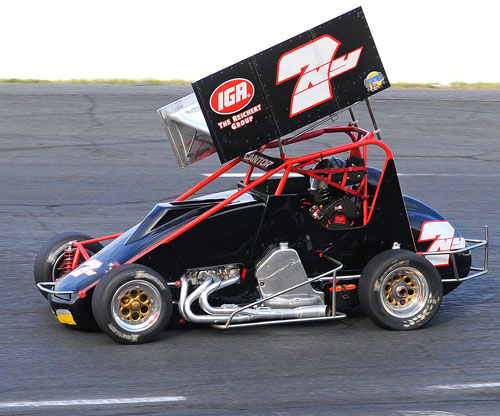 Adam Cantor "Comfortable"
On NEMA's Contender List
Brockton, MA - For the first time since joining the Northeastern Midget Association as a 16-year old in 2001, Adam Cantor "feels confident in saying I'm a contender." Pointing out "it's all about confidence and seat time," the Dix Hills, NY resident says "it is a matter of feeling comfortable" in his surroundings

NEMA will return to action Friday night, June 26 at New Hampshire's Lee USA Speedway. Fourth at Lee last year, Cantor points out "two definite grooves" makes Lee a challenge.

Cantor grabbed some interest with a hard-earned fifth in NEMA's opener at Monadnock Speedway. Part of a first-lap incident that resulted in suspension damage, he came from last in a car "that was very difficult to drive." One of the top cars in the first practice session, he's convinced "we would have been one of the cars to watch."

Monadnock also made contenders out of Mike Keeler (TSR Motorsports) and Wall Motorsports drivers William and Aaron Wall – the second, third and fourth finishers between winner Randy Cabral (Bertrand #47) and Cantor.

Nokie Fornoro (Jarret 4) , Greg Stoehr (Stoehr 26b), Russ Stoehr (Angelillo 45) and Erica Santos (Breault 44) will go to Lee hoping to rebound after disappointments at Monadnock.

A "realist," Cantor, who drives for his dad Allen, is aiming for consistency, believing "when you are consistent things take care of themselves." He made great improvements as a driver last year, finishing fourth in both driver and owner points. He posted 10 top fives including a second in the season finale at Twin State Speedway.

Admitting he came to NEMA "with visions of grandeur," the one-time Go-Kart standout now understands "you go as far as your resources will take you. There comes a point when you realize you've done your best." That's when, he continues, "you set little goals and then go after them."

A two-time winner, Cantor, part of the great young movement of '01, remembers the feeling coming to NEMA. "I remember racing against guys like Drew Fornoro, Bobby Seymour, Russ Stoehr," he says. "It was a privilege to race against them and you showed them great respect when they were around. It was always on my mind to not wreck them. You were there to learn from them." He believes there is "much less respect" now.

Cantor's last win came at Adirondack Speedway in 2005. He also won at All Star Speedway in 2003.

NEMA NUGGET: Among the happiest drivers at Monadnock was Doug Cleveland. He and his team arrived after practice and then broke before turning a lap in his heat. Starting last in the feature, he came to 10th at the checkered.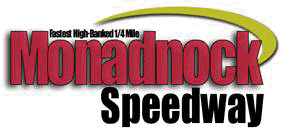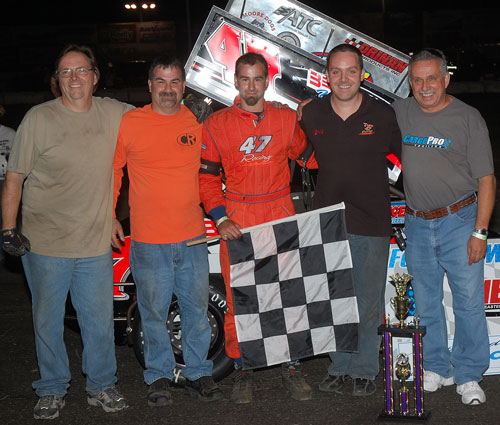 Bertrand, Cabral Set
To Defend Crowns
Brockton, MA - Tim Bertrand and Randy Cabral #47 will begin defense of their respective championships (owner and driver) when the Northeastern Midget Association begins the 2009 season Saturday night (May 23) at Monadnock Speedway. It will be the 57th season opener for NEMA.

"Rule changes have equaled competition up a little bit and it has forced our team to be on our game a little more," says Bertrand. He expects a torrid battle for the championships that will include, among others, Nokie Fornoro is the Mike Jarret #4, Russ Stoehr in the Gene Angelillo #45 and Greg Stoehr in the family #26. Other contenders include Erica Santos in the Ed Breault #44 and Adam Cantor in the family #7ny.

"We are excited about beginning the defense of our championships," said Bertrand. "We expect it to be difficult. Several cars have tested well."

Getting off the mark with a strong effort will be the concern for the likes of Doug and Brian Cleveland, Chris Leonard, Andy Shlatz and Aaron Wall.

Monadnock, which kicks off a 17-race agenda, is one of the few tracks where Cabral and Bertrand have not tasted victory. They have, however, won three season openers including last year at Waterford Speedbowl.

According to Bertrand, the #47 team has been purposefully quiet over the off-season but has hardly been idle over the past month. "We were just not very good at Monadnock last year," Bertrand continues. "With the help of Lou Cicconi, Danny Drinan and Glen Cabral, we have made some significant chassis/suspension changes on the Drinan chassis for Monadnock that we believe will be hopeful for our overall short track program. That's all we're saying for now and will hope for the best."

Greg Stoehr (2), Russ Stoehr and Fornoro have all been winners at the tricky Monadnock that, Bertrand says, "favors" the experienced, veteran competitors. On the owner's side, Angelillo is far and away the leader with 12 wins, 11 with the now retired Drew Fornoro. The last one came last year with driver Joey Payne.

A NEMA NUGGET: Nokie Fornoro will begin his 34th year in Midgets looking for his 108th victory. He recalls "actually lying" to get his first Midget ride with George Ferguson at Wall Stadium back in 1976. "I told him I was experienced and he finally got tired of hearing me," recalls Fornoro. "I went out and led much of the race before being passed late by Lenny Boyd in Dewey Cali's Badger. It was only after the race when Boyd came out to congratulate me on my first Midget ride that Ferguson knew about it. I did drive for him some more.
A New Team Name, Sponsors, and Engine Program for Andy Schlatz

A new team name, new sponsors, and a new engine program. Andy Schlatz (Owner Lite #20 and Driver NEMA #77) is really looking forward to the 2009 season.

Under the Hollywood Motorsports banner, Chris Haskell will be piloting Andy's #20 in the NEMA Lites. Chris was the 2007 750cc Champion at Whip City Raceway in Westfield, MA. D.J. Cavaliere from Cavaliere Onsite Recycling and Equipment Sales in Stamford, CT has signed on as a major sponsor. Long time friend and sponsor Kurt Rafferty from Rafferty Fine Grading in Enfield, CT will continue with his prized support for the team.

A new engine program is the major change. A PBH Indy Honda 2.4 NEMA Lite / Sportsman motor is going to be the power plant under the hood of the COR Equipment Sales, REMU Screening Buckets, Rubble Master,and Rafferty Fine Grading #20 Lite Midget. PBHIndy.com has been working hard on getting this engine program off the ground and Andy is honored to be representing Honda in their first year in NEMA.

Skeet Busher from PBH Indy has been a tremendous help to Andy. An ever growing number of America's top performance equipment manufacturers see the Twin Cam Honda Midget engine as perhaps part of the answer to the future of Midget Racing both in terms of cost and performance. To use the example set by the Ford Focus Midget Engine, the PBH Indy Twin Cam Midget Engine should be able to run 40 races on a couple of sets of valve springs costing about $700.00.

Dave Haskell and Andy having been working hard all off-season getting the totally rebuilt #20 race ready.

In the NEMA Midgets, Andy is also excited to be back behind the wheel of the Luggelle Motorsports #77 also with support from COR Equipment Sales and Rafferty Fine Grading.

Andy looks forward to 2009 in the #77: "Mike was great to work with last year. We really had some fun last year. In the last couple months of the season we hit on some things and the car started to get better and better each week. I really think we will have a good season. I feel we can be a top ten car and I am really ready to get the season started on May 23rd at Monadnock. We may be an underdog team, but I think we will turn some heads this year."

cavaliereonsite.com
Stamford, CT
raffertyfinegrading.com
Enfield, CT

New car and new #21 for Abby in 2009

New Car Spurs Optimism
For NEMA's Abby Martino

The 2009 Northeastern Midget Association tabbed Abby Martino "Most likely to wear pajama pants and flip flops in six feet of snow." The soon-to-be graduate (accounting) of Roger Williams University in Rhode Island has a serious side as well.

The 21-year old Norfolk, MA resident heads into her third NEMA campaign with a definite plan. "I want to consistently run in the top-10," she says. "We ran just outside the top-10 last year and with the equipment we have now I believe top-10s is a realistic goal."

The Martino operation, which includes father Frank and mother Joan, will campaign the Mopar-powered Beast chassis driven in the past by Barry Kittredge. The team will, in fact, keep the #21 on the car.

NEMA will open the '09 campaign Saturday night, May 23 at New Hampshire's Monadnock Speedway. It is the first of a 17-race campaign that will take the club to eight tracks.

Martino's best '09 finish was a 12th at Seekonk's DAV Memorial. "I was happy with last year," she says. "I think we improved every time out. Even when we had trouble, we got better because of it."

She made her NEMA debut with a series of flips at Waterford Speedbowl in 2006. She suffered a broken leg and didn't return until the final event. "Nobody knew who I was and then I went out and flipped and all of a sudden everybody knew who I was. I was on the cover of magazines. When I got back in the car I wanted to drive harder."

Coming to NEMA from the Focus Midgets, she spent much of '08 adjusting to the wing ("you have more options") and power (Autocraft).

While she refuses to signal any one individual when it comes to the aid she's received, Martino can't help but acknowledge the Santos clan of nearby Franklin. Headed by Bob Jr. and featuring Bobby III and Erica, the Santos' are one of New England's premier racing families.

It was Bob who talked to long-time friend Frank Martino about "the family aspect" of auto racing. Discovering early that "team sports were not my thing," Martino found herself in a quarter midget at age 12. She came to NEMA after two and a half years driving a Focus Midget.

Frank, who "does all the work on the car" and Joan have "have been there every step of the way."

There was some "she's just a girl" attitudes in the Focus Cars but there has been no problem in NEMA. She's quick to credit close friend Erica Santos with some of that. The big thing, she insists, is "respecting the other people in the club, the other drivers on the track. "

Randy Cabral and Tim Bertrand will begin defense of their driver and owner championships at Monadnock. The contenders include Russ Stoehr back in the Angelillo #45, Adam Cantor in the family-owned 7ny, Greg Stoehr in his own Mazda powered 26, Erica Santos in Ed Breault's #44, William Wall in the Wall Motorsports #5 and Nokie Fornoro in Mike Jarret's #4.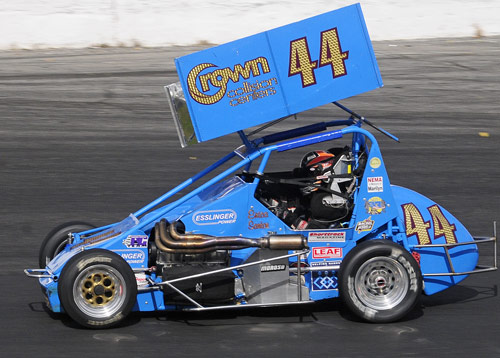 NEMA's Erica Santos
"Wants to Win Races"
BROCKTON, MA: Don't ask Northeastern Midget Association competitor Erica Santos about championships. Heading into NEMA's 2009 opener May 23 at Monadnock Speedway, the 26-year old has only one thing in mind.

"I really want to win races," says Santos who plans a full season in Ed Breault's No. 44. "I don't care about points. One of the reasons is I don't want to be known as a driver who won only one race." She scored a much-publicized win at Stafford Motor Speedway in 2006, becoming the club's first (and still only) female winner.

Erica and brother Bobby III are part of one of New England's premier racing families. Although Santos' father and brother will be racing elsewhere they will be "involved in setting up" the Breault car. Erica actually followed her brother into NEMA and has been a contender since joining Breault in '06.

Breault, a one-time competitor, says getting another win for Santos is "high priority."

About to begin her 19th year as a racer, the one-time quarter midget competitor says last season was "a little disappointing." The team started strong and then ran into some mechanical woes late in the season. Santos and Breault wound up sixth in driver and owner standings respectively. She had three podium finishes (including a second at Waterford) and eight top fives (including one at Monadnock).

Santos, a registered nurse, is among NEMA's top headliners, sharing billing with the likes of defending champion Randy Cabral and veterans Nokie Fornoro, Greg Stoehr, Adam Cantor and Doug Cleveland and youngsters John Zych Jr. and Jeff Abold. Russ Stoehr, who returns to the Gene Angelillo #45, is her pick as the driver to beat.

Stafford and Waterford are her favorite tracks. "There's lots of room at Waterford and lots of passing," she says. Monadnock has been tough but she's been gaining on it and says the last run there was her best yet.

"NEMA gets tougher and more competitive every year because there is so much good equipment around," says Santos.

Santos is also driving an SK-Light on Friday nights at Stafford this season.

NEMA NUGGETS: How times flies! There have been 27 NEMA races since Erica Santos won at Stafford on July 10, 2007…Last year's championship car - the Bertrand #47- continues a trend. The last even-number to win the NEMA owner championship was the #26 of Bruce and Ann Beane (driven by Russ Stoher) way back in 1997. Before that it was the Tapply #8 driven by Mike Seymour in 1994. Tapply won again in '95 but with the No. 1. Since 1998, the Angelillo #45 won seven titles and the Valeri #17 three…More on Linda and Doug Cleveland: Their first date was a World of Outlaws event at Lebanon Valley. Doug also remembers telling his future wife that if she wanted to meet any of his NEMA buddies at the track she'd have to do it herself because he would be too busy. She's done a great job.

NEMA History On-Going Thing
Brockton, MA - Randy Cabral will be after a second-straight season-opening win when the Northeastern Midget Association 2009 campaign begins Saturday night, May 23 at Monadnock Speedway. Amazingly, two-straight season-opening wins has been done only seven times in NEMA's 57 years, Ben Seitz the last to do it in 2004-05.

Others to accomplish it were Bill Eldridge (1954-55), Dutch Schaefer
(1959-60), Walt Gale (1966-67), Johnny Coy (1970-71), Armond Holley (1976-77) and Drew Fornoro (1982-83). Fornoro's six opening wins top the list followed by Schaefer (4) and Eldridge (4). Jeff Horn has three.

Monadnock is one of seven tracks on NEMA's 17-stop agenda. Lee USA, Thompson, Stafford, Seekonk, Waterford, Twin State (Claremont) and Canaan are also on the schedule. The NEMA Lites will make 16 stops in 2009.

NEMA again will feature a mix of youth and veterans. The return of Russ Stoehr in Gene Angelillo's #45 means that three of NEMA's all-time top-10 winners will be in action this summer.

Stoehr, with 39 victories, sits fourth, three behind Nokie Fornoro. The
top two - Drew Fornoro (85) and Dave Humphrey (72) - are far out in
front of the field. Defending champion Randy Cabral is tied for 10th
(with Lee Smith) with 21 victories. Ahead of Cabral are Johnny Mann
(29), Bobby Seymour (23), Bill Eldridge (23) and Joe Csiki (22).

The Stoehr brothers will be racing against each other again for the
first time in five years. Russ and Greg, in the Circle Performance Machine-powered #29, are second only to the Fornoro boys when it comes to brother combinations. They have 47 wins with the Seymours - Bobby and Mike - in third with 41.

Cabral's eight victories in 17 races last year is tied for eighth on the
list of "most dominating seasons" in NEMA history. Cabral's winning
percentage in the Bertrand Motorsports #47 was a lusty .444.

First place belongs to Joe Csiki who "batted" .645 in 1963, winning 11
of 17 shows including a record six straight. Two .500 efforts - Dick
Brown (five-of-10 in '61) and Drew Fornoro (eight-for-16 in '83) are
tied for second. Nokie Fornoro's .478 (10-of-21 for Mike Scrivani in
'81) is fourth. A trio - Johnny Mann's five-for-11 in '74, Dave
Humphrey's 7-for-15 in '68 and Drew Fornoro's 7-for-15 in '89 share
fifth with a .450 mark.

Cabral shares eighth with Bobby White who won eight of 15 starts back in 1979. NEMA's other ". 400 hitters" are Russ Stoehr (6-for-14, .428) in '97 and Drew Fornoro (eight-for-19, .421) in '82.

Cabral takes a streak of nine straight years (2000-'08) with at least
one victory into the '09 season. That ties him with Drew Fornoro
(1982-1990) in that category behind Humphrey's 14 (1966-1980) and Russ Stoehr's 10 (1993-2002).

Nokie Fornoro has won NEMA features on 14 different tracks, the leader among active drivers. Russ Stoehr has won on 12. The all-time leader is Dave Humphrey with 20, one better than Drew Fornoro.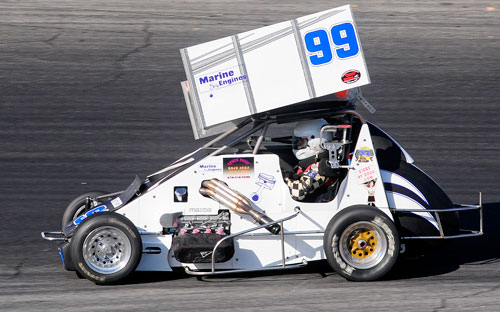 Chris Deritis to the #99
Pennsylvanian Chris Deiritis will be piloting the Power Point Race Cars #99 in NEMA competition in 2009. Lou Ciconni Jr. had been watching Chris' performances in American Three Quarter Midget
Racing Association events and had given Chris a couple of practice sessions in his full NEMA midget. Upon Lou's recommendation, Chris and JK of Powerpoint offered the ride in the #99. Check out some of
Chris' accomplishments at www.atqmra.org in the Team Risqué #66.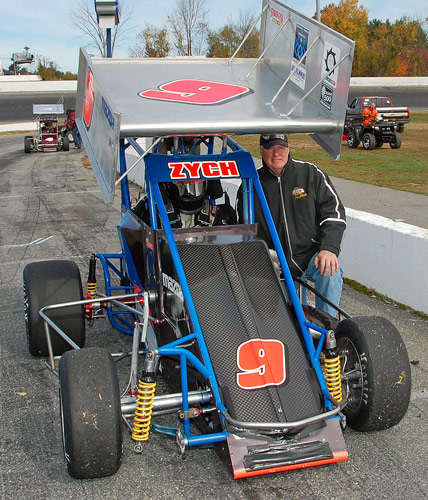 NEMA's John Zych Jr.
Bent On Improvement
Brockton, MA - Basketball was John Zych Jr.'s first love. A standout at Blackstone-Millville Regional High in Massachusetts and a two-year letterman at New York's Lemoyne College, the 25-year old is about to start his third year in the Northeastern Midget Association.

Happy with a new motor (a Mazda from Circle Performance Machine) after a test at Seekonk, John and his car-owner dad, John Sr., are aiming at the season opener May 23 at Monadnock, MA. "Without any major problems we plan on making every race," says Zych.

After five top-10s in 17 starts last year, they're bent on improvement. They have set a top 10 finish as a "realistic goal" in some very heavy company. "With so many good drivers and so much good equipment in NEMA, everybody is on their game," he says.

After a Memorial Day Weekend crash at Monadnock, Zych spent much of 2008 chasing down problems. The final results – an 11th in the driver standings and 10th for his dad in the owner standings – was "disappointing."

Still, he says, "when we were struggling we made a lot of changes and we learned a lot about the chassis (a Hawk)." The winner of the last year's Ralph Miller Memorial Award for Outstanding and Continuing Perseverance is confident those lessons are about to pay dividends.

What does Zych, a Sales Representative for Hershey Chocolate in Syracuse, NY, carry over from basketball? "One of the things you learn from playing sports is finding out what it takes to be good, to be competitive," he answers. "Some people want it more than others and that's the difference."

Zych and his dad were always fans so racing seemed the place for him to take his competitive urges. "I always wanted to do it," he says. "I finally convinced my dad. We went to Whip City Speedway and found something that looked affordable for us." After winning 750cc Rookie of the Year, he scored his first win in the 1,200s in 2006 and also ran some in New York State.

They moved to NEMA with a car purchased formally driven by Greg Stoehr. The transition from dirt to asphalt has been "big."

The car remains in Mendon, MA when John Sr. maintains the car. Zych has high praise for the help of the Seymours, just down the road in Marlboro, and Stoehrs.

Monadnock is the first of 17 races on the '09 NEMA agenda.

NEMA NUGGETS…Seven drivers have carried an opening-day victory to the NEMA championship, Randy Cabral the last to do it last year. Two drivers – Bill Eldridge (1954, '58) and Ben Seitz (2004-05) have done it twice. Others are Armond Holley (1976), Joey Coy (1991) and Drew Fornoro (1998)…NEMA's 1984 season-opener was at Monadnock, Mike Seymour the winner…Star, Thompson and the late Westboro Speedways each hosted NEMA openers 11 times. Others on the list include Empire Speedway (Menands NY), Medford (MA) Bowl, Norwood (MA) Arena and Plainville Stadium (CT), all long gone.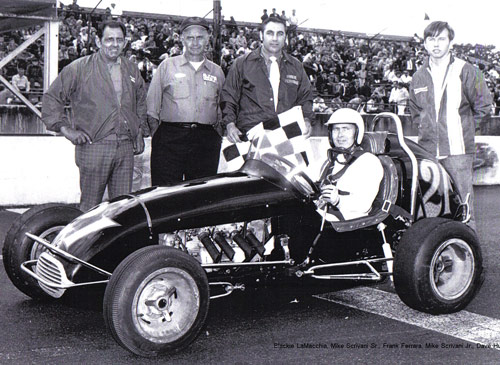 A young Mike Scrivani Jr. stands behind the tail of the family car in Victory Lane. Blackie LaMacchia, Mike's Dad and Frank Ferrara
stand behind driver Dave Humphrey.
NEMA Prexy Scrivani
Looks Back And Ahead
Mike Scrivani Jr. was only five but the memories are vivid. The Northeastern Midget Association president, the son of a New England legend, figures this is his 50th year of involvement with Midgets.

"I remember sleeping between the gear box and the tool box in the back of an Oldsmobile station wagon that we towed with," Scrivani begins. "We never did get the smell of gear oil out of that car. It made my mother so mad."

They traveled all over the east. "Before we used to get to Danbury, we'd stop at the Fornoro house for something to eat," he continues. "That's' how long I've known Drew and Nokie Fornoro. They lived on a cul-de-sac and there were rigs all the way up the road."

Back in 1981, Fornoro drove a Scrivani-owned car to the championship, posting 14 podium finishes in 20 starts. Mike Jr. presently works on Fornoro's current ride, the Jarret #4.

About to begin his sixth year as president, Scrivani has missed very little of NEMA's history. Still one of the most forward-looking Midget clubs in the country, NEMA kicks off the 2009 campaign at Monadnock Speedway on May 23. It is the first of 17 races and seven tracks.

Under Scrivani, NEMA has seen its popularity soar along with its speeds. He's been a guiding force in bringing new faces into the club evidenced by the introduction of the NEMA Lites last year. "I think we are in great shape," he says. "We'll be at established tracks with established competitors."

With the likes of defending champion Randy Cabral, both Stoehr brothers, Erica Santos, Adam Cantor, Doug Cleveland, Chris Leonard and Fornoro all dedicated to strong efforts, 2009 could be one of the best seasons yet.
Scrivani has seen a lot of them. By age 13, he was working in earnest on a car that over the years was driven by Billy Eldridge, Ray Burke, Hank Williams, Dave Humphrey, Billy Randall. He actually owned his first car – a Ford 60 – before he had a driver's license. His father had sold his car to go Modified racing. "I found out about it from somebody else. I was so mad I didn't talk to him for two or three days. Then he gave me some money and told me to go buy a car from Wally White."

It didn't last long. With Meatball Orlando driving, they won a heat at Star Speedway before scattering the engine. Mike Sr. then bought the old car back and for a while they campaigned both the midget and the modified.
Doug Cleveland Gets Ready
for 34th NEMA Campaign

Brockton, MA -Doug Cleveland, about to start his 34th season as a Northeastern Midget Association competitor, is "one of the old school guys." He is currently making ready for NEMA's 57th season opener May 23 at Monadnock Speedway.

"If there is a race we'll try to make it," continues Sudbury, MA resident Cleveland, part of a two-car team that includes brother Brian. "We're aiming for the opener and see what happens after that."

Doug and wife Linda, his partner since 1987, are the very heartbeat of NEMA. Linda, involved as a scorer since 1993, won the Wen Kelley Memorial Award last year. Cleveland has won almost all of NEMA's awards including the Ray Roberts (last year) and Johnny Thomson (1999) trophies.

Ironically, 1987 was also the year Cleveland became an owner/driver. He currently campaigns a self-built car powered by a Mopar engine.

The 51-year old wound up 10th in driver points last summer. A realist, he proudly sees himself as one of the guys "who would collect bottles and cans to buy a tire" and defines "a good night" as "when the car rolls on the trailer and I don't have to spend a lot of money fixing it."

He's been at it since jumping into a car owned by his late father Jim and uncle Paul. His car continues to carry the family number – 87 – and a tribute to his dad and cousin Mark, the latter driving the car when Doug took other rides. "It is absolutely important for us to do that," he says. "Without it, the young guys wouldn't have a clue of the club's history. Truth is, they wouldn't be there if wasn't for guys like them."

His single win came in Jimmy O'Brien's car in Quebec (Sanair) in 1977. "They can't take that away," he says. "Neither of us had any money but we pulled it off one night. We beat Bob Cicconi." He drove for a number of owners including Ed Czyzewski and Carl Kibbe before going on his own.

The Clevelands travel with a truck and motor home and gas is a big part of the yearly expenses that approaches $9,000. It has to be a "close to the vest" operation. He does not crash a lot, something he credits to experience more than economics. "I've been doing is so long, I don't stick my nose where it shouldn't be," he says. Still, he insists, "once the helmet goes on I don't think about anything but driving" and he still impresses himself with "wow moves."

He is an unabashed cheerleader for NEMA, especially the willingness to help each other. "It is more so than other divisions," says Cleveland, who received engine help from Circle Performance Machine's John Andruk last year. "It's been like that for as long as I can remember."

Monadnock is the first of 17 races at eight different tracks on the '09 schedule.

This is a "young" Doug Cleveland in Jim O'Brien's original
"Pink Panther" that won in Canada way back in the day.
(From the O'Brien archives)
Bill Roberts Named
NEMA Race Director
Bill Roberts will become the Northeastern Midget Association's Race Director when the 2009 season begins May 23 at Monadnock Speedway. NEMA president Mike Scrivani Jr. announced the appointment.

NEMA, which has 17 races on the '09 schedule, will "introduce" Roberts at the SpeedwayExpo Feb. 27-Mar. 1 at Eastern States Exposition in West Springfield, MA.

Race Director was one of the roles Roberts had over the past two dozen seasons at Waterford Speedbowl. He has been a fan since growing up watching the Midgets at Hickory Speedway in New Castle, PA.

"Bill will be working with the personnel at the tracks we visit and will have a big role in running our races," said Scrivani. "He comes to us with a great reputation of handling people and situations."

Scrivani said NEMA "went without a race director for a while and we suffered. We stretched ourselves a little too thin during the races. Billy in the booth and me in infield improves that situation."

"Over the years I've gotten to know a lot of the folks in NEMA and I look forward to meeting many more," said Roberts, a one-time flagger. "NEMA is growing. It is a very exciting division, making many new fans. Everybody wants that to continue."

Scrivani said that NEMA, which will have a number of cars on hand, will be part of SpeedwayExpo's salute to Riverside Park. Bobby and Mike Seymour, each two-time NEMA winners at "The Park" will be signing autographs.

Between 1966 and 1989 (the final season), NEMA ran 15 events at Riverside. Keith Botelho, in the Campanale car, won the last NEMA race at the Park on June 14, 1989. Ray Roberts won the first on May 30, 1966.

The 2009 NEMA Yearbook will also be on sale at SpeedwayExpo.

No Sizzling Rivalry
For Stoehr Brothers
Greg and Russ Stoehr will be Northeastern Midget Association foes again for the first time since 1994. The sons of Paul Stoehr, they make up the second winingest brother combination in NEMA history.

When NEMA opens its 57th season May 23 at Monadnock Speedway, Greg will be in the Mazda-powered #26 that he drove to a pair of wins in '08. Over the past two seasons, Greg has won twice at Monadnock.

Russ, back in the seat after five years away, returns to the Angelillo #45 team. That combination produced nine victories and three-straight championships (2000-2002). His last win came at Thompson's World Series in 2002.

The Bridgewater, MA-based Stoehr brothers are part of NEMA's strong "veteran class" that includes Nokie Fornoro, Jeff Horn, Doug Cleveland and defending champion Randy Cabral, the latter a winner every year since 2000.

They'll do battle over a 17-race agenda on eight different tracks. Russ has won on five of them.

"The theory remains the same; the corners are all in the same place," says Russ concerning the layoff. The speeds, however, are considerably faster – "like a full second at Thompson."

They're both championship contenders. "There are things you just know when you accept that ride," Russ says of the Angelillo relationship. Greg hopes to bring acknowledgement to engine builder Circle Performance Machine.

Still, don't expect any sizzling sibling rivalry from the co-owners of Motor Cars International in Bridgewater, MA. It is home, in fact, for the #26. "We've done this before," says Russ.

The 1993 Thompson World Series remains the greatest brother v. brother battle in NEMA history, Greg, in the Zahar #38B, passing Russ, in the Beane #26, on the last lap. "I do owe him for that one," says Russ who has not driven since taking a couple rides in 2003.

Greg, who won twice at Seekonk in '94, was mostly watching when Russ won championship No. 2 with Beane in 1997 and three, four and five with Angelillo. Russ' first title came at age 26 with Beane in 1990.

"We worked together well, always communicated well," remembers Russ, who replaced Drew Fornoro in the Angelillo car. "We just jelled and put in all together for three years."

The relationship with Beane remains close. Russ was very much involved with Greg's return. "We decided to use the Mazda engine Bruce helped to develop," says Russ. "It is still in the car."

Last fall, Russ "had no interest" when Angelillo approached him about driving again. He found himself having second thoughts and talked it over with wife who responded with "if that's what you really want to do, then do it." He then got back to Angelillo and informed him
"if the opportunity comes up again…"

He replaces Joey Payne Jr., the guy who replaced him in the Angelillo seat.

William Wall Among
NEMA's Young Stars

Brockton, MA - Racing wise, things have always fallen into place nicely for William Wall. The 2008 Rookie of the Year, the 17-year old is one of the Northeastern Midget Association's brightest young stars.

So, when he says he'll "take things as they come" in 2009, it's best to pay attention. NEMA opens its 17-race season Saturday night, May 23 at Monadnock Speedway.

"We're going to make as many races as we can," says Wall. "We'll run the tracks we believe we can do well at." The team, headed up by father/owner Steve and including older brother Aaron, runs Autocraft-powered Hawk chassis. Aaron, three years older, is a student at the University of Connecticut.

The team is "anxious to try some new stuff we've thought about over the winter."

He was "a little bit surprised" with his first-ever experience in a midget. Coming from Whip City Speedway – he was the 270 Micro Sprint Champion in 2007 – it was a learning process. His three top-fives came later in the season.

He and his dad wound up seventh in the respective standings. He had a very impressive fifth-place run at Seekonk's DAV.

"The hardest things was learning how to communicate back to the car owner," says Wall, a junior at Assabet Valley Technical High School near his Shrewsbury, MA home. "The Midgets are so technical, so tricky."

Driver Adam Cantor, "was a real big help all year " as was car owner Mike Jarret "who knows the right questions to ask a driver." Cantor was part of the great young movement in 2001 that turned NEMA around. Engine builder Mike Seymour was also a big factor.

William followed Aaron into racing. "Aaron wanted a go-kart but somebody suggested Quarter Midgets and that's the way it went," he says. The family raced as far away as Indianapolis and Georgia but was basically mostly at Thompson's "Little T" facility.

He moved to Whip City, spending a season in the 250 sprints before winning 270 Rookie honors two year ago. Still, he credits the Quarter Midget experience with helping make the transition to asphalt. "Quarter Midgets are suspension cars and I could relate that to the full Midgets," he explains.

It took a couple races to control the higher speeds ("Thompson is where you really feel it") that have become NEMA's trademark.

Studying welding, William "hopes to advance" as a race driver but would also find satisfaction in a career working on racecars.


Mike Seymour, Jeff Abold, Ellie Seymour, & Bobby Seymour.
Bobby Seymour Praises
NEMA's Young Drivers
Over the winter of 2000-01, Bobby Seymour was at the forefront of an effort to make the Northeastern Midget Association "more friendly" to younger drivers. The minimum age for drivers was lowered considerably.

"It was a must," says Seymour, "one of those things that had to be done." Young drivers, he says, had "a lot of different avenues" coming out of go-karts and NEMA was not one of them. We had to change or lose them."

Bobby Santos III and Adam Cantor are products of that move.

The list continues with teenagers William Wall, the 2008 Rookie of the Year, and Jeff Abold, 20, a winner last year at Seekonk in the Seymour #29. "Actually, there are great young drivers all over the place," insists Seymour, adding "there are three or four ready to move up from NEMA Lites."

The Lites produced several candidates including Jake and P.J. Stergios, Anthony Marvuglio, Todd Bertrand and Jesse State. Aaron Wall is another hopeful. "Economics is a factor right now," Seymour says, "but they're ready."

The 58th NEMA season opens Saturday night May 23 at Monadnock Speedway, the first of 17 dates on seven tracks. The NEMA Lites second season begins Friday night, June 5 at Seekonk Speedway, the first of 14 events. Seymour predicts an average field of 15-to-16 cars for the Lites this summer.

Veterans – defending champ Randy Cabral, Greg and Russ Stoehr, Nokie Fornoro, Erica Santos, Doug Cleveland – are still the lifeblood of NEMA. The club, however, continues to make room for youth and the combination, suggests Seymour, "makes NEMA as good as any regional series in the country" with at least 10-potential winners every race.

Wall, who finished seventh in points last season, plans on a full-time '09 assault in the family-owned #5. Last season was the first time on asphalt for the Whip City Speedway product who had three top fives. Abold will be very busy as well, his dance card including not only NEMA but ISMA and some USAC Midget dates. The second-generation driver had three podium finishes - all at Seekonk.

Seymour remains a big supporter of the program, and hopes for more recognition for the Lites in '09. "My kids run Little T (Thompson) so I'm there a lot," he says. "I watch these kids 13, 14, 15 and marvel at what they're capable of. They are very good."

Abold and Wall came to NEMA with plenty of experience in Quarter Midgets and Go Karts.

"When you asked the young kids 'where are you going to race next?' you would hear everything but midgets." The cost of motors and tires made the move to NEMA very difficult if not impossible. The Lites, using Ford Focus or Oldsmobile Quad 4 engines, take aim at reducing those costs.

HERE AND THERE: Bobby Seymour was 21 when he drove a Midget for the first time. Brother Mike was 23. For many years, drivers didn't get into Midgets until their late teens and early 20s and that includes the greats…There has been at least one "first time" winner in NEMA every year since 2001. The list includes Ryan Dolan, Kyle Carpenter, Bobby Santos, Adam Cantor and Jeff Abold. Although they were teenagers when they did it, they came to NEMA with a lot of Quarter Midget and Go Kart experience…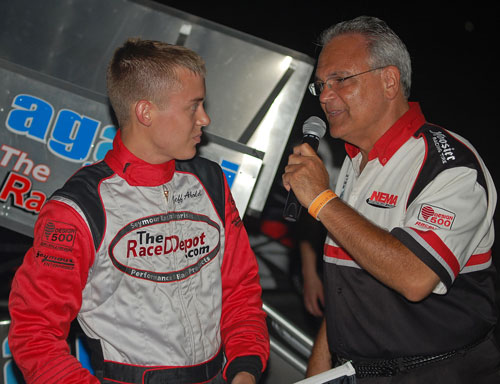 Pete Falconi Continues
As Voice of NEMA
Brockton, MA - Pete Falconi, the voice of the Northeastern Midget Association, remembers being "a little scared" watching the Midgets at his family's Westboro Speedway. "As a young kid, they looked so dangerous, you were almost afraid to watch them. You were afraid of what could happen."

He, of course, has conquered that "fear." Falconi, 54, will start his seventh season as NEMA's announcer when the club opens the 2009 season Saturday, May 23 at Monadnock Speedway.

"I enjoy the camaraderie in NEMA," says the son of New England Auto Racers Hall of Famer John Falconi. "The racing is, of course, very exciting and I really love getting around to all the different tracks. I enjoy seeing the different divisions of racing."

NEMA, facing a 17-race schedule in '09, will visit seven different tracks. Ever-increasing speed has made NEMA a sought after attraction. "Places like Waterford and Seekonk are so fast," Falconi says. "You look down and there's only two or three laps left. You're amazed."

It is also a never-ending challenge for Falconi.

"You have to get into the rhythm," continues Falconi. "Stock cars are a little more predictable. You have to follow Midgets all the way around. Still, usually more happens than I can get on the microphone."

Sometimes, he "can see things shaping up," the result of "learning more about the drivers and the moves they like to make." Long-time NEMA competitors Mike and Bobby Seymour, he says, were instrumental in his becoming a Midget announcer.

Part of New Hampshire International Speedway's Sprint Cup weekends for the past 10 years, Falconi had "stationary jobs at Stafford Motor Speedway in the 1970s and at Lee USA in the 80s. While he admits to being "raised on the stock car side of things," he was hardly a stranger to the Midgets in general and NEMA in particular.

His father, a one-time car owner, moved into promotion at Westboro (before owning it), Thompson and West Peabody. Pete watched a lot of NEMA history including Dave Humphrey's exploits, Jerry Wall's storied Yellow jacket and the Rollie Lindblad-inspired Badger era. "I was at Westboro from the 1960s until the place closed in 1985," he says.

He remembers Nokie Fornoro dominating in the Scrivani car in the early 80s. "I don't think Nokie has lost a step," says Falconi. "He hasn't lost a thing and what is amazing is the kids have come up to run with him and guys like Joey Payne." He is "very impressed" with youngster Jeff Abold ("he just sort of glides getting it done"). Defending champion Randy Cabral, Bobby and Erica Santos, Adam Cantor fit "nicely" between them. He is "looking forward" to battles between Greg and Russ Stoehr, the latter back in Gene Angelillo's #45.

The future for Midgets is "golden." They have become a stepping-stone thanks to the likes of Jeff Gordon, Tony Stewart and Ryan Newman. He is a big supporter of the NEMA Lites pointing out "kids are now coming out of quarter midgets and go karts, turning 16 and moving into Midgets. I think the Midgets have as strong a future as any division anywhere."



NEMA at the SpeedwayEXPO



"SHANE RACE FOR FUN" - NOV. 29th
Jenn Jaffres Kodak Gallery of F1 Pix HERE
Thank you one and all for participating in the First Annual Shane Race for Fun last month at F1. It was a huge success. I learned that many of us are procrastinators as I only had 35 racers 10 days prior to the event. The word got out and WOW did things change in a hurry, 88 racers suited up. There were laughs, racing, billiards, food, conversation with old and new friends & last but not least - penalties ....gee didn't those flagmen know we are professionals!! LOL
I need to thank all those who volunteered there time, efforts & materials & those who donated raffle items. To my friends & family , thanks for putting up with me getting this first event underway.

As promised at F1 to keep the fun going the details for the next event:
THE SHANE BOWL - February 7th, 2009
Westgate Lane, Brockton, MA

We have all heard of the Super Bowl, the Chili Bowl but here it is
The SHANE BOWL. Bowling was Shane's off season sport of choice besides watching racing and football. This is the FIRST annual "Shane Bowl" charity event. It's all in the name of Fun for Safety. The Shane Hammond Believe Foundation has been established to provide safety education to drivers old & new. There is no limit to the laughs that this event will bring. Bowling brings out the best and the worst in our athletic abilities. Bring your neighbors, your bowling team, your kids, just be there.

NEMA Announces 17-Race '09 Agenda
The Northeastern Midget Association heads into its 58th season with a 17-race campaign that includes several "traditional" stops. NEMA, which dates back to 1953, is one of the oldest Midget sanctioning bodies in the country.

The winged wonders will open the 2009 campaign on Saturday night, May 23 at New Hampshire's Monadnock Speedway, one of three stops for the New Hampshire quarter-mile. The agenda also includes traditional venues Thompson and Stafford Speedways and Waterford Speedbowl in Connecticut, Massachusetts' Seekonk Speedway and Lee USA Speedway in the Granite State.

Twin State Speedway and Canaan Fair Speedway are on the schedule as well. It will be NEMA's first visit to the third-mile Canaan since 2002. Lee and Canaan share the Sept. 18-19 (Friday-Saturday) weekend.

"We believe we have a solid, well-spaced schedule considering the economy," said NEMA President Mike Scrivani Jr. "These are good Midget tracks. Guys know what they're doing.

NEMA will share dates with the International Supermodified Association (ISMA), True Value Modified Series (TVMS) and American Canadian Tour (ACT) over the season.

The NEMA Lites division returns for its second campaign with a 13-race schedule that begins Friday night, June 5 at Seekonk.

The busy schedule includes Stafford's Carquest Extreme Tuesday
(July 7), Seekonk's Boston Louie (Aug. 8), Waterford's Wings & Wheels (Aug. 15), Twin State's Open Wheel Sunday (Oct. 4), Seekonk's DAV (Oct. 11-12) and Thompson's World Series (Oct. 17-18).

The NEMA Lites, coming off a very successful inaugural effort, faces a schedule made up of third and quarter miles. NEMA expects as many as a half dozen new teams will join the Lites this season..

Lee's season-ending October fest (Oct. 24-25) remains tentative for both NEMA and the Lites.

2009 NEMA SCHEDULE - Table Here

2009 NEMA LITES SCHEDULE - Table Here

Payne Out, Stoehr Returns to
Angelillo NEMA #45
Wolcott, CT – Joey Payne Jr. is out of Gene Angelillo's #45 Northeastern Midget Association car. Russ Stoehr, one of the club's all-time winners, is back in.

"It is one of the hardest things I've ever had to do," says New Jersey resident Payne who won 15 races and a championship (2003) over the past five year's in Angelillo equipment. "I've known Gene almost my whole life. He's like family but NEMA's midweek shows have presented me with a very difficult economic situation. It is the right decision for me."

Bay Stater Stoehr, who won three straight (2000-2002) championships and nine features with Angelillo, will be back in the #45 when NEMA opens its 57th season Saturday night, May 23 at Monadnock Speedway.

Payne, who will be driving the Pat Strong #99 Supermodified at Oswego this year, pointed out his two sons, both racers, and daughter, a softball standout, "deserve more of my time as well." He does hope to grab a Midget ride now and again.

"I hate to lose Joey but I completely understand his situation," says Angelillo, NEMA's all-time winner with over 100 features. "It is a matter of priorities for him. We'll miss him."

Payne was aboard in Angelillo's 100th win at Thompson on Oct. 15, 2000. Stoehr, in a second Angelillo car, was second.

Stoehr's last victory – July 4th, 2002 at Thompson (his 39th NEMA win) – came in Angelillo's car. He all but left the driver's seat at the end of that year and over the past couple of years has been listed as the crew chief of brother Greg Stoehr's car.

"Having Russ back is exciting," continued Angelillo. "He clearly is one of NEMA's best as both a driver and mechanic. We've had a lot of success together and we've looking forward to more."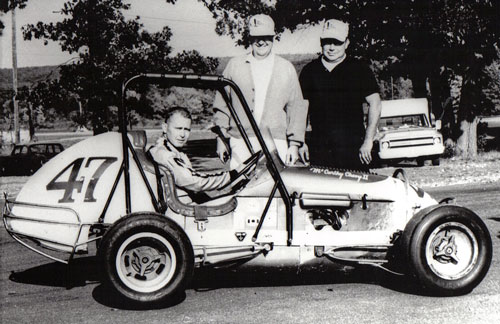 Dave Humphrey with John McCarthy and Don Mandarosian
NEMA's Dave Humphrey Earns
Midget Hall of Fame Spot
Six time Northeastern Midget Association champion Dave Humphrey has been elected to the National Midget Hall of Fame. He will be inducted with Phil Walters (aka Ted Tappett), Jeff Gordon and Kevin Doty.

The introduction will be Jan. 10 as part of the pre-race ceremonies at the Chili Bowl Nationals in Tulsa, OK. The Midget Hall of Fame is located at Angell Park Speedway in Sun Prairie, WI.

Humphrey, a member of the New England Auto Racers Hall of Fame, ranks second in all-time NEMA victories with 72. Driving for, among others, Bob Pascale, Mike Scrivani and John McCarthy, he was a NEMA standout for over two decades. Prior to NEMA, he was successful in stock cars and sprint cars.

Fittingly, Humphrey's first (July 5, 1965) and last (Oct. 12, 1986) NEMA wins came at Seekonk Speedway.

Long Islander Walters took the name "Ted Tappett" when he began Midget racing before World War II. After the war, he was an ARDC standout before spending a brief but very successful time in stock cars. As Phil Walters, he moved up to sports cars with Briggs Cunningham running all over the world.

Humphrey joins a group with impressive NEMA credentials including Ken Breen Sr., Johnny Coy and Dutch Schaefer. He and Tappett bolster the northeastern representation that includes Johnny Thomson and Joe Sostillo. Both raced with the Bay State Cub in the 40s and early 50s before going on to national fame.