2010 NEMA NEWS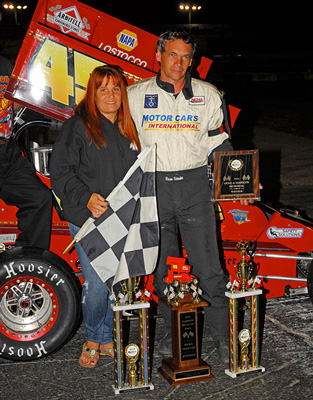 Laura Kibbe Continues
Angelillo NEMA Dynasty
Brockton, MA - The Dumo's Desire team will "definitely be in monkey suits" at the Northeastern Midget Association Awards Banquet Saturday night, Nov. 20 at Whites of Westport in Westport, MA. "My mother would have insisted on it," reports Owner champion Laura Kibbe. It is the final step in a championship effort for team and driver Russ Stoehr dedicated to Laura's folks, long-time NEMA stalwarts Gene and Marilyn Angelillo.
It is almost poetic that Stoehr and the team took the point lead for good at the Angelillo Memorial, a race Kibbe sponsored in her parents memory at Waterford Speedbowl in September. They left The 'Bowl with a 22-point lead. "I realized then the championship was possible," she recalls. "I said to myself, 'Wow, this could really happen."
Stoehr, who now has six titles, four in Angelillo equipment, put a bow on it with a third at Thompson's World Series.
When Kibbe gathered the gang together on the day of her father's funeral (he died on March 1), she was not thinking about championships. She had been part of every one of the 14 NEMA titles Gene and Marilyn (who died Sept. 4, 2007) acquired. "I wanted being part of the NEMA family to continue," she says. "I felt the No. 45 had to be at every NEMA show." There was commitment from Stoehr and long-time Angelillo friend Joe Fiori, the latter insuring race headquarters would remain at Angelillo's garage in Oxford, CT.
"I'll always remember the emotional experience of watching the car take the green in the season opener at Waterford so soon after Gene died," says Kibbe, a very successful attorney with an incredible international agenda. "Honestly, I wasn't concerned about championships, even feature wins. I was concerned with keeping the car on the track."
But things came together. Scottie Law, for instance, stepped up to take on tire responsibilities, something he had never done before. Jack Giannini and Kurt Kiermont, also longtime Angelillo associates, contributed as did Brian Wynn, Paul Liphardt and Nick Rinaldi.
In the final reckoning, Stoehr had three wins among nine top threes and 11 top fives and no DNFs. While the bad luck of defending champions Randy Cabral and Bertrand Racing can't be dismissed, it was the Dumo's Desire crew that prevailed. Stoehr, who insists "You can't do it without a good car and those guys did the car," was, at least unofficially, the crew chief.
"My father was like a tiebreaker," explains Kibbe. "People on the crew would disagree about an approach to take and he would end it saying 'do it this way.' We didn't have that anymore. So, I announced Russ is the tiebreaker because he has to be comfortable with equipment under him." She "checked" with Russ after every race, learning "things were better each time we ran."
"We never had a conversation about doing it for Gene and Marilyn," says Stoehr who won three straight titles with Angelillo before retiring in 2002. He returned to driving and Angelillo in 2009. "We wanted to get the job done."
In the end, Kibbe insists, it was "putting egos aside and everybody coming together. We all had important jobs to do and had we not done that, we would have failed miserably."
And missed an opportunity to put on those tuxedos.
NEMA Completes 58th Season
BY PETE ZANARDI Brockton, MA - The Northeastern Midget Association finished its 58th racing season at Thompson Speedway's World Series, Randy Cabral the 25-lap feature winner while third-place finisher Russ Stoehr claimed championships for himself and the Dumo's Desire #45. The championship battle clearly turned at Seekonk Speedway's D.Anthony Venditti Memorial, the admittedly over-aggressive Cabral winding up 21st after an early confrontation.

The "official" ending comes with the usual host of presentations at the annual Awards Banquet Saturday night, Nov 20 at White's of Westport in Westport, MA.

The championships were a fitting a tribute to Angelillo's daughter Laura Kibbe who decided to carry on in honor of her mother Marilyn and father. Angelillo died on March 1. It was the sixth title for Stoehr, the 15th for the Angelillo team.

While the championship streak ended at two for Cabral and car owner Tim Bertrand, it was a noteworthy season for the Plymouth, MA competitor. It was the 11th straight season he has won, a mark surpassed only by the legendary Dave Humphrey. He moved into sixth place on NEMA's all-time win list with 30, just three behind Bill Eldridge. The World Series triumph upped his Thompson total to nine.

Perhaps fittingly, Stoehr took the point lead winning the Angelillo Memorial at Waterford Speedbowl, the most emotional of his three wins. Stoehr now has 43 career wins, two behind third-place Nokie Fornoro. NEMA's top-two winners – Drew Fornoro (85) and Humphrey (73) appear out of reach.

Stoehr and Cabral shared the podium five times. They were one-two twice: after losing to Cabral at Thompson's Marvin Rifchin Trophy race by inches, Stoehr prevailed at Monadnock.

There were seven winners including first-timers Chris Leonard and Chris deRitis, both turning the trick at Waterford, a charter-member of NEMA that now shows 45 winners going back to 1953. Other winners included Jeff Abold, Lou Cicconi Jr., Adam Cantor and Keith Botelho. Cicconi and Abold each drove the Seymour #4 in Seekonk's Open Wheel Wednesday and Boston Louie respectively. Cicconi's win could well be the most dominating performance of the campaign.

Botelho's success at the DAV, his first win in 12 years, ranks as the upset of 2010. The car is owned by Russ Stoehr, powered by a 20-plus year old Gaerte engine and crewed by father-and-son Carl and Curt
Kibbe. Carl Kibbe, a two-time NEMA owner champion with 18 NEMA wins, was a winning crew chief for the first time since 1991 with driver Joey Coy at Hudson Speedway.

Forty drivers scored points, with Russ and Greg Stoehr, Cabral, Cantor, deRitis, Bundy, and Scally at all 13 events.

A foursome of youngsters – Todd Bertrand, Lanson Fornoro, Anthony Marvuglio and Anthony Nocella – were all impressive in limited runs. All were active in NEMA Lites action as well.
NEMA TRACK HISTORIES


with 2010 updates


PDF HERE
NEMA STATS


with 2010 updates


PDF HERE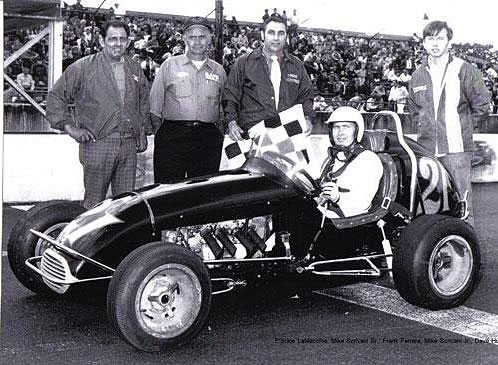 Blackie LaMaccia
Passed away at 7 PM on 12-24-10
Stu Murray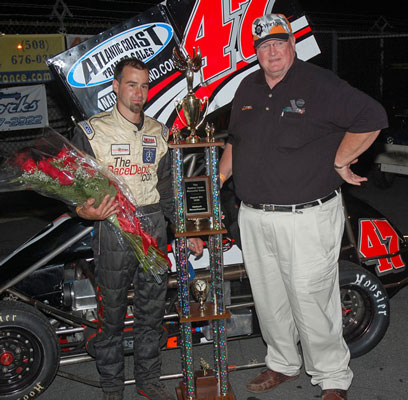 Longtime NEMA supporter Stu Murray has had serious health issues and been hospitalized for some time. He would welcome hearing from old racing friends. Cards and emails can be sent to the address below (his new house – he and Connie moved a month or two ago from the house in Brentwood):
cmurray615@gmail.com (Connie's email)

Stu Murray
103 Polly Ann Dr.
Mt.
Juliet
,
TN
37122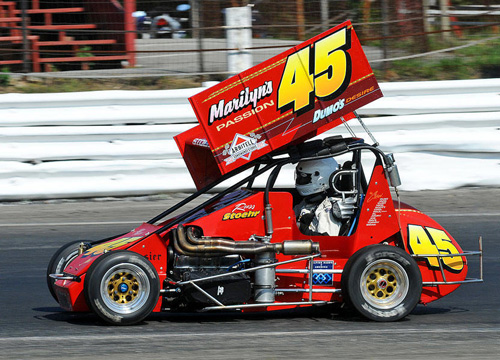 Angelillo 45 Remains
NEMA Contender
Brockton, MA – The beat goes on for the Dumo's Desire/Marilyn's Passion team. The number 45 with Russ Stoehr aboard will be on hand when the Northeastern Midget Association opens its 59th season March 26-27 at Waterford Speedbowl's Budweiser Blastoff Weekend.
"We have decided to run because that's what he would have wanted," said Laura Kibbe of her late father Gene Angelillo who passed away March 1. "The car is ready."
Stoehr will join a number of drivers out to end defending champion Randy Cabral's opening day win streak at two. It's three in a row for Bertrand who won with Lou Cicconi back in '07.' The team will debut a Honda motor at the opener.
Other top contenders include Greg Stoehr, Adam Cantor, who finished strong last summer, and 2009 Rookie of the Year Chris DeRitis, now driving for Lou Cicconi. Rookie of the Year candidate Jesse State will be making his full Midget debut in the Power Point car.
The NEMA Lites, beginning its third season, will also be part of the busy weekend agenda. NEMA will qualify on Saturday and run its feature on Sunday. The Lites will do both on Saturday.
"We are, of course, pleased that the 45 will be part of the 2010 season," said NEMA president Mike Scrivani Jr. "There is no way we will not miss Gene but the car being with us is great."
This would have been Angelillo's 30th consecutive season with NEMA.
The 45 will continue to be maintained in Oxford, CT and the crew – Joe Fiore, Curt Kibbe, Jackie Giannini, Kurt Kiermont, Scott Law, Carl Kibbe, Paul Liphardt, Nick Rinaldi and Dave Shore – remains intact.


The earliest opener in NEMA's history, it is the fourth time in the past six years the club has lifted the lid at Waterford.

Cabral is actually after a fourth opening day victory which would tie him with Bill Eldridge and Dutch Schaefer. Drew Fornoro is the leader with six.
Gene Angelillo Memorial Page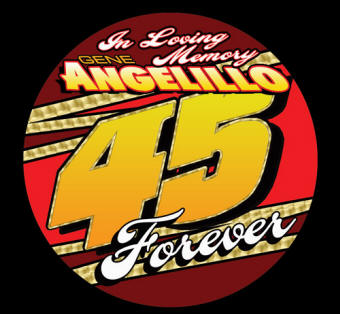 .
NEMA RACER
BOB BRADBURY

HAS PASSED AWAY

Funeral Services will be on
Sat. March 27th - 11 AM

BELLOWS-FALSO FUNERAL CHAPEL
160 River Road, Lincoln
, RI
.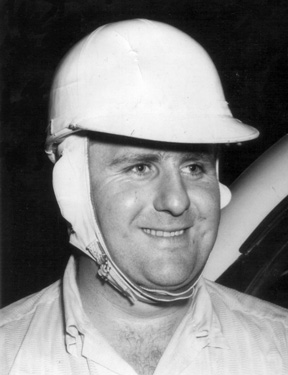 New England Auto Racing Hall of Fame Member
Richard "Moon" Burgess Passes-Away
(DURHAM, CT.) Pioneering New England stock car racer Richard "Moon" Burgess passed-away on Wednesday, March 17 after suffering a serious stroke earlier in the month.

Burgess started his career in the midgets during the 1940's, switching to stock cars later in the decade. He competed with success at virtually every track in the region including Thompson, Waterford, Plainville, Riverside Park, Kingston, Candlelight Stadium, Cherry Park, West Haven, and others.

Teamed with car owner Joe Fontana, Burgess experienced his greatest degree of success while behind the controls of the potent "Flying Eagle" #1 coupe. He retired from the sport in 1953 after a relatively brief but spectacular career in which he won over 200 races including 63 feature events in addition to a track championship.

Burgess was a founding member of the New England Antique Racers (NEAR). He was inducted into the New England Auto Racing Hall of Fame in 2003.

Mass will be on Saturday March 20 at 11:30 A.M. at Notre Dame Catholic Church, 272 Main St. Durham, CT. Friends and family are invited to later attend a celebration of Moon's life from 2:00-5:00 at the Crowne Plaza Hotel, 100 Berlin Road, Cromwell, CT.

Burgess leaves his wife Rita, children Rich, Jr. and Sharon, and grandchildren.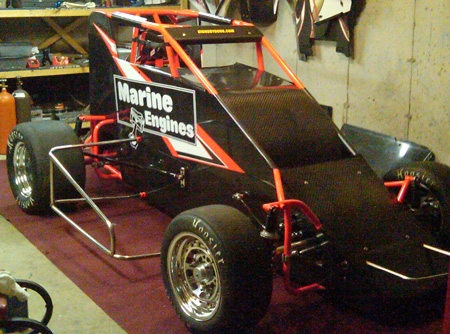 Jesse State, Chris Desrosiers
Eye NEMA Success
Brockton, MA – Jesse State, a standout in the Lites two seasons ago, will move into Chris Desrosiers' #99 Power Point Racing car for the 2010 Northeastern Midget Association season. NEMA will open its 58th campaign at Waterford Speedbowl on March 26-27.

"It's the opportunity I've been looking for," said State who replaces Chris DeRitis in the Mazda-powered Spike chassis. A junior at Rensselair Polytechnic Institute, the soon to be 21-year old will be making his "full midget" debut.

"An obvious choice," said Desrosiers, "especially after looking at the success he had with the Lites. We expect to do well. We don't expect rookie results."

State spent three years in Ford Focus cars before a five-win season with the Lites in '08. He was an accomplished go karter for eight seasons, winning five grand national crowns and two national titles. The New Hyde Park, NY resident is looking forward to the step up in horsepower.

Pointing to the influence of Bobby Seymour and NEMA President Mike Scrivani, Desrosiers said State "comes highly recommended" to the four-race old Spike car. With DeRitis aboard, the car was fourth quickest at Seekonk's DAV last fall. DeRitis, the '09 Rookie of the Year, will drive a Lou Cicconi–owned car this year.

About to start his sixth season with NEMA, Desrosiers said the engine has been redone. "I can't say enough about Spike, Circle Performance and our sponsor Marine Engines," added the Freemont, NH resident. "We are optimistic."

Pointing out "you carry a lot of speed at Waterford and the wall comes up quickly," State hopes to get some testing in before the opener.




Jesse State and Lites driver Shaun Gosselin are in the same fraternity house at RPI. While pointing out nothing beats seat time, State, a mechanical engineering major, says the academic side "helps you stay focused and also helps in understanding what the car is doing."



State had a Wednesday night win at Waterford in 2008.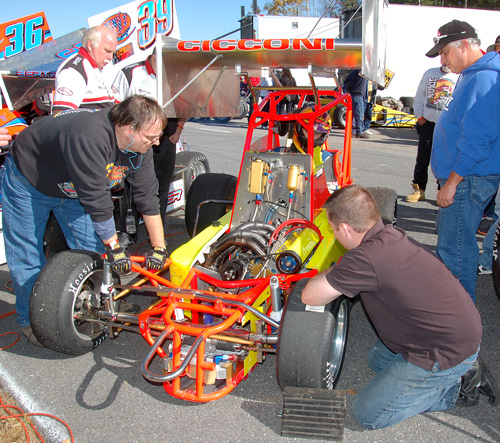 Top Rookie deRitis Gets Cicconi Ride
Brockton, MA – Chris deRitis, the Northeastern Midget Association's 2009 Rookie of the Year, will be driving Lou Cicconi's #75 Esslinger-powered Drinan chassis in 2010. The three-year old car will be housed at Bertrand Motorsports, Tim Bertrand serving as Crew Chief.

The car will be ready for NEMA's opener March 27-28 at Waterford Speedbowl. "We tested there in October and it was damn cold," said Chris' father Dan. "Chris turned times that compare favorably with those set by the fastest cars during the warm months."

DeRitis, 22, made his full-midget debut last summer in the Chris Desrosiers' Power Point car, finishing fifth in points with eight top tens in 14 starts. He had a fourth at the Speedbowl.

"Power Point is a great team and we enjoyed it very much," continued DeRitis. "We now look forward to input from both Lou & his Dad and Tim & his Dad."

Bertrand, no stranger to Esslinger or Drinan, is NEMA's two-time defending owner champion. Cicconi drove the car a couple times in 2008.

The move continues the tight relationship between Cicconi and deRitis. "Lou got us involved with the TQs," deRitis said, "and he was instrumental in Chris' ride with Power Point."

Young deRitis brought a strong ACTQMRA resume to NEMA beginning with a Rookie of the Year effort in 2006. He was second in points in 2007, third in 2008. Dan was the 2008 owner champion.

"No doubt he proved himself in '09," said Bertrand, part of a very successful team with two-time driving champion Randy Cabral. "Chris is a talented driver and it is a good car. I am looking forward to an exciting season."



NEMA Champ Bertrand Installs
Honda Power for 2010
Brockton, MA - Two-time Northeastern Midget Association champion Bertrand Motorsports will march to a different beat in 2010. Honda will power the #47 when Randy Cabral begins his quest for a third straight driving title in the season opener at Waterford Speedbowl
on March 27-28.

"It is, of course, a major change and challenge for us," says owner Tim Bertrand of the enhanced Dual Overhead Cam Honda "K series" motor. Engineered by Stewart Racing Engines of Indianapolis, it is found under the hood of the Honda CRV SUV.

Over the past 50 years no Midget group in the country has been more forward thinking than NEMA. Bertrand, after a third straight owners crown, sees a movement that could be the equal of the "stock block" revolution of the 1960s when, among others, the Falcon, Pinto and Chevy II motors were dominant.

"It utilizes a block and a head directly out of a street car and has incredible reliability," says Bertrand of the new motor. He points out Greg Stoehr's similarly powered Circle Performance Mazda #26b has already provided an example of stock block reliability.

"There have been no failures attributable to any major component in better than 1000 miles of both racing and testing," Stewart says of its "USAC/NEMA" motor.

The Bertrand endeavor will bring added luster to the 2010 season, a 15-race (six tracks) journey that will run into October. Only Albany-Saratoga Speedway, back for the first time since 1977, is not well known. There are few secrets left at Waterford Speedbowl and at, Monadnock, Lee USA Speedway, Seekonk and Thompson Speedways.

"We fully expect to run well with the Honda but we also expect a very competitive season," says Bertrand. "Considering the equipment and the talent, the mix of veterans and youngsters, and the speeds we achieve, this is as good as NEMA has been in a while."

The owners championship went to the final laps a year ago. "However it may appear, nothing is easy in NEMA," says Bertrand.

The competition includes motors. Honda will be doing battle with some established powers. Esslinger was the number one winner in '09 but Gaerte, Autocraft, Mopar and Mazda sat in Victory Lane as well.

Bertrand is quick to point out that he is still committed to the Esslinger Engineering, as a second and possibly third car will still carry that power plant. "This was a great opportunity for Randy and our team to expand our horizons with a new opportunity, but we will still regularly run the Esslinger power plant in our team cars," said Bertrand.

He again plans on a series of guest drivers for the #39. Last year, Ryan Newman and Cole Carter were among the nationally known drivers competing for Bertrand in NEMA races.  
Restored Midget Displayed at the The Racin' Preview
February 19-20 - The Portland Expo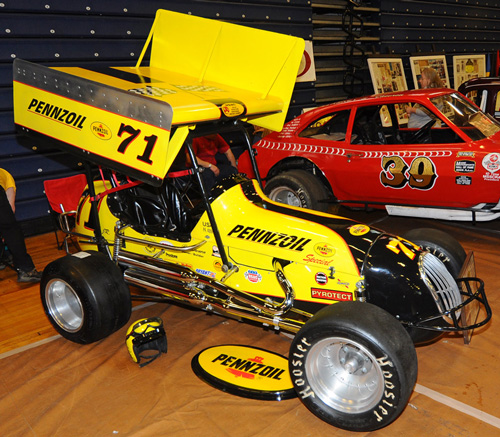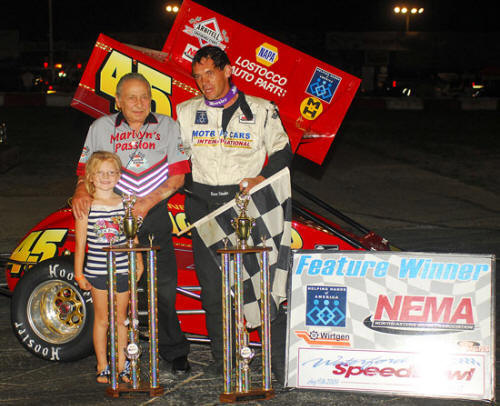 Russ Stoehr won Angelillo's 107th NEMA feature last summer at Waterford.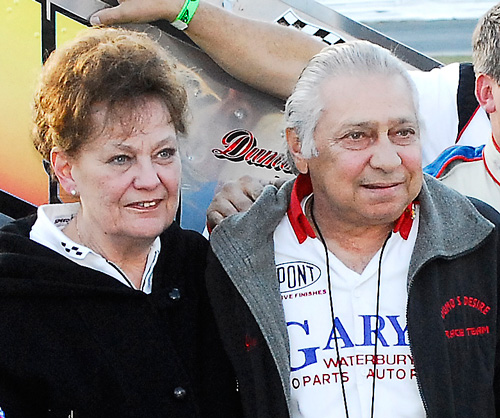 Gene and his late wife Marilyn, who was so much a part of his racing career.
Angelillo Set To Begin
30th NEMA Campaign
Brockton, MA – Gene Angelillo's 30th consecutive season as a Midget owner will begin when the Northeastern Midget Association opens its 58th season March 27-28 at Waterford Speedbowl. He returns with veteran driver Russ Stoehr.

Stoehr and Angelillo "reunited" last season, coming back from a devastating crash in the opener at Monadnock to finish fourth in owner and driver points respectively. "The crash really hurt us and we were frustrated by motor problems all year," says Angelillo. "And, Russ was back after five years of not driving. We all should be better."

The opener is part of a 15-race 2010 agenda that includes "old standbys" Monadnock, Lee, Seekonk, Thompson and Stafford as well as Waterford. "That serves us well but it's good for the others too," says Angelillo. "We're preparing the car (Esslinger/Beast) expecting a competitive season."

They'll be out to duplicate a success at Waterford last season. It was the teams only '09 victory but the 107th career NEMA win for Angelillo. The first came on August 2, 1981 with Drew Fornoro at Hudson Speedway in NH. A 14-time NEMA owners champion, Angelillo's "regular" drivers have been Fornoro (an incredible 20-year relationship), Stoehr, Joey Payne Jr. and Stoehr again.

"Marilyn's Passion" will again be prominent honoring Gene's late wife. Crew member Kurt Kiermont came up with Marilyn's Passion idea. It shares space on the car with two other things associated with Angelillo – "Dumo's Desire" and the number "45."

"Marilyn insisted on the other two right from the start," Angelillo says. Dumo's Desire acknowledges Angelillo's dad, a big fan who was constantly trying to convince his son to buy a race car. Angelillo had just turned 45 when, in the winter of 1980-81 he purchased his first midget from Ohio's Lyle Corcoran. Dumo had passed away by then.

Midget legend Johnny Kay convinced Angelillo, part of a brief sprint car venture a dozen years earlier, to go midget racing.

The biggest heartbreak of '09 was being forced out of the first Angelillo-sponsored Marilyn's Passion Race by motor problems last season. The race, honoring Marilyn's long service to NEMA, will be at Waterford in '10 (Sept 11) and the Angelillo crew expects to be fully armed.

Angelillo's resume includes an ARDC championship as well. In addition to his "regulars," Nokie Fornoro and Ted Christopher have won NEMA features in Angelillo equipment. His cars have won NEMA features on 18 different tracks with six different motors – VW, Datson, Mazda, Pontiac, Gaerte and now Esslinger.

NEMA Announces 15-Race Schedule
Brockton, MA – A challenging 15-race schedule will mark the Northeastern Midget Association's 58th season. NEMA kicks off the 2010 agenda at Waterford Speedbowl's season-opener on March 27-28.

While familiar venues highlight the schedule – four races at Waterford and three for both Monadnock and Seekonk – it includes a new challenge as well. NEMA will tentatively be returning to Albany-Saratoga Speedway (Sunday, May 9) for the first time since 1977.

Thompson and Lee USA Speedways will also host NEMA in 2010. The NEMA Lites division, heading into its third season, will be part of 10 programs including the season-opener.

"We think we have an excellent schedule considering the economic environment," said NEMA President Mike Scrivani Jr. "We certainly know how to get around the places we'll visit and that insures another very competitive season."

Stopping two-time champions Randy Cabral (driver) and Tim Bertrand (owner) will be the object of what promises to be an outstanding field.

NEMA's traditional headliner, the Boston Louie Memorial, is scheduled for Seekonk on Saturday night, Aug. 28. Two other memorial races return for their second season – the Marvin Trophy Race at Thompson on Thursday, July 1 and the Marilyn's Passion Race at Waterford on Saturday, Sept. 11.

Keeping with tradition, the club will be part of several of New England's major events including the Carquest Xtreme Tuesday June 6 at Stafford Motor Speedway, Open Wheel Wednesday at Seekonk July 21 and Waterford's Wings & Wheels on Saturday, Aug. 14.

The traditional finale is intact as well, Seekonk's DAV (Oct. 9-10) and Thompson's World Series (Oct. 16-17) bringing things to a close.




Waterford will host the earliest season debut in NEMA's history … It will be the sixth time since 1999 that NEMA has opened the season at the Connecticut oval … Defending champions Randy Cabral (driver) and Tim Bertrand (owner) will be looking for a third-straight season opener including 2008 at Waterford.



Drew Fornoro has won the most NEMA season openers – seven.



With the exception of Albany-Saratoga, only Nokie Fornoro and Bobby Santos III have won a NEMA feature at every track on the 2010 schedule. Russ Stoehr and Cabral have missed only at Stafford.



It will be NEMA's 19th visit to Albany-Saratoga. Lee Smith won the last visit on July 1, 1977.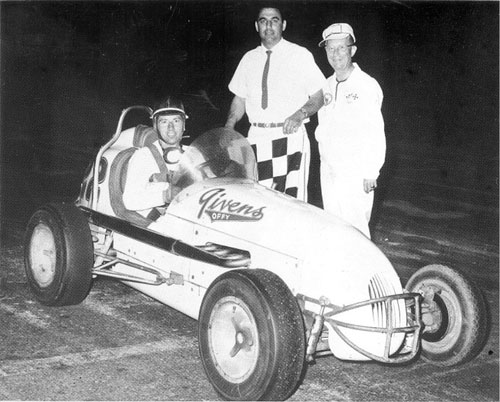 Ferrara (tallest) with car owner John Givans and driver Johnny Kay circa 1967.
Ferrara Named to NEAR Hall of Fame
Frank Ferrara, the Northeastern Midget Association starter for seven years (1965-71) and currently the co-owner of Whip City Speedway is part of the New England Auto Racing Hall of Fame's Class of 2010.

Ferrara, already a member of the NEMA Hall of Fame, will be part of the 13th annual induction banquet on Sunday, Jan 31, 2010 at the LaRenaissance Banquet Hall in East Windsor, CT.

Starting as an owner/mechanic Springfield, MA native Ferrara has served New England motorsports for well over 50 years. A stockcar owner at Riverside Park in the early 1950s, he became involved with Midgets following military service. He was also a starter at Stafford Motor Speedway and a race sponsor through the family business (Ferrara Spring) before becoming part of the Whip City operation.

A number of NEMA and NEMA Lites drivers have come through Whip City.

Other members of the Class of 2010 include drivers Geoff Bodine,
Mike Murphy, George Savory and Pete Fiandaca and car owners Billy Simons, Bob Garbarino and Vic Miller

Ticket forms will be on the New England Antique Racers website (www.Near1.com) in the near future.

Optimism Thrives As NEMA Lites Series Enters Third Season
(Brockton, MA) It all starts at the Waterford Speedbowl's season-opening Budweiser Blast-Off weekend on Saturday March 27, and concludes at Seekonk Speedway's DAV Memorial Festival of Racing on the weekend of October 9 & 10.
In-total, the NEMA Lites Series will appear at five different New England speedways ranging from the Connecticut shoreline's Waterford Speedbowl to New Hampshire's Twin State Speedway.
Also on the slate are trips to Seekonk, Monadnock, and Lee Speedways.
Additional dates may be added to what's already shaping-up to be the division's most aggressive campaign to-date.
Considered almost a "perfect venue" for the Midgets, the Speedbowl offers-up a true multi-groove surface for the division. The track has a long association with NEMA dating back to 1953 when Bill Eldridge took the first-ever NEMA event staged at the Speedbowl. Eldridge narrowly defeated Sid Cook and Elmer Gunnerson in the 25-lap Memorial Day event.
In addition to Seekonk's season-ending DAV Memorial Festival of Racing and the Boston Louie Classic on August 28, the Lites will also be part of the "Fast Friday" shows on June 4, 18, July 23, and August 13 at the track known affectionately as the "Cement Palace." Like Waterford, the Seekonk Speedway has a decades-rich history of hosting some of the best Midget racing in the Northeast.
Since its inception in 2008, the Lites division has continually provided fans with some of the most exciting open-wheel racing in New England. Started with only a handful of competitors, the class has served as both an economic starting-point for new drivers to get involved in what remains one of the countries "purest" forms of open-wheel competition, and also as a venue for some of the most seasoned of NEMA competitors.
2009 saw Lites events drawing increased car-counts, proof that the division has filled a niche in the realm of Midget racing.
Other than sporting a less-costly "spec-type" powerplant, there's little-difference between a Lites Series car and a "full" Midget. The class offers-up the same degree of action that fans of one of auto racing's oldest and historically-rich divisions have come to know and love.
The intensity of the Lites competitors is no-less than that of their "full" Midget brethren.
2009 winners included Anthony Marvuglio, PJ & Jake Stergios, Anthony Nocella, and Russ Wood.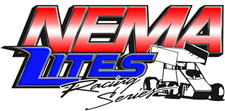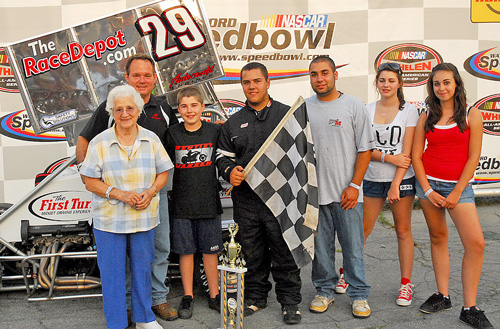 NEMA Lites Series
"More Than Ready" for
Budweiser Blastoff At Speedbowl
(Brockton, MA) "The NEMA Lites Series is "more than ready" for this weekend's opener at the Waterford Speedbowl and we're looking forward to a banner 2010 season."
Those were the comments from Lites Series Race Director Steve Grant following a successful test session for the division held recently at the Seekonk Speedway in Massachusetts.
Entering its third-year, the Lites Series is part of the Waterford Speedbowl's multi-division "Budweiser Blast-Off Weekend" set to go-green on the weekend of March 27 & 28. They'll run qualifying and a 25-lap feature on Saturday.
The most-recent Lites winner at the Speedbowl was Anthony Nocella who scored last season's "Nostalgia Weekend" 25-lap feature on July 25.
As expected, the Seekonk pre-season "test-session" yielded positive results.
"We held a recent test-session at Seekonk with a few of the divisions experienced drivers and it went really-well," states Grant. "Even-though the track surface was "green" following the winter months, the guys turned some very impressive lap-times. The response to the division continues to be positive, with more people expressing interest every day. We're expecting a healthy field at the Speedbowl opener, and we have every reason to expect rising car-counts as the season progresses. People continue to realize that this division is a "win-win" situation for teams looking to get involved in an affordable open-wheel division. Things are really taking-off," he says.
With the exception of an affordable "spec" engine and a few other differences, the Lites Series cars are identical to the "full-midgets" of NEMA. The Helping Hands of America Foundation, Hoosier Racing Tires, and Bobby Seymour's Racers Depot serve as the 2010 sponsors for the series.
With many of the Lites new driver's recent graduates of the "First-Turn Driving School", and some with years of prior experience in midgets, the class presents a well-balanced level of competition. There were a total of 7-different feature winners in 2009. Anthony Nocella headed-up the list with 4, followed by Jake Stergios, PJ Stergios, and Russ Wood Jr. each notching 2. William Wall, Anthony Marvuglio, and Paul Luggelle also scored.
Following the season-opener, the NEMA Lites Series heads to the high-banks of Winchester, New Hampshire's Monadnock Speedway on May 29. It's all part of a busy 2010 agenda that includes fourteen events for the division.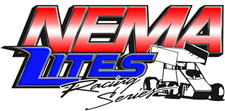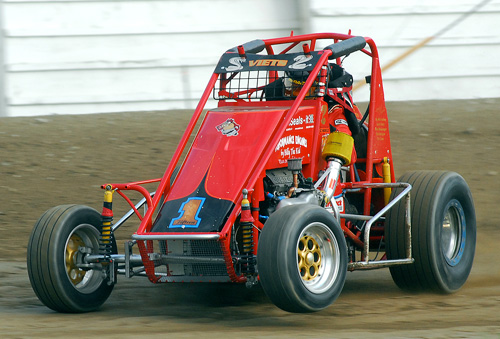 Whip City Standout Bethany Viets
To Make NEMA Lites Debut
At Speedbowl Opener
(Brockton, MA) Young, but already a winning veteran racer with impressive credentials, Bethany Viets makes her NEMA Lites debut later this month at the Waterford Speedbowl. Part of an on-going "Youth Movement" within the division, she'll be wheeling the Charles Gunther-owned Drinan chassis entry.

The Lites are part of the Speedbowl's Budweiser Blastoff on March 27 & 28. The division will run qualifying and a 25-lap feature on Saturday.

Started in 2008, the Lites Series has become a melting pot for up & coming talent. Viets is typical of the youthful open-wheel competitors drawn to the division with its affordable "spec" rules, and a diverse schedule that includes an assortment of tracks throughout New England.

"We're looking very-forward to running the NEMA Lites Series this year," states East Granby, CT. resident Viets, who belying her youthful status, has years of experience running on the dirt of Whip City Speedway in Massachusetts. "We ran weekly at Whip City for a number of seasons. I started driving at age-12 in the Micro Stock class in a car owned by my older brother John, eventually advancing to the Midgets. The Lites schedule involves some traveling, and that's part of the allure of the division for us. It's going to be great to run at some different tracks. Our team is excited about 2010 – it's an opportunity for new experiences."

A third-generation racer, Viets' family has a long history in the sport. Both her grandfather Mike, and father Scott are former drivers.

Car owner Gunther of Vernon, CT. is also optimistic about the upcoming campaign. He says enlisting the talent of the young driver to wheel his Midget in 2006 was an easy decision. "She's got a tremendous degree of talent, and her record at Whip City certainly shows that," states Gunther, a former driver himself with decades of experience in a myriad of divisions including Supers, Modifieds, and of-course, Midgets. "I raced against Bethany, and I guess I just got tired of her beating-me," he laughs.

Lites Series Race Director Steve Grant expects a good-showing for the division at the Bowl' opener. "Interest in the Lites is ever-increasing, esp. with the younger drivers that are trying to break-into Midget racing," he says. "It's an affordable opportunity for these kids to gain experience at a variety of tracks. There's a lot of talent out-there, and this is the perfect place for them to start. We're very-pleased with the way things are shaping-up for 2010."

Busy Season Ahead For NEMA Lites
(Brockton, MA) Following a successful 2009 campaign, the Northeastern Midget Association's Lites series is poised for a busy season.
The Lites will be part of the Waterford Speedbowl's opening event on the weekend of March 27-28. It's the earliest season debut in NEMA history.
"We're very-excited about our 2010 schedule," states Lites Race Director Steve Grant. "It gives our drivers an opportunity to visit many different tracks including some of the best open-wheel venues in the Northeast."
Ten events are scheduled with a possibility of additional shows to be added in the future.
Started in 2008, the division's car-counts have increased steadily, and the prevalent feeling is that the trend will continue.
"We stared with only a handful of cars in 2008 with those numbers growing steadily as interest in the series increased," says Grant. "It's an attractive division for competitors looking to get-into our brand of racing, and also for those looking for an alternative to the cost of running a "full" Midget. It's also a great way to get your feet-wet in open-wheel racing before progressing-up the ranks, which we expect will be the case with a lot of teams."
The Lites series cars rely on a different powerplant as compared to their "Full Midget" counterparts. According to NEMA's Bobby Seymour, under normal-circumstances, the engines can last up-to 40 races without a major rebuild. Other than a few other minor differences, the Lites cars very-comparable to "Full-Midgets."
Like Grant, Seymour is pleased, but not-surprised with the interest in the series.
"It's a win-win situation for the novice competitor that's looking to enter our segment of the sport, and it's a bit-easier on the purse-strings," he says. "It's also a way to gain experience in Midget racing, which is a unique form of racing in-itself. With the schedule that the club has assembled, we're looking-forward to a great season and increased car-counts."
In addition to drivers new to the Lites, fans can look-forward to many returning favorites. On the "official-side" of things, Steve Grant will serve as Race Director, while it'll be Shawn Torrey filling the role of Technical Inspector. Others include Bob Blanchette (Pit Steward), and Deb Marvuglio (Scorer).