NEW!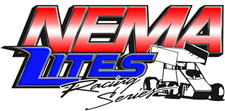 T-SHIRTS!
The new NEMA LITES T-Shirts are available for purchase. The LITES shirts are available in 3 colors - white, gray and royal blue. They come with either the NEMA LITES logo only on the front or with 2 logos - NEMA LITES on the front and regular NEMA logo on the back. The white shirts are $10. The gray or blue are $12. The new LITES t-shirts can be at The Race Depot/Seymour Enterprises in Marlboro Mass or are available from Cyndy Scrivani -
508-584-7748 - cyndyann10361@yahoo.com

Optimism Thrives As NEMA Lites Series Enters Third Season
(Brockton, MA) It all starts at the Waterford Speedbowl's season-opening Budweiser Blast-Off weekend on Saturday March 27, and concludes at Seekonk Speedway's DAV Memorial Festival of Racing on the weekend of October 9 & 10.

In-total, the NEMA Lites Series will appear at five different New England speedways ranging from the Connecticut shoreline's Waterford Speedbowl to New Hampshire's Twin State Speedway.

Also on the slate are trips to Seekonk, Monadnock, and Lee Speedways.

Additional dates may be added to what's already shaping-up to be the division's most aggressive campaign to-date.

Considered almost a "perfect venue" for the Midgets, the Speedbowl offers-up a true multi-groove surface for the division. The track has a long association with NEMA dating back to 1953 when Bill Eldridge took the first-ever NEMA event staged at the Speedbowl. Eldridge narrowly defeated Sid Cook and Elmer Gunnerson in the 25-lap Memorial Day event.

In addition to Seekonk's season-ending DAV Memorial Festival of Racing and the Boston Louie Classic on August 28, the Lites will also be part of the "Fast Friday" shows on June 4, 18, July 23, and August 13 at the track known affectionately as the "Cement Palace." Like Waterford, the Seekonk Speedway has a decades-rich history of hosting some of the best Midget racing in the Northeast.

Since its inception in 2008, the Lites division has continually provided fans with some of the most exciting open-wheel racing in New England. Started with only a handful of competitors, the class has served as both an economic starting-point for new drivers to get involved in what remains one of the countries "purest" forms of open-wheel competition, and also as a venue for some of the most seasoned of NEMA competitors.

2009 saw Lites events drawing increased car-counts, proof that the division has filled a niche in the realm of Midget racing.

Other than sporting a less-costly "spec-type" powerplant, there's little-difference between a Lites Series car and a "full" Midget. The class offers-up the same degree of action that fans of one of auto racing's oldest and historically-rich divisions have come to know and love.

The intensity of the Lites competitors is no-less than that of their "full" Midget brethren.

2009 winners included Anthony Marvuglio, PJ & Jake Stergios, Anthony Nocella, and Russ Wood.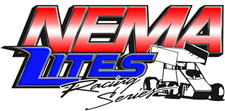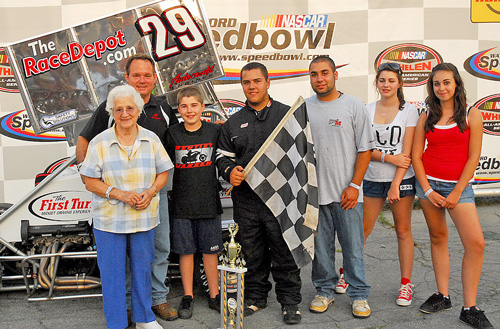 NEMA Lites Series
"More Than Ready" for
Budweiser Blastoff At Speedbowl
(Brockton, MA) "The NEMA Lites Series is "more than ready" for this weekend's opener at the Waterford Speedbowl and we're looking forward to a banner 2010 season."

Those were the comments from Lites Series Race Director Steve Grant following a successful test session for the division held recently at the Seekonk Speedway in Massachusetts.

Entering its third-year, the Lites Series is part of the Waterford Speedbowl's multi-division "Budweiser Blast-Off Weekend" set to go-green on the weekend of March 27 & 28. They'll run qualifying and a 25-lap feature on Saturday.

The most-recent Lites winner at the Speedbowl was Anthony Nocella who scored last season's "Nostalgia Weekend" 25-lap feature on July 25.

As expected, the Seekonk pre-season "test-session" yielded positive results.

"We held a recent test-session at Seekonk with a few of the divisions experienced drivers and it went really-well," states Grant. "Even-though the track surface was "green" following the winter months, the guys turned some very impressive lap-times. The response to the division continues to be positive, with more people expressing interest every day. We're expecting a healthy field at the Speedbowl opener, and we have every reason to expect rising car-counts as the season progresses. People continue to realize that this division is a "win-win" situation for teams looking to get involved in an affordable open-wheel division. Things are really taking-off," he says.

With the exception of an affordable "spec" engine and a few other differences, the Lites Series cars are identical to the "full-midgets" of NEMA. The Helping Hands of America Foundation, Hoosier Racing Tires, and Bobby Seymour's Racers Depot serve as the 2010 sponsors for the series.

With many of the Lites new driver's recent graduates of the "First-Turn Driving School", and some with years of prior experience in midgets, the class presents a well-balanced level of competition. There were a total of 7-different feature winners in 2009. Anthony Nocella headed-up the list with 4, followed by Jake Stergios, PJ Stergios, and Russ Wood Jr. each notching 2. William Wall, Anthony Marvuglio, and Paul Luggelle also scored.

Following the season-opener, the NEMA Lites Series heads to the high-banks of Winchester, New Hampshire's Monadnock Speedway on May 29. It's all part of a busy 2010 agenda that includes fourteen events for the division.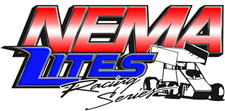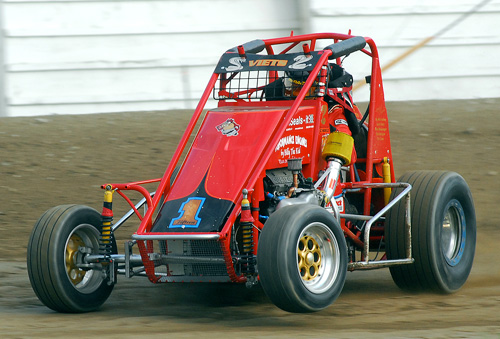 Whip City Standout Bethany Viets
To Make NEMA Lites Debut
At Speedbowl Opener
(Brockton, MA) Young, but already a winning veteran racer with impressive credentials, Bethany Viets makes her NEMA Lites debut later this month at the Waterford Speedbowl. Part of an on-going "Youth Movement" within the division, she'll be wheeling the Charles Gunther-owned Drinan chassis entry.

The Lites are part of the Speedbowl's Budweiser Blastoff on March 27 & 28. The division will run qualifying and a 25-lap feature on Saturday.

Started in 2008, the Lites Series has become a melting pot for up & coming talent. Viets is typical of the youthful open-wheel competitors drawn to the division with its affordable "spec" rules, and a diverse schedule that includes an assortment of tracks throughout New England.

"We're looking very-forward to running the NEMA Lites Series this year," states East Granby, CT. resident Viets, who belying her youthful status, has years of experience running on the dirt of Whip City Speedway in Massachusetts. "We ran weekly at Whip City for a number of seasons. I started driving at age-12 in the Micro Stock class in a car owned by my older brother John, eventually advancing to the Midgets. The Lites schedule involves some traveling, and that's part of the allure of the division for us. It's going to be great to run at some different tracks. Our team is excited about 2010 – it's an opportunity for new experiences."

A third-generation racer, Viets' family has a long history in the sport. Both her grandfather Mike, and father Scott are former drivers.

Car owner Gunther of Vernon, CT. is also optimistic about the upcoming campaign. He says enlisting the talent of the young driver to wheel his Midget in 2006 was an easy decision. "She's got a tremendous degree of talent, and her record at Whip City certainly shows that," states Gunther, a former driver himself with decades of experience in a myriad of divisions including Supers, Modifieds, and of-course, Midgets. "I raced against Bethany, and I guess I just got tired of her beating-me," he laughs.

Lites Series Race Director Steve Grant expects a good-showing for the division at the Bowl' opener. "Interest in the Lites is ever-increasing, esp. with the younger drivers that are trying to break-into Midget racing," he says. "It's an affordable opportunity for these kids to gain experience at a variety of tracks. There's a lot of talent out-there, and this is the perfect place for them to start. We're very-pleased with the way things are shaping-up for 2010."

Busy Season Ahead For NEMA Lites
(Brockton, MA) Following a successful 2009 campaign, the Northeastern Midget Association's Lites series is poised for a busy season.

The Lites will be part of the Waterford Speedbowl's opening event on the weekend of March 27-28. It's the earliest season debut in NEMA history.

"We're very-excited about our 2010 schedule," states Lites Race Director Steve Grant. "It gives our drivers an opportunity to visit many different tracks including some of the best open-wheel venues in the Northeast."

Ten events are scheduled with a possibility of additional shows to be added in the future.

Started in 2008, the division's car-counts have increased steadily, and the prevalent feeling is that the trend will continue.

"We stared with only a handful of cars in 2008 with those numbers growing steadily as interest in the series increased," says Grant. "It's an attractive division for competitors looking to get-into our brand of racing, and also for those looking for an alternative to the cost of running a "full" Midget. It's also a great way to get your feet-wet in open-wheel racing before progressing-up the ranks, which we expect will be the case with a lot of teams."

The Lites series cars rely on a different powerplant as compared to their "Full Midget" counterparts. According to NEMA's Bobby Seymour, under normal-circumstances, the engines can last up-to 40 races without a major rebuild. Other than a few other minor differences, the Lites cars very-comparable to "Full-Midgets."

Like Grant, Seymour is pleased, but not-surprised with the interest in the series.

"It's a win-win situation for the novice competitor that's looking to enter our segment of the sport, and it's a bit-easier on the purse-strings," he says. "It's also a way to gain experience in Midget racing, which is a unique form of racing in-itself. With the schedule that the club has assembled, we're looking-forward to a great season and increased car-counts."

In addition to drivers new to the Lites, fans can look-forward to many returning favorites. On the "official-side" of things, Steve Grant will serve as Race Director, while it'll be Shawn Torrey filling the role of Technical Inspector. Others include Bob Blanchette (Pit Steward), and Deb Marvuglio (Scorer).
"Lites" Division Big Part
Of NEMA's '08 Success
Springfield, MA - Throughout the summer, interest in the Northeastern Midget Association's "Lite" division picked up. It was the first season for the developmental division but definitely not the last according to club President Mike Scrivani Jr.

Featuring much less expensive machinery, the Lites (powered by Focus or Quad 4 engines) ran in conjunction with the "full" midgets on eight occasions. They definitely contributed to NEMA's strong year.

The Lites season will be celebrated along with the '08 NEMA campaign t the club's annual banquet Saturday night, Nov. 22 at
White of Westport in Westport, MA.

"We gained a little each time they ran," said Scrivani. "We ended the season at Twin State and there were a lot of people from other divisions talking to me about the cars. I think it was a real good start. There were a lot of promising things."

The Lites ran at Waterford, Seekonk, Lee and Beech Ridge in addition to Twin State. They are all "traditionally sized" Midget tracks.

The division was designed to capture young racers before they "go romping off" in some fendered division. Jesse State, Shaun Torrey, Shaun Gosselin, Matt Bettencourt, Jake Stergios and Todd Bertrand were winners. Anthony Marvuglio, Russ Wood Jr., Stephanie Doty and J.C. Stergios were also impressive.

"I think we have also saw the development of some outstanding mechanics," said Scrivani, NEMA president since 2003.

One or two of them could move up to the full midgets next year. Equally important, Scrivani believes the division will grow by six-to-eight cars next year. "Promoters just love that," he says. "There's the prospect of 35-to-40 Midgets coming to a track."

While 2008 was "just about seat time," Scrivani plans on providing "some more incentives" for next year starting with a sponsor-driven point fund. He also said the club will do a lot more in "teaching the kids the right way to do things" next season.
NEMA Establishes New "Lite" Series
Coming off a sensational 2007 season, the Northeastern Midget Association has decided to "invest in the future" with the "NEMA Lite Series." The series, approved by the NEMA Contest Board, is gaining
momentum.

Called a "feeder class" by NEMA Vice President Tim Bertrand, the series is designed to introduce new competitors to winged midgets "in very low cost, less powerful cars." Competitors can use any chassis that currently meets NEMA specifications but engines will be limited to Ford Focus and Oldsmobile Quad4. All the cars will have starters.

Plans are for the "Lites" to run in conjunction with regular short track NEMA events. Bertrand said, "NEMA is putting in place incentives for tracks to run the Lite Series cars. We are aware of the time factors and
economics involved. We have to make it attractive for them. We believe we have done that."

Bertrand says as many 20 teams have expressed intentions to compete. "Most are Focus and Quad4 owners who can't afford Esslinger and Gaerte motors and are looking for a way to go," he says. "We are talking about $8-to $10,000 cars in this series. The equipment is definitely available out there."

The plan allows for competitors, when they are ready, to "move up" to the fulltime NEMA status with more powerful (and more expensive) motors.

Bertrand admits "a lot of sportsman type divisions are popping up all over the country" claiming potential NEMA competitors. "Other divisions were the only thing they could afford," he says. "This is an effective plan to keep them in winged Midgets."

A number of "established" Midget regulars including Steve Grant and former champions Bobby Seymour and Butch Walsh will be consultants for the new series.