2008 Race Results & Photos
.
Beech Ridge - 9-20-08
Boston Louie Memorial - 8-9-08
Seekonk Open Wheel Wednesday - 7-16-08

Lee USA Speedway - 6-26-08
.


SEEKONK SPEEDWAY
FRIDAY NIGHT, SEPTEMBER 5th
Lites - Seekonk - 9/5/08

Pos.
Car #
Driver
Owner
1
11
Jake Stergios
Bill Stergios
2
09
William Wall
Ronald Doty
3
57
P.J. Stergios
Bill Stergios
4
51
Russ Wood Jr.
Russ Wood
5
33
Shawn Torrey
Shawn Torrey
6
28
Paul Luggelle
Paul Luggelle
7
52
Kevin Park
Kevin Park
8
DNF
20
Chriss Haskell
Andy Shlatz
Stamford, CT
$100 Hard Charger Award to
William Wall #09 &
P.J. Stergois #57


WATERFORD SPEEDBOWL
WEDNESDAY NIGHT, AUGUST 13th
Torrey Waterford NEMA Lites Winner

Waterford, CT- Shawn Torrey survived a green-white-checker challenge from Todd Bertrand and captured the 20-lap NEMA Lites feature Wednesday night at Waterford Speedbowl. Torrey is the third different "Lites" winner of the season.

Torrey, in a Quad 4-powered car ("I stole the engine out my sisters car"), had a comfortable lead when the only caution showed with 19 left. He got the jump on the single file restart and then held off Bertrand and Shaun Gosselin. Both Bertrand and Gosselin were closing over the final circuits.

Bill Stergios and Russ Wood Jr. completed the top five.

R.J. Tufano and Bertrand, running second and third, made contact under the white flag, Tufano winding up in the first turn wall. "A wicked vibration," the result of a bent rear, hampered Bertrand's challenge.

Randy Cabral got the jump on the initial green and led the first lap before Torrey, the pole sitter, stormed back to assume command. He had a wide edge when Tufano passed Cabral for second five laps in. Five laps latter Bertrand was on Tufano's bumper, the battle continuing until the caution.

RESULTS: 1. Shawn Torrey, 2. Todd Bertrand, 3. Shaun Gosselin, 4. PJ Stergios, 5. Russ Wood, 6. Anthony Marvuglio, 7. Stephanie Doty, 8. Mike Lugelle, 9. Paul Luggelle, 10. Kelly Ferrell, 11. Josh Wollam, 12. R.J. Tufano, 13. Randy Cabral, 14. Andy Shlatz.
DNS- Jake Stergios.
Lites - Waterford - 8/13/08

Pos.
Car #
Driver
Owner
1
33
Shawn Torrey
Shawn Torrey
2
48
Todd Bertrand
Tim Bertrand
3
26
Shaun Gosselin
Gosselin Racing
4
11
Jake Stergios
Bill Stergios
5
51
Russ Wood Jr.
Russ Wood
6
35
Anthony Marvuglio
Glen Cabral
7
09
Stephanie Doty
Ronald Doty
8
66L
Mike Luggelle
Mike Luggelle
9
28
Paul Luggelle
Paul Luggelle
10
2k
John Ferrell
Kelly Ferrell
11
7x
Josh Wollam
Dan Duvall
12
34
R.J. Tufano
Rich Durso
13
36
Randy Cabral
Glen Cabral
14
20
Andy Shlatz
Andy Shlatz
15
DNS
57
P.J. Stergios
Bill Stergios
Stamford, CT
$100 Hard Charger Award to Shaun Gosselin #26


WATERFORD SPEEDBOWL
WEDNESDAY NIGHT, JUNE 11th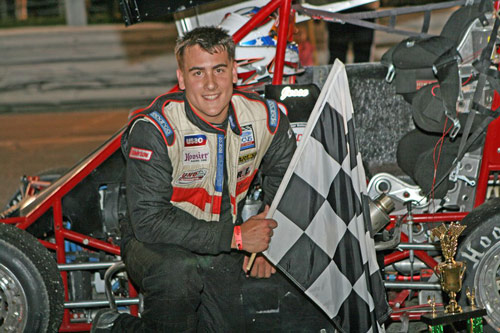 State Wins NEMA Lites Opener

Taking the lead exiting two with two laps remaining, Jessie State won the "first official" NEMA Lites feature Wednesday night (June 11) at Waterford Speedbowl. Coming from the rear, State was the third leader in the 20-lapper that was part of the Speedbowl's Wild 'n Wacky Wednesday series.

Jake Stergios, who led most of the race, held on for second with P.J. Stergios third. Anthony Marvuglio and early leader Josh Woolam completed the top five.

Jake Stergios and State both passed pole sitter Woolam on a restart with 15 laps remaining. Although Jake Stergios did appear to be maintaining an edge, State played a waiting game before taking advantage of a slight "drift" with two left.

Woolam, on the pole, jumped into the immediate lead but it lasted only four laps, Steve Powers and Russ Wood Jr. tangling coming out of four. Powers, who slid into the front stretch Armco, suffered an ankle injury.

On the green, Woolam and Jack Stergios battled side by side but yellow flew again. On this restart, Woolam drifted back to fourth and into a battle with Anthony Marvuglio. Jake Stergios and State opened up a gap on the field with P.J. Stergios several car lengths back in third.

The third stoppage, with 11 left, had little affect on the result.

NEMA President Mike Scrivani Jr. and Vice President Tim Bertrand both expressed satisfaction with the car count (17 cars).

RESULTS: 1.Jesse State, 2. Jake Stergios, 3. P.J. Stergios,
4. Anthony Marvuglio, 5. Josh Woolam, 6. Stephanie Doty,
7. Andy Shlatz, 8. E.J. Duval, 9. Kelly Farrell,
10. Mike Luggelle, 11. Timothy Paul, 12. Russ Wood Jr.,
13. Steve Powers. RESULTS CHART HERE
Rules for the Lite Series and the full 13 race
Lite Series Schedule are now posted on
the Lite Series Page Here
Photos by

Mark McKeon
Awards Posted for the June 11th NEMA Lite Race at Waterford Speedbowl
Helping Hands of America - 1st: $100, 2nd: $75, 3rd: $25
Jesse State - Jake Stergios - P.J. Stergios
Hoosier Tire - $ 50 Certificates for 1st and and 10th
Jesse State - Mike Luggelle
Steve Wall's Performance Components
featuring Brown and Miller Performance Hosing - 508-826-4299
- $ 50 Certificate for 3rd Place - P.J. Stergios



CellMark Inc. - Stamford, CT
$100 Hard Charger Award - Jesse State

(NOTE: These awards will be handed out at Lee Speedway on June 27th )
NEMA Lites - Waterford Speedbowl - June 11th

Car
#
Owner
Driver
Heat
#-Fin
Feature Start
Feature Finish
1
Tad Uzzle
Tad Uzzle
DNS
DNS
DNS
2
John Ferrell
Kelly Ferrell
2-4
4
9
06
Rick Paul
Timothy Paul
DNS
12
11-DNF
7x
Don Duvill
Josh Woollam
2-1
1
5
09
Ronald Doty
Stephanie Doty
1-5
6
6
11
Bill Stergios
PJ Stergios
DNS
14
3
18
Jim State
Jesse State
1-1
13
1
20
Andy Shlatz
Andy Shlatz
1-DNS
11
7
28
Paul Lugelle
Paul Lugelle
1-4
5
DNS
33L
Shawn Torrey
Shawn Torrey
2-5
8
DNS
35
Glen Cabral
Anthony Marvuglio
2-3
7
4
37
Deb Marvuglio
Anthony Marvuglio
-
-
-
48
Tim Bertrand
Todd Bertrand
-
-
-
51
Russ Wood
Russ Wood Jr
1-2
10
12-DNF
52
Kevin Park
Kevin Park
DNS
DNS
DNS
57
Bill Stergios
Jake Stergios
1-3
9
2
66L
Mike Luggelle
Mike Luggelle
2-6-DNF
15
10-DNF
69
-
Michael Witson
-
-
-
85
Nicholas Ribbe
Nicholas Ribbe
-
-
-
88,22
Mike Luggelle
Steve Powers
1-6-DNF
3
13-DNF
95
Don Dvall
EJ Duvall
2-2
2
8

Stanmford, CT www.CellMark.com
CellMark Inc. Signs on as
NEMA "Lite" Series Sponsor
The North East Midget Association is proud to announce that CellMark Inc., of Stamford, CT will be sponsoring the new NEMA "Lite" division. The company will be providing a bonus in each NEMA Lite feature for the "Hard Charger", which is defined as the driver who passes the most cars during the feature event.

"CellMark is excited to be associating ourselves with the North East Midget Association, and also with a great group of up and coming drivers," said company spokesperson Rick Paul. "We are looking forward to growing with the series and hope that our investment will help provide exciting racing action as well as to help the competitors with increasing costs."

In its 20 year history, CellMark has become the world's largest specialist in the marketing of woodpulp and paper related products. The company's total annual sales exceeds four and a half million tons, representing an aggregate value of almost USD 2.1 billion.

Called a "feeder class" by NEMA Vice President Tim Bertrand, the NEMA Lite series is designed to introduce new competitors to winged midgets "in very low cost, less powerful cars." Competitors can use any chassis that currently meets NEMA specifications but engines will be limited to Ford Focus and Oldsmobile Quad4.

"NEMA is proud to have CellMark on board as a sponsor and series supporter," said NEMA President Mike Scrivani. "We are excited to be attracting organizations to our series of this caliber, and will do our very best to make their investment worthwhile."



2008
#

Date
Track
Site
Winner
1
April 12-13

Sat-Sun

Day Race

Waterford Speedbowl
- Waterford, CT


Keith Cyr Graphic

Web Site
Exhibition
Run
2
May 3-4

Sat-Sun

Day Race

Seekonk Speedway
- Seekonk, MA

Saturday - Practice Only
Web Site
Race
Canceled
No Rain Date
3
June 11

Weds Night

Waterford Speedbowl
- Waterford, CT

Web Site
Jesse State
New Hyde Park, NY
Owner:
Jim State
4
June 27

Fri Night

Lee USA Speedway
- Lee, NH

Web Site
Jesse State
New Hyde Park, NY
Owner:
Jim State
5
July 16

Weds Night

Seekonk Speedway
- Seekonk, MA


Web Site
Jesse State
New Hyde Park, NY
Owner:
Jim State
6
August 9

Sat Night

Seekonk Speedway
- Seekonk, MA


Web Site

Nick Ribbe
Kingston, MA
Owner:
Nick Ribbe

7

August 13

Weds Night

Waterford Speedbowl
- Waterford, CT

Web Site

Shawn Torrey
Marshfield, MA
Owner:
Shawn Torrey

8
Sept. 5

Fri Night

Seekonk Speedway
- Seekonk, MA

Web Site
Jake Stergios
Candia, NH
Owner:
Bill Stergios
9
Sept. 12

Fri Night

Lee USA Speedway
- Lee, NH

Pit Sign-in at 5:30

Web Site
Race
Canceled
No Rain Date
10
Sept. 20

Sat.

Day Race
Beech Ridge Motor Speedway
- Scarborough, ME


Web Site
Matt
Bettencourt
Taunton, MA
Owner:
F.Bettencourt
Trucking
11
Sept. 28

Sun.

Day Race

Twin State Speedway
- Claremont, NH

OPEN WHEEL SUNDAY

Web Site
Race
Canceled
No Rain Date
12
Oct. 4

Sat Night

Waterford Speedbowl
- Waterford, CT

THE FINALE

Web Site
Todd Bertrand
Watertown, MA
Owner:
Tim Bertrand
13
Oct. 11

Sat Night


Seekonk Speedway
- Seekonk, MA


Web Site

Jesse State
New Hyde Park, NY
Owner:
Jim State

-

Nov. 22

Sat.

NEMA BANQUET

WHITE'S OF WESTPORT
Westport, MA

Web Site
x


| | | |
| --- | --- | --- |
| Car # | Owner | Driver |
| 1 | Tad Uzzle | Tad Uzzle |
| 2 | John Ferrell | Kelly Ferrell |
| 06 | Rick Paul | Timothy Paul |
| 7x | Don Duvill | Josh Woollam |
| 09 | Ronald Doty | Stephanie Doty |
| 11 | Bill Stergios | PJ Stergios |
| 18 | Jim State | Jesse State |
| 20 | Andy Shlatz | Andy Shlatz |
| 28 | Paul Lugelle | Paul Lugelle |
| 33L | Shawn Torrey | Shawn Torrey |
| 35 | Glen Cabral | Anthony Marvuglio |
| 37 | Deb Marvuglio | Anthony Marvuglio |
| 48 | Tim Bertrand | Todd Bertrand |
| 51 | Russ Wood | Russ Wood Jr |
| 52 | Kevin Park | Kevin Park |
| 57 | Bill Stergios | Jake Stergios |
| 66L | Mike Lugelle | Mike Lugelle |
| 69 | - | Michael Witson |
| 85 | Nicholas Ribbe | Nicholas Ribbe |
| 88,22 | Mike Lugelle | Steve Powers |
| 95 | Don Dvall | EJ Duvall |