OPEN WHEEL WEDNESDAY - JULY 16TH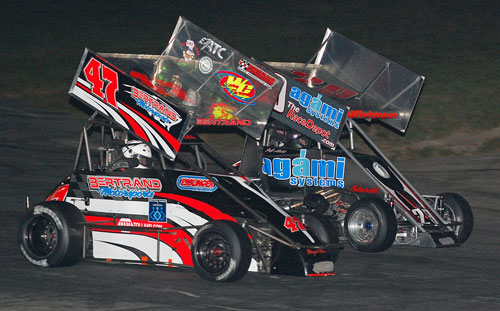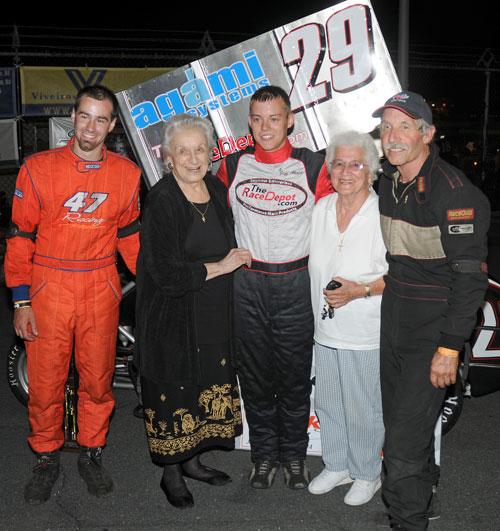 -
Seekonk Speedway - 7/16/08
Pos.
#
Driver
Hometown
Owner
1
29
Jeff Abold
Pennellville, NY
Bobby Seymour
2
47
Randy Cabral
Plymouth, MA
Tim Bertrand
3
A1
Jeff Horn
Ashland, MA
Jeff Horn
4
7ny
Adam Cantor
Dix Hills, NY
Cantor Racing
5
4
Nokie Fornoro
Stroudsburg, PA
Mike Jarret
6
75
Lou Cicconi Jr.
Aston, PA
Lou Cicconi Jr.
7
98
Bobby Santos III
Franklin, MA
Robert Santos Jr.
8
63
Jeremy Frankoski
Huntingon Station, NY
TSR Motorsports Inc.
9
45
Joey Payne
Fairlawn, NJ
Gene Angelillo
10
26b
Greg Stoehr
Bridgewater, MA
Greg Stoehr
11
49
B.J. MacDonald
Dublin, PA
B.J. MacDonald
12
5
William Wall
Shrewsbury, MA
Wall Motorsports LLC
13
44
Erica Santos
Franklin, MA
Ed Breault
14
22
Chris Leonard
Pelham, NH
Dave Leonard
15
77m
Mike Luggelle
Hull, MA
Mike Luggelle
16
88
Abby Martino
Norfolk, MA
Joan Martino
17
87
Doug Cleveland
Sudbury, MA
Doug Cleveland
18
21
Barry Kittredge
Marlboro, MA
Barry Kittredge
19
9
John Zych Jr.
Mendon, MA
John Zych
20
94
Jim Peruto
Doylestown, PA
Jim Peruto
21
35
Lee Bundy
Kennebunkport, ME
Glen Cabral
22
28
Paul Luggelle
Holbrook, MA
Paul Luggelle
23
16
Matt O'Brien
Wilmington, MA
Jim O'Brien
24
30
Paul Scally
Raynham, MA
Paul Scally
25
DNF
P30
Mike Horn
Ashland, MA
Mike Horn
26
DNF
77
Shawn Torrey
Enfield, CT
Mike Luggelle
27
DNF
99
Aaron Wall
Shrewsbury, MA
Power Point
Race Cars

Jeff Abold Seekonk NEMA Winner
The pass came on lap 14 and the rest was academic. Rookie Jeff Abold, 19, drove the Seymour #29 to an impressive victory in the Northeastern Midget Association 25-lap segment of Seekonk's Open Wheel on Wednesday.

Starting 16th, Jesse State passed Nick Ribbe in traffic on lap 14 to capture his third straight 25-lap NEMA Lites feature

Abold took the low road past Randy Cabral heading into turn three after two laps of side-by-side racing. It was then a matter of counting laps. He finished several car lengths ahead of point leader and three-time winner Cabral with Jeff Horn third.

The winning move ended a duel that was set up by the second and last restart on lap 12. "I thought 'if he pushes up a little bit that's where I am going," said Abold. "I wasn't trying to force him anywhere." And when Cabral did "push up a little bit" Abold "saw the opening, took it and went by."

Abold followed Cabral to the front. Coming from the 10th starting spot, Cabral took the lead from pole sitter Nokie Fornoro in the backstretch on lap four. When the first yellow flew eight laps in, Abold was third. A half lap after the restart he was on Cabral's tail. He was still there when yellow flew again four laps later.

"When I saw him outside me I knew," said Cabral, claiming he might have "over strategized" himself. "If he had hit me, banged me, I'd have something to say. Jeff out-raced me, passed me and he got away. The kid is good."

"It's Randy Cabral and it's amazing," continued Abold, the son of supermodified star Pat. "It almost seems unfair to win like that when the car is that good. It was better on the inside but it was awesome anywhere I put it."

Horn, who pointed out the combined age of Abold and Cabral doesn't equal his (63), moved from seventh to third on the final restart. Adam Cantor and Fornoro, the front row sitters, completed the top five.

Victory lane was filled with Seymours, including brothers Bobby and Mike and matriarch Miss Ellie. While a victory for Autocraft delighted everybody, "it's more about chassis here," said Bobby. He added the car was probably three-tenths of a second faster in the feature following "big time" post-head adjustments. He was also filled with accolades for Abold.

When the first yellow flew in the Lites feature, State was eighth. On the third restart attempt, Ribbe took command from early leader Paul Luggelle and two laps later State was challenging. The duo battled in front of the field before State used lapped traffic to assume command.

"Lapped traffic always helps," understated State. Jack Stergois, Shaun Gooslin and P.J. Stergois completed the top five.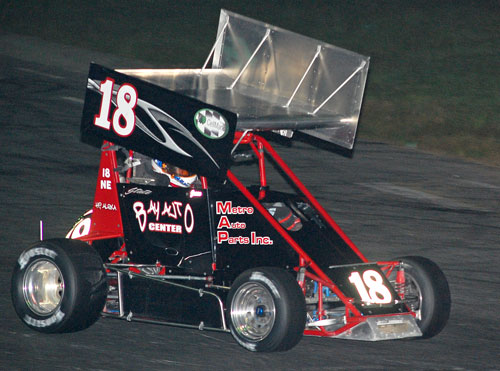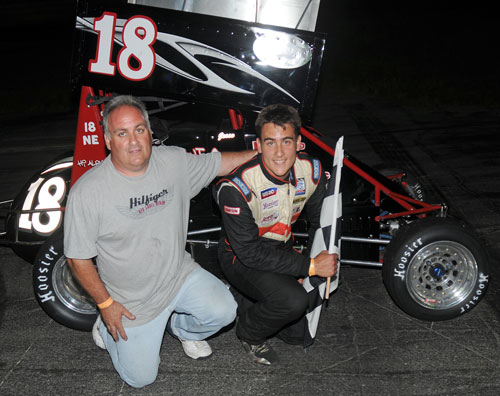 NEMA Lites - Seekonk Speedway - 7/16/08

Pos.
Car #
Driver
Owner
1
18
Jesse State
Jim State
2
85
Nicholas Ribbe
Nicholas Ribbe
3
57
Jake Stergios
Bill Stergios
4
26
Shaun Gosselin
Gosselin Racing
5
11
PJ Stergios
Bill Stergios
6
35
Anthony Marvuglio
Glen Cabral
7
48
Todd Bertrand
Tim Bertrand
8
33
Shawn Torrey
Shawn Torrey
9
51
Russ Wood Jr
Russ Wood
10
10
Matt Bettencourt
F. Bettencourt Trucking
11
1
Tad Uzzle
Tad Uzzle
12
28
Paul Luggelle
Paul Luggelle
13
06
Timothy Paul
Rick Paul
14
50
Mike Muldon
-
15
09
Stephanie Doty
Ronald Doty
16
36
Josh Wollam
-
17
66L
Mike Luggelle
Mike Luggelle
Stamford, CT
$100 Hard Charger Award to Jesse State #18

Seekonk Next Stop For Busy NEMA
When the Northeastern Midget Association goes to Seekonk Speedway, it is literally "going home." It all started on Memorial Day of 1953, Fred Meeker capturing the first feature in the club's history.

Rained out previously, "Open Wheel Wednesday" will be NEMA's first visit this year. Point leader Randy Cabral, who has yet to finish below second over six races, leads NEMA back to D.Anthony Venditti's "Cement Palace."

Undefeated Jesse State will be the driver to watch as the NEMA Lites test Seekonk for the first time. State has won both "official" Lites races.

"So much history," says NEMA President Mike Scrivani Jr. "It is everywhere, like a living, breathing thing." Jeff Horn, one of six active drivers with Seekonk wins, calls it "one of NEMA's showcases, a real midget track."

Joey Payne Jr. was the last NEMA winner, capturing last fall's DAV.

Nobody has been more successful at "the 'Konk" than Nokie Fornoro. The veteran, who has eight Seekonk wins, hopes to escape the doldrums that have plagued the Jarret #4 this year. His last win came in August of 2006.

Cabral and Greg Stoehr join Horn in the three Seekonk wins bracket. Payne has done it twice and Bobby Santos III, a winner the last time out at Stafford Motor Speedway, once. Cabral's Bertrand team had two wins last year with Lou Cicconi driving.

NEMA NOTES:

Bobby Santos III admitted he took a little extra time passing sister Erica en route to victory at Stafford. He was looking for a pass that would be the "most advantageous for her;" that would have "given her the best path ahead." They "try to help each other out" as much as possible.

In practice they try to run together giving dad an easier job observing both cars. Bobby Jr. plays a major role in setting up Erica's Ed Breault #4 as well as the family #98.

Bobby and Erica and the Wall brothers, William and Aaron, are the latest in a long line of sibling combinations in NEMA.

The Fornoro family is tops at Seekonk with 10 including two for Drew. The Stoehrs have eight wins – five for Russ – while the Seymours have four, split evenly between Bobby and Mike.

Nokie Fornoro's 44 wins is the most among active NEMA drivers. The list also includes Joey Payne Jr. (19), Jeff Horn (19), Randy Cabral (16), Bobby Santos (10), Greg Stoehr (6), Lou Cicconi (6), Pete Pernesiglio (3), Adam Cantor (2), Doug Cleveland (1), Jeremy Frankoski (1) and Erica Santos (1).