Lee USA Speedway - 6/27/08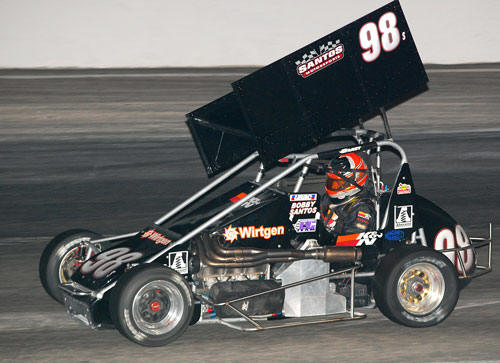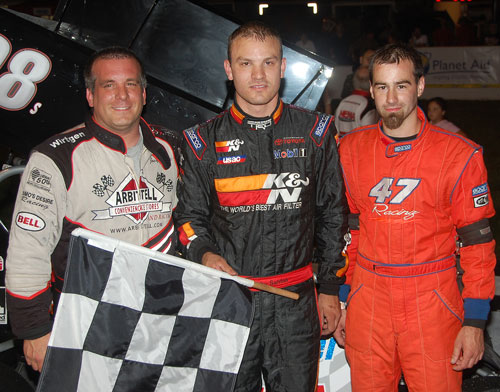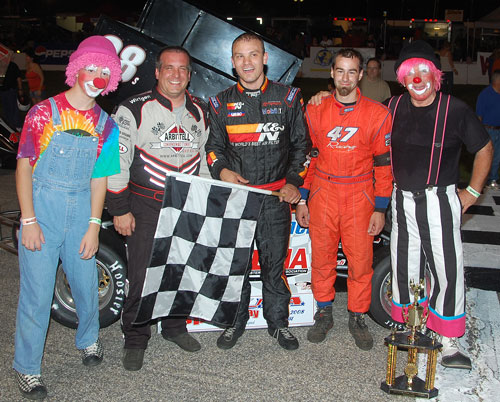 -
Lee USA Speedway - 6/27/08
Pos.
#
Driver
Hometown
Owner
1
98
Bobby Santos III
Franklin, MA
Robert Santos Jr.
2
47
Randy Cabral
Plymouth, MA
Tim Bertrand
3
45
Joey Payne
Fairlawn, NJ
Gene Angelillo
4
7ny
Adam Cantor
Dix Hills, NY
Cantor Racing
5
63
Jeremy Frankoski
Huntingon Station, NY
TSR Motorsports Inc.
6
44
Erica Santos
Franklin, MA
Ed Breault
7
29
Jeff Abold
Pennellville, NY
Bobby Seymour
8
26b
Greg Stoehr
Bridgewater, MA
Greg Stoehr
9
4
Nokie Fornoro
Stroudsburg, PA
Mike Jarret
10
9
John Zych Jr.
Mendon, MA
John Zych
11
21
Barry Kittredge
Marlboro, MA
Barry Kittredge
12
99
Aaron Wall
Shrewsbury, MA
Power Point
Race Cars
13
87
Doug Cleveland
Sudbury, MA
Doug Cleveland
14
50
Neil Blatt
Holbrook, NY
A&P Motorsports
15
16
Matt O'Brien
Wilmington, MA
Jim O'Brien
16
2
Lee Bundy
Kennebunkport, ME
Lee Bundy
17
28
Paul Luggelle
Holbrook, MA
Paul Luggelle
18
DNF
11
Mark Irving
Worcester, MA
Charles Camosse
19
DNF
88
Abby Martino
Norfolk, MA
Joan Martino
20
DNF
22
Chris Leonard
Pelham, NH
Dave Leonard
21
DNF
14
Kevin Park
Foxboro, MA
Paul Holmstrand
22
DNF
30
Paul Scally
Raynham, MA
Paul Scally
23
DNS
78
Brian Cleveland
Billerica, MA
Linda Cleveland
24
DNS
5
William Wall
Shrewsbury, MA
Wall Motorsports LLC

HEAT 1 - 63 - 45 - 26 - 7ny - 44 - 99 - 11 - 2 - 78 - 30 - 87 - 28 - 14

HEAT 2 - 98 - 22 - 4 - 47 - 9 - 29 - 21 - 88 - 50 - 16
Santos Romps To Lee USA NEMA Victory
State Takes NEMA Lites Win
After three restart attempts, Bobby Santos III had "had enough." Driving the family #98, Santos powered past Jeremy Frankoski heading into lap nine and went on to a convincing Northeastern Midget Association victory Friday night at Lee USA Speedway.

After the restart problems, the feature went 17 green laps to the checker and Santos took full advantage. He was a quarter lap in front of point leader Randy Cabral at the checkered. Joey Payne Jr. was third.

Jesse State started last, had the lead five laps in and won the NEMA Lites feature, his second straight. Jake Stergios and Anthony Marvuglio followed.

Starting seventh, Santos used a lap three restart to move from fourth to second. He was on Frankoski's tail when the second yellow showed five laps later. Three times the restart was negated by spins. The fourth time Santos beat Frankoski into the turn and immediately began opening up a gap.

"I just got a good run on the outside," he said. "It's the place to pass here if you can get the car up there and make it work." It was his ninth career NEMA victory.

Santos knew "right off the bat" he had a winning car. "Sometimes you just have that feeling even when you're not the fastest car," he explained. "But Randy was back there and you never know what can happen, not the way he's running."

It was the second straight runner-up finish for Cabral after two wins. Despite advice from car owner Tim Bertrand and his father Glen, Cabral asked for more stagger in the feature. "It was wrong," he said. "Had I left it alone like they suggested I would not have beaten Bobby but it would have been closer."

The Santos team, relying on history," tightened up the car" for the feature. "A driver's track, we always have a lot of fun here," he said.

Payne emerged from a battle with Frankoski and Adam Cantor to take third on lap 16. Cantor and Frankoski completed the top five.

Chris Leonard brought the 21-car field to the green and was in the lead when his engine expired bringing out the first yellow.

State, in the family owned #18, wasted no time coming through the field. He caught pole sitter Marvuglio on lap eight and then it was only cautions that delayed his run. Stergios got by Marvuglio later in the race that was cut to 23 laps by the time limit.
During the drivers meeting Dick Moynahan presented the Ralph Miller Memorial Award for outstanding and continuing perseverance for the 2007 season. to Mike Luggelle. Last years recipient was Shane Hammond.

NEMA now heads to Thompson on Thursday, July 3.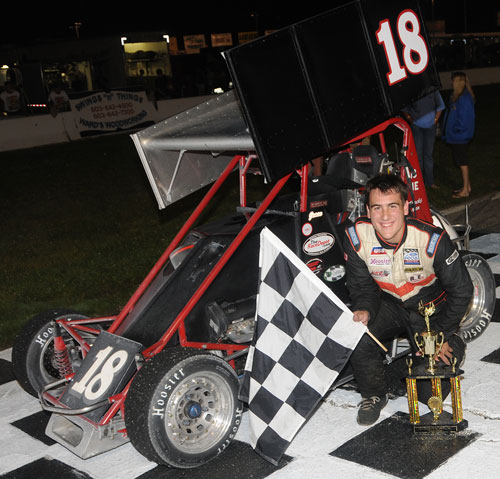 NEMA Lites - Lee USA Speedway - 6/27/08

Pos.
Car #
Driver
Owner
1
18
Jesse State
Jim State
2
57
Jake Stergios
Bill Stergios
3
35
Anthony Marvuglio
Glen Cabral
4
51
Russ Wood Jr
Russ Wood
5
48
Todd Bertrand
Tim Bertrand
6
09
Stephanie Doty
Ronald Doty
7
28
Paul Luggelle
Paul Luggelle
8
66L
Troy Boissoneau
Mike Luggelle
9
11
PJ Stergios
Bill Stergios
10
DNF
10
Matt Bettencourt
F. Bettencourt Trucking
11
DNF
26
Shaun Gosselin
Gosselin Racing
12
DNS
33
Shawn Torrey
Shawn Torrey
13
DNS
20
Andy Shlatz
Andy Shlatz
HEAT 1 - 28 - 18 - 35 - 10 - 09 - 28
HEAT 2 - 48 - 51 - 57 - 11 - 66 - 33
Stamford, CT
$100 Hard Charger Award to Jesse State #18
Gene Angelillo Seeking
Ninth NEMA Win at Lee
Gene Angelillo heads to Lee USA Speedway on June 27th looking for his ninth Northeastern Midget Association victory on the tricky three-eights mile. The Lee checkereds, part of Angelillo's record 106 NEMA wins, have come with three different drivers.

Drew Fornoro has six of the wins. Nokie Fornoro and Joey Payne Jr. have one each. Payne, Angelillo's current chauffer, won back on July 18, 2003.

"Lee is one of the most challenging places we run," declares Angelillo. "No two turns are the same. They're all different. The backstretch seems to be longer than the front stretch; it's a D rather than a paper clip but it is fast, very fast." Despite it's uniqueness, it has hosted some memorable midget racing.

Randy Cabral, currently holding a 22-point lead over Payne, can testify things happen quickly at Lee. Back in 2004 – the last time NEMA was at Lee – Cabral was leading late only to get caught in traffic and watch Ben Seitz and Payne sneak by.

Payne's '03 victory ride included an incredible fourth-to-second fourth-turn pass that remains a vivid memory for many. "I never saw it," says Angelillo who does recall people coming into his trailer and marveling at Payne's move between Sean Caisse and Bobby Santos III.

Angelillo's wins have come in a variety of equipment. One win that he holds "especially dear" came with Drew Fornoro driving the Mazda-powered Badger on Oct. 30, 1988 – the last race of the season. They had crashed the night before at Waterford and were ready to "pack it in" before "Boston Louie" Seymour offered to take the car to his garage in Marlboro, MA.

"Dickie Bien, who was crew chief for Mike Favulli, built us a part and we won the feature the next day at Lee," Angelillo said. "Drew didn't want to pass Mike because of what Dickie had done. It all wound up on national television."

Fornoro won a USAC race at Lee on July 4, 1985. Angelillo also remembers a great "cigarette-after-cigarette" battle between Drew Fornoro and Bobby Seymour. He's got the tape of that one.

Nokie Fornoro, in a Pontiac-powered Lindblat upright, was leading the feature when, with six laps to go officials pulled him in. "They thought he was leaking water," Angelillo says. "They finally decided he wasn't and put him back in line. He won." That was Oct. 22, 1989.

"Funning thing," continues Angelillo, "the next time out at Thompson the same thing happened and this time he was leaking."

Angelillo and Fornoro were going for a second straight USAC win at Lee in June of '86. "There was a red flag and we couldn't re-fire," Angelillo says. "We had no battery. When they were charging it, the cord was cut on the charger and nobody noticed. The next night we won at Seekonk."
Milestones Possible at Lee USA

Several milestones are possible when the Northeastern Midget Association visits Lee USA Speedway Friday night. It will be the 25th Lee USA result going back to Walter Gale's win on June 12, 1966.

Tim Bertrand and Randy Cabral take 22-point leads over Gene Angelillo and Joey Payne Jr. in the respective driver and owner standings. Greg Stoehr and Erica Santos are tied for third in the driver standings with rookie William Wall fifth.

Cabral will be after his third win of the campaign while Payne will be looking to make it two in a row.

Cabral made special notice of his tying Joey Coy on the Northeastern Midget Association's all-time win list. Cabral, who has already won twice this season, can pass not only Coy but also Mike Favulli and Al Pillion, both Hall of Famers, with his next victory. All have 15.

Two active drivers – Payne and Jeff Horn – can hit the 20-career win mark at Lee. Twenty career wins is a magic mark for NEMA. Already in the "club" are Drew Fornoro (82), Dave Humphrey (72), Nokie Fornoro (45), Russ Stoehr (39), Johnny Mann (28), Billy Eldridge (27), Bobby Seymour (23), Joe Csiki (21) and Lee Smith (21).

Drew Fornoro is the all-time NEMA winner at Lee with six. Among active drivers, Jeff Horn has three, Nokie Fornoro two and Joey Payne one. Ben Seitz was the last winner at Lee in 2004, finishing ahead of Payne and Cabral.