HEAT 1
12 - Carpenter
50 - Pernesiglio
7ny - Cantor
17 - Seitz
36 - R. Cabral
51 - Wonder
25 - S. Dolan
16 - O'Brien
33 - Spada
35 - G. Cabral
47 - Buonomo

HEAT 2
44 - Breault
81 - Heath
2 - Bumpus
29 - E. Santos
48 - Bertrand
18 - Gerbe
37 - Hammond
22 - Shlatz
57 - Bradbury
11 - Bundy
45 - Payne (DNS)












Adirondack Int'l Speedway
May 29, 2004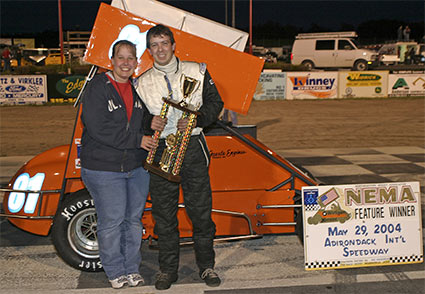 Finish
Car #
Driver Name/Hometown
1
81
Tim Heath - Lebanon, CT
2
44
Ed Breault - Lincoln, RI
3
12
Kyle Carpenter - Gloucester, MA
4
17
Ben Seitz - Monument Beach, MA
5
50
Pete Pernesiglio - Long Island, NY
6
45
Joey Payne - Fairlawn, NJ***
7
36
Randy Cabral - Plymouth, MA
8
2
Howie Bumpus - Lakeville, MA
9
29
Erica Santos - Marlboro, MA
10
25
Sean Dolan - Acton, MA
11
48
Tim Bertrand - Watertown, MA
12
16
Matt O'Brien - Wilmington, MA
13
37
Shane Hammond - E. Bridgewater, MA
14
57
Bob Bradbury - Wakefield, RI
15
33
Tommy Spada - Berlin, CT
16
51
Monnie Wonder III - Lititz, PA
17
11
Lee Bundy - Kennebunkport, ME
18
47
Mark Buonomo - Waltham, MA
19
22
Andy Shlatz - Enfield, CT
DNS
7ny
Adam Cantor - Dix Hills, NY
DNS
18
Richard Gerbe - Elmont, NY
DNS
35
Glen Cabral - Plymouth, MA
*** Hard Charger

Tim Heath Takes His First Win at Adirondak Int'l Speedway
By Sheila Somers

Two races into his 3rd season with the NEMA touring division, Tim Heath took his first win at Adirondak International Speedway in New York State. It was a no contest race from start to finish, at the new Adirondak track. Car #81 started on the pole just as dusk set and never let go of his place in the race.

Ed Breault #44 started on the outside pole and #12 Kyle Carpenter in 3rd both finishing the race in their starting positions. All three held their positions through the one restart.
The Hard Charger Award from Cape Cod Aggregates went to Joey Payne in the #45 who started in the back in 22nd position and finished the 35-lap race in 6th place.

Kyle Carpenter, Pete Pernsiglio, and Adam Cantor took the first 3 positions in the first fast- moving 10-lap qualifying heat while Ed Breault, Tim Heath, and Howie Bumpus took the 2nd qualifying heat. Erica Santos was racing brother Bobby's #29. Holding her own, Erica placed 4th in the second heat, finishing 9th in the 35-lap feature.

A humble twenty-five year old Tim Heath stepped onto Victory Lane before the fans and into the bright lights of honor, to accept his trophy. Tim was grateful to his Dad, (George) owner of the car, and Crew Chief Paula Chaput for the support they give to him. Theirs is a family operation. They do it all on their own and without sponsors.
Tim took second place in the previous race and NEMA season opener at Waterford Speedbowl on May 01, 2004. Without hesitation, Tim said " he wants to have fun and take one race at a time"

Adirondack NEMA Win
Breaks Ice For Heath
by Pete Zanardi Results and Photo Page HERE

"We were fussing with the car all day," said Tim Heath. "In the end, I don't think we could have got it any better." It could very well wind up as the understatement award of the year.

Jumping off from the pole, Heath captured his first Northeastern Midget Association feature Saturday night, grabbing the 30-lapper at Adirondack Speedway. Unofficial clocks had Heath's final lap on the half-mile at 14.6 seconds.

"My crew had me at 14.5 in my heat but I didn't think we'd be that fast that late in the feature," continued Heath. "But the car was as good at the end as it was in the beginning."

Surviving a lap-18 caution (the only one), Heath finished in front of Ed Breault, the latter posting his best-ever NEMA finish. Kyle Carpenter, Ben Seitz and Pete Pernesiglio completed the top five in NEMA's second visit to Adirondack. Carpenter and Breault were the heat winners.

Defending champion Joey Payne had the longest run. Unable to start his heat because of mechanical problems, he came from last to sixth.

"I've been close before and had something happen," said NEMA's 2002 Rookie of the Year. "It feels good to finally get the first win. Actually, I was really tired. The track takes a lot of you because you're always turning."

After Victory Lane ceremonies and inspection, Heath noticed the Heim joint bolt had broken resulting in a groove in the rear end housing. "Don't know how long it could have gone like that," Heath wondered aloud.

Heath becomes the second "new" winner is as many features this season, Seitz capturing a 25 lapper at Waterford Speedbowl on May 1. NEMA returns to action at the Speedbowl on June 12.

The day started for the Heath team with fuel problems. After a second place in his heat (behind Carpenter), he "put another half turn on the right front." He then just "took off, just walked away," according to his equally proud father/car owner George.



Photos by
Sheila Somers