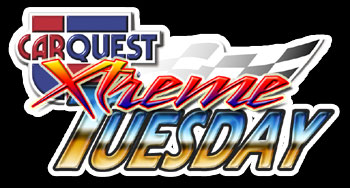 July 11th - Stafford
Winner - Bobby Santos III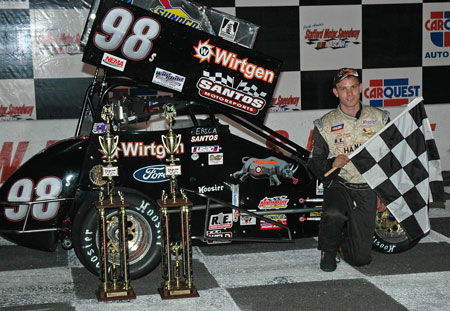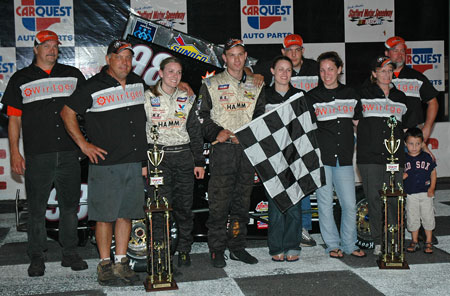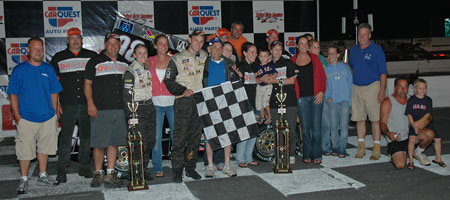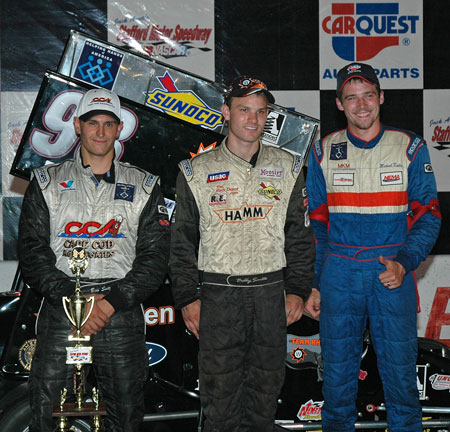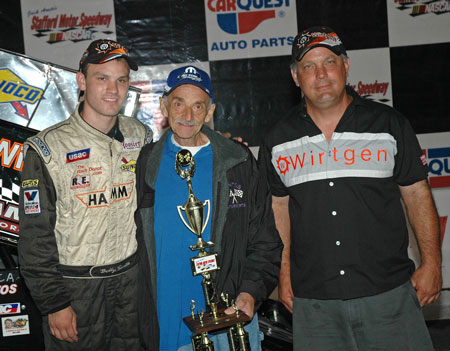 Santos Scores NEMA Win on Xtreme Tuesday at Stafford;
SMS Makes Historic Midget Announcement
Stafford, CT: Bobby Santos III of Franklin, MA brought his winning streak back home. After winning several USAC races out West, the red-hot driver scored a decisive victory aboard the family-owned racer in the 25-lap feature event for the Northeastern Midget Association as part of the 3rd Annual CARQUEST Xtreme Tuesday at Stafford Motor Speedway. The victorious Santos kept company with Rusty Wallace, who scored the victory in the PRA Big Car Series match race over Al Unser, Jr., Sammy Swindell, and Sara Fisher.

Santos took the lead from Mike Keeler just after halfway, withstood several late race restarts and a final surge by reigning NEMA driving champ Ben Seitz to take down the popular win.

"I have to thank my family, they gave me an awesome racecar," said Santos after taking his ceremonial drink of milk from Stafford's victory lane. The #98s that Santos piloted to victory has been driven most recently by his sister Erica, who also turned in a great performance to finish sixth in the event.

Former Stafford SK Modified competitor Mike Keeler took advantage of his pole starting position to take the early lead over Cabral Racing teammates for the night Mike Ordway, Jr. and Corey Cleary. Nokie Fornoro had jumped into the fourth position with Adam Cantor in tow.

Cantor's night ended early as he relinquished his spot inside the top-five with mechanical problems. Up front, Keeler was beginning to stretch his lead over the pack. A slip by Ordway Jr., who was running in second, opened the door for a charging Fornoro. From his ninth-place starting spot, Seitz was up to the third spot by lap 5. Following through also was Santos, who had started in eleventh position. Keeler continued to lead Fornoro, Seitz, Santos, and Joey Payne in the top-five. Randy Cabral lurked in sixth.

Santos dogged Seitz for a short time before taking over the third position on lap 7. Meanwhile, Fornoro was catching leader Keeler. Once free of Seitz, Santos closed the gap quickly on Fornoro.

Leader Keeler was mired in heavy lapped traffic. The veteran Fornoro took advantage and the lead on lap 10. Not to be outdone, Keeler battled back to grab the lead once again a single lap later. Fornoro began to falter as he lost positions to both Seitz and Santos. Shortly after, Fornoro brought his ailing #4 behind the wall for the night with a broken throttle lingkage.

Santos made his march to the front complete with a pass on Keeler for the lead on lap 14. Payne had reeled in Seitz in third. The new leader quickly ran out to a sizeable lead.

The first caution of the event flew on lap 17 for a spin by Kevin Park; erasing the margin Santos had developed on the field. The restart order found Santos and Keeler being chased by Seitz, Payne, and Cabral. Ordway was hanging tough in sixth while Pete Pernesiglio was turning in a great performance in seventh. Rich Gerbe, Erica Santos, and Shane Hammond lined-up for the restart inside the top ten.

Santos handily resumed his spot at the front while Seitz and Payne got by Keeler with great restarts. The action was quickly halted when another spin by Park brought out the caution again. On the second try at the lap 17 restart, Santos now led Seitz and Payne.

Again it was all Santos when the event went back to green. Cabral had moved into fourth on lap 18. And again Santos amassed a sizeable lead when the event's third caution flew when the #50 of Gary Mondeschein came to a rest in turn four after a drive shaft failure.

On the ensuing restart, something broke on the #45 of Joey Payne catapulting the veteran driver into the outside wall exiting turn two. The car came to a rest on the backstretch with extensive damage. Payne was talking to the safety personnel on the scene before being transported to the local hospital. The Payne family is with Joey at Hartford Hospital. At press time, no further information was available on Payne's condition. Updates will be posted on the NEMA website, www.nemaracing.com, as soon as they become available.

The restart pitted Seitz to the outside of Santos with Cabral and Keeler in row two. Seitz got the advantage on the restart leading for a half lap before Santos took back his lead. Cabral lost ground on the restart losing a position to Pernesiglio. With five laps remaining Santos led Seitz Keeler, Pernesiglio and Cabral.

Cabral gathered it back in to retake fourth from Pernesiglio while Santos checked out on the field. In the closing laps, Santos was all alone up front.

Santos easily took down the win over Seitz, Keeler, Cabral, and Pernesiglio. Erica Santos finished sixth over Shane Hammond, Mike Ordway, Jr. and Rich Gerbe. Andy Shlatz got a well-deserved and much-needed top ten finish on Tuesday night.

"I have been burning the midnight oil for the last six weeks trying to put this new car together," said Shlatz. "But I finally did it."

"I wish I could have been running at Thompson," continued Shlatz. "I really wanted to be a part of the race to honor Marvin Rifchin. I tried to honor him at Stafford instead by putting on a good show for the underdogs in front of all the big stars tonight like Rusty Wallace, Al Unser, Jr. and everyone." Mission accomplished for Shlatz.

The racing was not the only excitement on Tuesday night. During the festivities, Stafford Motor Speedway took the opportunity to make a historic announcement for the Midgets. On August 15, 2006, as part of "CARQUEST presents The Big One", for the first time in decades, the Midgets will run without wings. The event will be managed by the Northeastern Midget Association and will feature NEMA, ARDC and USAC Midget competitors. Expected to compete are Dave Darland, Tracey Hines, Dave Steele and regional standout Bobby Santos III among others. More information can be found by logging on to www.staffordmotorspeedway.com.
NEMA Feature - Stafford - Tues. 7/11/06
Pos.
#
Driver
Hometown
Owner
1
98s
Bobby Santos
Franklin, MA
Robert Santos Jr.
2
17
Ben Seitz
Monument
Beach, MA
Pete Valeri
3
55
Mike Keeler
Danbury, CT
Kevin Keeler
4
47
Randy Cabral
Plymouth, MA
Tim Bertrand
5
80
Pete Pernesiglio
Lake Grove, NY
Peter Pernesiglio
6
44
Erica Santos
Franklin, MA
Ed Breault
7
37g
Shane Hammond
E. Bridgewater, MA
Jack Glockner
8
35
Mike
Ordway Jr.
Freemont, NH
Glen Cabral
9
18
Rich Gerbe
Elmont, NY
Lee Gerbe
10
22
Andy Shlatz
Enfield, CT
Alex Shlatz
11
36
Cory Cleary
Plymouth, MA
Glen Cabral
12
V5
Scott Viets
E. Granby, CT
Scott Viets
13
DNF
45
Joey Payne
Fairlawn, NJ
Gene Angellilo
14
DNF
87k
Bobby Kuiken
Prompton Lakes, NJ
Robert Kuiken
15
DNF
50
Gary Mondeschein
Brodheadville, PA
Peter Pernesiglio
16
DNF
52
Kevin Park
Foxboro, MA
Kevin Park
17
DNF
4
Nokie Fornoro
Stroudsburg, PA
Mike Jarret
18
DNF
7ny
Adam Cantor
Dix Hills, NY
Cantor Racing
19
DNF
87
Doug Cleveland
Sudbury, MA
Doug Cleveland
DNS
3
Tommy Spada
Kensington, CT
Gino Spada
DNS
26
Greg Stoehr
Bridgewater, MA
Greg Stoehr
DNS
15
Ryan Dolan
Acton, MA
Jay Dolan
DNS
77
Mike Lugelle
Hull, MA
Mike Lugelle
Payne on the Mend After
NEMA Crash at Stafford
Comeback Certain But Not the Date
Manchester, CT (July 17, 2006): Joey Payne is recuperating at his home in Fairlawn, NJ after a devastating wreck at Stafford Motor Speedway on Tuesday, July 11, 2006 in the Northeastern Midget Association feature during Xtreme Tuesday presented by CARQUEST. The veteran racer sustained a severe concussion and injuries to his arms and legs when the rear axel sheared off his racer sending him careening into the outside wall. FULL STORY HERE

Cards of well wishes can reach Joey Payne at
68 Pomona Ave., Fairlawn, NJ 07410.