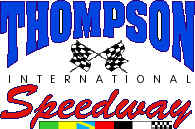 Thompson, CT
July 6 - Thurs Night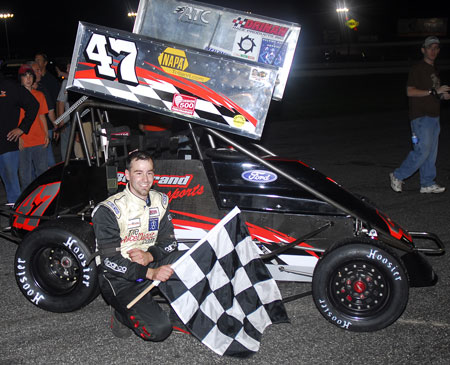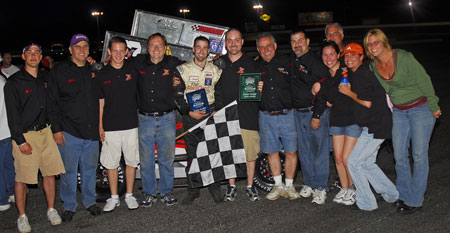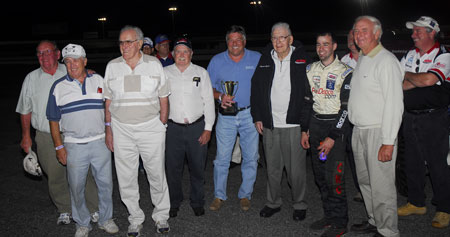 -
Cabral Honors Rifchin with NEMA Victory at Thompson
Thompson, CT: Randy Cabral of Plymouth, MA drove the Bertrand Motorsports #47 to his second straight Northeastern Midget Association (NEMA) win on Thursday Night at Thompson International Speedway in Thompson, CT. The victory brought with it an increased payday and a level of prestige as the night was dedicated to Marvin Rifchin. The 25-lap feature event was held to honor the legendary Marvin Rifchin of M&H Tire.

"No race means more to me than winning this race for Marvin," said Cabral. "He helped me out so much. Marvin got me started in Midget Racing."

Rifchin was on hand to celebrate the night's event and to congratulate Cabral in victory lane.

"I want to say thank you to all the people who helped me look so good over all these years," said Rifchin from the front stretch at Thompson, where as a car owner he too had celebrated victories.

Marvin Rifchin was an innovator. Through M&H Tires of Watertown, MA, a company he owned with his late father Henry, Rifchin revolutionized the sport of drag racing with the introduction of the modern-day drag slick. Don Garlits debuted the drag slick in 1957 to become the first drag racer to break the 8-second barrier. Garlits later recorded the first officially recognized 200-mph run on M&H tires.

His impact was felt as strong in short track racing with tires for nearly every application-most notably the Midgets and Modifieds. He; however, may be best known for his contributions to the racers themselves. Marvin Rifchin is a generous man who helped the careers of many drivers with friendship, advice and sponsorship.

"If people only knew how many teams Marvin has helped with tires," said Thompson Speedway owner Donald Hoenig. "I am proud to be here with him here this evening."

NEMA Announcer Pete Falconi fittingly called Marvin "a United States racing legend."

A number of great retired drivers like Ron Bouchard, Dave Humphries, Leo Cleary, George Summers, and Billy Harmon were on hand to honor Rifchin and to watch Cabral head to victory lane.

Cabral methodically worked his way up from his twelfth place starting spot and into the top-five within the opening laps of the 25-lap main event. He lay in wait during much of the feature; making the race winning pass on Ben Seitz with only two laps to go.

"This was a great race," continued Cabral. "To race so close with guys like Payne and Seitz is just awesome. I was driving that car for all it was worth every lap."

In honor of Rifchin, the NEMA Midgets started the event "old school" in three-wide formation with Barry Kittredge, Mike Keeler, and Chris Perley on the front row. It was a picture-perfect three-wide with Kittredge getting the edge. But it was Chris Perley on the move. The driver known as the "Rowley Rocket" was the new leader before the completion of the first lap.

The action was short-lived as a spin by Tommy Spada brought out the first caution on lap one. Greg Stoehr also slowed on the track. Mechanical woes sidelined Ryan Dolan as well while under the caution.

Ben Seitz took advantage of the restart and motored into the top spot. Nokie Fornoro followed through moving Perley back to third. The second caution flew on lap four for a spin by Adam Cantor. Keeler brought his #55 down pit road under the caution ending his good run. Shane Hammond would find the same fate with his mount on pit road.

By this time, Cabral and Joey Payne had moved inside the top-five. For the restart, Seitz and Fornoro occupied the front row followed by Perley, Bertrand and Payne. Seitz jumped out to a big lead quickly over Fornoro. Perley faded slightly making way for Payne, who had edged ahead of Cabral.

On the move, Payne reeled in Fornoro while Cabral in fourth became part of the mix. Up front, Seitz was stretching his lead over the pack. On lap eight, Cabral and Payne went wheel-to-wheel for third giving Fornoro some breathing room.

The event's third caution flew when Spada spun his machine exiting turn four to complete lap nine. The double-file restart once again pitted Seitz and Fornoro and again it was Seitz gaining the advantage. With a great restart, Payne moved into second. Cabral made a move on the backstretch to get along side Fornoro. At the stripe #47 was third.

Jeff Horn, who had fallen back early on, was making his way back to the front when disaster struck. Horn made hard contact with the outside wall on the backstretch on lap 11.

The restart pit rivals Seitz and Payne on the front row to take the green flag. Cabral remained in third followed by Perley, Fornoro and a fully-recovered Stoehr. Seitz was able to retain his lead over Payne running in second.

The battle for second was brewing at the halfway marker. Cabral was finally able to take the second position from Payne on lap 15. Cabral quickly closed the gap between his #47 and leader Seitz. Pole sitter and early leader Kittredge headed pit side on lap 17.

Lapped traffic became an issue as leader Seitz and Cabral diced through traffic. Perley relinquished his top-five when a broken brake caliper ended his night. With five laps to go, Seitz maintained his lead over Cabral and Payne.

The margin was getting smaller and smaller between Seitz and Cabral. Finally, Cabral got alongside Seitz. The two contenders split a lapped car on the front stretch as they headed for the stripe. On lap 21, Cabral was the new leader.

Stoehr's great run came to an end with only two laps remaining as his car stopped on the front stretch necessitating the caution. The yellow should have set up a two-lap shootout to determine the winner of the Rifchin race but, in a shocking turn of events, Seitz headed down pit road also with a broken rear brake caliper.

This left Cabral to try to fend off Payne, Fornoro, and Mike Lugelle. Cabral was successful. He motored out in front on the restart and went unchallenged to the checkers. Payne came home with a hard-fought runner-up finish followed by Fornoro. Erica Santos drove the Ed Breault owned machine to a popular fifth-place finish.

From atop the wing of his winning mount in victory lane, Cabral greeted the crowd. Once back on the ground, Cabral received a congratulatory handshake from Mr. Marvin Rifchin.

"I cannot get any happier than I am right now," said an exuberant Cabral to put the capper on an exciting night of NEMA Midget Racing.

Up next for the NEMA Midgets is CARQUEST Extreme Tuesday at Stafford Motor Speedway on July 11, 2006.
For a look at all the excitement that is planned and the star-studded fields that are expected log on to www.staffordmotorspeedway.com.

NEMA Feature - Thompson - Thurs. 7/6/06
Pos.
#
Driver
Hometown
Owner
1
47
Randy Cabral
Plymouth, MA
Tim Bertrand
2
45
Joey Payne
Fairlawn, NJ
Gene Angellilo
3
4
Nokie Fornoro
Stroudsburg, PA
Mike Jarret
4
77
Mike Lugelle
Hull, MA
Mike Lugelle
5
44
Erica Santos
Marlboro, MA
Ed Breault
6
35
Shawn Torrey
Marshfield, MA
Shawn Torrey
7
36
Cory Cleary
-
Glen Cabral
8
-1 lap
18
Rich Gerbe
Elmont, NY
Lee Gerbe
9
-1 lap
2
Lee Bundy
Kennebunkport, ME
Lee Bundy
10
-1 lap
50
Gary Mondschein
-
Peter Pernesiglio
11
DNF
17
Ben Seitz
Monument
Beach, MA
Pete Valeri
12
DNF
26
Greg Stoehr
Bridgewater, MA
Greg Stoehr
13
-2 lap
87k
Bobby Kuiken
Prompton, NJ
Robert Kuiken
14
-3 lap
52
Kevin Park
Foxboro, MA
Kevin Park
15
DNF
7ny
Adam Cantor
Dix Hills, NY
Cantor Racing
16
DNF
11
Chris Perley
Rowley, MA
Don Berrio
17
DNF
99
Mike Ordway Jr.
Freemont, NH
Power Point
Racing
18
DNF
21
Barry Kittredge
Marlboro, MA
Barry Kittredge
19
DNF
80
Pete Pernesiglio
Lake Grove, NY
Peter Pernesiglio
20
DNF
A1
Jeff Horn
Ashland, MA
Jeff Horn
21
DNF
3
Tommy Spada
Kensington, CT
Gino Spada
22
DNF
55
Mike Keeler
Danbury, CT
Kevin Keeler
23
DNF
37g
Shane Hammond
E. Bridgewater, MA
Jack Glockner
24
DNF
88
Paul Lugelle
Holbrook, MA
Paul Lugelle
25
DNF
87
Doug Cleveland
Sudbury, MA
Doug Cleveland
26
DNF
15
Ryan Dolan
Acton, MA
Jay Dolan
27
DNS
16
Matt O'Brien
Wilmington, MA
Jim O'Brien
28
DNS
54
Keith Botelho
Attleboro, MA
Marco Campanale

29
DNS

98

Michael Rosselli
Brodheadsville, PA
Michael Rosselli
-
NEMA to Honor Rifchin
with Race at Thompson
Manchester, CT: The Northeastern Midget Association will honor the legendary Marvin Rifchin with a tribute race at Thompson International Speedway on Thursday, July 6, 2006. Rifchin is expected to serve as the guest of honor and will be accompanied by a number of dignitaries from the New England racing community.

"He was one man who helped out a lot of people," said NEMA President Mike Scrivani of Rifchin. "Marvin had an impact on the careers of many with his kindness and generosity."

In his storied career as an owner and sponsor, Marvin Rifchin has seen it all. His cars raced successfully at the Thompson International Speedway and the Waterford Speedbowl. He is a championship car owner at Seekonk and Stafford Motor Speedways. His final foray into car ownership was with Ronnie Bouchard, who later left to pursue his professional stock car racing career as a then Winston Cup driver.

"Marvin has been a supporter of the Modifieds and the Midgets back to the days of the Norwood Arena," continued Scrivani. "He would be there every Saturday night."

Ron Bouchard, George Summers, Bugsy Stevens, Leo Cleary and others are expected to join the likes of NEMA competitors who will honor Rifchin on July 6th.

Although his on-track record speaks for itself, Marvin Rifchin is most widely known for his contribution as a manufacturer. Having learned the tire trade from his father Harry, who together made up M&H Tire, the Rifchins became innovators in the world of auto racing.

Driven by the scarcity of speed-rated race tires, the Rifchins embarked on the manufacturing of race tires in the 1940s in their Massachusetts location. M&H provided tires for midgets, assorted stock car applications including Modifieds, formula cars and dragsters until Marvin's retirement in 1986.

Rifchin was a pioneer in the world of drag racing with his development of the modern-day drag racing slick. Drag racers used smooth-tread recapped passenger tires until Rifchin and M&H Tires came along with the first drag slick in the late 50s. "Big Daddy" Don Garlits was the first to break the 8-second barrier on this innovative new tire in its debut in 1957. Garlits recorded the first officially recognized 200-mph run in Great Meadows, NJ-again on M&H tires.

The innovation is considered by Hot Rod Magazine to be among the "20 Speed Parts That Changed the World". Interco Tires purchased the rights to the M&H Racemaster tire and continues its production today.

"The race is one small way to acknowledge all the great things that Rifchin did for auto racing," added Scrivani.

Several former owners and drivers have pledged their support of the dedication race in the form off added prize money. The likes of Russ Stoehr, Bruce Beane, Bouchard and others have contributed to make this one of the most lucrative races on NEMA's schedule for 2006.

True to Rifchin's philosophy the $10,000 plus purse will be heavy on the bottom-end.

"Marvin helped a lot of low-buck people make it," said Scrivani. "He will approve of the extra incentive for the little guy."

NEMA hopes to have a strong field that will allow a three-abreast start reminiscent of Midget racing's heyday. It would be another element that would add to the feel of the Marvin Rifchin special event.

A number of strong competitors will be on hand to vie for the lucrative purse including the dynamic duo of Ben Seitz of Monument Beach, MA and Joey Payne of Fairlawn, NJ. Great performances so far this season have continued to fuel this friendly rivalry.

"I would love to win this race in honor of Marvin," said Payne. "He has been one of the biggest supporters of NEMA. And the things he has achieved in racing as a tire builder are incredible. Marvin is" one of a kind "and I think it would be wonderful for Gene to win as a car owner, being as he and Marvin have become such close friends".

"I can promise you this," concluded Payne, "it would be one of my biggest wins in a midget."

Other recent Thompson winners that will undoubtedly play a role in the outcome of the event include the colorful Nokie Fornoro of Stroudsburg, PA and the always-exciting Randy Cabral of Plymouth, MA. Might Marvin Rifchin be routing for underdogs like Shane Hammond of Bridgewater, MA, Pete Pernesiglio of Ronkonkoma, NY, Andy Shlatz of Enfield, CT or Shawn Torrey of Marshfield, MA? It is anyone's race on the ultra-fast high-banks of Thompson International Speedway.

The action gets underway with qualifying events at approximately 5:45 with feature racing immediately following. Thompson International Speedway will host the Northeastern Midget Association along with a full card of NASCAR Dodge Weekly Series competition. For additional information including pricing, please contact the Thompson Speedway office at (860) 923-2280.