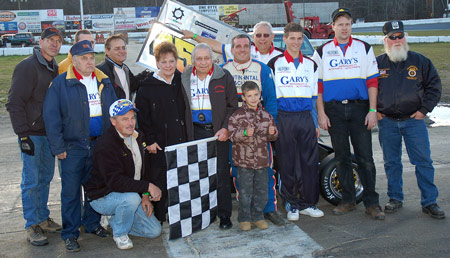 Joey Payne the Race Winner at
Waterford on Nov. 4th
Waterford Finale - 11/4/06
Pos.
#
Driver
Hometown
Owner
1
45
Joey Payne
Fairlawn, NJ
Gene Angellilo
2
4
Nokie Fornoro
Stroudsburg, PA
Mike Jarret
3
47
Randy Cabral
Plymouth, MA
Tim Bertrand
4
26
Greg Stoehr
Bridgewater, MA
Greg Stoehr
5
37g
Shane Hammond
E. Bridgewater, MA
Jack Glockner
6
99
Mike Keeler
Danbury, CT
Power Point
Racing
7
17
Ben Seitz
Monument
Beach, MA
Pete Valeri
8
36
Cory Cleary
Plymouth, MA
Glen Cabral
9
11
Howie Bumpus
Lakeville, MA
Don Berrio
10
30
Paul Scally
Randolph, MA
Paul Scally
11
55
T,J. Sweeney
Danbury, CT
Kevin Keeler
12
77
Mike Lugelle
Hull, MA
Mike Lugelle
13
52
Kevin Park
Foxboro, MA
Kevin Park
14
87
Doug Cleveland
Sudbury, MA
Doug Cleveland
15
DNF
3
Tommy Spada
Kensington, CT
Gino Spada
16
DNS
21
Barry Kittredge
Marlboro, MA
Barry Kittredge
17
DNS
16
Matt O'Brien
Wilmington, MA
Jim O'Brien
18
DNS
22
Andy Shlatz
Enfield, CT
Alex Shlatz

Top Four Heat One: 99 - 47 - 37 - 11

Top Four Heat Two: 26 - 17 - 4 - 45
Payne Scores Decisive Victory
at Waterford Finale;
Seitz Scores Third Straight Championship
Waterford, CT (November 4th, 2006): The Northeastern Midget Association finally completed its last race of the season after two previous attempts at the Waterford Speedbowl. In the feature event, Ben Seitz made history winning his third straight driver's championship, the second for Peter Valeri, and Joey Payne of Fairlawn, NJ put in a dominating performance to win the event. Seitz became one of three drivers ever to have won three straight driver's championships.

It took only a short time for Payne to go to work on Saturday afternoon. Starting eighth, Payne was fourth after a lap one caution and went quickly to work, putting himself into the lead a lap later. He was followed at that point by seventh starting Nokie Fornoro in the MJ Motorsports entry and Randy Cabral in the Bertrand Motorsports machine.

Once in front, Payne began his dominating performance as the race went green to checkered from the first caution on. At the halfway point, it was Payne, who had distanced himself from Fornoro, a quick closing Cabral, Greg Stoehr and Shane Hammond. Mike Keeler in the Power Point Racing #99, a fading Ben Seitz, Cory Cleary, Howie Bumpus and Paul Scally were fighting for positions six through ten.

Nothing phased leader Payne, not even the heavy lapped traffic, as he went on to score a commanding win over Fornoro and Cabral. Greg Stoehr continued to show improvement over the last half of the season with another strong performance to finish fourth, as Hammond was fifth, Keeler was sixth, Seitz seventh, Cleary eighth, Bumpus ninth and Scally rounded out the top ten. Payne lapped up to the sixth place car.

"The crew made a few small adjustments before the feature, and they were sure the right ones," said Gene Angelillo, Dumo's Desire #45 team owner. Since coming back after a devastating wreck in July, Payne and Angelillo have put in three straight second place performances and a season capping win at Waterford.

Seitz was the driver's champion for the season, Valeri the owner's champion, Randy Cabral second in the driver's points and Mike Jarrett second in the owner's points. Nokie Fornoro put in a valiant effort having missed one race to finish third in the driver's points and Tim Bertrand was third in the owner's points.
Rescheduled to Nov. 4th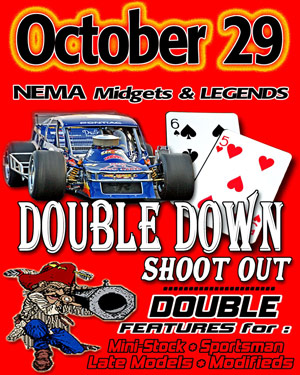 Graphic by Keith Cyr
Powerpoint Racing and Mike Keeler Team Up at Waterford
Newburyport, MA - Look for something different with two teams for the final NEMA race of the season at Waterford Speedbowl's Double Down Shootout scheduled for this Saturday at the venerable Connecticut Speedway. Mike Keeler will strap into the Powerpoint Racing, Marine Engines sponsored # 99 car of Chris Desrosier, and newcomer Aaron Wall will fill-in for Keeler in the Autocraft Engines powered, MKM Property Maintenance # 55 entry of Kevin Keeler.

Desrosier decided to take advantage of Mike's 14 seasons of experience in a variety of car types and the Keeler team's success in the NEMA ranks. "We needed to find a way to figure out what we were doing right and what we were doing wrong," said Desrosier, "I think my car can win". After a Thursday of testing at the 'Bowl produced sub-13 second laps, it was obvious that the # 99 car could be a potent contender.

With only 10 points separating fifth through seventh in the driver championship, some would wonder why Keeler, just 8 points out of fifth, would step out of the car that won NEMA's previous appearance at the Speedbowl in August to pilot the # 99 car. "After the top-shelf job Chris did repairing our badly damaged chassis last season, we'll do anything we can to get his program dialed-in better. Besides, I think I can win Waterford again in this car too!" Keeler said.

Aaron Wall is excited to be behind the wheel of the # 55 car as he weighs the possibility of a move to the more powerful winged NEMA midget ranks. "Lots of the Focus drivers would like to race with NEMA. I'm glad to have this opportunity." Wall said. 2006 saw him race his way to fourth place in the USAC Ford Focus Northeast Division championship standings in his sophomore USAC season. Like Keeler, Wall began his racing career more than a decade ago in Quarter Midgets.

Look for an exciting program of racing as the drivers and teams of NEMA battle to determine the final championship point standings this Saturday at the Waterford Speedbowl.
A NEMA Showdown at
Waterford's Double Down
Waterford, CT (October 23, 2006): And then there was one. Only one race remains to determine the 2006 Northeastern Midget Association (NEMA) championship. It all comes down to this final race at the Waterford Speedbowl on October 29, 2006. The Northeastern Midget Association championship will be decided at the Double Down Shootout Special event at the shoreline oval on Sunday.

Despite a large lead, two-time and defending driver champ Ben Seitz of Monument Beach, MA still will have to work for the title. Should Seitz finish in the 14th position or better he will pull off the three-peat.

On the other hand, the owner's championship is still very much up for grabs. Seitz's car owner Peter Valeri goes into the final event with a 54-point advantage on Mike Jarret, car owner for Nokie Fornoro. Seitz will have to finish sixth or better to seize the championship for Valeri. Jarret leads third-place owner Bertrand by virtue of a start for the Helping Hands of America team by Shane Hammond in Fornoro's absence.

Randy Cabral, in his first year driving for the potent Bertrand Motorsports team, sits second in the driver points 79 markers behind Seitz. Fornoro is third, 75 points behind Cabral. Even after missing a race due to a devastating crash at Stafford, the "Jersey Jet" Joey Payne sits fourth in points.

Each of the top-four drivers have visited victory lane this year. Payne's lone win on the season came at the Speedbowl in the opener in April. Seitz, Cabral, and Fornoro each have posted two wins this year.

It is a tight point race from fifth position back to seventh with only points 10 points separating Shane Hammond in fifth, from sixth-place Mike Keeler and Bobby Santos III. Keeler, who sits just outside the top-five, took a career-first at Waterford earlier this season.

Bobby Santos III of Franklin, MA is the only three-time winner on the season for the Club. He will be looking for his fourth at the Speedbowl. Hot off his sixth-place finish for Bill Davis Racing in his ARCA Series debut, the rising star will again be behind the wheel of the Seymour #9 for the finale.

Cory Cleary sits eighth, 36 points behind Santos III. Mike Ordway, Jr. and Pete Pernesiglio round out the top five.

The number crunching will conclude on Sunday, October 29, 2006 with the running of the final 25-lap NEMA feature during the Double-Down Shootout at the Speedbowl. Pit tickets will go on sale at 10:00 AM with the pit gate opening at 10:30 AM. Practice begins promptly at noon. The grandstand will also open at noon. Qualifying is scheduled to begin at approximately 1:30 PM including heat races for the Midgets. Features will start at approximately 3:00 PM.

Tickets for the special event are $20.00 for adult general admission, youth (6-14) tickets are available for $5.00. Pit Pass are available for $38.00. For more information on the event at the Waterford Speedbowl, log on to www.speedbowl.com.