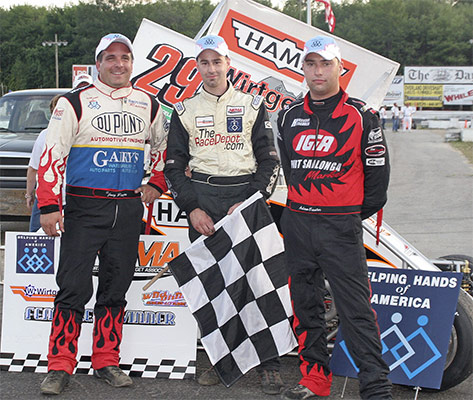 Joey Payne, Randy Cabral, and Adam Cantor
Cabral Returns to NEMA Victory Lane in Seymour 29 at Waterford
Waterford, CT: By his own estimation, Randy Cabral of Plymouth, MA "didn't have it this year." He proved, mainly to himself, on Saturday night at the Waterford Speedbowl that he did. The young driver looked like a veteran as he took the lead from Joey Payne of Pomono, NJ with a bold move in lapped traffic late in the race to score his first win of the 2005 season. Cabral, who has been alternating between his family-owned racecar and that of the Seymours, scored the popular victory aboard the legendary #29.

Cabral jumped on the wing of his Wirtgen America sponsored racecar after the win to greet the crowd. He then slid down the front of the wing to make his victory speech.

"I need to thank Mike and Bobby Seymour," said Cabral. "I love racing for these guys. I always wanted to drive for them. It is a dream come true to drive the #29. But now that I had the opportunity, I was starting to think that I may not have had it this year."

The proverbial monkey is now off Cabral's back. Payne came home in the second spot over Adam Cantor of Dix Hills, NY, point-leader Ben Seitz of Monument Beach, MA and Pete Pernesiglio of Lake Grove, NY.

Mike Luggelle brought the field to green but before they could get up to full-speed a spin by Glen Cabral halted the action. On the complete race restart Mike Ordway, Jr. edged out Luggelle for the lead on the backstretch while Tommy Spada was spinning in turn one. The caution flew for the second time negating the pass for the lead. Under the caution, Luggelle brought his Paragon Air #77 down pit road with mechanical problems and was not able to continue.

Ordway, Jr. inherited the lead and held the position until lap three when Cantor flew by both he and second-running Keeler on the same lap to take over the top spot. Payne, up from his ninth starting position, followed through to relegate Ordway to third and Keeler to fourth.

It was now Pernesiglio and Seitz who pressured Keeler for position. Pernesiglio moved into fourth, also on lap three, bringing Seitz along for the ride. Before the completion of the lap, Seitz had made his way by Pernesiglio as well. Meanwhile, tenth-place starter Cabral had been making his way to the front. On lap five, Cabral was fourth and coming on strong. He was quickly gaining ground on Seitz in third.

With Cantor leading Payne, Seitz, and Cabral a great battle was brewing for fifth position between Pernesiglio, Ordway, Jr., and Jeff Horn. Horn was able to get by Ordway Jr. but never got the chance to work on Pernesiglio on this green flag run as a caution for Ordway, Jr. brought out the events third caution.

The restart at lap nine proved to be the undoing for leader Cantor. Although the Dix Hills, NY driver got the jump on the restart, Payne was leading when they came out of turn one. Payne was officially the new leader when they completed lap 10. It was a three-car battle for the second spot as Seitz got a run on Cantor on the outside and Cabral on the inside. Neither could make the pass and Cantor managed to maintain his runner-up position. Seitz would not be so lucky a lap later when he fell to the charge of Cabral.

Cabral got a great run on the backstretch to rocket past Cantor for the second spot on lap 13. Cabral set sail for leader Payne.

Some great battling was also going on in the latter half of the top-ten. Keith Botelho was having his best run of the season aboard the #54 Campanale machine. On lap 15, he maneuvered by Keeler in seventh and began to work on Horn. By lap 17, Botelho was in the sixth position and looking for more.

Up front, Cabral was all over the tail of Payne. Cabral tried every which way to get by Payne to no avail. Then on lap 22, as the lead duo went into turn one in heavy traffic, Cabral made a bold move splitting the cars of Payne and his father Glen. The Cabrals bumped wheels but an unshaken Randy pulled a veteran move on a veteran driver to take over the lead.

"I made the wrong choice, he made the right choice and came out on top," said Payne after the race, of the pass for the lead. "I like to be trailing the leader late in the race. That way if he makes a mistake you can be there to make your move. Tonight I was the one to make the wrong move and he got me."

Cabral led Payne, Cantor, and Seitz into the final laps of the event while the battle for the fifth position had heated up between Pernesiglio, Botelho, and Kyle Carpenter. The three diced for position over on the white flag with Pernesiglio maintaining his position.

At the checkers Cabral scored the win over Payne, Cantor, Seitz and Pernesiglio. Botelho came home sixth over Carpenter, Keeler, and Barry Kittredge. The elder Cabral rounded out the top-ten in the finishing order.

Next up for the Northeastern Midget Association is the prestigious Boston Louie Seymour Memorial at Seekonk Speedway in Seekonk, MA on August 27, 2005. The event is the crown jewel of NEMA competition.
Waterford Speedbowl Finish - 8/6/05
Pos.
#
Driver
Hometown
Owner
1
29
Randy Cabral
Plymouth, MA
Bobby Seymour
2
45
Joey Payne
Pomona, NJ
Gene Angelillo
3
7ny
Adam Cantor
Dix Hills, NY
Cantor Racing
4
17
Ben Seitz
Monument
Beach, MA
Pete Valeri
5
50
Pete Pernesiglio
Lake Grove, NY
Pete Pernesiglio
6
54
Keith Botelho
Plainville, MA
Marco Campanale
7
12
Kyle Carpenter
Gloucester, MA
Brad Carpenter
8
55
Mike Keeler
Danbury, CT
Kevin Keeler
9
21
Barry Kittredge
Marlborough, MA
Barry Kittredge
10
35
Glen Cabral
Plymouth,MA
Glen Cabral
11
44d
Ed Breault
Lincoln, RI
Ed Breault
12
3
Tommy Spada
Kensington, CT
Gino Spada
13
55L
Shawn Torrey
Marshfield, MA
Shawn Torrey
14
A1
Jeff Horn
Ashland, MA
Jeff Horn
15
99
Mike Ordway Jr.
Freemont, NH
Chris Desrosiers
16
22
Andy Shlatz
Enfeld, CT
Alex Shlatz
17
77
Mike Luggelle
Hull, MA
Mike Luggelle
18
5
Larry Cheetham
Bristol, RI
Larry Cheetham
DNS
11
Lee Bundy
Kennebunkport, ME
Lee Bundy
DNS
37
Shane Hammond
E. Bridgewater, MA
Jack Glockner
DNS
99s
Mike Ordway Sr.
Freemont, NH
-
NEMA Returns to the Bowl;
Cantor Looks to Win One
for Tiger Tom
Manchester, CT: This weekend the Northeastern Midget Association makes their first appearance of the 2005 season at the Waterford Speedbowl in Waterford, CT. Ben Seitz of Monument Beach, MA and Bobby Santos III of Franklin, MA have had a stronghold on the Waterford Speedbowl over the last two seasons. The two have combined to win six of the last seven races at the 1/3-mile shoreline oval.

Randy Cabral, no stranger to victory lane at Waterford himself, looks to dethrone Seitz, who won three in 2005 at the Speedbowl. Look for Joey Payne, and a red-hot Jeff Horn to be in contention when the checkered flag flies.

In 2004, Seitz earned his career first at the Speedbowl. History could repeat itself at Waterford as a win is surely in the making for rookie Mike Keeler of Danbury, CT. A host of other drivers will be ready and able to enjoy the spoils of victory on Saturday night. No matter who stands in victory lane at the Speedbowl, fans are almost assured to see an exciting race.

The high banks of the Waterford Speedbowl have often been the site of some of the most exciting races for the Northeastern Midget Association. Regarded as one of the best Midget tracks in the northeast, the Waterford Speedbowl has played host to 66 races dating back to 1953 when Bill Eldridge won the first NEMA Midget race at the Speedbowl.

"This is definitely one of the better Midget tracks that we go to," says Adam Cantor, who has a career best finish of fourth at the Waterford Speedbowl.

Cantor of Dix Hills, NY is looking to get his season back on track at the Speedbowl. Despite a win at Adirondack, mechanical woes have plagued the Cantor Racing team this season. A pair of seventh place finishes at Thompson and Star Speedways have been the bright spots since the win back on June 4th. It is not for a lack of effort. The Cantor Racing team works hard behind to prepare for each event. Adam Cantor Racing gets financial support from long-time sponsors IGA-Fort Salonga Market, GR Auto Supply, Black Forest Auto Body, and Phil's Machine Service.

During his short career in NEMA, he was part of the "young gun" class of 2001 when NEMA eased its age restriction, Cantor has visited victory lane at Adirondack and at Star. To Adam Cantor winning is not everything, it is the only thing. The young driver, who got his start in two-cycle road course go-karts, has 200 career victories to his credit. Every week, Cantor races to win.

"Ever since I started racing, I never got into winning championships, "said Cantor. "You go to win races. I think I got that from the Baldwins."

Cantor carries the 7NY on his cars in reverence of his mentor, the late Tommy Baldwin, Sr. Allan, Adam's father, worked on Tommy's cars for over 30 years. Today, Adam is an employee of Baldwin Automotive.

"My dad worked on the racecars so I got to know both Tommy Sr. and Jr. very well," continued Cantor. "I admire the Baldwins not only as racers but the kind of people they are."

Cantor dreams of following in the footsteps of Tommy Baldwin, Jr. The 20-year old has aspirations of heading down south to compete in the Nextel Cup Series.

"I would like to think that I am a lot like Tom," continued Cantor full of pride. "I guess that can get me in trouble sometimes. You always knew what he thought. Tom Baldwin was never fake. There are too many cookie cutter people in the sport today."

Adam Cantor understands that Tom Baldwin, Sr. was a dying breed. Much like his mentor, Cantor will strive to reach his dream by racing hard and being true to himself and his roots.

Cantor heads to the Speedbowl on the heals of his participation in the Tom Baldwin Memorial event at the Riverhead Raceway where he joined his fellow employees, Tom Baldwin, Jr. and the Baldwin family along with a huge crowd of fans to help celebrate the life of the man they called the "Tiger". Long-time friend Wayne Anderson scored the victory in the 77-lap Modified event.

You can bet that Adam Cantor would like to win one for Tiger Tom Baldwin as well this weekend when he visits the Speedbowl. And the Waterford just might owe him one. In 2004, mechanical failure sidelined Cantor's 7NY while leading the race.

"We have had a couple of really good runs at Waterford," said Cantor. "We broke while leading last season. We can never seem to get a good car and good luck at the same time."

Or better yet, maybe Adam Cantor owes Waterford one.
Payne Sees Speedbowl
As Perfect Midget Track
Joey Payne Jr., the "Jersey Jet" will be making his second Waterford Speedbowl start of 2005 Saturday night when the Northeastern Midget Association (NEMA) makes its first visit. Payne was seventh earlier this year in the IMSA race.

"Obviously, it is a relatively tight place for the Supers," explains Payne who drives the Gene Angelillo #45 and comes to the Speedbowl second in NEMA points. "You have three times as much horsepower in a Super. You have to be careful."

A Midget at the Speedbowl, however, is "a pedal to the metal thing" Payne, the 2003 NEMA champion, continues. "It is very fast and very wide and things happen very quickly. You carry nearly as much speed through the corners as you do in the straights. It is momentum track, like a ball on a string if it's going right."

A NEMA 25-lap feature is part of an agenda that includes the SK-Modifieds, Late Models, Mini Stocks and Sportsman. Qualifying begins at 5 PM. Point leader and defending champion Ben Seitz, who won three of NEMA's four Speedbowl visits last year, is the driver to watch.

The association with Midgets goes back to the Speedbowl's first season - 1951. It is a charter member of NEMA, hosting the club's second race in 1953. There are few secrets left. "You can't go there with a test set-up," says Payne. "You have to be right
on because there are 10-12 guys who can win every night."

Payne claims the "unofficial" Midget record at the Speedbowl, a 12.9 lap set during practice in June of 2004. "That is on the verge of being out of control," says Payne, pointing out the lap was measured by the track's electronic scoring system.

There is no time to relax in a Midget at the Speedbowl where Payne estimates "we probably hit speeds of 110 in back straight and 95 though corners." He will start ninth meaning he'll "have to make some moves to go the front right at the start."

The Speedbowl is a near-perfect Midget track and, Payne says, a favorite spot for most of NEMA. "With a stock car you have inside and outside grooves," he says. "With the Midgets you have three grooves. The grip is as good or better than any track we race on.
You have the car under you all the time which makes it a great passing track."

While the "the middle groove is the fastest way around" Payne says he has made moves "with my left front down in the dirt."

Payne, who has six podium finishes at the Speedbowl including a win in the 2003 Boston Louie, set fast time with a 13.380 run at the 2002 Louie. He has "always been fast at the Speedbowl but all too often ran into tire trouble and had to nurse the car home."

Angelillo has won at the Speedbowl with four different drivers - Drew Fornoro (6), Russ Stoehr (2), Payne and modified ace Ted Christopher.

A 12.2 lap was the fastest IMCA lap recorded but Payne in convinced "that is sure to come down when they come again." IMSA, Payne says, was "very happy with the Speedbowl.

Speedbowl/Midget Notes: Ben Seitz and car owner Peter Valeri have a warm spot for the Speedbowl. There were very successful in Legends there. Seitz won his first-ever Midget feature in last year's NEMA opener at the Speedbowl.

- Johnny Thomson, long regarded as New England's greatest open-cockpit driver, won the first two Midget races at the Speedbowl in 1951. That same year George Tichenor set fast time with a 17.92 run, a far cry from the low 13 seconds circuits that are now commonplace.

- Drew Fornoro and Bobby Seymour, with six and five respectively, are the all-time Midget Speedbowl win leaders. Active drivers Mark Buonomo and Bobby Santos III have four apiece. Randy Cabral, currently running third in driver points, has eight podium finishes at the Speedbowl including one win and five thirds. Ageless Jeff Horn, the surprise winner at Stafford, was a Speedbowl winner over 25 years ago.