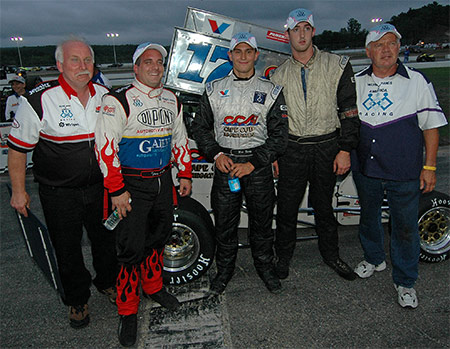 Mike Scrivani, NEMA President; Joey Payne, 2nd; Ben Seitz, 1st;
Ryan Dolan, 3rd; and Mike Jarret, Helping Hands of America
Photos by Norm Marx
Thompson Finishing Order - 6/30/05
Pos.
#
Driver
Hometown
Owner
1
17
Ben Seitz
Monument
Beach, MA
Pete Valeri
2
45
Joey Payne
Pomona, NJ
Gene Angelillo
3
15
Ryan Dolan
Acton, MA
Jay Dolan
4
12
Nokie Fornoro
Reeders, PA
Brad Carpenter
5
2
Chris Perley
Rowley, MA
Don Berrio
6
44
Ed Breault
Lincoln, RI
Ed Breault
7
7ny
Adam Cantor
Dix Hills, NY
Cantor Racing
8
A1
Jeff Horn
Ashland, MA
Jeff Horn
9
99
Mike Ordway Jr.
Freemont, NH
Chris Desrosiers
10
37
Shane Hammond
E. Bridgewater, MA
Jack Glockner
11
55
Mike Keeler
Danbury, CT
Kevin Keeler
12
78
Doug Cleveland
Sudbury, MA
Linda Cleveland
13
77
Mike Luggelle
Hull, MA
Mike Luggelle
14
28
Paul Luggelle
Holbrook, MA
Paul Lugelle
15
26
Paul Stoehr
Lakeville, MA
Bruce Beane
16
58
Phil DiMario
Piermont, NY
Cantor Racing
17
35
Randy Cabral
Plymouth, MA
Glen Cabral
DNS
22
Andy Shlatz
Enfield, CT
Alex Shlatz
DNS
55L
Shawn Torrey
Marshfield, MA
Shawn Torrey
DNS
11
Lee Bundy
Kennebunkport, ME
Lee Bundy
DNS
3m
Nokie Fornoro
Reeders, PA
Jim Miller
DNS
29
Randy Cabral
Plymouth, MA
Bobby Seymour
Cape Cod Aggregates "Hard Charger" - Nokie Fornoro #12
Seitz Dominates in Thompson Win

Thompson, CT: Ben Seitz of Monument Beach, MA was the star of the show on Thursday night at Thompson International Speedway as the Northeastern Midget Association made their traditional Independence Day Weekend visit to the 5/8th-mile speedway. The young driver from Cape Cod, MA had a straightaway lead when he headed under the checkers for this third feature win of the year and second-in-a-row.

Seitz launched to the lead over Ed Breault on lap number two and made it look easy as he stormed to the commanding win. Joey Payne looked strong early following Seitz right to the front in the opening laps but had nothing for Seitz as the race marched on.

During the first caution of the event, Adam Cantor ducked down pit road for service to his machine. The young driver was able to return to the event and quickly worked his way back inside the top-ten. Defending race champion, Randy Cabral was not as lucky. Under the same caution, he brought his Crown Collision #36 down pit road with mechanical woes that ended his night.

With Seitz and Payne out front, the best action on the track featured Ryan Dolan and Helping Hands of America teammates for the night Nokie Fornoro, who was driving in relief of Kyle Carpenter, and Chris Perley. These three cars swapped positions among themselves while working through traffic.

After the 25-lap distance was complete, it was Seitz with a commanding win over Payne. Dolan had a great run to finish in the third spot ahead of Fornoro and Perley. Breault held on to finish in the sixth spot and Cantor recovered from his early race problems to finish seventh. Jeff Horn, Mike Ordway Jr., and Shane Hammond rounded out the top ten.

The Cape Cod Aggregates "Hard Charger" of the race was Nokie Fornoro. Heat race wins went to Randy Cabral and Chris Perley.

The Midgets are back in action on July 9, 2005 for their second visit of the year to the Star Speedway in Epping, NH.