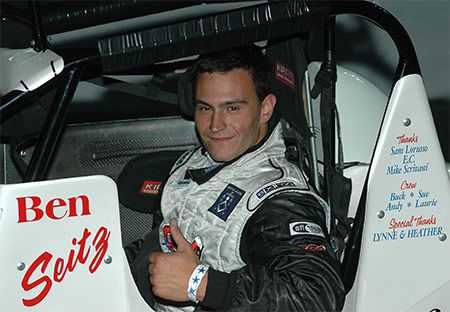 NEMA's Seitz Returns to His Winning Ways at Seekonk
Seekonk, MA: Ben Seitz of Monument Beach, MA came from deep in the field to win the 25-lap Northeastern Midget Association main event at Seekonk Speedway on Saturday night. The 2004 series champion had worked his way to third by lap 5 behind early race leader Shane Hammond and Bobby Santos III. On lap eight, Seitz took the lead and never looked back. Randy Cabral charged late in the race but ran out of laps to make any serious bid on the leader. Rookie sensation Mike Keeler of Danbury, CT continues to impress with his second straight podium finish.

"It feels great to be in victory lane again," said Seitz. "This was fun tonight. It was good to race with Bobby (Santos) again and it is always exciting to race with Randy (Cabral). I think we all are going to have to watch out for Mike (Keeler) he is really coming on strong. There are so many great competitors in this division that it makes the win all that much sweeter."

Shane Hammond jumped out to the early lead from his outside pole starting position with Bobby Santos III taking chase. Santos, who has successfully made the transition to USAC Midget and Sprint car racing, was making a rare NEMA appearance driving the Helping Hands #2 in relief of Chris Perley, who had previous race commitments with ISMA.

The first caution of the event flew when pole sitter Andy Shlatz spun his Rafferty Fine Grating #22. On the restart on lap six, Santos was able to maintain the lead for a pair of laps before Seitz made his move. Seitz put his Cape Cod Aggregates #17 out in front on lap eight and set sail for the victory. Randy Cabral made good use of the restart as well making a three-wide move in the outside groove overtaking both Pete Pernesiglio and Ed Breault to move from sixth position to third.

An incident involving Barry Kittredge and Glenn Cabral brought out the second caution of the event. On the restart it continued to be Seitz, Santos, Cabral and Hammond. Keeler had moved into the top-five by this point with Joey Payne lurking in sixth.

After a quick side-by-side battle between Seitz and Santos on the restart, Santos settled back into second behind Seitz. Santos immediately had his hands full as Cabral looked to take away the second spot. Before the third and final caution flew for a spin by Mike Ordway, Jr., the runner-up spot belonged to Cabral.

On the single file restart, Seitz took off from the rest of the pack to post his second win of the season. Cabral drove the Seymour #29 to a second place finish with Keeler taking over third in the final laps. Santos settled for fourth ahead of Joey Payne. In his first start of the 2005 season, Jeff Horn came home sixth. Ed Breault, Hammond, Pernesiglio, and Doug Cleveland rounded out the top-ten.

"My car owner Peter Valeri gave me a great car as usual," continued Seitz, "And I I really have to thank Cape Cod Aggregates for all their support."

Seitz will look to make it two in a row in 2005 and Randy Cabral seeks to repeat in the Thompson Classic 25 when the Club returns to action on June 30, 2005 at Thompson International Speedway in Thompson, CT. For more information on the event at Thompson that will also feature an Independence Day fireworks spectacular, visit www.thompsonspeedway.com.
Seekonk Finishing Order - 6/18/05
Pos.
#
Driver
Hometown
Owner
1
17
Ben Seitz
Monument
Beach, MA
Pete Valeri
2
29
Randy Cabral
Plymouth, MA
Bobby Seymour
3
55
Mike Keeler
Danbury, CT
Kevin Keeler
4
2
Bobby Santos III
Franklin, MA
Don Berrio
5
45
Joey Payne
Pomona, NJ
Gene Angelillo
6
A1
Jeff Horn
Ashland, MA
Jeff Horn
7
44
Ed Breault
Lincoln, RI
Ed Breault
8
37
Shane Hammond
E. Bridgewater, MA
Jack Glockner
9
50
Pete Pernesiglio
Lake Grove, NY
Pete Pernesiglio
10
78
Doug Cleveland
Sudbury, MA
Linda Cleveland
11
7ny
Adam Cantor
Dix Hills, NY
Cantor Racing
12
35
Glen Cabral
Plymouth, MA
Glen Cabral
13
22
Andy Shlatz
Enfield, CT
Alex Shlatz
14
55L
Shawn Torrey
Marshfield, MA
Shawn Torrey
15
28
Paul Luggelle
Holbrook, MA
Paul Lugelle
16
107
Babe Shaw
Concord, MA
Babe Shaw
17
11
Lee Bundy
Kennebunkport, ME
Lee Bundy
18
99
Mike Ordway Jr.
Freemont, NH
Chris Desrosiers
19
21
Barry Kittredge
Marlboro, MA
Barry Kittredge
20
77
Mike Luggelle
Hull, MA
Mike Luggelle
Cape Cod Aggregates "Hard Charger" - Randy Cabral