Scarborough, ME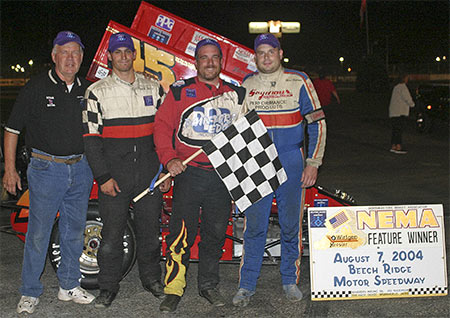 L to R: Mike Jarrett from Helping Hands, Ben Seitz #17, 2nd;
Joey Payne #45, 1st; and Mark Buonomo #29, 3rd.
Joey Payne the Beech Ridge Feature Winner
On Saturday night, August 07, with rain threatening but holding off, NEMA headed up to Beech Ridge Motor Speedway in Scarborough, ME for 25 laps of wild speed.

After two nail biting qualifying heats - won by Bobby Santos in the Cabral #35 and Joey Payne in the Angelillo #45 - the feature grid had the talented drivers and fast cars starting from sixth to twelfth.

With only two cautions, the race was fast moving. Joe Payne and Ben Seitz #17 made their moves early on coming from starting positions of 6th and 12th.

On lap five the yellow flew for Matt O'Brien #16 and Tommy Spada #33 spinning in the middle of the back straight. Then on lap 7, the second and final caution came out for Lee Bundy #11 and Bob Bradbury #57. Bradbury's midget broke the rear end, lost a wheel, and went spinning over the edge of turn three.

On the restart, Mark Buonomo in the Seymour #29 had the engine bog while Payne roared away from the pack, setting his sights on the checkers. Seitz probably had the fastest car on the track, but couldn't catch Payne in the laps remaining.

Competition for third on back was heated with young Sean Dolan in #25, Bounomo #29, Randy Cabral# 36, and Kyle Carpenter in the #12, Nokie Fornoro #2 and Tim Heath #81 mixing it up.

Taking the win, Joey Payne showed the form he had in his 2003 NEMA Championship season run.

Erica Santos, #98s, made some good moves to finish in the eleventh position. Both #37 Shane Hammond and #44 Ed Breault finished 7 spots better than their starting positions.
Bobby Santos suffered mechanical problems in the main and dropped back.

Next up for the NEMA tour is the 29 lap Boston Louie Memorial Classic at Waterford Speedbowl on Saturday, August 14th, held in memory of legendary midget, sprint, and Indy car owner Boston Louie Seymour.
Beech Ridge Motor
Speedway - 8/7
1 - 45 - Joey Payne
2 - 17 - Ben Seitz***
3 - 29 - Mark Buonomo
4 - 36 - Randy Cabral
5 - 12 - Kyle Carpenter
6 - 2 - Nokie Fornoro
7 - 81 - Tim Heath
8 - 50 - Pete Pernisiglio
9 - 44 - Ed Breault
10 - 7ny - Adam Cantor
11 - 98s - Erica Santos
12 - 37 - Shane Hammond
13 - 26 - Russ Stoehr
14 - 25 - Sean Dolan
15 - 11 - Lee Bundy
16 - 22 - Andy Shlatz
17 - 16 -Matt O'Brien
18 - 35 - Bobby Santos
19 - 57 - Bob Bradbury
20 - 54me - Jack Parker
21 - 33 - Tommy Spada
22 - 78 - Doug Cleveland

*** - Hard Charger Award