Thompson International Speedway
WORLD SERIES OF SPEEDWAY RACING
October 15-17, 2004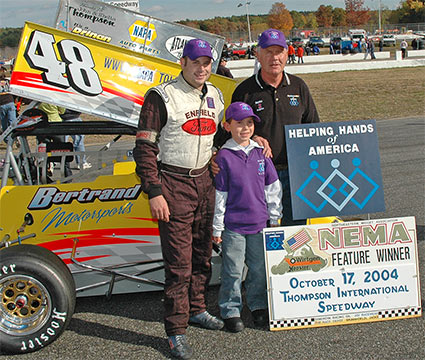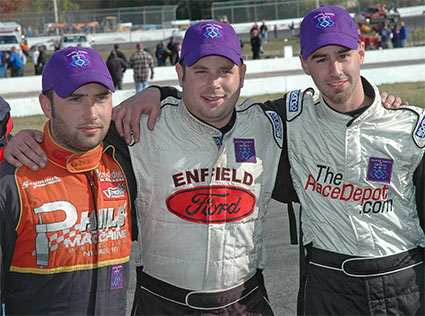 World Series Top Three: L to R - Adam Cantor, 3rd;
Mark Buonomo, 1st; & Randy Cabral 2nd.
Thompson International Speedway
WORLD SERIES OF SPEEDWAY RACING
October 15 to 17 - Three Day Traditional Fall Event
NEMA FEATURE RESULTS
1. #48-Mark Buonomo, Waltham, MA
2. #36-Randy Cabral, Plymouth, MA
3. #7NY-Adam Cantor, Dix Hills, NY
4. #17-Ben Seitz, Monument Beach, MA
5. #81-Tim Heath, Lebanon, CT
6. #44-Ed Breault, Lincoln, RI
7. #15-Ryan Dolan, Acton, MA
8. #2-Nokie Fornoro, Stroudsburg, PA
9. #16c-Drew Fornoro, Newton, NJ
10. #45-Joey Payne, Fairlawn, NJ
11. #50-Pete Pernesiglio, Ronkonkoma, NY
12. #16-Matt O'Brien, Wilmington, MA
13. #37-Shane Hammond, East Bridgewater, MA
14. #33-Tommy Spada, Berlin, CT
15. #A1-Jeff Horn, Hudson, MA (DNF)
16. #25-Sean Dolan, Acton, MA (DNF)
17. #57-Bob Bradbury, Wakefield, RI (DNF)
18. #54-Don Zrinski, Piscataway, NJ (DNF)
19. #35-Bobby Santos III, Marlboro, MA (DNF)
20. #26-Russ Stoehr, Lakeville, MA (DNF)
21. #49-B. J. MacDonald, Dublin, PA (DNF)
22. #22-Andy Shlatz, Enfield, CT (DNF)
23. #77-Mike Luggelle, Hull, MA (DNF)
24. #98-Erica Santos, Marlboro, MA (DNF)
25. #58-Phil DiMario, Piermont, NY (DNS)
Buonomo Scores Win
at World Series
Thompson, CT: Mark Buonomo of Waltham, MA has a way of coming up big in big races. This weekend he took home the top prize in the season-finale for the Northeastern Midget Association at the World Series of Speedway Racing at Thompson International Speedway on Sunday afternoon.

Buonomo came on strong in the end of the event to wage a great battle for the lead with Randy Cabral of Plymouth, MA. The two swapped the lead back and forth for a handful of laps before Buonomo finally came away with the clear advantage and the win.

It was the second win for Buonomo in three weeks in his second different car. The World Series win came in the Tim Bertrand owned Midget while his win two weeks ago in the D.A.V. Memorial at Seekonk Speedway came aboard the Bobby Seymour-owned #29.

Pole sitter Sean Dolan led the opening lap of the World Series event at Thompson with Adam Cantor following into second but it was Randy Cabral that would set the pace early. Cabral motored by both Cantor and S. Dolan on lap two to take the lead. Meanwhile Buonomo, Nokie Fornoro and Ben Seitz were making easy work of coming to the front.

With only five laps into the event, Buonomo was starting to make his presence known. S. Dolan headed a three-car battle for second with Cantor and Buonomo. The battle was short-lived as Buonomo went by both on lap seven. He then set his sites on leader Cabral, who had marched out to a sizeable lead. Seitz, N. Fornoro and now Joey Payne continued to move toward the front.

Buonomo had chopped Cabral's lead to within ten-car lengths and Cantor finally freed himself of S. Dolan on lap 10. At the halfway marker, Cabral continued to lead with Buonomo chasing. Cantor was solidly in third with Seitz and N. Fornoro filling the top-five.

On lap 16 Seitz and Fornoro were locked in the best battle in the field. Fornoro dogged Seitz for the position and finally made the pass stick. S. Dolan saw his day end when his #25 slowed on lap 18. Buonomo's car appeared to loosen up as the laps wounded down allowing Cabral to lengthen his lead once again.

Cabral watched that lead disappear when the first and only caution flag of the event flew on lap 21 when the #54 of Don Zrinski came to rest on the front stretch. On the restart, Cabral headed Buonomo, Cantor, N. Fornoro, and Seitz.

Buonomo got a run on the restart getting up alongside Cabral. The two went wheel-to-wheel for the entire distance of lap 21. At the stripe, Buonomo was scored as the new leader. Cabral did not give up easily; however, and the two spent the next few laps dicing for the lead. Meanwhile Seitz, who had gotten Fornoro on the start, was making a run on Cantor for third.

In the end, Buonomo was able to stretch his lead slightly to take the win over Cabral. Cantor maintained his position forcing Seitz to settle for fourth.

Tim Heath came on strong in the waning laps to finish out the top five.

Ben Seitz of Monument Beach, MA was officially crowned the 2004 Midget championship for car owner Peter Valeri.
Heat 1 - Joey Payne

World Series - 10/16 - Heat 1 (8 laps)
1. #45-Joey Payne, Fairlawn, NJ
2. #35-Bobby Santos III, Marlboro, MA
3. #15-Ryan Dolan, Acton, MA
4. #44-Ed Breault, Lincoln, RI
5. #81-Tim Heath, Lebanon, CT
6. #7NY-Adam Cantor, Dix Hills, NY
7. #58-Phil DiMario, Piermont, NY
8. #A1-Jeff Horn, Hudson, MA
9. #16-Matt O'Brien, Wilmington, MA
10. #22-Andy Shlatz, Enfield, CT
11. #77-Mike Luggelle, Hull, MA
12 . #54-Don Zrinski, Piscataway, NJ
13 #57-Bob Bradbury, Wakefield, RI

Heat 2 - Mark Buonomo

World Series - 10/16 - Heat 2 (8 laps)
1. #48-Mark Buonomo, Waltham, MA
2. #36-Randy Cabral, Plymouth, MA
3. #17-Ben Seitz, Monument Beach, MA
4. #26-Russ Stoehr, Lakeville, MA
5. #25-Sean Dolan, Acton, MA
6. #16c-Drew Fornoro, Newton, NJ
7. #50-Pete Pernesiglio, Ronkonkoma, NY
8. #49-B. J. MacDonald, Dublin, PA
9. #33-Tommy Spada, Berlin, CT
10. #37-Shane Hammond, East Bridgewater, MA
11. #2-Nokie Fornoro, Stroudsburg, PA
12. #98-Erica Santos, Marlboro, MA


Photos by
Norm Marx

SUNDAY
RACE
ACTION