1 - 32 Barger
2 - 17 Seitz
3 - 50 Pernisiglio
4 - 7ny Cantor
5 - 91 Fornoro
6 - 56 B. Boetticher
7 - 57 Bradbury
8 - 10 Bundy
9 - 10c Caisse
10 - 18 Gerbe
11 - 16 O'Brien



Heat 2

1 - 35 B. Santos
2 - 44 Breault
3 - 45 Payne
4 - 8 E. Santos
5 - 22 Shlatz
6 - 15 Dolan
7 - 81 Heath
8 - 12 Carpenter
9 - 77 Lugelle
10 - 45 R. Boetticher
11 - 3 Spada
12 - 2 Bumpus (DNS)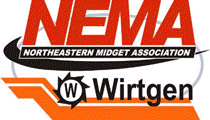 Beech Ridge Motor Speedway
July 26, 2003
Feature
| | | | |
| --- | --- | --- | --- |
| 1 | 50 | Pete Persnesiglio | - |
| 2 | 15 | Ryan Dolan | - |
| 3 | 36 | Randy Cabral | - |
| 4 | 91 | Drew Fornoro | - |
| 5 | 81 | Tim Heath | - |
| 6 | 45 | Joey Payne | - |
| 7 | 12 | Kyle Carpenter | - |
| 8 | 44 | Ed Breault | - |
| 9 | 8 | Erica Santos | - |
| 10 | 7ny | Adam Cantor | - |
| 11 | 17 | Ben Seitz | - |
| 12 | 46 | Rudy Boetticher | - |
| 13 | 35 | Bobby Santos III | - |
| 14 | 22 | Andy Shlatz | - |
| 15 | 16 | Matt O'Brien | - |
| 16 | 56 | Bob Boetticher | - |
| 17 | 57 | Bob Bradbury | - |
| 18 | 18 | Rich Gerbe | - |
| 19 | 2 | Howie Bumpus | - |
| - | 3 | Tommy Spada | DNS |
| - | 10 | Lee Bundy | DNS |
| - | 10c | Sean Caisse | DNS |
| - | 29 | Bobby Santos III | DNS |

Pernesiglio Winner
at Beech Ridge
Scarborough, ME – When Pete Pernesiglio got under Bobby Santos III, the latter in the Cabral #35, coming out of four, his father/car owner "Mazda Pete" Pernesiglio thought "it looks like it's going to be our night."

His son made that premonition look good Saturday night winning the 25-lap Northeastern Midget Association feature at Beech Ridge Motor Speedway. It was the third career win for the father/son team.

Starting fifth, Pernesiglio tucked inside Santos exiting four and established control down the straightaway. He survived a pair of restarts and went on to finish five car lengths in front of Ryan Dolan and Randy Cabral.

The last caution flew with seven remaining. Shortly after Pernesiglio cleared traffic Santos made contact with a lapped car and bounced off the wall amidst sparks. Although Santos recovered, he was judged to have brought out the yellow and sent to the back.

On the restart, Pernesiglio got away from Dolan while Randy Cabral took third away from Drew Fornoro. They finished that way with Tim Heath fifth and Joey Payne Jr. sixth.

Santos, who wound up 13th, jumped into second Cabral car after losing the motor in the Seymour 29 (he usual ride) in the second practice session.

Payne and owner Gene Angelillo take the respective NEMA/Wirtgen America point leads into Saturday's Boston Louie Memorial at Waterford Speedbowl. Payne and Angelillo lead Fornoro and the Campanale Brothers by 84. Santos is the defending "Louie" champion.

Pernesiglio, whose last win came at the Speedbowl, is the fifth different NEMA winner his year joining Fornoro, Payne, Cantor, and Santos.

NEMA Returns to Beech Ridge
The first time Drew Fornoro drove at Beech Ridge Motor Speedway, back in 1986, he finished third behind Dave Humphrey and Billy Mann. He went on to win his third Northeastern Midget Association driving championship.

The last time NEMA visited Beech Ridge (1999), Fornoro posted a third (behind Russ Stoehr and Keith Botelho)
enroute to his ninth (and, so far, his last) championship. In between, Fornoro scored four wins, making him NEMA's all-time win leader at "The Ridge."

Going back to 1955 when George Tilton collected his only NEMA win on the dirt, Beech Ridge has hosted 16 NEMA events. Rick Hart, Joey Coy and Stoehr are the only other drivers in double figures, each with a pair of wins.

Stoehr calls Beech Ridge "a big rhythm track" pointing out "you use no brakes at all. You just ease in and out of the throttle. You just try to carry as much momentum as you can at Beech Ridge. There is plenty of room to do whatever you want."

Just as is was last week at Lee, many of NEMA's young competitors will be seeing Beech Ridge for the first time and, no doubt, looking for some advice.

"When the car is working well you're always turning left," offers Bobby Seymour. "You come off on the bottom, head for the wall and, in the middle of the straightaway, head for the bottom of the turn. You go right around the turn on the bottom and you use no brake."

High on the list of Beech Ridge Midget memories was the 1990 race. Ken Schrader, then and now a Winston Cup star, and Seymour, both in Seymour-prepared cars, along with Fornoro put on a dazzling show. Both Seymour cars fell out in the late stages of the race.
NEMA FEATURE WINNERS AT
Beech Ridge Motor Speedway

Wins

Driver
First
Last

4
2
2
2
1
1
1
1
1

Drew Fonoro
Rick Hart
Joey Coy
Russ Stoehr
George Tilton
Dave Humphrey
Mike Osite
Jeff Horn
Mike Seymour
1988
1975
1991
1998
1955
1986
1987
1993
1995
1992
1975
1994
1999
Kim DeMonte Photos