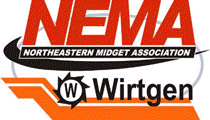 Lee Speedway
July 19, 2003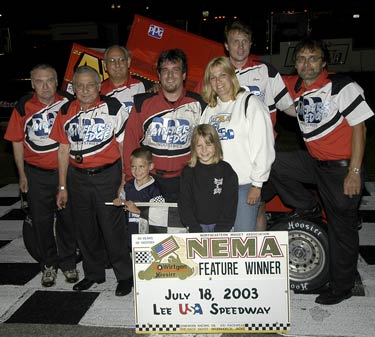 Feature
1
45
Joey Payne
-
2
81
Tim Heath
-
3
17
Ben Seitz
-
4
29
Bobby Santos III
-
5
36
Randy Cabral
-
6
15
Ryan Dolan
Hard
Charger
7
10c
Sean Caisse
-
8
12
Kyle Carpenter
-
9
44
Ed Breault
-
10
57
Bob Bradbury
-
11
10
Lee Bundy
-
12
18
Rich Gerbe
DNF
13
2
Howie Bumpus
DNF
14
7ny
Adam Cantor
DNF
15
35
Glen Cabral
DNF
16
3
Tommy Spada
DNF
17
91
Drew Fornoro
DNF
18
6
Paul Lawless
DNF
19
32
Erica Santos
DNF
-
77
Mike Lugelle
DNS
-
8
Erica Santos
DNS

Lee, NH – Joey Payne Jr. chased down early lead Tim Heath with 14 laps remaining and went on the capture the 25-lap Northeastern Midget Association feature Friday night at Lee USA Speedway. It marked NEMA's first visit to the Southern New Hampshire oval since 1994.

It was the second win of the season for Payne and car owner Gene Angelillo, both leading the respective Wirtgen America/NEMA point races. "This one is for real," said Payne, who got the first checkered when the leader was DQed.

The race turned on a lap 10 fourth-turn move. Riding forth, Payne passed both second place Sean Caisse and Bobby Santos III with a daring inside move that carried him to second. Santos had passed Payne out of two seconds before. Payne was on Caisse's tail heading into four.

"Bobby was working the outside and it looked like he had a shot," continued Payne, "then the 10 (Caisse) pushed up and took his line away. A little hole opened up. We rubbed a little but with these guys you have to take every inch. Nothing is given."
Payne opened an edge over Santos, who despite engine problems moved into second on lap 15. Santos eventually wound up fourth with a sputtering engine. "The engine was not right all night," said Santos.

Heath, who re-passed Santos in the final laps, wound up with a career-best second followed by Ben Seitz. Randy Cabral was fifth. "I can't see what's going on behind me," said Heath "but I wasn't thinking about anything but going ahead."

Back-to-back" restarts three laps in shaped the race as well. Drew Fornoro's Campanale Bros. 91 lost an engine heading into one on lap three, igniting a five-car incident. "In 31 years of racing I've never seen an engine that bad," said Fornoro. "You can look through the top and see the ground."

The first restart attempt was aborted when Glen Cabral wound up in the backstretch wall. "I was becoming frustrated with all the yellows," said Payne. There were no more. On the green, Heath took the lead from Caisse and both Payne and Santos quickly moved into the picture.

Kyle Carpenter and Caisse were heat winners.

"We'll take it but I really can't count it," Payne said of the earlier win at Star. "Passing all those guys, this one is for real. This one was for Tony [Stewart]. It's always nice to win in front of a [visiting] Winston Cup Star."
The Northeastern Midget Association returns to Lee USA Speedway for the first time in nine years Friday night, July 19. The Midgets have not been at the New Hampshire three-eights since Bob Resco Jr. won at the 1994 Octoberfest.

Although it will be the 23rd NEMA visit, date back to 1966, most of NEMA will be getting their first look at Lee. Many of NEMA's youngsters will be seeking help.

Drew Fornoro could well be the only driver with a Lee Midget win in the field. Fornoro, who has himself and the Campanale Brothers in the thick of the point races, has six wins at Lee, the last in 1990. Joey Payne Jr., who drives for Gene Angelillo has won at Lee in a Supermodified.

Payne remembers "setting the car up with a push and then using the ripples to loosen it up." He cautions turns two and four are "totally different" and "you can be caught off guard coming out of two."

Payne finished eighth in the Miller #3 the last time NEMA visited Lee.

Bobby Seymour, who also won at Lee in 1990, is now Bobby Santos III's car owner.

"You get in a little high, turn the car in the middle and make a long straightaway out of it," recalls Seymour who had a pair of thirds in 1994. "In turn two, you've got to exit straight because the wall comes up quickly and can get you."

Russ Stoehr, a two-time Lee winner, calls Lee a real challenge for a Midget, pointing out "the corners are tighter than the striaghtaways are long. You can't carry a lot of momentum through the corners. You've got to back it way down and get out of the hole as quickly as you can."

Walt Gale won the first NEMA race at Lee on June 12, 1966 besting Dave Humphrey and Bill Stofer.

NEMA FEATURE WINNERS AT
LEE USA SPEEDWAY

Wins

Driver
First
Last

6
3
2
2
2
1
1
1
1
1
1
1

Drew Fonoro
Jeff Horn
Dave Humphrey
Nokie Fonoro
Russ Stoehr
Walt Gale
George Monson
Mike Osite
Joey Coy
Bobby Seymour
Mike Favulli
Bob Resco Jr.
1985
1987
1967
1986
1990
1966
1967
1987
1989
1990
1991
1994
1990
1994
1985
1989
1991
Photos by
Norm Marx
nmarx-dtp
@comcast.net