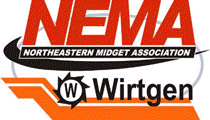 Waterford Speedbowl
October 5, 2003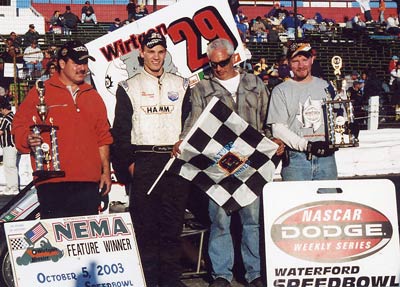 Santos Dominates
at Waterford
The only question was, what was the better move?

Was it in turns three and four when he emerged from a four-car battle with second place?

Or, was it in turn one when he took the lead with 10 to go?

There was no question about Bobby Santos III's 25-lap Northeastern Midget Association feature win Sunday at Waterford Speedbowl's Town Fair Tire Finale. It was a dominating performance, the 18-year old winning the non-stop event by a half lap. He started 16th.

"I had a awesome car," said Santos who quickly credited car owner Bobby Seymour with making key decisions regarding stagger. The team had limited practice. "He told me what he was going to do," said Santos. "We agreed on it and that's where he put it. It was as close to perfect as it could be."

Santos took the lead with a three-wide pass in turn one. Pete Pernesiglio and Santos, running one-two, came up on a lapped car in the middle of the straightaway. Pernesiglio went high and Santos low, the latter skirting the infield through one. Santos, who celebrated his 18th birthday Oct. 3, then simply ran away.

"I saw my shot and I figured I had to take it," Santos continued.

"I though we had enough to do it," said Pernesiglio, who was 'nursing" a right rear. "Actually, I wondered if [Bobby] blew up. I couldn't see him. I kept trying to look at the scoreboard and finally I realized he was still there."

Pernesiglio finished second with rookie Sean Caisse third. Erica Santos, Bobby's sister, nipped Drew Fornoro by inches for fourth. Point leader Joey Payne Jr. was sixth.

Santos had climbed to fourth with 12 laps remaining. Ben Seitz, the leader since lap seven, led a four-way battle for the lead into three. Pernesiglio emerged with the top spot with Santos, who appeared to have the car aimed at the infield at one point, taking second. Caisse came out third.

Erica Santos, who started second, was seventh when Bobby passed her. She battled back to catch and do battle with Fornoro over the final circuits, the two actually bumping going under the checkered side-by-side.

According to Santos, Seymour "tried something different and it didn't work" in the limited practice session on Sunday. The team had no practice on Saturday. "It was a guess," Santos said, "but it was good one." Seymour is no stranger to the Speedbowl, driving to five career wins there.

Results:
1. Bobby Santos III, 2. Pete Pernesiglio, 3. Sean Caisse,
4. Erica Santos, 5. Drew Fornoro, 6. Joey Payne Jr.,
7. Randy Cabral, 8. Ben Seitz, 9. Adam Cantor,
10. Kyle Carpenter, 11. Howard Bumpus, 12. Rudy Boetticher,
13. Bob Boetticher, 14. Nokie Fornoro, 15. Doug Cleveland,
16. Bob Bradbury, 17. Paul Lawless, 18. Matt O'Brien,
19. Phil DiMario, 20. Mike Luggelle, 21. Ed Breault,
22. Tommy Spada, 23. Glen Cabral, 24. Ed DeVoe,
25. Russ Stoehr.

John DaDalt
Photos