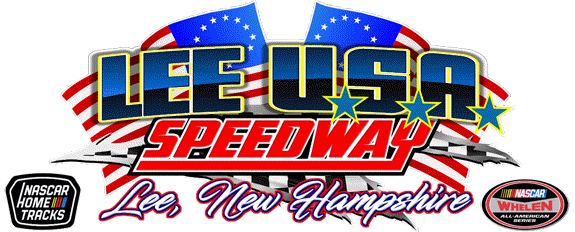 FRIDAY, AUGUST 16

NEMA MIDGETS & NEMA LITES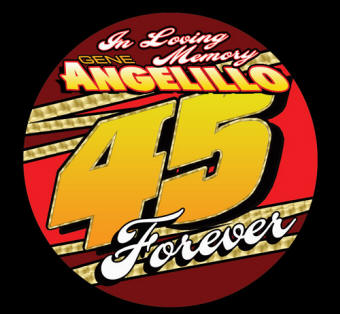 THE NEMA


ANGELILLO MEMORIAL
Remembering Gene and Marilyn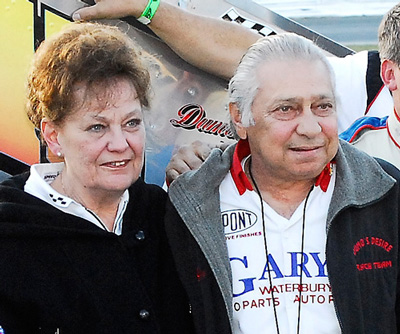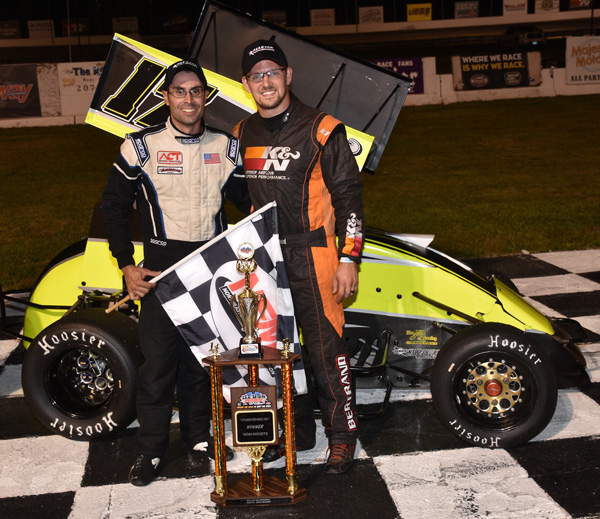 NEMA MIDGETS - L to R: WINNER ALBY OVITT #17,
TODD BERTRAND #48, 2nd,
(not shown) RANDY CABRAL #74, 3rd.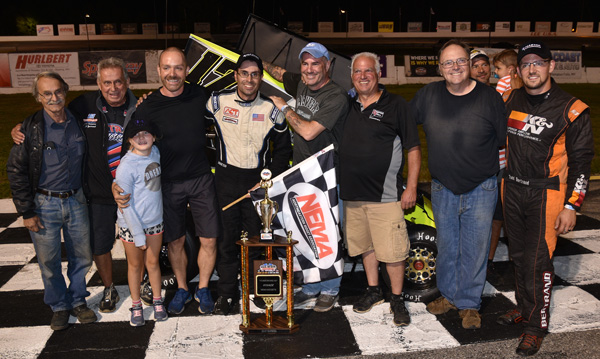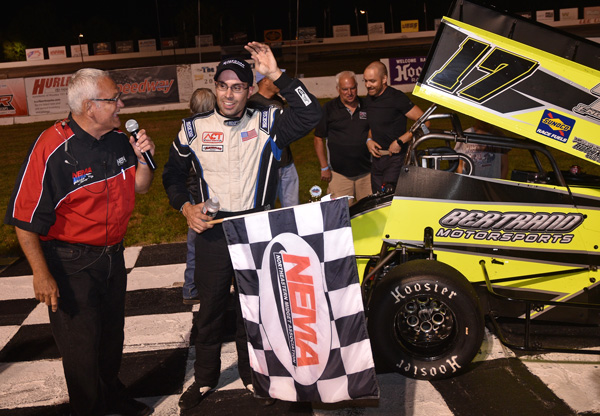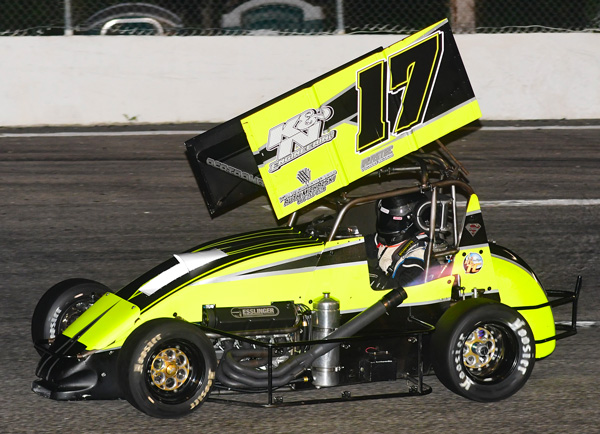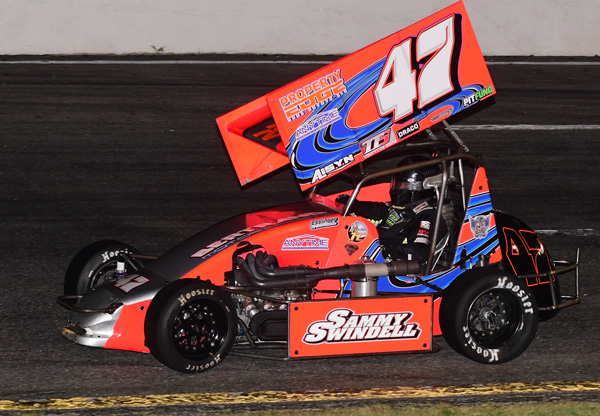 NEMA MIDGETS -

LEE USA - 8/16/19

Pos.
#
Driver
Hometown
Owner
1
17
Alby Ovitt
Somersworth, NH
Bertrand Motorsports
2
48
Todd Bertrand
Danielson, CT
Bertrand Motorsports
3
74
Randy Cabral
Kingston, MA
Bertrand Motorsports
4
21
Jim Chambers
Atkinson, NH
Jim Chambers
5
47
Sammy Swindell
Germantown, TN
Bertrand Motorsports
6
39
Avery Stoehr
Lakeville, MA
Bertrand Motorsports
7
30
Paul Scally
Raynham, MA
Paul Scally
8
18
Andy Lunt
Marion, MA
Christian Briggs
9
A1
Mike Horn
Ashland, MA
Jeff Horn
10
9
John Zych Jr.
Mendon, MA
John Zych Sr.
11
36
Jeff Champagne
Westfield, MA
Glen Cabral

HEAT 1:

48, 9, 18, 74, 21

HEAT 2:

17, A1, 39, 47, 30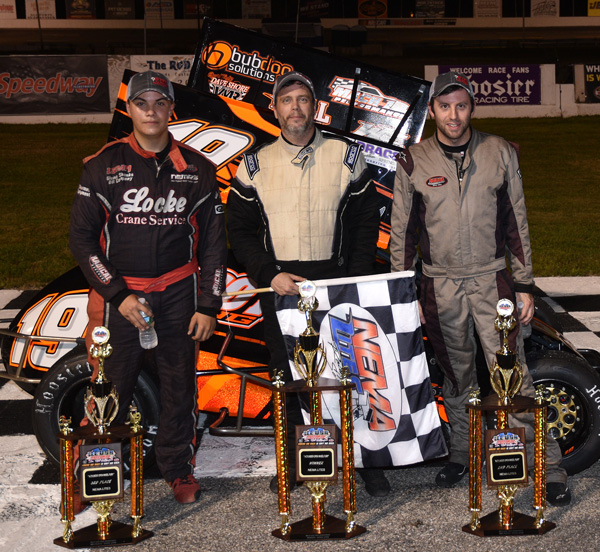 NEMA LITES - L to R: RYAN LOCKE, #38, 3rd;
WINNER RICHIE COY #19; &
PJ STERGIOS #11, 2nd.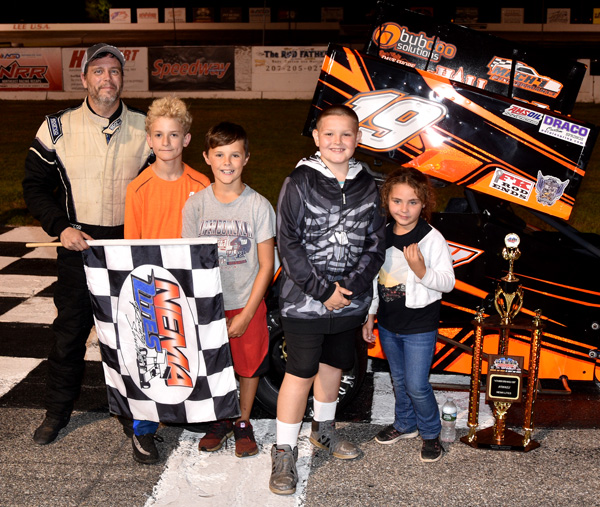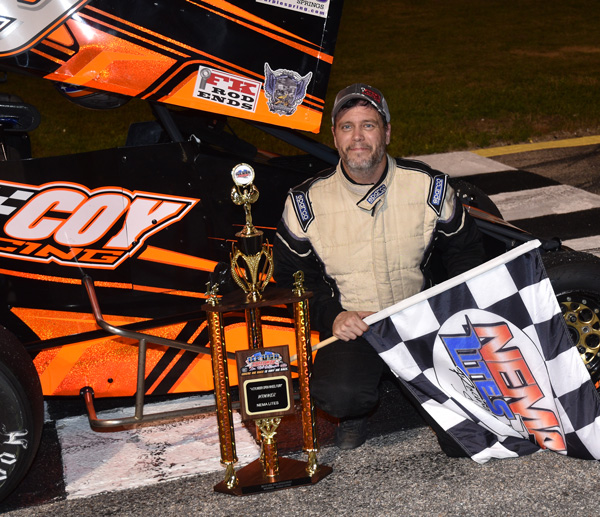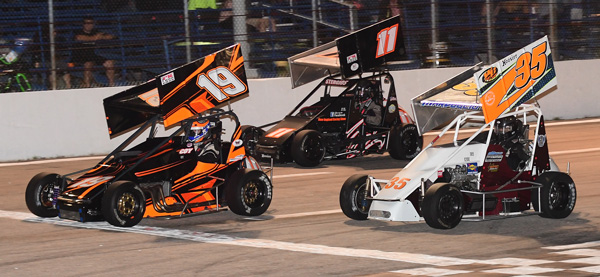 Photos by




Norm Marx
OFFICIAL - NEMA LITES -

LEE USA - 8/16/19
Pos.
#
Driver
Hometown
Owner
1
19
Richie Coy
Haskell, NJ
Richie Coy
2
11
PJ Stergois
Candia, NH
Bill Stergios
3
38
Ryan Locke
Chester, NH
Ken Locke
4
35
Anthony Marvuglio
Bridgewater, MA
Glen Cabral
5
8t
Jake Trainor
Medway, MA
Mike Trainor
6
76
Randy Cabral
Kingston, MA
Frank Manafort
7
12
Alan Chambers
Atkinson, NH
Mike Chambers
8
55
Drew Eldridge
No Chelmsford, MA
Drew Eldridge
9
9
Ben Mikitarian
Northborough, MA
John Mikitarian
10
36
Jeff Champagne
Westfield, MA
Glen Cabral
11
94
Tiana Kibbe
Fairfield, CT
Curt Kibbe
12
88
Chase Locke
Chester, NH
Ken Locke
13
69
Matt Merry
Plaistow, NH
Matt Merry

HEAT 1:

88, 35, 69, 12, 38, 36

HEAT 2:

8, 76, 11, 55, 94, 7, 9
Ovitt, Coy Take Down NEMA's
Angelillo Memorial at Lee USA
This past Friday, the Northeastern Midget Association visited Lee USA Speedway, with special guest, Sammy Swindell, for the coveted Angelillo Memorial race. Alby Ovitt dominated the NEMA portion of the event to take down his first ever feature win in a midget, while Richie Coy, from the famed Coy Racing stables, took down a hard fought Lites win.

Lee USA is a most fitting place to honor the Angelillos after many feature event victories at the Speedway. Marilyn, who passed away in September of 2007, and Gene, who died in March of 2010, were the most successful owners in NEMA history. The Dumo's Desire team captured 14 championships and over 100 feature wins. In addition, they served the club in a number of positions. Gene was president and Marilyn secretary for a number of years. Gene's final win was Waterford's 2009 Wings and Wheels. Russ Stoehr was the driver.

Gene initiated the first Angelillo race, calling it the "Marilyn's Passion" at Monadnock in 2009. Russ Stoehr and PJ Stergios (Lites) were the winners. Their daughter Laura Kibbe brought the race to Waterford following Gene's death, and with the current turmoil at the Speedbowl, the club brought the race to Lee.

In the NEMA feature, Alby Ovitt, one of the winningest drivers in Lee USA Speedway street stock history, wasted no time driving from his fourth starting position around the outside of Andrew Lunt for the lead by the end of the first lap. Ovitt, who rarely finishes worse than second place in the Street Stock division at Lee, began to set a torrid pace at the front of the field. His best time, 13.30 seconds, came on lap four. Behind Ovitt the battle for second place was heating up as the laps wound down between teammates Todd Bertrand and Randy Cabral. Bertrand and Cabral split the lapped car of Lunt with two laps remaining, with Bertrand coming out on top for the runner up spot. Cabral was third followed by Jim Chambers, Sammy Swindell, Avery Stoehr, Paul Scally, Andy Lunt, Mike Horn and John Zych.

"I can't thank Tim Bertrand and his team enough for giving me this opportunity. It has been a dream to win a midget race, and to do it at my home track is amazing. I also need to thank Russ and Avery Stoehr for giving me the opportunity to get into midgets and Keith Bothelo who spent his entire birthday on Thursday working on the car to get it ready for Lee," said Ovitt.

In the Lites feature, a caution that sent Matt Merry into the wall on lap one, paused the field before the race got under way. Earlier in the day, Jim Cataldo was taken to the hospital after an altercation with the wall and was released later that evening. When the green flag flew, and racing resumed, NJ's Richie Coy, jumped out into the lead.

Coy began clicking off coinsistently quick laps in the 14.4/14.5 range. Behind him, PJ Stergios was making a charge, never letting Coy out of his sight, running similar laps.

As the laps wound down, Stergios closed the gap and made a run at Coy, but could not make the pass. Ryan Locke came from the seventh spot to pass Anthony Marvuglio for third with one lap remaining, and Coy was able to hold on for the victory.

"We were junk all day and threw the kitchen sink at it for the feature. On the original start I got together with Matt Merry and he ended up in the fence, I got loose under him and we touched wheels. I hate that he got into the fence. On the next restart I got a good jump on the outside and cleared Chase Locke out of 2. The car felt great. From that point on, all I was trying to do was run away and hide. I didn't realize that PJ was there the whole race. I was just trying not to make a mistake. Then the caution comes out as I'm in turn 3 about to take the checkered flag. I knew I had to have a great restart with PJ outside and Anthony behind me. I punched and got away from PJ, but Anthony showed me his nose going into one. I gave him just enough room not to wreck and drive off turn 2 clear and ran 2 hard laps to the checkered. It's been almost 2 years since our last win. We've had 4 or 5 races slip away from us that we should have won but didn't. Last night was awesome. The Lites are so close that it's tough to grab one of these races!," said Coy.

PJ Stergios finished second followed by Ryan Locke, Marvuglio, Jake Trainor, Randy Cabral, Alan Chambers, Drew Eldridge, Ben Mikitarian and Jeff Champagne.

NEMA returns to the Star Classic on September 7th, with both the Lites and NEMA on tap.



Swindell Returns to NEMA at Thompson
& LEE USA Speedways in August
One of the most recognized names in American motorsports, Sammy Swindell, will make a handful of Northeastern Midget Association starts for Tim Bertrand/Bertrand Motorsports beginning on Wednesday August 14 at the Thompson Speedway Motorsports Park, and continuing on to LEE USA Speedway on Friday August 16th. Swindell will be available for fan interaction & autographs at both venues. Swindell is a three-time World of Outlaws Champion & Five-time Chili Bowl champion.

Swindell will join a five car Bertrand Motorsports NEMA operation for the races joining teammates Todd Bertrand, Randy Cabral and Avery Stoehr. Four time NEMA champion and ISMA champion Ben Seitz will join the team at Thompson, and one of the hottest drivers in the northeast, Alby Ovitt, will join the team at LEE USA in a fifth car.

"It was great to be able to put together another deal with Sammy for 2019," said team owner Tim Bertrand. "We had a great time racing together over the last couple of years and getting to know each other, and the entire team is looking forward to having him back to the Northeast.

"We are incredibly excited to have one of the biggest names in open wheel racing participate in our program on Friday August 16that LEE USA Speedway. Swindell is undoubtedly one of the best and we are looking forward to having him here," said LEE USA Speedway GM, Joe Bassett.

"We are ecstatic to have Sammy Swindell join an already exciting evening of racing at the Thompson Speedway Motorsports Park. Between the exciting NEMA action and the NASCAR Whelen Modified Tour, fans should be in for a great evening," said Thompson Speedway Motorsports Park General Manager, Terry Eames.

Swindell was successful in his debut two seasons ago with the team, running second fastest in qualifying, advanced from seventh to third in his heat and from fifth to fourth in the feature, against NEMA's best.

Along the way he went wheel-to-wheel with teammates Randy Cabral, Todd Bertrand and held off a charge from two time and defending Champion John Zych. Last season, the team struggled with a new car that Swindell ran, but this year, the team has opted to put Swindell in the family's iconic No. 47, a threat to win any time it shows up. Danny Cugini took down the Iron Mike Scrivani Memorial race just last weekend in the Bertrand 47.

"We struggled a bit last year, and frankly, if Sammy is going to come out all this way to run, I want to give him a car that he can get right to it in," said Bertrand.

"I'm excited to be able to get back out and drive for Tim and his team. We've gotten to know each other well over the last couple of years and even teamed up for a couple of Chili Bowls. A lot of the learning curve is behind us, and we should be able to get right to it off the bat this year," said Swindell.

Car owner Bertrand was ecstatic about the partnership.

"Sammy is a great guy to be around, and I'm particularly excited to have him run Thompson for us, a place that our team has had so much success at," said Bertrand.