SATURDAY, APRIL 6th, 2019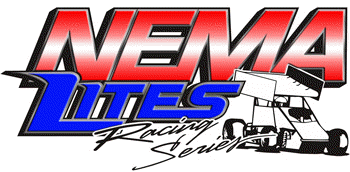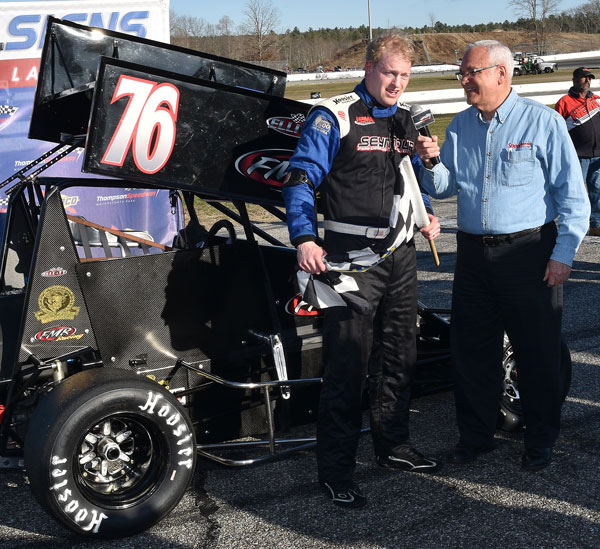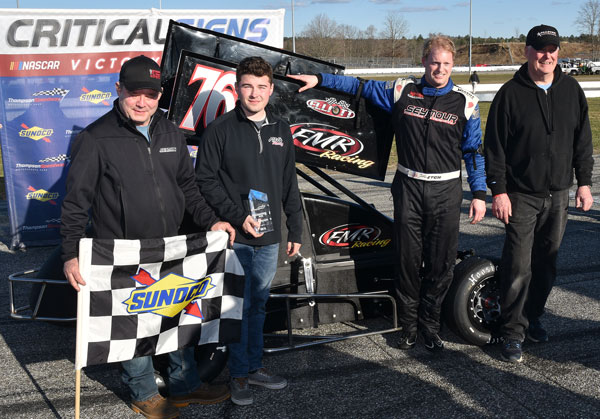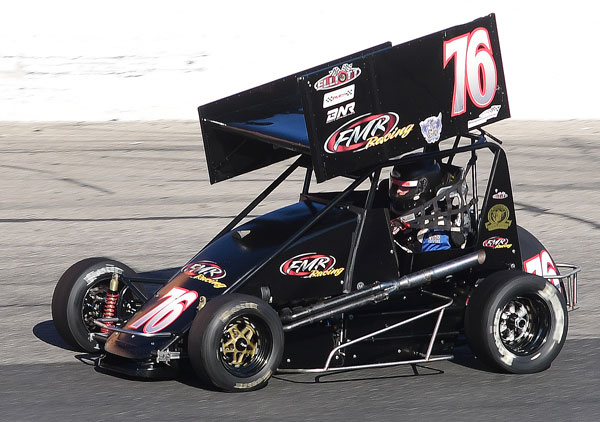 NEMA LITES -

THOMPSON - 4/6/19
Pos.
#
Driver
Hometown
Owner
1
76
John Zych Jr.
Mendon, MA
Frank Manafort
2
8t
Jake Trainor
Medway, MA
Mike Trainor
3
19
Richie Coy
Haskell, NJ
Richie Coy
4
17
Kyle Valeri
Monument Beach, MA
Peter Valeri
5
88
Dan CuginI
Marshfield, MA
Ken Locke
6
7
Jim Cataldo
Sterling, MA
Jim Cataldo
7
35
Randy Cabral
Kingston, MA
Glen Cabral
8
48
Matt Janisch
Nazareth, PA
Mark Janisch
9
3
Chris Vose
Gloversville, NY
Chris Vose
10
55
Drew Eldridge
No Chelmsford, MA
Drew Eldridge
11
38
Ryan Locke
Chester, NH
Ken Locke
12
238
Anthony Marvuglio
Bridgewater, MA
Anthony Marvuglio
13
30
Paul Scally
Raynham, MA
Paul Scally
14
69
Matt Merry
Plaistow, NH
Matt Merry
15
21
Avery Stoehr
Lakeville, MA
Mike Scrivani
DNS
39
Todd Bertrand
Danielson, CT
Steve Elicone
DNS
41
Meg Cugini
Marshfield, MA
Glen Cugini

HEAT 1:

30, 238, 76, 8t, 19, 35, 41, 69, 55

HEAT 2:

38, 7, 39, 17, 88, 48, 3, 21
Zych Blasts to NEMA Lites
Thompson ICEBREAKER Victory
Multi time NEMA champion John Zych drove the Frank Manafort Racing/Matt Seymour prepared #76 to victory in the NEMA Lite opener this past Saturday at the Thompson Speedway Motorsports Park in front of a record crowd and on a beautiful Spring day. It was Zych's first NEMA Lite win, after winning many NEMA features over the past five years. It was not easy for Zych, as he had to fend off hard charging youngsters in Kyle Valeri and Jake Trainor.

When the green flag flew in the Lites feature, Paul Scally drove to the front of the field. Scally was setting a torrid pace, as he would begin to distance himself from the field, as Zych advanced to the runner up spot, followed by Trainor and Valeri.

Scally would continue to lead the field until lap seven as he began to slow, and would drop out with engine issues on the next lap. Zych would inherit the lead and began to distance himself quickly from the field. Behind him, Jake Trainor, Kyle Valeri and Jim Cataldo were all settled in second, third and fourth spot.

The caution would fly on lap seventeen, and Zych would pick the outside lane. On the restart, he would rocket around the outside and back into the lead. Valeri would make a valiant move on the bottom to pass Trainor for the second spot, but two laps later, Trainor would dive to the bottom and re-take the second spot.

Over the final laps, Trainor would move solidly into second and Riche Coy had driven through the field and would overtake Valeri on the final lap to finish third, his best at TSMP. Valeri would finish fourth followed by Dan Cugini, Jim Cataldo, Randy Cabral, Matt Janisch, Chris Vose and Drew Eldridge.

"We continued to make adjustments throughout the day and that paid off as we were the fastest we had been all day in the feature on lap 19 of 20. Matt Seymour did a great job preparing the car and making sure we made the right adjustments. The car had struggled to take off all day so I was praying for no cautions and was a little worried on the restart," Said Zych. "I knew restarting on the outside would help so I picked that lane and knew if I could stay close I could have an advantage getting into turn one. Thompson is always a blast to drive and it was a great honor to win for Frank Manafort and the Seymours," Zych concluded.

NEMA picks back up in May at the New London Waterford Speedbowl opening event - the Blastoff.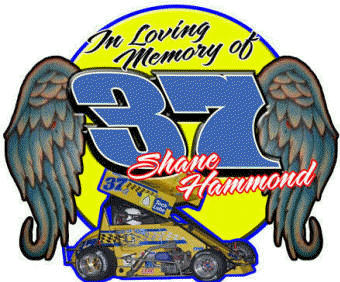 Remembering Shane
Eleven years ago on April 6th there was a tragic accident at Thompson Speedway. Shane Hammond, in his dream car, crashes going into turn three...

The race goes quiet as the red flag came out, there wasn't even a murmur in the stands for what everyone had just witnessed. His younger brother Anthony Marvuglio, who was to be in that race, but he & Shane still had work to do to get his car ready stood in the infield and watched his hero. When the crash happened he thought nothing but to sprint to Shane, beating all emergency crews and staying by his side until they extracted him from the #4.

Anthony could have never imagined someone like Shane, his brother, his hero like Superman who had overcome so much could actually be hurt and possibly gone. As we know Shane had succumbed to his injuries and passed away that day that started off so bright and ended so dark.

Now eleven years, later Anthony resurrected Shane's retired 37 after sitting for 10 years. Anthony will begin this 2019 racing season at the track that took his best friends life. The similarities are frightening for his mom who is full of emotion for this upcoming race. Anthony will turn 27 the week preceding the race. With a new Bell helmet and equipment just as his brother had 11 years ago, the stars have aligned and now Anthony is ready to take the checkered flag in honor of his brother April 6th 2019. Anthony has lead laps at Thompson before and feels like this is his time to shine and be a contender for the win. This race means more than any other race he has entered. The emotion and meaning of this race is like no other. He will run this race for his hero, himself, his family, his team and everyone that has supported him through these 11 years. Race day you will see car 238, wheeled by Anthony and an angel named Shane.