SATURDAY, SEPTEMBER 2nd
In honor of the great Iron Mike Scrivani - who had many NEMA wins, championships and was one of the most legendary car owners ever, in the history of the sport - the family is seeking donations to make this a very big event! Help spread the word!
CLICK HERE FOR THE GOFUNDME PAGE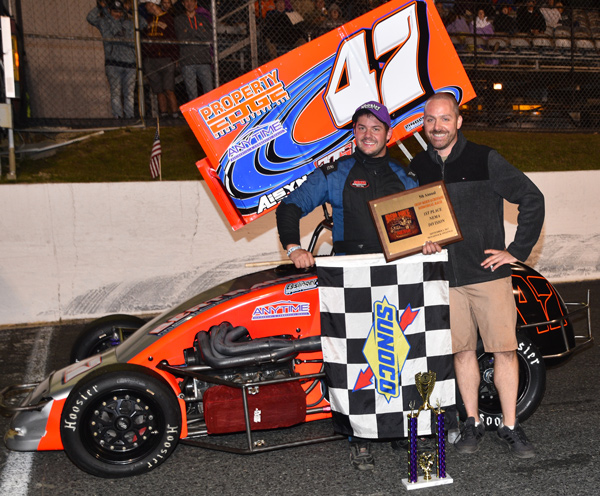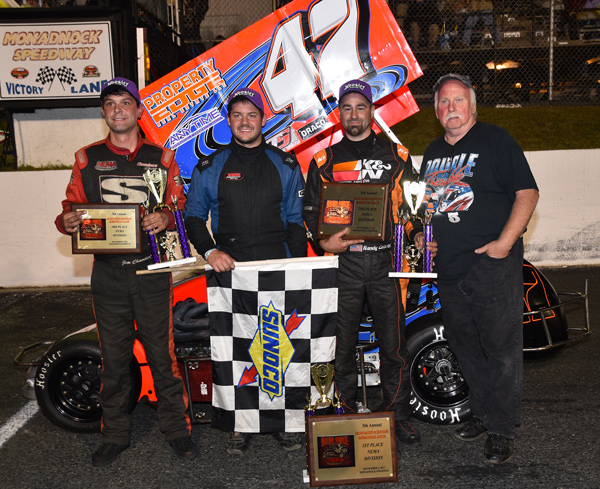 L TO R: JIM CHAMBERS #21, 3RD; WINNER SETH CARLSON #47; RANDY CABRAL #74, 2ND; AND MIKE SCRIVANI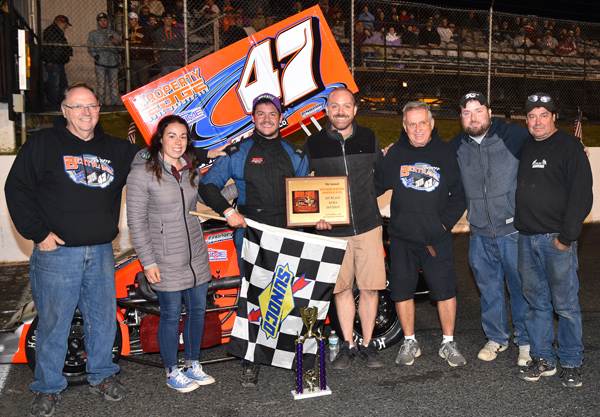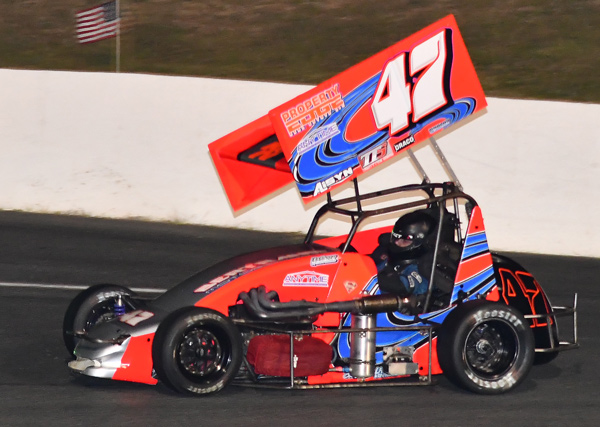 Photo by
John DaDalt

Photos by Norm Marx
NEMA MIDGETS -

MONADNOCK - 9/2/17

Pos.
#
Driver
Hometown
Owner
1
47
Seth Carlson
Brimfield, MA
Bertrand Motorsports
2
74
Randy Cabral
Kingston, MA
Bertrand Motorsports
3
21
Jim Chambers
Atkinson, NH
Mike Chambers
4
39
Avery Stoehr
Lakeville, MA
Bertrand Motorsports
5
87
Doug Cleveland
Sudbury, MA
Doug Cleveland
6
31
Ryan Bigelow
East Berlin, CT
Paul Bigelow
7
5b
Bethany Stoehr
Bridgewater, MA
Greg Stoehr
8
16
Matt O'Brien
Wilmington, MA
Matt O'Brien
9
30
Paul Scally
Raynham, MA
Paul Scally
10
9
John Zych Jr.
Mendon, MA
John Zych Sr.
11
7
Alan Chambers
Atkinson, NH
Mike Chambers
12
48
Todd Bertrand
Danielson, CT
Gil Bertrand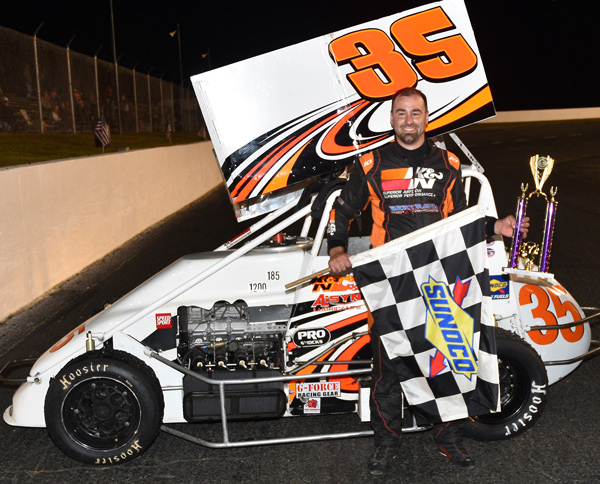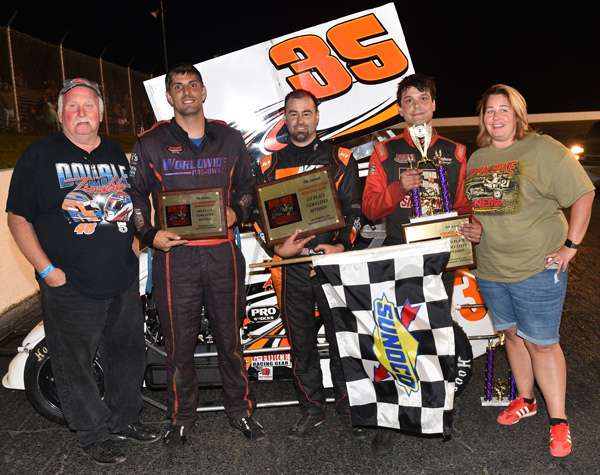 L TO R: MIKE SCRIVANI; DAN CIUGINI #51, 3RD:
WINNER RANDY CABRAL #35; JIM CHAMBERS #12, 2ND; AND JENNIFER SCRIVANI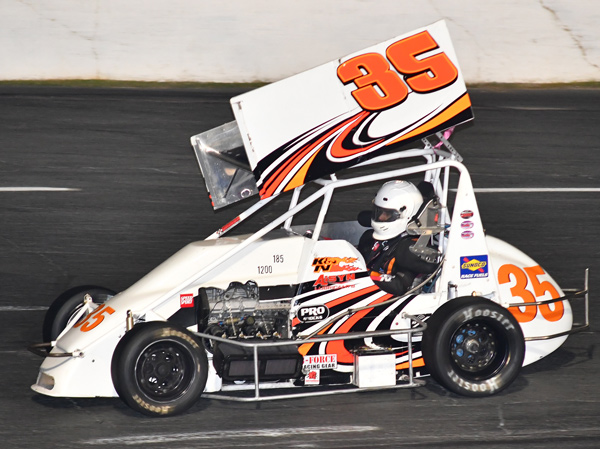 Photo by Crystal Snape
Photos by
Norm Marx
NEMA LITES - MONADNOCK - 9/2/17
Pos.
#
Driver
Hometown
Owner
1
35
Randy Cabral
Kingston, MA
Glen Cabral
2
12
Jim Chambers
Atkinson, NH
Jim Chambers
3
51
Dan CuginI
Marshfield, MA
Dan Cugini
4
11
Jake Stergios
Candia, NH
Bill Stergios
5
19
Richard Coy
Haskell, NJ
Richard Coy
6
38
Ryan Locke
Raymond, NH
Ken Locke
7
21
Anthony Payne
Fairlawn, NJ
Mike Scrivani
8
9
Ben Mikitarian
Northborough, MA
John Mikitarian
9
7
Jim Cataldo
Sterling, MA
Jim Cataldo
10
30
Paul Scally
Raynham, MA
Paul Scally
11
3
Chris Vose
Gloversville, NY
Chris Vose
12
52
Kevin Park
Foxboro, MA
Kevin Park
13
45
Todd Bertrand
Danielson, CT
Bertrand Motorsports
14
27
Kevin Iannarelli
Shirely, MA
Kevin Iannarelli
15
36
Avery Stoehr
Lakeville, MA
Myles DeVits
16
16
Dennis O'Brien
Deerfield, NH
Chris O'Brien
17
95
Jeff Schechter
Cortland Manor, NY
Jeff Schechter
18
20
Jeremy Decourcy
Rochester, NH
Jeremy Decourcy
Carlson, Cabral Capture
Iron Mike Memorial
NEMA Victories at Monadnock
The Northeastern Midget Association visited Monadnock Speedway on Saturday 9/2 for the Iron Mike Scrivani Memorial. The race celebrates long time NEMA supporter and charter club member, Mike Scrivani Sr., owner of Mike's Truck Stop. Scrivani and son Mike Jr. fielded cars for the likes of Dave Humphrey, Nokie Fornoro and Geoff Bodine over the years.

In the NEMA feature Seth Carlson, making his second start in the Bertrand Motorsports #47, bested teammate Randy Cabral #74 to take down the victory. In the LITES race, it was Cabral beating a hard-charging Jim Chambers #12 for the victory in his family's #35.

For the NEMA feture Paul Scally #30 and Doug Cleveland #87 took the field to the green. Third place starter Seth Carlson blasted underneath the duo headed into turn one on the first corner. The caution flew though as Randy Cabral made contact with Paul Scally and Cabral would stop inches short of the turn three fence.

When the green flew, Carlson quickly set a torrid pace as he bolted away from Cleveland, who was having one of his best runs of the season. Jim Chambers #21 was making a run to the front, but contact with another car and a quick trip through the infield grass saw Chambers at the back of the field before the halfway point.

A restart for a Bethany Stoehr #5b spin on lap fifteen bunched up the field, and Cabral made quick work getting to second from the rear. Chambers was marching forward as well. Another caution bunched up the field again, but each time Carlson would pull away from Cabral on the restarts.

Carlson would go on to dominate the final circuits and was followed across the line by Cabral, Chambers, Avery Stoehr #39, Cleveland, Ryan Bigelow #31, Bethany Stoehr, Matt O'Brien #16, Paul Scally and John Zych #9.

"I really need to thank Tim Bertrand and Gene Feigel for putting together this deal," said Carlson. "This car was just so good tonight, it was fun to drive, and it's been a long time since I've been in victory lane. Also thanks to the Scrivani family for putting together this great event."

In the LITES race, NJ's Richie Coy #19 led the way in the early stage of the event, putting on his most impressive run of the season. The second generation Coy, of the famous Coy Racing family held the lead for laps 2 thru 5 until a determined Randy Cabral #35 made an outside pass.

On the lap 12 restart, Cabral in his family Quad 4 engined #35, drag raced Coy down the front stretch to hold the lead. Further back, Danny Cugini #51, Jim Chambers #21, and Jake Stergios #11 were all slicing their way through the field. Chambers would get by Cugini on the bottom for second with five laps remaining.

In the final laps Chambers was closing but would run out of time to catch Cabral. Chambers would finish second followed by Cugini, Stergios, Coy, Ryan Locke #38, Anthony Payne #21, Ben Mikitarian #9, Jim Cataldo #7, and Paul Scally #30.

"I'm just so happy to get a win for my Dad," said Randy Cabral. "He worked so hard on this car. The car is twenty years old and the motor over thirty, and it's so great to get it done with all his hard work."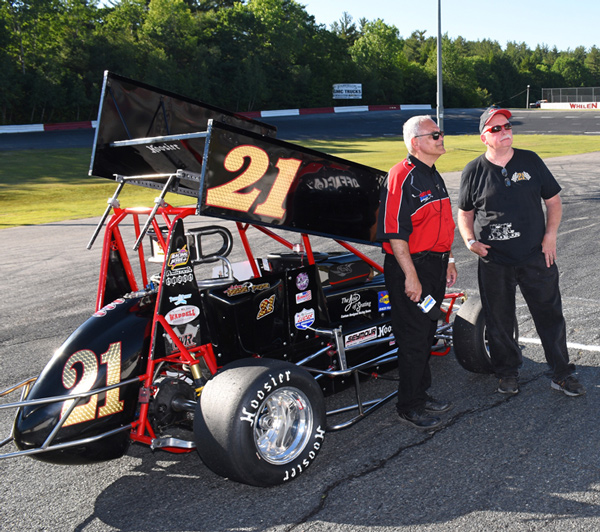 NEMA Readies for Scrivani Memorial
This Saturday evening 9/2 NEMA brings its extreme action to Monadnock Speedway for the Iron Mike Scrivani Memorial, remembering the long time NEMA stalwart and father of long time NEMA supporter and past President, Mike Scrivani Jr. The night will feature a 30 lap feature for the NEMA feature and 30 laps for the Lites.

When Saturday rolls around, all eyes will be at the top of the points standings, with Randy Cabral, Jim Chambers and Avery Stoehr all locked in a tight battle for the top spot in the NEMA division. ln the Lites class, Chambers leads Danny Cugini by 54 points.

Known as a "driver's track" - Drew Fornoro holds the all time win record at the NH quarter mile. During the late 80s when NEMA frequented the 1/4-mile oval, Fornoro, in the Gene Angelillo machine, dominated with wins at the speedway during the 1982-1986 seasons. He also won during the final two seasons that the Club visited the Speedway with triumphs in 1996 and 1997. Other winners at Monadnock in the modern era include Mike Seymour, Russ Stoehr, Greg Stoehr, Cabral, Chambers and Payne.

"Monadnock is a drivers track. Horsepower doesn't matter as much, and its really tough to set up for both ends. If you are good in one end, you probably won't be good in the other, and you've just got to compensate as as driver and get up on the wheel," said Scrivani.

All of that said, the real reason for Saturday night's race is to celebrate a legend - Iron Mike Scrivani.
Proprietor of the legendary "Mike's Truck Stop" in Wrentham, MA, Scrivani's car-owning career began in the 1930s with the Big Cars and it included a successful run with the Modifieds in the late 1960s and early 70s, but Midgets, were clearly his first love.

Jerry Russo drove the Scrivani car in NEMA's first race at Seekonk Speedway on Memorial Day of 1953. The first of many wins for the Scrivani team came in 1956 at West Peabody with Russo aboard.

Butch Walsh and Nokie Fornoro won NEMA championships in Scrivani cars and are part of an extended list of drivers to have won in Scrivani equipment in both NEMA and ARDC. The group includes Dave Humphrey, Ray Burke, Dick Brown, Leigh Earnshaw, Hank Williams, Al Pillion, Billy Eldridge, Al Herman, Gene Bergin, Bert Brooks and Johnny Coy Sr.
In catching up with Iron Mike's son, NEMA stalwart - Mike Scrivani Jr., he always has a good story about his father.

"When I was about six years old, me and Stevie Humphrey used to sneak under the fence into the pits. My Dad would sneak us into the back of the station wagon. One night, we opened up the windows because I wanted to hear what was going on. My father comes around the corner and he was so mad, because all of the dirt was going into the car. He threw us out. That wasn't the first time I was fired or thrown out though, that happened many times. We had our good times and bad times, but it was usually all for my own good," Scrivani said.

No doubt, the stories will continue to be written when NEMA returns to Monadnock this coming Saturday night.