SATURDAY, AUGUST 12TH
WINGS & WHEELS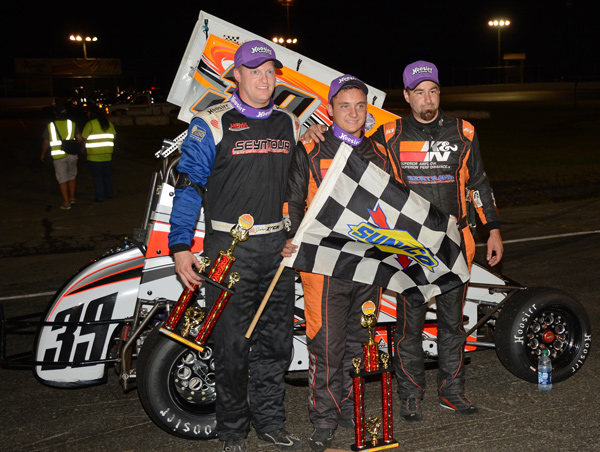 John Zych #9, 3rd; Winner Avery Stoehr #39;
and Randy Cabral #74, 2nd.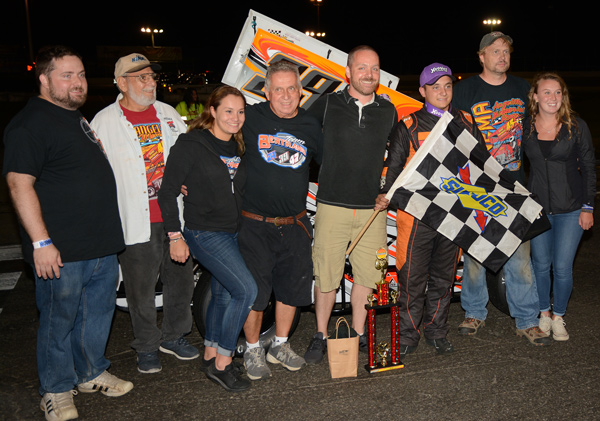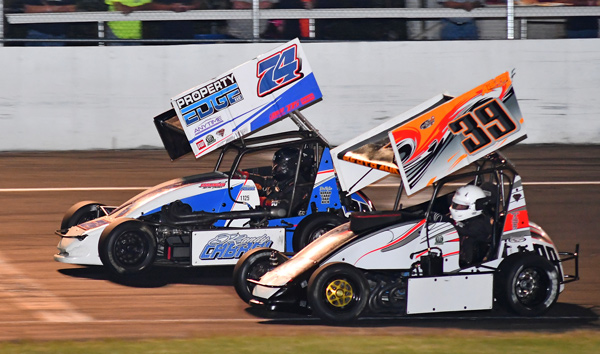 NEMA MIDGETS - WATERFORD

- 8/12/17

Pos.
#
Driver
Hometown
Owner
1
39
Avery Stoehr
Lakeville, MA
Bertrand Motorsports
2
74
Randy Cabral
Kingston, MA
Bertrand Motorsports
3
9
John Zych Jr.
Mendon, MA
John Zych Sr.
4
7
Alan Chambers
Atkinson, NH
Mike Chambers
5
30
Paul Scally
Raynham, MA
Paul Scally
6
47
Ted Christopher
Plainville, CT
Bertrand Motorsports
7
66
Chris deRitis
Philadelphia, PA
Dan deRitis
8
48
Todd Bertrand
Danielson, CT
Gill Bertrand
9
21
Jim Chambers
Atkinson, NH
Mike Chambers
10
5b
Bethany Stoehr
Bridgewater, MA
Greg Stoehr
11
87
Doug Cleveland
Sudbury, MA
Doug Cleveland
12
99
Jim Santa Maria
Burlington, CT
Jim Santa Maria
13
31
Ryan Bigelow
Berlin, CT
Paul Bigelow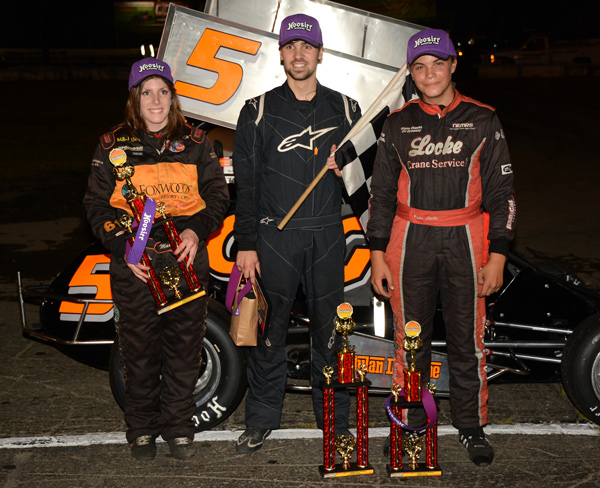 Megan Cugini #41, 2nd; Winner Dylan Dumaime #5;
and Ryan Locke #38, 3rd.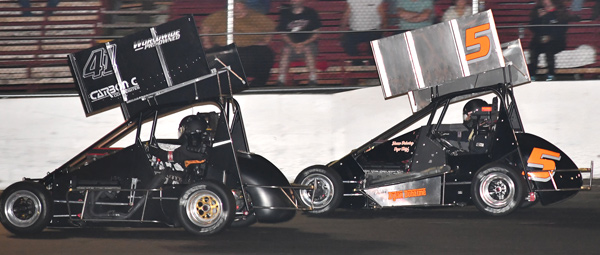 NEMA LITES - WATERFORD - 8/12/17
Pos.
#
Driver
Hometown
Owner
1
5
Dylan Duhaime
Loudon, NH
Jim Cataldo
2
41
Megan Cugini
Marshfield, MA
Glenn Cugini
3
38
Ryan Locke
Raymond, NH
Ken Locke
4
9
Ben Mikitarian
Northborough, MA
John Mikitarian
5
30
Paul Scally
Raynham, MA
Paul Scally
6
35
Randy Cabral
Kingston, MA
Glen Cabral
7
51
Dan CuginI
Marshfield, MA
Dan Cugini
8
12
Jim Chambers
Atkinson, NH
Jim Chambers
9
14
Chad Labastie
Uxbridge, MA
Chad Labastie
10
21
John Zych Jr.
Mendon, MA
Mike Scrivani
11
7
Jim Cataldo
Sterling, MA
Jim Cataldo
12
46
Andy Barrows
New Ipswich, NH
Andy Barrows
13
19
Richard Coy
Haskell, NJ
Richard Coy
14
3
Chris Vose
Gloversville, NY
Chris Vose
15
16
Dennis O'Brien
Deerfield, NH
Chris O'Brien
16
68
Danny Gamache
No. Smithfield, RI
Danny Gamache
17
57
Jake Stergios
Candia, NH
Bill Stergios
18
13
Ryan Bigelow
Berlin, CT
Randy Bigelow
Stoehr, Duhaime Notch
NEMA Victories at
Waterford Speedbowl's
Wings & Wheels
Angelillo Memorial
Avery Stoehr beat out teammate Randy Cabral by two feet at the line to take down the NEMA victory that left fans talking about the race for hours after at New London Waterford Speedbowl's Wings & Wheels event this past Saturday. The race celebrates the famed Gene and Marilyn Angelillo, who dedicated nearly 30 years of service to the club, before their untimely deaths. It was redemption for Stoehr who had a scary ride just two nights before at Thompson Speedway. In the Lites race, there were no disappointments either, as Dylan Duhaime used the high line to pass race leader Meg Cugini on the back stretch of the final lap.

In the NEMA feature, Todd Bertrand and Alan Chambers brought the field to the green flag. Bertrand quickly jumped out into the lead from the pole, but the field was brought back to its original formation as the caution flew for Ted Christopher in the Bertrand 47, who was caught up in a first lap tangle.

When the race resumed, Bertrand jumped back out into the lead, and began to set a torrid pace. As the race approached lap ten, teammates Avery Stoehr and Randy Cabral worked their way through the field, as did John Zych and Chip Deritis.

When the caution flew on lap ten, Bertrand lined up next to teammate Stoehr, and quickly pulled away on the restart. Another caution for a Bethany Stoehr spin on lap fourteen would unfortunately see Bertrand retire to the infield with a broken oil tank baffle. Stoehr inherited the lead, and when the race resumed, he would take command.

By lap sixteen, teammate Cabral would shoot to the outside of Stoehr, and the duo would go wheel to wheel for nearly twelve laps in a row, bringing the fans to their feet. As they came down for the white flag, the pair would drag race down the back stretch into turn four, with both cars smoking the tires headed for the start finish line. Stoehr would cross the line first by two feet, over Cabral to take down his second win of the season. John Zych would finish third, followed by Alan Chambers, Paul Scally, Ted Christopher, Chip Deritis, Todd Bertrand, Jim Chambers and Bethany Stoehr.

"That was an awesome battle with Randy, and a lot of fun," said Stoehr. "Tim, Randy and I worked on this car until early Saturday morning to get it ready after the Thompson wreck, and it was on the money tonight. It was great redemption after Thompson," he said.

In the wire to wire Lites race, Meg Cugini would jump out into the lead from the start. For the first half of the race, she would distance herself from the field, while the action was hot behind her.

Paul Scally, Ryan Locke and Ben Mikitarian put on a duel for the second spot for eight laps, with the three running inches apart. As the laps wound down, multi feature winner Dylan Duhaime, who had come from the eleventh place, would also come into the mix.

Scally, who appeared to be getting a push, would give up third place to Locke with five laps remaining, and Duhaime on the outside, would pass the duo with four laps to go. He would then begin closing the gap on Cugini, when on the last lap off of turn two, he saw an opportunity to strike, passing Cugini and going on to take down the win.

"It was nice to finally be back at Waterford, a place where I got my first win five years ago," said Duhaime. "I was disappointed earlier in the day, but we kept working on the car and I felt we had at least a top five car. Once I got by Paul (Scally) for second, I had a handful of laps to catch Meg. When I caught her, I saw an opportunity to use the outside and she ran me really cleanly," he said.

NEMA is back in action this coming Saturday for the Marvin Rifchin Memorial at Star Speedway.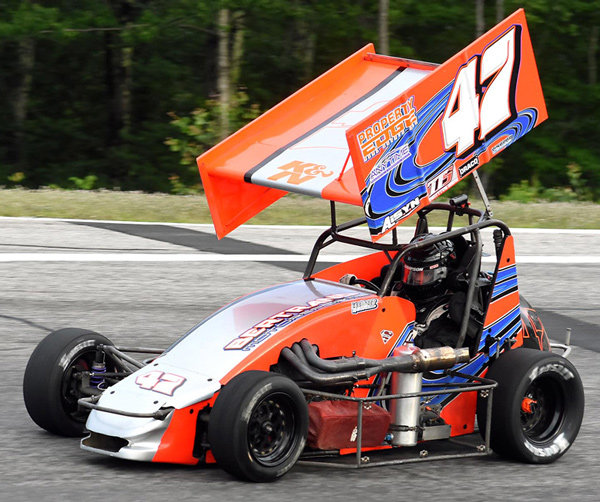 Ted Christopher to Make NEMA Start
at New London Waterford
Speedbowl's Wings & Wheels
Waterford, CT - Ted Christopher will make a rare start for Bertrand Motorsports when the Northeastern Midget Association visits the New London Waterford Speedbowl for its annual Wings & Wheels event.

A multi time national NASCAR "Tour" champ and 50+ event winner at the Speedbowl, Christopher will take a break from the Modifieds to drive the Bertrand #47 in the prestigious race. The car was driven previously this year by Kyle Hamilton, Doug Coby and Justin Bonsignore, to a two second place finishes and a victory, respectively.

The versatile Christopher, who has multiple wins at Atlantic City and Providence, RI is not a stranger to the NEMA's Victory Lane. Driving a Marilyn Angelillo-owned car he won at Waterford Speedbowl on May 24, 1998. He battled Bobby and Mike Seymour over the final laps.

"I'm excited to race for the Bertrand's again. The last couple of times we have teamed up, we have had a really good car and Tim's stuff is always good. I really love racing the midgets, and especially at the Speedbowl. They are fast & fun to drive," said Christopher.

Among drivers best known for their "stock car" success, Doug Coby leads the pack with four wins, followed by Gene Bergin with two. Bergin won in a Scrivani car at Thompson in 1969 and on the dirt at Lakeville Speedway in 1973 driving the Leahy #18.

Christopher's hard-charging style, in fact, reminds many of Bergin. NEMA legend Mike Scrivani Jr. vividly recalls Bergin's run from the back to victory at Thompson. Again like Christopher, Bergin drove a number of different style cars with success.

Bergin also notched a pair of seconds in NEMA action. Christopher was third in his first-ever NEMA race at Hudson for Angelillo in 1990. He has driven for Bertrand before, putting on an epic battle with Mark Buonomo finishing third at Stafford Speedway in 2006, when Nokie Fornoro took down the victory.

With a few exceptions, NEMA has not been kind to outsiders. Geoff Bodine and Bugs Stevens recorded second place finishes at Stafford and Thompson respectively. Reggie Ruggiero fans remember his strong run at Riverside Park.

The late Hank Stevens was a Modified legend for many years but was a Midget regular when he won for Jimmy O'Brien at Antigonish in Canada in 1970.