SATURDAY, JULY 8th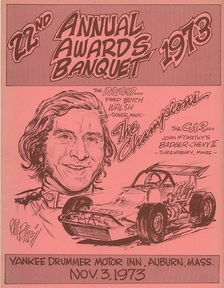 THE BUTCH WALSH MEMORIAL
NEMA pays tribute to one of this club's truest racers and most influential leaders. Butch was not only a champion driver, he was a fantastic mechanic, and a courageous President who's leadership changed NEMA forever.
See Butch's page at the NEMA History site:
www.nemahistory.com/butch-walsh.html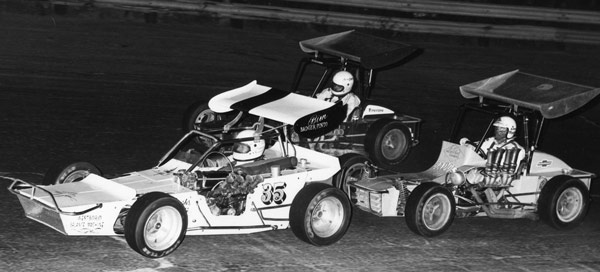 Butch in the Bien Badger leading the Badgers
of Dave Humphrey and Johnny Evans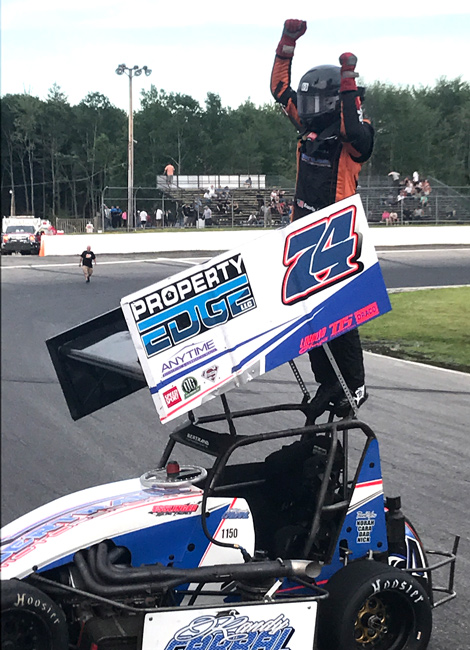 50th NEMA WIN for RANDY CABRAL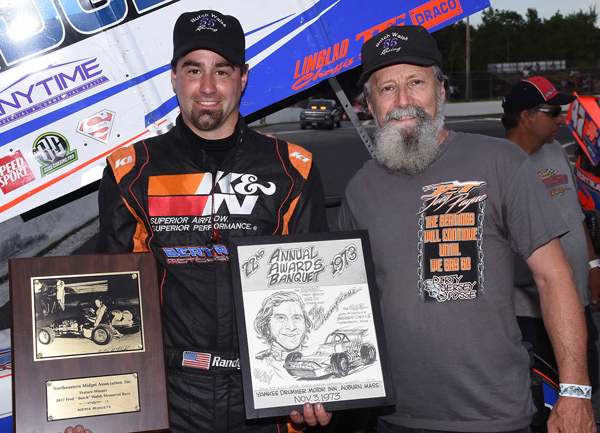 RANDY CABRAL - JC CROSSLEY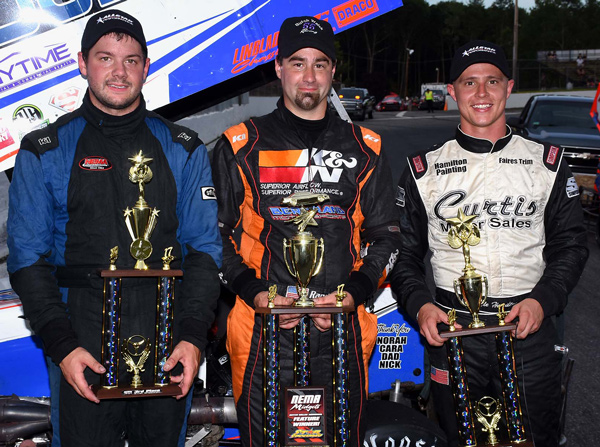 CARLSON - CABRAL - HAMILTON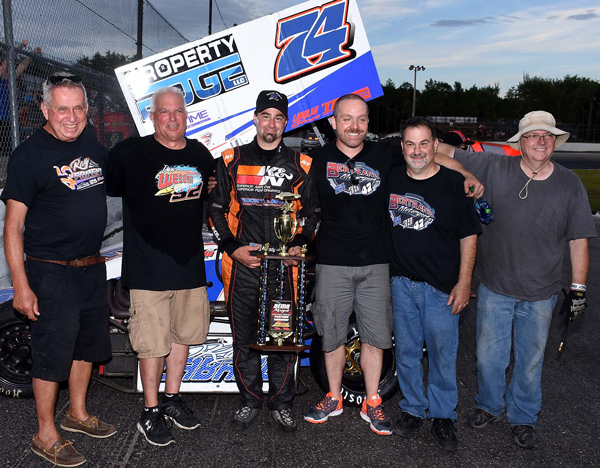 NEMA MIDGETS - S

TAR - 7/8/17

Pos.
#
Driver
Hometown
Owner
1
74
Randy Cabral
Kingston, MA
Bertrand Motorsports
2
47
Kyle Hamilton
Plainfield, IN
Bertrand Motorsports
3
71
Seth Carlson
Brimfield, CT
Gene Feigel
4
21
Jim Chambers
Atkinson, NH
Mike Chambers
5
7
Alan Chambers
Atkinson, NH
Mike Chambers
6
30
Paul Scally
Raynham, MA
Paul Scally
7
9
John Zych Jr.
Mendon, MA
John Zych Sr.
8
33
Ben Seitz
Bourne, MA
Bobby Seymour
9
87
Doug Cleveland
Sudbury, MA
Doug Cleveland
10
39
Avery Stoehr
Lakeville, MA
Bertrand Motorsports
11
99
Jim Santa Maria
Burlington, CT
Jim Santa Maria
12
A1
Mike Horn
Ashland, MA
Jeff Horn
13
16
Matt O'Brien
Wilmington, MA
Matt O'Brien
14
77
Jesse Jakubajtys
-
Mike Luggelle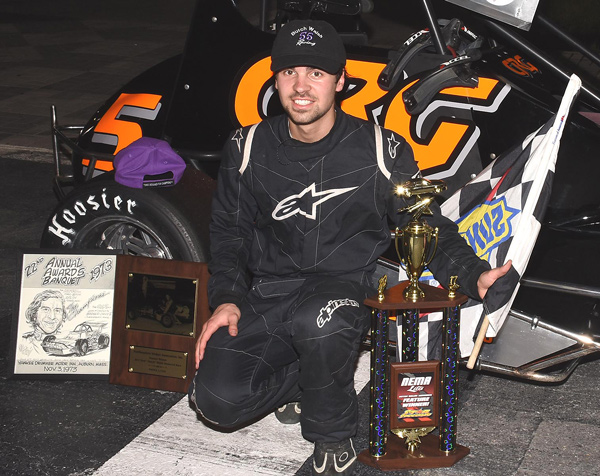 DYLAN DUHAIME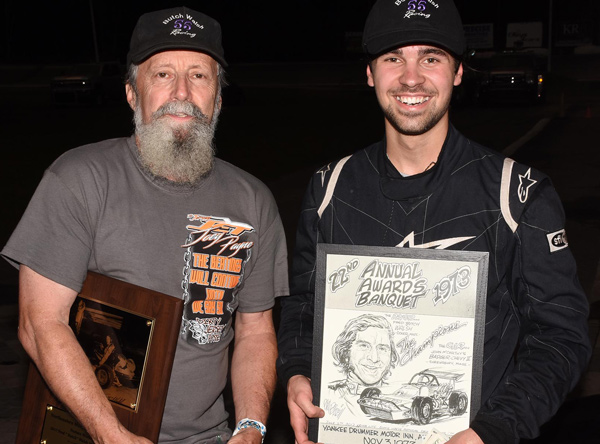 JC CROSSLEY - DYLAN DUHAIME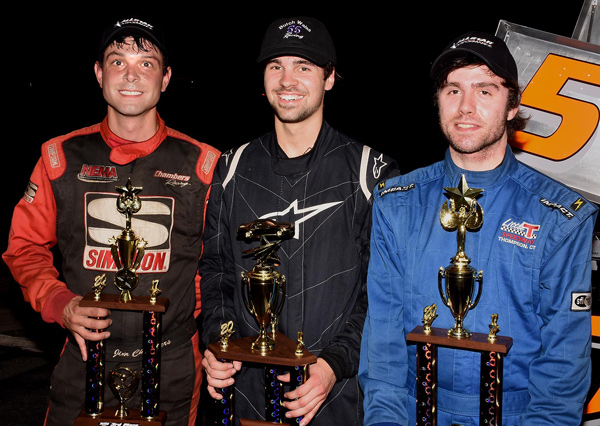 CHAMBERS - DUHAIME - STERGIOS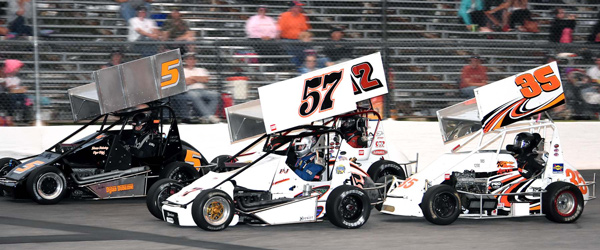 NEMA LITES - STAR - 7/8/17
Pos.
#
Driver
Hometown
Owner
1
5
Dylan Duhaime
Loudon, NH
Jim Cataldo
2
57
Jake Stergios
Candia, NH
Bill Stergios
3
12

Jim Chambers

Atkinson, NH
Jim Chambers
4
35
Randy Cabral
Kingston, MA
Glen Cabral
5
38
Ryan Locke
Raymond, NH
Ken Locke
6
30
Paul Scally
Raynham, MA
Paul Scally
7
9
Ben Mikitarian
Northborough, MA
John Mikitarian
8
14
Chad Labastie
Uxbridge, MA
Chad Labastie
9
7
Jim Cataldo
Sterling, MA
Jim Cataldo
10
19
Richard Coy
Haskell, NJ
Richard Coy
11
21
Anthony Payne

Fairlawn, NJ

Mike Scrivani
12
16
Dennis O'Brien
Deerfield, NH
Chris O'Brien
13
52
Kevin Park
Foxboro, MA
Kevin Park
14
3
Chris Vose
Gloversville, NY
Chris Vose
15
41
Megan Cugini
Marshfield, MA
Glenn Cugini
16
51
Dan CuginI
Marshfield, MA
Dan Cugini
17
34ct
Anthony Burr
Wallingford, CT
Anthony Burr



Cabral Celebrates Historic
50th NEMA Win in NEMA's
Butch Walsh Memorial;
Duhaime Captures Lites
By Jim Snape

Exciting things can happen when NEMA is in town and Saturday July 8, 2017 was no exception at Bobby Webber's Star Speedway.

In the NEMA feature Seth Carlson out-dragged pole sitter Doug Cleveland of Sudbury MA and attempted to distance himself from a hungry pack behind him. It was looking like the Brimfield CT driver was on his way to victory lane, when things went sour for him with ten laps to go as his right rear tire slowly lost air. All the while Randy Cabral of Kingston MA, who started third, took over second place from Cleaveland and drew a bead on race leader Carlson, slowly closing in as Carlson began to have handling issues. Cabral finally caught and passed Carlson on lap 19 and went on to his 50th NEMA win, putting him 3rd behind Drew Fornoro and Dave Humphrey on the 65-year-old club's all time win list. It was also Cabral's 18th consecutive season with a victory,

"We were real lucky to start up front and go green to checkered like that. Its so tough now, everybody's got such good equipment and they're all good drivers. When your racing with Seth (Carlson) you're racing with the best of them, its tough to get by the kid. His car went away at the end. His car was better than mine at first, my car was better than his at the end. Lapped traffic played into effect also". He added "I didn't know he had a tire going down at the end. Sometimes that kid has no luck but he'll get a win soon," said Cabral.

Kyle Hamilton started mid pack and eased himself forward throughout the event. The Indiana standout, and this year's "Little 500" winner took over third place on lap eight and was on the chase o catch race leader Carlson and second place Cabral. By lap 19 Cabral was the new leader and Hamilton applied pressure on Carlson for the runner up spot, running the fastest laps of the race on laps 16-23. By lap 23 the pass was made but the laps ran out and Hamilton was second on the podium.

"Starting back in 8th, it was tough. I knew it was going to be a tall order but the car was actually better that I thought. To be that close to the leaders was good for our team. It took a couple of laps to get by some guys. I could go right around on the outside and didn't have to wait on some others. I would have liked to see a caution, but again I don't want to see anyone wreck, but we'll take it. And I got to thank everybody for bringing me out here from Indiana and we're planning to run the World Series at Thompson and maybe one or two others," said Hamilton.

Although Carlson jetted away and led a majority of the event, his tire issue relegated him to a third place finish. He had to be happy with the way his #71 performed and handled up to lap 18 and it looks like his team will visit victory lane in the near future.

"We started off with the early lead, car handled really well, then had a tire bleeder fall out towards the end there so we loss air in the right rear and ended up third and didn't wreck the car. I consider that still a pretty good day," he said.

Meg Cugini of Marshfield MA and Richie Coy of Haskell NJ brought the NEMA Lites to the green flag. Cugini would lead three laps before a stout Jake Stergios of Candia NH took over the top spot looking for another NEMA Lite victory, while Dylan Duhaime of Loudon NH raced his way from deep in the pack picking off competitors. Stergios was blazing a trail to the checkered flag but Duhaime had other plans, using three caution periods to his advantage and picking up valuable spots each restart. The last restart on lap 19 found race leader Stergios and Duhaime side by side. When the green flag flew so did Duhaime. Duhaime led the last six laps with Stergios and Jim Chambers of Atkinson NH in tow.

Chambers and Randy Cabral ran wheel to wheel for the last few laps before Chambers prevailed for a podium finish.

In victory lane Duhaime said, "We got a lot of good breaks, the track was pretty loose because of the early rain and I capitalized on that. The inside groove was really working for me. On the last restart on the outside I got a little shot from behind and that helped me get into the corner a little faster and got a good run on the back stretch. I didn't expect to get a little bump to help me win but it was great."