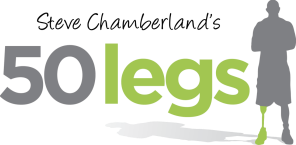 www.50legs.org
STAR SPEEDWAY - EPPING, NH
SATURDAY, MAY 13th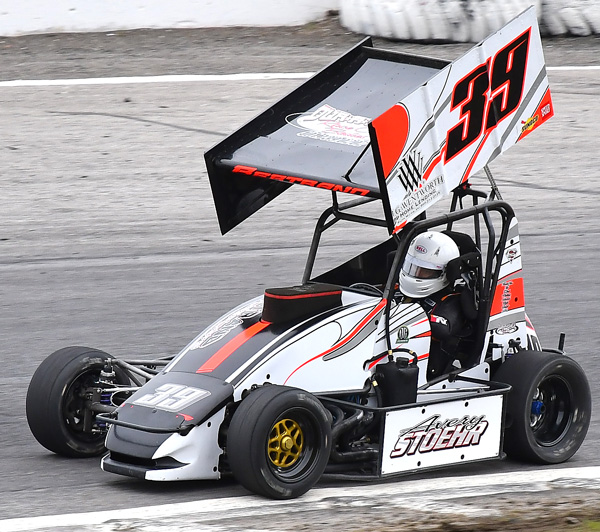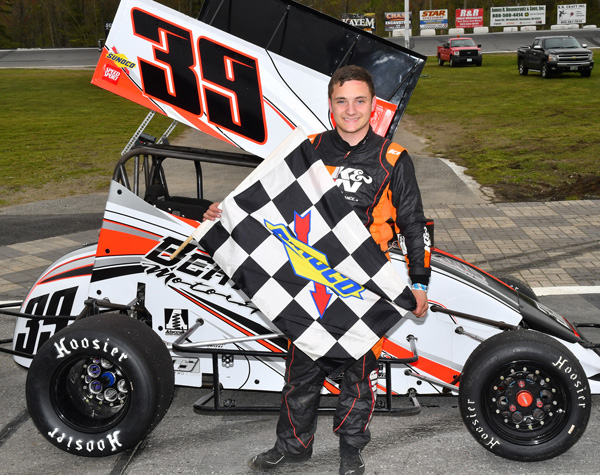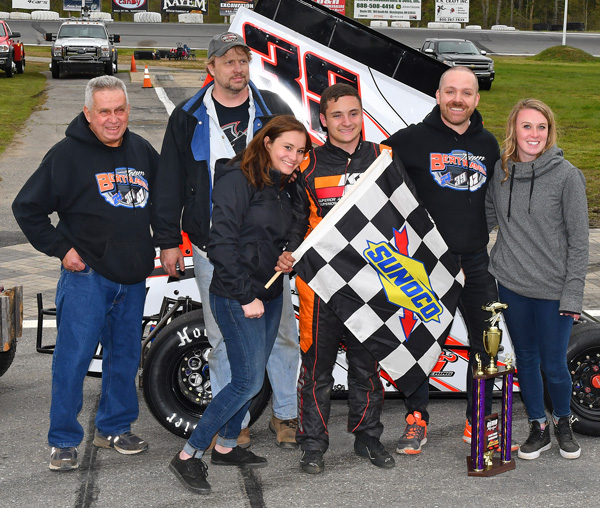 NEMA MIDGETS -

STAR - 5/13/17

Pos.
#
Driver
Hometown
Owner
1
39
Avery Stoehr
Lakeville, MA
Bertrand Motorsports
2
21
Jim Chambers
Atkinson, NH
Mike Chambers
3
7
Alan Chambers
Atkinson, NH
Mike Chambers
4
71
Seth Carlson
Brimfield, CT
Gene Feigel
5
48
Todd Bertrand
Danielson, CT
Gill Bertrand
6
74
Randy Cabral
Plymouth, MA
Bertrand Motorsports
7
47
Kyle Hamilton
Plainfield, IN
Bertrand Motorsports
8
9
John Zych Jr.
Mendon, MA
John Zych Sr.
9
30
Paul Scally
Raynham, MA
Paul Scally
10
31
Ryan Bigelow
East Hampton, CT
Paul Bigelow
11
99
Jim Santa Maria
Burlington, CT
Jim Santa Maria
12
5b
Bethany Stoehr
Bridgewater, MA
Greg Stoehr
13
50
Lanson Fornoro
-
Pete Pernisiglio Sr.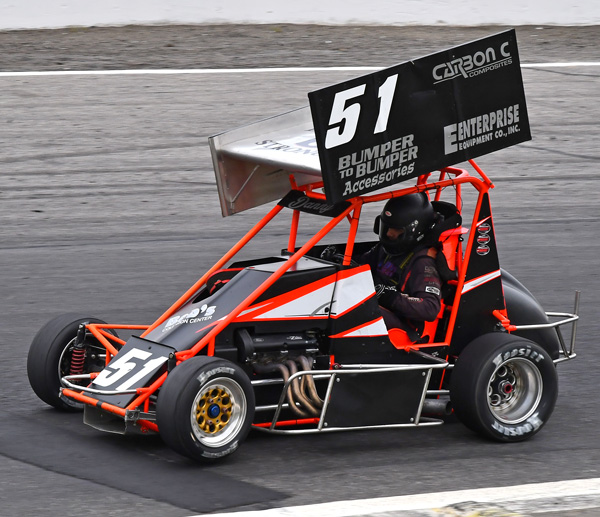 NEMA LITES - STAR - 5/13/17
Pos.
#
Driver
Hometown
Owner
1
51
Dan CuginI
Marshfield, MA
Dan Cugini
2
12
Jim Chambers
Atkinson, NH
Jim Chambers
3
7
Jim Cataldo
Sterling, MA
Jim Cataldo
4
45
Kyle Hamilton
Plainfield, IN
Bertrand Motorsports
5
9
Ben Mikitarian
Northborough, MA
John Mikitarian
6
88
Jeff Locke
Raymond, NH
Ken Locke
7
35
Randy Cabral
Plymouth, MA
Glen Cabral
8
30
Paul Scally
Raynham, MA
Paul Scally
9
16
Denis O'Brien
Deerfield, NH
Chris O'Brien
10
38
Ryan Locke
Raymond, NH
Ken Locke
11
21
Anthony Payne

Fairlawn, NJ

Mike Scrivani
12
3
Chris Vose
Gloversville, NY
Chris Vose
13
52
Kevin Park
Foxboro, MA
Kevin Park
14
20
Jeremy Decourcy
Rochester, NH
Jeremy Decourcy
15
19
Richard Coy
Haskell, NJ
Richard Coy
16
DQ
27
Kevin Iannarelli
Maynard, MA
Kevin Iannarelli
Avery Stoehr, Dan Cugini Take NEMA Wins
on 50 Legs/PASS Night at Star Speedway
As most other Northeastern race tracks were canceling their events for last Saturday evening, Bob Webber's Star Speedway happened to be right in a pocket of dry weather, and the show went off without a hitch. NEMA and the NEMA Lites were part of a blockbuster racing card that included the Pro All Star Series (PASS) and Star's weekly divisions, including the 350 Supers. Avery Stoehr visited victory lane for the second year in a row on opening day for NEMA, this time with a new team in Bertrand Motorsports. In the Lites, a heart breaking loss for Kevin Iannarelli occurred after a mistake was made on rear wheel offsets, resulting in a DQ and handing the win to Danny Cugini.

In the NEMA feature, after a track cleaning session due to oil on the racing surface from a previous division, the NEMA feature was ready to take the green. Avery Stoehr and Alan Chambers brought the field down to the green flag. After two called back start attempts by starter Bob Blanchette, Avery Stoehr jumped out into the lead.

The feature would go wire to wire, with Stoehr leading every lap. Brothers' Jim and Alan Chambers put on an incredible battle for the second spot, with Jim coming out on top. Chambers did start to cut into Stoehr's lead over the final laps, but ran out of time, with Stoehr winning by a straightaway. Seth Carlson, Todd Bertrand, Randy Cabral, Kyle Hamilton, John Zych, Paul Scally and Ryan Bigelow rounded out the top ten. Jim Chambers was the hard charger in the event.

"It was a big weight off my shoulders after the long off season moving to a new team to be able to go out and win the first race even though going over I knew the equipment and everything was top notch but whenever you come into a totally different car it will make you wonder a little bit," said Stoehr. "It was awesome to win for Bertrand Motorsports after every year of racing against them and being welcomed in and everyone helping out was awesome," he said.

In the NEMA Lites division, Kevin Iannarelli battled his way to the front in the early stages of the event. Iannarelli, who ran a blistering lap time of 12.6 earlier in the day in his heat race event, stretched out his lead in the early stages of the race.

Further back, Danny Cugini was slicing his way through the pack, and put on a battle with Jim Cataldo for second spot before breaking free from the pack. Behind them, Jim Chambers came from deep in the field and would pass Cataldo in the late stages of the race, and behind them, Kyle Hamilton and Ben Mikitarian were battling for position in the top five.

As the laps wound down, Cugini cut into Iannarelli's lead by a carlength or two each lap, and with one to go was within two carlengths. He would make a move to the bottom, but wind up a half car length short at the line.

It appeared to be Cugini's second straight second place finish, until it was found in post race tech inspection that Iannarelli had accidentally violated the club's maximum offset rule. Cugini was awarded the victory, and was followed by Chambers, Cataldo, Hamilton, Mikitarian, Jeff Locke, Randy Cabral, Paul Scally, Dennis O'Brien and Ryan Locke.

"My Dad and I did a lot of setup work and spent some time in the shop to get the car done right, rolled it out of the trailer and it was pretty quick. We made a couple of small changes and the car was fast. When the feature started we hit a couple gaps and made our way to the front chasing down the 27 pretty much the whole race. Lap traffic played a good part in letting us reel him in. Crossed the finish line under him in 2nd. Not the way we would have liked to win, but we will take it," said Cugini.

NEMA moves on to Wiscassett Speedway this Saturday evening 5/20 on Ames True Value Night.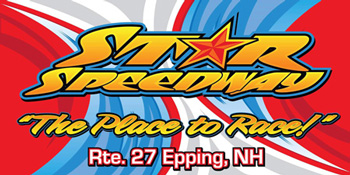 NEMA Announces New Opening Date, Saturday, May 13 at Star Speedway
Epping, NH - With the cancellation of the New London Waterford Speedbowl opening event, the Northeastern Midget Association will head to the famed Star Speedway in Epping, NH on Saturday night, May 13th. It has been a favorite stop for the midgets since the 60's, in fact Star has hosted more NEMA events than any other facility.

"NEMA is extremely excited to return to Star Speedway and especially as part of their PASS weekend, and further, to expand our 2017 schedule with the Webber family," said NEMA President, Tim Bertrand. "Some of the best races in the history of the club have gone down at Star, and we look forward to making some more memories together. Our car counts are looking strong for 2017, and the club is on the upswing," said Bertrand.

"We learned of the issues with Waterford, and extended the opportunity to our friends at NEMA to participate in our opening weekend," said Bob Webber Jr. "This show should be an unbelievable bargain for the fans, with both the PASS, NEMA and NEMA Lite cars on hand," he went on to say.

Some of the greats have gotten their first NEMA victory at Star including Joey Coy, Mike Favulli and Billy Mann, as well as modern day drivers like Randy Cabral, Jeff Horn, Joey Payne, Bobby Seymour and Russ Stoehr. There will be plenty of drivers gunning for their first on Saturday night May 6th, including New Hampshire's Alan Chambers.

Russ Stoehr leads all active drivers with 10 wins at Star, and Randy Cabral captured last year's Star race in convincing fashion. Drew Fornoro is the all-time NEMA winner at Star with 23, the first coming in 1982. The others in double figures are Dave Humphrey (16) and Russ Stoehr.

Among the others to score their first win at Star were three-time ('89, '91, '93) champ Joey Coy, Hall of Famer Mike Favulli and 1984 champ Billy Mann. There are two sets of brothers (Drew and Nokie Fornoro and Bobby Seymour) and three father-son combinations on the win list. The later category includes Johnny and Joey Coy, Johnny and Billy Mann and Ronnie and Johnny Evans, the latter winning for Jimmy O'Brien.

Additional announcements will be forthcoming about NEMA's participation in the upcoming opener at Star, over the coming week.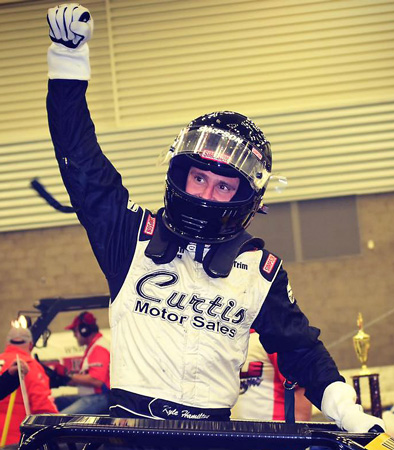 Kyle Hamilton to Do Double Duty
for Bertrand Motorsports at
Star Speedway NEMA Opener
On the heels of the Northeastern Midget Association announcing that it had inked a deal with Star Speedway for the opening race for the NEMA division, Bertrand Motorsports has announced that 24-year-old Kyle Hamilton of Plainfield, Indiana will do double duty for the team on Saturday May 13th. He will run the Bertrand Motorsports #45 in the Lite division and the famed #47 in the NEMA division. Hamilton made two appearances for Frank Manafort & Bobby Seymour in 2016, finishing 2nd and 4th, respectively, in the NEMA Lite series.

Hamilton is no stranger to the cockpit of powerful open wheel cars. The 2009 USAC Ford Focus National Champion and USAC National midget feature winner, also has experience racing Silver Crown cars and non-wing Sprint cars. Hamilton has driven for famed car owners such as Bob East, Don & Mel Kenyon and Steve Lewis/9 Racing.

"I'm excited to team up with Bertrand Motorsports. They have a top notch program that demands respect from the competition and I'm looking forward to joining forces at Star Speedway," Hamilton said.

"The competition in the NEMA series is very high. The racers will run side by side with you and keep everything clean. I felt like I was up to speed quickly and can't wait to get back behind the wheel of a NEMA Midget in 2017," he went on to say.

Hamilton is also no stranger to ¼ mile bullring tracks. The 2016 winner of the "Rumble at Fort Wayne," one of the most prestigious races of the year, also has extensive track time at bull rings such as Andersen, Grundy, and Toledo Speedway in Ohio.

"In my experience in the Midwest, my best finishes have come at bullring tracks like Star Speedway, which is a good sign. I have a lot of laps around tracks like that. Those tracks provide intense, close racing. I am looking forward to the opportunity to get back to the East Coast!," said Hamilton.

Although most of his experience comes without a wing, Hamilton has enjoyed his rides in NEMA's winged warriors. "I was amazed at how quickly the cars get through the center of the corner and how much throttle you can use," he said.

NEMA joins a blockbuster card at Star Speedway on May 6th, with the PASS Late Model Tour on hand, in addition to the 350 Super Modifieds, and a full card of racing action.