43rd Annual
ICEBREAKER
SAT. APRIL 8th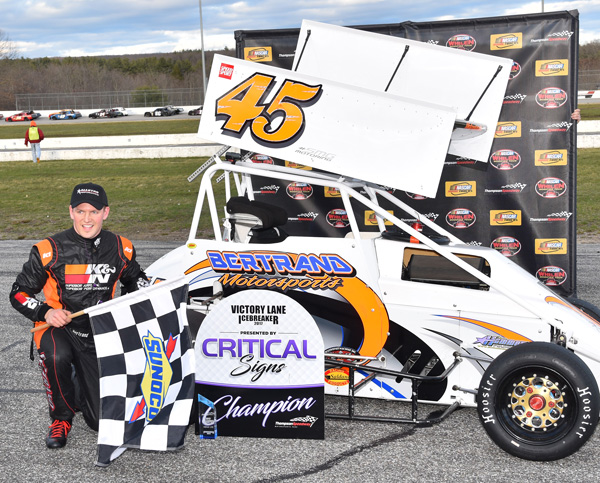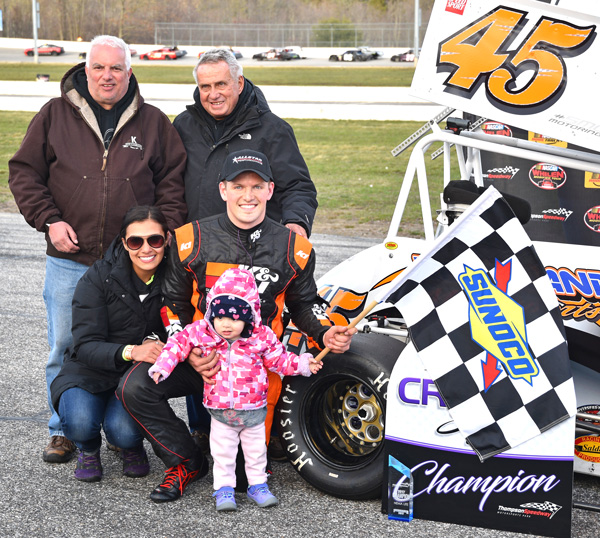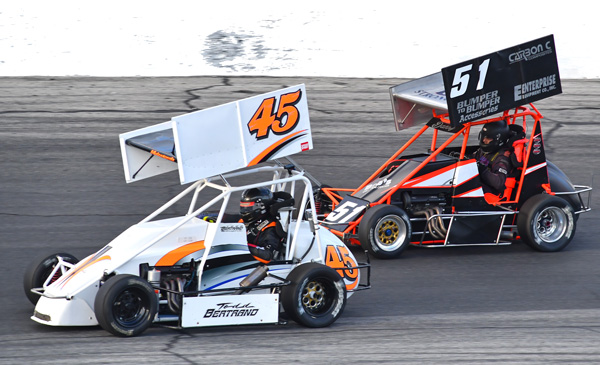 TODD BERTRAND #45 - DAN CUGINI #51
Photos by




Norm Marx
Thompson NEMA Lites
ICEBREAKER to Bertrand
While riding on a right rear Hooiser tire that was first used in 2016, Todd Bertrand in his Bertrand Motorsports #45, dominated the ICEBREAKER 20 lapper Saturday. The New England air was cold, but the competition was hot as three wide racing was the order of the day.

Over 20 cars stuffed the pits to kick off NEMA's long anticipated 65th consecutive racing season. The qualifiers were won by Paul Scally (30), and Chad LaBastie (14).

As veteran starter Craig Merriman threw the green for the feature, pole sitter Chris Vosey led the field to the first turn. Three wide racing started immediately but the P.J. Stergios (57), machine spun in turn one on the second lap to bring out the yellow flag.

After a "hold your breath" restart, Avery Stoehr (5), looped around in turn four bringing out another caution. Ryan Locke (38), and Kevin Iannarelli (27), pulled into the pits with mechanical issues. At the green, Anthony Payne (21), who had charged from mid pack, Danny Cugini (51) and Bertrand were battling their way to the front, to be factors later. Veteran Paul Scally (30), while putting on a driving clinic, led the early going but faded with an engine overheating issue and ended up sixth. On lap six, Bertrand stormed to the inside of Scally to take the lead. At the crossed flags it was Bertrand, Cugini, Scally, LaBastie and Jim Chambers (12). Payne also faded due to a clogged injector nozzle.

As the field entered the second half of the race and Cugini pressuring Bertrand, lapped cars were a big factor. Chambers and Ryan Bigelow (13), went high and low to enter the top five. With a few laps remaining, in car video shows Cugini actually drew even with the leader, but a lapped car that Bertrand used as a "pick" prevented the pass. At the "bumper to bumper" checked flag it was Bertrand, Cugini, LaBastie, Chambers and Bigelow.

Post race: Bertrand stated "the car got lose late in the race, and we had to contend with lapped cars but the motor ran really well. I really need to thank Glen Cabral who worked his tail off to get this car together, and also to Danny Cugini, who let us borrow a fly wheel so we could get here."

Finishing third, LaBastie said the motor was getting hot but the car was still handling well.

Cugini said "The last few laps were awesome. We ran down the 45 from a straightaway back, and I saw him start to free up. The lapped cars played a big role in the outcome. Todd battled me hard and clean and he was driving his butt off, and our cars were almost identical at the end. It was a great race. I really need to thank my Dad who worked nearly all week to get this car together."

21st lap Notes:



Cugini put in the fastest lap of the race, a 19.60, to Bertrand's 19.64 - both of which came on the final cicuit



Newcomer and multi-generation driver, Richie Coy, had early morning trailer problems, adding many hours to his trip.



Due to the cold temps, long time tire supplier, Bobby Seymour, had to actually pre-warm a tire in order to dismount it.



Said Bill Stergios; "We started the racing season with 6 inches of snow at my house".



With tail tank damage from heat race contact with the wall, Ryan Locke (38), and crew worked hard to get the car to the line for the feature.


-
NEMA LITES - ICEBREAKER - 4/8/17
Pos.
#
Driver
Hometown
Owner
1
45
Todd Bertrand
Danielson, CT
Bertrand Motorsports
2
51
Dan CuginI
Marshfield, MA
Dan Cugini
3
14
Chad Labastie
Oxbridge, MA
Chad Labastie
4
12
Jim Chambers
Atkinson, NH
Jim Chambers
5
13
Ryan Bigelow
E. Hampton, CT
Ryan Bigelow
6
30
Paul Scally
Raynham, MA
Paul Scally
7
21
Anthony Payne
Fairlawn, NJ
Mike Scrivani
8
3
Chris Vose
Gloversville, NY
Chris Vose
9
5
Avery Stoehr
Lakeville, MA
Jim Cataldo
10
16
Denis O'Brien
Deerfield, NH
Chris O'Brien
11
52
Tyler Rivard
Woonsocket, RI
Kevin Parks
12
2
Jim Cataldo
Sterling, MA
Jim Cataldo
13
24
Nikki Caroll
Andover, NJ
Nikki Caroll
14
35
Randy Cabral
Kingston, MA
Glen Cabral
15
19
Richard Coy
Haskell, NJ
Richard Coy
16
27
Kevin Iannarelli
Shirely, MA
Kevin Iannarelli
17
38
Ryan Locke
Raymond, NH
Ken Locke
18
57
PJ Stergios
Newmarket, NH
Bill Stergios
19
9
Ben Mikitarian
Northborough, MA
John Mikitarian
20
41
Meg CuginI
Marshfield, MA
Glenn Cugini
21
20
Jeremy Decourcy
Rochester, NH
Jeremy Decourcy





NEMA Lites Kick Off at ICEBREAKER
Thompson Speedway Motorsports Park
to Offer "Bounty" to NEMA Lite Teams
The Northeastern Midget Association has long considered Thompson Speedway Motorsports Park (TSMP) the ultimate 'separate the men from the boys (or girls!)' facility. While any Thompson checkered is a treasure, winning on opening day in the NEMA Lites feature at this year's ICEBREAKER event will be a goal high on the list of many attendees.

To add to the excitement, TSMP is offering a "bounty" of $150 to any teams that forfeit their qualified starting positions and drop to the rear of the field, and come through to win the feature event.

2016 Lites champion Jim Chambers will lead the field to Thompson. Chambers was battling for the lead last year, when disaster struck in turns three and four with another competitor, ending his day. In addition to Chambers, NEMA's all time winner at TSMP Randy Cabral, will be on hand in his family owned #35. Ben Mikitarian, who had an impressive run last Fall at TSMP, will be on hand with his family owned New England Truck Solutions sponsored machine.

In addition to Chambers, Cabral and Mikitarian, one cannot count out 2015 NEMA Lites Champion, Anthony 'The Tornado' Payne in the Scrivani owned #21. Son of legendary open cockpit mainstay, Joey Payne, the young Payne had impressive outings at TSMP last season.

A number of new teams are rumored to be at TSMP for the ICEBREAKER as well, including one of NEMA's most famous families, the Coy's, returning full time with Richie Coy at the helm.

With a twenty plus car field rumored, that's just the beginning of the list. Jeremy Decourcey will be debuting his new chassis at the ICEBREAKER, while the Cugini family will bring their two family owned vehicles to the event with brother and sister, Dan and Meg at the wheel. Dan is a multi time Lites feature winner at the Speedway, and always a threat to win.

Ryan Bigelow is set to return to Thompson in his ECOTEC powered BEAST chassis as well. Other entrants include PJ Stergios, a multi time NEMA Lite winner, set to run a full season in pursuit of a Championship in 2017, and p long time Northeastern racer, Chad Labastie.

Todd Bertrand, who had an impressive run last Fall at the World Series, in the Lites division will be on hand in his family owned Drinan chassis, as will long time NEMA owner Paul Scally in his Drinan Chassis.

Kevin Iannarelli will be on hand debuting his new BEAST chassis, hot off the lettering presses from 32 Signs, and Chris Vose is looking forward to his second season with the Lites kicking off at TSMP as well.

Thompson, known for its long straightaways and high banked corners presents a 'mental wrestling match from mid straightaway into the turns,' pointing out to be successful 'you have to pretty much keep your foot in it deep into the corner' says long time NEMA member and multi time winner Greg Stoehr.

NEMA and Thompson have a relationship that goes back to 1960, the legendary Dutch Schaefer the winner. Since then, Thompson has helped write a ton of NEMA history. Greg Stoehr, driving for John Zahar, passed brother Russ in the closing laps to win in 1994. In 2001, Joey Payne, who like Greg Stoehr started last, passed the same Russ Stoehr on the final lap en route to the checkered. The latter was the famed car owner Gene Angelillo's 100th NEMA win.