NEMA MIDGETS ONLY (NO LITES)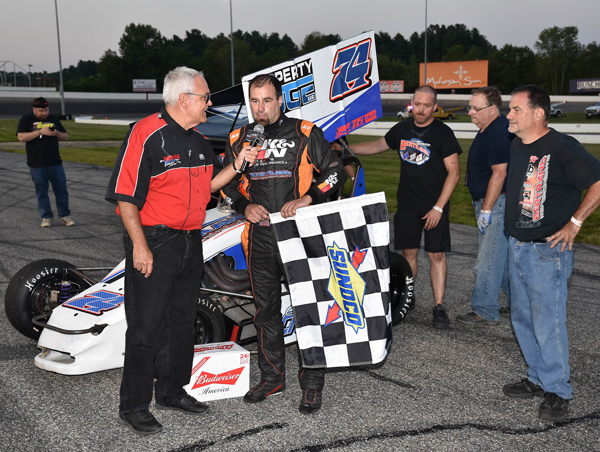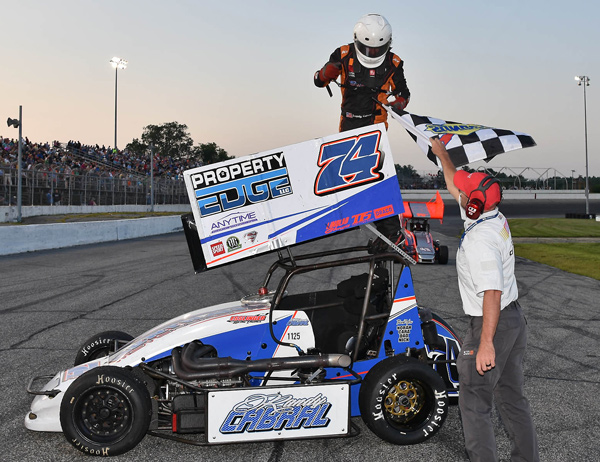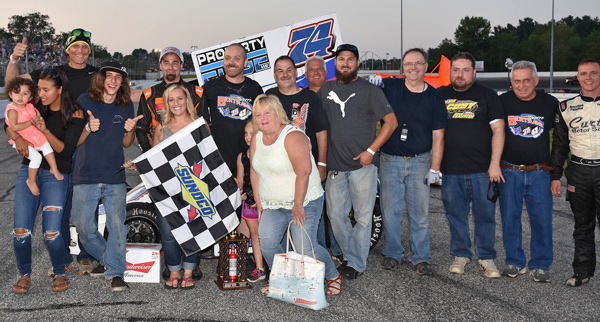 Feature>
Heats>
Pits>

Photos by




Mike Rothwell
NEMA MIDGETS -

THOMPSON - 8/9/17

Pos.
#
Driver
Hometown
Owner
1
74
Randy Cabral
Kingston, MA
Bertrand Motorsports
2
47
Kyle Hamilton
Plainfield, IN
Bertrand Motorsports
3
21
Jim Chambers
Atkinson, NH
Mike Chambers
4
A1
Mike Horn
Ashland, MA
Jeff Horn
5
5b
Bethany Stoehr
Bridgewater, MA
Greg Stoehr
6
48
Todd Bertrand
Danielson, CT
Gill Bertrand
7
30
Paul Scally
Raynham, MA
Paul Scally
8
9
John Zych Jr.
Mendon, MA
John Zych Sr.
9
87
Doug Cleveland
Sudbury, MA
Doug Cleveland
10
7
Alan Chambers
Atkinson, NH
Mike Chambers
11
66
Chris deRitis
Philadelphia, PA
Dan deRitis
12
71
Seth Carlson
Brimfield, CT
Gene Feigel
13
39
Avery Stoehr
Lakeville, MA
Bertrand Motorsports
14
99
Jim Santa Maria
Burlington, CT
Jim Santa Maria
15
31
Ryan Bigelow
East Hampton, CT
Paul Bigelow
16
77
Jesse Jakubajtys
Brockton,MA
Mike Luggelle
Cabral Conquers NEMA Field
at Thompson's Budweiser 150
Randy Cabral put on a duel with John Zych that left fans on their feet as Cabral took down the Northeastern Midget Association victory at the Thompson Speedway Motorsports Park this past Wednesday. It was the first stop of the season for the full size NEMA cars at TSMP, the second being the season ending World Series of Racing. For Cabral, it was his fourteenth win at Thompson Speedway Motorsports Park, extending his lead on the all time win list.

When the field came down to the green flag, Doug Cleveland and Bethany Stoehr raced into turn one for the top spot. Disaster struck on lap four bringing out the red flag, when Seth Carlson and Avery Stoehr tangled racing for position on the back stretch. Stoehr's Bertrand Motorsports #39 rode the back stretch wall nearly exiting the racing surface, while Carlson's Feigel Motorsports #71 impacted the back stretch wall hard, destroying the car. Both drivers were able to walk away un injured.

When the green flag flew on the next restart, twelfth place starter Randy Cabral who had sliced his way through the field from twelfth place, rocketed into the lead. Quickly, John Zych in the JZ Motorsports #9 began haunting Cabral. The duo raced side by side for a number of laps, as Zych could not quite muster up enough to get by the veteran Cabral. Further back, eleventh place starter, Kyle Hamilton in the Bertrand #47 had worked his way past Jim Chambers into the third spot.

As the laps wound down, Zych's #9 machine began to over heat, and expired on the last lap, with Cabral pulling away for the victory. Hamilton would finish second, followed by Chambers, Mike Horn, Bethany Stoehr, Todd Bertrand, Paul Scally, John Zych, Doug Cleveland and Alan Chambers.

"We have really found a few things on this 74 car that has it working to my liking the last few races," said Cabral. "I've run the bottom groove here for years, but this car seems to really like the top and we had it working good up there tonight. I knew John was there, but also knew that if I could keep my momentum up, it would be hard for him to get by," said Cabral.

NEMA returns to Thompson at the World Series of Speedway Racing in October.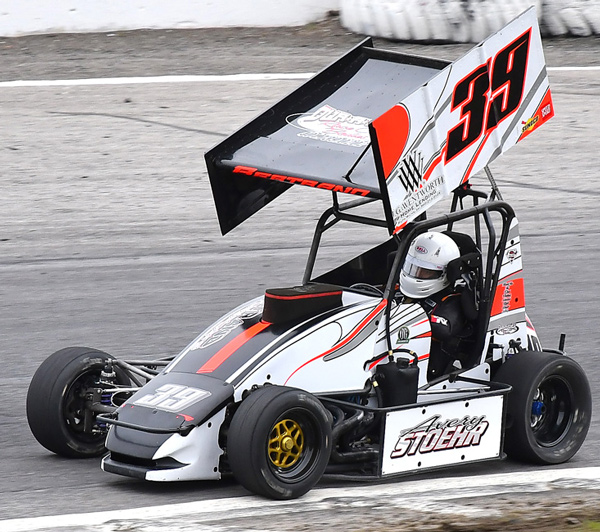 Stoehr Leads NEMA to Thompson's
Budweiser King of Beers 150
This Wednesday 8/9
The Northeastern Midget Association has long considered Connecticut's Thompson Speedway Motorsports Park the ultimate "separate the men from the boys" facility. A Thompson Checkered is always a treasured prize for any NEMA competitor.

Points leader Avery Stoehr in the Bertrand 39, leads an extremely close points chase that includes Jim Chambers, Cabral, Alan Chambers, Seth Carlson and John Zych - separated by less than 100 points from first to sixth. Zych has had a number of impressive TSMP runs over the past three seasons.

Five time champion Cabral of Plymouth, is the all time win leader at the facility with a dozen victories.

Also entering Wednesday's race, Plainville Indiana's Kyle Hamilton, will be in the Bertrand Motorsports 47 for the evening after a last minute Indy Car conflict for Indiana's Cole Carter prevented him from making the event. Hamilton was second in his last start with NEMA at Star Speedway, on July 8th.

Others that are seeking a Thompson victory, and have been close include Todd Bertrand and Seth Carlson, the later coming very close to victory a number of times this season. Paul Scally, who notched his first NEMA victory earlier this year, is also one to watch, as he was very strong in a couple of NEMA Lite outings at TSMP this season. Bethany Stoehr will also be back on hand in her new 5B machine on Wednesday, as will Doug Cleveland with his new power plant and Jesse Jakubajtys in the Luggelle 77.

Ryan Bigelow returns in his family's #13 powered by a new Esslinger power plant, and Chris Deritis will be returning to competition in his always fast #66 machine.

Thompson's long Midget history, however, is filled with surprises. Considering the last few seasons have been one of the most competitive seasons in NEMA's 60+year history. It is safe to consider the possibility of another surprise.

With lap times typically within 2-3 tenths across the top ten this year at most tracks, anything can happen on Wednesday.

NEMA and Thompson have a relationship that goes back to 1960 when the legendary Dutch Schaefer was the winner. Since then, Thompson has helped write a ton of NEMA history.