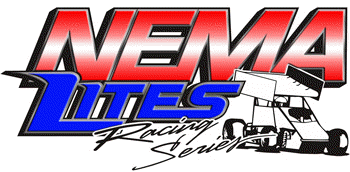 SATURDAY, AUGUST 26TH - 7:00 PM
.::NEMA LITES ONLY::.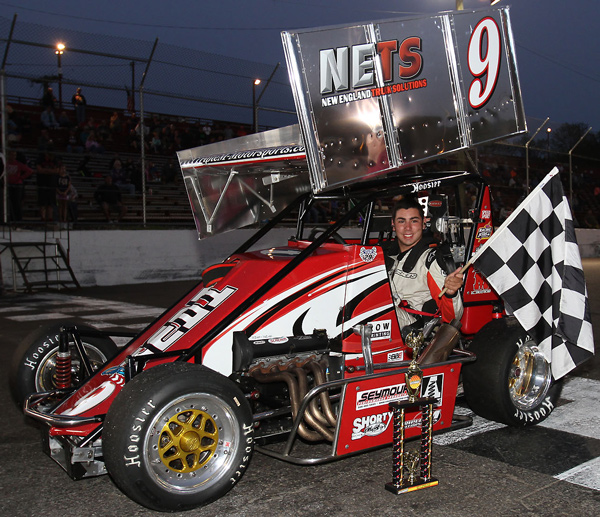 BEN MIKITARIAN #9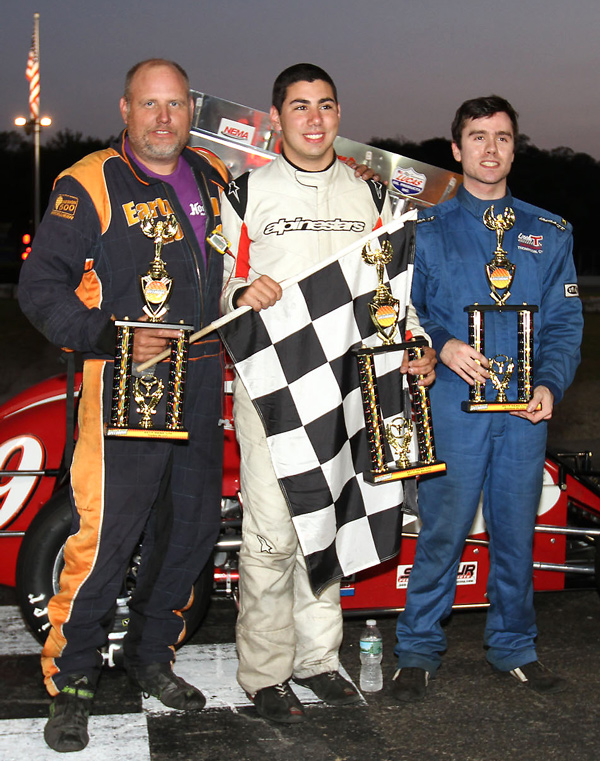 NEMA LITES TOP THREE - L TO R:
PAUL SCALLY #30, 3rd;
Winner BEN MIKITARIAN #9; &
JAKE STERGIOS #11, 2nd.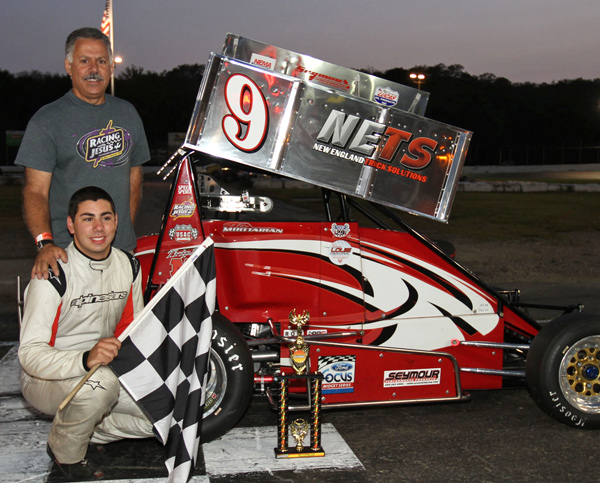 NEMA LITES - WATERFORD - 8/26/17
Pos.
#
Driver
Hometown
Owner
1
9
Ben Mikitarian
Northborough, MA
John Mikitarian
2
11
Jake Stergios
Candia, NH
Bill Stergios
3
30
Paul Scally
Raynham, MA
Paul Scally
4
51
Dan CuginI
Marshfield, MA
Dan Cugini
5
12
Jim Chambers
Atkinson, NH
Jim Chambers
6
38
Ryan Locke
Raymond, NH
Ken Locke
7
35
Randy Cabral
Kingston, MA
Glen Cabral
8
21
John Zych Jr.
Mendon, MA
Mike Scrivani
9
7
Jim Cataldo
Sterling, MA
Jim Cataldo
10
19
Richard Coy
Haskell, NJ
Richard Coy
11
68
Danny Gamache
No. Smithfield, RI
Cheryl Gamache
12
3
Chris Vose
Gloversville, NY
Chris Vose
13
36
Jeremy Decourcy
Rochester, NH
Myles Devits
14
16
Dennis O'Brien
Deerfield, NH
Chris O'Brien
15
52
Kevin Park
Foxboro, MA
Kevin Park
16
99
Jim Santa Maria
Burlington, CT
Jim Santa Maria
17
95
Jeff Schechter
Cortland Manor, NY
Jeff Schechter
Down to the Wire:
Mikitarian Captures Speedbowl
NEMA Lites Victory
Ben Mikitarian fended off fellow competitor Jake Stergios in an epic battle that raged down to the final lap, in a three wide battle, that saw Mikitarian crossing the line first. It was the third straight race at the New London Waterford Speedbowl that has come down to the winner being decided on the final lap. It was Mikitarian's second career, and also second win of the season, the first of which came at Star Speedway earlier this season.

The evening started with Mikitarian and five time NEMA champion, Randy Cabral, taking down heat race wins. Ryan Locke, who finished second to Cabral, turned in the fastest lap of the heat events at 13.96 seconds. Mikitarian and points leader, Jim Chambers, were also in the sub 14 second bracket, particularly fast times for the Speedbowl.

When the green flag flew in the feature, Chris Vose and Dennis O'Brien brought the field to green. O'Brien quickly jumped out into the lead, but further back, sixth place starter Ben Mikitarian in the New England Truck Solutions #9, was using the outside line to move to the front. By lap two, Mikitarian was second, and by lap three, he used the outside line in turn three to get by O'Brien.

As the laps wound down, battles were happening throughout what would end up being a green to checkered feature. Paul Scally, Dan Cugini and points leader Chambers were all battling for a spot on the podium, while Ryan Locke was moving through the field toward the top five, fighting a loose race car.

At the front, Stergios began to close the gap, as Mikitarian approached lapped traffic. With five to go, Stergios looked low on Mikitarian, but Mikitarian got a clean run off of the corner to maintain the lead. With two to go, the duo approached a group of lapped cars, and by the front stretch, Mikitarian went high, and Stergios low, splitting Richie Coy, in a three wide battle. Mikitarian would maintain the momentum and come out on top, beating Stergios back to the line. Paul Scally would finish third, followed by Dan Cugini, Jim Chambers, Ryan Locke, Randy Cabral, John Zych, Jim Cataldo and Richie Coy.

"The high side was working really good for me, and the car was perfect up there. I knew we had to get to the front quickly, as a number of the fast guys were starting behind me. As we got into lapped traffic, Jake poked it in under me a couple of times, and I had to really pour it all on. When we approached the lap car on the final lap, I just drove it in as hard as I could and we held on for the win," said Mikitarian. "I really need to thank my Mom and Dad for all they do for me, and also New England Truck Solutions," he said.

"My car was coming in good at the end, and I got a couple of good runs there at the end on Ben. He was getting through lapped traffic really well, and I knew I had to do something. I made it three wide, but Ben had the momentum and came out on top. Great job to him and his team," said Stergios.

NEMA and the NEMA Lites pick back up this Saturday at the Iron Mike Scrivani Memorial at Monadnock Speedway.