SATURDAY, MAY 28th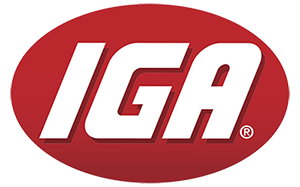 THE ALLAN CANTOR MEMORIAL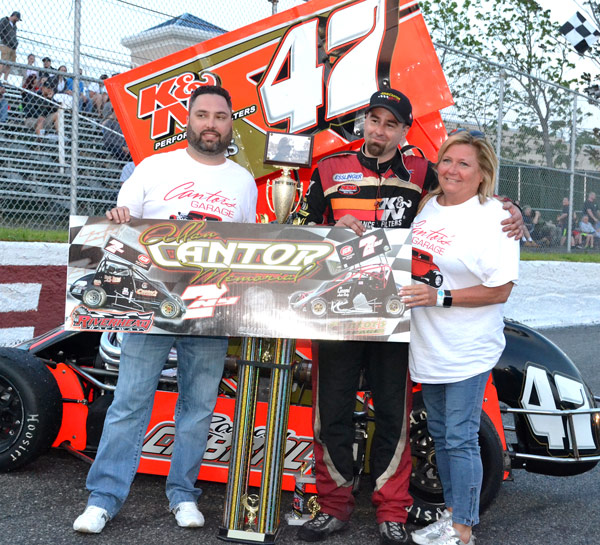 NEMA MIDGETS RACE WINNER: RANDY CABRAL #47
(Photos by Tiffany Payne)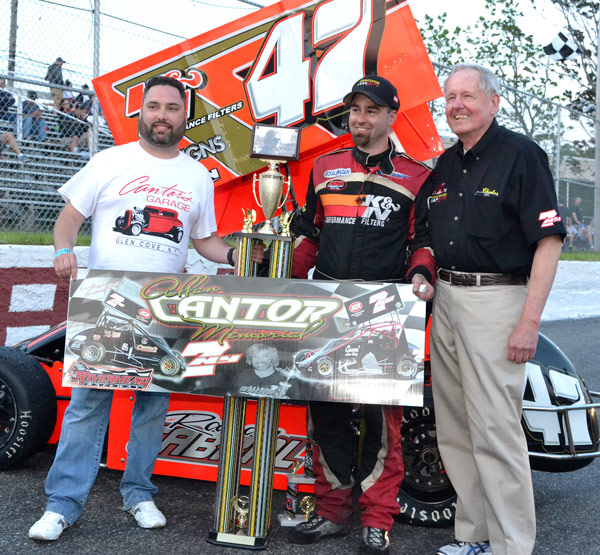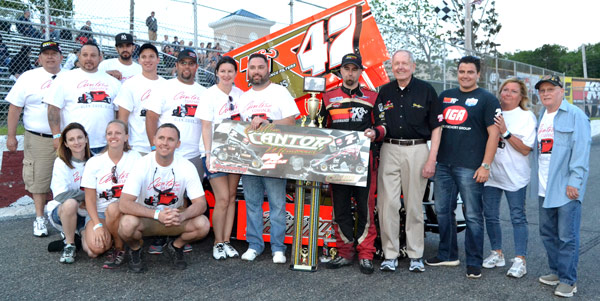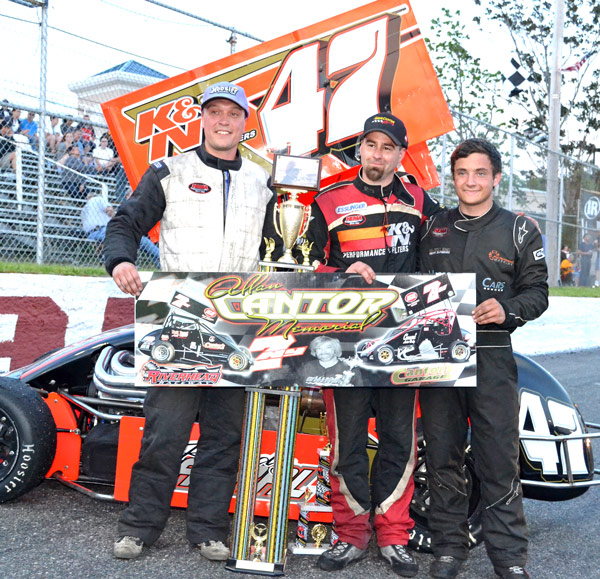 A. CHAMBERS - CABRAL - A. STOEHR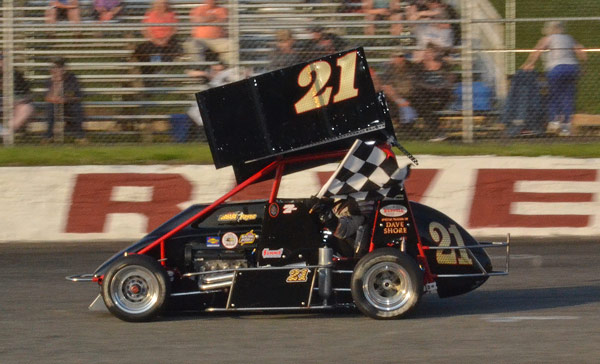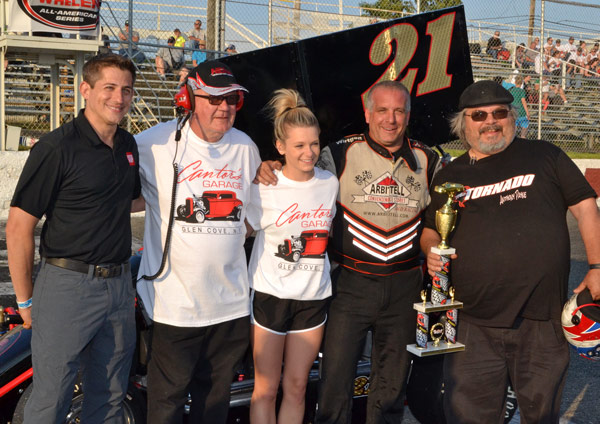 NEMA LITES RACE WINNER: JOEY PAYNE #21
Historic NEMA Win for Cabral
at Riverhead Raceway;
J. Payne Captures Lites Victory
Riverhead, NY - Randy Cabral was in the "right place, at the right time" last Saturday evening, as he was victorious in the Northeastern Midget Association's first return to Riverhead Raceway in nearly 40 years. It was a historic victory - as it marks the seventeenth consecutive season that Cabral has been victorious, breaking the long standing record set by NEMA great, Dave Humphrey. It also ties Cabral with Russ Stoehr for 3rd on the all time NEMA win list with 49 wins.

In Lites action, Joey Payne, substituting for his son, Anthony, who had come down with the flu, took down a thrilling win over Danny Cugini. It marks the 32nd straight season that Payne has won a race, across all of the divisions he has run.

In the NEMA feature, Paul Scally jumped out into any early lead from the front row. Behind Scally, the action was two and three wide on the small 1/4 mile track. By the halfway point, it was still Scally in command, and Jim Chambers had worked his way up to second.

A lap fourteen restart bunched up the field, and when the green flag flew, John Zych Jr. blasted by Scally and Chambers into the lead. A few laps later, Chambers had closed the gap on Zych, and started to haunt the back of the #9 Zych machine. Behind them, home town favorite and NASCAR Whelen Modified Tour standout, Justin Bonsignore had worked his way from the eight spot into third, and was gaining ground as the leaders battled for the top spot.

Contact between Zych and Chambers lap eighteen saw Chambers come out on top, and two laps later Zych would spin into the infield, fighting a loose race car. The cars lined up single file, for what he fans hoped to be an epic battle between Chambers and Bonsignore. However, it all went wrong at that point, as Bonsignore caught the right rear tire on the Chambers machine, who was fighting a right front tire that had unknowingly gone flat - and rocketed the #74 Bonsignore machine head on into the fence. After being shaken up, Bonsignore walked away with minor bruises.

On the final restart, Randy Cabral, who was biding his time, inherited the lead, with Star winner Avery Stoehr behind him. Cabral jumped out into the lead and was never seriously challenged. He took down the win over Stoehr, Alan Chambers, Paul Scally, Danny Cugini, John Zych Jr., Todd Bertrand, Bethany Stoehr, Seth Carlson and Jim Chambers.

"It wasn't the way I wanted to win," said Cabral, who was reflecting on his teammates destroyed race car. "But I guess we need to take them as they come. The car was loose, but good enough to hold them off," he said. On beating Humphrey's record, Cabral said "Dave is a class act, always has been. It's humbling to even be mentioned in the same category as him, nevertheless breaking a record of his," he said.

In the NEMA Lite race, New Jersey's Joey Payne Jr. was substituting for son, Anthony, in the Scrivani 21, as he had come down with the flu and high fever on the morning of the Riverhead event. Riverhead proved to be kind to the elder Payne, as he beat back Danny Cugini to

Payne, by virture of the NEMA handicapping system, would start from the outside pole. In the early stages of the race, Payne held a commanding lead, stretching it out at times to nearly a straightaway.

Further back, Thompson Icebreaker winner, Danny Cugini was working his way to the front, and a caution with nine laps remaining would pair the Payne/Cugini duo up side by side. Cugini looked to have a nice jump on Payne of of turn four, but the wiley veteran drove down hard into turn turn one and Cugini's car broke loose. A little smoke off of the Cugini machine, and Payne was right back to the lead. He would beat back Cugini on one additional restart enroute to victory.

Payne would take down the win over Cugini, Star winner, Jim Chambers, Alan Chambers, Jim Cataldo, Meg Cugini, Paul Scally, Ryan Locke, Jeremy Decourcey and Randy Cabral.
NEMA MIDGETS - RIVERHEAD - 5/28/16

Pos.
#
Driver
Hometown
Owner
1
47
Randy Cabral
Plymouth, MA
Tim Bertrand
2
15a
Avery Stoehr
Lakeville, MA
Russ Stoehr
3
7
Alan Chambers
Atkinson, NH
Mike Chambers
4
30
Paul Scally
Raynham, MA
Paul Scally
5
51
Danny Cugini
Marshfield, MA
D. Cugini
6
9
John Zych Jr.
Mendon, MA
John Zych Sr.
7
39
Todd Bertrand
Danielson, CT
Todd Bertrand
8
5b
Bethany Stoehr
Bridgewater, MA
Greg Stoehr
9
71
Seth Carlson
Brimfield, CT
Gene Feigel
10
21
Jim Chambers
Atkinson, NH
Mike Chambers
11
28
Pete Pernisiglio Sr.
Ronkonkoma, NY
Pete Pernisiglio Sr.
12
74
Justin Bonsignore
Holtsville, NY
Tim Bertrand
13
50
Kevin Park
Foxboro, MA
Pete Pernisiglio Sr.
NEMA LITES - RIVERHEAD - 5/28/16
Pos.
#
Driver
Hometown
Owner
1
21
Joey Payne

Fairlawn, NJ

Mike Scrivani
2
51
Danny Cugini
Marshfield, MA
D. Cugini
3
12
Jim Chambers
Atkinson, NH
Jim Chambers
4
17
Alan Chambers
Atkinson, NH
Mike Chambers
5
2
Jim Cataldo
Sterling, MA
Jim Cataldo
6
41
Megan CuginI
Marshfield, MA
D. Cugini
7
30
Paul Scally
Raynham, MA
Paul Scally
8
38
Ryan Locke
Raymond, NH
Ken Locke
9
29
Jeremy Decourcy
Rochester, NY
Jeremy Decourcy
10
35
Randy Cabral
Plymouth, MA
Glen Cabral





ALLAN CANTOR MEMORIAL AWARDS
MyRaceNews.com - When the NEMA Midgets return to Long Island for the first time in 39 years it will be one of their highest paying races of the season.

The winner of the NEMA race will get a $1,000.00 bonus thanks to Adam Cantor boosting the winners share to up around $1,650.00, only the Boston Louie race at Seekonk Speedway may pay more.

The NEMA Lite feature has $500.00 added to the winners share thanks to Parker Sanitary Pumping in Wrentham Ma.

Additional Bonus awards for the May 28th Allan Cantor Memorial races and the sponsor of that award:

Hard Luck Award:
NEMA $100.00- Advanced Auto Parts.
NEMA Lites $100.00 The D'Amaro Family Manorville NY

Hard Charger Award:
NEMA $100.00 Johns Fuel Oil, Holtsville NY.
NEMA Lites $100.00 Myracenews.com

Best Appearing Car:
NEMA $100.00 Francis & Rosemary McGuire, Huntington Station,
NEMA Lites $100.0 The Grande Family, Long Island NY

Mechanic of the Race:
NEMA $200.00,
NEMA Lites $200.00 The Salvesen/Cantor/DeMonte Families

Leader of Lap 7:
NEMA $100.00,
NEMA Lites $100.00 The Salvesen/Cantor/DeMonte Families

All those awards add up to a total of $2,700.00 in bonus money that will be handed out at the end of the evening.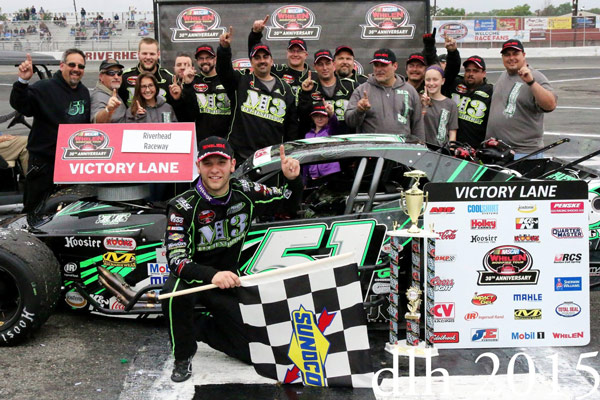 Bonsignore Set to Make NEMA Debut
in Cantor Memorial at Riverhead
NASCAR Whelen Modified tour driver, Justin Bonsignore, is set to make his Northeastern Midget Association debut on Saturday May 28th at Riverhead Raceway in the inaugural Allan Cantor Memorial. Bonsignore will be teaming up with Tim Bertrand/Bertrand Motorsports, playing part to a three car card that evening with the team's full time drivers, Todd Bertrand and five time NEMA champion, Randy Cabral.

A winner of six World Karting Association titles and eight NASCAR Whelen Modified Tour (NWMT) events, Bonsignore is no stranger to victory lane. He was also the 2010 NWMT rookie of the year, and named the tour's most popular driver in 2011.

"I am really excited and honored to get the chance to drive for the Bertrand family, they build and prepare some amazing looking cars, and they are extremely fast as well. I have always kept up with watching the NEMA races when we are there with the modifieds and more often than not the Bertrand cars are in victory lane, it was pretty awesome to have Tim reach out and ask me to drive the car," said Bonsignore.

"I really hope I can get up to speed quickly and feel comfortable, the only thing I have driven in comparison is a TQ midget over the winter, but I have a feeling this is going to be a totally different animal, we are hoping to get a test in next week at the Speedbowl to learn the in/out of the cars and get a feel for what I will need to be comfortable. One good thing on my side will be that Tim prepares a great car and I know once the driver is up to speed that the car will already be there. I also know I can reach out to Todd and even Doug Coby for what to look for in the car and what to expect," he went on to say.

Bonsignore will be piloting the #74 Esslinger powered machine, which was driven to two victories last year at Chemung and Waterford by Coby, and at Monadnock by Joey Payne.

Bonsignore is also no stranger to Riverhead, a place that NEMA has not visited in many years. The 2011 Riverhead Raceway modified champion said, on the topic of the midgets coming back - "I think it should produce a great race, I personally have only seen the NEMA cars on a bigger, wider tracks where they seem to get strung out, I think you will see a really close group of cars on a tight little bullring, where there might be a bunch of lead changes, good hard nose racing. Hopefully we are right in the mix of it."

NEMA will play part of a busy evening on the 28th at Riverhead, as it's the track's "Wall of Fame" night, Vintage midget series, and the regular card of racing. It will also be the first NEMA Allan Cantor Memorial race, commemorating the long time club member who passed away last year. Allan's son, Adam, and family will be on hand, as the Master of Ceremonies as the club remember's the devoted Cantor.

The relationship between Cantor and Bonsignore also runs deep.

"I think the coolest part of getting the opportunity to drive for the Bertrand family is that it's going to be in the Inaugural Allan Cantor Memorial. I have known Adam and Allan Cantor since Adam and I were about 8 years old racing go karts out at Westhampton Speedway, Alan was always such a great person and always was nice to me growing up. I know it may be a tall task to win in my first start, but I really want to win this race for that reason more then any other," he said.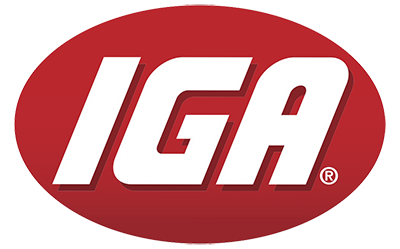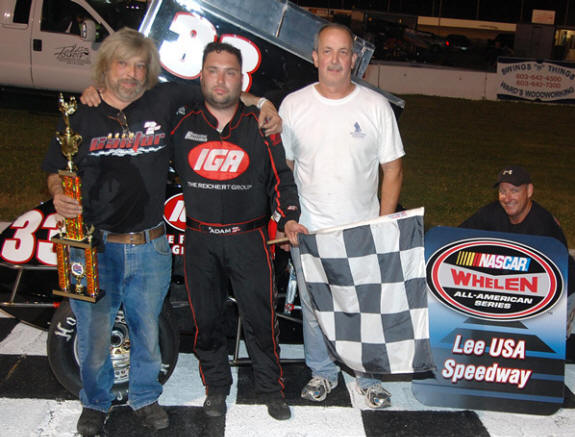 IGA FOOD MARKETS TITLE SPONSOR
FOR ALLAN CANTOR MEMORIAL
For Riverside Raceway by Bob Finan - The Northeastern Midget Association is headed back to Long Island after a long absence Saturday May 28th when they compete in the Allan Cantor Memorial 50 at Riverhead Raceway. Riverhead GM John Ellwood announced today that the Reichert Group IGA Food Markets has signed on as the title sponsor of the race. IGA Food Markets were also a loyal sponsor on the Allan Cantor owned #7NY NEMA Midgets.

"We're very excited to have the NEMA Midgets and NEMA Lites back racing on Long Island" John Ellwood noted while making the IGA Food Markets sponsorship announcement. "To have Charlie Reichert and his Reichert Group IGA Food Markets come on board for the race that we honor Allan Cantor makes the event that much sweeter". The Reichert Group IGA Food Markets on Long Island are located in Greenport, Southold, East Northport, Fort Salonga and Bayville.

From 2001 until 2013 Allan Cantor fielded a NEMA Midget based out of his lifelong hometown of Glen Cove with his son Adam wheeling the potent racer for many of those season. Allan was well known in the Long Island racing circle well before he went midget racing in the late 1970's and early 1980's. He along with Tony Contarino designed and built the ultra successful Alto Chassis for the Mini Modified race cars. Allan along with his brother Barry also worked with the late "Tiger" Tom Baldwin on his NASCAR Modifieds and together operated Cantor's Garage in Glen Cove.

When Eddie & Connie Partridge and Tom Gatz took ownership of Riverhead Raceway late in 2015 they had John Ellwood look into some new and exciting forms of racing to bring to Riverhead Raceway and one of the first John called was NEMA President Russ Stoehr. They together put together the May 28th date for the Allan Cantor Memorial. Later in the summer the New England Truck Series will also visit Riverhead on July 9th, with the Granite State Pro Stocks set to visit on July 30th.

2015 NEMA Midget champion John Zych Jr. of Mendon, MA will lead the charge to Riverhead Raceway on the 28th along with 2015 NEMA Lites kingpin Anthony Payne of Fair Lawn, N.J.

Joining NEMA on what will be a very nostalgic night are the Vintage Midget Racing Club and Vintage Race Cars as well the annual Cromarty Wall of Fame inductions. Long time car owner the late John Ambrose Sr., NASCAR Modified standout the late Chris Young and multi time Late Model champion Steve Tooker will be enshrined that evening.

The NASCAR Modifieds will run a 40-lap main event on May 28th and be joined by the Riverhead Modified Crates and Legend Race Cars, who will both run 20-lap features. Feature event racing will start at 6:30 pm.

For additional information visit www.riverheadraceway.com
or call 631-842-RACE.