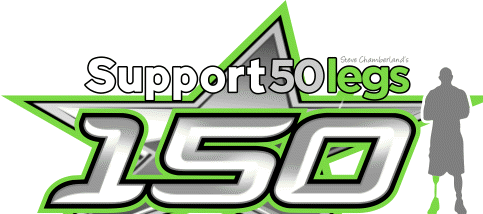 PASS SUPER LATE MODELS

SATURDAY, MAY 21st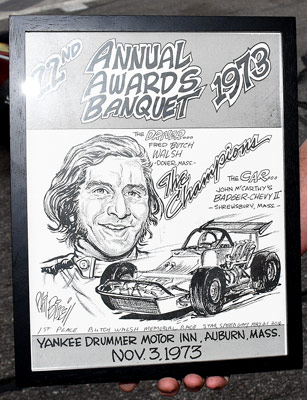 THE NEMA BUTCH WALSH MEMORIAL
On May 21st 2016, 50 years to the day since his first midget race, Star Speedway hosted the Inaugural Butch Walsh Memorial Race. We thought it was only fitting to pay tribute to one of this club's truest racers and most influential leaders. Butch was not only a champion driver, he was a fantastic mechanic, and a courageous President who's leadership changed NEMA forever. In memory of Butch, $555.55 was added to the NEMA Midget winner's purse.
See Butch's page at the NEMA History site:
www.nemahistory.com/butch-walsh.html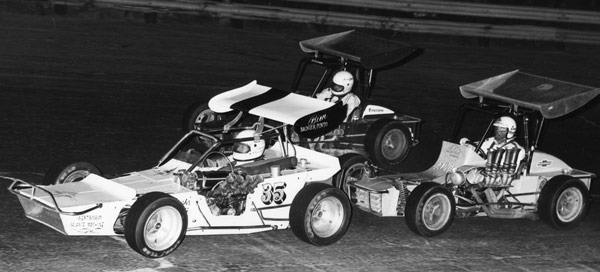 Butch in the Bien Badger leading the Badgers
of Dave Humphrey and Johnny Evans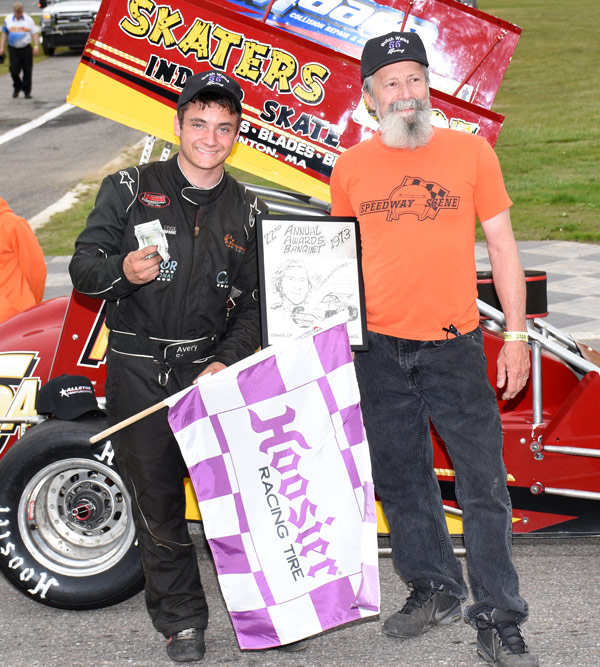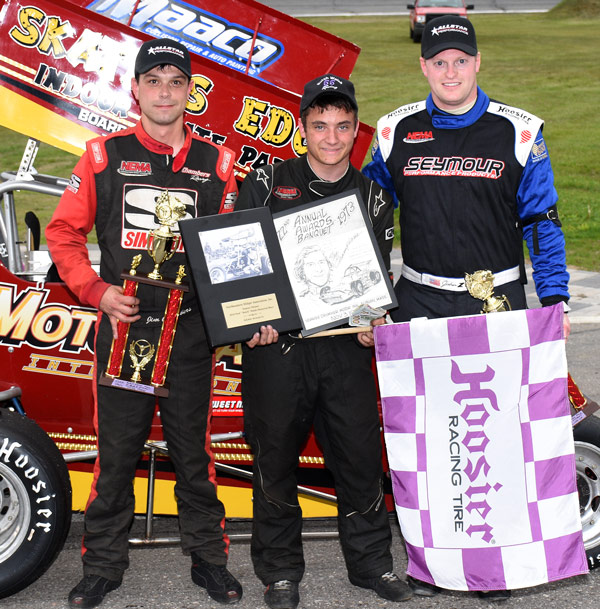 JIM CHAMBERS - AVERY STOEHR - JOHN ZYCH
NEMA MIDGETS - STAR - 5/21/16

Pos.
#
Driver
Hometown
Owner
1
15a
Avery Stoehr
Lakeville, MA
Russ Stoehr
2
9
John Zych Jr.
Mendon, MA
John Zych Sr.
3
21
Jim Chambers
Atkinson, NH
Mike Chambers
4
47
Randy Cabral
Plymouth, MA
Tim Bertrand
5
74
Joey Payne
Fairlawn NJ
Tim Bertrand
6
71
Seth Carlson
Brimfield, CT
Gene Feigel
7
39
Todd Bertrand
Danielson, CT
Todd Bertrand
8
30
Paul Scally
Raynham, MA
Paul Scally
9
5b
Bethany Stoehr
Bridgewater, MA
Greg Stoehr
10
7
Alan Chambers
Atkinson, NH
Mike Chambers
11
51
Danny Cugini
Marshfield, MA
D. Cugini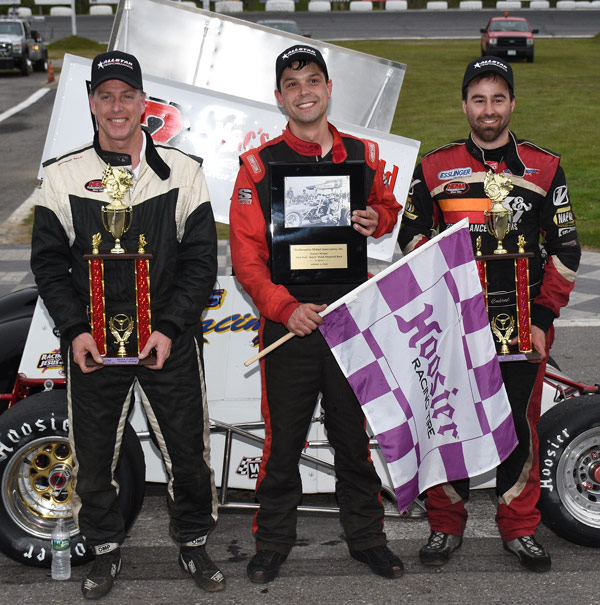 JIM CATALDO - JIM CHAMBERS - RANDY CABRAL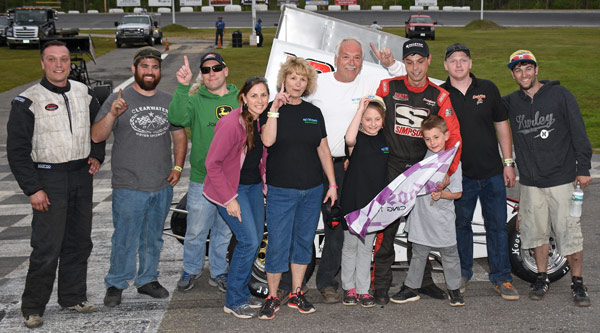 NEMA LITES - STAR - 5/21/16
Pos.
#
Driver
Hometown
Owner
1
12
Jim Chambers
Atkinson, NH
Jim Chambers
2
35
Randy Cabral
Plymouth, MA
Glen Cabral
3
2
Jim Cataldo
Sterling, MA
Jim Cataldo
4
41
Megan CuginI
Marshfield, MA
D. Cugini
5
9
Ben Mikitarian
Marblorough, MA
John Mikitarian
6
14
Chad Labastie
Uxbridge, MA
Chad Labastie
7
30
Paul Scally
Raynham, MA
Paul Scally
8
17
Alan Chambers
Atkinson, NH
Mike Chambers
9
46
Andy Barrows
New Ipswich, NH
Andy Barrows
10
29
Jeremy Decourcy
Rochester, NH
Jeremy Decourcy
11
29
Anthony Nocella
Woburn, MA
Matt Seymour
12
51
Danny Cugini
Marshfield, MA
D. Cugini
13
11
PJ Stergios
Candia, NH
Bill Stergios
14
38
Jeff Locke
Raymond, NH
Ken Locke
15
21
Anthony Payne

Fairlawn, NJ

Mike Scrivani
16
28
Jeff Schechter
Mohegan Lake, NY
Jeff Schechter
17
3
Chris Vose
Gloversville, NY
Chris Vose
A. Stoehr, J. Chambers Conquer
in NEMA's Butch Walsh Memorial
at Star Speedway
Avery Stoehr beat back three restart challenges from John Zych Jr. to take down an emotional win this past Saturday at Star Speedway in the Butch Walsh Memorial event. It was Stoehr's first NEMA start since losing close friend, long time NEMA member/championship car owner, Carl Kibbe.

When the green flag flew in the NEMA feature, Alan Chambers wasted no time in jumping out into the lead. It looked as if Chambers may have been on his way to his first ever feature event win, when misfortune struck his #7 machine on lap fourteen. A broken drive belt the culprit, sidelined Chambers from the remainder of the event.

On the restart, Stoehr wasted no time taking the lead in the NEMA feature. He quickly gained command of the race until a caution for a Bethany Stoehr spin on lap nineteen. When the green flag flew, the young Stoehr was once again in command over John Zych Jr. and Jim Chambers, who had methodically worked his way through the pack.

One more caution flag for a Bethany Stoehr spin did not interrupt Stoehr's rhythm, as he again beat back Zych to the line. Over the final circuits Stoehr stretched out his lead, and took down a commanding win over Zych, Chambers, Randy Cabral, Joey Payne, Seth Carlson, Todd Bertrand, Paul Scally, Bethany Stoehr and Alan Chambers.

"The car was awesome. The restarts are always going to try your nerves a little bit but the car was right on. I definitely went into this race wanting to win it for my friend (Carl Kibbe) and more than anything it meant the world to me. He would of been proud of the way the car went tonight. I can't thank my dad enough for all the extra effort he put in to make sure we went good tonight," said the young Stoehr.

In the NEMA Lite feature, a story of attrition played out, with a number of cars ending on the sideline in the event.

That didn't stop Jim Chambers though, from taking down his first ever NEMA Lite win. Chambers started I the second spot, and battled with up and comer Jim Cataldo for a number of laps before assuming the top spot.

He went on to take down a commanding win over five time NEMA champion, Randy Cabral, Jim Cataldo, Meg Cugini, Ben Mikitarian, Chad Labastie, Paul Scally, Alan Chambers, Andy Barrows and Jeremy Decourcey.

"It was a lot of work after a hard wreck at Thompson, but luckily it was mostly bolt on parts. The frame, motor, driveline and rear end were all ok so once all the parts came in it wasn't that bad for us to put it back together. As for Saturday night's race, it was just one of those nights were it just all worked out. Once I got out front of Jim, we had a hand full of restarts I just tried to stay smooth hit my marks and not over drive the car. I've been watching races here for years, and it has certainly helped when we come here," said Chambers.

NEMA resumes its schedule this coming Saturday at Riverhead Raceway.