NEMA LITES 20 LAP FEATURE - SAT. NIGHT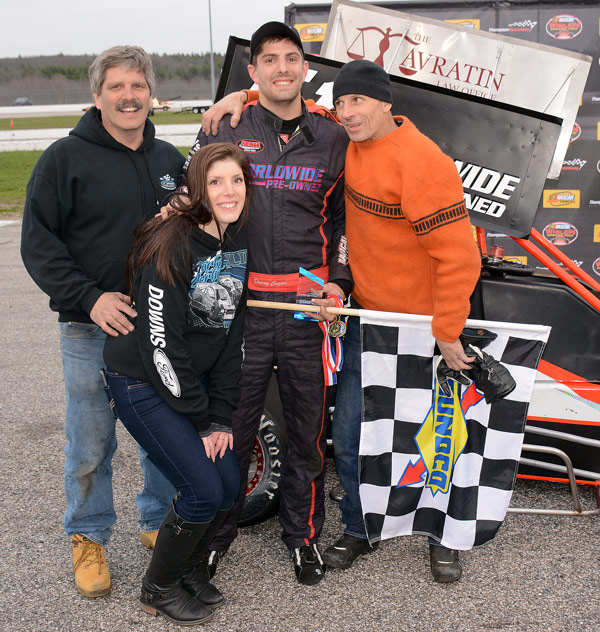 LITES WINNER - DANNY CUGINI #51
Last to First: Cugini Takes
Thompson ICEBREAKER Win
The Northeastern Midget Association has long considered Thompson Speedway Motorsports Park (TSMP) the ultimate "separate the men from the boys" facility. With times in the mid 19 second range, Saturday's NEMA Lites appearance at the facility, taking place on a beautiful Spring day - left no doubts on the table. Dan Cugini in his #51 family owned Ford Focus powered entry, was victorious when it was all said and done, besting the fifteen NEMA Lites competitors in the pits.

The action started fast & furious right out of the gate. In the first heat, Ryan Bigelow in his SMG Motoring Chevy Ecotec powered entry jumped out into the lead from the pole, and dominated the event over brother Scott Bigelow. In heat 2, 2015 Champion Anthony "The Tornado" Payne scored an impressive victory running the fastest times of the qualifying events in the 19.60 range.

Ryan Bigelow led the field to green for the 20 lap feature. He quickly jumped out into the lead and stretched his lead to five carlengths. Behind him, Jim Chambers in his #21 family owned entry was closing the gap fast & furious, and within four laps he was on Bigelow's tail. Chambers took the lead going down the back stretch on lap five, and Bigelow made a bid in turns three and four to take it back, but unfortunately the two made contact sending both hard into the turn four fence, collecting Anthony Nocella in the Seymour #29 along with them. All three drivers were OK, although Nocella was a bit bruised and shaken after a hard impact. All three cars retired to the pits.

On the restart, PJ Stergios quickly jumped out into the lead, and further back Danny Cugini had come from last starting spot, and overtook second ahead of Paul Scally, Anthony Payne and Randy Cabral. After a close call between Cugini and Scally, Scally lost momentum and a number of spots.

Once in the open, Cugini quickly ran down Stergios and after a brief battle, took over the lead and set sail, never seriously challenged from that point on for the victory.

"We had struggled all morning with getting the motor running right, but just before the heat race Danny Cugini helped us get it running. I didn't get any practice in before the heat and was just hoping to finish the race. I got lucky missing the crash in turn 3, and was kind of surprised to find myself leading. Cugini definitely had the better handling car, and I tried to put up a fight, which resulted in me getting into him off turn 2 which was totally my fault. I'm glad he held onto it there, and picked up the win after helping us get the car running so congrats to him," said Stergios, satisfied with a second place run.

"I knew that I needed a caution, and after that, I needed to get to the front quickly," said Cugini. "Once I took the lead, I knew we had the car to beat. Chris (Desrosiers) knows how to set the car up for the way I like to run at Thompson. You need to be able to drive the car in really deep here, and that's what I was able to do," he said. "I'm just really excited to be able to take down the first victory of the year here at Thompson Speedway Motorsports Park," he concluded.

Cugini and Stergios were chased across the line by 2015 champion Anthony Payne, Randy Cabral, Avery Stoehr, Paul Scally, Jim Cataldo, Alan Chambers, Jeff Locke, and Scott Bigelow.

NEMA makes its next stop at the New London Waterford Speedbowl for its first inaugural test & tune session on May 1.
NEMA LITES - ICEBREAKER - 4/9/16
Pos.
#
Driver
Hometown
Owner
1
51
Danny Cugini
Marshfield, MA
D. Cugini
2
11
PJ Stergios
Candia, NH
Bill Stergios
3
21
Anthony Payne

Fairlawn, NJ

Mike Scrivani
4
35
Randy Cabral
Plymouth, MA
Glen Cabral
5
15a
Avery Stoehr
Lakeville, MA
Russ Stoehr
6
30
Paul Scally
Raynham, MA
Paul Scally
7
2
Jim Cataldo
Sterling, MA
Jim Cataldo
8
DNF
17
Alan Chambers
Atkinson, NH
Mike Chambers
9
DNF
38
Jeff Locke
Raymond, NH
Ken Locke
10
DNF
32
Scott

Bigelow

E. Hampton, CT

Scott

Bigelow

11
DNF
13
Ryan Bigelow

E. Hampton, CT

Ryan

Bigelow

12
DNF
12
Jim Chambers
Atkinson, NH
Jim Chambers
13
DNF
29
Anthony Nocella
Woburn, MA
Matt Seymour
14
DNS
14
Chad Labastie
Uxbridge, MA
Chad Labastie
15
DNS
41
Megan CuginI
Marshfield, MA
D. Cugini



NEMA Lites Set for Thompson Speedway
Motorsports Park's 2016 ICEBREAKER
The Northeastern Midget Association has long considered Thompson Speedway Motorsports Park (TSMP) the ultimate "separate the men from the boys" facility. While any Thompson checkered is a treasure, winning on opening day in the NEMA Lites feature at this year's ICEBREAKER event will be a goal high on the list of many attendees.

Sitting at the top of that list is the all time Thompson winner - with twelve victories, Randy Cabral, who will return at the ICEBREAKER in his family owned #35 Lites car. There are certainly no lack of favorites to win the event, outside of Cabral. Scott Bigelow, last year's winner, is a tentative "yes" for this weekend's festivities, dependent on his personal schedule. Bigelow scored an impressive victory in the first ever NEMA Lites feature at the Speedway.

In addition to Bigelow and Cabral, one cannot count out last year's NEMA Lites Champion, Anthony "The Tornado" Payne. Son of legendary open cockpit mainstay, Joey Payne, the young Payne had impressive outings at TSMP last season. NEMA competitor Paul Scally will be debuting his new Drinan Lites car, and 2014 NEMA runner up Avery Stoehr, will return in his family owned ride as well.

With a nearly twenty plus car field rumored, that's just the beginning of the list. Brothers Alan and Jim Chambers come to the ICEBREAKER with two focus powered cars, and will highlight Alan's return to the division in addition to a full time NEMA schedule for both. Teammates Christian Briggs and Juris Kupris will bring their RAM Bull racing entries to TSMP with high hopes of a feature victory. The Cugini family brings their two strong family owned entries to the Speedway. Ryan Bigelow is set to return to Thompson in his focus powered BEAST chassis as well. Other entrants include PJ Stergios, a multi time NEMA Lite winner, set to run a full season in pursuit of a Championship in 2016, and possibly long time Northeastern racer, Chad Labastie.

Thompson, known for its long straightaways and high banked corners presents a "mental wrestling match from mid straightaway into the turns," pointing out to be successful "you have to pretty much keep your foot in it deep into the corner" says long time NEMA member and multi time winner Greg Stoehr.

NEMA and Thompson have a relationship that goes back to 1960, the legendary Dutch Schaefer the winner. Since then, Thompson has helped write a ton of NEMA history. Greg Stoehr, driving for John Zahar, passed brother Russ in the closing laps to win in 1994. In 2001, Joey Payne, who like Greg Stoehr started last, passed the same Russ Stoehr on the final lap en route to the checkered. The latter was the famed car owner Gene Angelillo's 100th NEMA win. Last fall, Randy Cabral claimed the victory over his teammate Todd Bertrand with a last lap pass in turns three and four that will go down as "one for the ages."

The Lites kick off ICEBREAKER weekend with all events, including practice, taking place on Saturday only. One thing is for sure, with as close as some of the big track races were last season - reminiscent of Oswego, Thompson's ICEBREAKER should be a "barn burner."