Thanks to our Sponsors for Chemung!
Mike​ & Lu Jarrett, Circle Performance,
Motor Cars International and
Bertrand Motorsports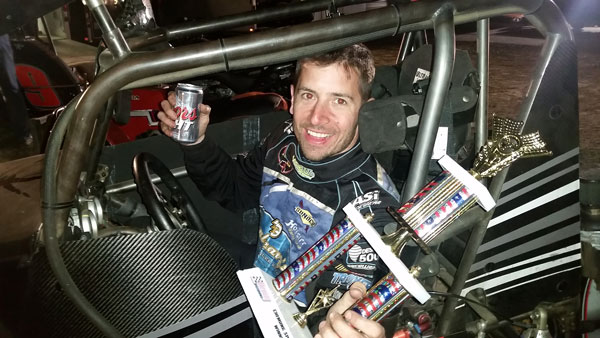 DOUG COBY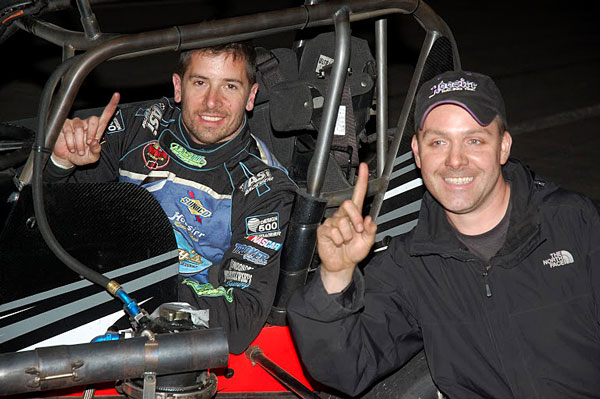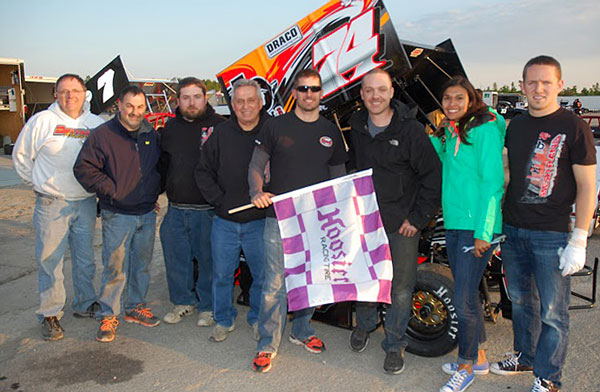 Modified Aces Invade NEMA,
Score Chemung Midget Wins
By Aaron Creed, Speed51.com Pennsylvania/Central New York Editor
The Northeastern Midget Association is a club that boasts a loyal group of drivers and owners, but on this Friday night at Chemung Speedrome (NY) it was a couple racers that have been recognized for their skills in another open wheel machine that took the victories.

2012 and 2014 NASCAR Whelen Modified Tour champion Doug Coby has dabbled in the NEMA car on occasion when he has weekends off, and appeared to be the car to beat from the beginning after dominating his heat race. The Milford, Connecticut driver would have to start fifth in his feature and contend with a relative newcomer to the full-powered Midgets for the top spot early on.

Massachusetts driver Danny Cugini fought off Coby for several laps, but when the caution displayed on lap 11 for an incident Cugini's car would also slow and never come back to life. With Cugini on the sidelines, it was all Coby up front holding off teammate Todd Bertrand in the race that was shortened to 20 laps due to time constraints.

"(Danny) was gaining on me in certain spots and I was gaining on him, and I think in the long run I would have run him down," Coby told Speed51.com powered by JEGS. "I think I was better than him in three and four, which were the critical corners here. When he broke and the track is covered in speedy dry, you don't know who is going to be fast after that. Our car kind of settled in and it was pretty consistent the rest of the way."

Despite this being only Coby's second start at Chemung and eighth in a NEMA Midget, there are some similarities that drivers used to wheeling the Tour-Type Modifieds can pick up on.

"A lot of the sensations in these cars are kind of like running a Modified at Bristol," Coby explained. "It's just really fast and you have to react quickly. They handle really well, but when they get out of shape it's different from a Modified. It's like you kind of wheel them around to save them and jerk the car around a little bit. I think once you drive one of these cars once or twice and you learn more from these guys on how they like to go and what adjustments they make, a good handling car is a good handling car no matter if it's a Late Model, Modified, a Midget, or a Go Kart. If it handles right through the corners, as a driver, you get the same feeling."

Coby was driving for the champion owner from 2014 and annual supporter of the series, Tim Bertrand. He additionally had some help from the defending champion driver Randy Cabral, who helped install the motor they ran for the event. Coby's start in a Bertrand-prepared Midget began a few short years ago with a test session at Waterford Speedbowl (CT).

"After three or four laps that I took it out he told me that I was running some of the fastest lap times he had seen there," Coby said. "We have played around with some different engine combinations and different chassis. He and I are good friends so we hang out anyway outside of racing and talk business together a lot, and so when we can race together it's fun. Nice to start off the season with the NEMA guys with a win and I'm happy for them. They work hard and it's nice to see them get a trophy."

In the more underpowered NEMA Lites division, a first time driver in the car who is no stranger to success at the facility picked up a convincing win. Candor, New York's Jimmy Zacharias touched wheels once and then passed Thompson Speedway (CT) opener winner Scott Bigelow for the lead coming to five laps to go.

For Zacharias, Friday was the first time he ever sat in a Midget racecar. The opportunity came when owner Russ Stoehr and family were looking for a driver with track experience to pilot their machine. That experience turned out to make the biggest difference.

"They called and asked me to drive, and I'll drive anything with a steering wheel and four wheels," Zacharias said. "We got here for early practice and knowing the track, unlike these guys coming here for their first time, it was a big advantage to me. After practice they all started coming over to me asking questions about the track. Having the speed, having the control of the cars, and the knowledge of the track and where to be was the big factor with the win tonight."

According to the multi-time track champion, even Coby came over to ask for some tips prior to the green flag. Zacharias noticeably ran a lower line through the corners than his NEMA Lites competitors, which was exactly the same as he would run in his Modified and proved to be beneficial.

"No matter what you drive here it's the best way to get around this place," Zacharias added. "I don't care if it's a Legends car, Bandolero, Four Cylinder, Midget, or Modified. It's all going to be the same. You have to figure out how to get around it and being that I have raced here since I was 11 years old it has really been a big factor in how I get around this place."

Zacharias was thankful for the opportunity, and hopes to get the chance to do it again sometime after winning in his initial NEMA Lites start. The tight-knit organization of teams was also a positive.

"They were a great group of people to work with," Zacharias said. "That's what racing is about; helping each other out and I feel as though I gave them enough knowledge to help each other out, and we put on a show for the fans."

Zacharias later went on to gain the lead on the first lap of the weekly Sunoco Modified feature, which was also cut short to 37 laps due to track curfew. He went on to dominate the remaining circuits for his second victory in the division during the young 2015 season.
Evan Canfield




MoJo Photos
NEMA MIDGETS - CHEMUNG - 5/22/15

Pos.
#
Driver
Hometown
Owner
1
74
Doug Coby
Milford, CT
Tim Bertrand
2
39
Todd Bertrand
Sufield, CT
Todd Bertrand
3
9
John Zych Jr.
Mendon,MA
John Zych Sr.
4
21
Jim Chambers
Atkinson, NH
Mike Chambers
5
71
Seth Carlson
Brimfield, CT
Gene Feigel
6
15a
Avery Stoehr
Lakeville, MA
Russ Stoehr
7
7
Alan Chambers
Atkinson, NH
Mike Chambers
8
51
Danny Cugini
Marshfield, MA
D. Cugini
9
30
Paul Scally
Raynham, MA
Paul Scally
10
99
Jim Santa Maria

Burlington

, CT
Susan Santa Maria
11
44b
Bethany Stoehr
Bridgewater, MA
Ed Breault
12
32
Ryan Bigelow

E. Hampton, CT

Randy

Bigelow

13
47
Randy Cabral
Plymouth, MA
Tim Bertrand
NEMA LITES - CHEMUNG - 5/22/15
Pos.
#
Driver
Hometown
Owner
1
15a
Jimmy Zacharias
-
Russ Stoehr
2
32

Scott

Bigelow

E. Hampton, CT

Scott

Bigelow

3
51
Danny CuginI
Marshfield, MA
D. Cugini
4
21
Anthony Payne

Fairlawn, NJ

Jennifer Scrivani
5
35
Randy Cabral
Plymouth, MA
Glen Cabral
6
31
Paul Bigelow

Kensington, CT

Paul

Bigelow

7
21c
Jim Chambers

Atkinson, NH

Jim Chambers
8
16
Dennis O'Brien
Deerfield, NH
Chris O'Brien
9
41
Megan CuginI
Marshfield, MA
D. Cugini
10
30b
Paul Scally
Raynham, MA
Paul Scally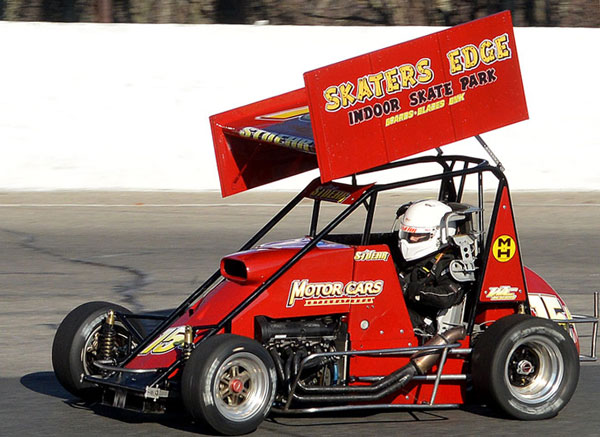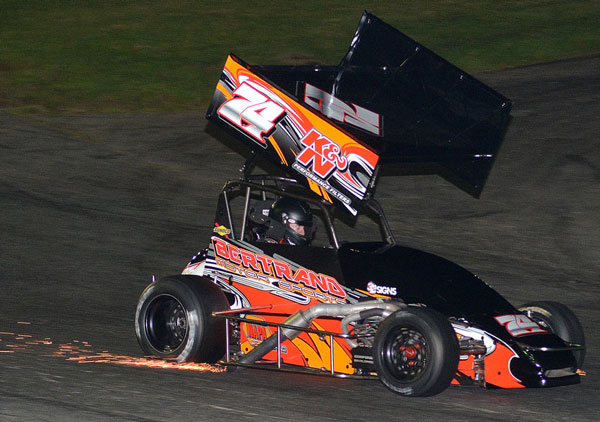 Zacharias, Coby Highlight
NEMA Trip to Chemung
NEMA kicks off its opening weekend action at Chemung Speedrome this coming Friday night. Two of the headline drivers taking the main stage at Chemung will be 2013 New York State NASCAR Modified Champion Jimmy Zacharias and 2012/2014 NASCAR Whelen Modified Tour Champion Doug Coby. Zacharias will be behind the wheel of the Motor Cars International 15B Lites car, and Coby behind the wheel of the Bertrand Motorsports #74 NEMA entry.

"I'm excited about making my first NEMA (Lites) midget start. The cars have always looked fun and racey whenever I've seen them run. Being a regular at Chemung should help me and I'm looking forward to the race," said Zacharias.

In the Lites division, one cannot count out the Bigelow family, brothers Scott & Paul, Scott, was very strong in the Lites season opener at Thompson Speedway Motorsports Park. The Cugini family brings their two strong family owned entries to the Speedrome - Danny proving very strong at Thompson and Anthony Payne in the Scrivani 21. NEMA Champion Randy Cabral will have his family owned #35 on hand as well. Paul Scally has been very strong in early starts so far this season in his new Lites ride, and will be on hand at both events.

In the NEMA field, Coby is looking forward to his return to the midgets. "I like having fun in whatever I'm driving and I have fun driving these cars," Coby said. "I like challenging myself to do something different and showing people that I can drive something other than a Modified, so it's fun to go into different divisions and try to win if you can."

A strong field of midgets heads to Chemung, headed by 2014 champion Randy Cabral. Cabral is joined by Coby & Todd Bertrand as teammates. 2013 Champion, John Zych, has been strong at the New York tracks - finishing 2nd at Oswego, and winning the previous year at Airborne Park. Seth Carlson has been one of the drivers to beat in recent history on the flat New York tracks, winning last year's race at Evans Mills, and the previous year at Oswego. Bethany Stoehr will be in the Breault #44, and the always strong Avery Stoehr will be in his familiar 15B entry, and always a threat to win.

The Northeastern Midget Association is the oldest pavement midget racing club in the Nation. Midgets are typically four cylinder, pure bred open wheel racecars. They do not use starters, flywheels or clutches. If it is bolted into a midget, it serves one of only two purposes: safety or speed. The mighty midgets of NEMA are that and more. With their nearly four hundred horsepower motors, large wings, and wide Hoosier tires - the NEMA midgets are the fastest asphalt midgets in the world.