Cabral Sweeps NEMA's
Return to Star Speedway
Epping, NH - Randy Cabral ended a victory lane dry spell in convincing fashion this past Saturday evening in NEMA's triumphant return to the Webber family's Star Speedway. Cabral won the NEMA Lites feature in dramatic fashion with two laps to go, and captured the NEMA feature in convincing fashion.

In the Lites race, a first lap altercation between Dennis O'Brien and Danny Cugini sent Cugini's badly damaged race car off on the hook, and Cugini was badly bruised up in the incident. When the race resumed, Paul Scally, looking for his first Lites victory, stormed out into the lead. Scally would be hotly pursued by Cabral in his family owned #35.

As the laps wound down, and the duo approached lapped traffic, Cabral began to catch Scally, as they caught the #41 of Meg Cugini. With two laps to go, Scally looked high on Cugini, and Cabral stormed to the bottom, taking both Cugini and taking over the lead from Scally. Hard charger, Anthony Payne inserted into the mix, also getting by Scally for second. Cabral would take down the victory, and would be followed by new points leader Payne, Scally, Scott Bigelow and ISMA Super Modified Standout, Chris Perley.

In the NEMA feature, Cabral, scheduled to start sixth, would end up starting in the fifth spot, after heat winner Avery Stoehr's car would not fire prior to the initial green. When the green flag flew, Cabral wasted no time rocketing into the lead. Alan Chambers, in the Chambers #7, would pursue Cabral, but by the halfway point, Cabral had stretched his lead out to over a straightaway.

As the laps ticked down, NEMA competitors hoped for a caution, but the race went green to checkered, with Cabral taking down his first win of the season in convincing style. The Chambers family occupied the podium with Cabral, with Alan Chambers finishing second, followed by last week's winner Jim Chambers in third. Seth Carlson finished fourth, followed by John Zych Jr., Paul Scally, Matt O'Brien, Pete Pernesiglio, Doug Cleveland and Jim Santa Maria.

Cabral's win ties him with Dave Humphrey's long standing record of sixteen consecutive seasons with a feature win, and also brings him to within twenty six points of current standings leader, John Zych Jr.

"I won this race last year, and on the way home, I found out that my uncle Bobby had passed away. He used to call me before and after every race. Tonight I felt like he was with him - and this one was for him," said an elated Cabral. "We found some issues with the car that we think have been plaguing us all year, and hopefully we'll have a good car for the rest of the season," he said.
In NEMA's Sundown Showdown, ISMA standout, Chris Perley, blasted out into the lead and never looked back. He took down the special event over Anthony Payne and Avery Stoehr.

"NEMA thanks the Webber family for having us back. We are very excited about our 2016 partnership and four dates at the race track," said NEMA President Russ Stoehr.

NEMA returns to Monadnock Speedway for the Iron Mike Memorial this coming Saturday night.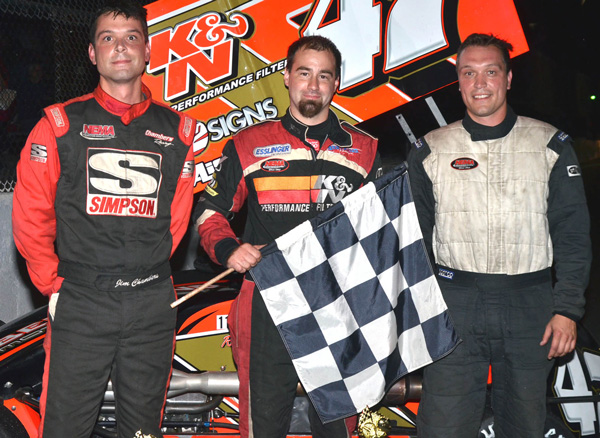 JIM CHAMBERS - RANDY CABRAL - ALAN CHAMBERS
NEMA MIDGETS - STAR - 8/29/15

Pos.
#
Driver
Hometown
Owner
1
47
Randy Cabral
Plymouth, MA
Tim Bertrand
2
7
Alan Chambers
Atkinson, NH
Mike Chambers
3
21
Jim Chambers
Atkinson, NH
Mike Chambers
4
71
Seth Carlson
Brimfield, CT
Gene Feigel
5
9
John Zych Jr.
Mendon, MA
John Zych Sr.
6
30
Paul Scally
Raynham, MA
Paul Scally
7
16
Matt O'Brien
Wilmington, MA
Matt O'Brien
8
28
Peter Pernisiglio Jr.
Ronkonkoma, NY
Peter Pernisiglio Sr.
9
87
Doug Cleveland
Sudbury, MA
Doug Cleveland
10
99
Jim Santa Maria
Burlington, CT
Jim Santa Maria
11
5b
Bethany Stoehr
Bridgewater, MA
Greg Stoehr
12
DNS
15a
Avery Stoehr
Lakeville, MA
Russ Stoehr
13
DNS
77
Mike Luggelle
Hull, MA
Mike Luggelle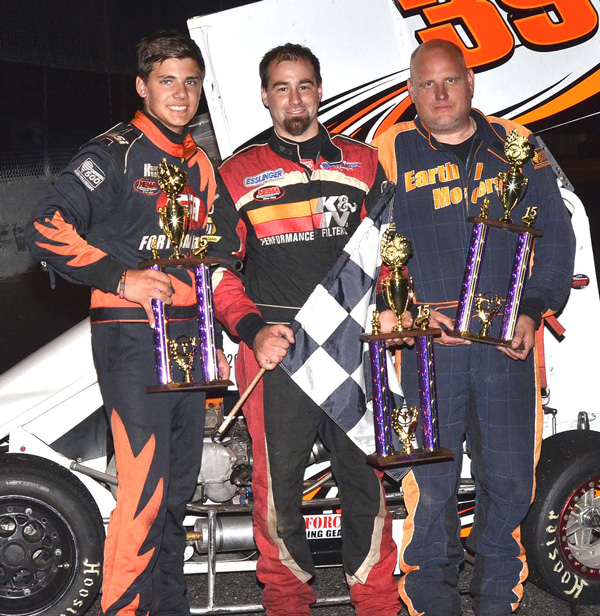 ANTHONY PAYNE - RANDY CABRAL - PAUL SCALLY
NEMA LITES - STAR - 8/29/15
Pos.
#
Driver
Hometown
Owner
1
35
Randy Cabral
Plymouth, MA
Glen Cabral
2
21
Anthony Payne

Fairlawn, NJ

Jennifer Scrivani
3
30b
Paul Scally
Raynham, MA
Paul Scally
4
32
Scott

Bigelow

E. Hampton, CT

Scott

Bigelow

5
76
Chris Perley
Rowley, MA
Fank Manafort
6
15a
Avery Stoehr
Lakeville, MA
Russ Stoehr
7
13
Ryan Bigelow

E. Hampton, CT

Ryan

Bigelow

8
2
Jim Cataldo
Sterling, MA
Jim Cataldo
9
9
Ben Mikitarian
Northborough, MA
John Mikitarian
10
16
Dennis O'Brien
Deerfield, NH
Chris O'Brien
11
41
Megan CuginI
Marshfield, MA
D. Cugini
12
51
Danny Cugini
Marshfield, MA
D. Cugini
13
36
Myles Devits
-
Myles Devits
14
DNS
31

Paul

Bigelow

Kensington, CT
Paul

Bigelow

15
DNS
29d
Jeremy Decourcey
Rochester, NH
Jeremy Decourcey
16
DNS
21w
Jim Chambers

Atkinson, NH

Jim Chambers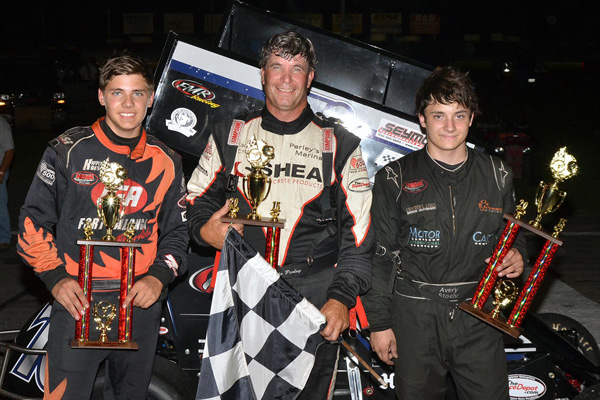 ANTHONY PAYNE - CHRIS PERLEY - AVERY STOEHR
Photos by Tiffany Payne
Meet &
Greet>
NEMA
Lites >
NEMA
Midgets >
NEMA Announces August 29th Date at
Star Speedway, Forges 2016 Partnership
The Northeastern Midget Association will head to the famed Star Speedway in Epping, NH on Saturday night, August 29th. It has been a favorite stop for the midgets since the 60's, in fact Star has hosted more NEMA events than any other facility.

"NEMA is extremely excited to return to Star Speedway this season, and further, to already have forged a strategic commitment to each other for 2016," said NEMA President, Russ Stoehr. "Some of the best races in the history of the club have gone down at Star, and we look forward to making some more memories together."

"We can see that NEMA is on the up swing, and we want to partner with divisions that can both bring us consistent car count, and put on a great show," said Star Speedway Promoter, Bobby Webber Jr. "We are excited to have NEMA return, and are looking forward to some great races over the year to come."

Some of the greats have gotten their first NEMA victory at Star including Joey Coy, Mike Favulli and Billy Mann, as well as modern day drivers like Jeff Horn, Joey Payne, Bobby Seymour and Russ Stoehr. There will be plenty of drivers gunning for their first on Saturday night the 29th, including New Hampshire's Jim and Alan Chambers.

Russ Stoehr leads all active drivers with 10 wins at Star, and Randy Cabral captured last year's Star race in convincing fashion. Drew Fornoro is the all-time NEMA winner at Star with 23, the first coming in 1982. The others in double figures are Dave Humphrey (16) and Russ Stoehr.

Among the most memorable races at Star was "Mazda" Pete Pernesiglio's first NEMA win with son Pete aboard in 1999. There was hardly a dry eye as young Pete outlasted Fornoro to end his dad's long draught. Among active drivers, Jeff Horn, Joey Payne Jr.,, Bobby Seymour and Stoehr all tasted their first NEMA win at Star. Horn and Payne have also been successful in Supermodifieds, Payne actually winning in both divisions on the same program.

Among the others to score their first win at Star were three-time ('89, '91, '93) champ Joey Coy, Hall of Famer Mike Favulli and 1984 champ Billy Mann. There are two sets of brothers (Drew and Nokie Fornoro and Bobby Seymour) and three father-son combinations on the win list. The later category includes Johnny and Joey Coy, Johnny and Billy Mann and Ronnie and Johnny Evans, the latter winning for Jimmy O'Brien.

Per NEMA President, Russ Stoehr, and promoter, Webber, all local Focus midgets are welcome to run at the Star Speedway race on the 29th, and furthermore with NEMA for the remainder of the season.

THE SUNDOWN SHOWDOWN

A special match race has been added to the program. "The Sundown Showdown" will feature some of Star Speedway's historic superstar drivers taking on some of the young, up and coming stars of the NEMA. A trophy and huge bragging rights are on the line for this sure-to-be-special, multi-generational race.