SATURDAY, AUGUST 8th
THE 8th ANNUAL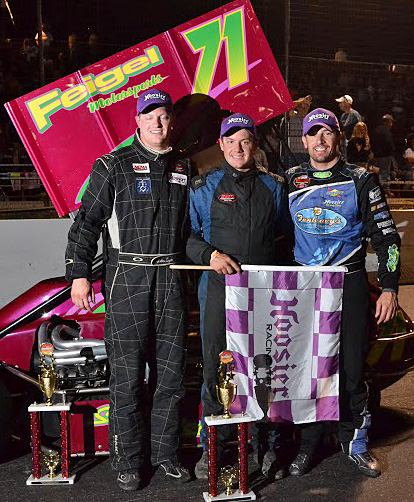 ZYCH - CARLSON - COBY
NEMA MIDGETS - NL-WS - 8/8/15

Pos.
#
Driver
Hometown
Owner
1
71
Seth Carlson
Brimfield, CT
Gene Feigel
2
74
Doug Coby
Wethersfield, CT
Tim Bertrand
3
9
John Zych Jr.
Mendon,MA
John Zych Sr.
4
47
Randy Cabral
Plymouth, MA
Tim Bertrand
5
15a
Avery Stoehr
Lakeville, MA
Russ Stoehr
6
21
Jim Chambers
Atkinson, NH
Mike Chambers
7
44
Russ Stoehr
Lakeville, MA
Ed Breault
8
7
Alan Chambers
Atkinson, NH
Mike Chambers
9
5b
Bethany Stoehr
Bridgewater,MA
Greg Stoehr
10
30
Paul Scally
Raynham, MA
Paul Scally
11
87
Doug Cleveland
Sudbury, MA
Doug Cleveland
12
DNF
28
Pete Pernisiglio Jr.
Ronkonkoma, NY
Pete Pernisiglio
13
DNF
51
Danny Cugini
Marshfield, MA
D. Cugini
14
DNF
39
Todd Bertrand
Danielson, CT
Todd Bertrand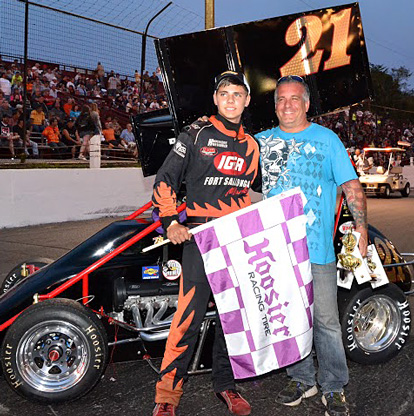 ANTHONY PAYNE - JOEY PAYNE
NEMA LITES - NL-WS - 8/8/15
Pos.
#
Driver
Hometown
Owner
1
21
Anthony Payne

Fairlawn, NJ

Jennifer Scrivani
2
76
Anthony Nocella
Woburn, MA
Fank Manafort
3
30b
Paul Scally
Raynham, MA
Paul Scally
4
32
Scott

Bigelow

E. Hampton, CT

Scott

Bigelow

5
35
Randy Cabral
Plymouth, MA
Glen Cabral
6
21w
Jim Chambers

Atkinson, NH

Jim Chambers
7
24
Nikki Carroll
-
-
8
41
Megan CuginI
Marshfield, MA
D. Cugini
9
DNF
39
RJ Tufano
West Haven, CT
RJ Tufano
10
DNF
31
Paul Bigelow

Kensington, CT

Paul

Bigelow

11
DNF
51
Danny Cugini
Marshfield, MA
D. Cugini
12
DNF
13
Ryan Bigelow

E. Hampton, CT

Ryan

Bigelow

13
DNF
95
Jeff Schecteer
-
-
14
DNS
29d
Jeremy DeCourcey
Rochester NH
Jeremy DeCourcey
Carlson, A. Payne Take
Wings & Wheels NEMA Victories
On a beautiful late summer New England evening, Seth Carlson ended a dry spell for the Feigel Motorsports team this past Saturday evening in front of a giant crowd at the New London Waterford Speedbowl for its annual Wings & Wheels event. In the Lites division, Anthony Payne captured his second win of the season, and of his career, in a hard fought race against veteran Anthony Nocella.
In the NEMA race, Carlson started fourth on the grid, while Doug Cleveland and Russ Stoehr brought the field to the green. Carlson wasted no time, blasting past Cleveland for the lead on the third lap. Right behind Carlson, reining NASCAR Whelen Modified Tour champion, Doug Coby was on the move as well. Coby moved into second on the third lap, and the two would run in that order for the majority of the race. Further back, Randy Cabral and John Zych were battling for the third spot, when a caution flew with six laps remaining for a Pete Pernesiglio spin.
On the restart, Coby struck and moved briefly into the lead at the line, but Carlson would fight back and draw even in turns one and two. The duo would run side by side for three laps, with Coby eventually settling back into second. With three laps remaining, the caution would fly again, this time lining up a single file restart. In the meantime, Zych had moved into the third spot past Cabral. On the final restart, Carlson's car hesitated causing Coby to hook his rear bumper, both getting loose on the front stretch. Zych ducked under Coby for second, but Coby rocketed around the top of turn one, while Carlson stretched out his lead. Carlson would cross the line first ahead of Coby, Zych, Cabral, Avery Stoehr, Jim Chambers, Russ Stoehr, Alan Chambers, Bethany Stoehr, and Paul Scally.
"My car was hesitating on the restarts. I was hoping it was going to make it to the end," said Carlson. "It was great to run against Doug, he is aggressive, but also clean and that makes the racing fun. I really need to thank Gene Feigel and my Dad, they had the car really good tonight," he said.
In the Lites division, RJ Tufano jumped out into an early lead. He was pursued by young gun, Anthony Payne, for the first ten laps of the race. On a lap ten restart, Payne blasted into the lead.
"I was trying to be smooth and save my tires," said Payne. "When the caution came out and we doubled up, I got to the throttle first and beat him to the corner," he said.
In the later stages of the race, veteran Anthony Nocella in the FMR Racing #76 would move into second and begin to pressure Payne.
"Anthony was pressuring me on the outside, but I made sure to run a line that made it hard for him to get me," said Payne. "It felt great to beat such a talented driver. I really need to thank Lu & Mike Jarrett, the Scrivani's, Jim Susi, Dave Shore and Waddell Communications," he said.
Veteran Paul Scally rallied for an exceptional third place finish in his #30B lites car, and was followed across the line by Scott Bigelow and Randy Cabral, who had an epic duel for the fourth spot.



Tight NEMA Points Battle Highlights
Wings & Wheels Night at Speedbowl
Coby Returns to NEMA Program
A mere 40 points separate NEMA points leader and 2013 Champion John Zych Jr. and reigning champion, Randy Cabral headed into this Saturday evening's Wings & Wheels show at the New-London Waterford Speedbowl.
Zych, a winner at two New York tracks this season, Evans Mills Speedway and Oswego, has been very fast all year. Cabral, yet to score a win in 2015, has won at least one NEMA feature for the last 15 years - trailing only Midget racing legend Dave Humphrey's record of 16 consecutive seasons with a win. During that same period of time, Cabral has captured five NEMA championships and has finished no worse than second in the point standings during the past four seasons.
NEMA's return to the New London Waterford Speedbowl, for the first time this season also marks the return of reining NASCAR Whelen Modified Tour driver, Doug Coby, to the series. Coby won the opening day NEMA feature at Chemung Speedrome, earlier this year.
"A lot of the sensations in these cars are kind of like running a Modified at Bristol," Coby explains. "It's just really fast and you have to react quickly. They handle really well, but when they get out of shape it's different from a Modified. It's like you kind of wheel them around to save them and jerk the car around a little bit. I think once you drive one of these cars once or twice and you learn more from these guys on how they like to go and what adjustments they make, a good handling car is a good handling car no matter if it's a Late Model, Modified, a Midget, or a Go Kart. If it handles right through the corners, as a driver, you get the same feeling."
Last race feature winner, Avery Stoehr, is also excited about his program, as he returns to NLWS this Saturday. A long dry spell ended with a dominating run at LEE USA Speedway the last time NEMA took the track. Stoehr was also a winner last year on opening day at the Speedbowl. In addition to Stoehr, Paul Scally, Seth Carlson, Bethany Stoehr, Jim & Alan Chambers, and Todd Bertrand, the later a former Speedbowl winner, are all hungry for a victory as well.
In NEMA Lite Action, Danny Cugini has a convincing points lead over the young gun Anthony Payne. Payne, with some strong runs this season, looks for his second NEMA Lite win this Saturday. The Lites action has produced some of the best racing this season, and no doubt, this Saturday will produce the same.