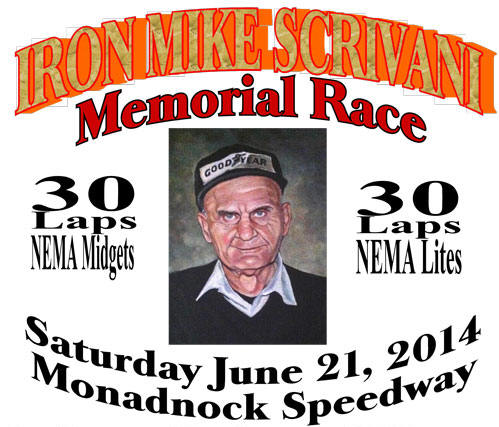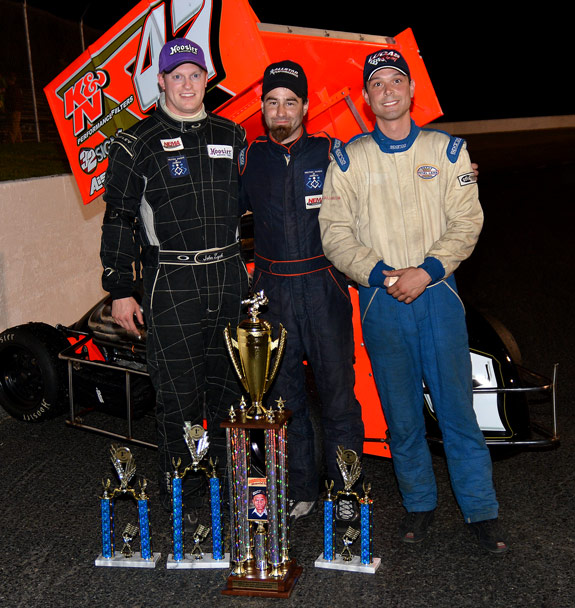 JOHN ZYCH JR. - RANDY CABRAL - JIM CHAMBERS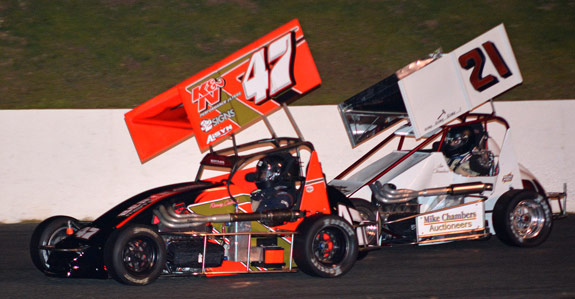 Photos by
John Dadalt
&
Norm
Marx
Monadnock's "Iron Mike" Memorial
NEMA Midget Feature to Randy Cabral
Winchester, N.H. - After 30 laps of tight racing on the banks of Monadnock Speedway, Kingston, MA. resident Randy Cabral (#47) claimed the Northeastern Midget Association's checkers in a race slowed by four cautions on a loose race track. This race makes it two in a row for the #47. Jim Chambers (#21) was second with 2013 NEMA champ John Zych Jr. (#9) third.

This event was to honor and remember "Iron Mike" Scrivani, the legendary car own from NEMA's past who claimed feature wins and championships during his time with the club.

The special evening kicked off with a unique driver introduction as the top ten starters presented select fans with a souvenir gift bag filled with an official NEMA fan tee shirt and other gifts.

At the drop of the green, Chambers let his presence be known as he jumped out to a early lead followed by Ryan Bigelow (#13), Bethany Stoehr (#5b), Todd Bertrand (#39), and Avery Stoehr (#15a). Chambers would stay in the top two all day with an impressive run.

Picking his line carefully through traffic, winner Cabral would break into the top five on lap seven after starting tenth. Bethany Stoehr would run in the top three until lap eleven when both Bertrand and Cabral would move her back to the fifth spot. Bethany would then become the first caution on lap eighteen with a spin in turn four. The running order at the caution was Chambers, Bigelow, Bertrand, Cabral and Zych, who had quietly moved into the top five from his ninth stating spot.

A shuffle occurred on the restart as Cabral powered past Bigelow for second and Avery Stoehr moved by Zych for fifth.

Cabral was then able to get past Chambers for the lead with Bigelow, Bertrand and A. Stoehr in the top five.

Bethany again lost the handle on the 5b in turn four with a second spin bringing out the yellow on lap twenty two.

On the restart, Cabral held point and soon after, defending NEMA champ Zych, made his move to once again enter the five on lap twenty four, moving to forth on lap 26, and break the top three on lap twenty eight where he would finish.

It was at this late stage of the race that Long Island driver Pete Pernesiglio spun on lap twenty four and twenty six for caution number three and four.

At the checkers, it was Chamber's strong run that netted him second. Zych took third with Bigelow just able to hold off Bertrand for forth by a bumper.

During the trackside interview, winner Cabral thanked the enthusiastic crowd for their support, and with friend and son of "Iron Mike", Mike Jr., by his side, thanked young Mike for all his help over the years and for being a mentor.

Cabral went on to say after the race, "I was able to pass high and low, but the car worked best on the bottom. I was just careful where to pick my lines."

Second place Chambers thoughts post race. "Everyone was loose as the race went on but at the green I just stuck it down low and went on from there."

John Zych Jr., after his third place finish, "Car was loose at the end and could not make up any more ground."

NEMA's next stop on the 2014 tour will stay in NH, at the Twin State Speedway in Claremont on June 28th. It's the "Whelen Engineering Family Night" featuring the NEMA and NEMA Lites, along with the Wildcats, Sportsman, Super Streets and Late Models. The track and NEMA have partnered to display a number of midget race cars in the Claremont area for the fans to sit in and also receive give-a-ways. See the NEMA and Twin States web sites for info.




Long Island veteran hot shoe, Pernesiglio, recently rebuild the brake system on the #80 Beast and vowed to solve the handling issues for his next race.


Car owner Ed Breault made available his #44 Beast for past NEMA champion Russ Stoehr to drive. Early brake issues were corrected in time for the feature, resulting in a 9th place finish.


#13 NEMA racer Ryan Bigelow also had major brake problems just before feature time, but two other race teams jumped in to help make repairs just before the feature green flag.
OFFICIAL RESULTS
NEMA MIDGETS - MONADNOCK - 6/21/14
Pos.
#
Driver
Hometown
Owner
1
47
Randy Cabral
Plymouth, MA
Tim Bertrand
2
21
Jim Chambers
Atkinson, NH
Mike Chambers
3
9
John Zych Jr.
Mendon,MA
John Zych Sr.
4
13
Ryan Bigelow

E. Hampton, CT

Randy Bigelow
5
39
Todd Bertrand

Suffield

, CT
Bertrand Motorsports
6
29
Ian Cumens

Lydell, PA

Bobby Seymour
7
15a
Avery Stoehr
Lakeville, MA
Russ Stoehr
8
30
Paul Scally
Raynham, MA
Paul Scally
9
44
Russ Stoehr
Bridgewater, MA
Ed Breault
10
87
Doug Cleveland
Sudbury, MA
Doug Cleveland
11
99
Jim Santa Maria

Burlington

, CT
Susan Santa Maria
12
DNF
80
Pete Pernisiglio, Jr.
Ronkonkoma, NY
Pete
Pernisiglio, Sr.
13
DNF
71
Seth Carlson
Brimfield, CT
Gene Feigel
14
DNF
5b
Bethany Stoehr
Bridgewater, MA
MCI Racing/
Greg Stoehr
15
DNS
46
Kenney Johnson
Bethany, CT
Jeff Johnson
Heat 1:
13-39-29-80-44-71-30 (46dns)
Heat 2:

47-21-5b-15a-9-87-99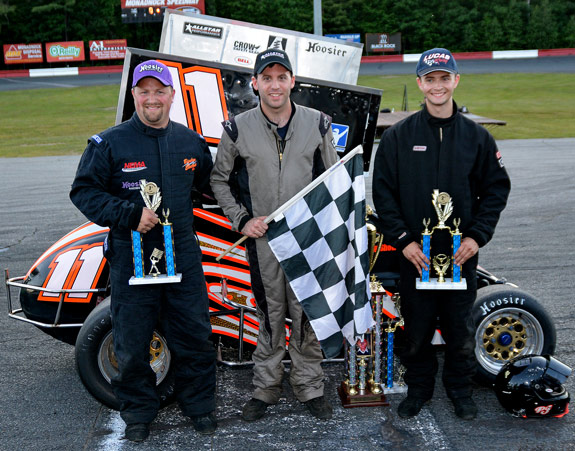 SCOTT BIGELOW - PJ STERGIOS - KEVIN HUTCHENS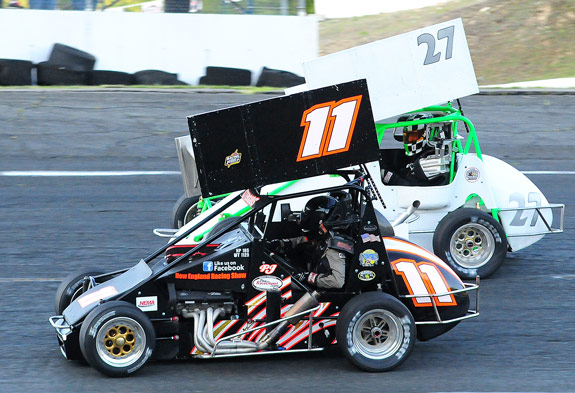 NEMA LITES "Iron Mike" Memorial
to PJ Stergios at Monadnock
After damaging and replacing a shock just before the feature, P.J Stergios (#11) from Candia, NH, "Just guessed on the set up for the race." It paid off as he claimed his second feature of the 2014 season. Kevin Hutchens (#27) followed in second and two time 2014 winner, Scott Bigelow (#32) was third.

After a string of four Team Bigelow wins in 2014, the streak was snapped as Stergios took a very good handling machine to the front on lap fifteen after starting twelfth.

On lap one, Richie Morrocco (#25) took the point followed by Christian Briggs (#44), Jake Smith (#93), Anthony Payne (#21), and Hutchens.

Hutchens, showing early strength, moved steadily from his sixth starting spot to the point in 6 laps and held it until lap 15 when Stergios took over.

A lap eight caution from a Christian Briggs spin slowed the field for the first of two yellows caused by the #44. The shuffled running order at the restart was Hutchens, Ryan Krachun (#29), from his ninth starting spot, Stergios, Smith and Morrocco.

The next lap had Bigelow move into the top five setting Marrocco down to sixth. After running third a number of laps, Stergios powered past both Krachun and Hutchens for the final lead change of the race on lap fifteen.

Also on lap fifteen, Bigelow was able to move past Smith for forth. The second Briggs spin happened on lap sixteen and on the restart, brother Paul Bigelow (#31), also passed Smith for fifth.

The order stayed the same save for the #51 if Danny Cugini moving into the top five on lap twenty-three and Scott Bigelow slipping by Krachun for third.

At the checkers it was Stergios, Hutchens, S. Bigelow, Krachun and Cugini.

Winner Stergios was happy with the "set-up guess" after the shock change and said he was "very mindful of what line to pick going through traffic."

After Kevin Hutchens finished second, he said the car "was on rails at the beginning, but developed a push at the end." He added, "Had so much fun running side by side lap after lap, I really enjoyed it."

Third place Scott Bigelow and a constant push off turn four all day but said, "You need a lot of patience here, and I used a lot today."

The next Lites event will be at Twin States Speedway in Claremont, NH on June 28th for the "Whelen Family Night."




The Scrivani #21 Lite sported a new motor for the Monadnock event after a failure last race at Wiscasset.


After the last race two weeks ago, Christian Briggs made wholesale changes to the front end of the #44 with new shocks, new springs and a re-alignment.


Big thank you to Carole Stoehr-Ware for stuffing the fan appreciation bags with give-a-way souvenirs prior to driver introductions.
OFFICIAL RESULTS
NEMA LITES - MONADNOCK - 6/21/14
Pos.
#
Driver
Hometown
Owner
1
11
PJ Stergios
Candia, NH
Bill Stergios
2
27
Kevin Hutchens
E.Waterborro, ME
Dan Hutchens
3
32
Scott
Bigelow
E. Hampton, CT
Scott
Bigelow
4
29
Ryan Krachun
Neschanic Station, NJ
Mike Krachun
5
51
Danny Cugini
Marshfield, MA
D. Cugini
6
31
Paul
Bigelow
Kensington, CT
Paul
Bigelow
7
46x
Andy Barrows
New Ipswitch, NH
Jeff Johnson
8
93
Jake Smith
Stroudsburg, PA
Ted Smith
9
42
Juris Kupris
Williamsburg, NY
Charles Thomas Motorsports
10
25
Richie Morrocco
Plainville, MA
Richard Morrocco
11
03
Dennis Potter
New Boston,NH
-
12
21
Anthony Payne
Fairlawn, NJ
Jennifer Scrivani
13
52
Kevin Park
Foxboro, MA
Kevin Park
14
41
Megan
CuginI
Marshfield, MA
D. Cugini
15
DNF
44
Christian Briggs
Mattapoisett, MA
Charles Thomas Motorsports
16
DNF
16
Dennis O'Brien
Deerfield, NH
Chris O'Brien
17
DNS
9
Matt Swanson
Acton, MA
Matt Seymour
Heat 1:
25-93-27-21-31-42-03 (16-32dns)
Heat 2:

29-51-9-11-44-46x-41-52
---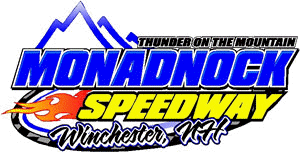 NEMA to Remember
"Iron Mike Scrivani"
June 21st at Monadnock
Winchester, N.H. - The Northeastern Midget Association will pay tribute to legendary car owner "Iron Mike" Scrivani on Saturday June 21st, with 30 lap feature events in both the full NEMA Midgets and NEMA Lites divisions.

The senior Scrivani's love for racing started back in the 1930's in sprint cars and he was involved with racing right up to his passing in 1983. A master mechanic, his cars were always race ready and won often. Mike's first win came at West Peabody in 1956 with Jerry Russo as the driver.

To honor "Iron Mike's" accomplishments in 2008 he was inducted into the New England Auto Racers Hall of Fame, an honor well deserved.

For the NEMA race teams Saturday, the task at hand will be to capture that trophy bearing the "Iron Mike" name as it will be a cherished piece. To accomplish that, the NEMA drivers will have to best the winners of the last three races.

Avery Stoehr took the 2014 opener at the Waterford Speedbowl on April 13th for his first ever NEMA Midget win. Seth Carlson claimed the checkers at New York's Mmvans Mills Speedway on May 24th. Most recently at Wiscasset, ME, Randy Cabral took a popular "worse to first" win.

The 2013 Scrivani memorial race had some drama as just past half way leader John Zych, who had built a seven car lead, spin to avoid a car stalled in the groove and finished ninth. "I still think of that race as one that got away, but Monadnock is a fun track and we're looking forward to going back," reflected the 2013 defending NEMA champ.

The NEMA Lites Division will also do battle for an "Iron Mike" trophy. The Bigelow Racing Team, based in East Hampton, CT, has all but dominated that class as a Bigelow has won four of the last five events in the Lites, with Scott taking two races and Paul and Ryan claiming one each.

Top finishers in last year's Lites "Iron Mike" event included winner P.J. Stergios, Andy Barrows second, Kenny Johnson third, Danny Cugini forth and Kevin Hutchens rounding out the top five.

For 2014, other top finishing Lite teams in feature events include #29 Ryan Krachun, (4 top 5's), #94 Logan Rayvals (3 to 10's), Matt Swanson in the Matt Seymour #9 (4 top 5's), and #93 Jake Smith (3 top 10's).

For the June 21st Monadnock event, NEMA is offering the opportunity to take part in race sponsorship as well as lap sponsorship to anyone wishing to support this special annual race. Call Mike Scrivani at, (day) - 508-879-4987, (or at night) - 508-584-7748. 2014 IRON MIKE SPONSOR FORM PDF HERE
Son Mike Scrivani Jr. Reflects on Father "Iron Mike"
Current NEMA President, Mike Scrivani Jr. speaks affectionately about his "hard core" dad by saying, "After you got through that hard crust, he would give you the world. He was a demanding car owner wanting good results, and if not, you better have a good reason why."

Jr. continues, "Dad loved all kinds of racing and owned a number of different race cars including Sprints, Midgets and Modifieds. The first year he owned the famous Modified M2, he won championships at both Norwood and Thompson with Leo Cleary".

The elder Scrivani was always striving for excellence, "He always wanted the best drivers," young Mike says. "Cleary, Hop Harrington, Dave Humphrey, Butch Walsh, Bill Eldridge, and Nick Fornoro. He raced everywhere, NEMA, ARDC, NASCAR, and USAC."

But it was in 1953 where Mike Sr.'s first real love was showcased as he entered a car in NEMA's first ever race. He captured his first NEMA checkers in 1956 at West Peabody with driver Jerry Russo and remained involved with the club until 1982.

When asked how his father would approach the ever increasing technology of today's racing machines, Mike Jr. says. "He was like the FBI, Iron Mike would always find out the answer."