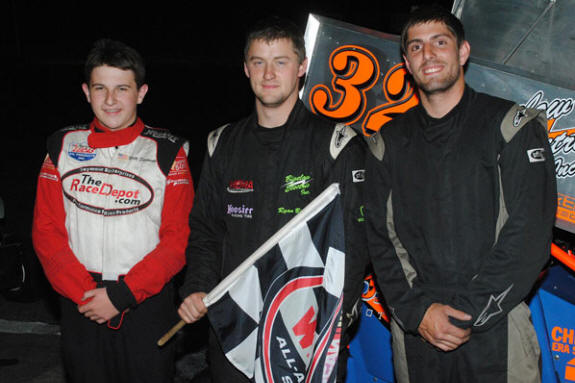 MATT SWANSON - RYAN BIGELOW - DANNY CUGINI
RYAN BIGELOW TAKES THE LITES WIN
AT STAR SPEEDWAY
On Saturday, May 31st, Star Speedway hosted the fourth race of the 2014 season for the NEMA Lites. The evening kicked off with heat winners Logan Rayvals and Avery Stoehr. Shortly after, the Lites competitors were gearing up for the main event. Starting on the pole was veteran driver, Kevin Park, next to rookie driver, Anthony "Tornado" Payne.
By lap three Ryan Bigelow, originally starting in the fifth position, took the lead. Bigelow was followed by his brother, Paul, and Dan Cugini. It was apparent early in the race that Cugini was a force to be reckoned with. After an early caution flag, the field came back together and Cugini tailed Paul Bigelow in a battle for second that kept the crowd on the edge of their seats. Behind Bigelow and Cugini, was Matt Swanson and Logan Rayvals coming up through the field.
After a long fought battle for second, patience paid off for the 51 car of Cugini, as he made his pass on the 31 car. As Ryan Bigelow was making his way through lapped traffic, Matt Swanson in the Seymour #9, who started eleventh, had moved into third.
The battle for fourth quickly heated up between Paul Bigelow and Logan Rayvals side by side down the backstretch. It ended with the two making contact and both spinning, causing the second caution of the night.
The checkered flag brought the first victory of the season to Ryan Bigelow, and the third consecutive win in the NEMA Lites to the Bigelow racing team.
Second place went to Dan Cugini after starting in the eighth place position. Swanson finished third. Fourth place went to Avery Stoehr and fifth place to point leader, Ryan Krachun.
OFFICIAL RESULTS
NEMA LITES - STAR - 5/31/14
Pos.
#
Driver
Hometown
Owner
1
32
Ryan Bigelow

E. Hampton, CT

Scott

Bigelow

2
51
Danny Cugini
Marshfield, MA
D. Cugini
3
9
Matt Swanson
Acton, MA
Matt Seymour
4
15a
Avery Stoehr
Lakeville, MA
Russ Stoehr
5
29
Ryan Krachun
Neschanic Station, NJ
Mike Krachun
6
46x
Andy Barrows
New Ipswitch, NH
Jeff Johnson
7
18
DJ Moniz
Fairhaven, MA
David Moniz
8
03
Dennis Potter
New Boston, NH
-
9
94
Logan Rayvals
Brockville, ON, CA
Craig Rayvals
10
31
Paul Bigelow

Kensington, CT

Paul

Bigelow

11
27
Kevin Hutchens
E.Waterborro, ME
Dan Hutchens
12
16
Dennis O'Brien
Deerfield, NH
Chris O'Brien
13
21
Anthony Payne

Fairlawn, NJ

Jennifer Scrivani
14
41
Megan CuginI
Marshfield, MA
D. Cugini
15
20
Myles DeVits
Barrington, NH
-
16
52
Kevin Park
Foxboro, MA
Kevin Park
17
04
Anthony Nocellla
Woburn, MA
Craig Rayvals
18
7
Seth Carlson
Brimfield, CT
Gregory Olson

Heat 1:

15a

Heat 2:

94
NEMA Lites Head for Star Speedway
on Saturday, May 31st
Epping, N.H. - The exciting Northeastern Midget Association's Lites Division will take their talents to the fast Star Speedway on Saturday night, May 31.
For the month of May the Lites will be finishing up a challenging three race, three state swing that started in Waterford Ct. on the 10th, then on to Evans Mills N.Y. on the 24th and now Star this Saturday.
And, also for month of May, if your name is Bigelow, Krachun or Swanson you can lay claim to a number of top fives finishes. Matt Swanson (#9) finished 5th at Waterford April 12th and 3rd at Evans Mill last weekend. Ryan Krachun (#29) had a pair of seconds at Waterford on April 12th and May 10th.
Team Bigelow each claimed a victory. Paul (#31), at Waterford on May 10th, and Scott (#32) at Evans Mills this past weekend. Come Saturday, these talents will be determined not to break their hot streaks.
New comer Dennis O'Brien (#16) has turned many laps at Star in his family's equipment and calls the facility his home track, residing only 30 minutes down the road. "We're excited to return to Star with the Lite car in front of family and friends," Dennis pointed out. "Hoping this is the track where the driver and car can click to pull off a top ten."
Also filling out the schedule this Saturday will be the EKEYS MODS plus LEGENDS, WOODY'S STRICTLYS, and ROADRUNNERS.