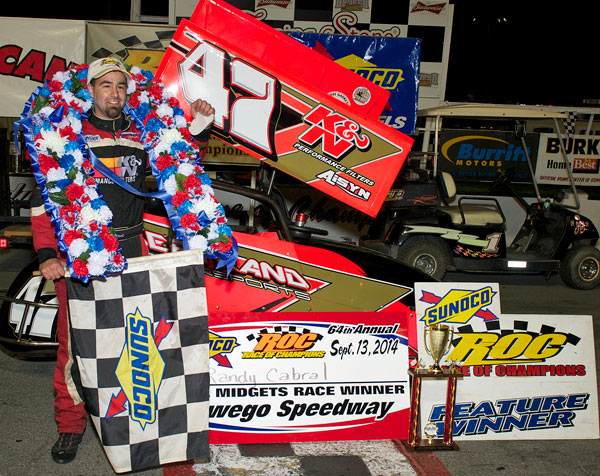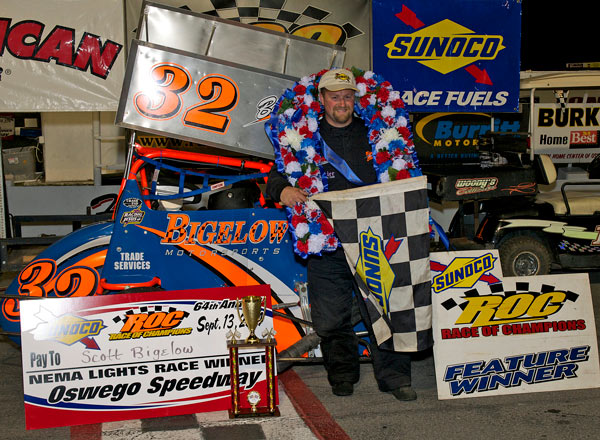 CABRAL THRILLS in NEMA FAST
WIN at OSWEGO SPEEDWAY
Randy Cabral is a one man thrill show. He didn't disappoint the fans at Oswego Speedway on Sunday night with his demonstration of driving skills and speed on the way to his fifth win of the season.

Cabral of Kingston, MA tracked down Mendon, MA driver John Zych and passed him on the final turn to win the 25 lap NEMA midget feature, part of the Race Of Champions Weekend at Oswego. The midgets had waited over 24 hours to run their event, after being rained out on Saturday. They ran an abbreviated program without heats and only one round of practice.

Zych himself had reeled in early leader Michael Barnes of Mexico, NY and wrestled the lead away on lap 15. Barnes had been the leader since the drop of the green flag and had opened a sizeable lead on a track he is very familiar with.

Zych was clicking off laps in the mid 16's and turned in the fastest lap of the race at nearly 137 miles per hour. Once in the lead, he set sail and was looking for his second win of the season. He was held up momentarily while attempting to put Bethany Stoehr of Bridgewater, MA down a lap. The car got loose when he went high to pass and lost a lot of ground to now second place runner Cabral. Cabral was able to almost pull up along side Zych.

Once Zych cleared the lapped car, he again opened up by 6 lengths. But on the white flag lap he encountered traffic again, this time a group of 3 cars running together just in front of him. Hesitating only a split second to decide how to handle them was all Cabral needed to charge underneath in turn 3. They raced side by side out of 4 and Cabral beat him to the line by one-tenth of a second.

To show how hard he raced all 25 laps, Zych appeared to lose an engine on the cool down lap, dropping heavy fluid on the track in a cloud of steam and smoke. He was forced to stop the car in turn two and missed the post-race podium celebration on the frontstretch.

Barnes finished third, followed by veteran driver Doug Cleveland of Sudbury, MA, who recorded his best finish of the year. Last year's Oswego winner Seth Carlson of Brimfield, MA, Raynham's Paul Scally, Lakeville's Avery Stoehr and Pennsylvania's Ian Cummens followed as the rest of the cars on the lead lap.

The race went caution free and took just over 7 minutes to complete.

The win pads Cabral's point lead in his quest to win a fifth NEMA championship. Two races remain on the schedule.

Brothers Scott and Ryan Bigelow of East Hampton, CT were the dominate cars in the NEMA Lites portion of the night. They raced into first and second spot early and stayed there to the end, even after a late race restart.

The only caution was on lap 17 when Danny Cugini of Marshfield, MA slowed on the track and was unable to make it back to the infield pit area. Even with the caution and single file restart the race was over in less than 9 minutes.

There was a great battle for third between Matt Swanson of Acton, MA and double-duty driver Randy Cabral. Cabral challenged on the inside and the outside, even using lapped traffic as a pic, but young Swanson held him off. Canada's Logan Rayvals came on strong from the back in the late stages, but could only advance to fifth. NJ drivers Ryan Krachun, Calvin Carroll and Anthony Payne finished sixth, seventh and eighth, with Deefield NH's Dennis O'Brien and Marshfield's Megan Cugini rounding out the top 10.

Krachun remains the point leader leaving Oswego, with one more event for the NEMA Lites in 2014.

The next race on the NEMA schedule is Waterford on the weekend of October 4 and 5. That's the last one for the Lites. The midgets wrap up their season on October 18 and 19 at Thompson's World Series weekend.
NEMA MIDGETS - OSWEGO - 9/14/14

Pos.
#
Driver
Hometown
Owner
1
47
Randy Cabral
Plymouth, MA
Tim Bertrand
2
9
John Zych Jr.
Mendon,MA
John Zych Sr.
3
85
Michael Barnes
-
Michael Barnes
4
87
Doug Cleveland
Sudbury, MA
Doug Cleveland
5
71
Seth Carlson
Brimfield, CT
Gene Feigel
6
30
Paul Scally
Raynham, MA
Paul Scally
7
15a
Avery Stoehr
Lakeville, MA
Russ Stoehr
8
79
Ian Cumens
Lydell, PA
Ian Cumens
9
5b
Bethany Stoehr
Bridgewater, MA
MCI Racing/
Greg Stoehr
10
46
Kenney Johnson
Bethany, CT
Jeff Johnson
11
DNF
51
Danny Cugini
Marshfield, MA
D. Cugini
12
DNS
21
Jim Chambers
Atkinson, NH
Mike Chambers
13
DNS
7
Joey Scanlon
Salem, NH
Jim Chambers
NEMA LITES - OSWEGO - 9/14/14
Pos.
#
Driver
Hometown
Owner
1
32
Scott Bigelow

E. Hampton, CT

Scott

Bigelow

2
31
Ryan Bigelow

Kensington, CT

Paul

Bigelow

3
9
Matt Swanson
Acton, ME
Matt Seymour
4
35
Randy Cabral
Plymouth, MA
Glen Cabral
5
94
Logan Rayvals
Brockville, ON, CA
Craig Rayvals
6
29
Ryan Krachun
Neshanic Station, NJ
Mike Krachun
7
24
Calvin Carroll
-
Calvin Carroll
8
21
Anthony Payne

Fairlawn, NJ

Jennifer Scrivani
9
16
Dennis O'Brien
Deerfield, NH
Chris O'Brien
10
41
Megan CuginI
Marshfield, MA
D. Cugini
11
DNF
51
Danny Cugini
Marshfield, MA
D. Cugini
12
DNS
46x
Kenney Johnson
Bethany, CT
Jeff Johnson
NEMA OSWEGO POSTPONED TO SUNDAY

The race at Oswego has been postponed till Sunday.


Pit gates open at 7:30 AM & Practice starts at 9:15 AM.


Saturday's program at will run after Sunday's - approximately 4:00 PM.


NEMA

and NEMA LITES will be the 1st and 3rd features.


Teams will be allowed to leave shortly after their features.
NEMA NEXT AT BIG OSWEGO WEEKEND
The NEMA Midgets and the NEMA Lites will be making one of their longest tows of the season to one of most challenging tracks on the circuit this Saturday. NEMA returns to the Oswego Speedway to be part of the track's Race of Champions Weekend.

The midgets share the card with the Small Block Supermodified Championship 50 and RoC Sportsman 100 on day 1 of the 2 day race weekend. The Supermodified championship race and the RoC Modified 200 is on Sunday. The Race of Champions event is the second oldest consecutively run auto race in the country. Only the Indy 500 has been run longer.

The 5/8 mile oval provides for some fast laps for NEMA. Seth Carlson of Brimfield, MA set a blistering pace on the way to his impressive win last year. But the fastest lap was turned in by Greg Stoehr of Bridgewater, MA turning a 17.116 for an average of over 131 miles per hour.

All of the top 5 finishers in last year's NEMA feature were cranking out laps in the low 17's. None were faster than Jim Miller's record setting lap of 16.94 during their 2012 visit to Oswego. Miller was also the feature winner.

Many of the experienced drivers consider Oswego to be a "rhythm track." If you can set a pace, get out of the groove and do your passing on the outside you can really gain some ground.

Among those that have followed that philosophy is six time champion Russ Stoehr of Lakeville, MA. Russ is an 8 time winner there. New Jersey's Joey Payne is a two time midget winner and multi-time supermodified victor at the "Steel Palace." Payne just completed a superfast weekend at the famed Oswego Classic.

Another driver that knows the quick way around Oswego is Richie Morrocco of Plainville, MA. He got his first ever NEMA Lite win in his rookie season last year.

Other past Oswego podium finishers are also threats to end up in victory lane this week including Danny Cugini of Marshfield, MA, Christian Briggs of Mattapoisett, MA and Kensington, CT's Paul Bigelow in the Lites, as well as Bridgewater's Bethany Stoehr, Lakeville's Avery Stoehr and Pennsylvania's Ian Cummens in the midgets.

Add in any of the other 10 winners from this season and it's anyone's guess as to who will bring home the trophy.

Points are in consideration for this race as well. Oswego is the first of the three
remaining races of season for the NEMA midgets and next to last event for the Lites. There are even bonus points awarded for this race considering the distance of travel to the venue.

Randy Cabral of Kingston, MA now has a satisfying lead over Avery Stoehr by virtue of his win in the most recent race at Star Speedway. It was Cabral's fourth of the season. The separation is 73 points.

Ryan Krachun of Neshanic Station, NJ was able to regain the Lites point lead after his first Lites victory at Star. He sits a comfortable 82 points ahead of 4 time winner PJ Stergios of Candia, NH. The standings are extremely tight from second to fourth.

Practice for cars of Oswego's day 1 Race of Champions event is scheduled for
3:30 PM, with qualifying at 5:00 PM.

Pits open at 2:15. Morning practice is not permitted for NEMA.

64th Sunoco Race of Champions Events Schedule PDF