CABRAL, KRACHUN AND PAYNE
NOTCH NEMA WINS AT STAR
Randy Cabral showcased his team's strength of car and driver, Ryan Krachun picked up his first ever NEMA Lite win and Joey Payne bested some of his open-wheel contemporaries in midget action at Epping NH's Star Speedway on Saturday night.

Both Cabral of Kingston, MA and Krachun of Neshanic Station, NJ came into the night locked in a championship points battle in their respective divisions. Both saw their closest competition suffer set backs, thus giving them an unexpected advantage.

Cabral started nineth and wasted no time slicing through traffic to get to the front. He was third by lap 3 and second two laps later.

He was chasing pole sitter and early leader James SantaMaria of Burlington, CT who had opened up a comfortable lead. Cabral caught a break with a caution on lap 11 for a tangle involving Paul Scally of Raynham, MA and Avery Stoehr of Lakeville, MA.

The two were locked up after making contact in the third turn. Scally retired to the pits with damage. Stoehr was able to drive away from the scene, but fought an ill-handling race car the rest of the way.

Stoehr and Cabral have been trading off the points lead for most of the season. A ninth place finish for Stoehr created the advantage for winner Cabral.

The restart put Cabral alongside SantaMaria and Randy looked like he had been shot out of a cannon at the green. He continued to click off 12 second laps on his way to his fourth win of the season.

Reigning NEMA champion John Zych of Mendon, MA was able to get second place away from Santa Maria a lap after the restart and fought hard to run down Cabral. His best shot was a single-file restart with just a few laps to go, due to a fourth turn spin by Matt O'Brien of Wilmington, MA.

But again Cabral rocketed away at the green and beat Zych to the line by over six tenths of a second.

Seth Carlson of Brimfield, MA grabbed another podium finish for third, followed by Santa Maria and Jim Chambers of Atkinson, NH rounding out the top 5.

Avery Stoehr and Jim Santa Maria were heat winners.

After a false start on the intial green, the NEMA Lites went all the way to the checkers in their 20 lap feature. Ryan Krachun led every one of those laps to become another of the series' first time winners.

Krachun had been leading the points for most of the season until the last race when Waterford feature winner Danny Cugini of Marshfield, MA slipped past him. Saturday night, Cugini ended up in the pits after the initial green and didn't return. That immediately give Krachun a points boost and he topped it with a win.

A winner in non-winged midgets elsewhere, Krachun had come close to victory in the NEMA Lites on more than a few occasions. He was elated to finally bring one home and more so to do it at Star.

Paul Bigelow of Kensington, CT was the only driver to run second for the whole race and finshed over two seconds behind Krachun. Logan Rayvals of Rockville, Ontario finished third, completing another great run for the Canadian entry.

Jake Stergios of nearby Candia, NH had the fastest lap of the feature at 12.7, but ran out of time coming from his eleventh starting spot and finished fourth. Matt Swanson of Acton, MA finished fifth.

The top 3 of that feature were also the night's heat winners.

Some of Star Speedway's greatest open wheel drivers were on hand to take on some of NEMA's up and coming young stars in a special "Sundown Showdown" match race.

Mike Ordway, Chris Perley, Joey Payne, Jon McKennedy and Russ Stoeher jumped in NEMA Lite cars to take on Avery Stoehr, Matt Swanson and Anthony Payne. The young drivers grew up watching their dads race at Star and now were taking on some of the sport's biggest names.

Ordway and Perley led the group to the green and exchanged the lead several times. As they diced up front, the "Jersey Jet" Joey Payne reeled them in and joined the party by taking his mount deep into turn 3, nearly banging wheels with Perley. He made the pass for the lead after running side by side the length of the frontstretch.

The "Rowley Rocket" stayed within striking distance, but couldn't get back by Payne, even with a late race restart. Perley settled for second with NEMA Lite standout Matt Swanson in third, followed by Ordway, McKennedy, Anthony Payne and the son and father Stoehrs.

Joey Payne said in victory lane that he credited his knack of getting around Star so well to the fact that he started his supermodified career there. Besides getting the best of his longtime ISMA cohorts, he was "happy to beat his kid," and "had told him he would" before the start of the race. Father Payne now holds the household bragging rights when it comes to open wheel racing.

The NEMA Lites race next on September 6 when they return to the Waterford Speedbowl, then join the NEMA Midgets at Oswego, NY on September 13.
NEMA MEET & GREET - STAR - 8/23/14

Photos by
Norm Marx
NEMA MIDGETS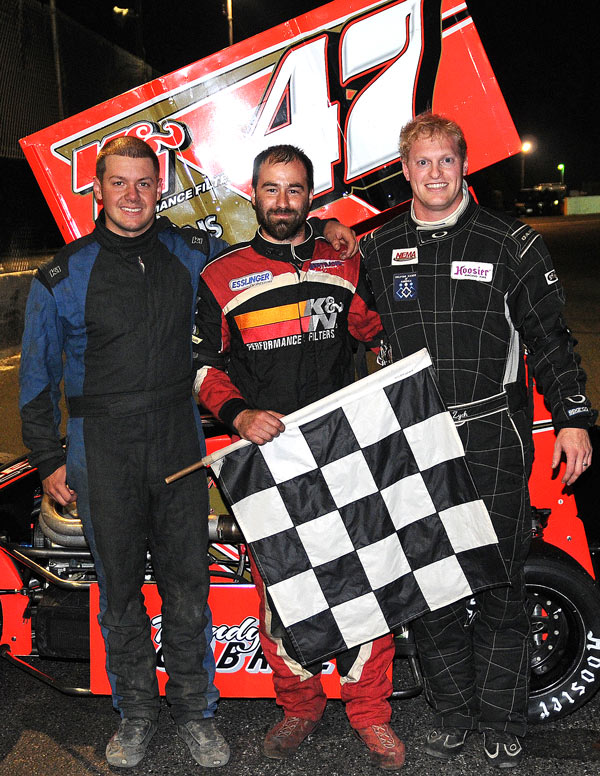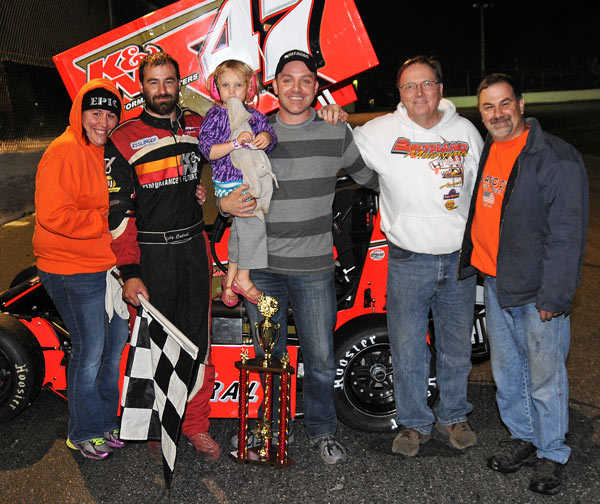 Photos by

Norm Marx
NEMA MIDGETS - STAR - 8/23/14

Pos.
#
Driver
Hometown
Owner
1
47
Randy Cabral
Plymouth, MA
Tim Bertrand
2
9
John Zych Jr.
Mendon,MA
John Zych Sr.
3
71
Seth Carlson
Brimfield, CT
Gene Feigel
4
99
Jim Santa Maria

Burlington

, CT
Susan Santa Maria
5
21
Jim Chambers
Atkinson, NH
Mike Chambers
6
7
Alan Chambers
Atkinson, NH
Mike Chambers
7
5b
Bethany Stoehr
Bridgewater, MA
MCI Racing/
Greg Stoehr
8
16
Matt O'Brien
Wilmington, MA
Matt O'Brien
9
15a
Avery Stoehr
Lakeville, MA
Russ Stoehr
10
46
Kenney Johnson
Bethany, CT
Jeff Johnson
11
51
Danny Cugini
Marshfield, MA
D. Cugini
12
DNF
30
Paul Scally
Raynham, MA
Paul Scally
13
DNF
35
Ryan Bigelow
E. Hampton, CT
Glen Cabral
14
DNF
87
Doug Cleveland
Sudbury, MA
Doug Cleveland
NEMA LITES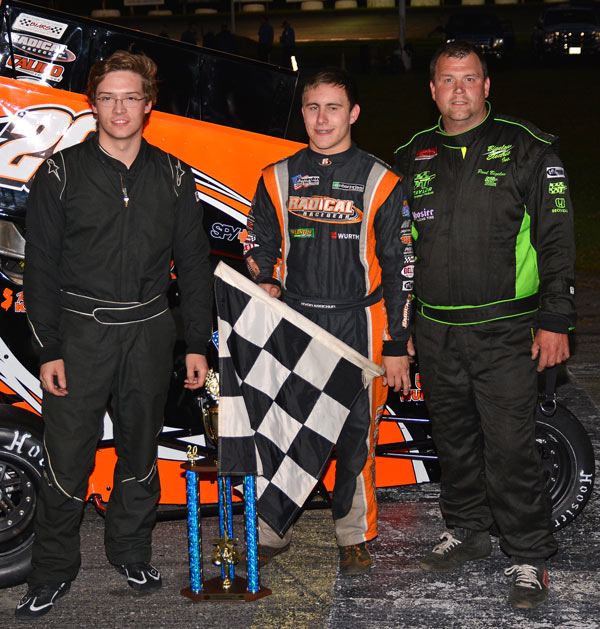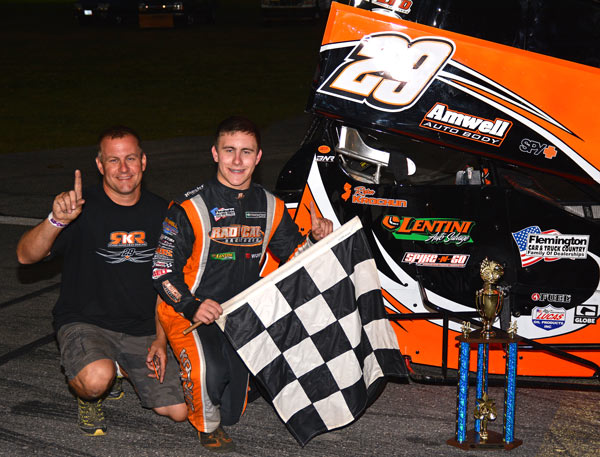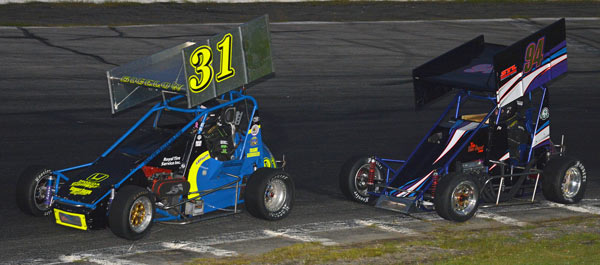 Photos by


Norm Marx
NEMA LITES - STAR - 8/23/14
Pos.
#
Driver
Hometown
Owner
1
29
Ryan Krachun
Neschanic Station, NJ
Mike Krachun
2
31
Paul Bigelow

Kensington, CT

Paul

Bigelow

3
94
Logan Rayvals
Brockville, ON, CA
Craig Rayvals
4
11
PJ Stergios
Candia, NH
Bill Stergios
5
9
Matt Swanson
Acton, ME
Matt Seymour
6
32
Scott Bigelow

E. Hampton, CT

Scott

Bigelow

7
18
DJ Moniz
Fairhaven, MA
David Moniz
8
25
Richie Morrocco
Plainville, MA
Richard Morrocco
9
03
Dennis Potter
-
-
10
27
Kevin Hutchens
E. Waterboro, ME
Dan Hutchens
11
46x
Andy Barrows
New Ipswitch, NH
Jeff Johnson
12
21
Anthony Payne

Fairlawn, NJ

Jennifer Scrivani
13
39
RJ Tufano
West Haven, CT
RJ Tufano
14
13
Ryan Bigelow
E. Hampton, CT
Ryan Bigelow
15
41
Megan CuginI
Marshfield, MA
D. Cugini
16
16
Dennis O'Brien
Deerfield, NH
Chris O'Brien
17
15b
Barry Cannon
-
Russ Stoehr
18
DNF
20
Myles DeVits
Barrington, NH
Myles DeVits
19
DNF
52
Kevin Park
Foxboro, MA
Kevin Park
20
DNS
51
Danny Cugini
Marshfield, MA
D. Cugini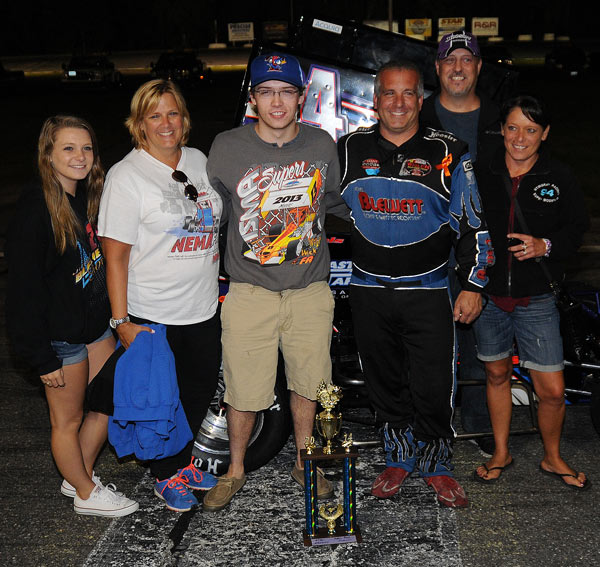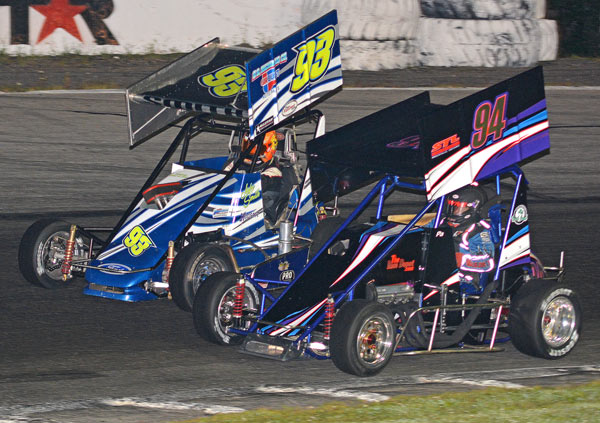 THE SUNDOWN SHOWDOWN - STAR - 8/23/14
Pos.
#
Driver
Hometown
Owner
1
94
Joey Payne
Fairlawn, NJ
Craig Rayvals
2
93
Chris Perley
Rowley, MA
Ted Smith
3
9
Matt Swanson
Acton, MA
Matt Seymour
4
11
Mike Ordway
Fremont, NH
Bill Stergios
5
76
Jon McKennedy
Chelmsford, MA
Frank Manafort
6
21
Anthony Payne

Fairlawn, NJ

Jennifer Scrivani
7
31
Avery Stoehr
Lakeville, MA
P

aul Bigelow

8
32
Russ Stoehr
Lakeville, MA

Scott

Bigelow



NEMA MIDGETS ROLL INTO STAR SPEEDWAY SATURDAY NIGHT
The Northeastern Midget Association heads to the famed Star Speedway in Epping, NH on Saturday night. It has been a favorite stop for the midgets since the 60's, in fact Star has hosted more NEMA events than any other facility.

Some of the greats have gotten their first NEMA victory at Star including Joey Coy, Mike Favulli and Billy Mann, as well as modern day drivers like Jeff Horn, Joey Payne, Bobby Seymour and Russ Stoehr. There will be plenty of drivers gunning for their first on Saturday night.

Stoeher leads all active drivers with 10 wins at Star.

The NEMA midgets bring a see-saw battle at the top of the point standings in both of their classes.
The top spot has traded back and forth between young Avery Stoeher of Lakeville, MA and another Massachusetts South Shore native, Randy Cabral of Kingston. Cabral now leads by 13 points thanks to a runner-up finish last time out at Waterford. Stoehr could only muster a fourth place in that event and lost his grip on the points lead.

Consistancy is what's keeping them close. Of the 9 races so far this season Randy has won 3 and finished second 3 times. Avery has been only a shade off that with 2 wins, a second and a pair of thirds.

The other points battle in the full midgets is right behind them between Suffield CT's Todd Bertrand in third and Brimfield, MA resident Seth Carlson. The latter has been red hot in the last two races, with a win and third. He has closed the gap on Bertrand and now trails by just 10 points.

It's just as tight in the Lites. A win by Marshfield, MA's Danny Cugini at Waterford last time catipulted him to the top of the standings over Ryan Krachun of Neshanic Station, NJ. Even without a victory, Krachun had a lock on the top spot for several weeks. Cugini now leads by 11 points going into Star.

Krachun could now fall into the clutches of another consistant finisher. Andy Barrows of New Ipswich, NH is only 17 points out of second.

The real story in the Lites this season has been PJ Stergois of Candia, NH. Though he missed 3 races, he's only finished outside the top 3 once in the 8 main events he's run. 4 of those podium finishes were victories. He'll be looking to score another one at his "home" track on Saturday night.


THE SUNDOWN SHOWDOWN


A special match race sponsored by All Star Performance has been added to the program. "The Sundown Showdown" will feature some of Star Speedway's historic superstar drivers taking on some of the young, up and coming stars of the NEMA. A trophy and huge bragging rights are on the line for this sure-to-be-special, multi-generational race.