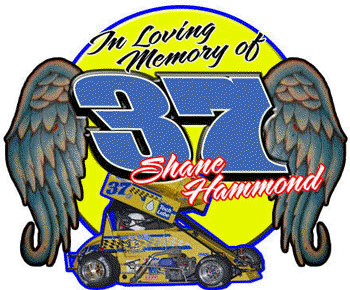 5th Annual
Shane Hammond Memorial Race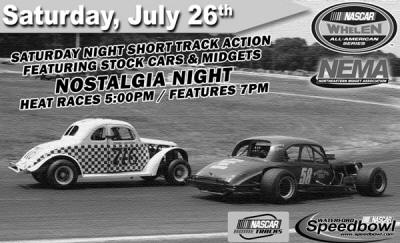 NEMA CAUTION-FREE FEATURES PRODUCE ANOTHER FIRST TIME WINNER
The Waterford CT Speedbowl is in the Northeastern Midget Association record books as producing the most first time winners of any track on the circuit. It happened again Saturday night. An elated Juris Kupris of Williamsburg, NY raced to his very first victory in the NEMA Lites series. It only took six and a half minutes in the 27 lap flag to flag main event.

The NEMA Lites and NEMA Midgets were racing in the Fifth annual Shane Hammond Memorial Race. Hammond, a young, well liked NEMA competitor died in a racing accident at the Thompson Speedway at the beginning of the 2008 season.

It appeared from the start that the Lites feature was destined to have a first time winner as pole sitter Megan Cugini of Marshfield, MA solidly led the early going. She was passed by teen sensation Anthony "The Tornado" Payne of Fairlawn, NJ on lap 12, who also was looking for his first NEMA win. Payne is the son of NEMA and ISMA star Joey Payne.

Kupris followed Payne around Cugini on lap 11 and ran second for several laps, opting to make his bid for lead on lap 21. From there he opened a comfortable lead and cruised to the finish, beating Payne by more than two seconds.

Wednesday night's Boston Louie Classic winner PJ Stergois of Candia, NH finished third followed by Richie Morroco of Planville, MA and early leader Megan Cugini rounding out the top 5.

Kupris, still catching his breath during the victory lane interview credited friend and teammate Christian Briggs for introducing him to the NEMA Lites. "We raced go-karts together when we were kids and he asked me if I would like to join him in the midgets," said Kupris, "and I couldn't refuse having fun racing with him again."

Juris Kupris became the second first time winner in a week. Jake Smith did it at Oxford Plains, ME the Saturday before.

The NEMA main event went flag to flag in just over six minutes as well. Seth Carlson of Brimfield, MA got the jump on pole sitter Paul Scally at the start and led all 27 laps to claim his second win of the season. Carlson won at the Evans Mills NY Motorsport Park in May after winning his first ever last year at Oswego.

Carlson set a quick pace from the start, cranking out laps a tick over 13 seconds. Reigning champion John Zych of Mendon, MA ran second with similar lap times for most of the race, but couldn't close on Carlson. Zych finally used up his right rear tire in the futile chase and was passed by point leader Avery Stoehr of Lakeville, MA with two laps to go.

Zych was nipped at the line by Todd Bertrand of Suffield, CT and settled for fourth. Randy Cabral of Kingston, MA was fifth.

Both second place finisher Stoehr and third place Bertrand said post race that they were hoping for a caution as the only way to catch Carlson. Carlson in turn said he was glad the race stayed green. "I might have had enough to beat them on a restart," he said, "this car was excellent tonight, but I didn't know how much of lead I had so I just kept pushing it and glad we didn't get a yellow."

After three events in one week, the NEMA competitors have a couple of weeks to catch their breath. Stoehr, Cabral, Bertrand and Carlson are at the top of the NEMA points and bring that battle back to Waterford on Saturday, August 9, along with the NEMA Lites for the Angelillo Memoral Race as part of the Speedbowl's "Wings and Wheels" event.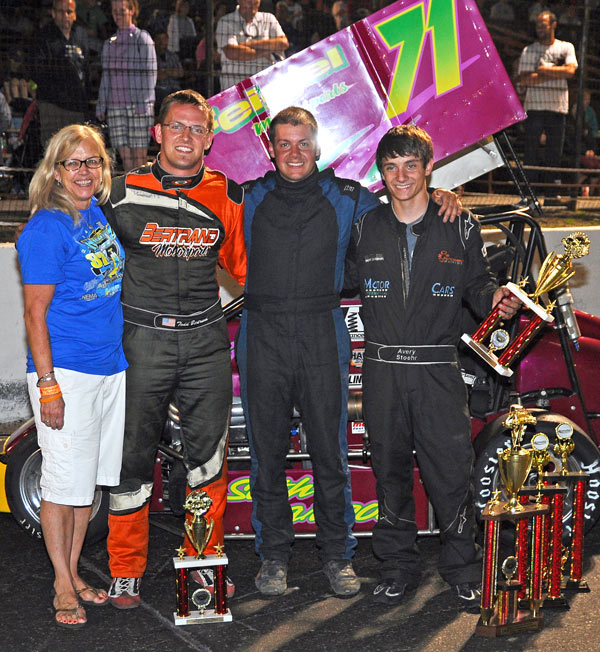 NEMA MIDGETS - WATERFORD - 7/26/14
Pos.
#
Driver
Hometown
Owner
1
71
Seth Carlson
Brimfield, CT
Gene Feigel
2
15a
Avery Stoehr
Lakeville, MA
Russ Stoehr
3
39
Todd Bertrand

Suffield

, CT
Bertrand Motorsports
4
9
John Zych Jr.
Mendon,MA
John Zych Sr.
5
47
Randy Cabral
Plymouth, MA
Tim Bertrand
6
30
Paul Scally
Raynham, MA
Paul Scally
7
21
Jim Chambers
Atkinson, NH
Mike Chambers
8
5b
Bethany Stoehr
Bridgewater, MA
MCI Racing/
Greg Stoehr
9
29
Ian Cumens

Lydell, PA

Bobby Seymour
10
99
Jim Santa Maria

Burlington

, CT
Susan Santa Maria
11
80
Pete Pernisiglio Jr.
Ronkonkoma, NY
Pete Pernisiglio Sr.
12
87
Doug Cleveland
Sudbury, MA
Doug Cleveland
13
DNF
7
Alan Chambers
Atkinson, NH
Mike Chambers
14
DNF
85
Michael Barnes
Mexico, NY
Michael Barnes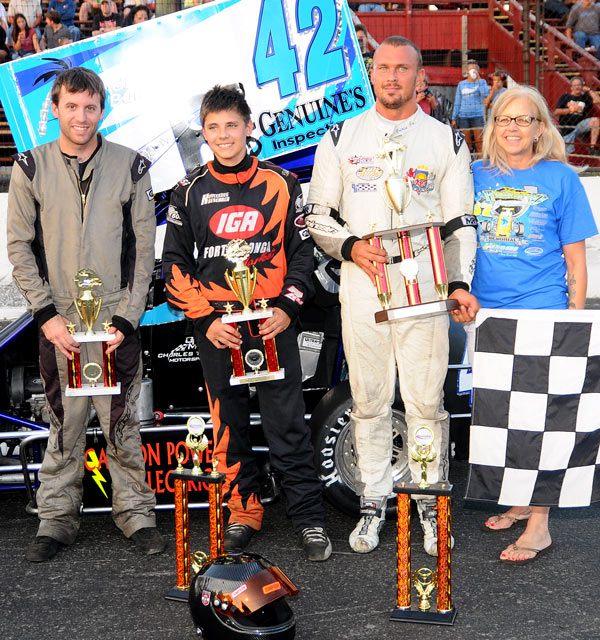 Photos by

Norm Marx
NEMA LITES - WATERFORD - 7/26/14
Pos.
#
Driver
Hometown
Owner
1
42
Juris Kupris
Williamsburg, NY
Charles Thomas Motorsports
2
21
Anthony Payne

Fairlawn, NJ

Jennifer Scrivani
3
11
PJ Stergios
Candia, NH
Bill Stergios
4
25
Richie Morrocco
Plainville, MA
Richard Morrocco
5
41
Megan CuginI
Marshfield, MA
D. Cugini
6
31
Paul Bigelow

Kensington, CT

Paul

Bigelow

7
32
Scott Bigelow

E. Hampton, CT

Scott

Bigelow

8
94
Logan Rayvals
Brockville, ON, CA
Craig Rayvals
9
51
Danny Cugini
Marshfield, MA
D. Cugini
10
46x
Andy Barrows
New Ipswitch, NH
Jeff Johnson
11
18
DJ Moniz
Fairhaven, MA
David Moniz
12
15b
Tony Colandro
Islip Terrace, NY
Russ Stoehr
13
16
Dennis O'Brien
Deerfield, NH
Chris O'Brien
14
45
Brandon Igo
Enfield, CT
David Igo
15
DNF
93
Jake Smith
Stroudsburg, PA
Ted Smith
16
DNF
44
Christian Briggs
Mattapoisett, MA
Charles Thomas Motorsports
17
DNF
29
Ryan Krachun
Neschanic Station, NJ
Mike Krachun
18
DNF
35
Randy Cabral
Plymouth, MA
Glen Cabral
19
DNS
45m
Joey Mucciacciaro
Wolcott, CT
Frank Mucciacciaro



37, is it just a number?
By Deb Marvuglio
The number 37, what does it mean to you? To me, it's not just a Midget that was transformed over the years from black to white to yellow & blue. The 37 was a dream that became a reality for my son, Shane. A young man who had an infectious smile and bright blue eyes.

Shane learned about risk and reward and much more by 15. An amazing karter whether it was dirt or asphalt, he had a handle on it. Fast forward to 15 and emergency brain and spine surgery where the risk is death and the reward life, but what kind of life was yet to be determined. Shane survived and with determination like no other fought through pain and the odds against him to get back to karting.

When the pain became to much he looked for a car that offered more suspension and protection from the grueling jarring of karting. NEMA that was the ticket, that was the open wheel racing of choice. Shane crewed with the Cabral's and that magical day they let him take out their car at Waterford, he beamed as he climbed out. There was one person missing that day, his grandmother (his biggest fan, Betty) and we looked at each other and he said, "she's here, she didn't miss it".

Those magic moments continue as his brother Anthony "the Bug" Marvuglio experienced that feeling at Waterford on more than one occasion. Bug has expressed, "Mom, he was in the car with me," referring to Shane. Waterford is a magical place for me and my boys.

Back to the 37, not just a number, a tribute to Shane's Grandfather, Jack Glockner a man that helped Shane live his dream every step of the way. Shane and Jack (Pa) worked side by side and Pa bought him that last 37 from Bob Bradbury another NEMA legend that was taken too soon.

So as you get ready for the Shane Hammond Memorial, please think about the risks, the rewards and the price; is it all worth it, are you making the right choices. Every race is a risk, life is a risk. Shane's last race, in the Jarret #4 was a reward to him, he felt respected, excited, and worthy. He knew he could do whatever it takes. Sometime our days don't go as planned and this one day in April, God had other plans; he took Shane out of his painful body and gave him eternal life..... For whosoever believeth.....shall have eternal life. (John 3:15)